A boat trip at last
A boat trip at last
Managed to find a day on the North Coast where the wind actually subsided a little, just enough to pop out on the Fast Fisher and see what's about.
It's crazy, but when I looked back through the calendar, I couldn't believe it had been almost a full year since I last had my boat out on the water!
And last year only comprised of three trips! Between angling opportunities and temperamental weather conditions, I have almost forgotten what it is like to fish for salt-water species, but not quite.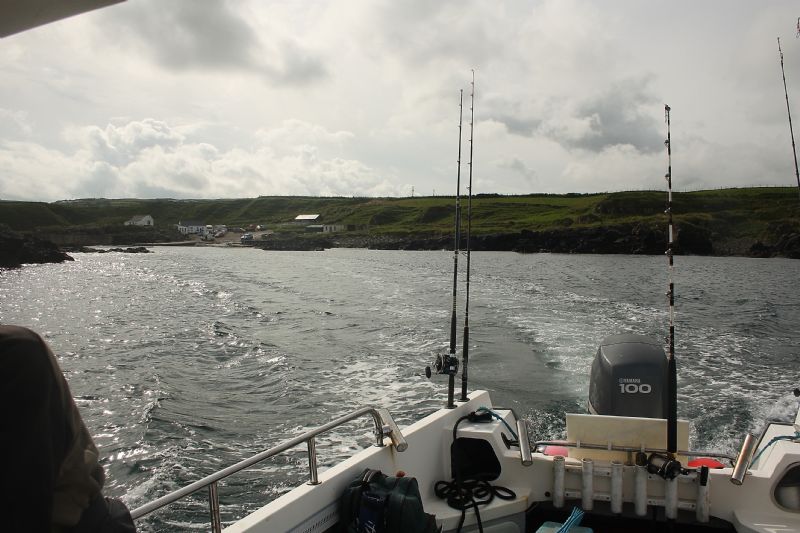 At sea again! Steaming out of the tiny harbour, Dunseverick
The swing in wind direction, from north-westerlies round to southerlies gave us the chance we were hoping for, and angling buddy Andrew Wolsey and I decided on a launch from Dunseverick Harbour on the North Antrim Coast. Our first concern was fresh bait. Late August isn't normally a problem for shoals of Mackerel, but my how things have changed. After four hours searching, we had one Mackerel in the fish box. The poor state of the Irish Sea fish stocks is now becoming ridiculous.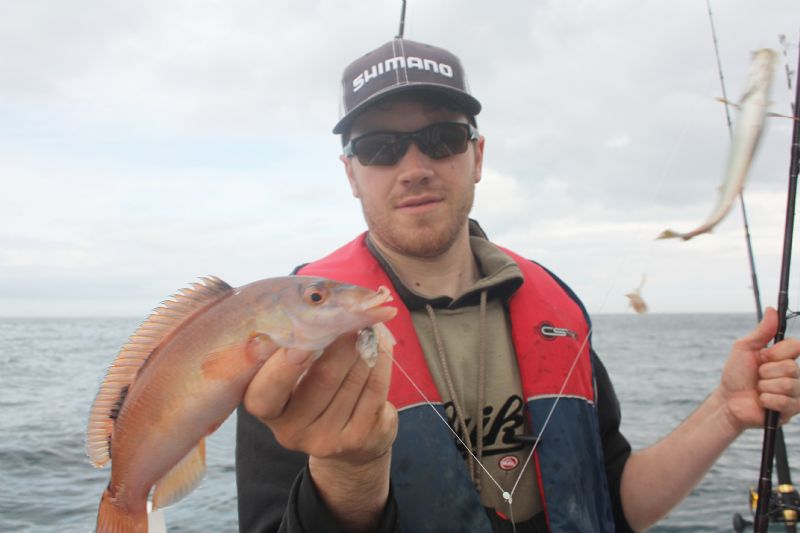 A pretty female Cuckoo Wrasse for Andrew
Luckily, whilst Mackerel hunting, we ran into a handful of bonus species to keep us interested. There were shoals of small Coalfish over the shallow reefs, and the deeper water offered up some hard-fighting Pollack, Ling and colourful Cuckoo Wrasse. A happy interlude it has to be said, in the frustrating search for fresh bait.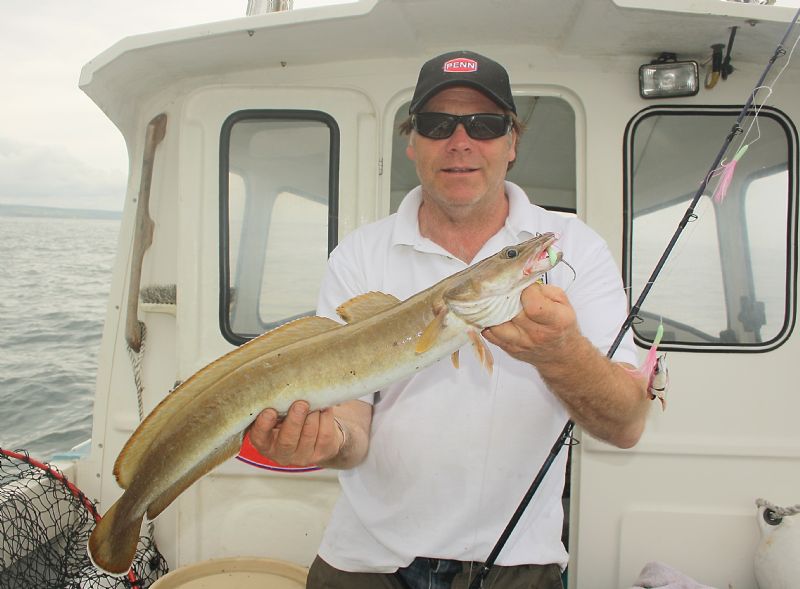 Ling, always a sucker for Shakespeare's Pink Goblin Rigs!
more info....Shakespeare pink goblin 3 x hook sea rig
With time and tide rapidly running out for our chance to anchor, a last attempt found a passing shoal, where we managed to increase the tally to a dozen fresh Mackerel. Importantly, I had some pre-made chum ready for a scent trail as there wasn't enough fresh bait to spare! A couple of boxes of Calamari Squid were in the cooler box as back-up, it certainly looked like we would be needing them.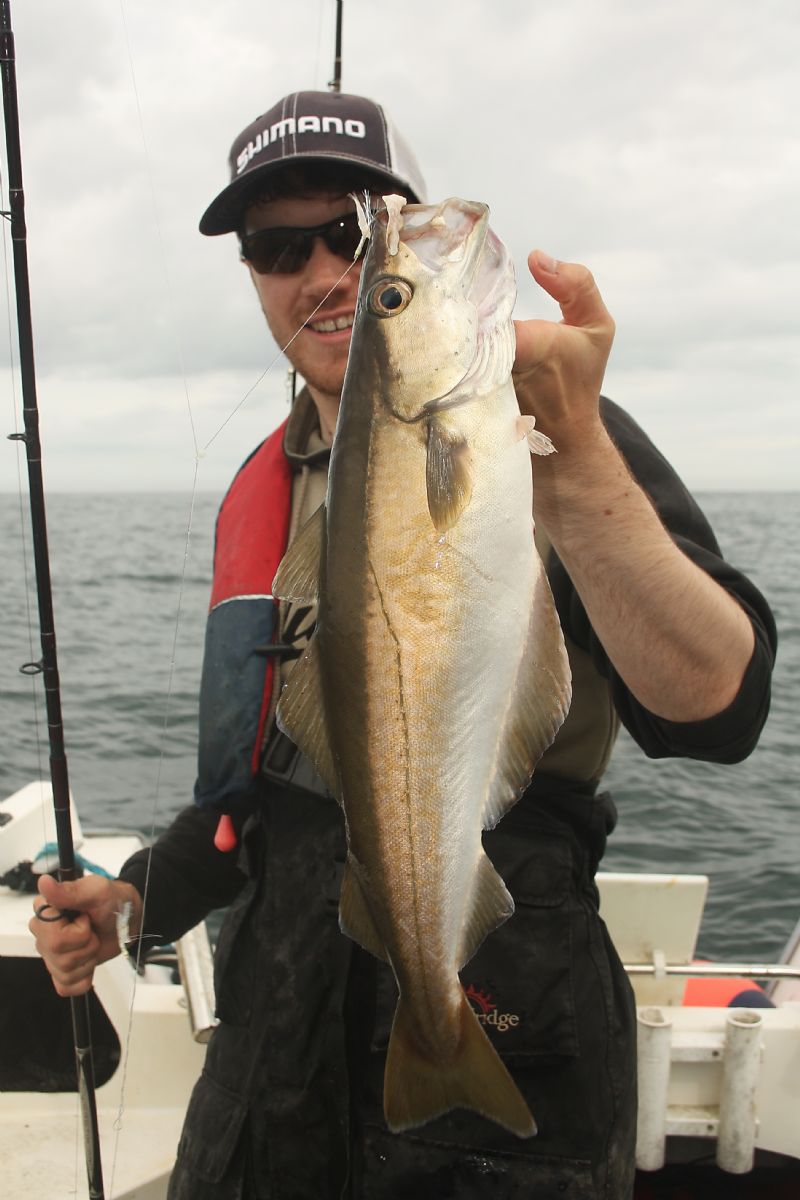 Good to see some hard-fighting Pollack about
With the anchor set, and boat now stationary, the tidal current was beginning to slow, bloody lack of Mackerel almost caused us to miss the tide and we were cutting it fine at best. A couple of dogfish showed, almost always the first species in the queue, carefully un-hooked and returned. It is tempting to think of dogfish as frustrating bait-snatchers at times, but they deserve the respect given to all fish and are quickly released. They are an important part of the "big predator" food chain, and we would be lost without them.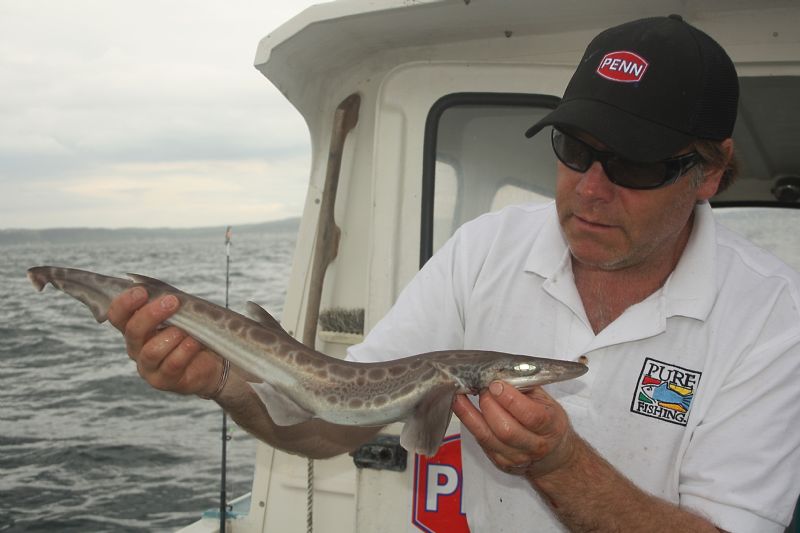 After years of targeting the deep water off Ballycastle, my first Black-mouthed Dogfish from this area
Strangely enough, Andrew asked the question "do you ever find Black-Mouth Dogfish on this mark?" I replied that I think Professional charter skipper Sean McKay may have once landed one, but in all my years, I have never taken a Black-Mouth from this area, so a definite no was my answer. My next fish was a Black-mouthed Dogfish! You couldn't make it up. Fishing always has the ability to allow you to shoot yourself in the foot!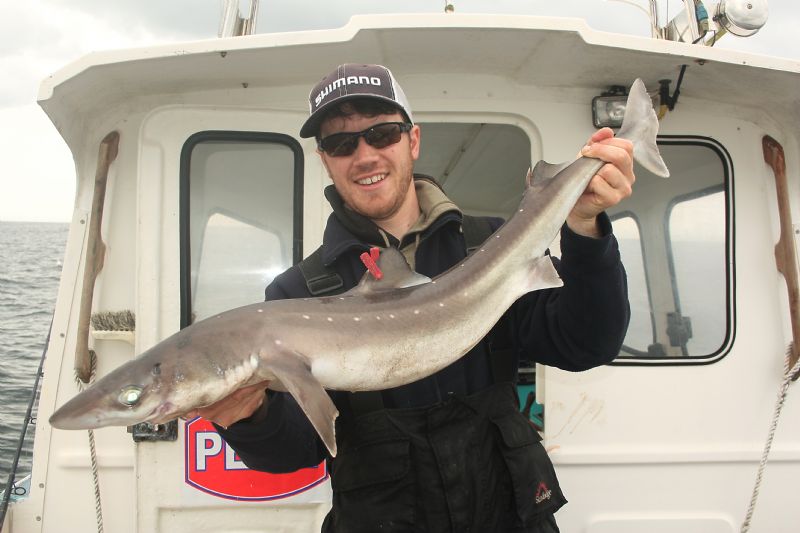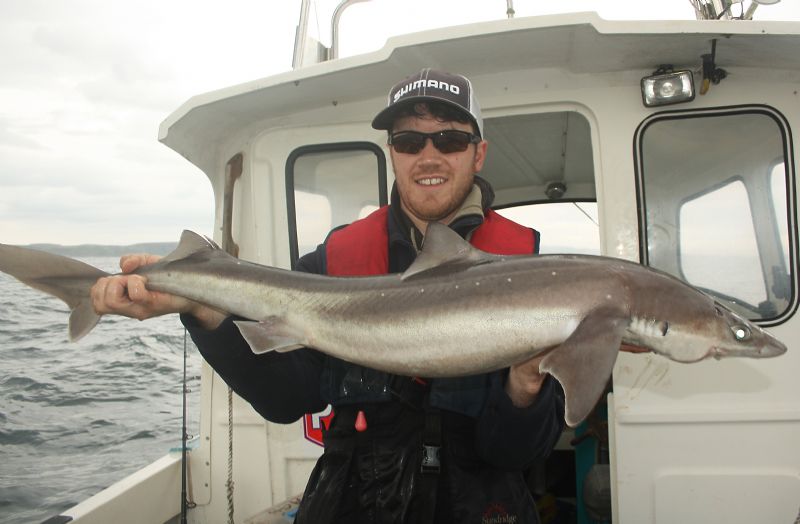 A couple of specimen Spurs for Andrew Wolsey
Luckily, the Spurdog eventually made an appearance, with small double-figure fish obliging, culminating in two specimens over thirteen pounds for Andy and a fourteen for me. We actually landed a Spur with a "Scottish Tagging Scheme" tag in place. This proved that Spurdog caught, tagged and returned carefully are able to survive the ordeal, something I have wondered about for some time now, as we never seem to re-capture a tagged fish, until now.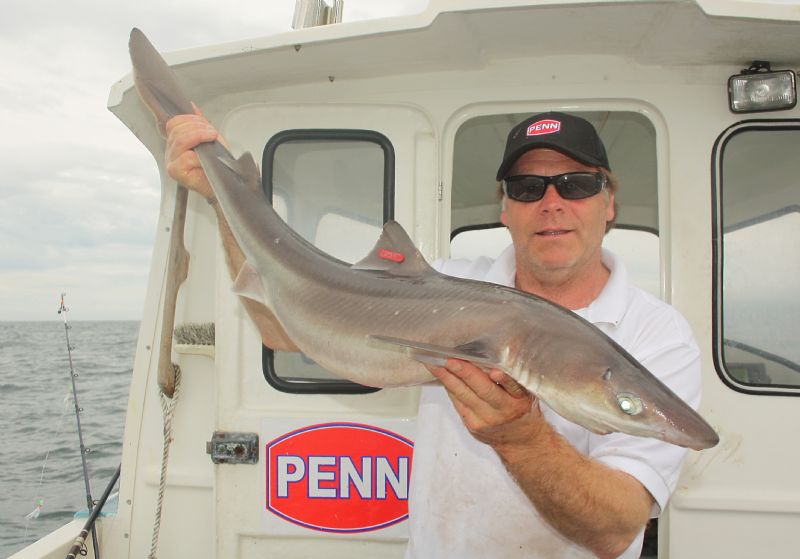 And one for yours truly!
With the tide really starting to slow down now, I dropped over a Skate rig baited with a "Ling Flapper". Slack water is always a great time to find a "barn door". The last five or six Skate to my boat were all taken by relative accident, and usually on in-sufficient tackle. This time I actively targeted one on the right gear, my trusty Penn International Tuna Rod, Penn 15 KG reel, 60lb Braid main-line, and 250lb mono hook-length.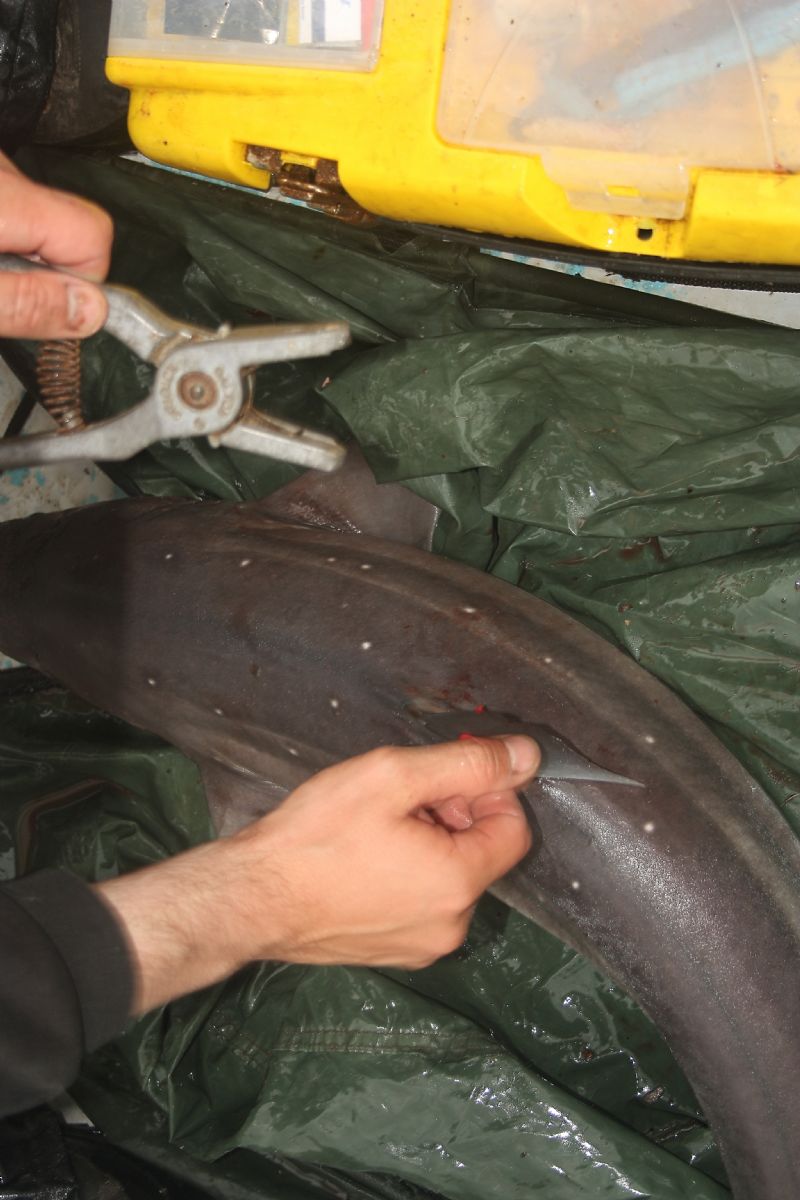 I tag all my Skate, Ray and Shark species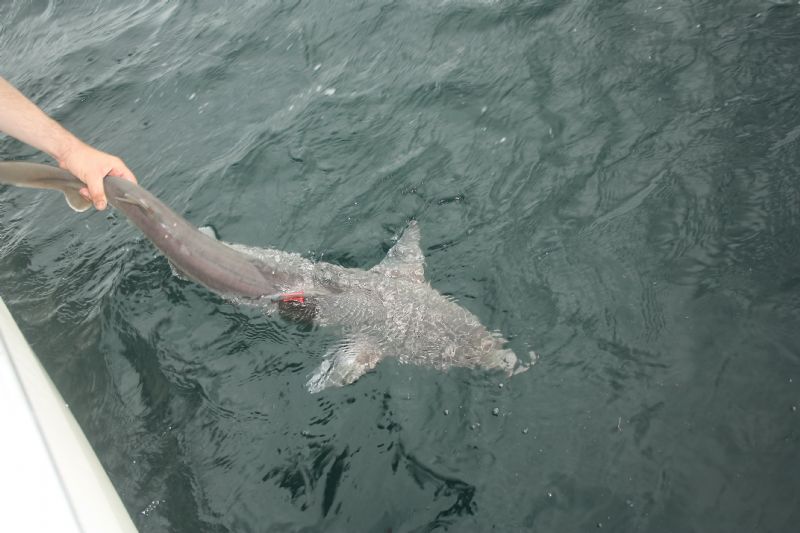 Then, careful release
It didn't take long before a Skate came sniffing around, and soon picked up the hook-bait. I usually avoid this species, the tug of war can be too hard on my back, but with harness and butt pad attached, I settled in and looked forward to the battle. This was a large fish, I have caught and tagged quite a few of these fantastic creatures to date, and could feel this one was definitely being a little bit saucier than normal.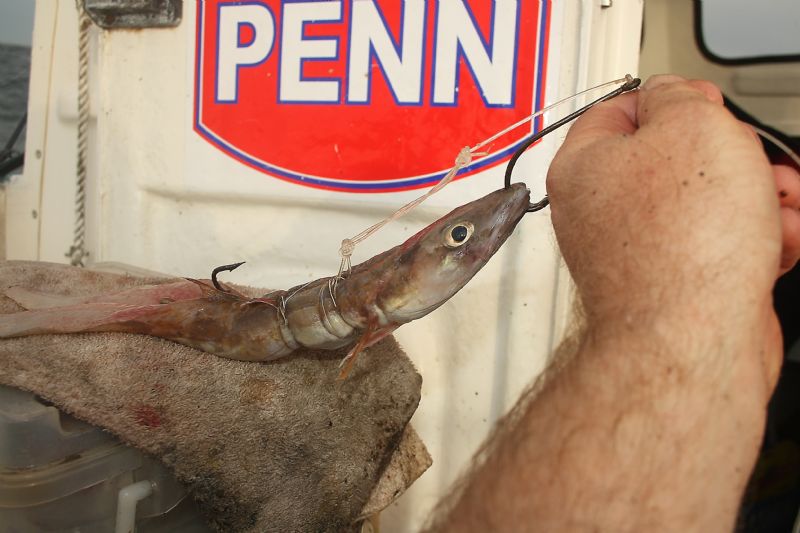 See if we can tempt a big flat one!
Thirty minutes into the fight, and piling on the pressure, she was gone. On inspection, the 250lb mono had been bitten through. I know this is a realistic possibility with Skate, my fingers have been on the receiving end of their sharp mouth parts in the past, but I have never lost this species through a "bite-off" before, and to be honest, was really gutted, I was just starting to enjoy myself! I will now have to add twelve inches or so of wire to the business end in future, can't have a repeat performance of leaving a hook in a fish, despite the fact that they were bronze as always, and should rust without harm. The photos would have made a good climax to this story.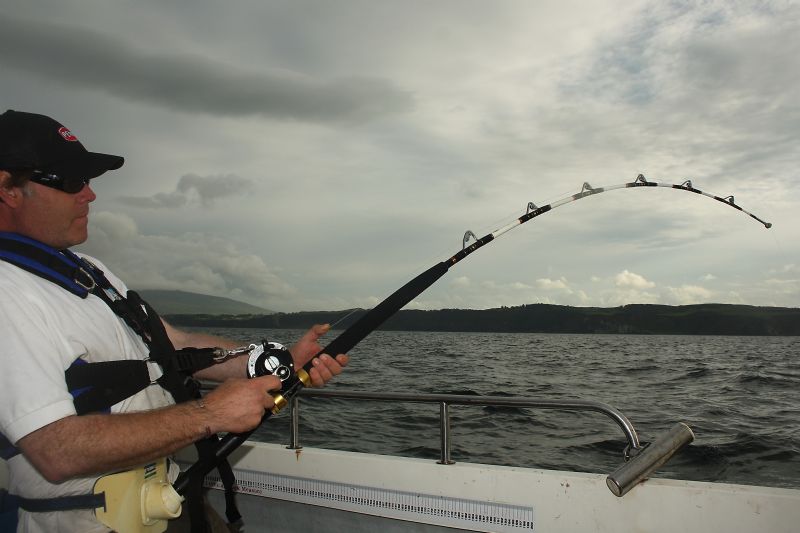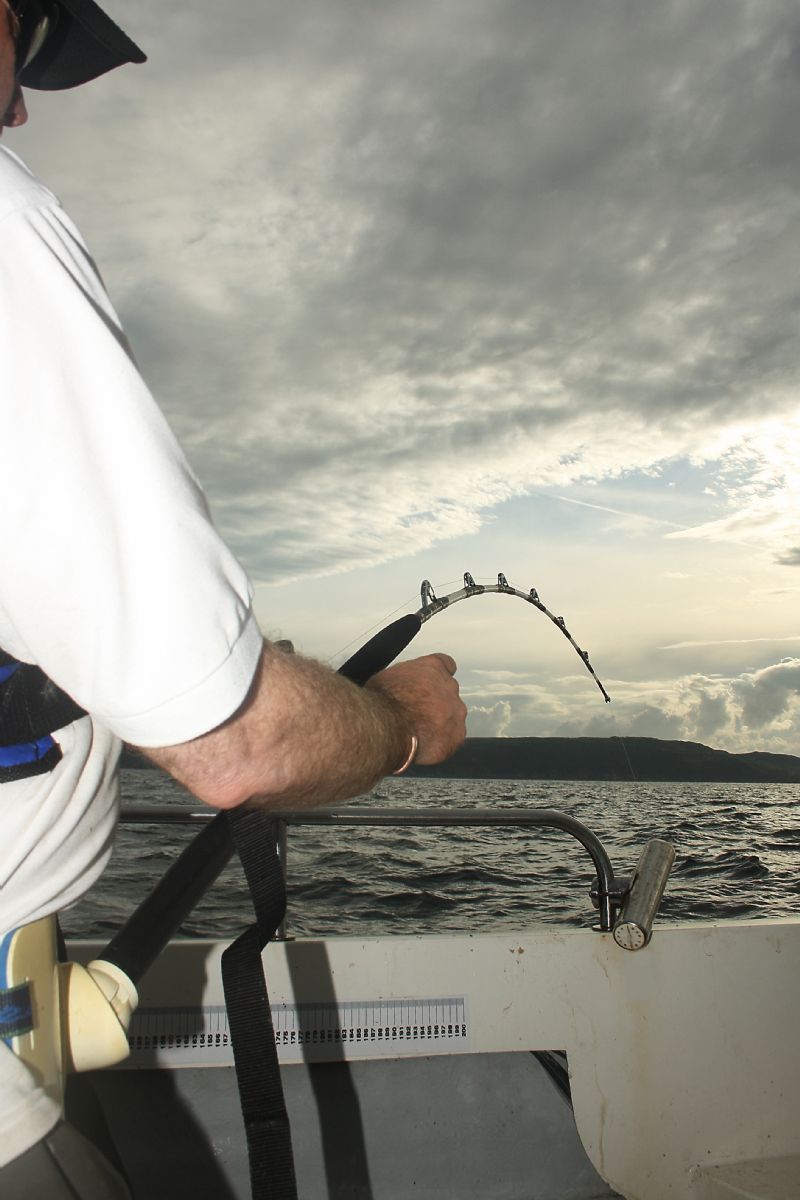 Just before the "bite-off"
So there you have it, an opportunity taken advantage of, and a few good fish to show for it, but extremely worrying at the lack of Mackerel. With recently increased commercial quotas, it may now be taking dramatic effect on this part of Ireland's coastline, and the powers that be are playing God with a species that is extremely important in the food chain of the sea, I hope they know what they are doing!!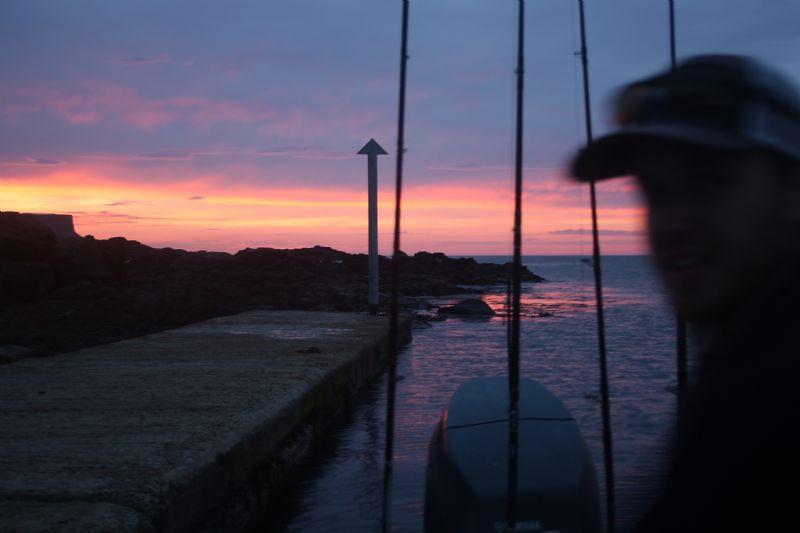 Enjoying the sunset at the end of an interesting day
Back