A chance to guide again
A chance to guide again
Life, it has been said, is made up from a series of meetings and partings, and that is the way of it, and none more so than in the angling world.
My pike angling connections in the Longford area began last year, when Mark Corps, Inland Fisheries Ireland, introduced me to Kevin Lyons during an angling survey. We had the good fortune to stay in the superb Melview Lodge, run and owned by Kevin and his wife Jane.
Looking at the photographs on the walls, of recent captures, it soon became apparent that we had, through Kevin, stumbled upon a gold mine of angling hot spots in this area. With the Shannon and Kilglas systems literally on his doorstep, Kevin has a vast knowledge for those who wish to fast track to superb angling. Stay in his lodge, and bribe him with good whiskey, and it is just possible he may let you into some of these secret marks!
We enjoyed fabulous angling on that memorable trip, and promised to return in the near future, when time and commitments allowed. As Kevin is a man of his word, I soon received a call asking if I would like to come down for a few days pike fishing, and help out in guiding two Dutch guys in search of hard fighting Irish pike on the fly. Mark Corps was also invited, but being otherwise engaged, his place was readily filled by Glenn Drennan, a pike-fly fanatic whom I would be fishing with quite a bit over the coming months. This would be a chance to get Glenn away from his local County Down lakes for a spell, and let him experience some new waters south of the border.
I met Kevin at his lodge on the Thursday afternoon; several hours before his clients were due to arrive. This gave us time to check out a new lough that had shown some promise for Kevin, but one that I had not seen before. As time was running out, I suggested that I fish it from the float tube, and was soon bobbing about under flipper power. Casting and paddling around the margins, I hooked several jacks and turned a few more before lifting into something considerably larger. After a spirited fight, a large female in the twenty pound zone almost jumped over my knees eventually spitting the fly back at me in disgust!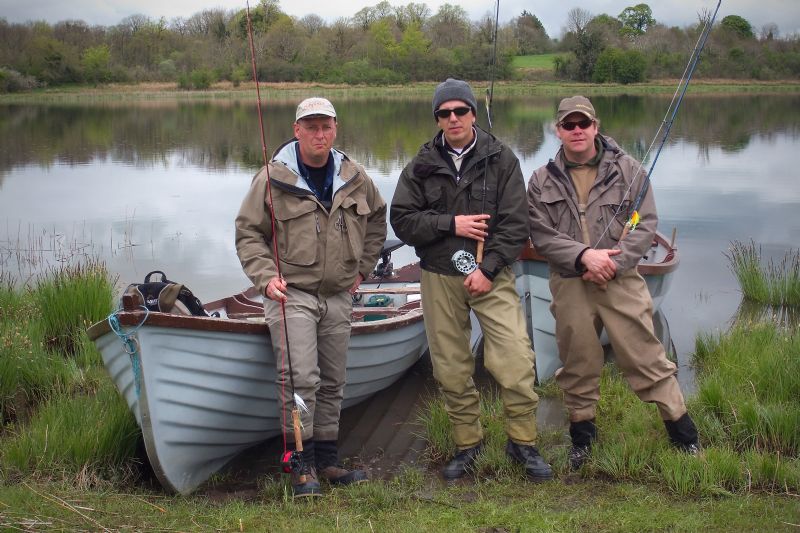 Hein, Mike and I, armed and ready to find a few fish
Angling time passed too quickly, as is so often the case and it was time to head back to Melview lodge to meet the guys. I was introduced to Mike Hermes and Hein van Aar, and as we chatted over our evening meal, it was obvious I was in the company of two very experienced anglers. Hein is a river keeper and guide in Norway on the Tolga, Glomma and Tynset, typically targeting Brown Trout, White-mountain fish and large Grayling. Mike, amongst other jobs, runs a website, as well as an online tackle shop, and they are both qualified casting instructors. In fact, they taught over 800 clients last year alone! I began to regret not practising my casting technique!
They listened intently as I described my earlier float tubing experience, particularly the part where I hooked and lost the big girl. It was obvious they were keen to see if the stories are true that Irish pike (or Snook as they called them) were the hardest fighting pike in the world. We exchanged many angling stories and downed a few beers, along with some medicinal whiskey to alleviate the pain of losing that fish, before retiring to bed.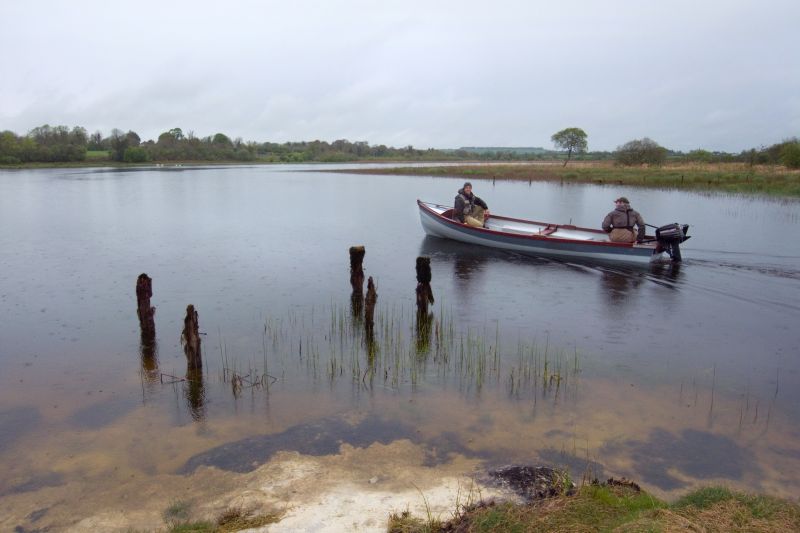 The following morning over breakfast, plans were made as to which of the many lakes we should target. We decided to start with an old favourite that has produced the goods so many times in the past. As far as methods were concerned, anything goes as long as it was a fly on a fly rod. These guys won't do anything else, and that suited me fine. Glenn could only manage Saturday and Sunday, so for today, Kevin would guide Heine, and Mike was with me.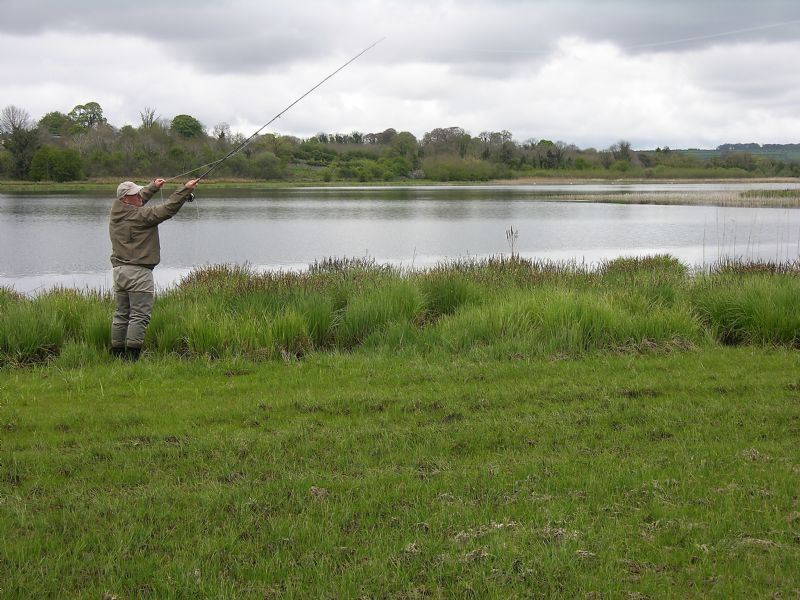 Casting instructor, Hein, demonstrating the open stance double-haul
With boats launched, Mike and I were first out, and headed for the hot spot that has produced its fair share of doubles. Mike produced some fabulous looking flies, tied locally in Holland, and asked my advice. The black and white buck-tail definitely looked good on one particular pattern and it was promptly attached to the wire leader. The light breeze was perfect, and with the engine shut off, the electric out board quietly manoeuvred the boat into position. I love this style of pike angling, and explained to Mike that I would gently lower the anchor and slowly work out rope. This allows us to cover a mark with little disturbance, but be able to hold over areas that showed promise.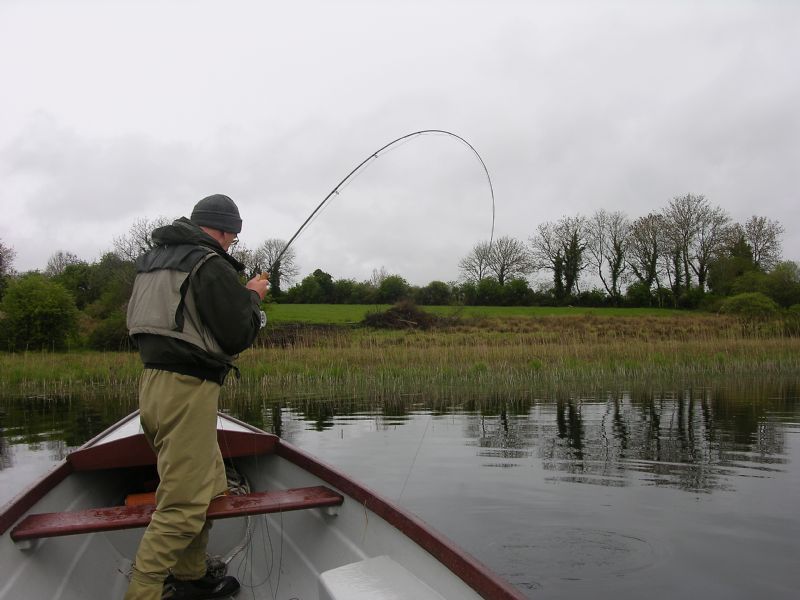 Mike hooks his first Irish Pike
First cast, and on the retrieve, a fish of six or seven pounds followed Mike's fly to the boat. We both watched in amazement as the fish scrutinised the fly's every move, before attacking at lightning speed. Unfortunately, Mike failed to make contact with his first Irish pike, and indeed his first pike on the fly. However, he was suitably impressed which went a long way towards alleviating the pressure of finding fish for these guys.
A few further moves along the margins and the pressure was off. Mike soon fell into the rhythm of casting, hooking and landing fish to six pounds or so. After a shaky start and a quick lesson in how to "chin" a pike without injury to fish or angler, he soon became confident in handling these toothy predators.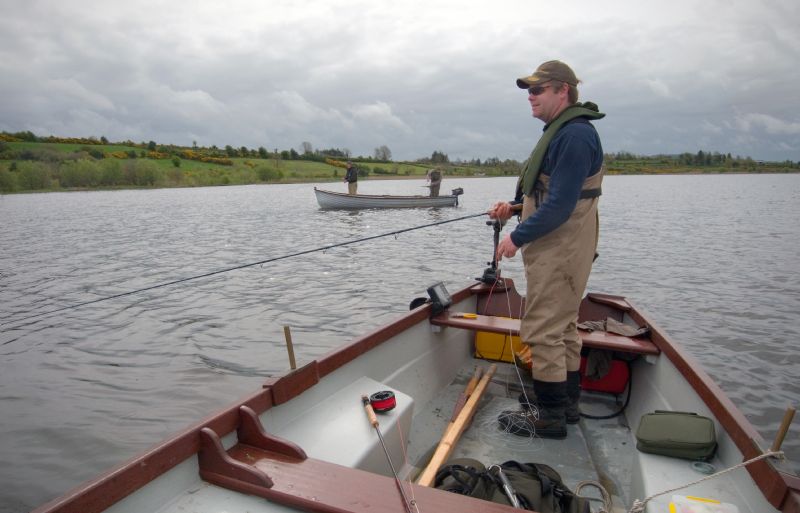 Yours truly, searching the margins
A break for lunch, with Kevin providing plenty of sandwiches and my kettle on the go, Mike and Hein commented on how hard these small fish fight. They were clearly enjoying their experience. I noticed that their rods, although nine weights, were a much softer action than I would use and Hein asked if he could have a cast with my ten-weight. I think the shock was too much for him, as he handed it back and said "I will have another go in ten years time, when I have grown up a bit more!" I replied, "Just wait until you hit a twenty", that will change your thinking!
On this occasion, the big doubles failed to show, but with a combined effort of fourteen fish by the end of the session, all were happy. A chat with Kevin and we decided to leave the boats at this lough for the night and try the same marks again the following day. There are large pike in this water, we have caught plenty in the past, and so, chanced our luck that at least one may show up to the fly the next day.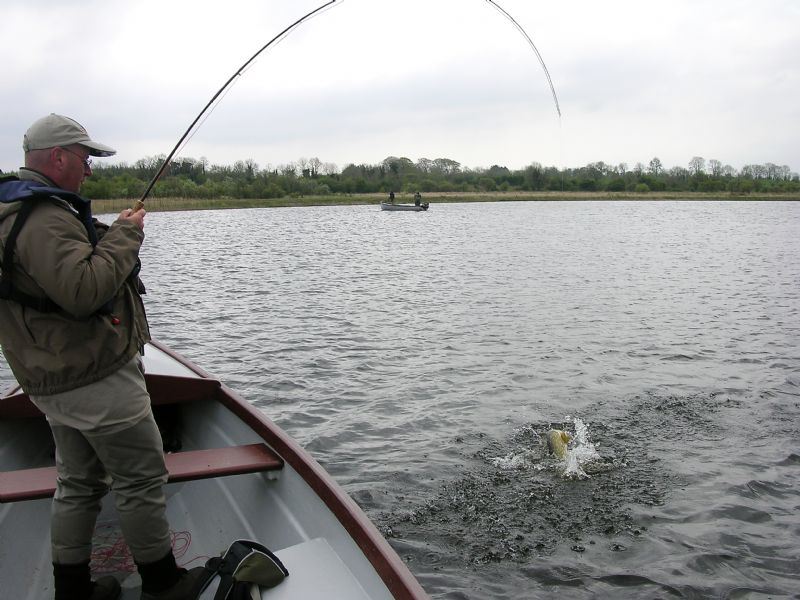 Hein enjoying the scrap of a feisty jack
The following morning saw the arrival of Glenn, and with breakfast and introductions over, we headed back to the lough. This time, Glenn would guide Mike and Hein would spend the day with me, leaving Kevin to sort out a few pressing engagements back home. We followed the same routine and picked up similar sized fish, but the doubles refused to play. Chatting over tea and sandwiches, I suggested that the larger fish may be sitting deeper, over the ledge. We switched to fast sinking lines for the afternoon session, but still picked up nothing larger than seven pounds. This was disappointing for me as I was desperate to see Hein's rod tied in knots with a proper fish! Before readers start shouting, yes I know a seven pound fish is lovely in its own right, and the Dutch lads were having a ball, but it can be annoying when you know these large fish are present and can't be tempted. The lake record is almost forty pounds!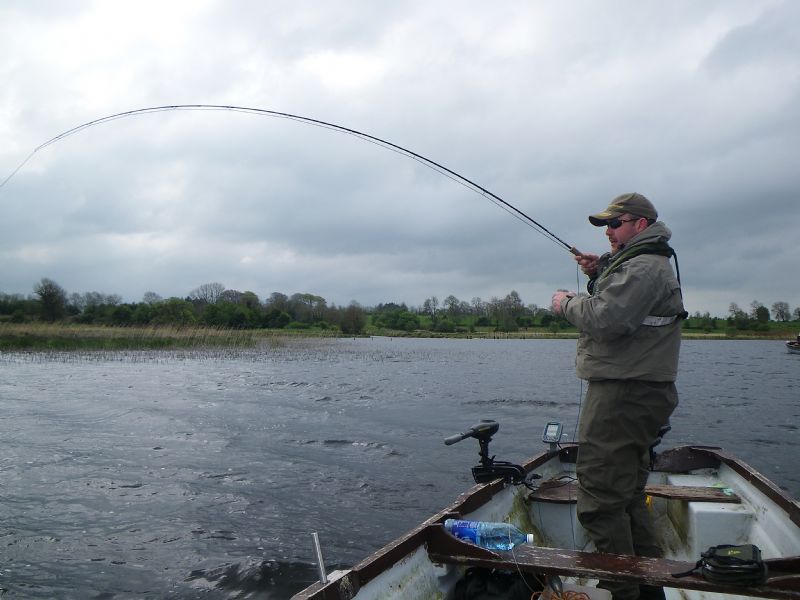 Not long before Glenn finds a fish on the fly
By the end of the session, both boats had landed sixteen fish between them. A decent result but I felt it was time for a move to a new venue, and in particular, the lough that almost produced a twenty for me on the previous Thursday afternoon. Kevin agreed, and arrived to take the boat out, whilst Glenn and I stayed on a little longer. We both landed a couple of fish each, and lost one small double, typical!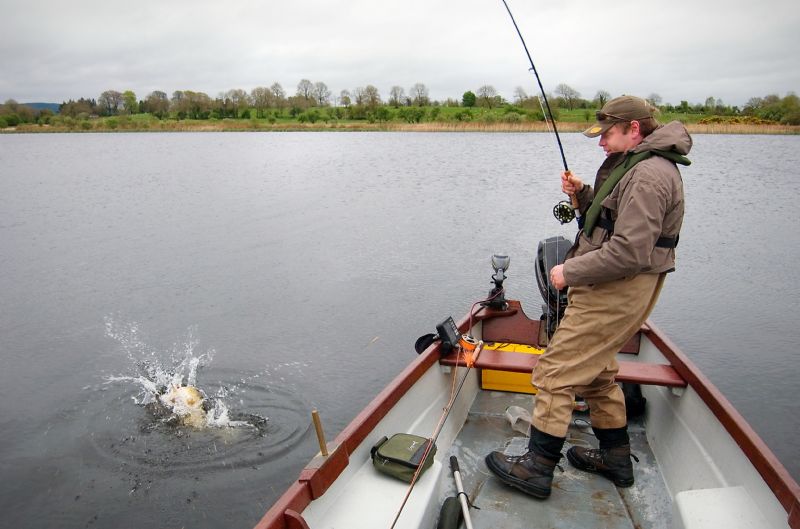 Great fun, but where's the doubles?
Sunday morning was our last day and it was a laugh trying to launch the boats in this new lough. The water level had dropped dramatically and you could almost walk across the lake. Hein and Mike would only have a half day here as Kevin had promised some trout fishing for the afternoon. The pressure was definitely on for a double in this session.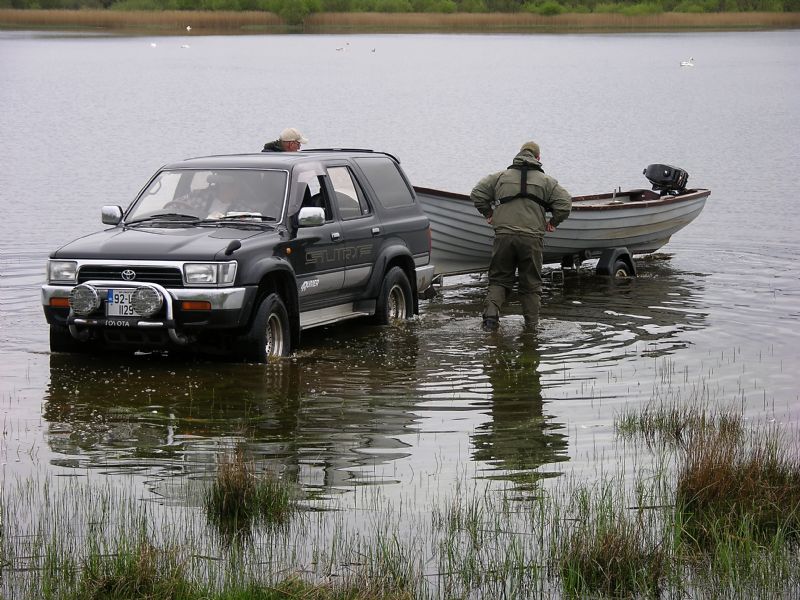 Not the easiest venue to launch a boat!
Not wishing to hit the big-fish mark immediately, we worked our way along the right bank and turned a couple of small fish. Hein hooked the first fish along the far bank, yet again only a couple of pounds, so it was time to try for a big lady. The wind had picked up by this stage making the drift too quick. As I approached the mark, Hein couldn't wait and cast a fly towards the reed-fringed margin. His white buck-tail, cone head fly was instantly "nailed" by something a little larger this time. As the strong wind pushed us towards the shore, I had to leave the tangled anchor rope and use the electric outboard to steer out of trouble, at the same time making sure Hein had contact with this obviously decent fish. The task of a guide can be frantic at times!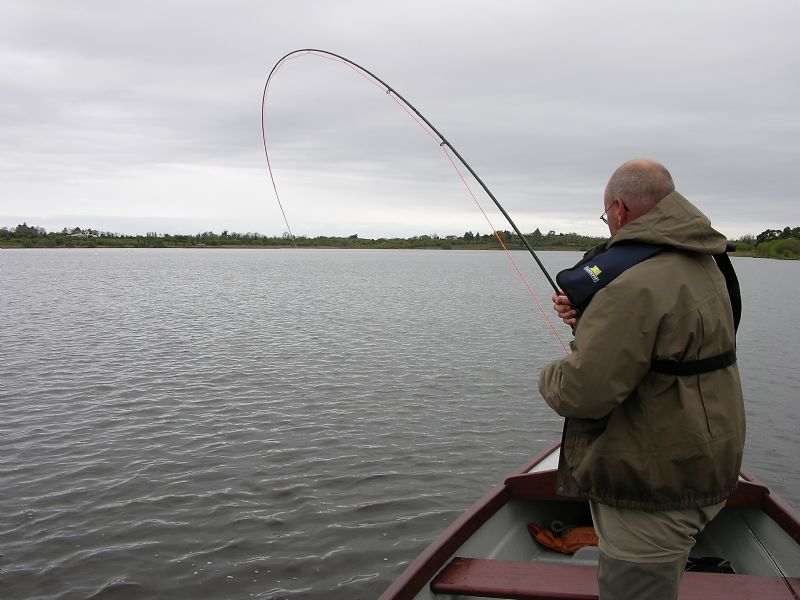 A better fish this time, and Hein's rod really struggled
We were now back in safe water, and the fish was still on, so I could relax a little and wait, landing net at the ready. Unfortunately, the boat had spooked some decent fish whilst manoeuvring, but the focus was firmly on landing this one. Ten minutes went by, and although Hein was giving this fish serious "stick", she would not come to the boat. His rod was hopelessly under-gunned. Eventually she ran aside the gunnels, where another pike of the same size cleared the water and shot alongside the hooked fish. I wouldn't have believed that if I had not seen it with my own eyes. I almost netted two doubles at once!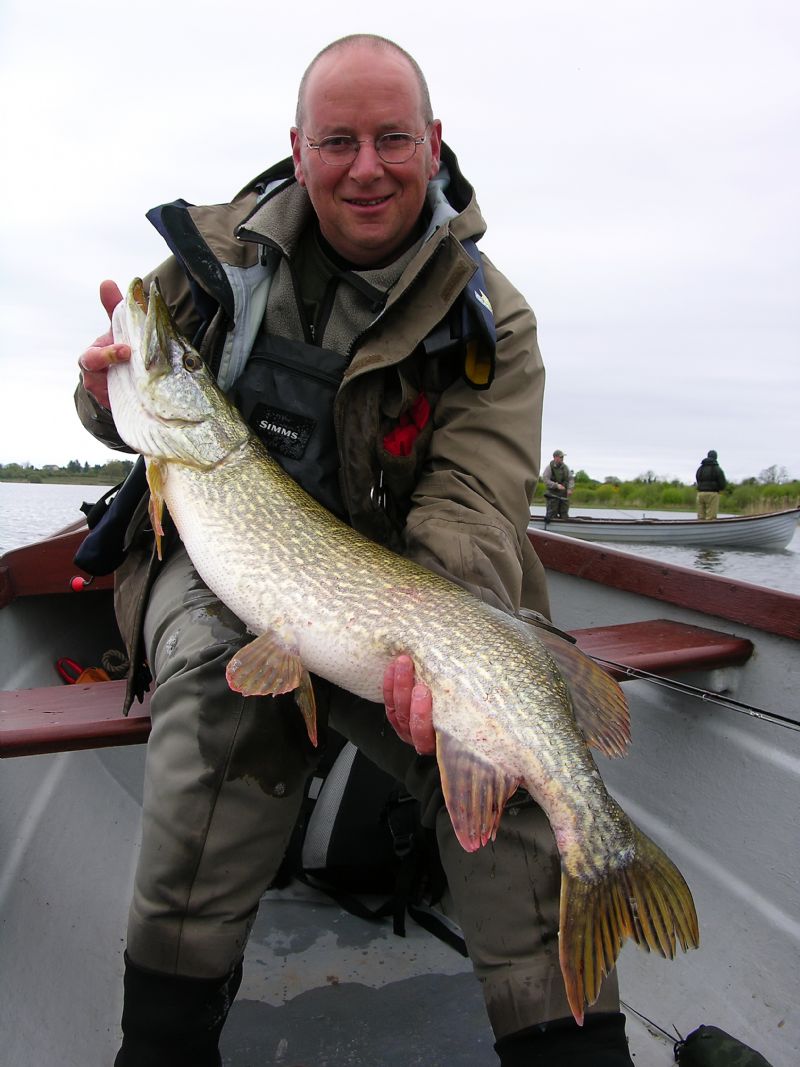 This seventeen-pounder made a mockery of Hein's 8wt fly rod
At last, I saw an opportunity and safely slipped the net under the fish, and breathed a sigh of relief. Hein was delighted and absolutely gob-smacked at the power our pike possess compared to those abroad. We quickly weighed and photographed the fish, and held her in the water for a minute or so to recover, and she swam away strongly. Hein looked at me and said "thirty five years of fly fishing, and I am still learning". "You were right, when I get home, I will buy a rod with more back-bone!"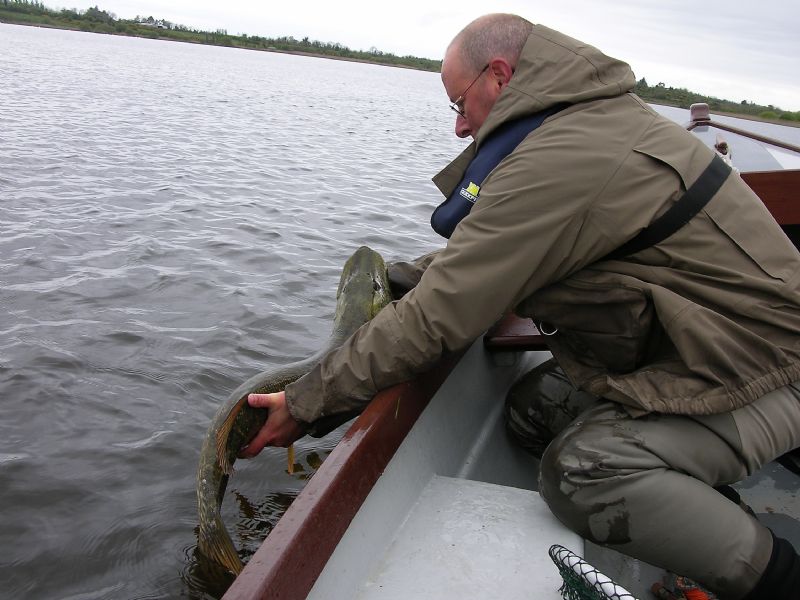 Careful catch and release, the ONLY way to treat a Pike
This is one of the reasons angling is so interesting. Any angler who states that he has nothing to learn is either an idiot or a liar. We learn constantly, changing and adapting, correcting faults and fine tuning. I learnt some wonderful casting techniques and realised that I should practice a little more. Hopefully the Dutch lads learnt something from us, our methods and our hard-fighting Irish "snook" too.
After lunch, we said our goodbyes, leaving the lads back in Kevin's capable hands. Glenn and I fished on and found a hidden "back" bay that produced a few more fish, although none to match Hein's fin perfect double.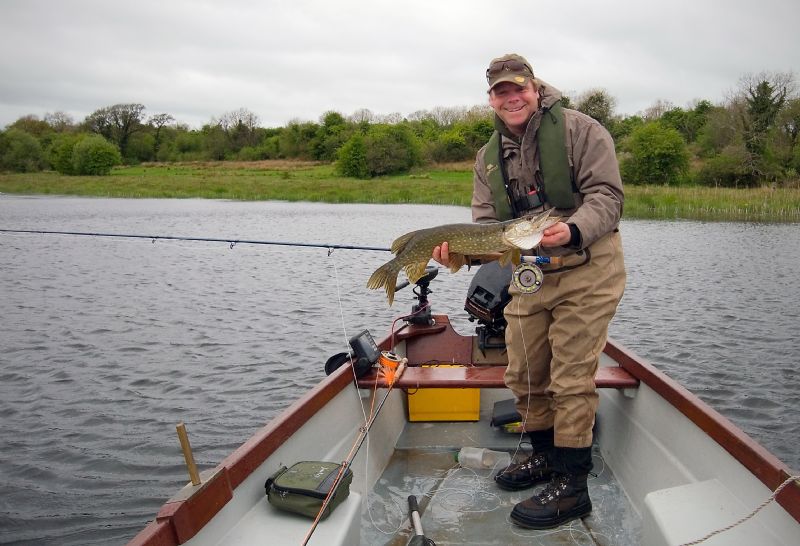 Chatting several days later with Kevin, they had managed to land a few Brown Trout that afternoon, so a great weekend was had by all. As they departed for the airport, Hein gave his pike-fly rod to Kevin. Says it all really! I would like to thank Kevin for putting us up, or was it putting up with us! Thanks also to Mike, Hein and Glenn for good company, excellent photographs and great angling fun.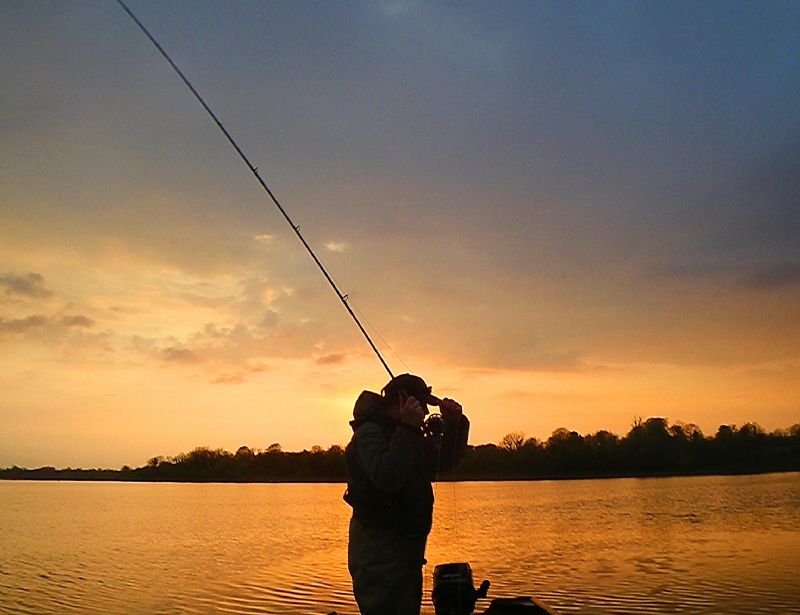 Tackle
Recomended budget priced rod....Shakespeare Agility XPS 10 WT Fly Rod - Black, 9.6 Ft
Recommended Fly Reel....Pflueger Trion Fly Reel, (Up to 10 Fly Line)
Recommended Fly line....Guideline Pike Series WF Floating Fly Line #10
or Rio Pike Line_WF10F
Recommended Fly Supplier....Turrall Stupid Boy Roach Premium Pike Fishing Fly Size 4/0
Recommended landing net....Savage Gear Tele Folding Rubber Mesh Landing Net - Large
Back