A Day For Doubles by Karl Bohan
A day for the doubles
For various reasons I had hardly wet a line since September but over the holiday period I intended changing that, and knowing that I would be spending the new year in Leitrim I penciled in the 2nd and 3rd to get out for some pike fishing.
I was to be joined by a friend of mine David O Connor who had taken up the sport maybe two years prior and now also suffers with this affliction. So I chose a venue and we agreed to meet on the morning of January the 2nd.
I arrived at the lough an hour before daylight to inflate my boat and load the gear into it. This lough has somewhat limited bank-space with only two fishable banks and both of them being well out of casting range of the deeper water. So for piking, a boat is almost essential (I learned this the hard way). My plan was like many times in the past to scan over the three deep holes to try and identify where the prey-fish were shoaling up, this can be vital to increase your chances of coming into contact with Old Esox. And for that reason my inflatable coupled with the portable Hummingbird sonar is opening doors for me especially on the waters I couldn't launch my 14ft fiber-glass boat on.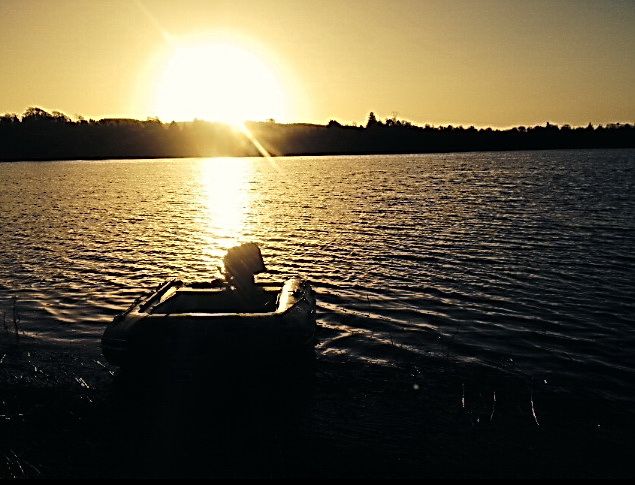 Sunrise, day one
To my dismay I discovered the mount for the transducer wasn't in the van so I had a decision to make in terms of pack up the boat, rods etc. and head back for it or fish it blind as such. I decided I knew the lake well enough to do without so I loaded the boat and headed for the far bank, a grassy area where we could set up base and drop the baits into the deeper water. No sooner had I the rods rigged up and bank-sticks set the phone rang. Dave was on the far bank eager to be collected so I duly obliged. We were fishing two rods each ranging from 80-120 yards dropped into a mixture of shallow/sloping and deeper water.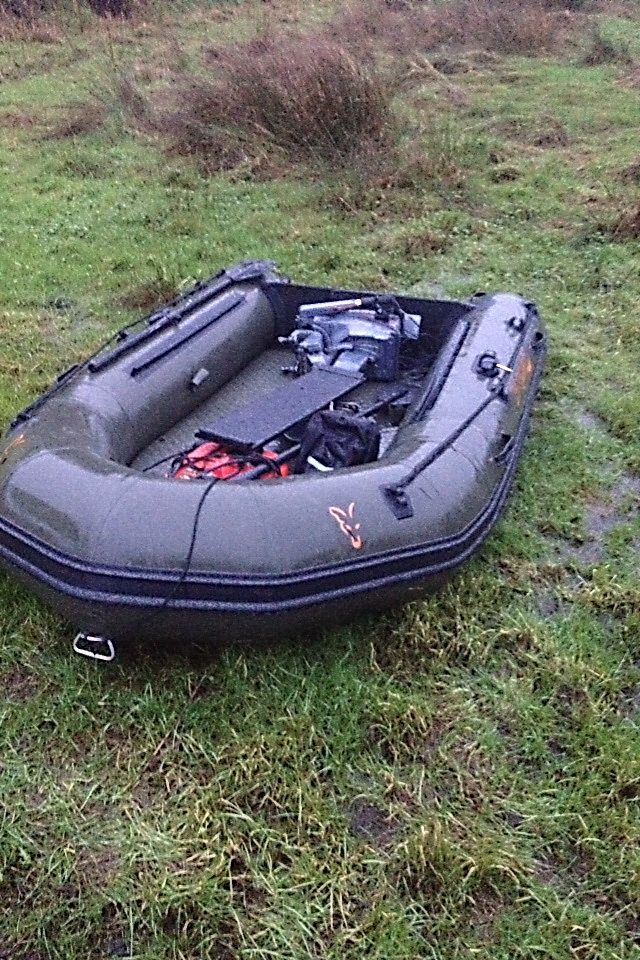 Boat loaded and carried down to the water's edge
The fishing was very slow and by 1 o clock we had nothing to show apart from two dropped runs and although neither of us said it, we were both thinking of the dreaded "B" word. Another couple of re-drops and re-baits and finally in the last two hours we managed three fish between us, two jacks for Dave while I had a welcome 12lber. At least we were off the mark for 2015 all be it not in spectacular fashion with three fish and maybe 4 dropped runs, sometimes it's hard to figure out! So we retreated back across the lake as the light was fading and back to the house for a wash, some dinner a few beers and then to thrash out a plan for the following day. I had a venue ear-marked previously that I wanted to try and this could be the perfect opportunity. We checked the weather and it was not giving it too good, sleety showers early on coupled with downpours for the rest of the morning and early afternoon.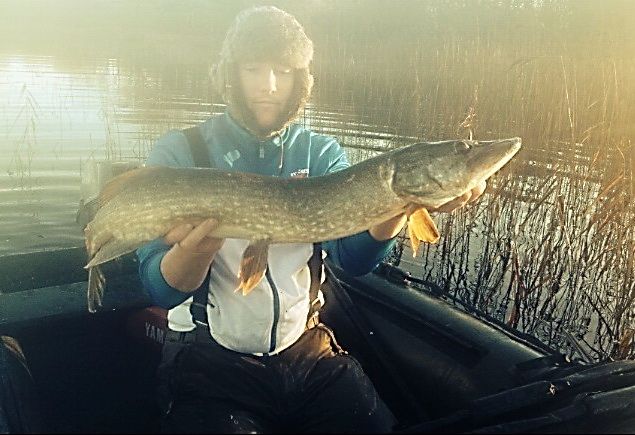 A "scraper" double for Karl
It was after midnight when we retired for the night and we were both awoken before our alarms with the rain hammering against the windows and the wind howling outside. I was beginning to have my doubts over the venue choice given that there was minimal shelter and the lake was reed fringed and almost no bank-pace existed to set up camp. But the show must go on and we were up, fed and gone by 6:30 am. We arrived in complete darkness, just the glimmer from the moon on the water's surface showed us the way from the roadside through the fields to where I hoped we could launch. The rain was hammering down and It was one of the few times I was questioning my sanity as we inflated the boat in complete darkness and loaded it with the engine, fuel tank and rods etc. before trudging down through the heavy ground carrying the boat.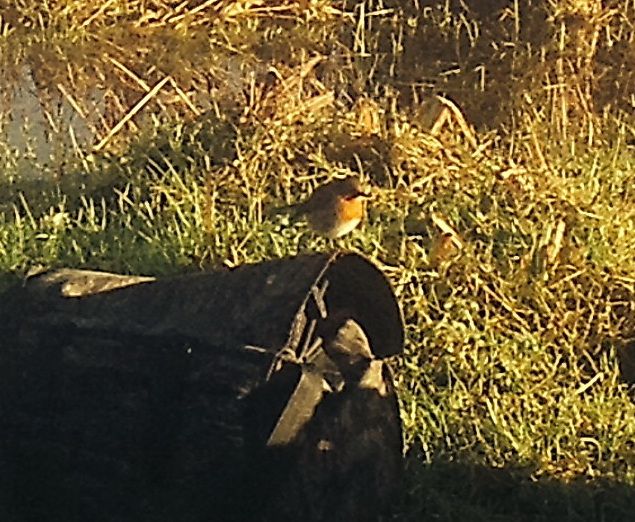 A curious visitor looks on
First light was just breaking as we pushed the boat out through the reeds. This area of the country is a world with still dew on it, a place untouched by the outside. It is here far away from the night sky polluted by streetlights that I long to be. The first rays of the sun breaking the horizon cast a glistening presence on the crests of the icy morning waves. A beautiful spectacle to behold. Dave prepped the rods and gear from the bank as I scanned over the now rippling morning water for likely features that could hold pike. I mentally noted some possible areas and drop-offs as I surveyed the display screen on the hummingbird. A sub surface area of undulating terrain drew my attention, the sonar showing terrain replicating an eggshell box turned upside down was definitely worth investigating as pike tend to like broken ground as a point of ambush. Happy with my findings I headed back in to take the baits from Dave and drop them one by one in likely spots as Dave tightened up and attached the droppers. Each bait leaving my grip and disappearing to the depths leaving a trail of phosphorous in their wake. Four baits dropped, namely Sardine, Pollan, Herring and Smelt, all popped up at ranges varying from 40-120 yards.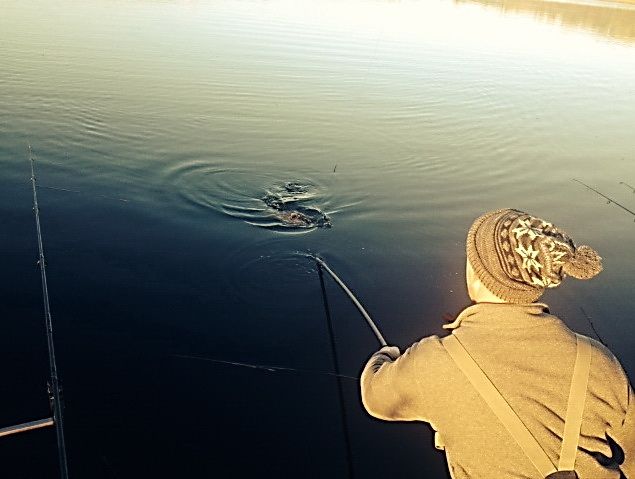 We tided the gear away and were discussing our chances for the day when my left hand rod burst into life. I lifted the rod from the rest and with one sweeping strike set the hooks. A spirited double was soon in the net, the Smelt having deceived her. After a little rest she was unhooked and a quick snap and back she went splashing me in the process. A good start, the rain had just stopped and we were lifted by this fish. Back out to drop the new Smelt over the "Egg-box" and while I was out Dave had a screaming run that resulted in a dropped bait, a good sign our baits were in the right areas. By half nine two more dropped runs, we were scratching our heads as to what the pike were playing at! At 9:30 my left hand rod was gone again and this time it wasn't dropped and after another spirited battle a scraper double was in the net.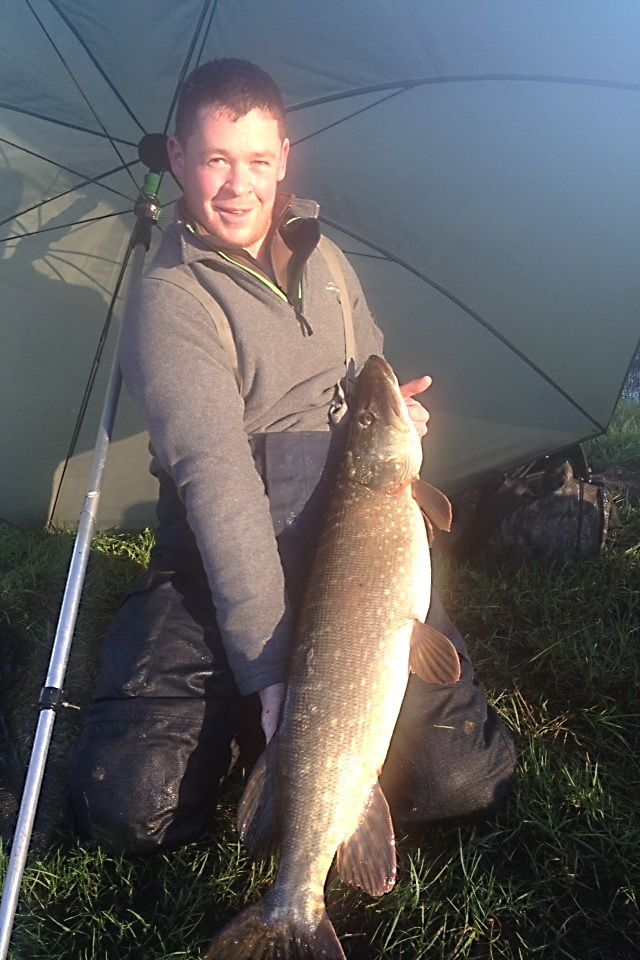 Dave's personal best at 18lbs 6oz
No sooner had I lifted the fish out for unhooking, Dave's right hand rod peeled away but as he struck into the fish he met no resistance, I popped the pike into the recovery sling and as Dave was inspecting his mauled bait his left hand rod tore off like the Orient Express, this time his strike was met with solid resistance and he immediately said this feels a decent fish. So after a couple of powerful surging runs she was in the net. My first thoughts were she was a scraper twenty; it was certainly a new PB for Dave, a fine lump of a fish. So after unhooking here we rested her in the net and zeroed the scales, she pulled the needle around to 18lb 6oz. Smiles and handshakes were exchanged, PB's are a special thing. We took a few pictures before Dave slipped her back to her watery lair to fatten up in the months ahead.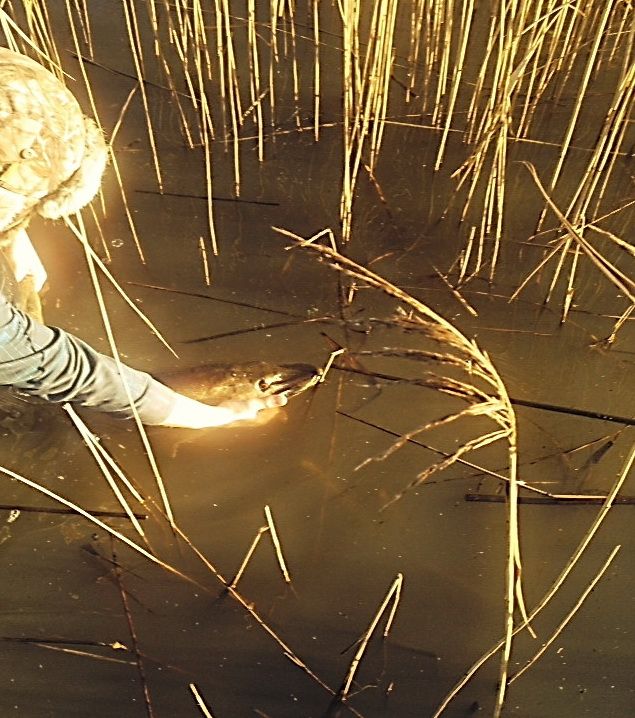 Always practice catch and release
He turned to me and said something like "I couldn't care less what happens for the rest of the day now I'm delighted to have encountered such a fish", and it wasn't even 11 o clock! Not long after, my friend Andy was on the phone seeing what my plans were for the evening, I told him we were fishing in Leitrim and that we were staying down that night and he was very welcome to join us. He said he would be down and would bring a rod and see us in two hours' time (he loves the chance of a good night drinking pints!) Obviously we were happy for the company. I managed another mid-double while Dave had another dropped run; the fish were in a strange mood for sure. We both agreed that due to lack of space we would give up a rod each for Andy to fish with the hope he would get a fish.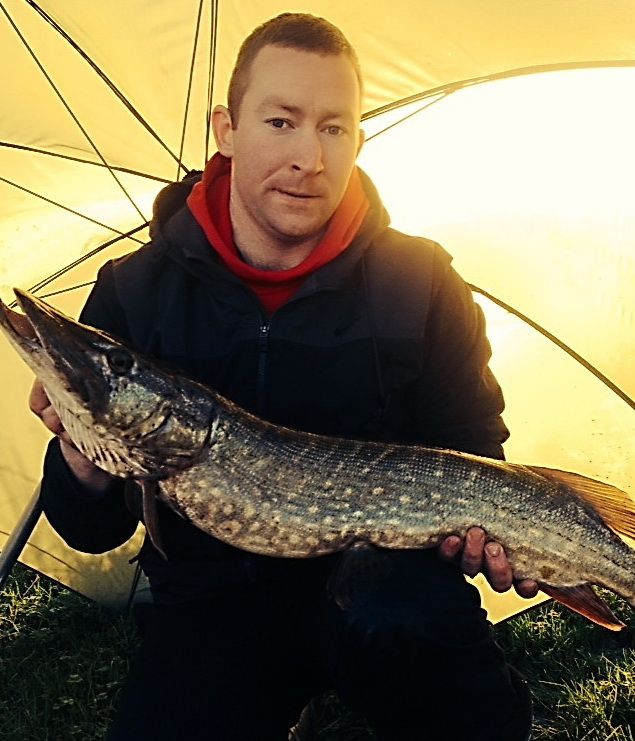 Andy's personal best, only fifteen minutes after arriving
After a bit of lunch and a reposition of two baits Andy arrived. I asked him to man my rods as I re-dropped my second bait at distance, no sooner had I dropped the sardine into 30ft and as Andy attempted to tighten up to his confusion the line started peeling away! He soon realized the bait had literally landed on a pike's nose and had been taken. He almost had the fish landed by the time I was back out of the boat! Once un-hooked and weighed it became apparent it was another PB! 13lb, a few snaps and once recovered she powerfully swam away. Smiles all round again. Andy had only been here 15minutes! Two new PB's on a new water was the makings of a good day in my book and I was still hoping we could somehow make it three PB's! Wishful thinking! We watched as the sun dropped down behind the rolling hills leaving a burning sky in its trail.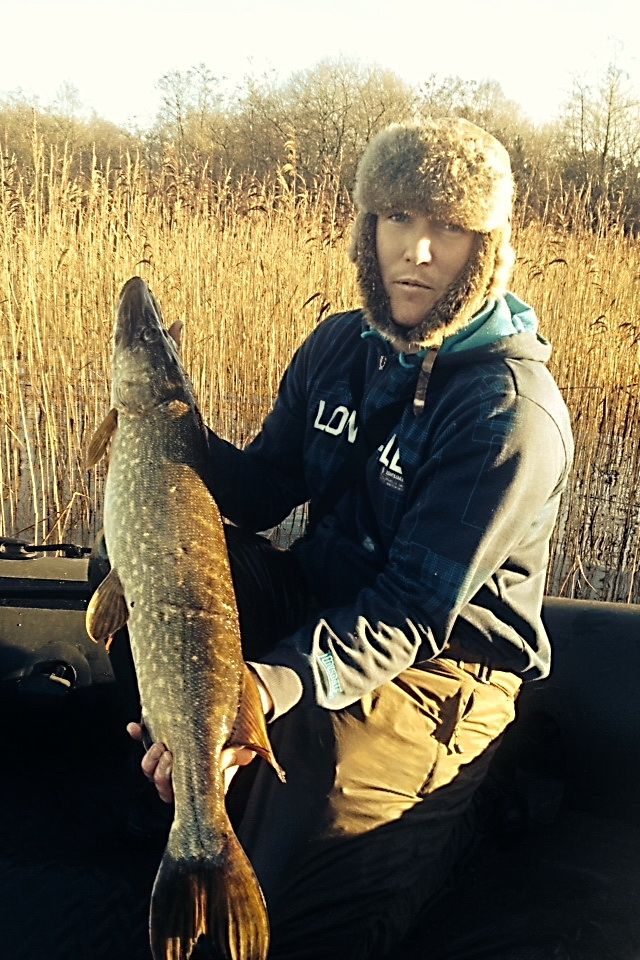 Fish number three
We packed up at dusk pleased with how the day went given how bad the morning had started. We managed 5 pike and at least another 5 dropped runs, not mind-blowing by any means but an enjoyable start to the New Year. Back to the house we went for a hearty feed and a wash and then off to the local watering hole for more than our fair share of the black stuff. No monsters were had on this occasion but I will certainly be returning, hopefully to do battle with some of the lake's larger specimens in the coming months.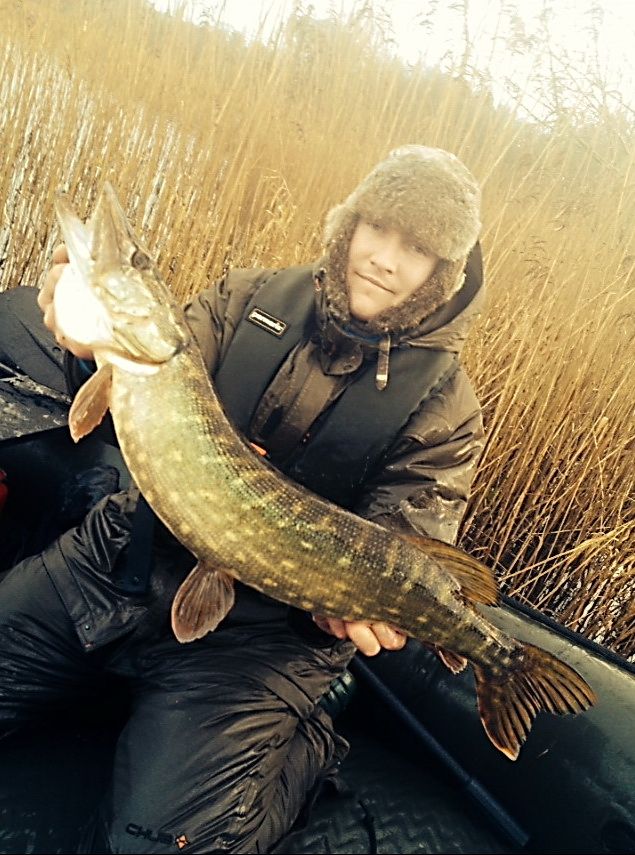 My first fish of the session
For some people fishing is all about the relaxation or the escape it creates, others are all about catching that elusive monster or even stimulated by the challenge each species or season pose, some just like to be immersed in the idyllic scenery it usually coincides with. For me it's probably a combination of all these factors. Something deeply rooted to the soul that can't be pin-pointed; I remain haunted by its grip, visions of green lush summer lake meadows, winter morning grass blades crunching below my footfall, soft spring rain gently dimpling a bed of lilies as the mist rises from a Tench swim. So much nature offers, if you're willing to open your eyes. I quote the famous 19th century philosopher Henry David Thoreau who said "Many men fish their entire lives without knowing that it is not fish they are after". Personally I feel that very often the fish are only a bonus. In a world that often passes us by quicker than life itself, for me one thing remains constant and that is until I draw my last breath, haunted I will remain.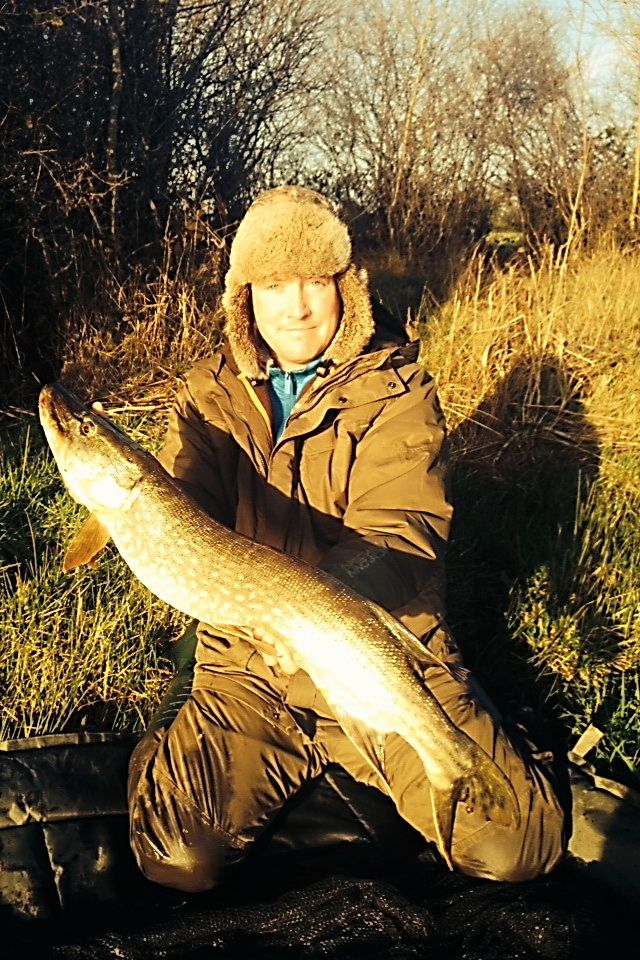 All the best for 2015 and I hope your nets stay full and your lines stay tight!
Back