A new deep-water venue
A new deep-water venue
With all this heavy rainfall, I was forced to postpone my planned River Pike sessions for the time being, and turn my attentions to the sea.
Again, weather conditions have not been kind, and, checking my diary, I was amazed to see that strong coastal winds and huge tides have kept me away from my usual haunts for several months now.
However, with two days of light winds over a neap tide, almost un-heard of these days, we had a rare opportunity to get out on the water. There is an angling god after all!
My pike angling bud, Glenn Drennan had hinted that he wanted to continue with his species hunt so an invite was duly extended, and also to Dessy Young. Des has been a permanent fixture on my Fast Fisher for so long now, if I ever sold the boat, he would be expected to go with it as fixtures and fittings!
The only major decision now was where to go. My last hot mark was rudely taken from me by a guy that steamed alongside, marked the spot and cleared off, without even acknowledging that I was there! This co-ordinate theft is commonplace, and always feels like someone has just smacked you in the face and stole your wallet, but there is little can be done. It would soften the blow if they would actually stop and chat! I don't mind as such, but in this particular case it was blurted out over angling forums and subsequently suffered a fair bit of pressure. With all the activity on that old mark, it is just a matter of time before the commercial lads move in and kill it for good I'm afraid.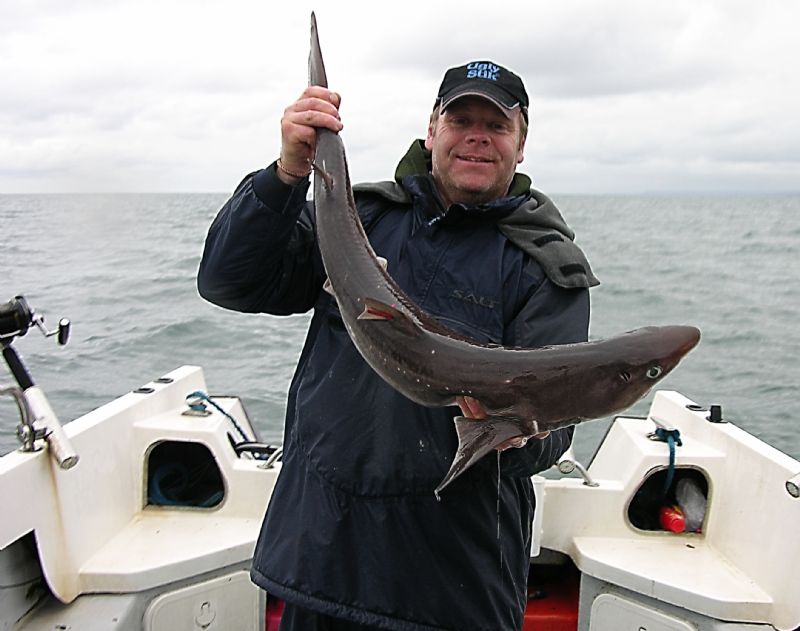 A decent Spur dog, once a rarity, always glad to see them these days
A new area had to be explored, and one that I had discovered last year but hadn't managed to fish yet was certainly worth a shot. Des and Glenn were happy to try virgin territory, so the decision was made and we headed out to the mark. Targeting new areas is always hit or miss, with maybe one in every five explorations producing a result. However, there is a certain element of excitement in exploring the un-known that never fails to create that angling "buzz", especially where sea angling is concerned. You can predict with reasonable accuracy what species are likely to show, but there is always that chance of something unusual turning up.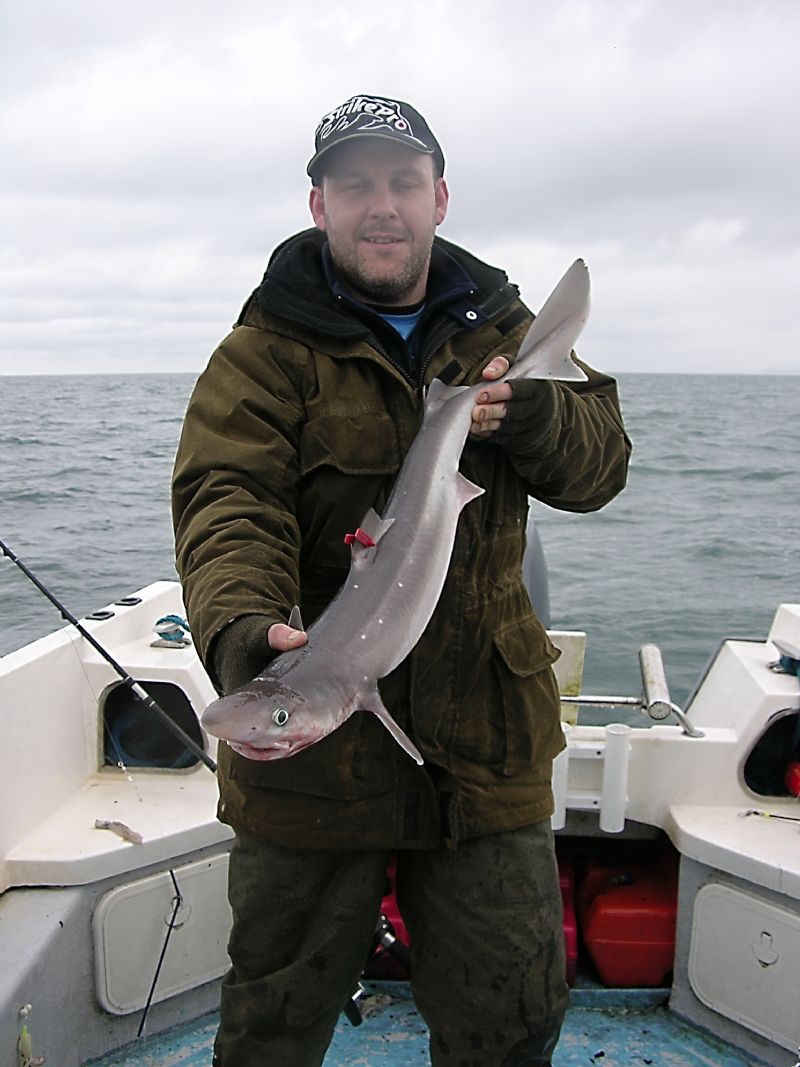 Glenn finds some Spur dog action too, a change from Pike!
Safely at anchor, I could show Glenn some of the successful rigs I have developed over the years, and the reasoning behind them. Des has seen it all before, and sets up accordingly. Until this point, I hadn't bothered checking the tide table, knowing only that it was favourable "neaps" rather than the almost impossible "springs" we suffer on the north coast. The table showed that we only had an hour left of this tidal run, so had to make the most of it quite quickly.
Within minutes of dropping baits to the sea-bed, a thump on the rod tip produced a strap Conger of around nine or ten pounds, quickly followed by a couple of reasonably sized Spur dog, again around the eight to ten pound mark. This was a promising start, but after a couple of Lesser Spotted Dogs all went quiet. We had took the precaution of dropping down a "Skate bait" on the off-chance of picking up a big beastie, but failed to find one on this occasion.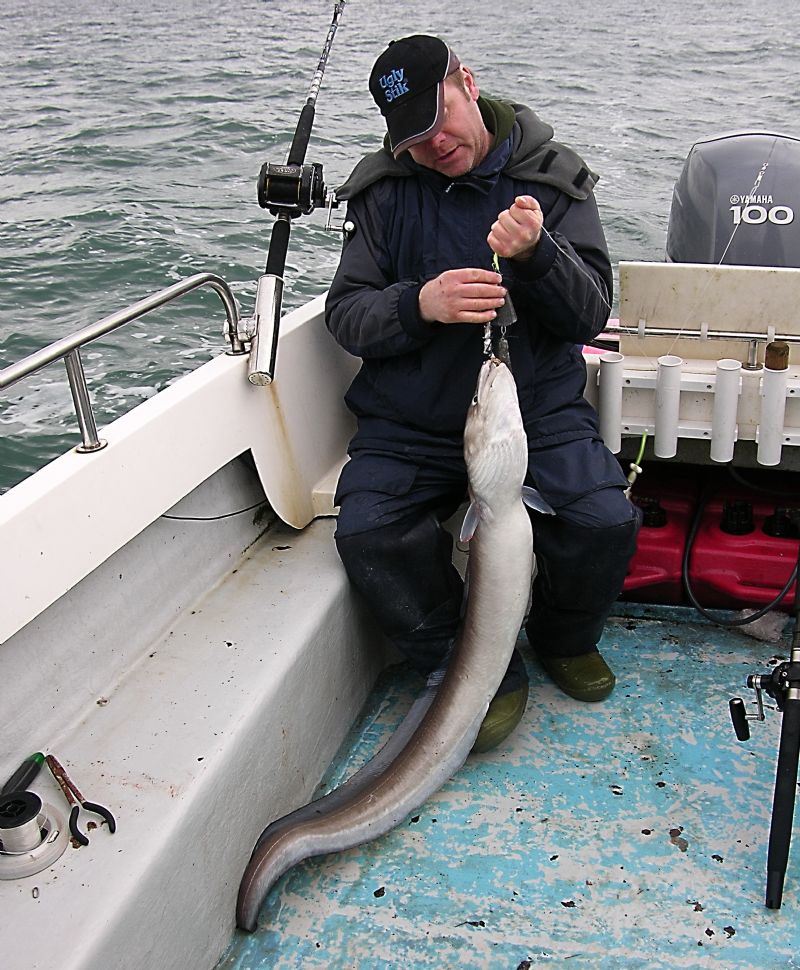 Some small Congers then showed up to add a little variety!
Glenn seemed a little disheartened that our flurry of activity ended all too soon. I reassured him that this was normal and we should, all being well, have another bite of the cherry on the following run of tide. Having targeted deep-water species for so long now, you soon learn that feeding cycles suit the fish and not the angler. While the fish are down below, re-grouping, or simply laying low to avoid the fastest part of the tide, it is also our chance to relax, have a sandwich and a cuppa, prepare some bait or even re-tie a few rigs for the next session. Spur dog can and will damage the end rigs and require regular inspection to avoid an un-timely failure.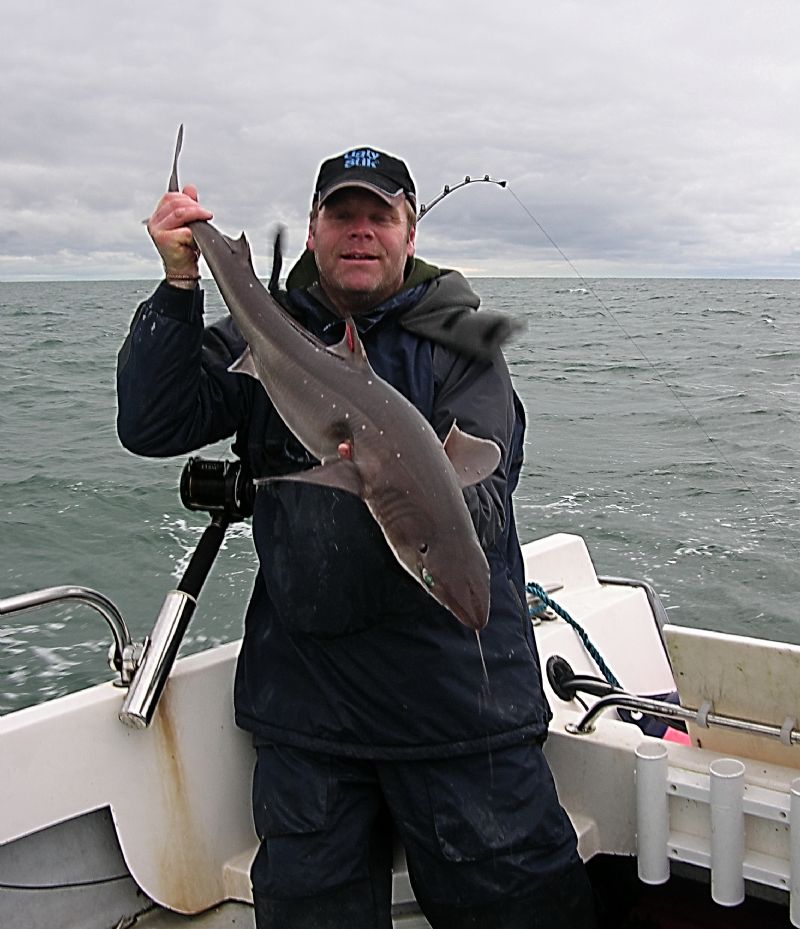 Although this was a small tide, three pounds of lead barely held bottom. Perseverance produced another pair of Congers between ten and twenty pounds, but the effort was far greater than the catch rate and not really worth it. Better to bide the time until the strength of the tidal run had eased a little further. A full two hours later, with two pounds of lead now comfortably staying in contact with the sea bed, the attack began again in earnest. There were plenty of Lesser Spotted bait snatchers about to annoy us, but enough quality fish showing to keep the interest and spirits high. Glenn landed his first Spur dog, followed by a stunningly marked Bull Huss, another new species on his list. At fourteen pounds, it wasn't far away from the magical specimen barrier either, and gave a great account of itself.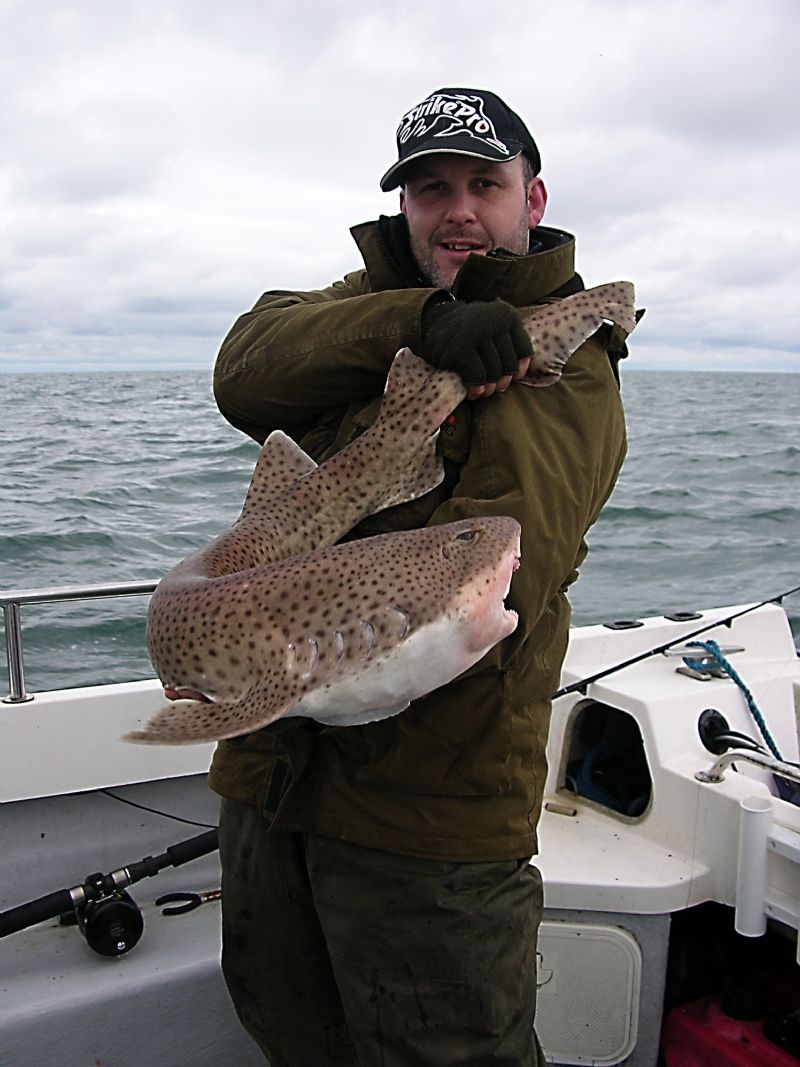 Glenn is well-chuffed with this double-figure Huss
A decent pull on the Ugly Stick and I lifted into a powerful fish, but could not work out for the life of me what it could be. Vicious runs and instant slack line had me struggling at times to keep up with it, but the trusty Penn lever drag worked its magic and the fish finally broke the surface. A fine male Tope as it transpired, weighing in at just over thirty pounds. Of course, it fought in the same manner as hundreds I have taken in the past, it was the five hundred feet of water and in the depths of winter that had thrown me!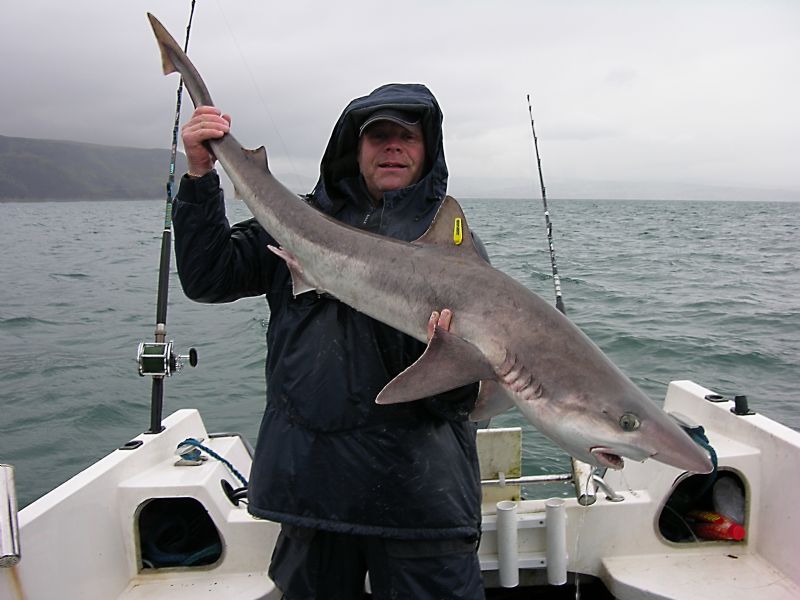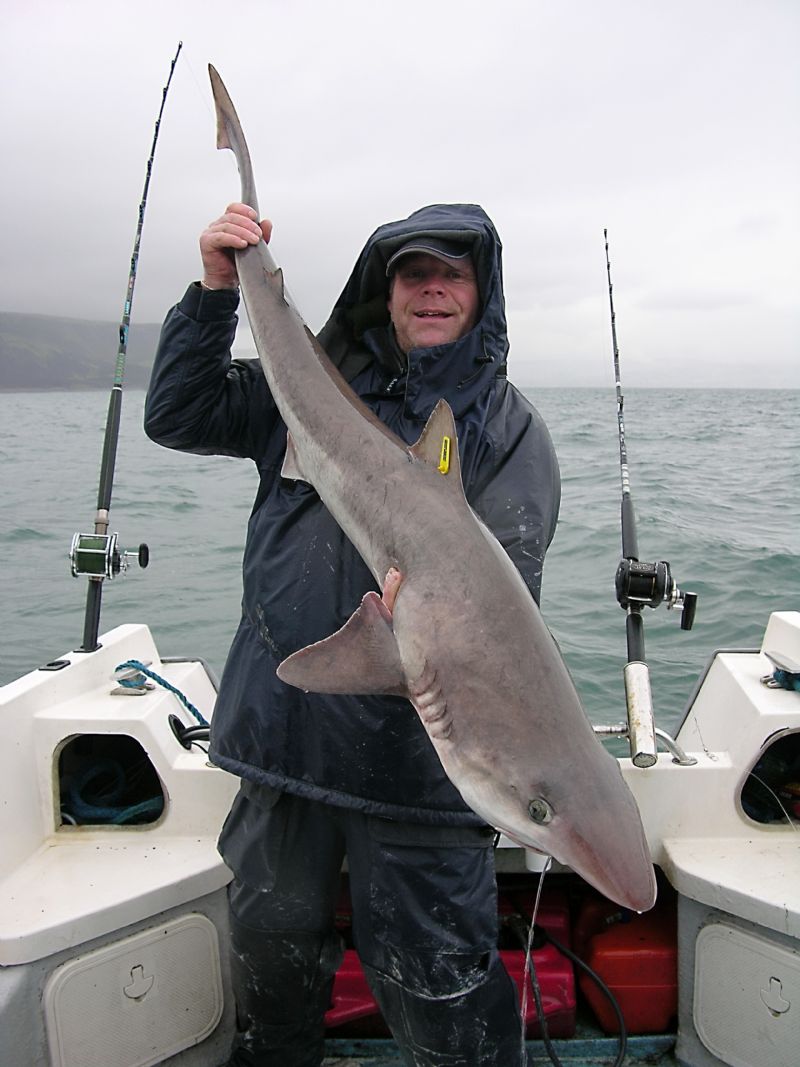 This fella had me fooled for a while, the un-predictability of sea angling
As I said earlier, it is the un-predictable nature of sea angling that can make this side of the sport so fascinating. This was the only Tope of the day, but the "spurs" put up a great show including four over the specimen weight of twelve pounds. Des was delighted to get his first ever Spur dog specimen, guaranteeing his place (and a pint or two of the black stuff) at the awards ceremony in Dublin next year.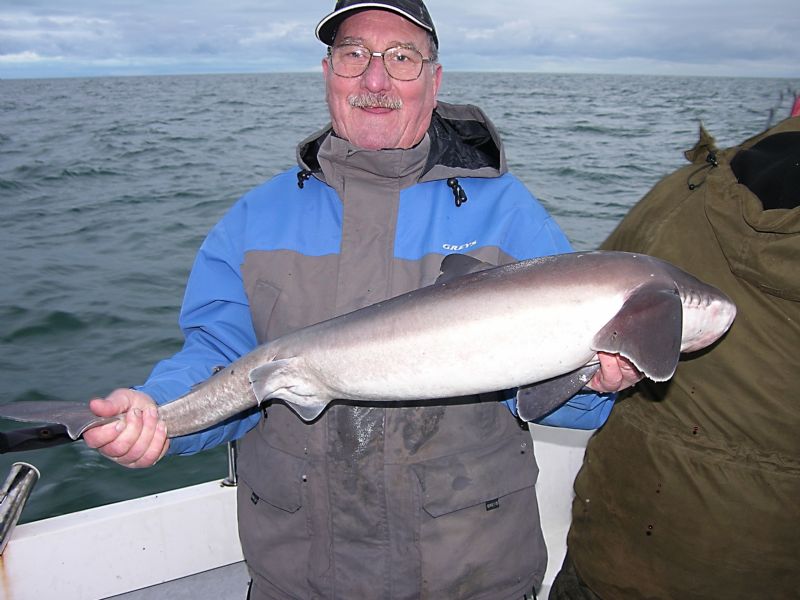 Not to be out-done, Des lands a fine specimen Spur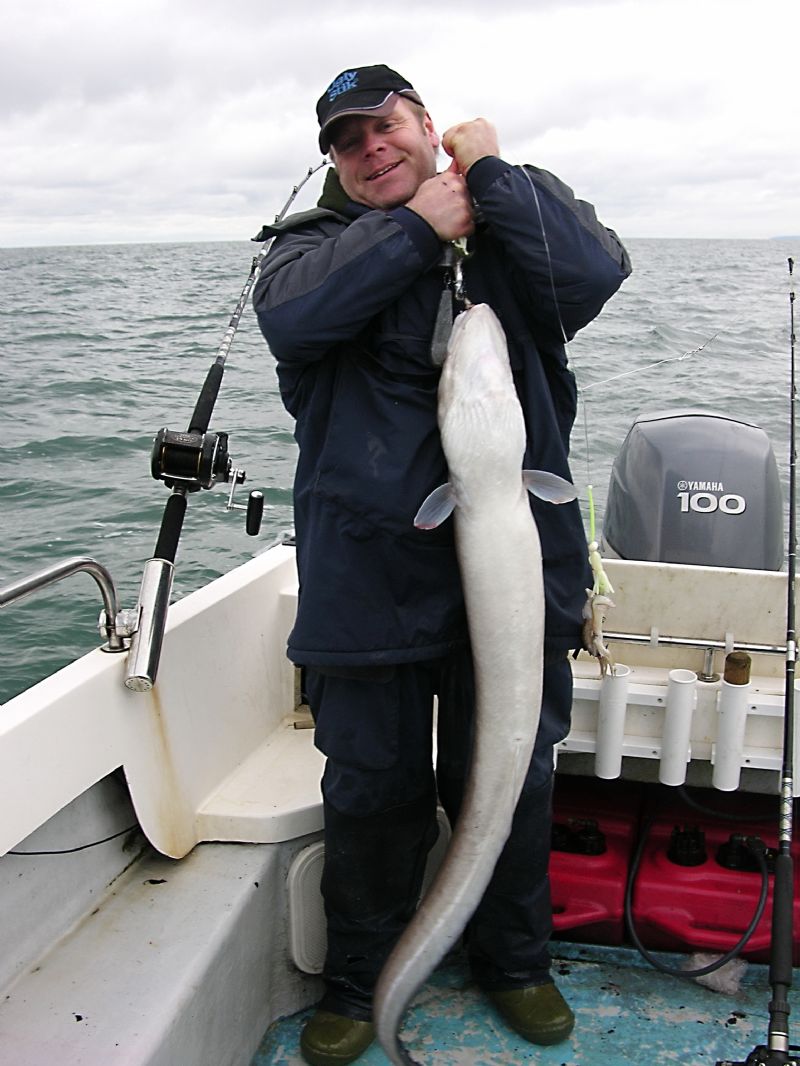 A better Conger this time, pushing thirty pounds
The feeding cycle continued to the end of the tide, which coincided with the end of the short winter day, leaving enough daylight to lift anchor and head for the harbour. The last two rods retrieved resulted in a double shot of Conger, both in the mid-twenties. The smaller of the two took a two-pound Rainbow Trout intended for one of those not-so- Common Skate. I keep catching Conger on Rainbow Trout; could it be the next new wonder bait? If so, there's no accounting for taste!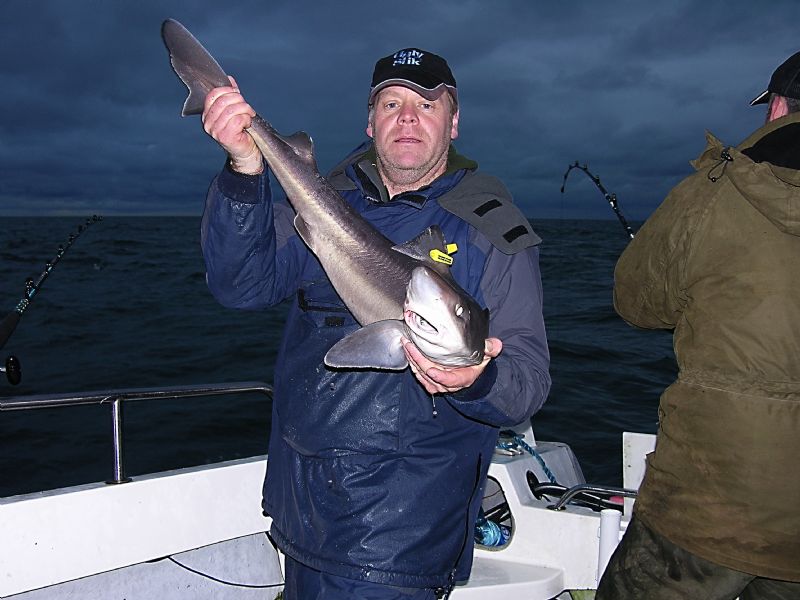 Predators still feeding as the light fades
We ended the session with over forty quality fish including four specimen Spur dogs, seven Conger eels to almost thirty pounds; three Bull Huss to fourteen pounds, a thirty pound Tope and a smattering of ever present Dogfish. All in all, a very satisfying result for another day on un-explored territory. I realise that it won't be long before this mark succumbs to the internet chat rooms or the commercial trawler, but until then, I will catch, tag and release what I can and move on. Every trip is a new adventure.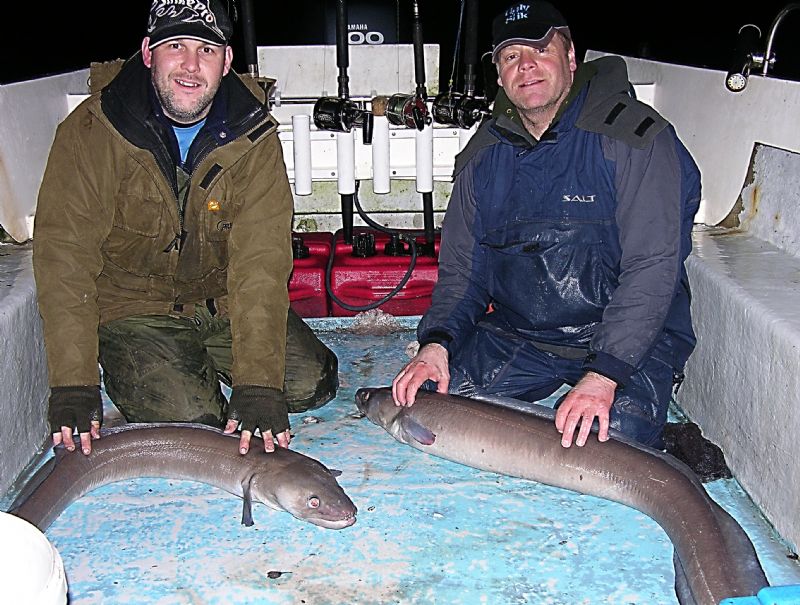 The last drop of the day, and a double shot of eels, caught and released
Back