An old mate and a big Skate
An old mate and a large Skate
A few weeks ago, an old angling friend, Ryan Jones contacted me.
Ryan fished quite a lot with me in the old days, both in fresh water and salt, and although it only seemed like a few years since we had a trip together, it turns out closer to ten years since our last adventure!
I couldn't believe how quickly time has passed, it's actually quite worrying!
Although a golf fanatic these days, Ryan had been reading my exploits regularly posted on www.angling-ireland.com and it had wet his appetite to get back out on the water.
He asked what the chances were of a day on the boat, and I promised him a seat on our next trip. It would be great to see my old angling buddy again and catch up on lost time.
A window of opportunity arose, and with favourable weather and small tides, I arranged another adventure. Andy Wolsey would be able to join us, so with a crew of three, we were on our way up and along the stunning Antrim Coast. With boat launched, first port of call was the all-important Mackerel. These are the main-stay of Irish predators and probably the most important species for bait that we have.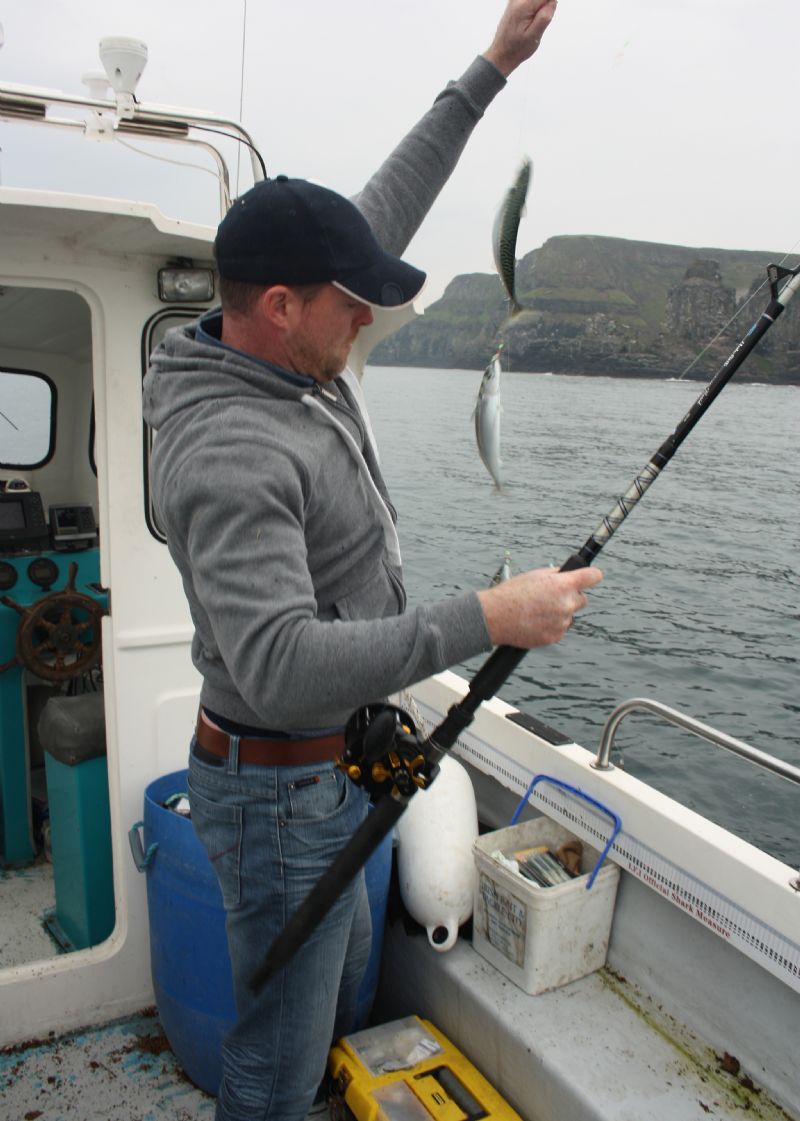 Always a relief to find good shoals of Mackerel
It looked like they would never arrive to our shores this year, but thankfully, some decent shoals managed to avoid the commercials whilst running the gauntlet. It is extremely worrying just how well these shoals are coping with the continued extra netting and expanding quotas! With a cooler box of fresh bait, our timing was perfect to drop anchor over a deep-water gulley. Current information was that Spurs were thin on the ground, but there's usually something large and "toothy" rummaging around these marks, and if you're not in, then you're not going to find out!
With the anchor set, it is normally a couple of hours before you would expect to get a pull on the rod, but first drop, my Penn Tuna rod took a massive hit and buckled over. I had promised Ryan that he could play any Skate taken on my rod as he was yet to catch one, but as I reached the rod over, the line ripped from the reel, rod-tip violently nodding and shaking. This was no Skate, but obviously huge and felt shark-like! As Andy stated, he had never seen the 80lb class rod buckle over so dramatically. The fish then swam upwards, and so quick that the lever drag was un-able to keep up with the pace, despite being switched over to high-speed. What the hell had I hooked?
Finally catching up with this missile, the back-side fell out of my world. The fifty pound B/S braid parted just above the two-hundred pound nylon trace! Obviously the fish had caught up and over-taken the trace, wrapped itself around the main-line and smashed it as if it were cotton. I would dearly love to have seen what it was, way too big and powerful to be a Tope, but felt very much in the Common Skate weight bracket. These little mysteries happen now and then at sea, frustrating, but mouth-watering all the same.
Stunning species to catch, I had tagged this fish three years ago!
With the drama over, we could now settle into normality, relaxing for an hour or so until the tide eased sufficiently that two pounds of lead would sit comfortably on the sea-bed. Bugger this three and four pounds of lead none-sense, it begins to lose the enjoyment factor!
The dogfish showed, of course they did, and the information proved correct, a noticeable lack of Spur Dog. However, this was perhaps not a bad thing as it turned out. Without the presence of the Piranha-like hordes of Spurs, other species now had a chance to home in on our hook-baits. A violent nod on the rod tip produced an immaculate Huss for me, already sporting a red Rota Tag in its dorsal fin. This tag had to be one of mine, and later, once I had checked my records, proved to be one of the Huss I tagged three years ago in 2011 in the same area. Back then, he weighed thirteen pounds, and interestingly after three years, had dropped to just over twelve pounds. The important information for me was that it had remained on the exact same mark, maintained its weight within reason, and survived the previous ordeal of catch, tag, weigh, photo and release! Re-assuring to know these things.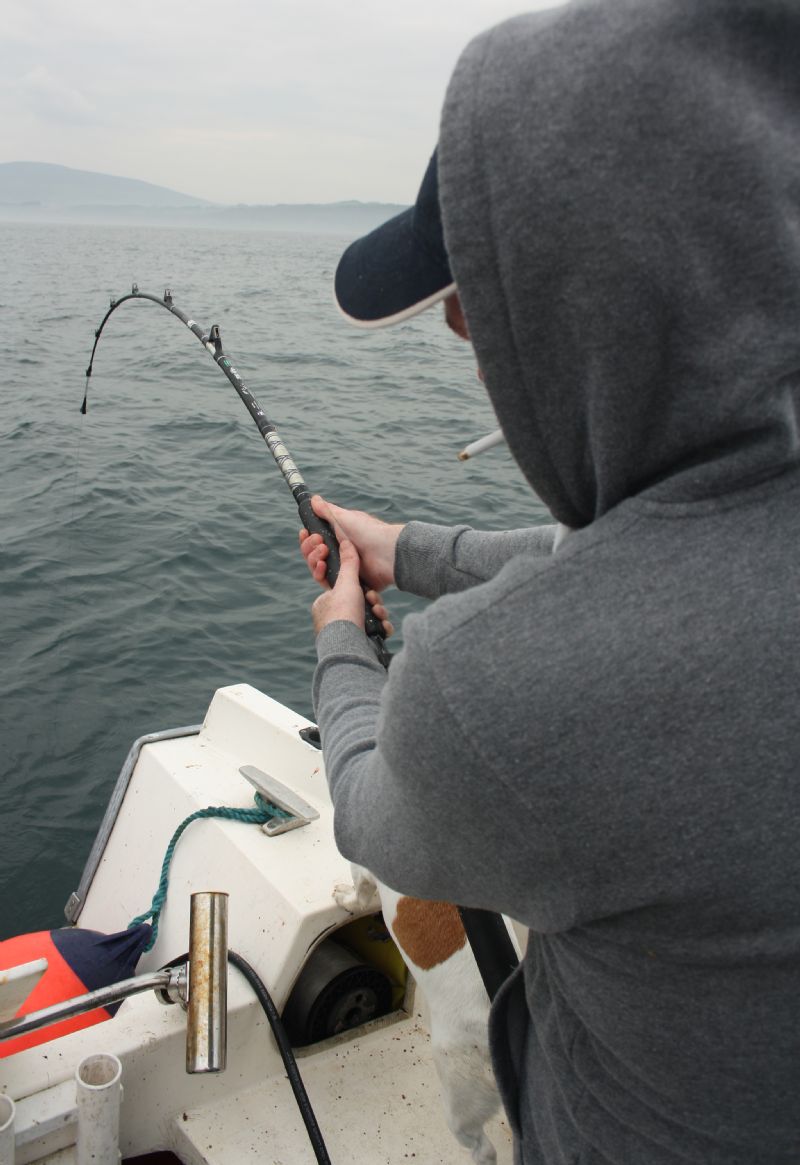 Ryan takes the strain of his first Common Skate
It was just about now when Ryan's rod arched over, and stayed over. He lifted into the fish and gained little if any line. This was definitely a Skate, and not for the first time, we had a Skate on tackle slightly under-gunned! Normally this would not be too problematical, but we were now experiencing a tide surge, a phenomenon that happens now and then on the Antrim Coast in-shore waters. As the tide ebbed, it then sped up again and Ryan lost a lot of ground as line slowly peeled off the reel.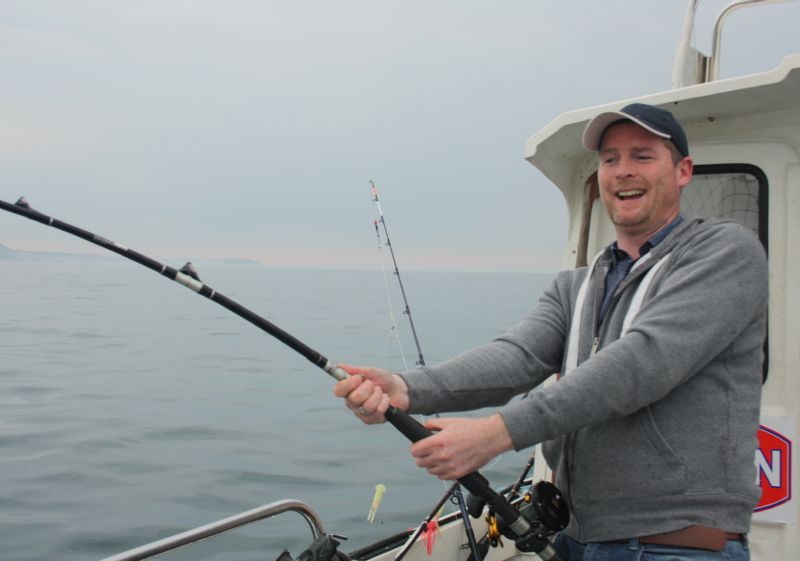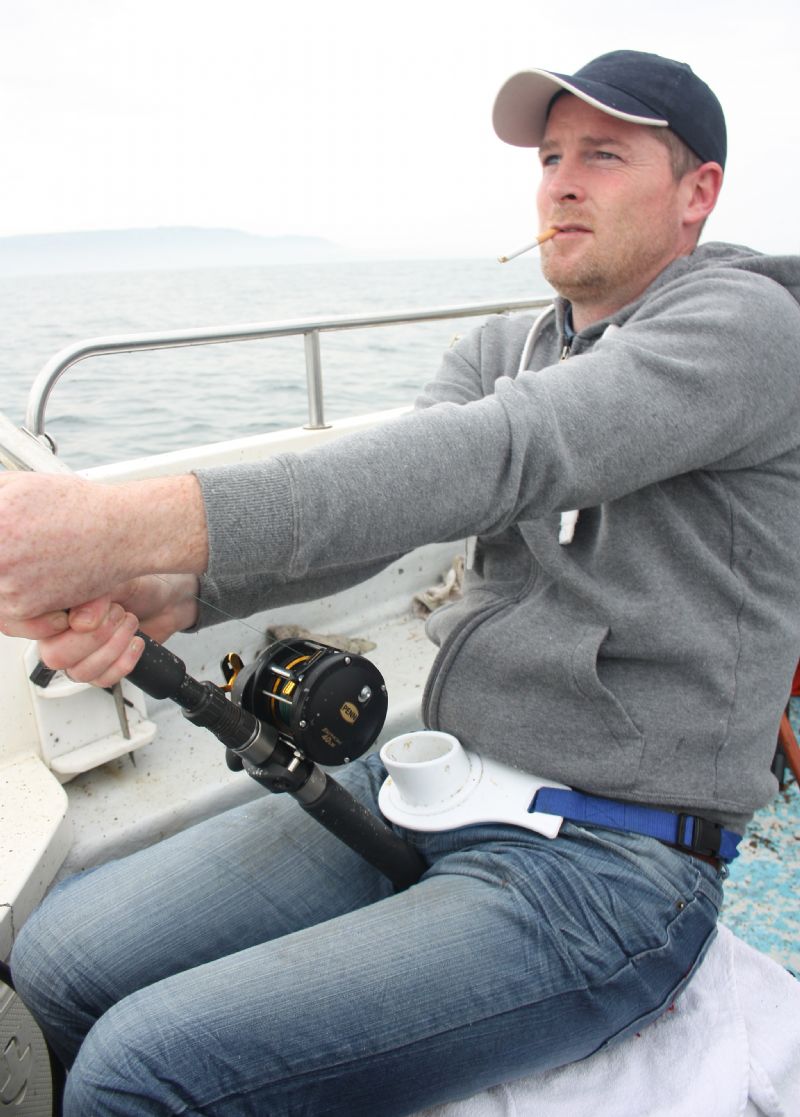 An hour into the fight, having gained little and lost much, the tide had slackened again and slowly but surely Ryan began making headway. Andy then "latched" into a hard-hitting thump and was now also engaged in a decent battle, which turned out to be a bonus Tope, cracking the magical specimen barrier and weighing in at forty one pounds. I managed two Congers and several Dogfish, when Andy hooked into yet another hard-fighting fish. Ryan, by the way, was still battling his monster of the deep, gaining line in inches rather than feet!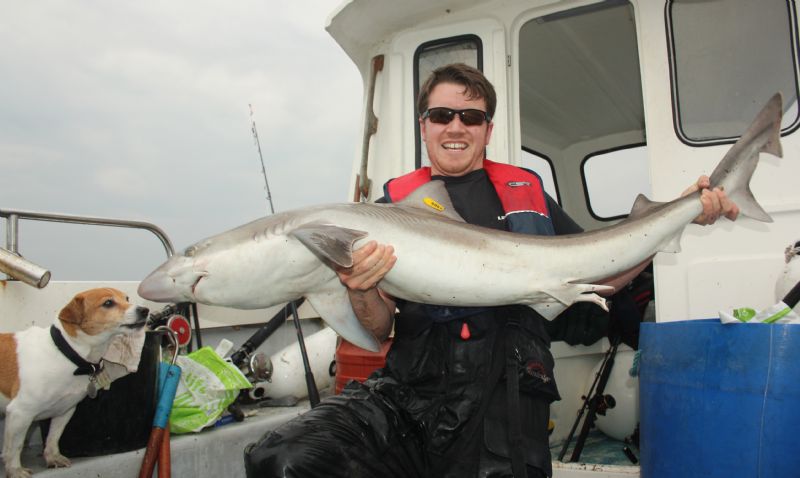 A fabulous forty pound-plus specimen Tope, "Skip" telling it to behave!
As Andy's fish broke the surface, I slipped the net under a fabulous large Huss which tipped the scales past sixteen pounds. Although not a particularly "busy" day, this adventure had rapidly turned into a trip to remember. I squeezed the one and only spur out of the swim, a fish of ten pounds or so before Ryan's Skate finally surfaced a few yards behind the boat. It wasn't particularly massive, but the combination of light gear, tide surge and for some reason, a "spiralling" action of the fish through the depths, the strain was immense, taking two hours and fifteen minutes from hook-up to finally landing on the boat.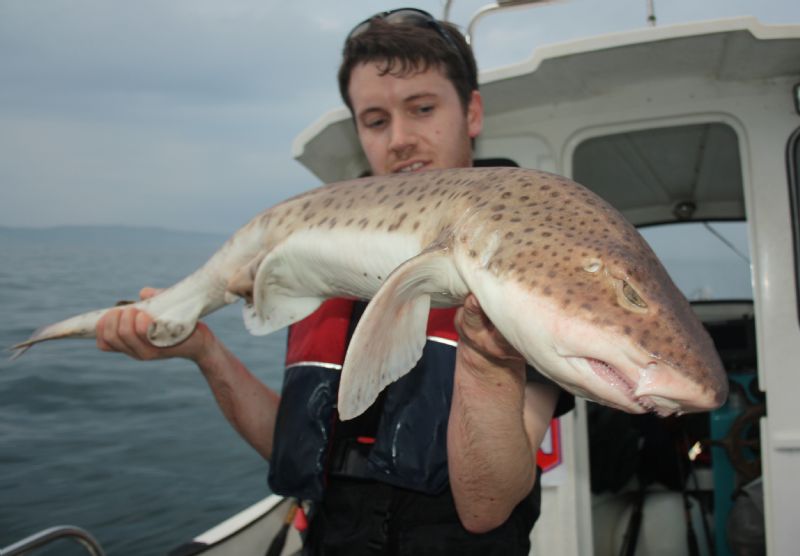 At sixteen pounds-plus, yet another specimen for Andy
Ryan was justifiably exhausted, glad that that moment of "pleasure" was now over! This was a male fish, known to fight harder than the females, and measurements placed him at one hundred and twenty pounds. A photo or two for posterity, a sexy yellow tag for identity, and back over the gunnels, reasonably un-harmed but no doubt slightly peeved off by the whole experience.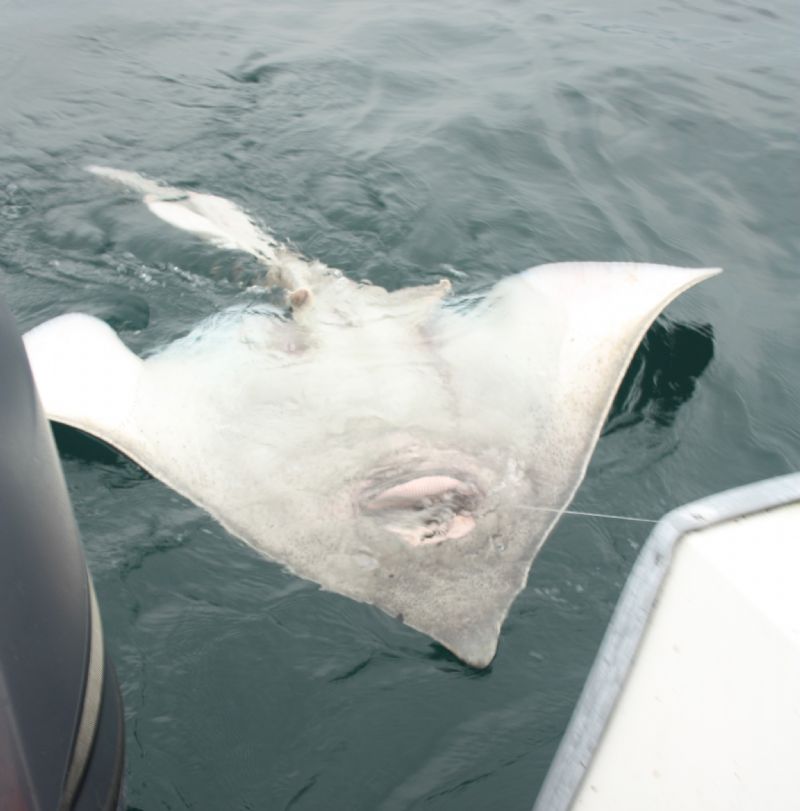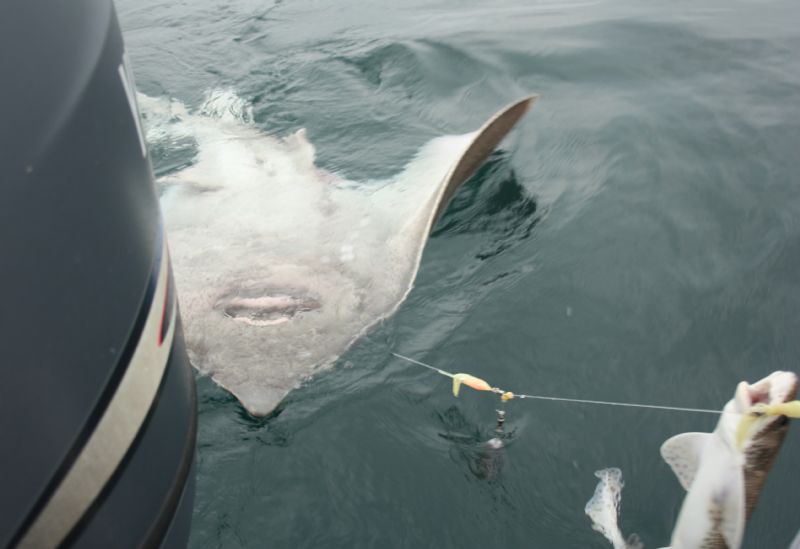 With the tide now heading towards slack high water, and the sun beginning to sink low in the sky, it was time to think about tidying the deck and lifting anchor. Fish were continuing to feed, and I managed another two Conger Eel in the mid to high twenties before reluctantly blowing the whistle. To sum up, the lack of Spur Dog was a little disappointing, but this obviously allowed other predators the chance to feed confidently, and a specimen Tope and specimen Huss in one session was definitely a spectacular result for Andy. It will also be a long time before Ryan forgets his first experience hooking and landing a Raja batis, or barn door as he now calls them!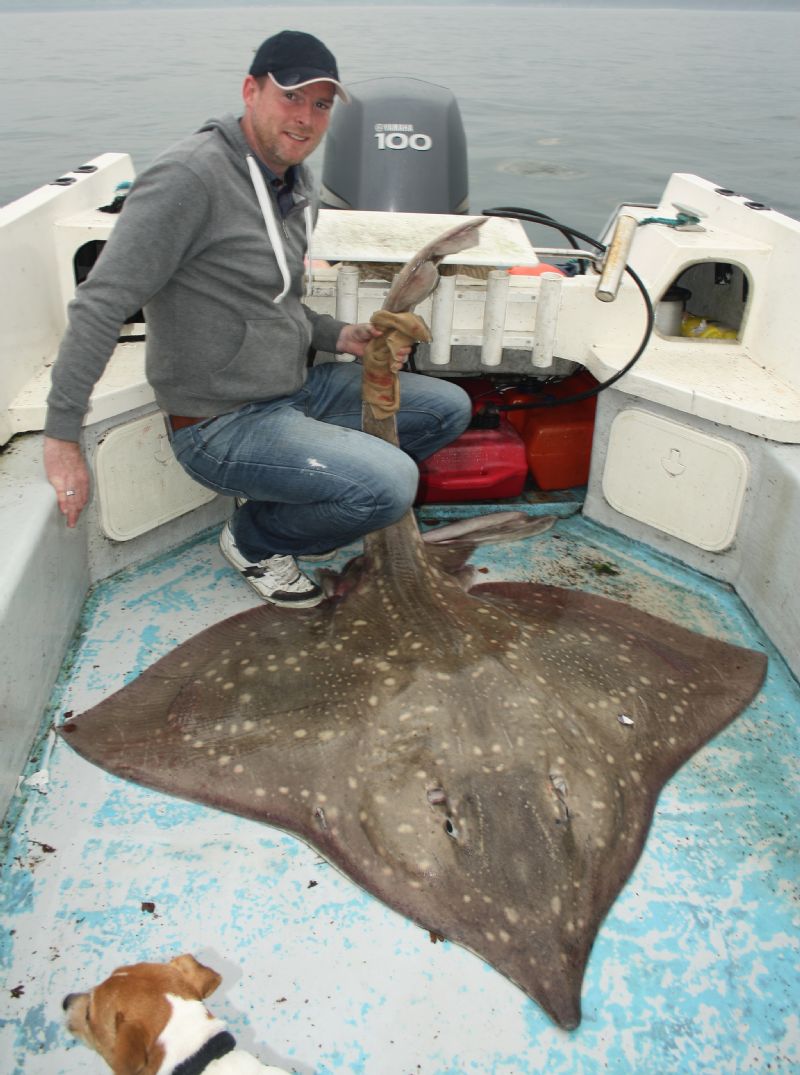 A tired but extremely happy angler!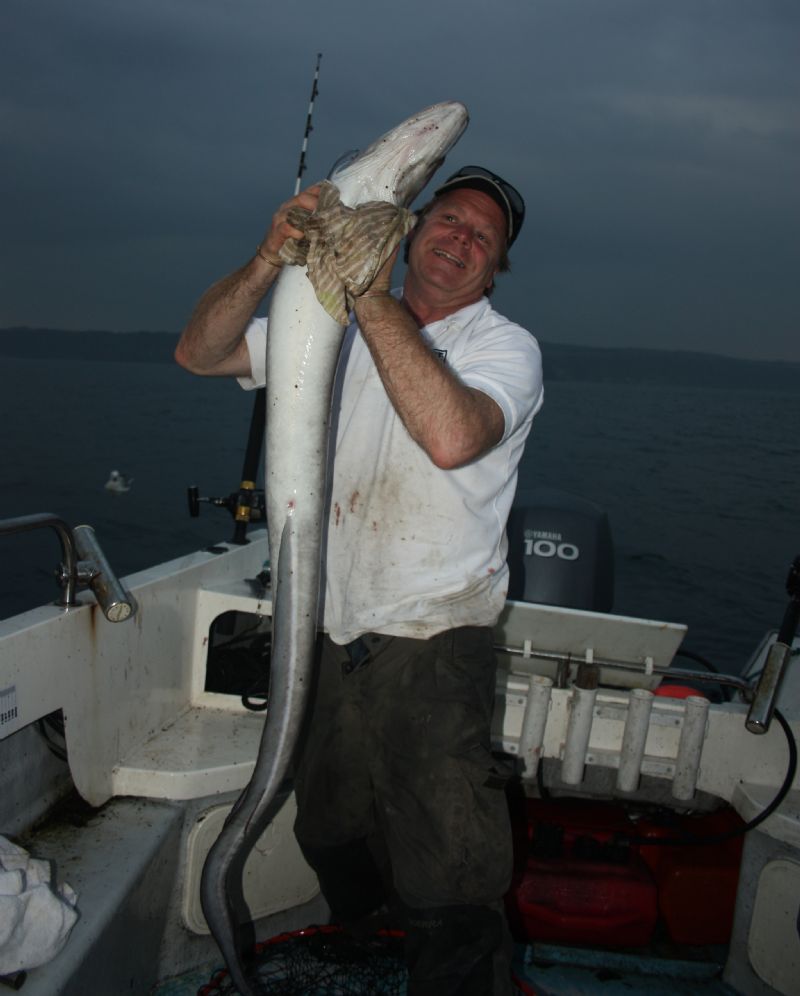 The day rounded off with a couple of mid-twenty Congers
Back