Another Carp Adventure
Cork City Carping
At least once a year I make the effort to spend a few days on "The Lough" down in Cork City.
Although I am not a dedicated "carper" as such, and prefer targeting all Irish fish species, I find that I still need my little Carp fix each season to keep things balanced in the angling world.
A few days relaxing among friends, the contemplative quiet periods between "runs", and the adrenaline rush when the receiver quietly tells me which rod has taken some interest, these all gel to make my annual Carp session a very enjoyable experience.
On this trip to Cork, I had five days work to get through before I could think about digging out the bivvy and settling in for a session, and I thank Ross Macklin for the opportunity. Each evening after work, Bill Brazier and I took a spin over to the lough for a quick look, chatting to any anglers present and getting a general feel as to how the venue was currently fishing. On one of our visits we met three lads from the North, Mel, Derrick and Davy. I couldn't believe they had driven down just for the day. That's a 500 mile round trip, how's that for dedication? They obviously knew what they were doing, and we were delighted to hear that their efforts were well rewarded, with somewhere in the region of twenty fish landed between them by that stage, including quite a few mid-doubles.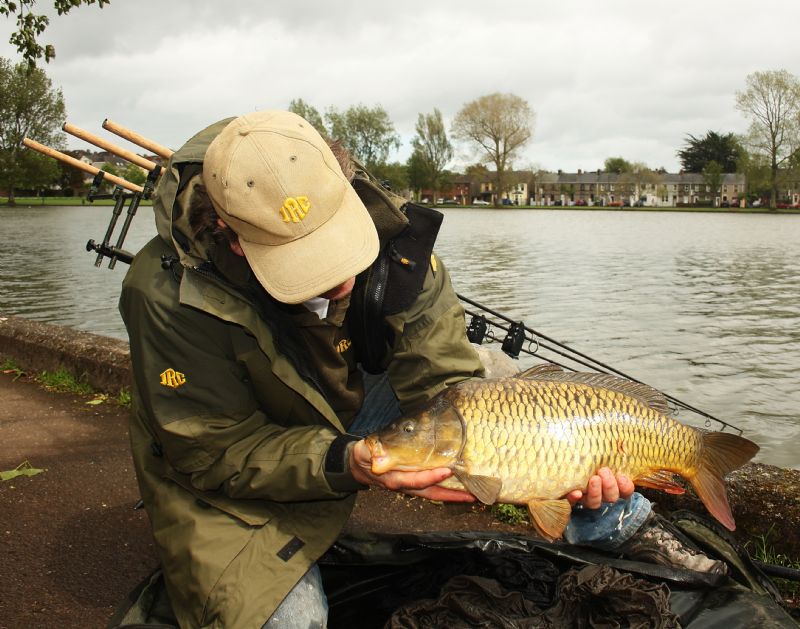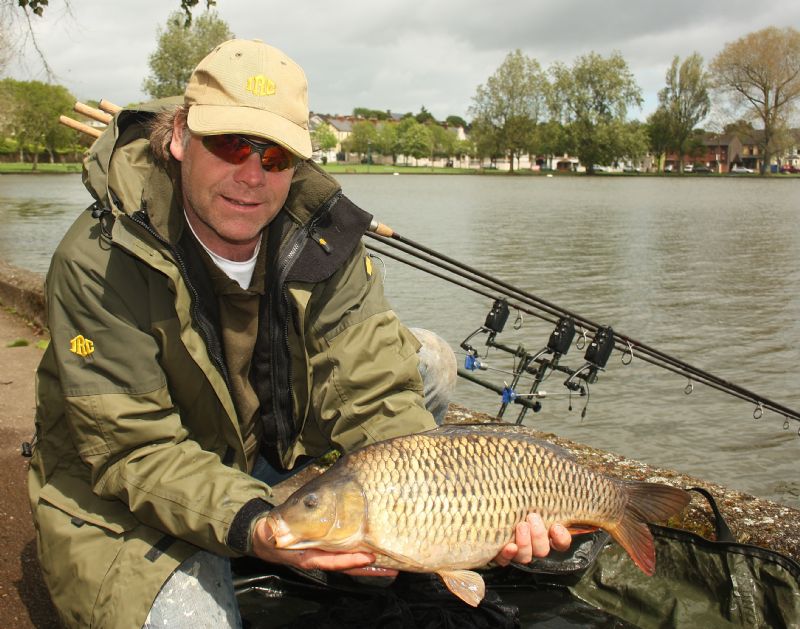 From the general information, the venue was fishing reasonably well during the day, but unusually, almost nothing showing at night. With work commitments, I could only fish evening sessions, and chose to give it a miss until the weekend. I was able to occupy some of these evenings in pursuit of specimen Rudd-Bream Hybrids, but that's another story! Work had been exhausting in the clammy heat all week, and by Friday afternoon I could hardly wait to settle at the water's edge, drop out the rigs, lay back and relax on the bed-chair.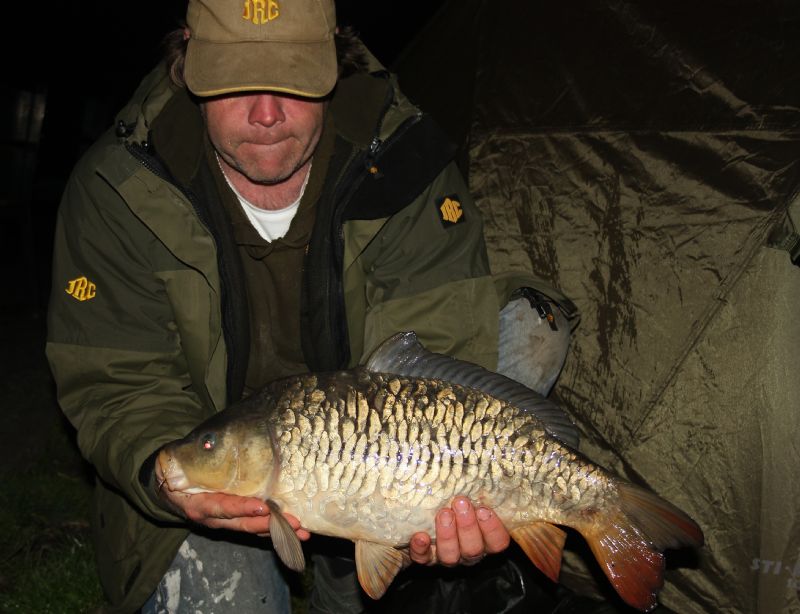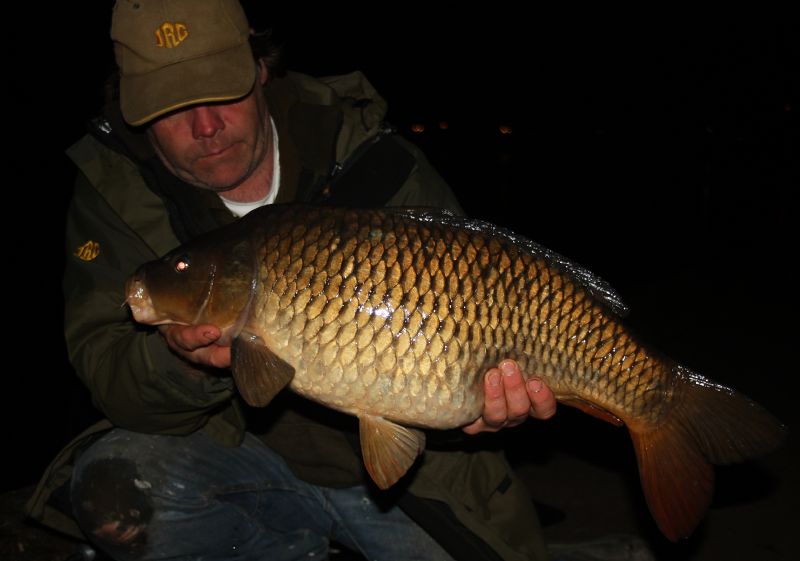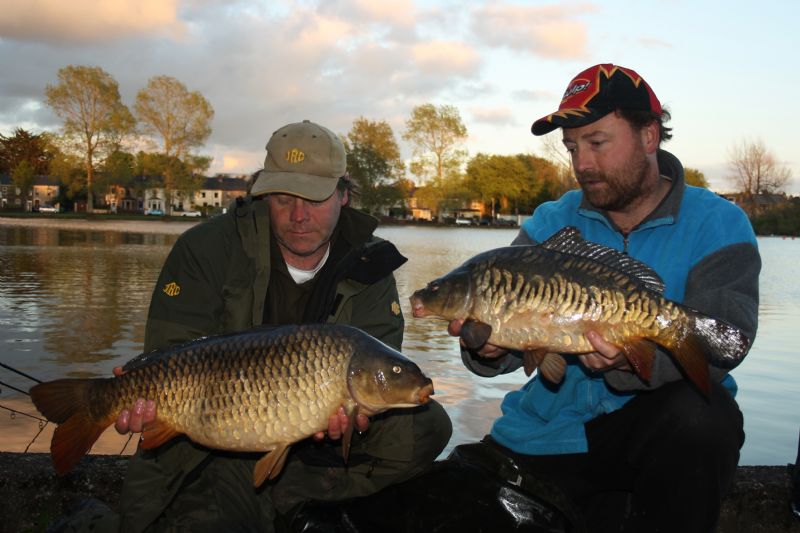 My long-time mate, Sid Kennedy joined me and we managed a double hook-up
Having watched the water most evenings during the week, fish could be seen moving out and beyond maximum casting distance. I usually choose to fish tight to the island, the main feature on the lough, but on this occasion, opted for open water and a "big chuck". My JRC "Classic" rods are medium action and far from "pokey", but with the Penn Affinity's loaded to the lip with Berkley 12lb XTS, they are certainly capable of dropping a two ounce lead well into the feeding area. To aid the distance, I opted for home-tied "Chod-rigs". The aero-dynamic properties allow maximum casting range, but also guaranteeing the hook-bait sit above weed or soft silt.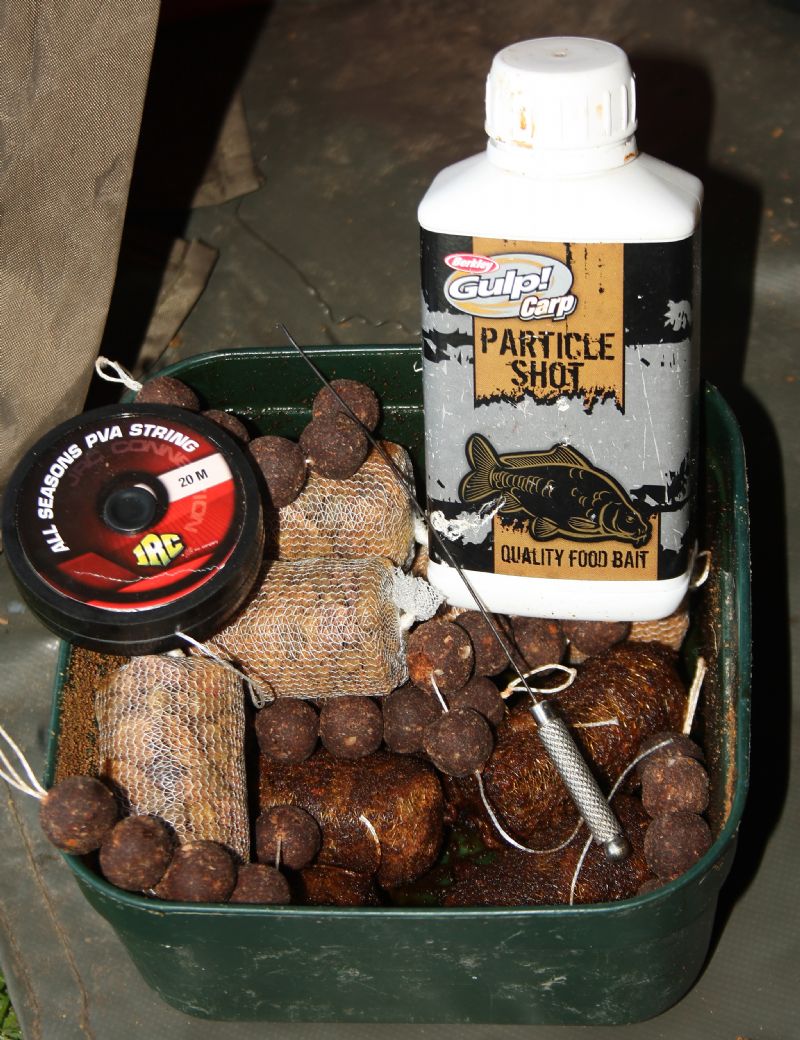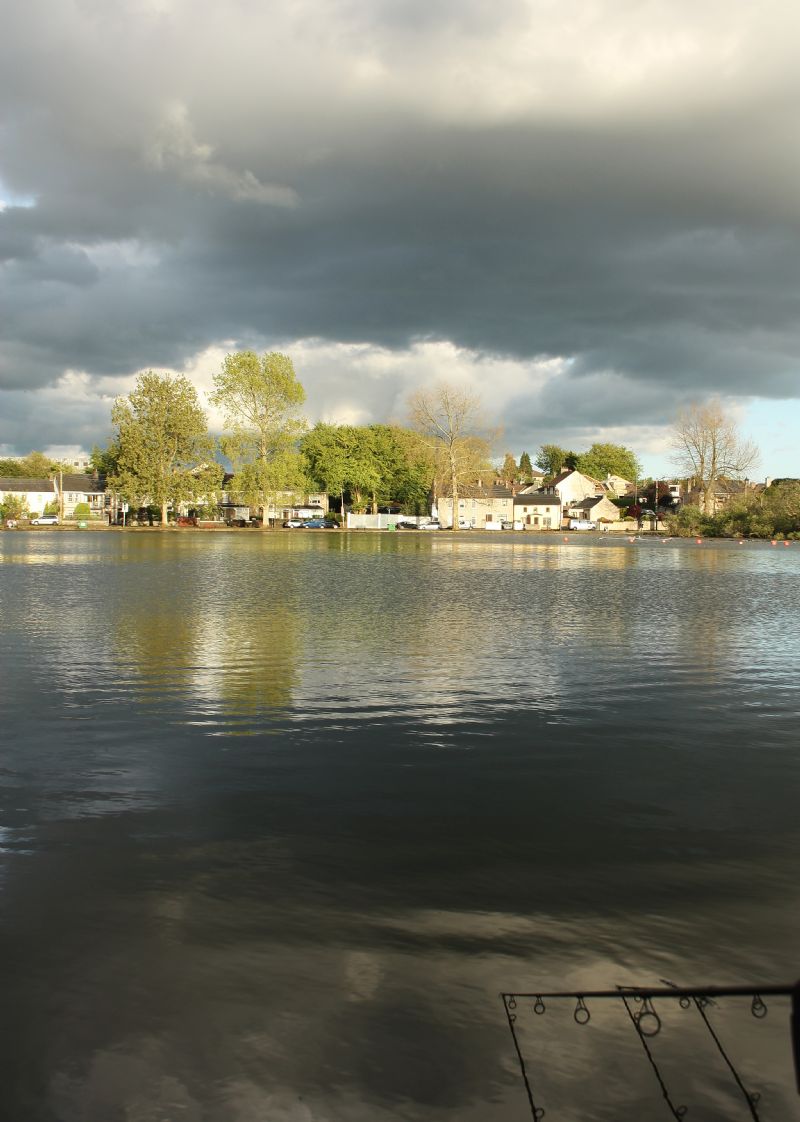 The evening went very well, going against the current trend of Carp only feeding during day-light hours, with an eight fish showing, and mostly small doubles. The following morning, lads from Angling First Charity, Dromore, turned up for a crack at the Carp. My next run, I allowed John Hylands, a young angling volunteer for the charity, to reel the fish in, who was obviously delighted with his first Cork City Carp!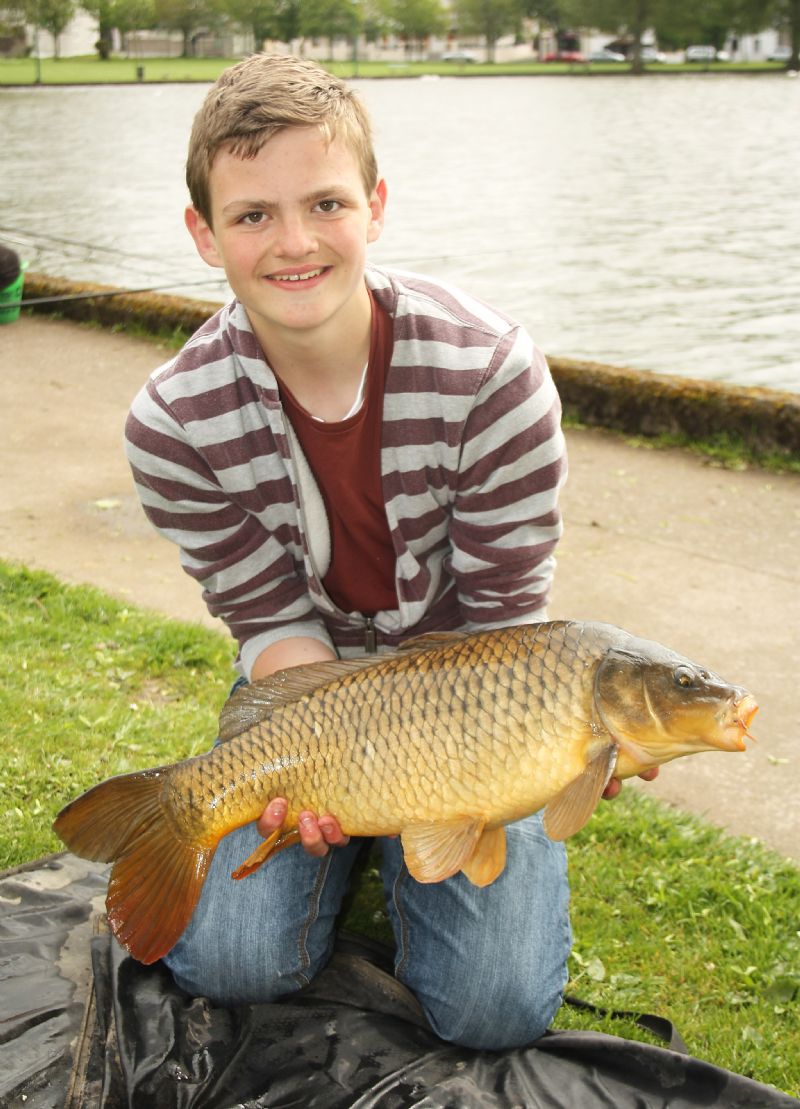 John Hylands with his first Cork City Carp
After the week's hard work, this relaxing session was extremely enjoyable; it's always satisfying to fall straight into a run of decent fish. Carp appeared throughout the day, slow, but steady enough to keep the interest intact. By night-fall, my tally had reached seventeen landed, no losses. I believe the forgiving action of the "Classics" softens the fight, without risking a hook-pull, as there were several fish lost by anglers around me throughout the same period.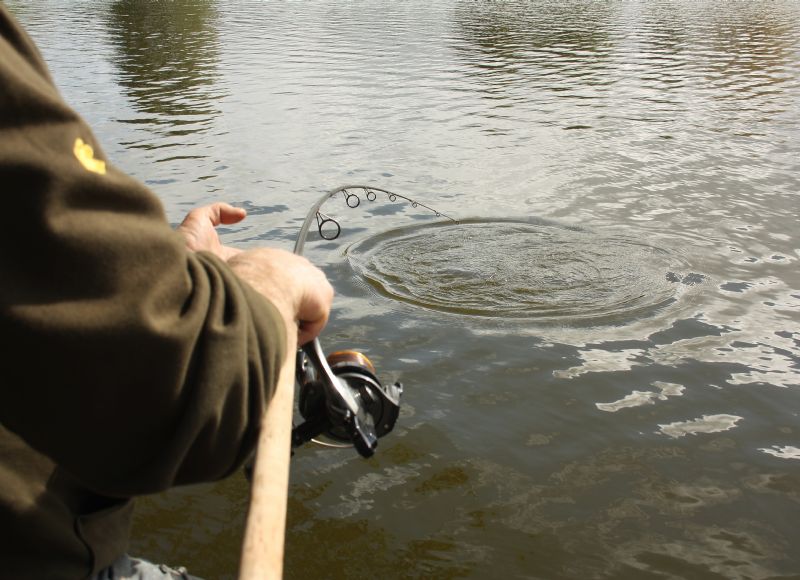 JRC "Classic" range are user-friendly, lovely rods for playing feisty Carp
My good friend and local angler Bill Brazier joined me for the final night session. Bill is always great company, extremely knowledgeable in all things "fishy" and a pleasure to fish with. I realise "The Lough" isn't Carp angling in its wildest form, but it is one of the most productive Carp waters in the country. It also has a very good Chinese take-away two minutes up the road and with home comforts like that, only a fool would resist temptation! What an enjoyable evening, talking angling none-sense, munching our way through sweet and sour chicken, and lifting into the occasional mid-double to boot! It doesn't come much better!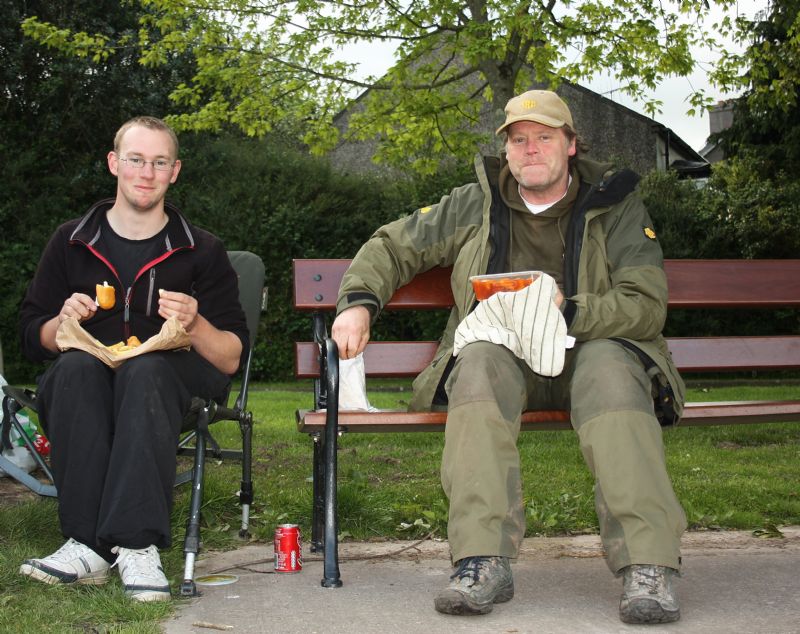 Relaxing between fish
Bill took a shine to the JRC Classics, but try as I might, I couldn't tempt him into playing a fish on one, to get a real feel of the rods. He insisted they were my fish, and remained defiant! We fished through the night, and my tally went up to twenty three carp for a very memorable session. The following morning, it was time to knock the trip on the head, I have to go home sometime I suppose. Obviously while packing away the mountain of gear, the rods are always last to break down and put away.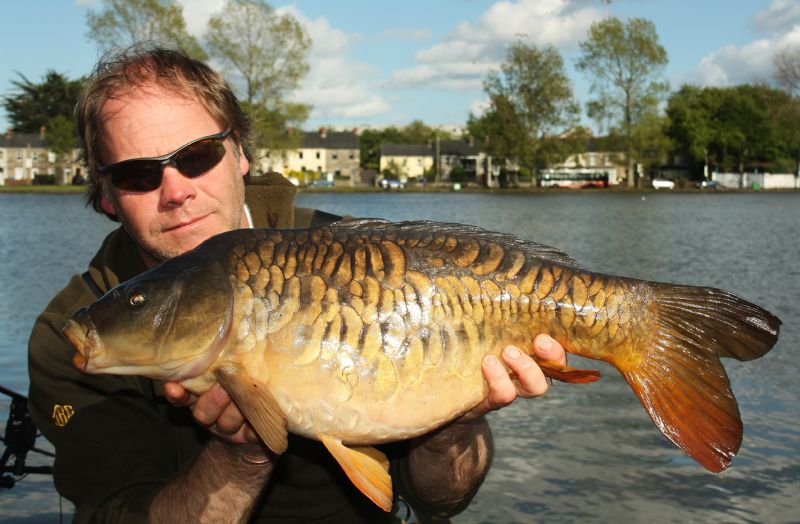 A colourful double
While walking over to the car, my receiver let me know another Carp had been fooled on the chod-rig. A quick glance saw Bill hovering over the rods, shouting at me to hurry up and get back to the rod-pod, at which stage I saw my chance! I gave a wry smile and refused to move, knowing that Bill's Carp morals wouldn't allow him to let the fish run for too long. He had no option but to pick up the rod and lift into the hard hitting take.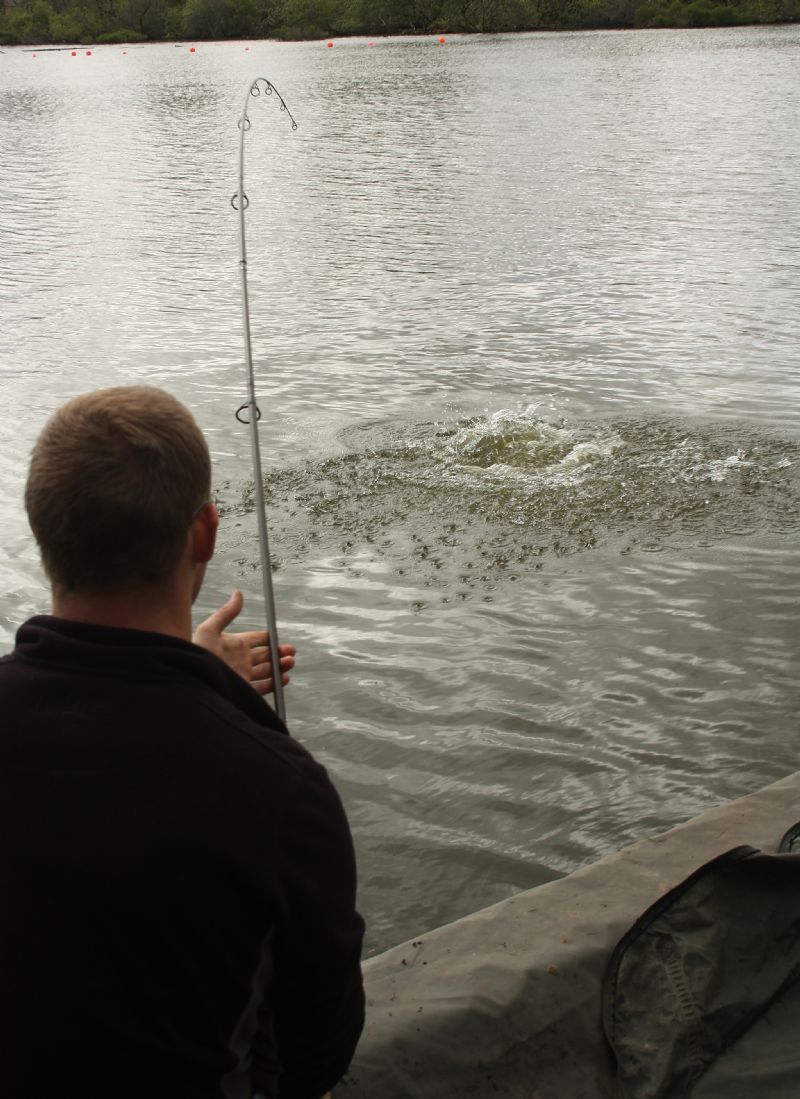 Bill, enjoying the feel of the "Classic" playing a decent double
Cursing me through gritted teeth, but enjoying the fight immensely, Bill played the mid-double to the waiting landing net; I knew I would get him in the end! Needless to say, he absolutely loved the feel of the Classic. With fish number twenty four landed, from twenty four runs, this was a fabulous and fitting end to a tough week's work. The Lough in Cork City is an un-usual venue. With power walkers marching around the perimeter, and cars and buses driving past on the far side, you may be forgiven for thinking it is un-natural water for Carp angling. Far from it, the Carp thrive, the people are some of the best I have met on my travels around Ireland, and I always return home much richer, from my Cork City Carp angling adventures.
Back