Australian Visitor
'Where can I fish in Ireland?'
As a former Inland Fisheries Ireland Angling Advisor I regularly got some strange and occasionally interesting requests crossing my desk. The frequently asked questions could be divided into two basic groups.
Home grown anglers wanting to know about specific fisheries or pieces of legislation.
The other group from foreign anglers planning to holiday in Ireland and so wanting to know how and where to fish.
Over a period of time, I have responded to varying requests for information from anglers as far a field as America, Germany, Spain, India and surprisingly even Iran.
Then early this January a request from Australia was passed to me. Initially it looked like a run of the mill type of request. A chap was planning to come over from Australia. He particularly wanted to fish for trout (specifically in rivers) and did not know were to go.
However, other parts of his request were distinctly not the 'norm.' This antipodean angler planned to visit Ireland for a month, travel by bike and fish any 'likely looking places' he passed. He wanted to make sure the route he was planning to take would pass plenty of likely looking places that would fish well. And so we started an interesting series of emails.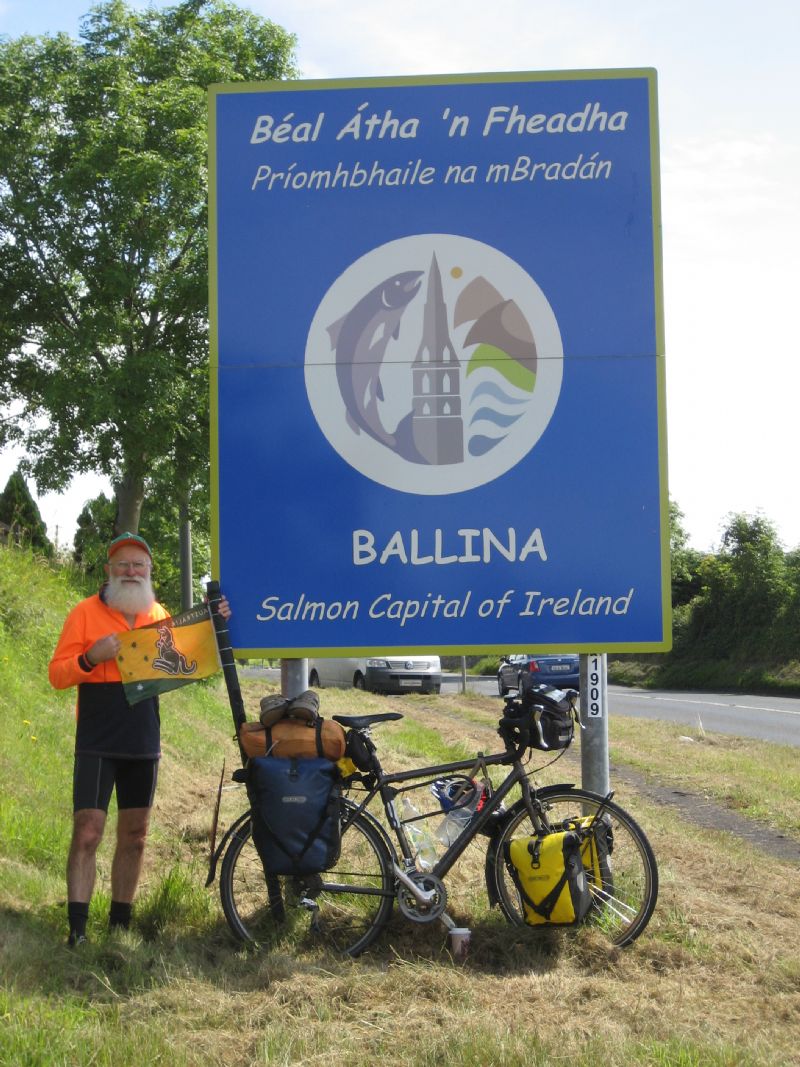 Santi arrives in Ireland (minus the sleigh)
The Australian in question goes under the name of John 'Sandi' Sandilands. Sandi retired in 2008 after forty years working in the amenity horticulture industry (we don't know what that is either?). Upon retirement he sold his Mercedes and took to traveling on a bicycle with a nickname. To 'the Cannon' (the name he gave to his Cannondale T1 touring bike) he regularly attaches a fly rod and goes in search of trout.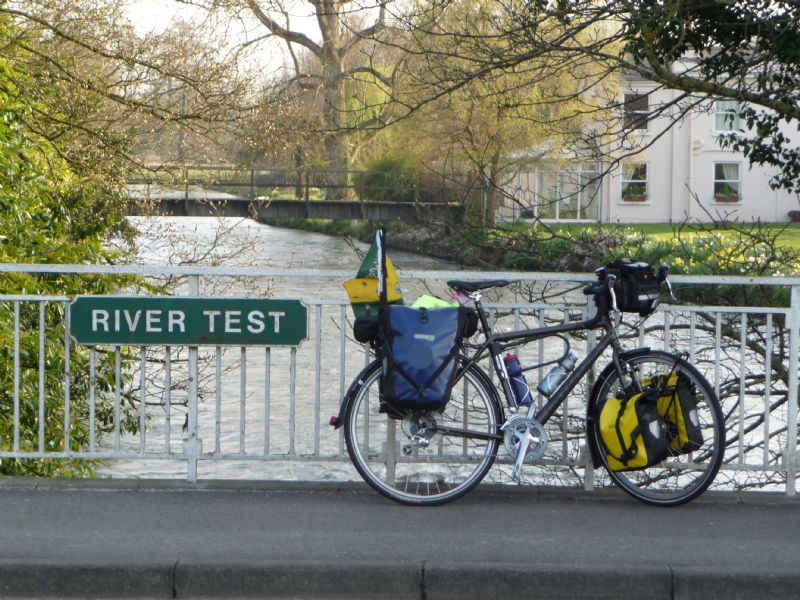 Sandi also sent through some photographs of himself with fish. Rather amusingly he has more than a passing resemblance to Father Christmas, though more realistically like his thinner brother.
This, slightly eccentric 60 something year old has, since taking to two wheels, peddled some 11,500 km of roads and rivers in Australia, the UK and Europe. His plans / intentions over the next couple of years are to add Ireland, Norway and Sweden to the list of countries he has visited and fished. During this summer, as well as visiting Ireland he also planned to revisit connections he made in a previous sojourn to the UK in 2009. Some of Sandi's back history.
His interest in trout began back in 1969 when he moved to Australia's capital city, Canberra. The Australian Capital Territory and Snowy Mountains region south of Canberra are apparently some of the better trout waters in Australia. His favoured fishery was the Eucumbene River.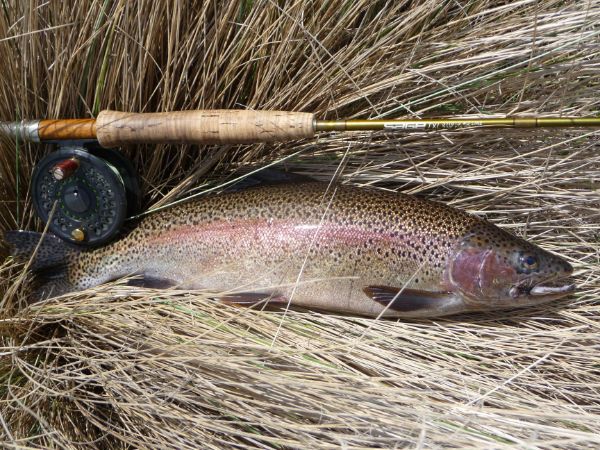 Then for five years in the 1980's he lived in Tasmania. Tasmania has an extensive system of hydro electric water impoundments. Trout were introduced to these waters in the early to mid 1800's and now the island claims to be the premier trout fishery in Australia.
The historic 'Salmon Ponds' hatchery in the Derwent Valley was the site of the first successful introduction of trout to the Southern Hemisphere. After several failed attempts, live Salmon and Trout ova were successfully carried from England to Tasmania aboard the clipper 'Norfolk' in 1864. The Salmon failed to acclimatise, but the Brown Trout released thrived in the Tasmanian environment and their progeny were later used to stock other waters in Australia and in New Zealand.
Sandi enjoyed exploring these waters so much that he has bought a retirement property there. He plans to establish a trout fishing lodge after his return from Ireland later this year.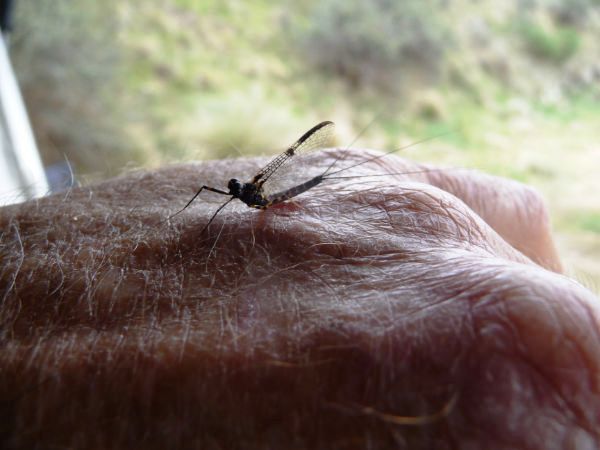 Sandi's travels are done on what he describes as a shoe string budget so as to get closer to the culture through which he is traveling. In his own words he "enjoys wild camping or 'rolling out my swag' on someone's lounge room floor, cycling as my mode of transport, eating local produce and drinking the local drop where ever I am."
Obviously using a bicycle as his mode of transport means he has to travel with an absolute minimum of gear. He carries a one person tent and four panniers stuffed with what Sandi describes as the essentials. The essentials obviously have to include a fly rod and reel, waders and fly box. Fully laden with food, water and Sandi on board the 'Cannon' weighs roughly 100 kg. He averages between 50 to 60 miles a day. To date his longest day was in 2008 when he pushed out 130 miles from sun up to sun down during a 15-hour trek.
Sandi says that he finds the majority of his fishing by enquiring in local country pubs. Here he partakes of liquid carbohydrate loading (and he likes Guinness) which he also uses to wash down his favourite foods of pork pies and Cornish pasties.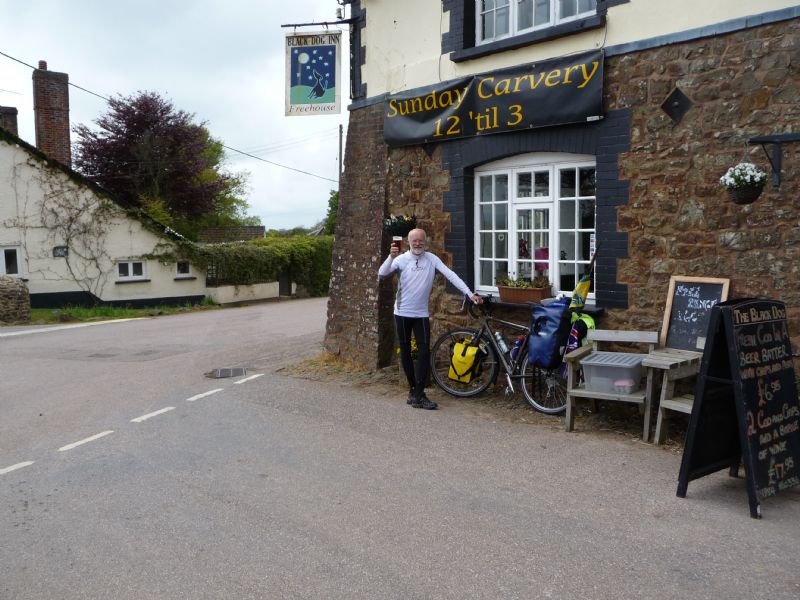 Here's to Ireland, the place and the people!
On this trip Sandi was firstly going to the UK. Sandi managed to fly into a drought ridden southern England as the drought broke. After a month's traveling in a very wet and at times flooded England he arrived via ferry in Dublin on the 11th of June. After a couple of day's sightseeing in Dublin he headed south with the intention over the next four weeks of trying to cover as much of Ireland as possible, weather permitting.
Starting in Dublin he connected with a friend in Celbridge before continuing south towards Carlow and Kilkenny. From Kilkenny he headed west to Thurles and then on to Limerick before continuing south to Cork via Charleville and Mallow. After his experience in southern England one can only conclude that Sandi has turned out to be a 'rain magnate.' The weather was no better here than in southern England and so whilst cycling south the rivers were all basically unfishable.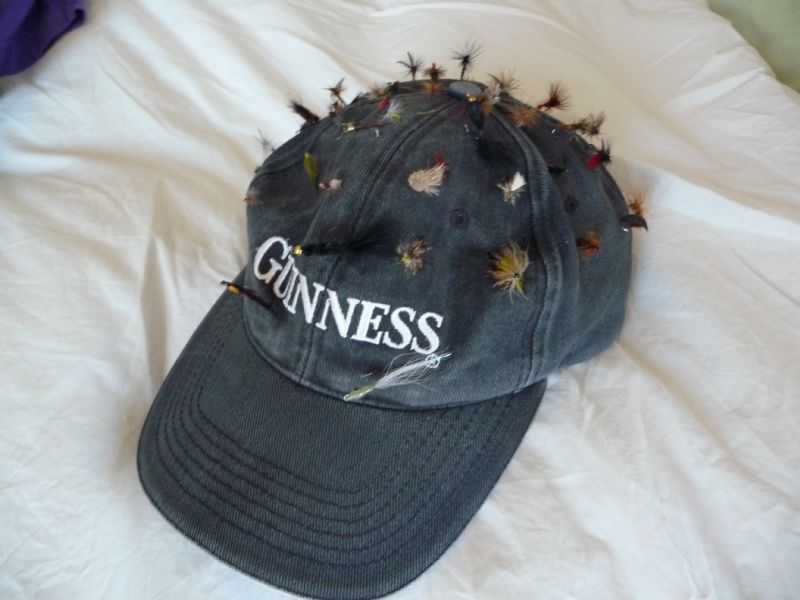 A light-weight fly storage system
As you can imagine traveling through Ireland on a bike for a month Sandi had a variety of adventures! Whilst cycling past a pub near to Cork, some locals shouted out after him.
'Oi Santi - you are early!' was the cry.
Sandi presumed they knew his name and so he went over to see who was there.
He explained that this is what Santi did for the rest of the year. This banter led to his new friends wanting to buy Santi 'pints of stout', which led to another evening where Sandi admitted he 'drank too much grog!'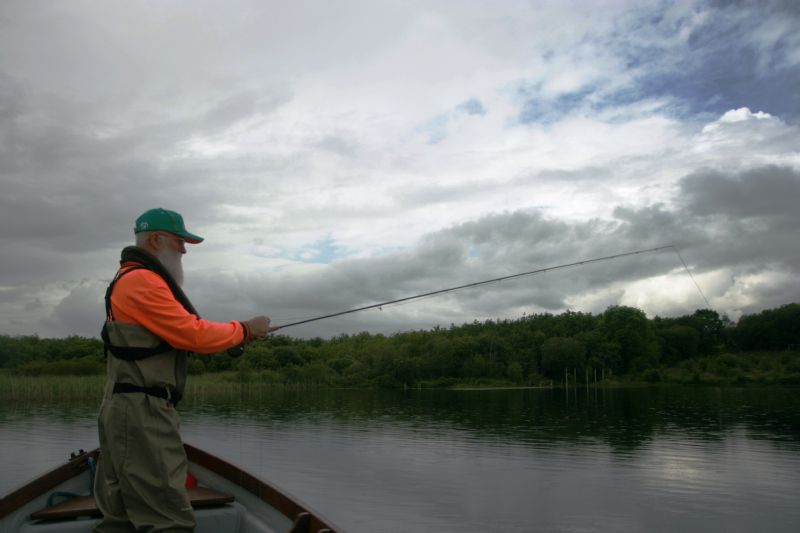 Through a contact in Kilbeheny (made through a world wide cycling organisation) he got a lift north to Bundoran in Co. Donegal. He used Bundoran as a base for a long weekend, fishing Lough Eske and Melvin but his luck hardly changed as they were not fishing well.
From Bundoran he cycled south following the Bonet River to link up with the top end of the river Shannon at Lough Allen and continued on to Carrick-on Shannon. Lough Arrow produced fish for his fishing companion but was not kind to Sandi.
His final leg was to turn west into Co. Mayo (taking in Carrowmore Lake) then on to Galway before once again turning east to return back to Dublin in mid July. However this was no simple cycle across the country for Sandi as he crossed the river Suck at Ballinasloe, the Shannon at Athlone, the Brosna at Kilbeggan and the upper reaches of the Boyne River at Mulphedder. In the final 30 miles he linked up with the Grand Canal into Dublin cycling along the tow path.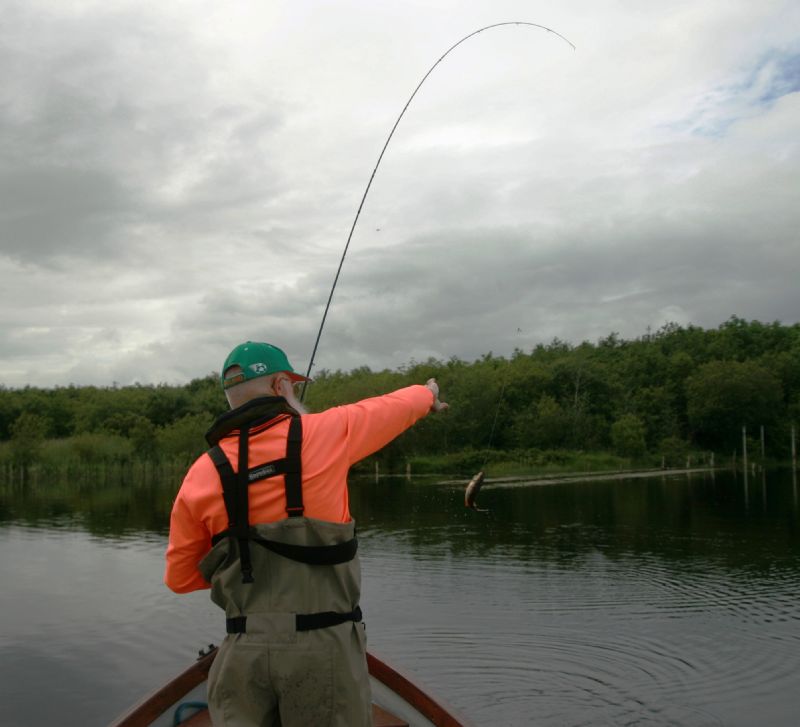 And so the ferry took Sandi back to the UK. He had seen plenty of rain and not many fish but Sandi is planning to come back again. This trip wetted his appetite for the fishing over here. He hopes to come back in three or four years but this time for longer.
Back