Begging for Bream
Targeting Bream on Lough Beg
For anglers similar to me that have been badly bitten by the specimen-hunting bug, it makes a great deal of sense to keep a personal angling diary. By noting dates, water and air temperature, catch results, successful baits, and any other useful, additional notes, a great deal of information can be gathered over a period of time.
With my own angling diaries over the last ten years, I have been able to build a picture of the yearly cycles of many species found through-out Ireland.

Flicking through the pages of last years notes, I could see that it was time, yet again, to venture north and fish the Lower River Bann at Toomebridge, well known amongst Irish anglers for its large Pike, vast shoals of Bream and Roach, and in particular, its record breaking Roach-Bream hybrids, a species we now intended to target. On this occasion, I had the company of three angling pals, Phillip Oliver, Dave Craig and Darryl Aston. As the Bann system is such a vast expanse of water we decided to bring the small boat along, with the intention of cruising downstream and using the sounder to locate any Bream shoals. Hopefully this would eliminate the luck factor and put us right in amongst the fish. With the boat loaded to maximum capacity, with four anglers and enough bait and tackle it seemed to last a fortnight rather than one day, we were soon on our way.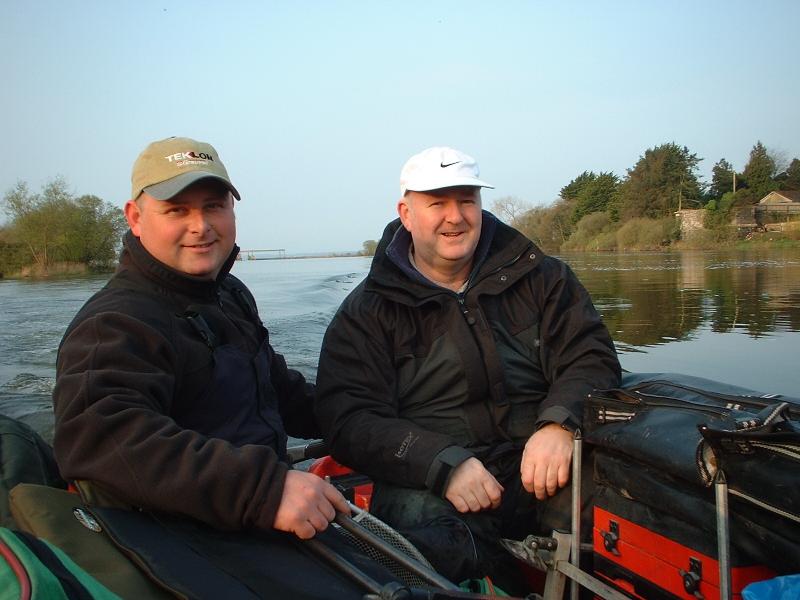 Heading down the Bann in good spirits, hoping to find a decent shoal of Bream or Hybrids
Nothing showed until we reached Lough Beg, when Dave spotted a decent marking on the sounder, indicating a good head of fish. We pulled ashore and began the task of tackling up. As usual, I mixed the ground bait first, as this gives it a chance to soak properly while other preparations are carried out. When approaching a new, un-explored "swim" it is a good idea to begin by checking the immediate area you intend to fish, in a bid to find underwater "snags" that need to be avoided, and fish holding features that may be targeted. This should be carried out before any bait is introduced to the water. It would be pointless to feed an area, only to find that a snag makes it totally un-fishable. This can be done by casting out a plain lead or swim feeder and counting how long it takes to hit the riverbed. Keep repeating this, and after a few minutes, a mental picture can be built regarding features such as ledges, drop offs and any obvious snags to avoid.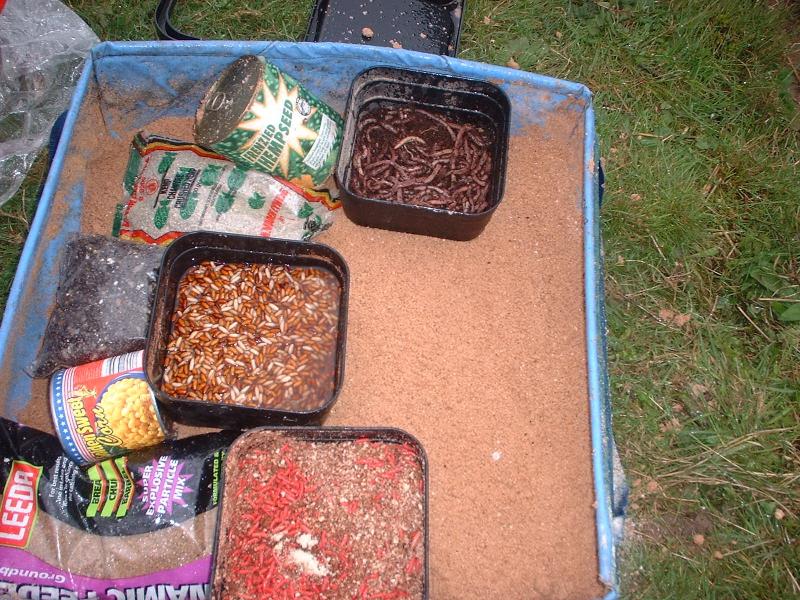 Typical bait selection for a short Bream or Hybrid session
I searched my chosen swim in this manner and discovered a steep sloping, underwater ledge some thirty yards out, and as this was the only obvious feature, I cast to the deepest part and marked it with the line clip on the reel spool, a great way to guarantee one hundred percent accuracy when casting. Another good tip worth remembering is to try the swim prior to introducing amounts of feed, as on some occasions, a shoal of fish may be feeding quite contentedly, only to be "spooked" by a heavy bombardment of ground bait from above.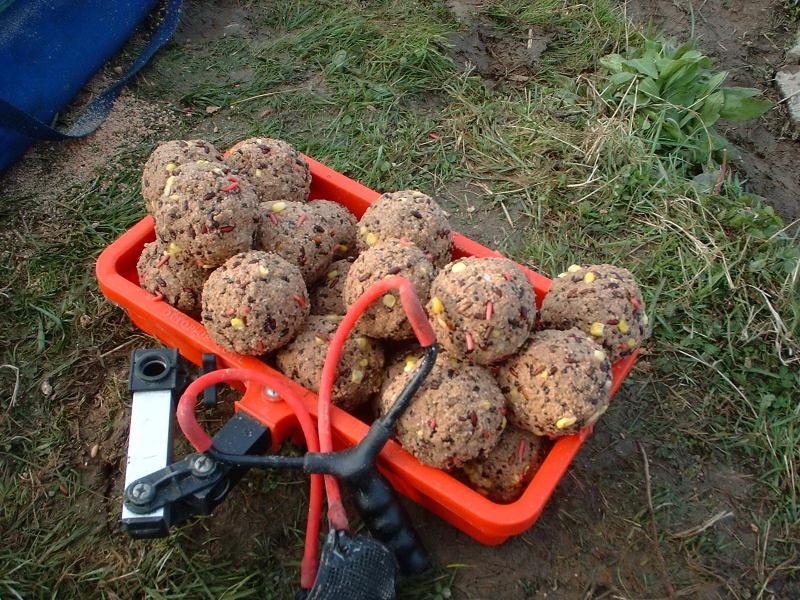 After fifteen bite-less minutes it was time to spice things up, so I catapulted twenty pre-rolled balls of ground bait over the mark, packed with tempting particles such as casters, sweet corn and a handful of dead maggots. I find that by freezing maggots before hand, they can be added to the feed much easier when pre-baiting, as too many live maggots tend to break the ground bait in mid air, reducing accuracy. It only took forty minutes for the ground bait to take effect, as the fish previously seen on the sounder moved over the area of feed. My first fish was a small Roach, quickly followed by a three-pound Bream, not huge by Bann standards, but most welcome all the same. Dave and Darryl were soon enjoying similar sport, while Phil opted for a relaxing day and set up two dead bait rods for Pike, and took a snooze, with a keen ear on the bite alarms!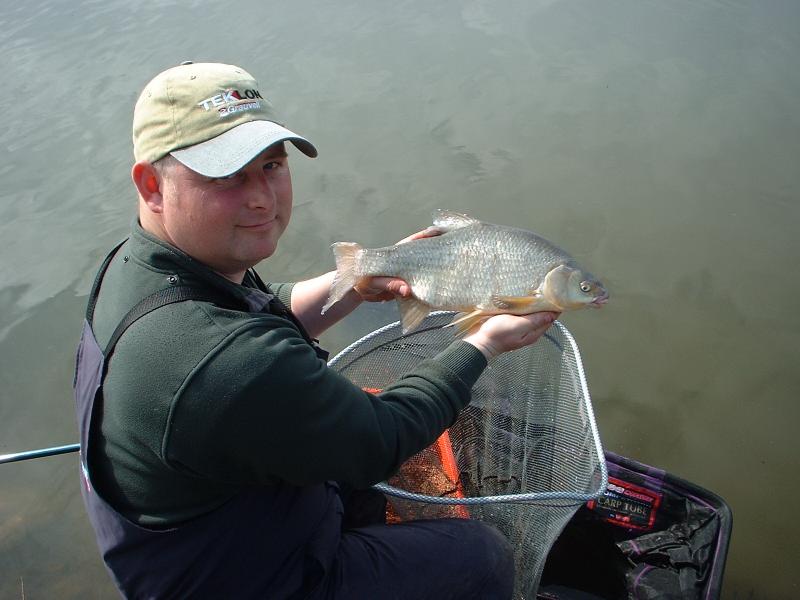 Daryl with a well-conditioned Hybrid
Although there are a few double figure Bream in the Lower Bann System, they are quite difficult to locate, and in reality, most fish range between three and six pounds. The Roach-Bream hybrids however are a different matter altogether, they are reasonably common throughout the river and the majority break the specimen weight of three and a half pounds. These hybrids shoal and feed quite happily with both Bream and Roach but there are times when it is possible to catch nothing only hybrids, and large ones at that. It was without surprise that soon into our angling session, a few hybrids began to make an appearance. Dave took the first couple, then Darryl and finally me, as they bullied their way into my shoal of Bream. If there are any anglers reading this that are un-aware of the fighting capabilities of these hybrids, I strongly recommend that they give it a try. The sheer doggedness inherited from the Roach side of the family, coupled with the size and bulk of the Bream specie, make hybrids a most worthy opponent on light feeder or float tackle.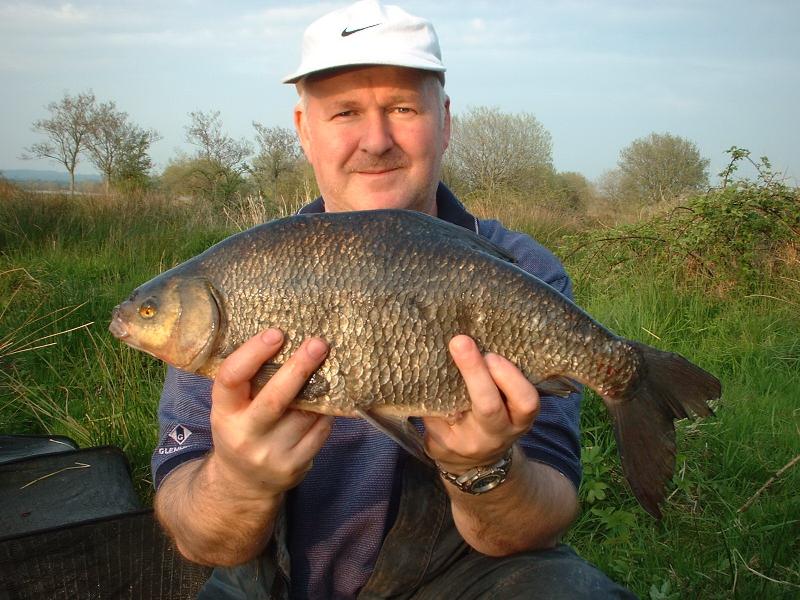 Dave Craig with a fine Roach-Bream Hybrid over specimen size

Standard float fishing tackle can be used although the most popular method is ledgering, using swim feeder tactics. Personally I prefer to use braid when feeder fishing as the non-stretch properties allow for superb bite detection, however, these same properties lead to problems when playing such a powerful fish as the lack of stretch can cause the hook to pull free on occasion. This can be overcome by using a softer, through action rod, or by attaching twenty feet of nylon to the reel line as a leader, but I prefer the bungee method. This is simply twenty inches of eight pounds breaking strain power gum, fed through a feeder boom, and trapped either end with tiny beads and swivels. This is attached to the main line, and an appropriate hook length to the other end, and provides a tangle free system that acts as a buffer to prevent line breakage or a hook pulling out of a fish. Three pound breaking strain hook lengths are more than adequate, coupled with size twelve or fourteen hooks, but be prepared to scale down in size if bites are hard to come by.
Although the angling could not be described as fast and furious on this particular day, the fish fed steadily and I finished the day with nineteen Bream and eight hybrids for a total of eighty-five pounds, including five specimens, which is about average for this remarkable river. Dave and Darryl had similar performances but Phil never had so much as a beep from the bite alarms all day. He saved a blank however, by sneaking a decent Bream out of my swim while I nipped away to put the kettle on for a cuppa!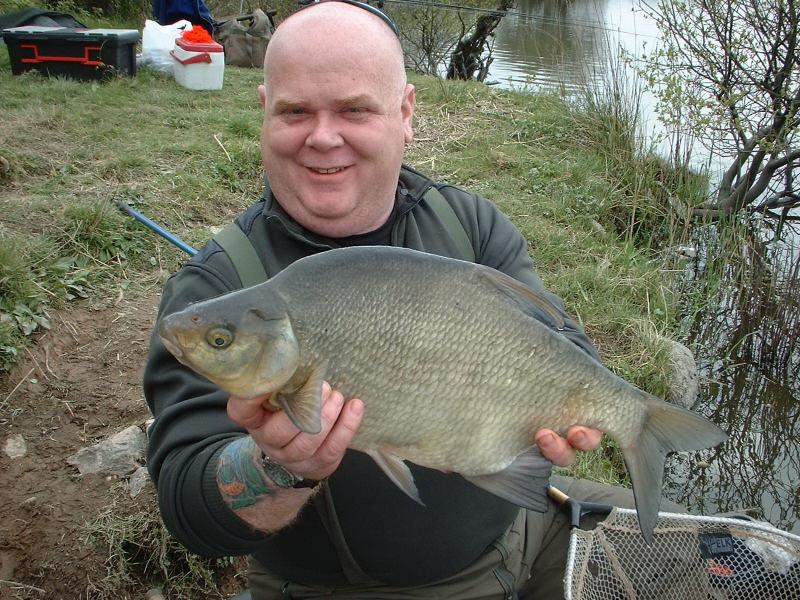 A "sneaky" Bream for Big phil!
Additional information
The Lower River Bann begins its life at Toomebridge, where it flows through the lough gates of Lough Neagh, past the famous commercial eel fishery before widening to form and flow through Lough Beg. It exits Lough Beg at Newferry and meanders through the countryside and angling hotspots of Portglenone, Kilrea and Ballymoney, finally entering the sea at the Bar Mouth, Coleraine.
The canal stretch at Toomebridge once contained vast numbers of perch, but these no longer exist, due to many factors including commercial netting. Illegal poaching and river height fluctuations have taken a toll on the pike here, but the roach, bream and hybrids still feature consistently in this amazing river system. It is the top venue in Ireland for specimen hunters targeting hybrids and it is of no surprise that several records were taken here including Roy Grettons current hybrid record of seven pounds, taken in April, 2002.
There is a handy boat slip at Toome canal, and one on each side of the riverbank at Newferry. Although Newferry is an excellent venue, jet skis and power boats are allowed to launch here, and can be frustrating to say the least as they will disturb feeding fish. As far as bait is concerned, a kilo of dry breadcrumb should suffice for a session, with a pint of maggots, two pints of casters, and a tin of sweet corn. Boiled hemp can work well for the roach and hybrids, and worms are always useful when Bream are about. Heavy pre-baiting can work very well if you are willing to put in a two or three day session.
How to get there
From Belfast, follow the M2 northbound to the end of the motorway, and stay on the road to Toomebridge. This will give angling access at Toomebridge, or head over the bridge and follow the signposts to Bellaghy, for access to Newferry.
Back