Big game Kenya by Colin Martin
Colin in Kenya 2009
Our story begins in May 2006, with my then partner, now wife in hospital after a car accident, I suffered a heart attack.
These events convinced us to get married which we did in Sept 2006. Doctors advised both of us against travel so the honeymoon was postponed.
Our planning began for our first trip to Kenya in January 2008 which would be our dream holiday and my chance to catch a Marlin. I was advised to contact Peter Petzer at Worldwide Angling Safaris and Peter booked me 5 days fishing from Malindi. On this initial trip I managed to catch a pair of Black Marlin, ten Sailfish and more importantly, the Big-Game Fishing Bug.
The venue for our return trip the following year was to remain at Turtle Bay Beach Club but on this occasion we would fish with Steve George on Tega whom I had met last year and operates from Watamu where the hotel is situated, and close to the main Marlin fishing area. Turtle Bay is an all-inclusive resort with daily and nightly entertainment, ideal for an Angling Widow as long as you tip the waiter!!!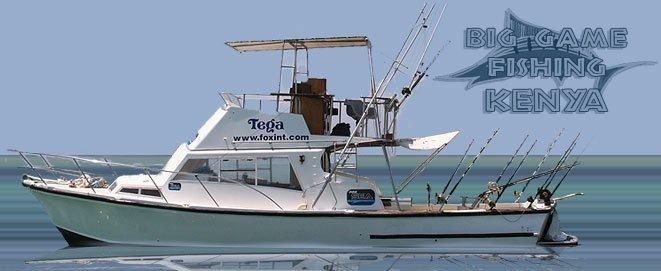 Tega, with rods in place
Tega is a 33ft Aqua bell Hull armed with Twin Perkins diesel engines and capable of 27 knots. She is fully rigged for Big Game Trolling and Bottom fishing. Steve used to run a channel wreck fishing charter from southern England so he really knows his stuff about bottom fishing. This is his third year in Kenya and amongst other angling disciplines he is fast building a reputation as a Major Marlin. To complement the skipper Tega carries a crew of three "deckies", Sunday, Tabu and Julius the trainee. These numbers are important when running a spread of nine or ten lures as multiple hook-ups and the resulting chaos are common.
The rigs used for lures are Pennell Rigs of 10/0 - 16/0 hooks on serious wire! The wire is required for Kingfish, Wahoo and Barracuda. This short length of wire is connected to a long leader of approximately fifteen feet of 200lb nylon. The rigs are then baited with lures and a fish strip which is bound on using fine string to keep the strip straight and the hooks with points facing opposite. This also ensures the hook points are clear to aid clean penetration.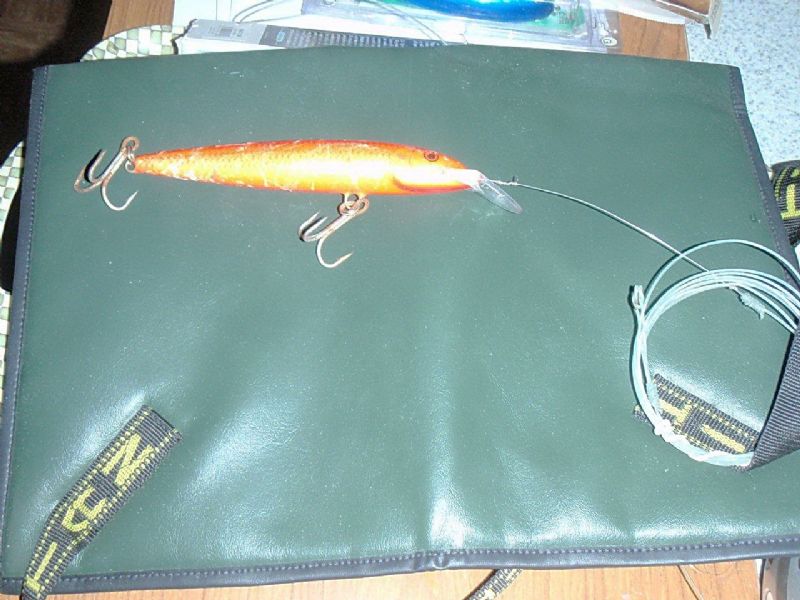 The best lure on the down-rigger, a big "Rap"
These lures vary in size and colour from 6" - 15" and from fluorescent pink to black going through all the colours of the rainbow. In general terms, darker seems better early in the day with the lures getting brighter as light levels increase. Rods and reels vary nearly as much as lures. You can land Marlin on 30lb class gear but this tends to over-tire the fish and can cause fatalities, it also knackers the angler as well, as I found out after a two and a half hour fight with a Black Marlin last year.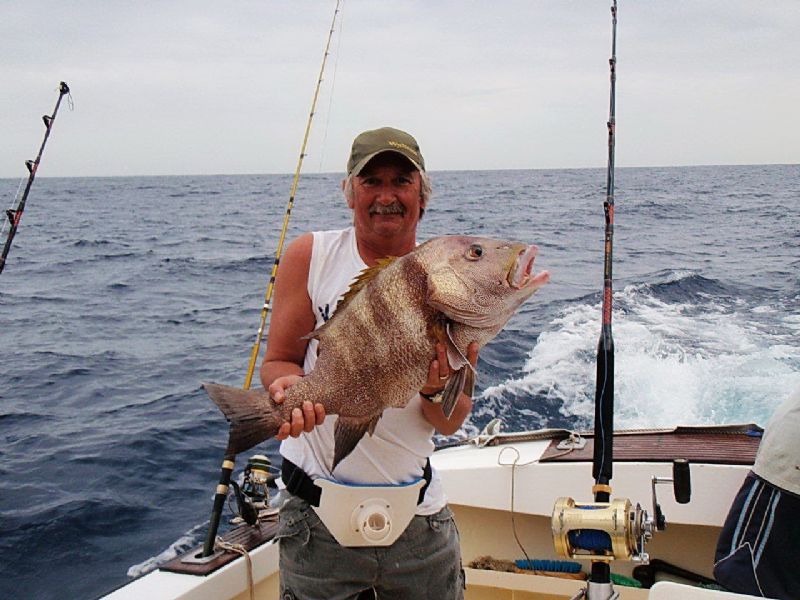 The culprit that broke my Ugly Stick!
This year I took my own 30lb Ugly stick and broke it on a snapper! A Christmas present from my wife (oops!). Aboard Tega, rods range from 50lb on outriggers, and long rods up to 130lb on the really big lures (see lure spread diagram). A downrigger is used as well in several ways for fishing at a fast troll; this is between 6.5 and 8 knots. A small lure is sometimes run about thirty feet down and this is very effective not just for Billfish but for other pelagic species as well.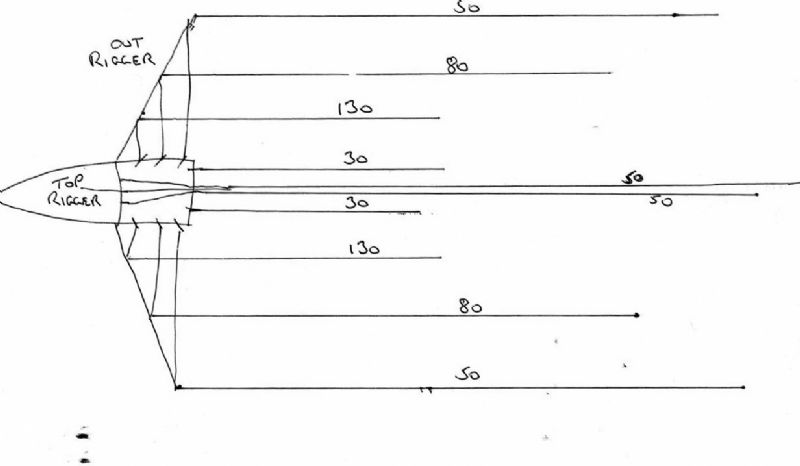 Typical layout for fast trolling
Another speed troll option is a large Rapala or similar plug, not a deep diver as the big bib presents too much resistance. My personal favourite for this role is a 7" Rapala Magnum floating. Wahoo just love these and are great sport on lighter gear, this was meant to be the main use for my ill-fated Ugly Stick teamed with a Fox OM25 reel and 700 metres of 50lb braid. Plugs need to be rigged on a short length of wire for protection from bite-offs. Wahoo and Kingfish have an impressive array of teeth!
Apart from fast trolling, the other method is slow trolling live or dead baits. The best method of all is a live "friggie" (frigate mackerel). Setting these up is very precise and needs to be very fast, or they die. A needle is passed through the corner of their eye sockets, a loop of bait string is pulled through and the hook attached to the string, leaving the fish to swim naturally. These are usually fished in threes, one on the downrigger at about 40ft down and 50ft back, the other two on the outriggers on the surface or close. These are trolled slowly at about three knots. If live baits are unavailable dead bait can be used for the same technique. These are rigged with one big single through the head and two trebles lightly hooked in the flank. One or other of these bait methods are used on a deeper down-rigger targeting Giant Trevally or Amberjack, either trolled slow or on the drift. These two are the hooligans of the deeps both of them are like wrestling with a chieftain tank.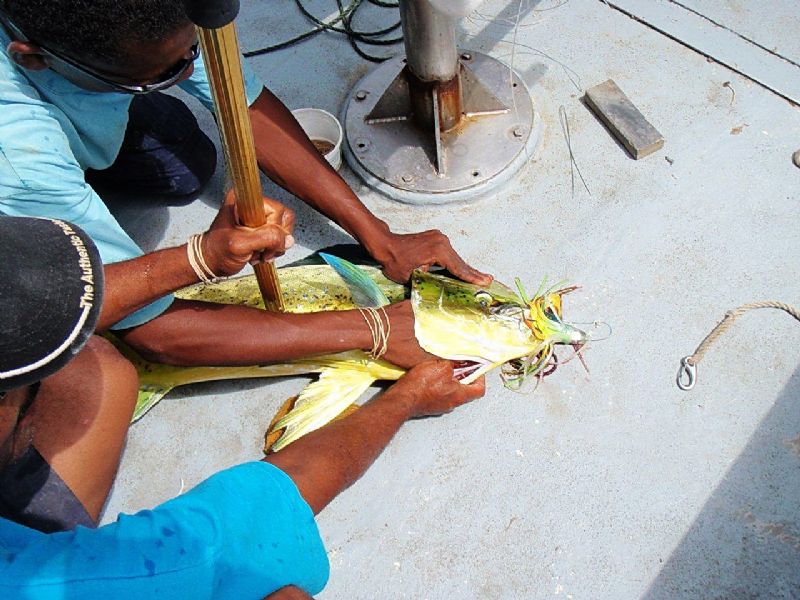 Lunch! As fresh as it gets!
Enough about the gear, let's get on the water! On the way there Lynne and I met another couple Lynn and Danny. Danny is involved with the English Sports Council Coarse Angling Section so we had plenty to talk about with my match fishing background. On arrival I discovered Danny had booked several trips with Big Andy, skipper of Happy Striker, another English skipper. Happy Striker was commissioned in January 2008 and I had the pleasure of being on her Maiden trip. So when it was suggested I share a day with Danny I agreed immediately. As we left the mooring the following morning, Andy asked his crew "Are you ready" which soon became one of the holiday sayings.
When the reply was "yes" with 6 lines in a tangle this was an obvious exaggeration! Andy sighed and said "what could possibly go wrong" (another holiday saying). Happy Striker is a smaller vessel built in UAE and powered by two 75hp Suzuki four-strokes. At Andy's next call of "are you ready" the reply was "we're fishing you drive". About fifteen minutes from our start as we trolled northerly up "Sail Alley" my new Ugly Stick was on the down-rigger and resulted in a 12kg Kingfish, a short but fast paced scrap and a good start. At the start of our trip we had agreed that Danny should man the starboard rods and me the port side.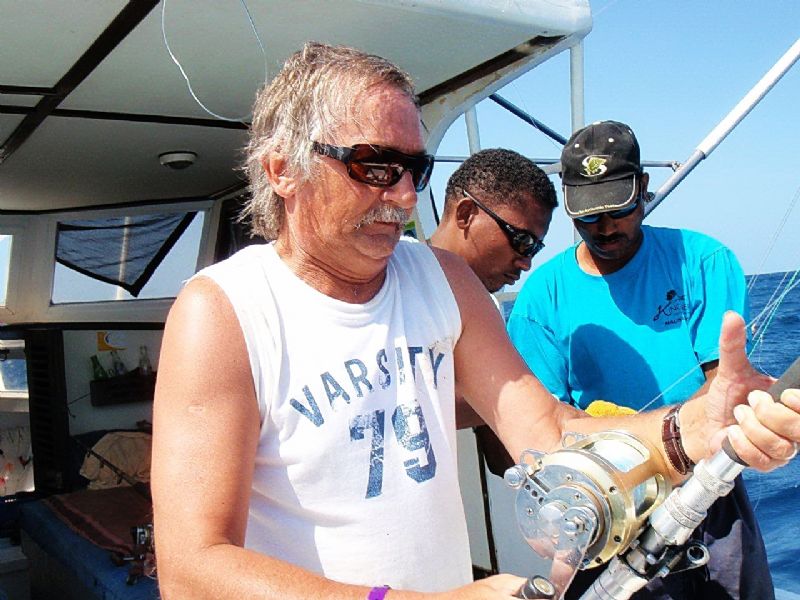 "Wind, wind, wind" they shout. "I am F*@#ing" winding!
The next strike was again on my side but as Danny had never caught a Sailfish and John another ex-pat and member of Andy's crew and myself had both seen it, I said " take it Danny, it's your first Sail". The sheer speed of Sailfish is incredible and means that quite a few come off as they tail walk and cavort across the surface but not this time. After a visit to the depths a 30kg Sailfish made Danny a happy man. This was the first of four for the day, two each, which, along with two more Kingfish, a pair of Dorado and one Wahoo gave us both a good work out.
My next trip 3 days later was on Tega and we met Steve and Debs for dinner the night before. Steve and I had both been talking to other skippers and the conclusion was that Marlin were coming up late in the day so we decided to do a bit of bottom fishing early on, and troll after lunch.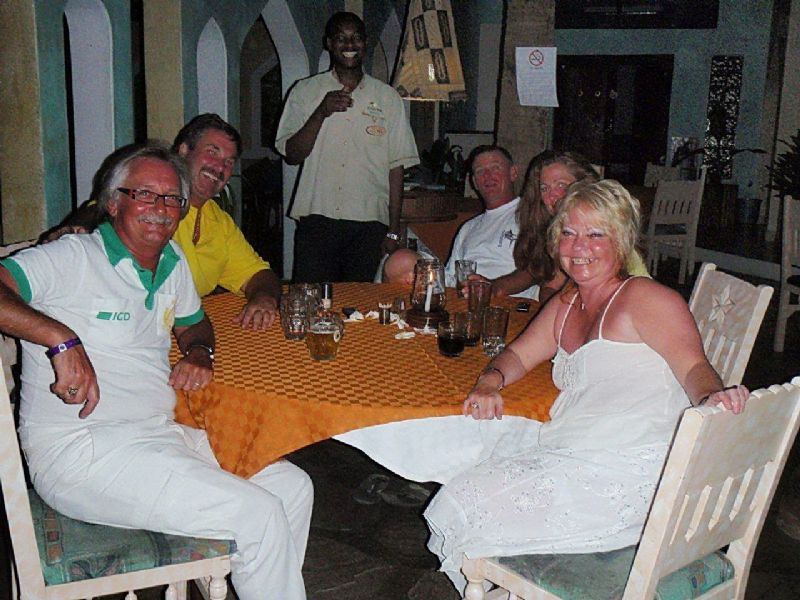 The motley crew at dinner
We steamed out early next morning to the GT mark but after a quiet couple of hours we moved to a new area where Steve had caught some Amberjack a couple of weeks before. Down went the dead-bait into 600ft of water on the downrigger. Almost instantly we had some interest, it broke the band; I struck and broke the rod. Steve came out with a hacksaw and sawed the rod and taped it together! The fish was a 7kg Speckled Snapper "what could possibly go wrong". After one more Snapper we hooked an Amberjack, just a small one about 11kg and then lost a big one (after one and a half hours not amused!) We trolled for three hours raising little and retired to the bar (As you do!)
I had a few days off after this and would stand each night watching the boats come back and counting fish flags. Three days left and the tactics became Marlin or bust!
Day three - was slow with two Sailfish early on then lots of frustration as one came off, we think a "Stripey" but never saw it.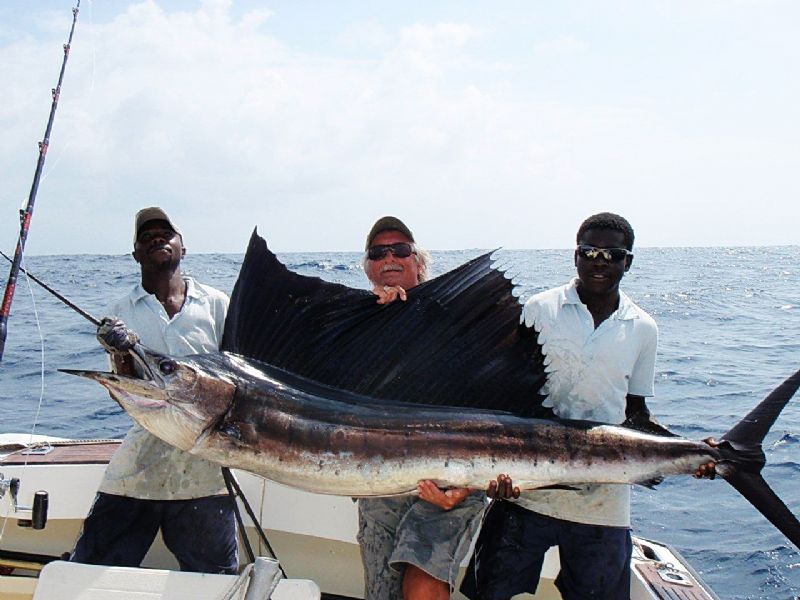 The best Sailfish of teh trip at about fifty kilos
Day four - The very next day , lots of Marlin activity today as we hooked one early but it came off after about fifteen minutes, Steve was kind but it was my fault, let it have some slack and GOODBYE Marlin! An hour later and we hooked up another one "what could possibly go wrong" nothing for twenty five minutes then the hook pulled out. I was devastated.
We put all the lures out again and up came two more, a "Stripey" and a good blue. The Blue melted away but the "Stripey" hit the far right 50lb rod and we were on again. It ripped off about five hundred metres in the first run doing the hurdles across the waves, and for twenty five minutes I fought it standing but it went very deep and the previous one had half wiped me out so I took a seat. One hour later my first Striped Marlin was tagged and released estimated at fifty five kilos. One big Dorado completed the day's action and a happy bunny went to the pub.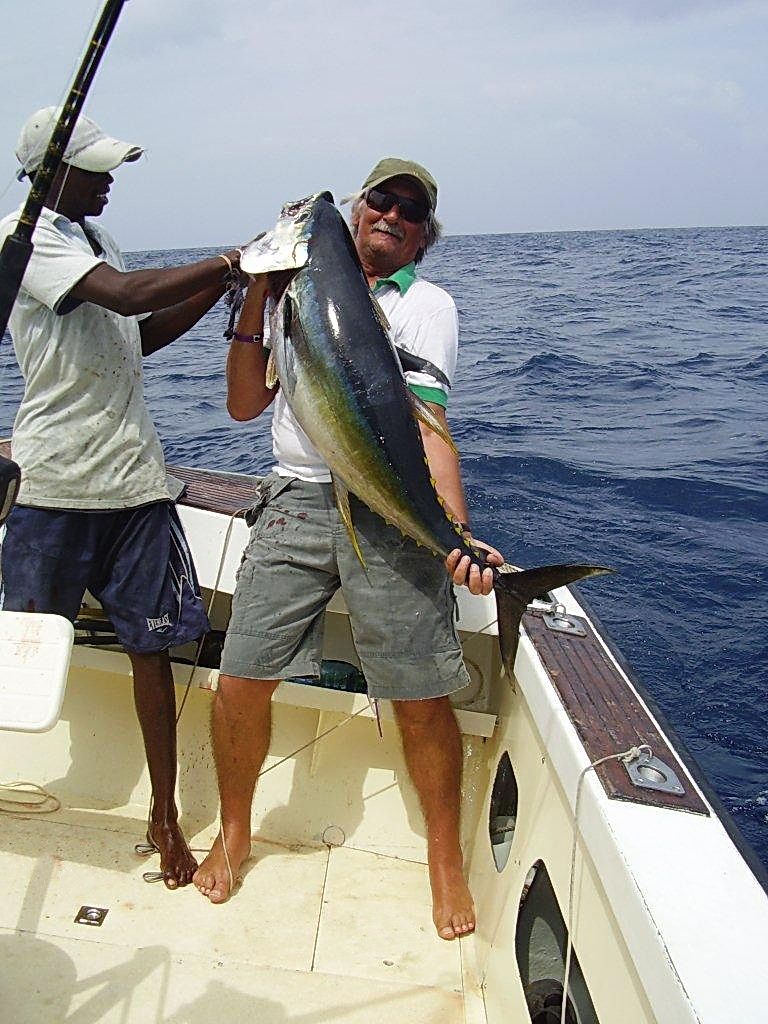 A decent Yellow Fin Tuna approximately twenty kilos
My last day and the day before we had to fly home, we were back on Tega. Steve says what shall we do today, I say one word, Marlin. We started gently with a new personal best Sailfish (45kgs) which involved about forty minutes of hard winding and tail walking, followed by a smaller sailfish of 25kgs. An hour to recover then its Marlin time, first one charged off and leapt, landed on the leader and straightened the hook. Number two was hooked up almost immediately and about twenty minutes later I was holding a 65kgs "stripey" before it was released.
I disappear into the cabin for a coke when all hell broke loose; we now have three angry Marlin hooked and all going in different directions. Such a comedy show, eventually two came off to leave me sitting down holding on to a fish that was not going to stop. The reel is almost empty, 800mts of 50lb nylon has disappeared and then oh no! *!?* me it's off. An hour of no fish and chance to recover a bit before Steve yells Tuna. A nice Yellow-fin about 25 kilos took about fifteen minutes and fought like it looks, like a 50lb mackerel. Steve turned to troll over the Tuna mark again and two Marlin pounced on the lures, one came off early leaving me on the 50lb gear again. Hard work this "but what a Job". Best fish of the trip this one, and weighing in at 80 kilos, I'm so happy.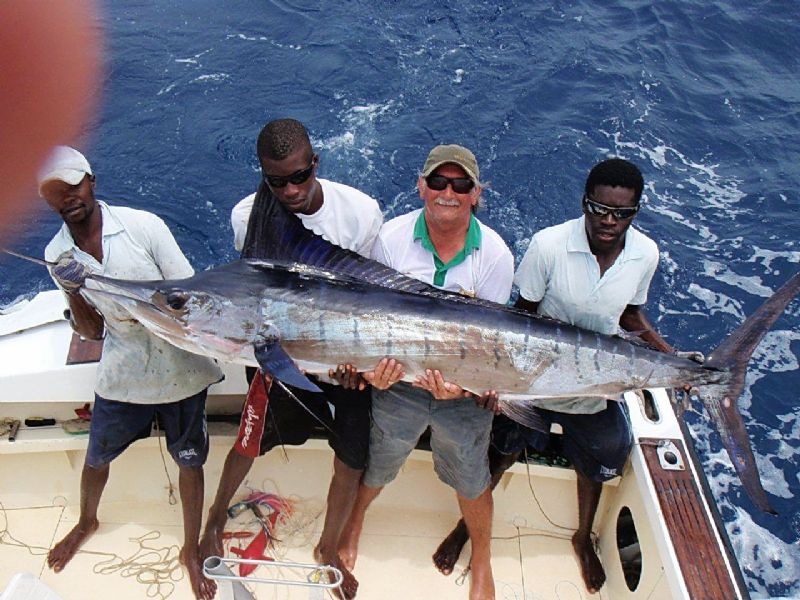 The largest "stripey" of the trip at around eighty kilos just before release
We're going back next year anyone interested can contact me at spacer@TalkTalk.net. 14 days all inclusive accommodation for two with five days shared fishing on Tega will set you back about £3000. Best time to go is Jan/Feb. We're going last week in January and 1st week in February.
TIGHT LINES EVERYONE.
Posing for the crowd, best angler for the day
Footnote
Since I first wrote this articlein2009 and didn't publish it I've been back twice more. 2010 was the best year on record at Watamu. On my second last day we teamed up Zenia and Joe Drury-Gregoryk, Zenia being daughter of the infamous Zyg owner of angler's paradise. In one day we had thirteen Billfish including a grand slam for Zed. We also lost a big blue cut off by another boat; Steve saw it and reckoned it to be about 800lbs!
Back