Bloke Rod SLP 9'9 10 WT
Bloke rod
Are you man enough to handle a bloke?
It has finally happened; I have fallen for a Bloke!
Don't worry folks, my passion for the opposite sex is still intact. The bloke I am talking about is a Bloke Rod designed and built in the UK by Mick Bell. I first heard about these rods after joining the Pike Fly Fishing Association last year. Chatting with Glenn Drennan, the PFFA secretary for Northern Ireland, I happened to mention that I was looking for a new pike fly rod, and did he have any ideas on the subject.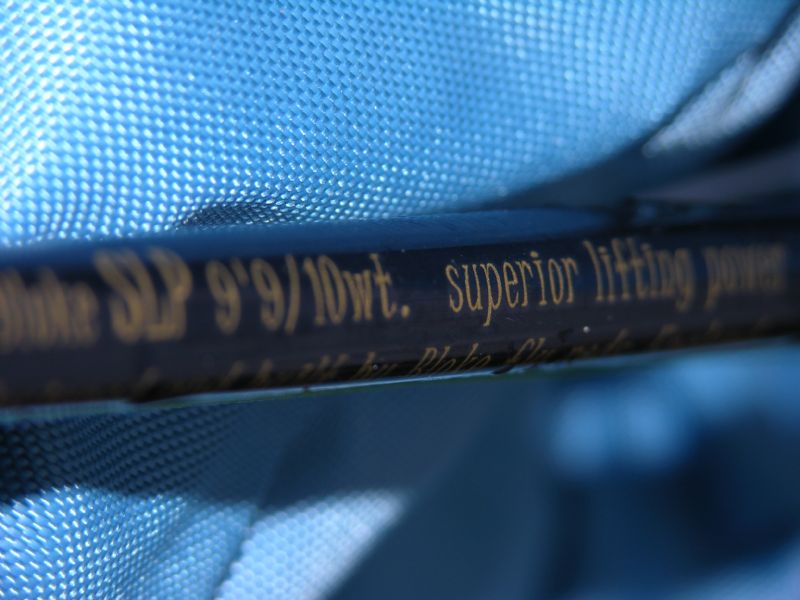 Designed for tarpon, but superb when targeting Pike
He rattled off a few makes such as Sage, Loomis etc then stated "if you are looking for the Rolls Royce of fly rods, the one that everybody is talking about on the forums, then go for a Bloke rod". Bloke rod? I had never heard of them, which instantly raised my curiosity.
There was only one way to satisfy this curiosity and that was by "Googling" the name on the internet. This brought up a very nice website offering information on a whole range of rods covering trout, salmon and in particular, saltwater fly-fishing. There was no section for pike fly-fishing, but the salt water gear really looked the business. Oversized snake rings for great line control, superior grade cork handle, hand machined nickel silver or high grade aluminium reel seat, and a slim diameter super progressive blank. This all sounded right up my street, and so, I dropped an enquiry in the form of an email, to Mick Bell, the main man at Bloke Rods.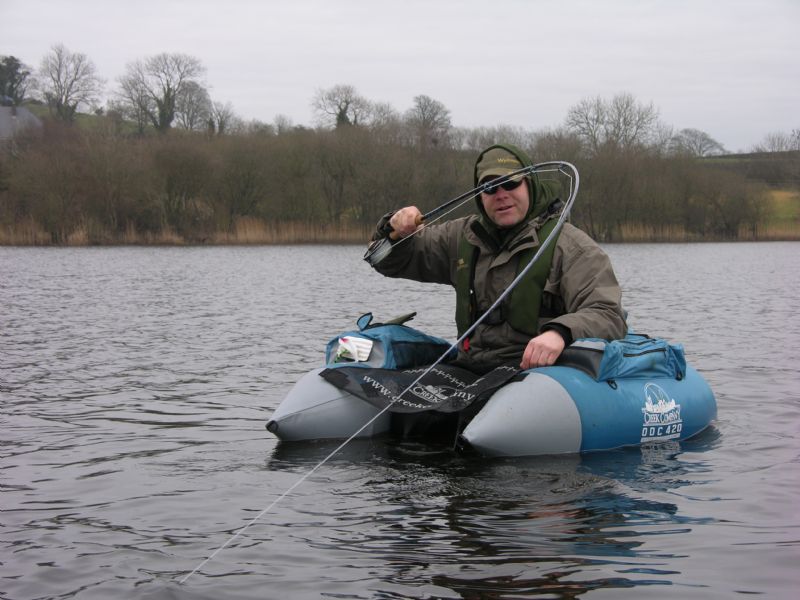 Loads of back-bone in the SLP
Mick is a very knowledgeable guy, and after I had explained exactly what I needed in a pike fly rod, he pointed me towards the nine foot ten weight. This is designed for tarpon, but Mick assured me that it fits the pike criteria perfectly. Designed to cast large flies against on-shore breezes and put the brakes on a hard fighting tarpon, it should easily stop a double figure pike in its tracks. I couldn't wait to try it, and within two days, it arrived at my front door in a screw top aluminium rod tube.
This is a handsome, well finished rod. There was no doubting the fast taper and powerful lower section, but to be honest, it felt just a little too "pokey" for my style of fishing. There was no way of knowing until I could put a line threw the rings and have a cast, and in particular, bend it into a hard fighting Irish pike. It was only fair to ring Glenn and arrange a pike trip; after all, he put me in touch with this make of rod. I also had to annoy him with it. I won't tell you what he called me when he saw it!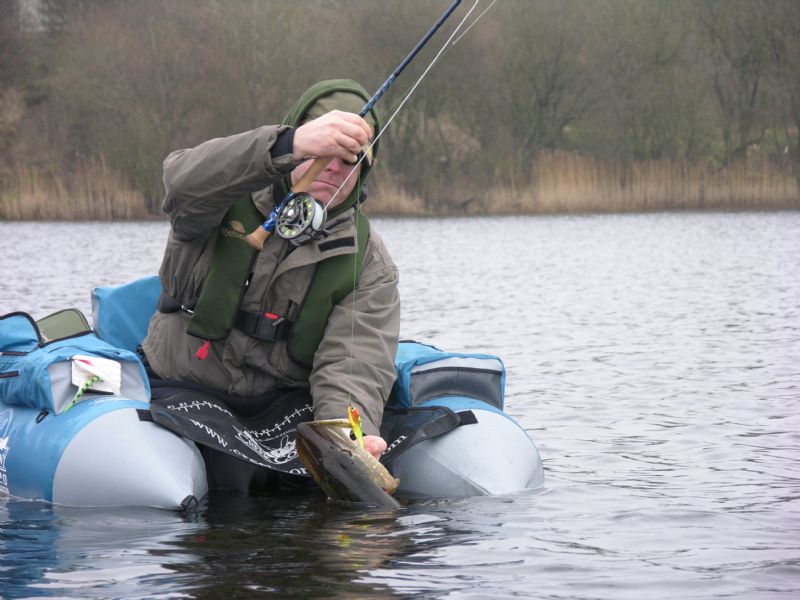 Safely "chinned"
As Glenn is a "tube" nut, the belly boats were brought into action. This suited me fine. Since receiving my float tube from Aquatec last year, I have become a bit of an addict myself. Being turned around in circles two or three times by a lunatic pike certainly produces that adrenaline rush.
I called for Glenn the following Saturday morning and we headed to a local water. There are twenty pounders in here, but my largest on the fly at this venue are small doubles. A twenty would be perfect, but a small double would do just as well to get a flavour and feel of the new rod.
My first impressions were not good, as I tried to put the fly out at distance. The Cortland ten weight line struggled to compress the rod. Of course, this could be my poor casting style and in fairness to Mick, he only recommends "Jim Teeny" lines to use with this rod. Luckily I had a spare reel with a Scientific Angler, eleven weight intermediate with me, stored in one of the float tube's spare pockets and quickly switched over to see how that faired. The difference was amazing and the rod felt transformed. For my style of casting, the rod needed a little extra line weight to perform, and it did this exceptionally well. In no time at all, my casting distance had improved dramatically, and with only one false cast and a double-haul, the line simply shot through the rings. This really began to feel comfortable, but how would it perform with a fish?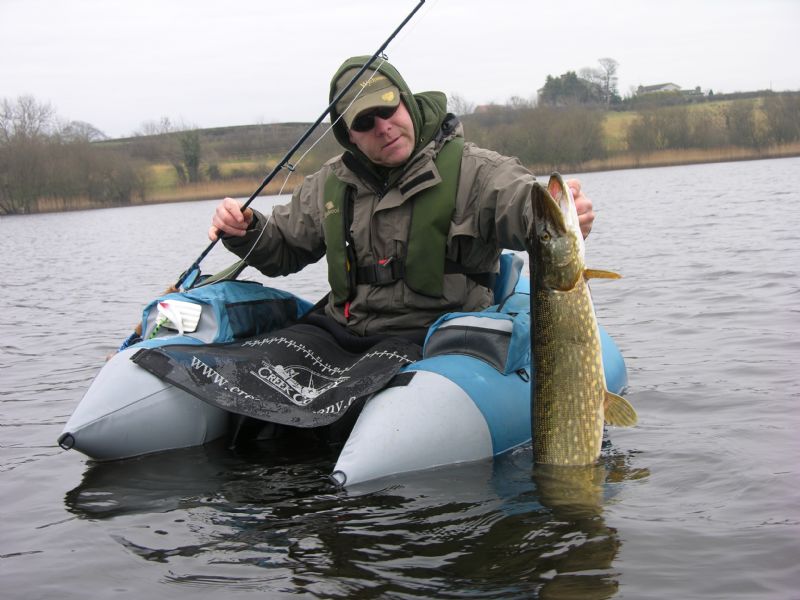 Over the next hour, a couple of small jacks came my way, that gave the rod no real test, then "bang". A small double smashed into the lure, putting a healthy curve into the rod. The power in this rod easily set the hook, but there was a forgiveness there too that I couldn't work out. It gave a feel to the fight that rods of this power can sometimes numb. I really buckled into the fish and soon had it under control, and was amazed to see that the hook hold was almost non-existent! If the rod had of been too powerful, the hook would definitely have pulled free.
Since that first test several months ago, I have had many fly fishing opportunities and landed over fifty pike on this rod. Each session has seen me become more attached to this superb fly rod.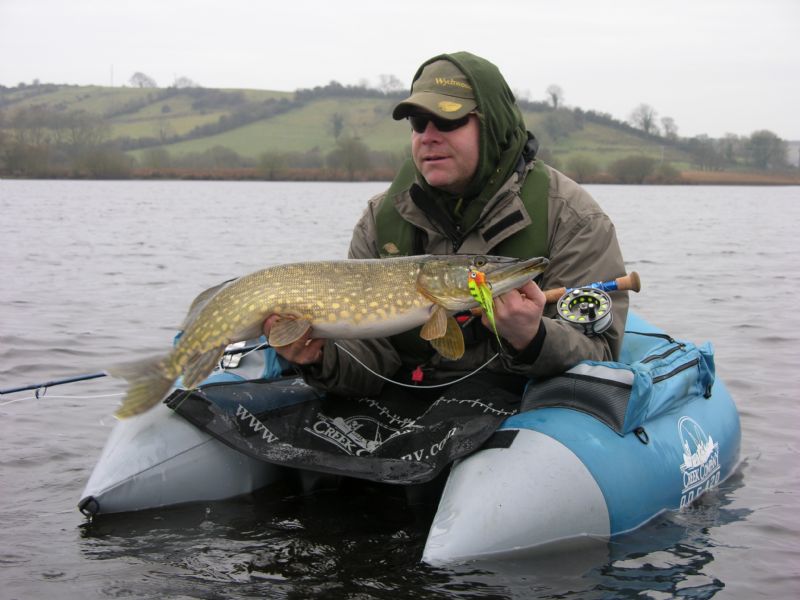 I write this tackle test with some sadness. Having just returned from a fabulous pike angling trip in Norway, I took my beloved Bloke Rod with me to bend it into some tough Norwegian fish. The tiller arm of the outboard swung round and broke it before I could hit a fish on it!
Thank goodness, as with all quality rods today, Bloke Rods have a lifetime warranty, and Mick Bell was extremely helpful. Although this rod is a little on the pricey side, it is no more so than similar top-end rods of this quality. With this, you definitely get what you pay for, and to date, it is the finest pike-fly rod I have had the pleasure to fish with. This particular rod that I tested retails at £425.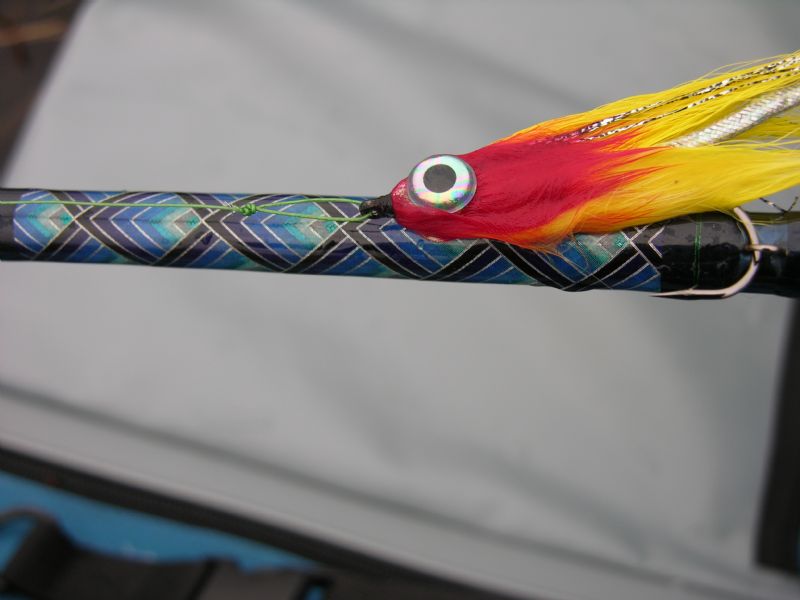 Built to highest qualities
To find out more about the full range of Bloke Rods, contact Mick at blokerods@yahoo.co.uk or mobile 07764359473. Check out the website on www.bloke-rods.co.uk, or handier still, buy one locally in Northern Ireland from www.anglingclassics.co.uk.
Back