Carp and cough medicine
Carp and cough medicine
When Ross Macklin gave me a call offering a couple of days work surveying feeder streams in Galway, I jumped at the chance.
With his "state of the art" electro-fisher, he looked like one of the guys out of Ghost Busters! It was an interesting two days.
With this "away from home" opportunity, I took the liberty of packing the carp gear, and with work completed, took the three hour drive from Galway to Cork City and met up with another friend and fellow specimen hunter, Sid Kennedy. Sid and Mandy's hospitality is second to none and they never fail to create a home from home.
I had called in with Sid to scrounge a few of his "special" boilies that never fail to catch Carp, but wasn't allowed to leave until I had been fully fed and watered. I made the mistake of whining to Mandy about my "man flu", and found myself walking away with chest rub, sinus tablets and a year's supply of paracetamol. This is the generous Cork reception I have grown used to over the years. Later that evening, my bivvy felt more like a pharmacy than an anglers retreat.
A nice start with this 15lb Common Carp
Sid's son Derick had kindly bivvied beside me for company, and had also pre-baited an area prior to my arrival. Once settled in, and drugged to the eye-balls with a haze of Vicks Vapour rub emanating through the mosquito mesh, I drifted off into doped slumber. My deep sleep was interrupted only twice through the dark hours, once by a healthy fifteen pound fish and again by a small double, both over specimen weight, so a positive result.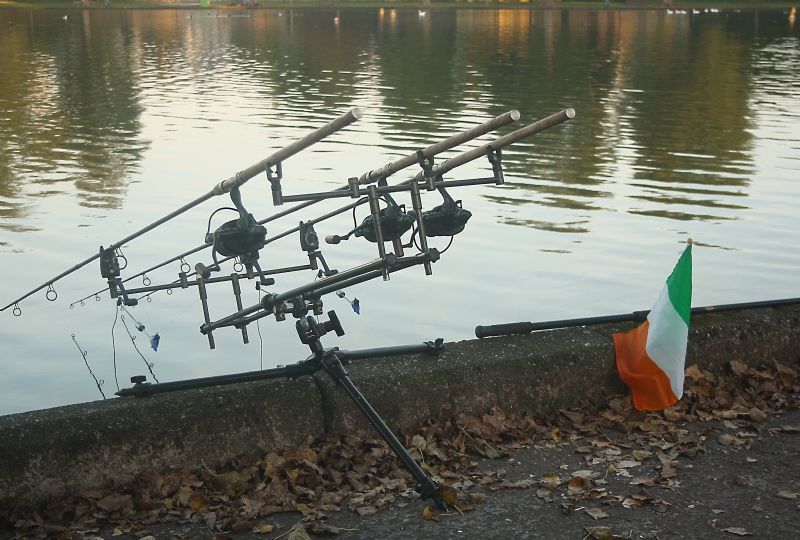 I woke up to find that Terry from the "Nort" had been re-patriated, its a Cork sense of humour!
The following day was clear and cold, the temperature had certainly been dropping over the week. As a result, Carp were scarce during daylight hours and Sid had kindly arranged a boat trip off-shore in search of Pouting, Cuckoo Wrasse, ling and Pollack, with Derick watching over my Carp gear while I was away.
Unfortunately the weather forecasters had messed up yet again, and with strong south easterlies blowing, our planned trip was aborted, and we ended up targeting Flounder in a sheltered estuary. With carp lying low, it was an enjoyable day out on the water rather than dozing all day in the bivvy.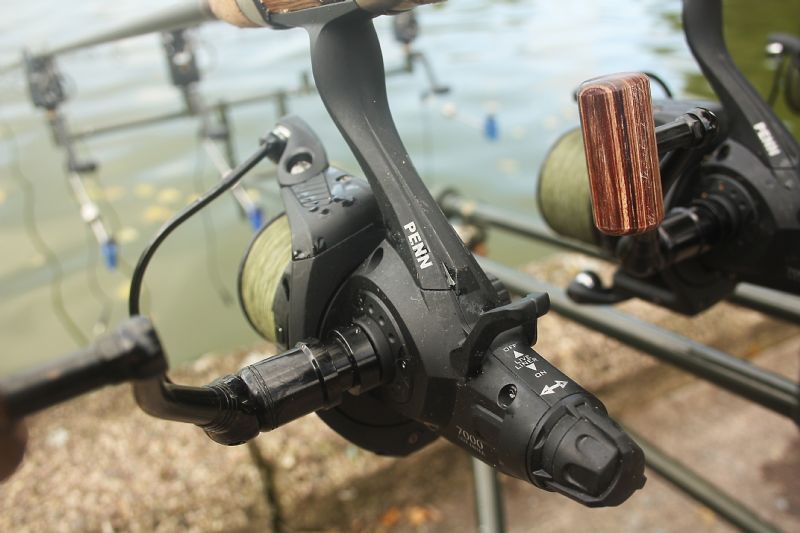 Still loving the Penn Affinity Live Liners!
more info....PENN AFFINITY 7000 LTD LIVELINER BIG PIT CARP FISHING REEL (LATEST MODEL) 1339654
The evening chilled dramatically, crystal clear sky and a huge bright shining harvest moon; I knew right away that my Carp chances were slim. Doped up again, I slept right through the night, un-disturbed by bite alarms and feeding Carp. For the following morning, our plan was to head somewhere for Wrasse, and to use up the ragworm and peeler crab left over from our Flounder session the previous day.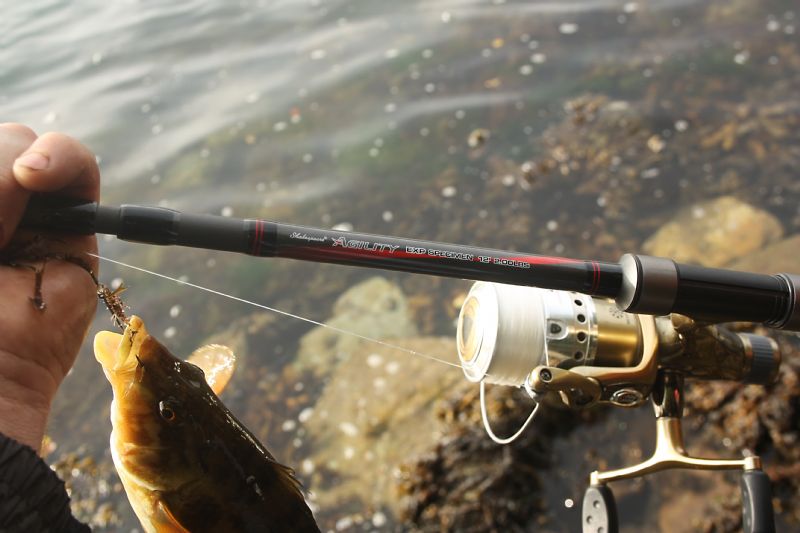 A chance to bend the new EXP Agility Specimen Rod from Shakespeare
more info....Shakespeare Agility EXT Specimen Rod (4 Piece) - Black, 12 ft/2 lb
Sid and I headed to a stunning headland down in West Cork. We opted for float fishing on this occasion, you can't beat the visual experience of watching a float bury below the surface, nailed by a hard hitting Ballan. This also gave me my first opportunity to try out the new Agility EXP 12ft Specimen Rod from Shakespeare. This is a four-piece version, 2lb test curve and looks to be an extremely versatile rod for basically anything!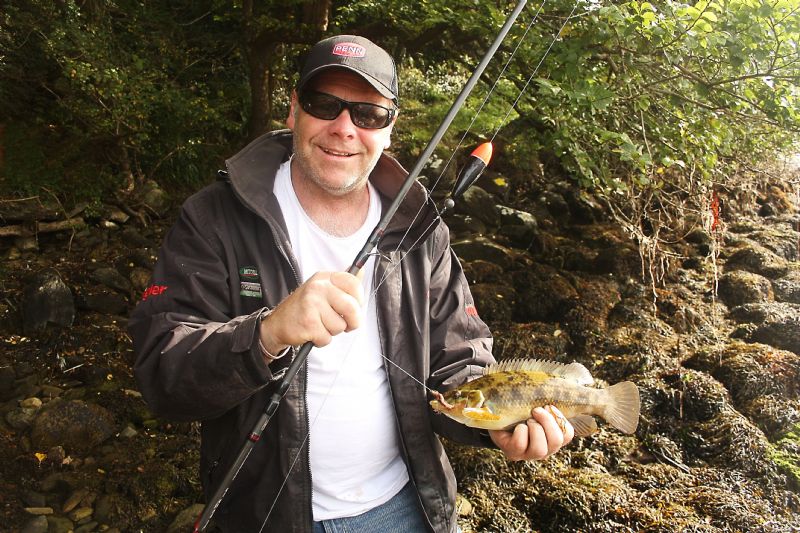 Brilliant fun on balanced tackle
We were soon into fish, mostly Ballan Wrasse and Pollack, the Wrasse taking any combination of crab or ragworm, the Pollack snapping up the worm baits. Really addictive angling, reminding me of enjoyable days gone by on Bangor Pier, County Down, as a youngster float-fishing for Mackerel, Wrasse, Pollack and Coalfish.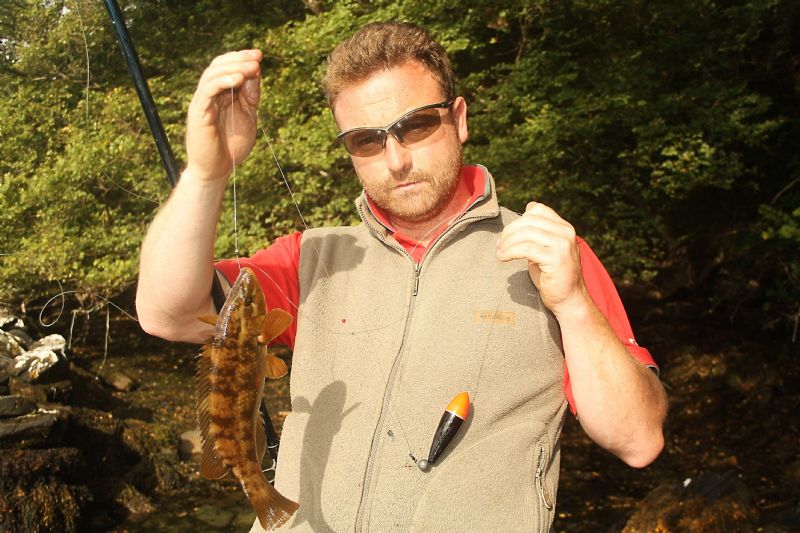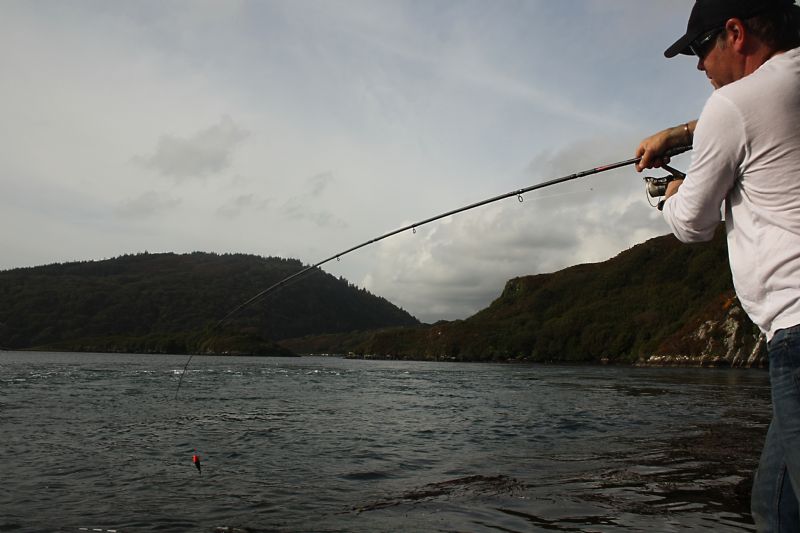 For a budget rod, the Agility was brilliant; bending hard into the Wrasse I never let a single fish find safety in the kelp below. Very enjoyable angling.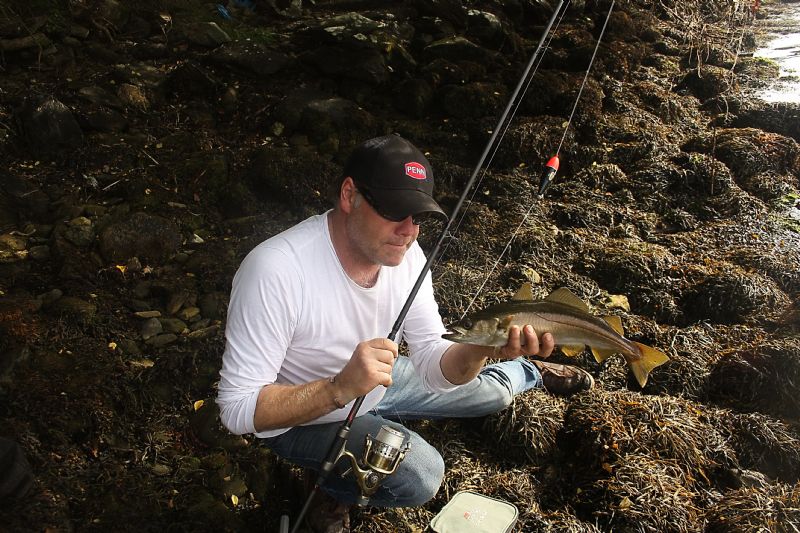 As the tide pushed us back, we ended up teetering on rocks, side casting below over-hanging tree branches, enjoying every second. It had to happen, Sid lost his balance and as I reached out to steady him, he slipped and shoulder barged me into the tide! Soaked through, I could hardly clamber out for laughing, the two of us in stitches! I remember thinking this will undo all of Mandy's medication!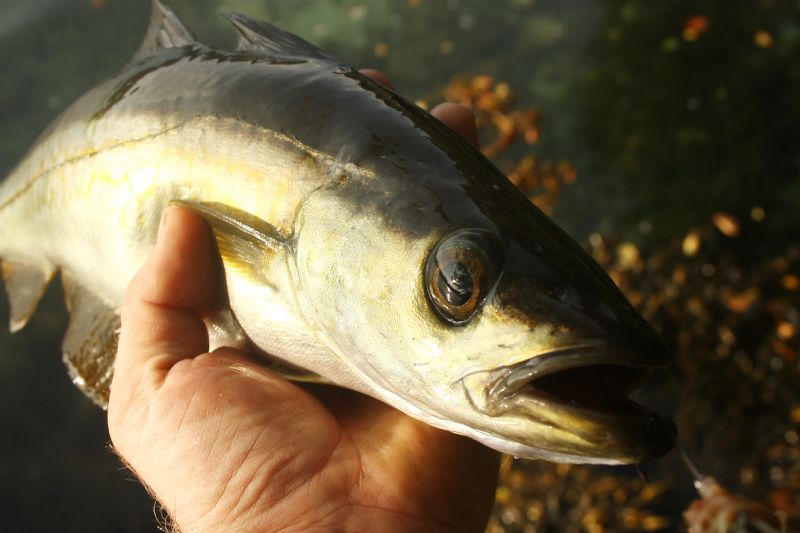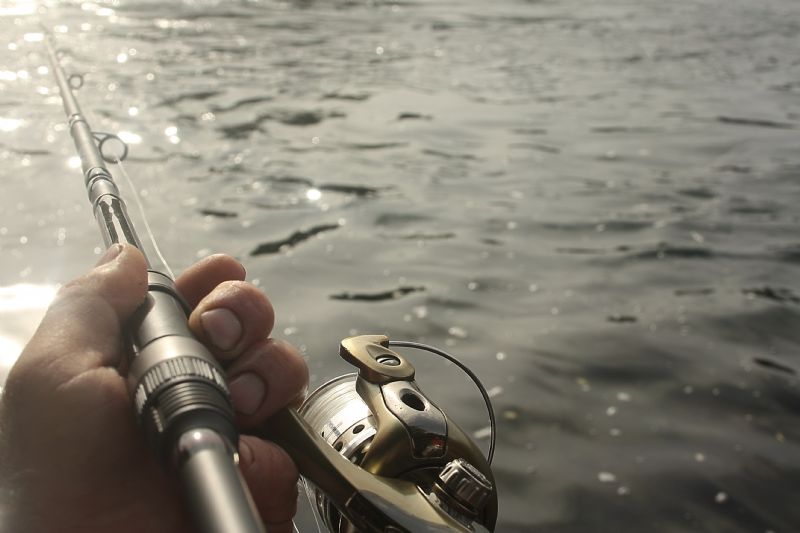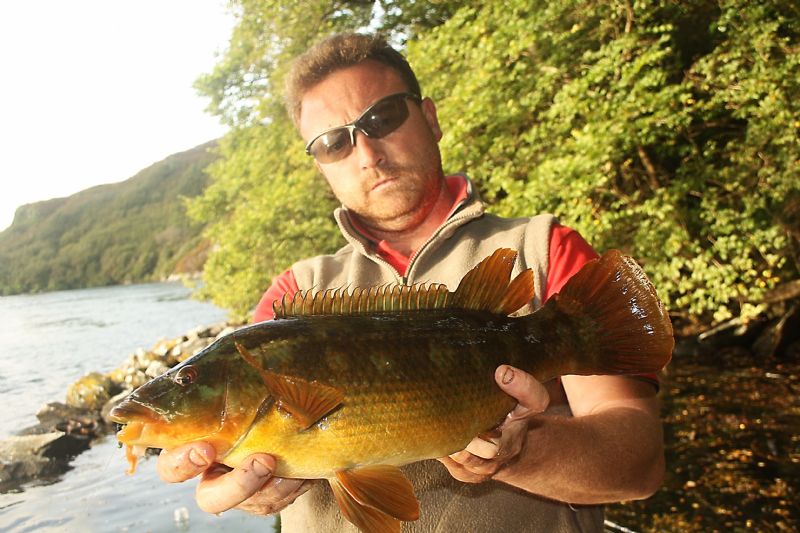 Back to Sid's, a change of clothes and big feed, I was soon back at the Lough for my last Carp session. Having moved to the water fountains area this time, I fed sparingly and fished PVA bags keeping the casting tight and accurate. This was the night of the solar eclipse, and as the Earth's shadow moved across the large, bright moon at 3am, and the sky darkened, my left-hand alarm quietly chirped to the pull of a Carp. This was a good fish, taking line and giving a good account. Then resistance and gone! It felt like a "snag" of some kind, but never mind, with all end gear still intact, a re-cast to the mark and try again.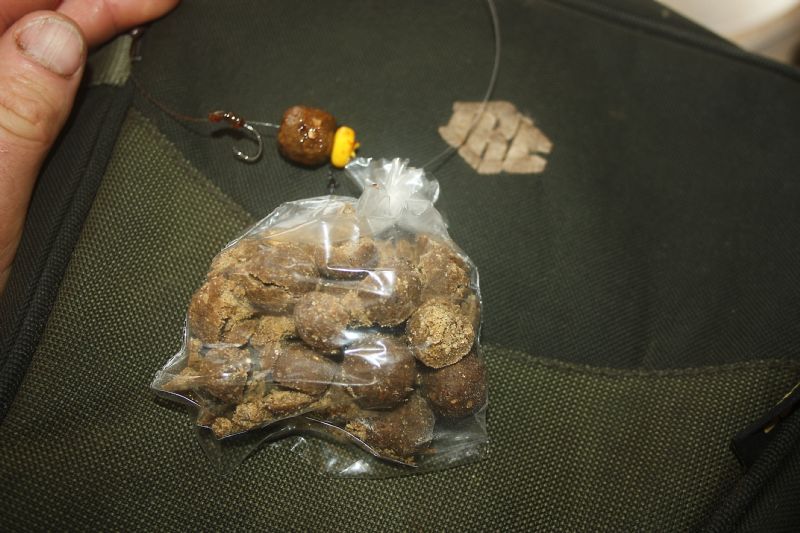 Using PVA bags with air trapped and a Chod Rig helped prevent the hook-bait burying in the silt
The solar eclipse was in full swing now, and another run on the same rod. Again, a good fish, and yet again, half way in and gone. I refused to re-cast this rod as obviously there was a problem in front of me, but concentrated on the other pre-baited areas. Still in total darkness, both rods reacted at the same time. Lifting the nearest and close in rod, I allowed the distance rod to continue its run, and quickly played a hard fighting small double to the net.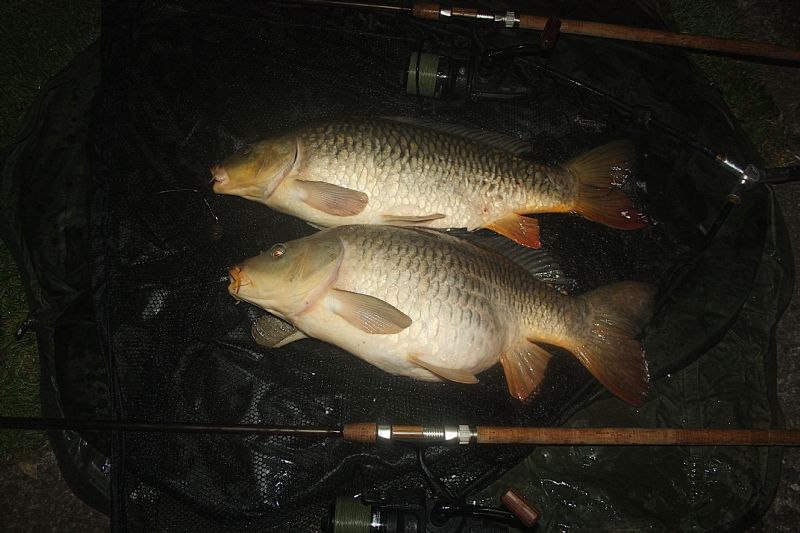 Two doubles at once, always exciting!
With the fish quickly un-hooked and resting in the net I could concentrate on the next one. This felt a little larger and thankfully soon under control, and alongside the first fish in the landing net. Interestingly, that was five fishless hours in bright moonlight, followed by four runs in quick succession over the solar eclipse, then nothing after. That period of darkness was enough it seems, to give the Carp a little confidence to feed.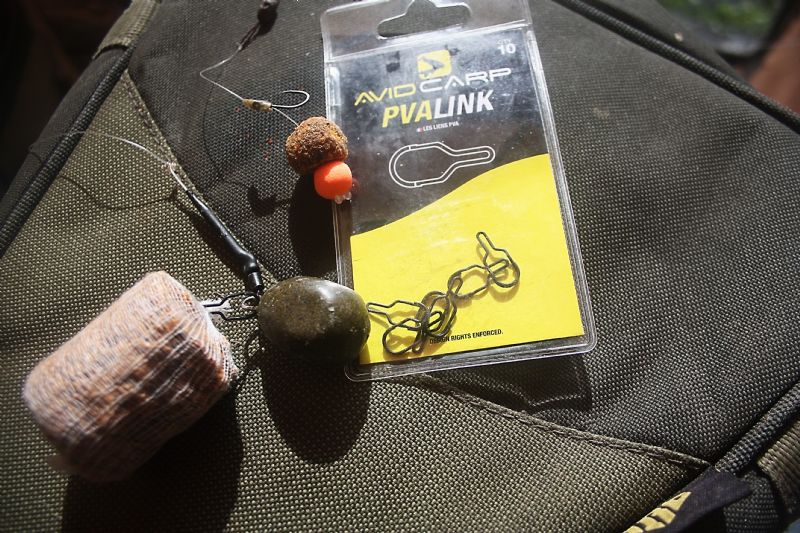 I thought these were a great accessory for quick and easy attachment of PVA
more info....Avid Carp PVA Link 10Qty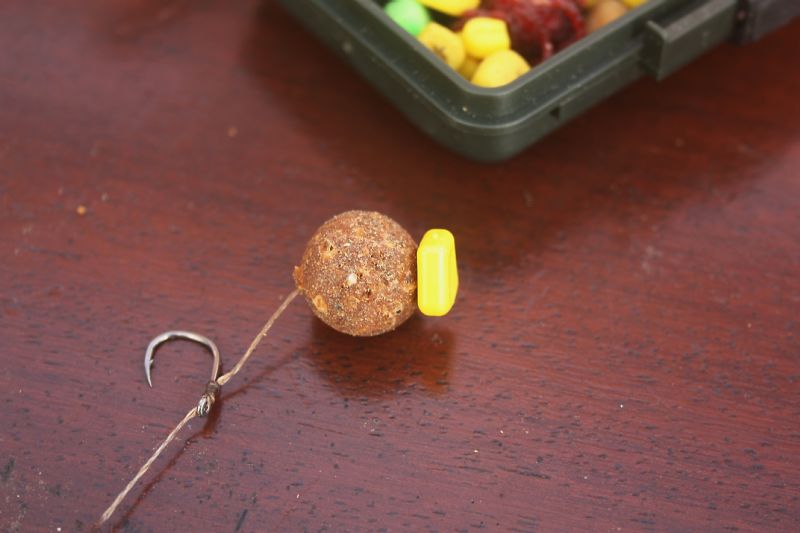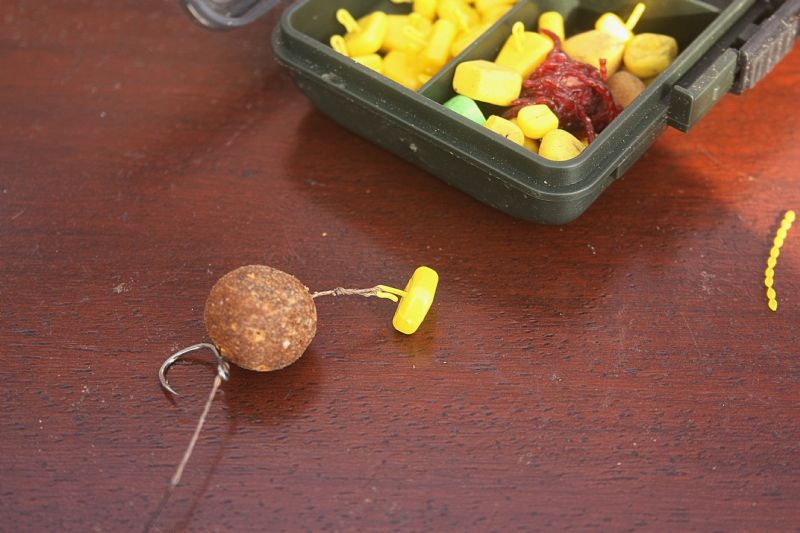 And these imitation corn boilie-stops are a clever idea
more info....Artificial Corn Stops - Yellow
or Avid NEW Floating Corn Stops Artificial Bait Mullti Colour Large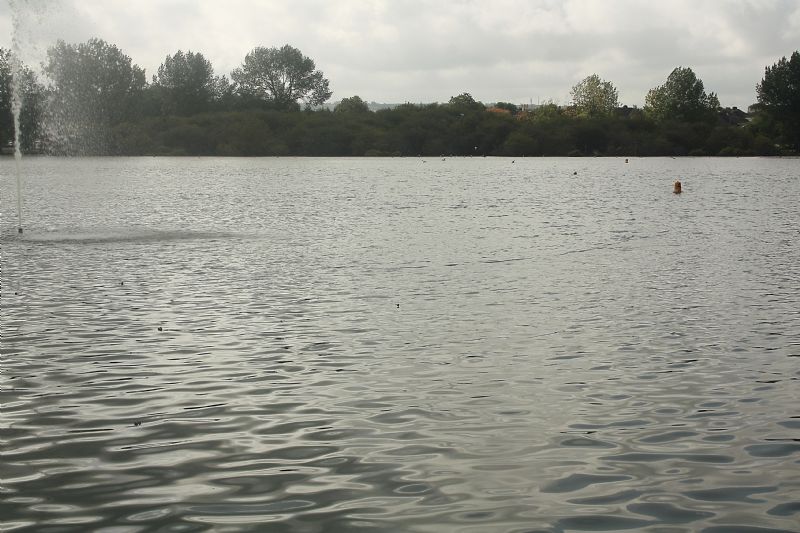 The following morning I could see that the floating cable from the fountain was the reason for lost fish! (Centre of pic)
The following morning and bathed in glorious sunshine, it was time to pack and head for home. With rods always last to go while bivvy dries and sleeping bag is aired, I managed another healthy, hard fighting double before leaving this addictive water and beloved County Cork for another year. This area of Ireland is a specimen hunter's playground, and generates tens of thousands of Euros through angling tourism. With protection it will become even better, without it, it will disappear for ever. I fear the latter.
Back