Carp (archive article 2010)
Carp (Archive article from 2010)
It doesn't seem like six years since I wrote this for Irish Angler Magazine, but the dates don't lie!
This was the winter of snow and ice, one of the coldest on recent record.
Well, it's been a long time coming, but the temperature has finally crept up! Since January, I have stock-piled some fabulous JRC carp tackle to play with, but with all this exceptionally cold weather we have experienced through-out the country since Christmas, rather than JRC tackle, it was a JCB that was required just to break through the ice! Unfortunately, Pure Fishing does not supply these yet.
Seriously, I was beginning to think that my annual carp pilgrimage would never come to pass, and worse still, that the frozen waters would actually cause some fish fatalities. Bearing in mind that it was the coldest winter this generation of carp have had to endure, it was a worrying reality that many fish could perish in these adverse conditions.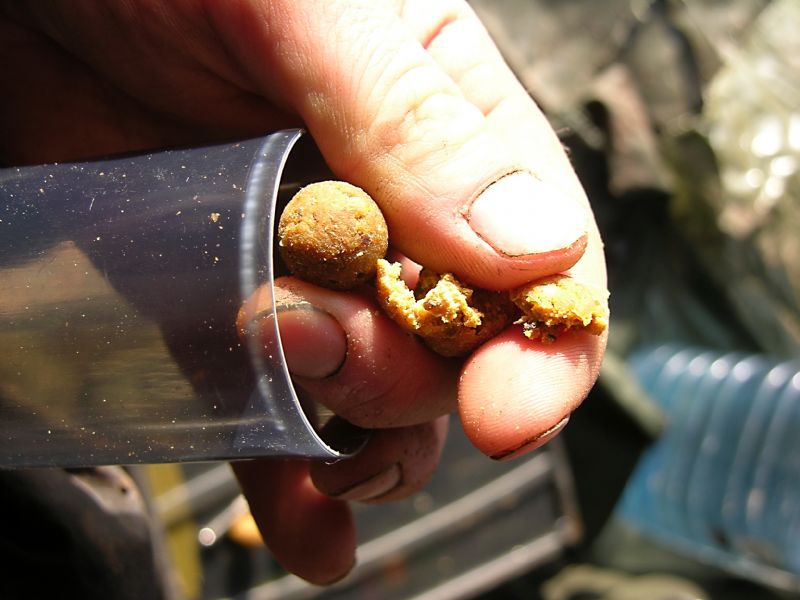 Scanning the internet weather stations showed a low pressure system heading for Ireland. Very strong southerlies are good news on this occasion, usually bringing with them a rise in air temperature. According to the forecast, local temperatures would lift from five degrees to a prolonged thirteen degrees. This makes for comfortable angling rather than a freezing test of endurance, but most importantly, it is the trigger required to kick-start a feeding spell.
With no time to lose, and the jeep packed to the roof with tackle, sleeping quarters and rations for an in-definite stay, I was finally on the road and the un-enviable three hundred mile journey lay ahead, to arguably the finest carp water in Ireland.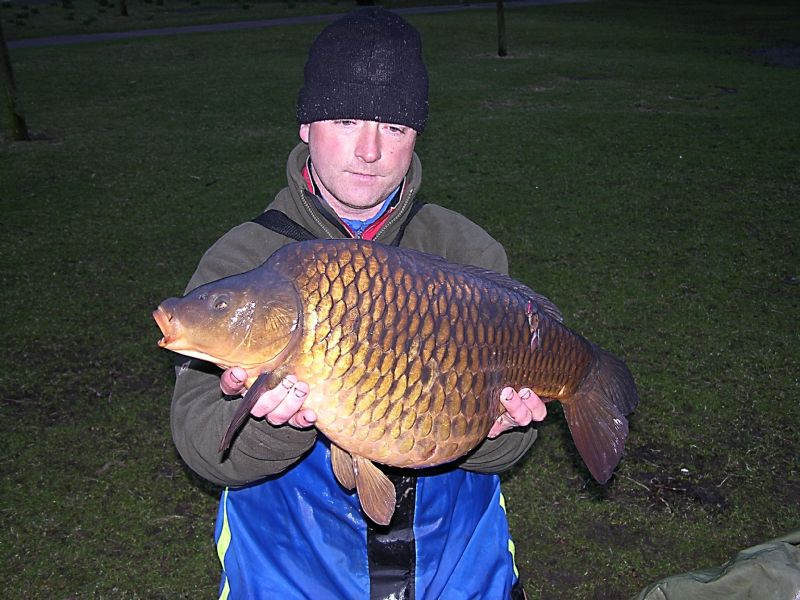 Sid Kennedy with a 17lb+ taken on the first session that I missed (jeep problems!!)
However, as the journey continued, I soon became aware that all was not well with my jeep. Clutch problems seemed determined to scupper my plans. It brought back memories of last year, when the prop-shaft snapped on the road to Carlow ending my chances at the shad festival! If possible, I was not going to let a clutch beat me on this occasion. I called in to see my good mate Joe, and together, we managed to bleed the hydraulics and find enough clearance for some sort of gear selection. Who needs first or reverse gears anyway! Joe reckoned I had a screw loose, and he wasn't talking about the gear box, but I needed a break and I really needed to catch some carp. As long as I got there, I could worry later about getting home!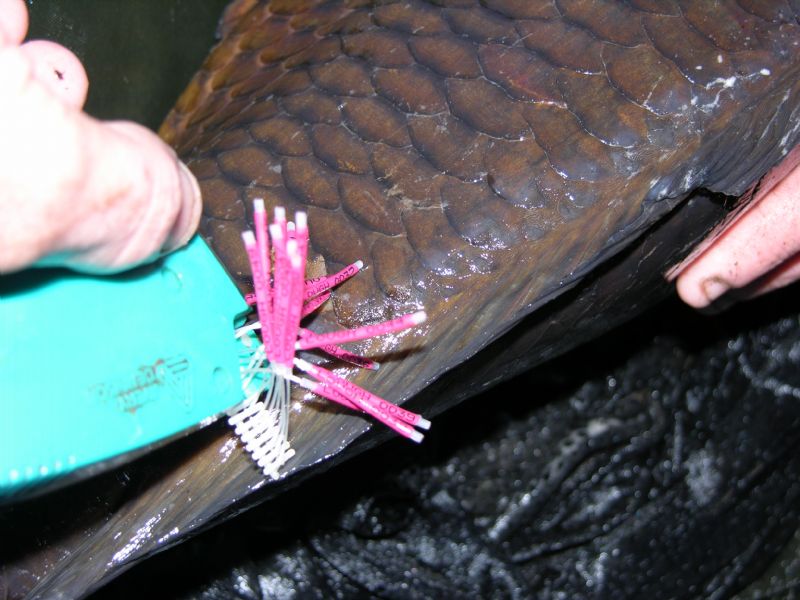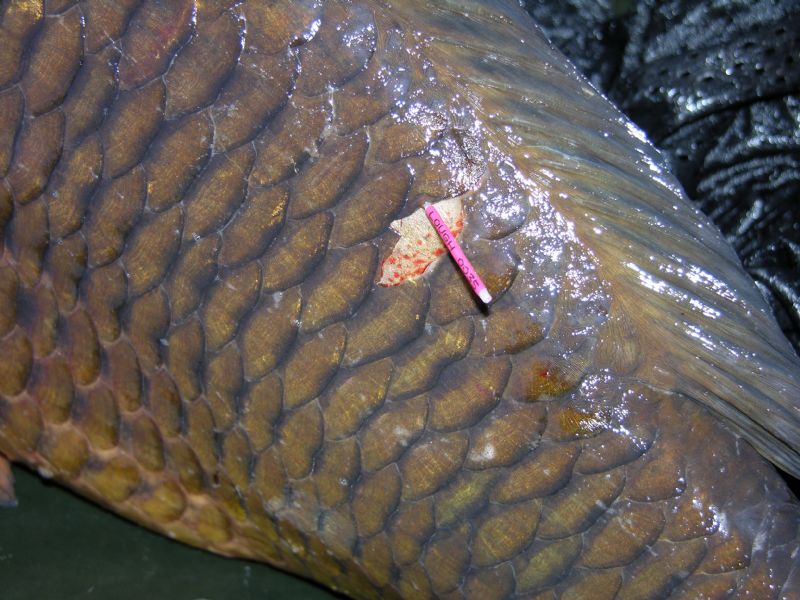 On-going tagging scheme
With luck on my side, I finally arrived at the lake-side where angling pal Sid Kennedy and his son were already "bivvied" in. He had just returned his fourteenth carp in only a few hours of fishing, having made the most of the recent change in temperature. You have, I am sure, heard the expression "shoulda bin here last week mate", well mine is "I should have been here five hours ago"! (Bloody jeep!). As I set up the new J4 rods I could feel the wind easing and consequent drop in temperature that does not bode well at this shallow water. I managed to find one decent common of thirteen pounds, at mid-night, which marked the end of the feeding spell for everyone. I had apparently brought the cold weather down with me from the north and put paid to any hopes of finding another fish in the foreseeable future! All I could do now was put the STi-RS bivvy together, set the rods on the pod and crash out for the night.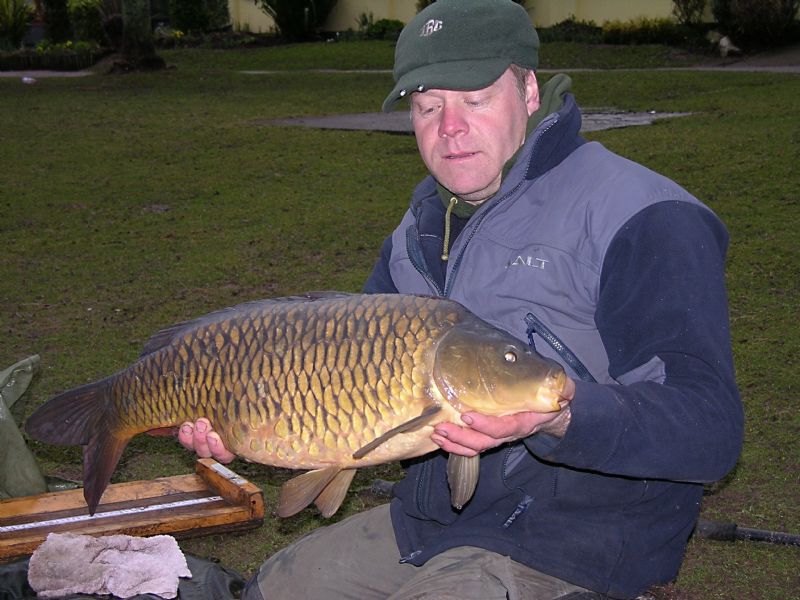 My first fish of the session (just before the temperature plummeted)
The following morning brought clear skies and gentle northerly breezes. You could feel the bite in the wind and I suspected it would be a long, fish-less day. This is such a big journey for me that heading home and returning another day is an option I did not wish to consider. I persevered on my mark, feeding sparingly and casting accurately to hand-picked areas within casting distance, but to be honest, with temperatures falling, I expected nothing in return. However, on the bright side it was a great chance to become acquainted with the new gear and at least this wasn't to be a disappointment. The JRC "J4" rods are superb, and perfectly balanced with the new Abu "free-runner" reels. The thirteen-pound common was an enjoyable start but not quite enough. I needed more fish and bigger ones at that to put the gear under reasonable pressure. The day dragged along, but was eased somewhat with great company and a constant supply of tea, old stories, rig-making and meeting new acquaintances. It was like a scene from "the tale of the ancient mariner" as we sat looking at glass-like water hoping and praying for a strong southerly to appear and take us out of the doldrums.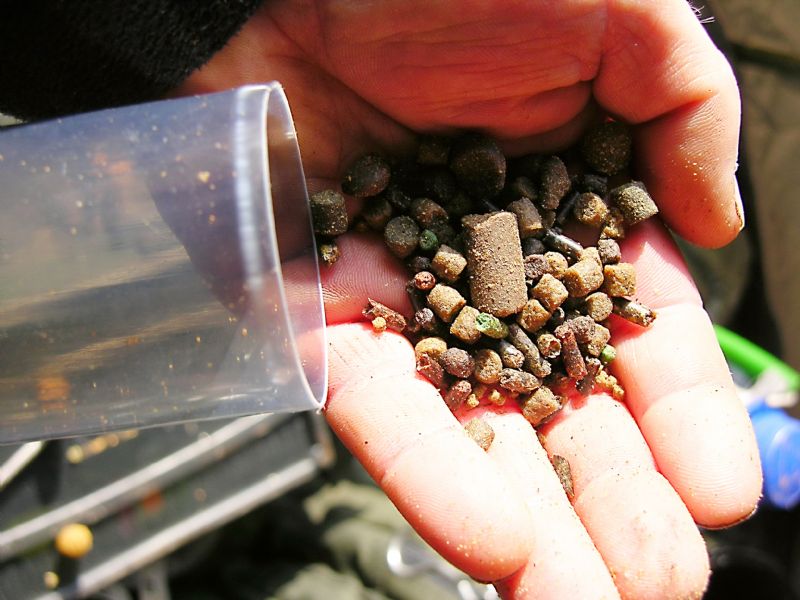 My old mate Sid knew it was a no-hoper and sensibly packed up for his home comforts. Unfortunately this was not an option for me, but another good friend sacrificed a night and bivvied up alongside for company. Thanks Ross, for a good laugh, great grub and a few beers to pass the time. Carping was tough for a second night, and I decided to bury myself in the sleeping bag and sleep off the alcohol! Ross persevered and took it as a challenge to catch a fish under these difficult conditions. He was rewarded with a nine pound fully-scaled mirror and a small but perfectly formed common, both taken on "chod" rigs and hair-rigged corn at extreme distance. With temperatures falling to minus one, he fished extremely well to find them! These were "sacked-up" for the night to recuperate, ready for tagging in daylight. Ross and Sid are currently tagging any carp they catch as part of on-going research into growth rates and fish health, especially after the loss of some of the larger carp last year. This turned out to be a killer strain of fish botulism!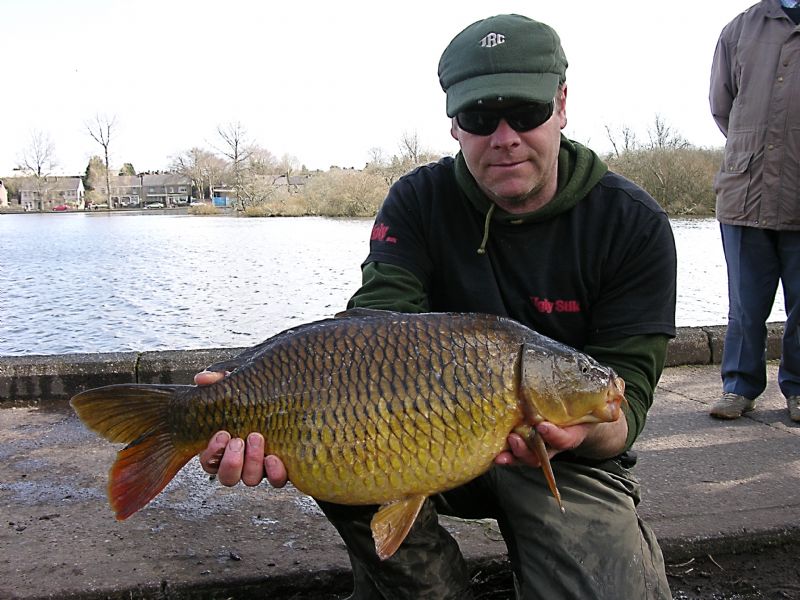 A smaller specimen of 12.5lbs
With two days gone and only one carp to show for my efforts, the drop in temperature was becoming tiresome. Ross introduced me to another local angler known as "Bud". He was an open book of info, letting me into many of his bait variations and rig secrets. Listening to Bud explaining his reasoning and thought process', I could tell he had a wealth of knowledge on carp angling, a real thinking angler who regularly caught large fish where others had struggled. It was no coincidence that while I was busy blanking on this day, Bud caught steadily, topping the list with a fine fish of eighteen pounds plus! As the temperature dropped further, and bites ceased, even Bud packed up and headed home. I began to despair, by now even contemplating the dreaded journey home, but a call from Sid offered a small ray of hope. If I could hang on for one more day and night, I would catch a huge low pressure weather system moving in from the south, with strong winds and rain forecast. I never thought such drastic weather would bring such a feeling of relief. Of course I would stay!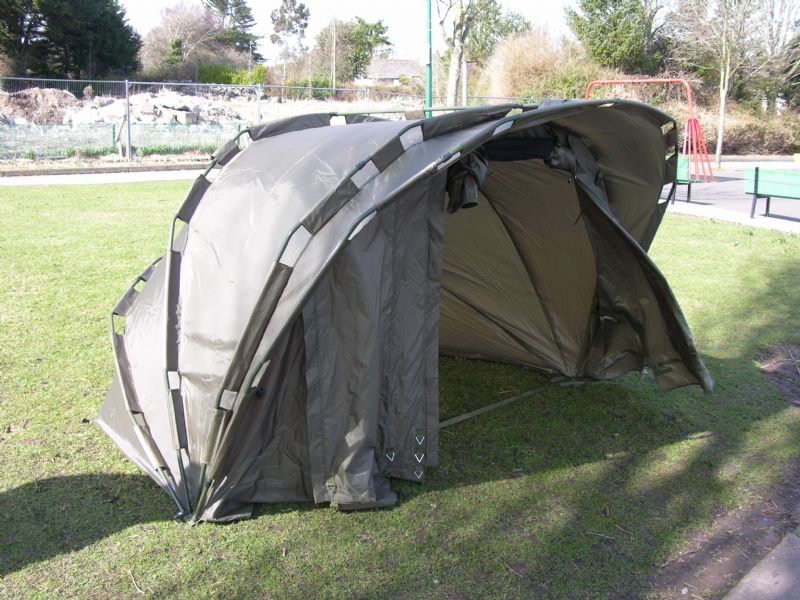 The new STi-RS Bivvy, naked!
Sid would join me for the last night, pulling out all the stops in an attempt to catch a few larger specimens. He had "chod" rigs that are primarily designed for fishing over silt, but can be useful for distance, pre-made PVA bags packed with un-told secret goodies and a selection of strong scented boilies that simply had to work. Although my STi Bivvy is a one-man version, it is large enough to house two bed chairs and we decided to share. Apart from that, the gale force winds and rain that were imminent would prove a great test for the new shelter.
With Winter Skin fitted, it turned out I really needed the extra layer!
Sid arrived late afternoon and we relaxed into bait preparation and making spare rigs ready for the evening session ahead. For me, it was a last desperate shot at achieving a result. There was a definite change in wind direction, and the noticeably warmer air temperature brought with it a mood of optimism. Even the light spits of rain appearing ahead of the dark clouds gave me the feeling that we had a chance of picking out some decent fish tonight. Sid was confident, and on this water, that means a great deal! To re-enforce our optimism, carp could now be seen breaking the surface and at times leaping clean out of the water. They were well out of casting range, almost teasing us it seemed, and without a bait boat to reach the active fish, we could only hope that they would move closer during the hours of darkness.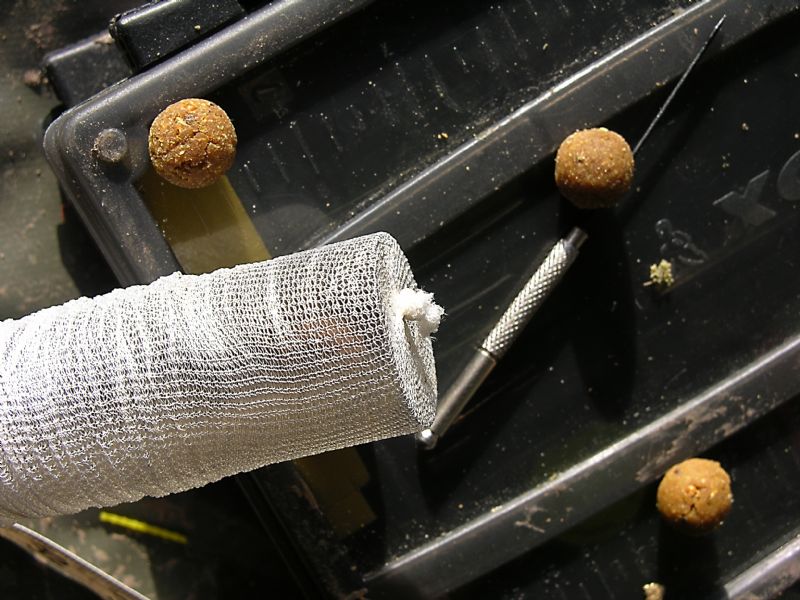 Never-the-less, it was worth streamlining the tackle and punching baits out as far as possible. Distance rigs and small PVA bags were the ticket, and the 3lb test curve J4's were impressive in getting the bait close to the feeding area. Even before the light faded, Sid took a blistering run on his left hand rod and lifted into the first carp of this final session. This was a small fish at ten pounds but definitely an encouraging start. He claimed that he was clearing out the small ones and leaving me the big fish! Maybe he was right, as ten minutes later it was my turn, landing a common just less than fourteen pounds for specimen number two. This fish came from a quiet spot under the bushes on the island, away from the showing fish. It is amazing how a small rise in air temperature can instantly switch the fish on! The J4 performed superbly, piling on the pressure to stop the fish running to the safety of the island, yet still keeping a firm hook-hold.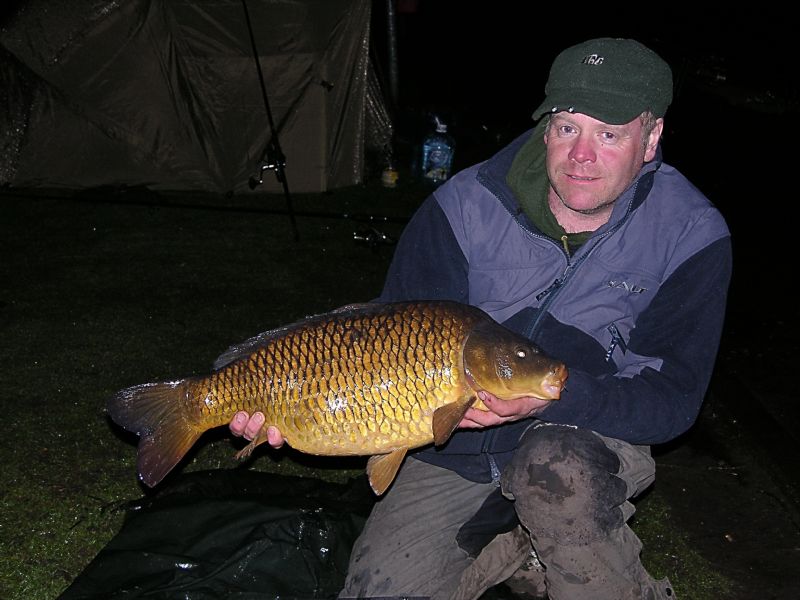 Another small specimen, just before the storm hit.
A third fish for me from open water at distance weighed in at fifteen pounds, and with the three specimen quota filled, the pressure was off. Sid was well pleased, his knowledge of this water proved invaluable yet again, and we could both relax and enjoy whatever the lough threw at us through-out this last session. With a touch of poetic justice, it gave Sid the largest fish thus far, a huge common that pushed the scales round to the twenty pound mark. Despite the fact that Sid holds the current Irish Record, and having caught more carp than I've had hot dinners, the twenty left him like a kid in a sweet shop. The buzz was back and he was grinning from ear to ear!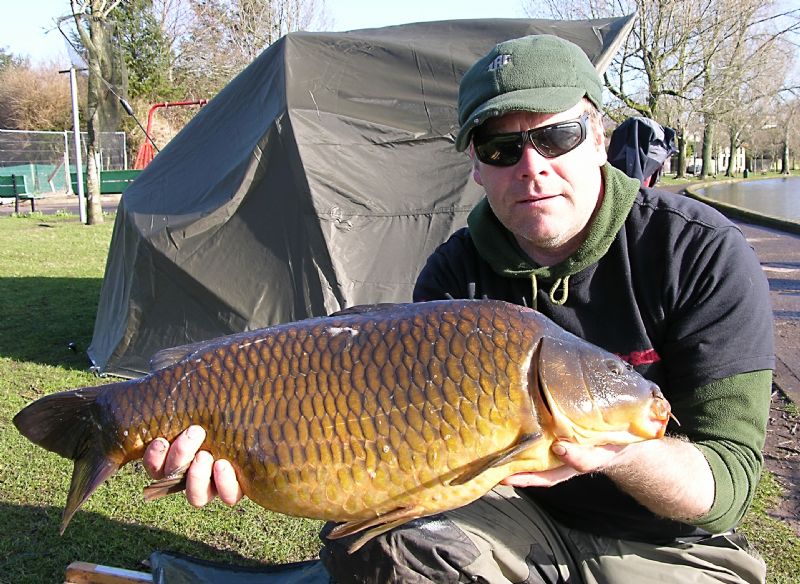 Fifteen pound carp taken at distance in open water.
As the wind increased dramatically, I picked out another specimen just before the heavens opened and emptied the entire Irish rainfall quota in one night! This was enough for me, and the last few days must have caught up with me. I crashed out in the bed-chair and quietly drifted off to carp heaven with the background sounds of torrential rain beating off the bivvy, leaving the feeding fish in Sid's capable hands. I knew Sid had a good night session, because I heard him cursing yet another "run" sometime during the night, as he threw on his water-proofs and climbed out into the deluge.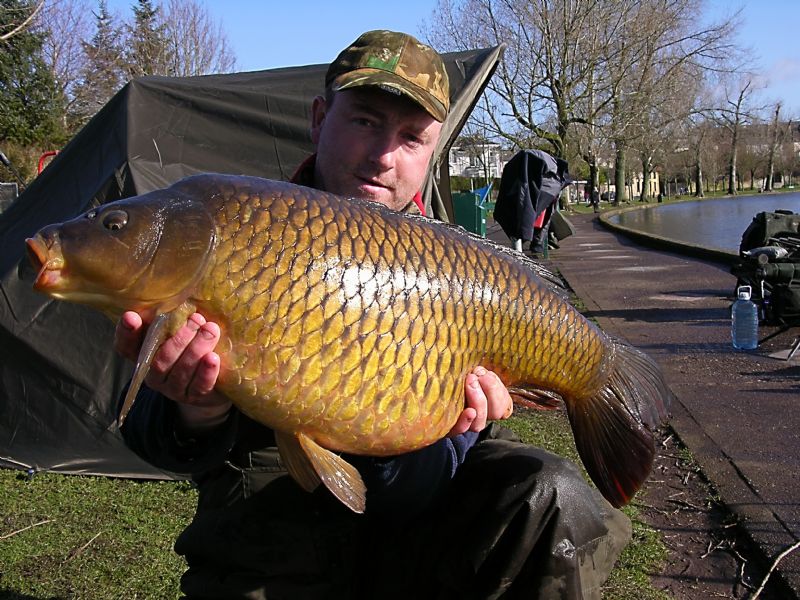 Sid Kennedy with the largest carp of the year so far from this water, bang on 20lbs.
The following morning gave us clear blue skies, scorching sunshine and light winds. Not great for carp angling but no-one cared. We had done enough and the sun was a welcome means of drying out the gear before packing up. Sid had excellent sport with seven fish through the night, all averaging the fifteen pound mark. Each fish had been carefully "sacked", and we worked our way through them, tagging, measuring, weighing and photographing each one. The last items to go were the rods, and as I thought about this final task, the left alarm screamed out with line ripping from the Abu Free-Runner. This felt like a good fish and as the last fish of the session, I tentatively guided it closer to the net, enjoying every last second of the battle.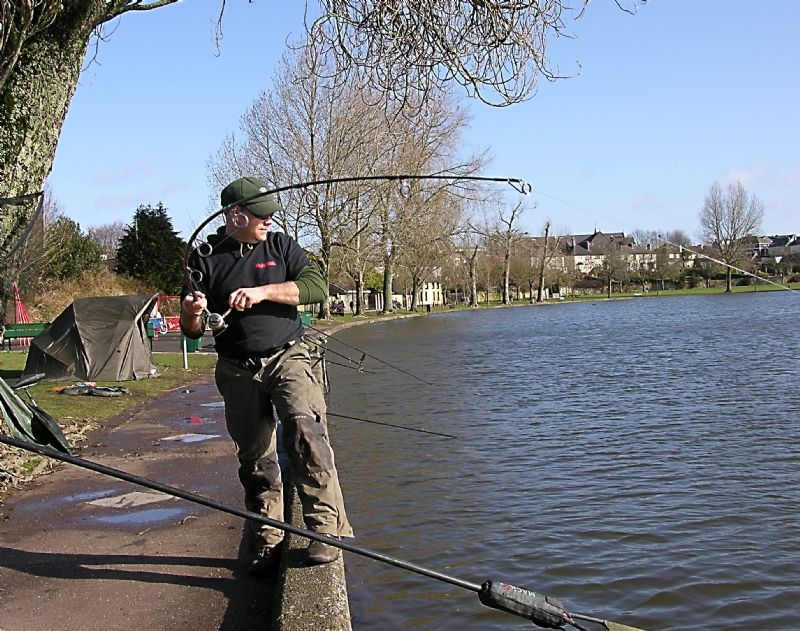 Putting a good bend in the J4 rod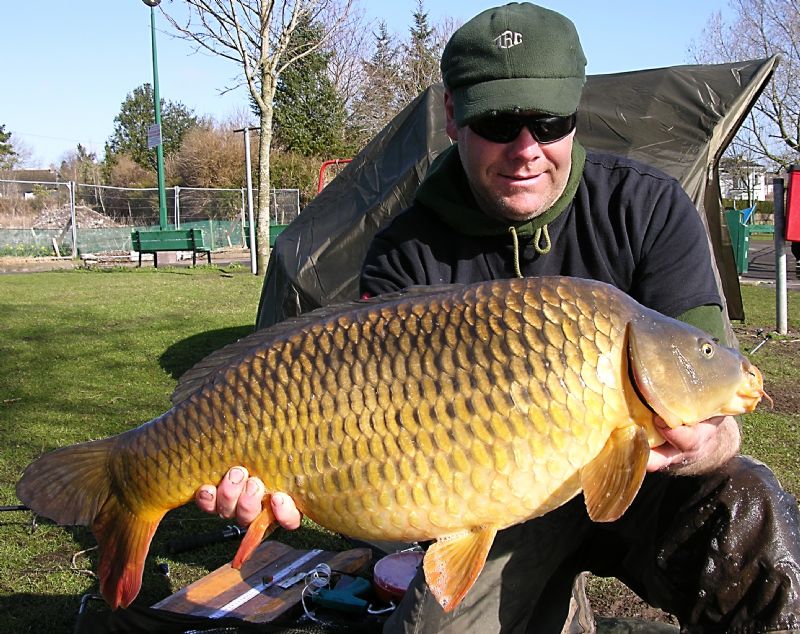 Not to be outdone, another bang on the 20lbs mark.
From the landing net to the weigh sling, I don't think I drew a single breath, and could not believe my luck as the scales pushed round to twenty pounds on the button. Exactly the same weight as Sid's previous fish, and a new personal best for me. What a way to end my long awaited carp session, and christen the new gear! Thanks go, as always, to Sid Kennedy and Ross Macklin, to Bud for giving his knowledge so generously, to Mandy (Sid's partner) for the great grub, to all the youngsters (Sid's carp roadies) that carried our gear and to JRC and Abu for producing top class tackle.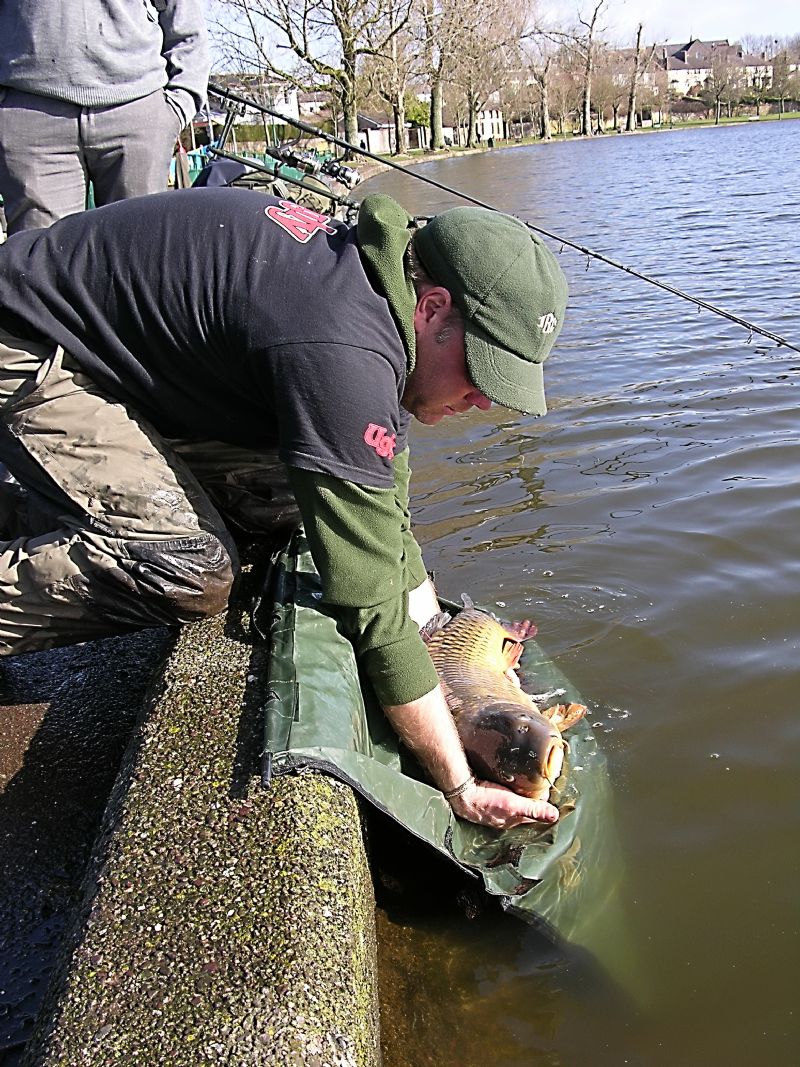 And safely returned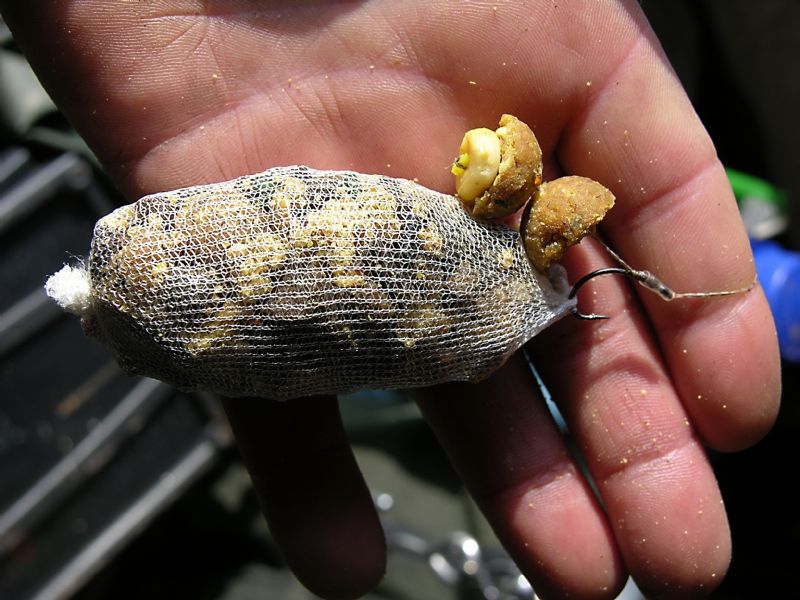 Tackle
Rods and reels.
The rods used were the J4's, a new range from JRC. I chose the twelve ft, 3lb test curve as these will easily punch out a method feeder, or accurately drop a rig out at distance. Slim blank, SIC guides, "sexy" looking comfortable reel seat, matt black finish and minimalist looks, this rod looks and feels superb, yet un-believably falls under the £65 price range. It will definitely give the bigger brands a run for their money! I have already ordered another one!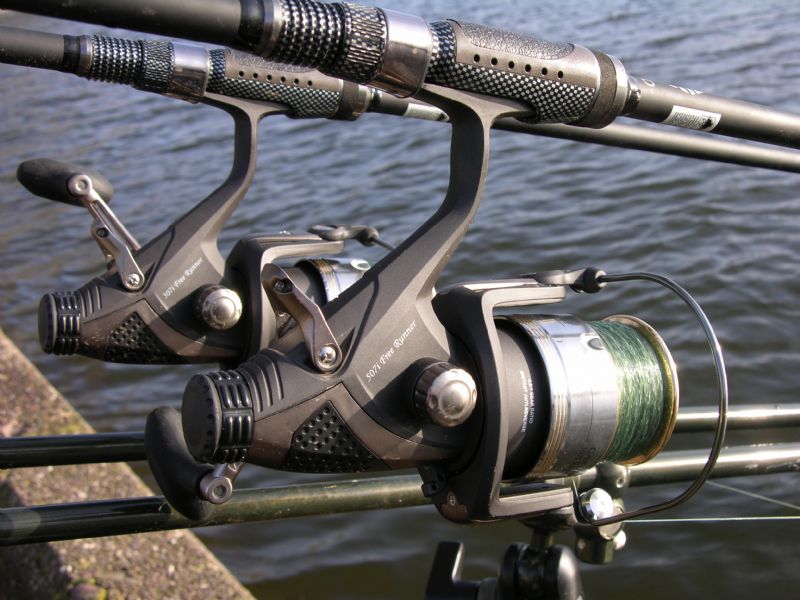 Trying out the Abu Garcia "Free-runners" for the first time.
I teamed the rods with the Abu 507i "Free Runner" series. These are extremely smooth, large capacity reels with nine bearings, totally redeveloped with improved specifications, and excellent drag system. Again, falling short of the £65 price tag, this is a lot of reel for the money.
Shelter
For the bivvy, I opted for the STi-RS. It is a revised model based on the original and extremely successful STi. Ultra light aerospace aluminium, improved design with added porch to keep the rain out, air vents, 10,000 mm hydrostatic nylon, heavy duty ground sheet and pegs. It also has three door settings, clear, mosquito panel or olive door panel. What I can say from experience is that it stood up to the mother of all storms down in Cork and never budged an inch or let in a single drop of water, I like this bivvy a lot! It only comes in "one man size", but is large enough to take two bed chairs should the need arise. Retailing at £300, it's a top quality shelter. An over-wrap is also available for that extra thermal layer during the winter months. Again, double P.U coated in 10,000 mm hydrostatic nylon and retails at £85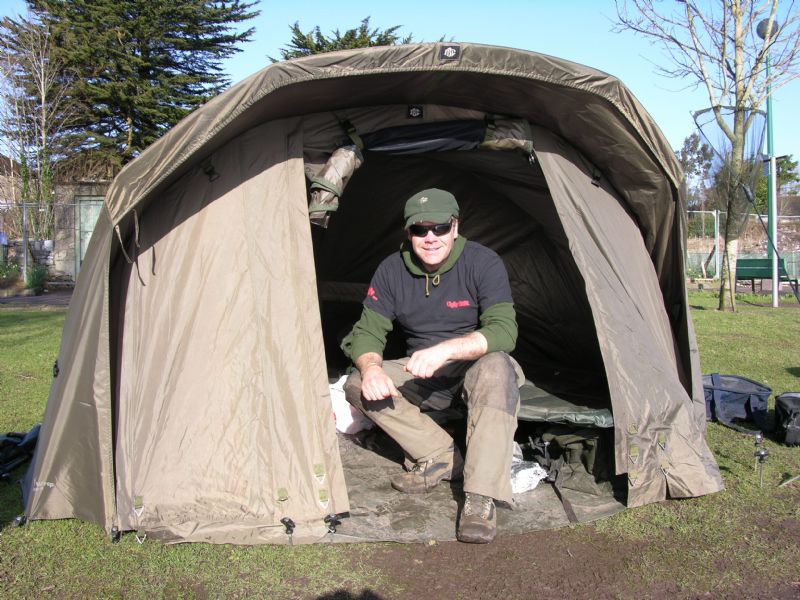 And with the Ulster refugee moved in. This photo was taken the morning after the horrendous storm. By 2016 this is still as good as new, a great product test!
Rod pod
The new Euro-pod worked very well. It has fully adjustable length, adjustable angle, and adjustable legs. It comes with two sets of buzz bars for three or four rod options, useful for sharing with a buddy. This all comes in a well fitted carry case, with Velcro dividers to keep everything in place. This pod is well thought out, built with top quality components, and retails at £124.99.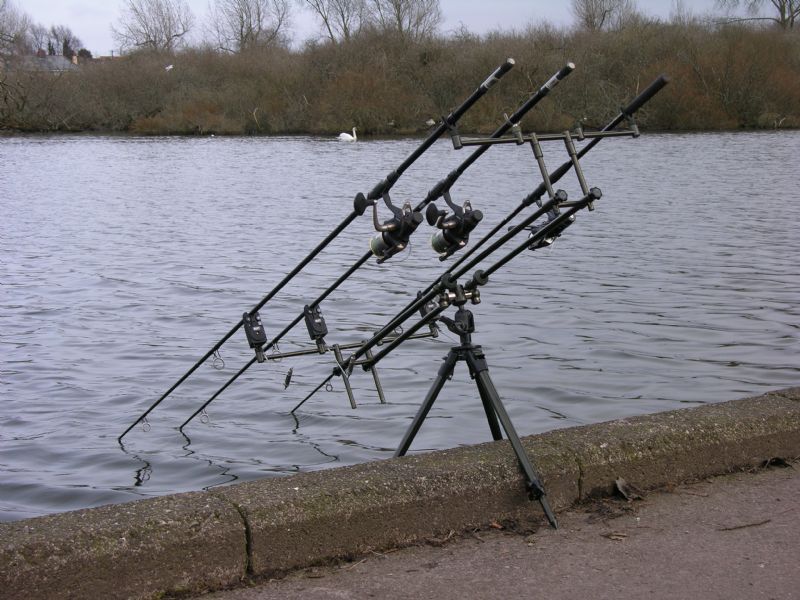 The fully adjustable Euro-pod can handle all manner of situations.
Similar tackle available in 2016
JRC STi Bivvy
Latest rod-pods
Back