Cod
Cod (Gadus morhua)
Irish Record 42lb taken in 1921 by I.L. Stewart at Ballycotton.
Specimen 20lb, or 9.072 kilo
Identification
Cod are probably one of our most recognisable Irish salt-water species, certainly one of the most sought after! The upper jaw-nose is longer, with a very prominent barbule on the lower jaw. It has a white-cream under-belly leading to light-brown mottled flanks, although some Cod taken in heavy kelp weed can be deep red in colour. The head is large, the lateral line has a pronounced curve upwards towards the head, and there are three large dorsal fins, and two anal fins. The tail is large, but not forked.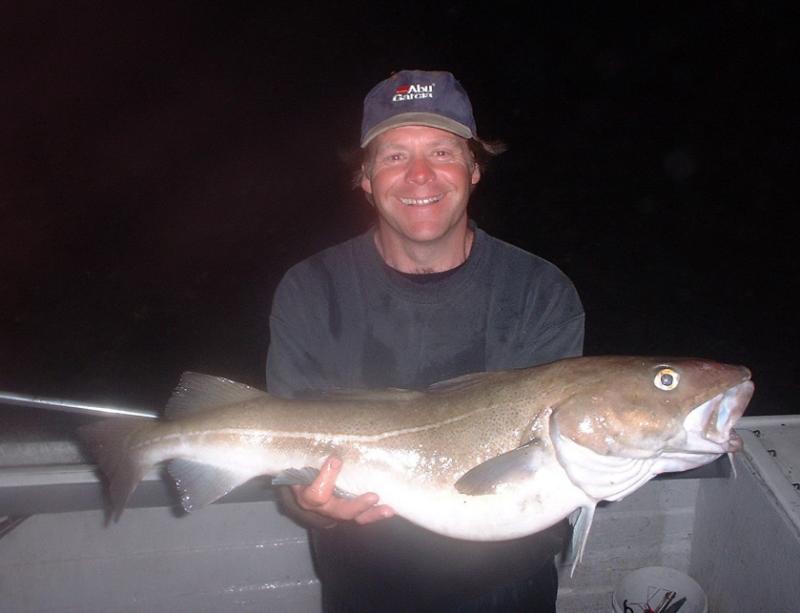 Where to catch
Commercially, Cod have taken a hammering over recent years and numbers of fish are probably at an all time low for the sea angler, especially in the Irish Sea. They can still be caught around most of the coast, but the average size is diminishing as each season passes. In fact, the Irish specimen fish committee had to reduce the specimen weight from 25lb to 20lb in 1997 due to the scarcity of large Cod.
Areas still worth trying in search of decent sized fish are Kilmore Quay in Wexford, Dunmore East and most of the ports out of Cork, namely Crosshaven, Courtmacsherry, Kinsale, Ballycotton and Caherciveen.
Some great shore angling can still be had, in season, from beaches at Greystones, Youghal and Monkstown.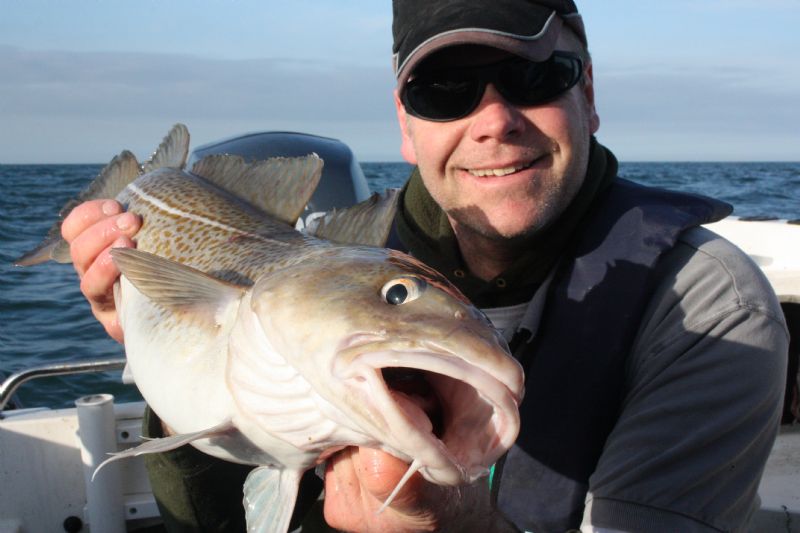 When to catch
When boat angling, the season generally runs from July through to October. From the shore, Red Cod can be taken through the summer months amongst rock and kelp but the bigger shoals of codling move closer to shore once the water temperature drops in November - December.
Bait
Cod are affectionately known as the "Dustbins of the sea". In other words they will attempt to eat most things that present themselves while hunting in shoals, or simply rooting around in the sand and mud or dislodging small rocks and boulders over broken ground. In general Lugworm is the top bait, but Ragworm or Mussel can be exceptional at times. Cod will regularly feed on smaller bait-fish, Whiting, Herring and Mackerel, and this is when they can be caught on Mackerel strip, Calamari Squid or artificial lures such as Red gills, shad or jelly worms. Jigging a pirk whilst drifting over off-shore sand banks and gullies is a popular method when amongst dense shoals of Cod, although most specimens tend to be taken on Large Mackerel fillets, Mackerel or Herring "flappers" and paddle-tailed shad varieties over deep-water wrecks. From the shore, Lugworm, Ragworm, Mussel and Peeler crab are the favourite choice.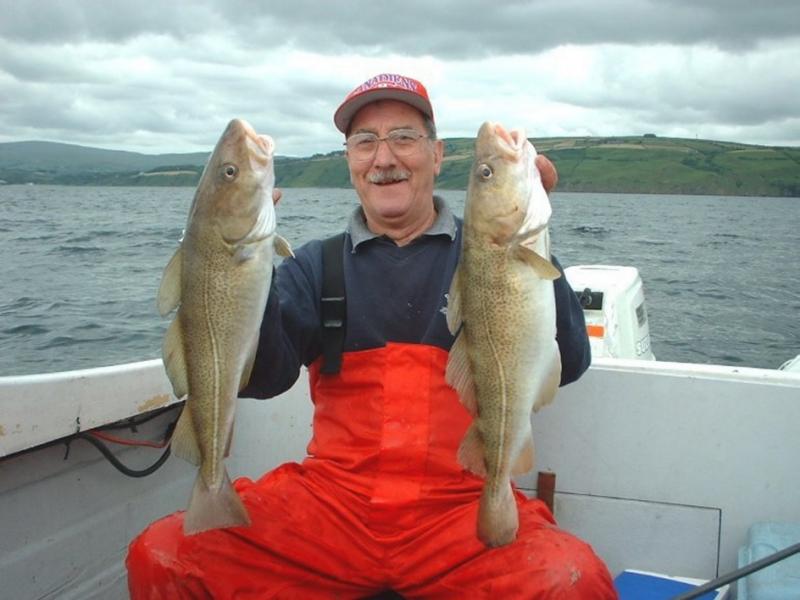 Methods
Baited feathers or baited "muppets" work well, especially when fished directly above a pirk, or just a simple Running Ledger will do fine. Cod love big baits oozing with juices and with their amazing ability to pick up scent, soon home in on the trail, and so, put plenty on. Some baits are large enough that a pennell rig is recommended, placing a hook at each end of the bait. I remember hooking a Cod of 13lb while retrieving a large Pouting up from a wreck outside of Lough Swilly. I also landed a sixteen pound fish that had taken a whole, large Mackerel destined for Common Skate! This shows that they will tackle size-able bait. Hooks should range from 2/0 to 4/0, or larger at times depending on bait size. Main line should be at least 20lb breaking strain. Although a lot will depend on the territory you wish to target. Cod are not particularly great fighters but a large fish will use its weight to great advantage in a fast tide.
If shore angling, distance casting can often be an advantage, so keep rigs streamlined for casting, with a single hook or pennell rig being the optimum choice. When fishing rocky, snaggy areas, think about using a Pulley rig. This helps to keep the lead away from snags when retrieving fish.
Cod articles
http://www.angling-ireland.com/cork_harbour_codling