Collecting Sand eels
Collecting Sand eels
Over the last few years, whenever possible, I have made the 360 mile journey from Kircubbin to Kerry in search of new adventures.
I usually stay with Kevin and Christine Brain in their bed and breakfast facilities, overlooking Lough Currane, famous for Salmon and in particular, the exceptional Sea Trout angling available.
From this home-base in Waterville, I am able to explore the wealth of coves, beaches and rock marks, and to be honest, two life-times would not be enough to un-cover the secrets this part of the coast line has to offer! This is where Kevin's guiding skills come into their own.
There is no need to worry about the hassle of bait supplies as Kevin owns and runs the finest supply of frozen baits in the area. Under the name of K.B Atlantic Baits, blast frozen Razor fish, Crab, Mackerel and Sand eel are all on the menu. The mixed packs are a great idea and consist of a few of each for a beach session. There is also a full range of frozen bait available for the pike angler.
I normally use these baits with little thought on how they came to end up in a shrink wrapped bag in my cooler box. This thought eventually led, one afternoon, to a bait collecting chat with Kevin over a cup of tea and several of Christine's home-made chocolate and cream éclairs. Although the peak Sand eel season had come to an end and catches would be poor, he kindly offered to show me how it's done.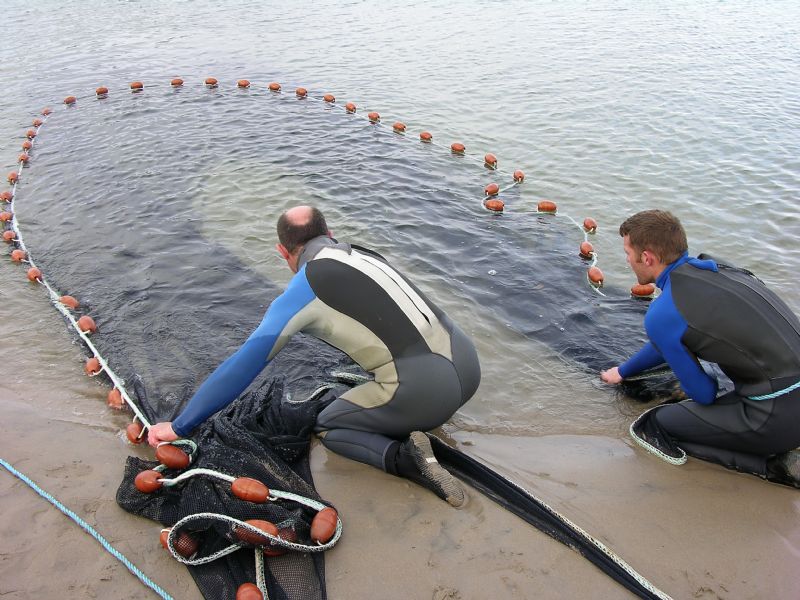 With the net almost in, it will be interesting to see exactly what we have
The following day, we met on a local beach mark, and as I donned extra warm clothing to counter-act the chilly winter breeze, Kevin and his son Sion stripped down to the boxer shorts and squeezed into dry suits normally used by surfers and the like. These guys are made of sterner stuff than me it has to be said! Rubber boots are worn, as there is always the real chance of standing on a Weever fish hiding in the sand, which at best is extremely painful and at worse, down right dangerous.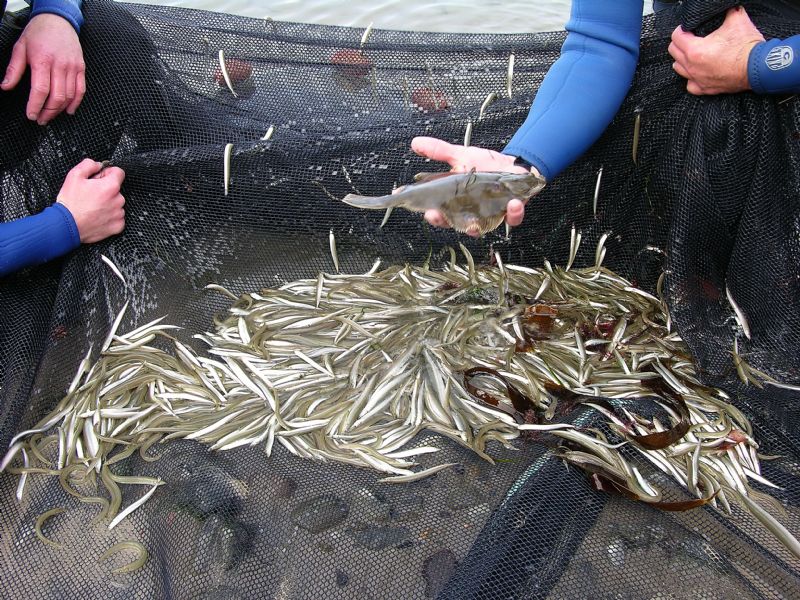 A small catch of prime eels
Fully kitted out, with a wheel barrow to carry the net, ropes and fish boxes across lagoons and pools, I followed the lads to a likely looking hot spot, and, with the rope tied to Sion's waist, he swam across the deep channel to the far side. I remember thinking that the price of a few packs of Sand eels would definitely not be enough to persuade me to do that!
With Sion in position, and the main net pulled across the expanse of water, they walked upstream, pulling the net towards the shallows. I couldn't wait to see what had been captured, with memories flooding back as a youngster running a stickleback net through the weeds to find small fish, tadpoles and water bugs.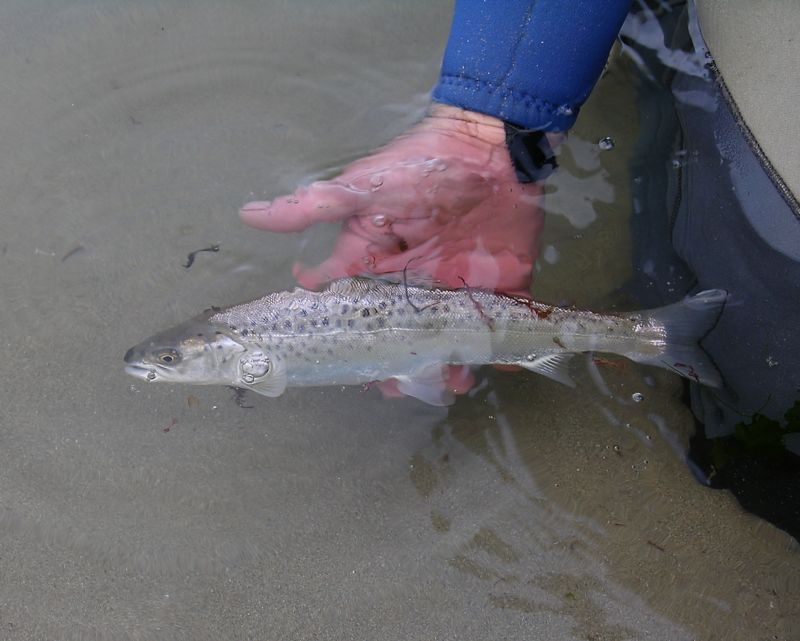 This Sea Trout is quickly returned, un-harmed by the experience.
As we pulled the net in an arc, careful to keep it taught, I could see flashes of eels and larger fish darting around in the holding "sock". As Kevin had predicted, the catch was low, too low to make a profit from the time and effort involved, but it still gave a fabulous insight into the whole procedure required to bring top class, frozen bait to the angler.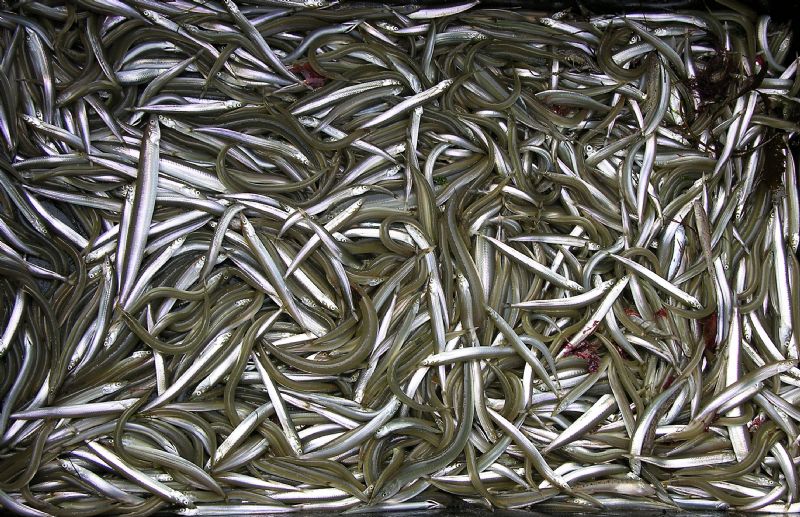 The end result is half a fish box of Sand eel.
I delved through the mass of eels, and was delighted to see juvenile Plaice, Brill, Turbot and Flounder, with half a dozen pristine Sea Trout scrambling to escape. Of course, Kevin and Sion were insistent that all species apart from the Sand eel were immediately returned. These were carefully placed into the open sea, and quickly darted to freedom, un-harmed by the experience. The fish friendly mesh of the net serving its purpose in the release of un-wanted species.
With the eels poured into a fish box, there was time to pull the net across another pool, with much the same result. These were loaded into the chilled van and rushed back to the workshop for immediate packaging, as freshness is the key to all Kevin's blast frozen baits.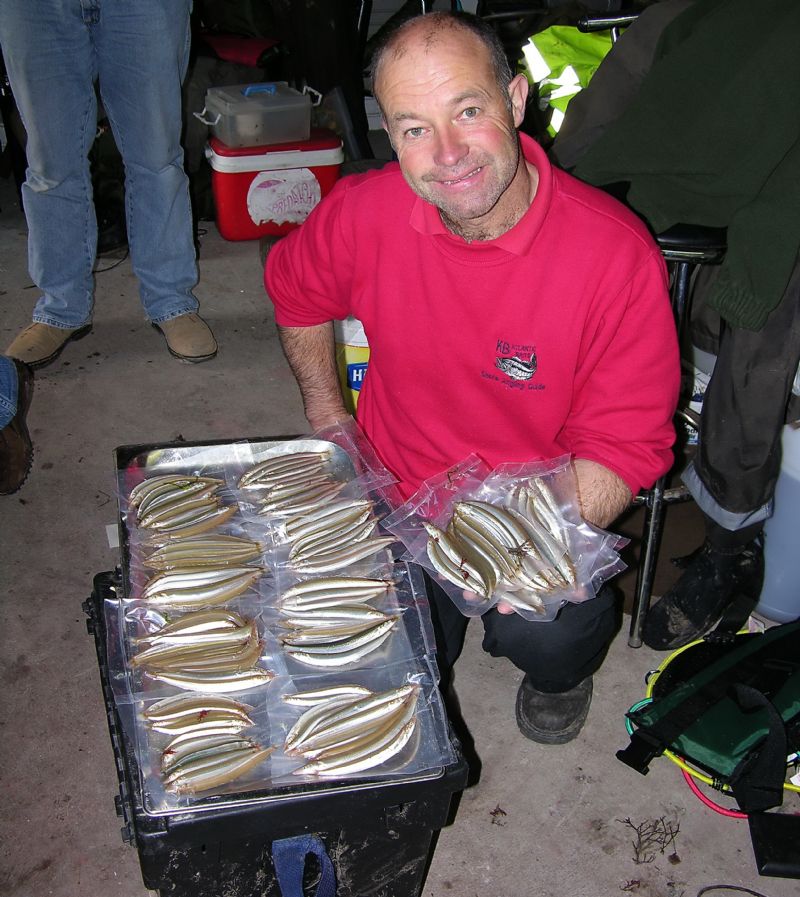 These larger eels are destined for the shop.
Back at the workshop, we formed a production line, filling bags with eels while Kevin vacuum packed enough to load the shelves of the blast freezer. The larger eels were of interest to Kevin, and these were packed neatly for shop display. Most anglers will only buy them if they are frozen in neat, straight lines!
The rest were slightly smaller, and a gift from Kevin to me. I was delighted as these were a perfect size to target Sea Trout on my home territory. They were quickly bundled into bags in every shape and form, (I'm afraid that I'm not quite so fussy), and shrink wrapped, then blast frozen to minus forty degrees, before being stored in the spacious, walk-in freezer. Within an hour of capture, the eels were professionally packed and frozen, and in my opinion, the best frozen eels in the country.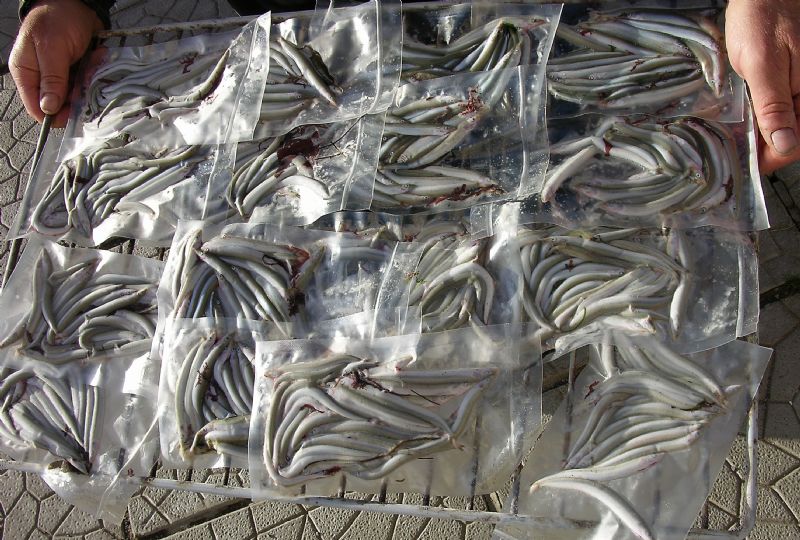 These smaller eels are mine, not quite so well packed, but just as effective for my Sea Trout venue
But not to take my word for it, proof of the pudding is in the eating, and I wanted to put these freshly frozen baits to the test. After a well earned cuppa and another éclair (no wonder I'm putting on weight), we ventured out to a local rocky outcrop armed only with a couple of packets of frozen Sand eel. Just for fun, we used freshwater tackle, myself choosing a light Carp rod and Kevin being typically daring with a quiver-tip rod! It was important to travel light as the clamber over rocks and gullies required a certain amount of dexterity, and apart from the rods and a camera, everything else was carried in a bucket!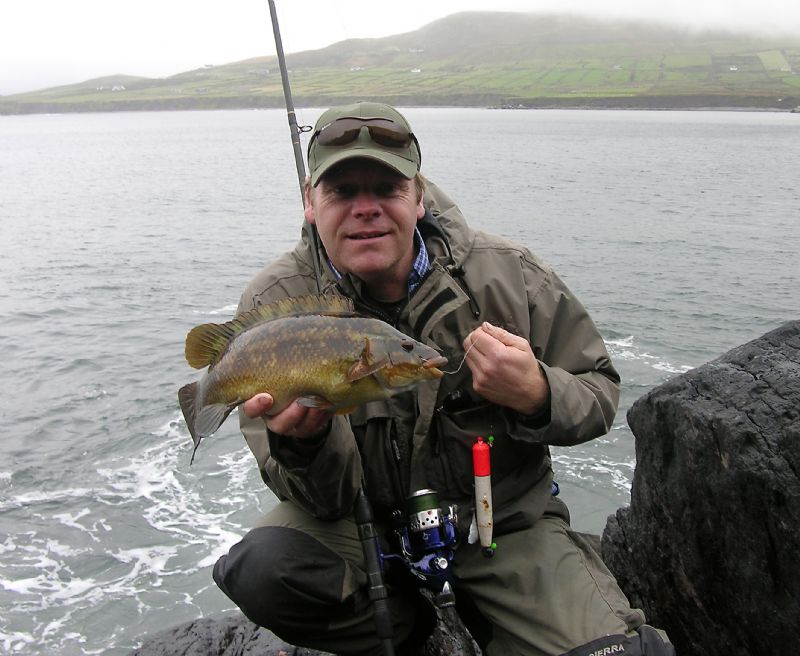 This Ballan Wrasse took a frozen Sand eel
Reccomended kit....Shakespeare Agility EXT Specimen Rod (4 Piece) - Black, 12 ft/2 lb
Reel....Penn Battle II 4000 Spinning Reel - Black
The rock mark looked good, calm conditions with shallow water dropping away into depths of around twelve feet. With the seabed covered in rock and weed, float gear was the ideal choice to minimise tackle losses. Kevin was first in, hooking and landing a Mackerel that put the quiver tip through its paces. Mackerel from the shore at this time of year is unheard of up north; it is truly a different angling world down here in Kerry! A decent Ballan took my Sand eel bait followed by a few Mackerel, trying to play catch up with Kev as he stormed ahead on the numbers game.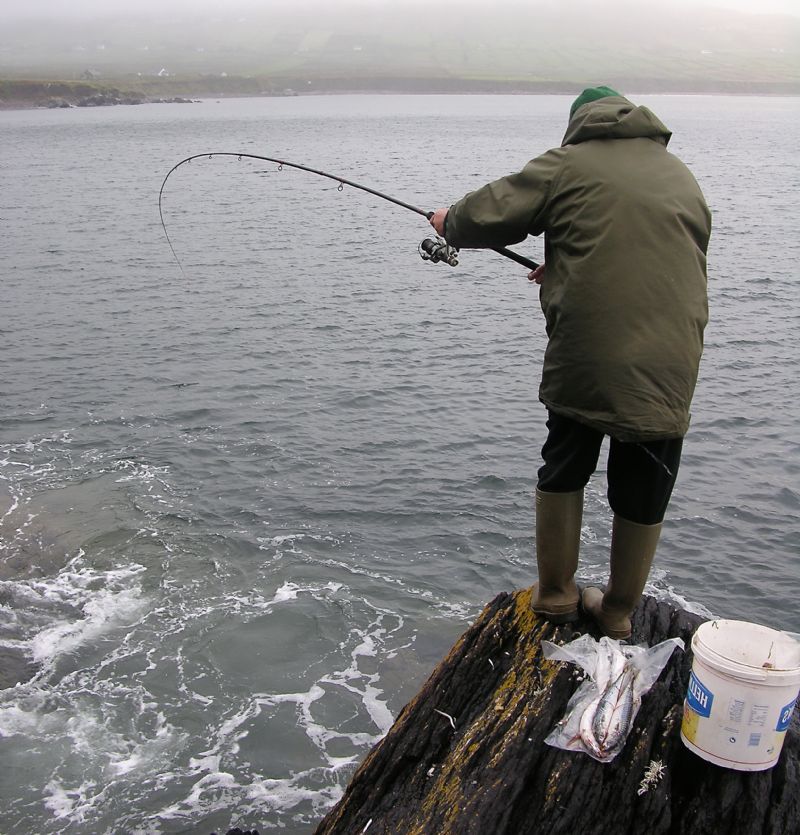 Kevin tiring out a 5 lb Pollack on light tackle.
Time, as always, passes all too quickly, and, as we thought about heading back home in time for Christine's famous home cooked meals, Kev lifted into a powerful fish that buried the float out of sight. He reckoned it was a Pollack, and I thought "not a chance of getting it in on that gear". But, as is often the case when fishing with Kevin, he proved me wrong. I scrambled to the waters edge and retrieved a fighting fit, five pound Pollack taken on a quiver tip rod, 8 lbs line and more importantly, a freshly frozen K.B Sand eel.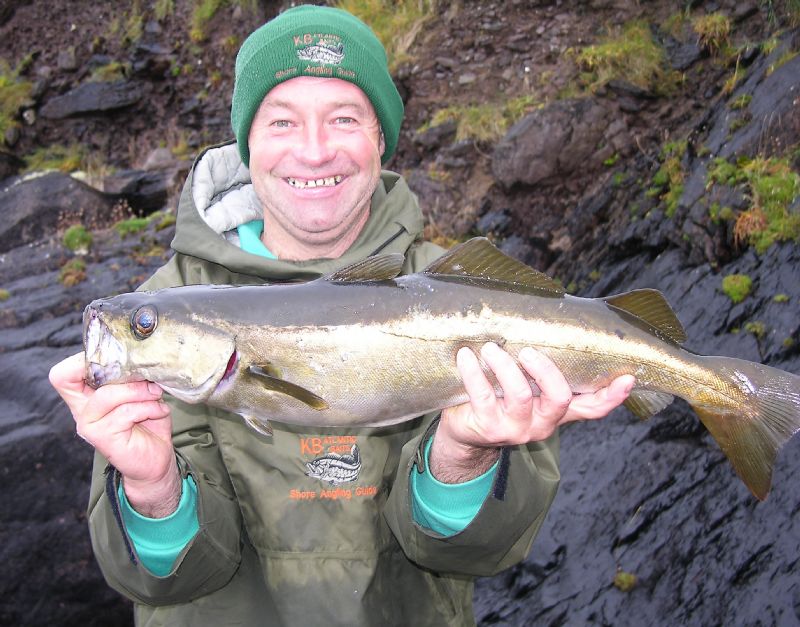 A quick photo before release
That was my nose put well and truly out of joint, until, on my final cast of the day, with the last Sand eel in the pack, the float shot side ways at phenomenal speed and I lifted into a frantic, acrobatic display given by my first Garfish in 9 years!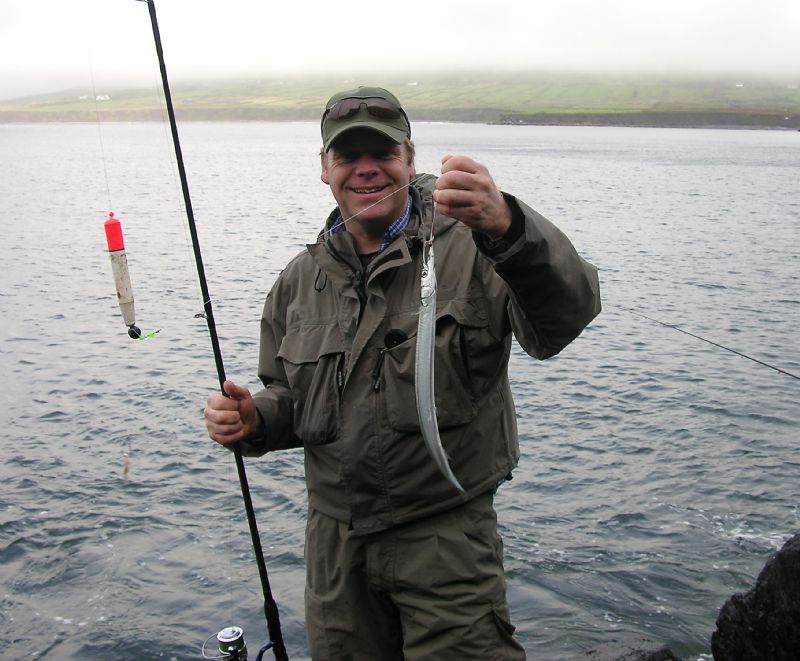 Well pleased with this small Garfish
Fair enough, it was only a small Gar, and they're probably ten a penny down this neck of the woods, but I don't get to see them where I live and I was as pleased as punch. It was definitely the icing on the cake of an enjoyable and extremely interesting day out in the company of Kevin Brain, shore guide, tackle shop owner, bait supplier, B&B, and all round angling oracle.
Footnote
Netting local marks is always a contentious issue. I asked Kevin if he ever ran into trouble whilst netting Sand eels. He told me that normally, people are simply curious, and are genuinely interested in what he does, but on one occasion he received threats from several local anglers.
Having witnessed how Kevin and his sons, Sion and Gareth carry out their bait collection, I am in no doubt that this is done in a totally sustainable manner, with complete respect for the environment and all species that inhabit it. Sand eels are used by anglers throughout the country, and the vast majority of these anglers are unable to gather eels for themselves. Kevin provides a service and knows how to work marks allowing time for these areas to replenish. If all commercial exploits were carried out in a similar and sustainable manner, the seas would have no problem in continued supplies.
All necessary permission is sought, and gained from the local fishery board before netting commences, without exception, and this is done on every occasion, taking into consideration areas of special interest and sanctuaries etc.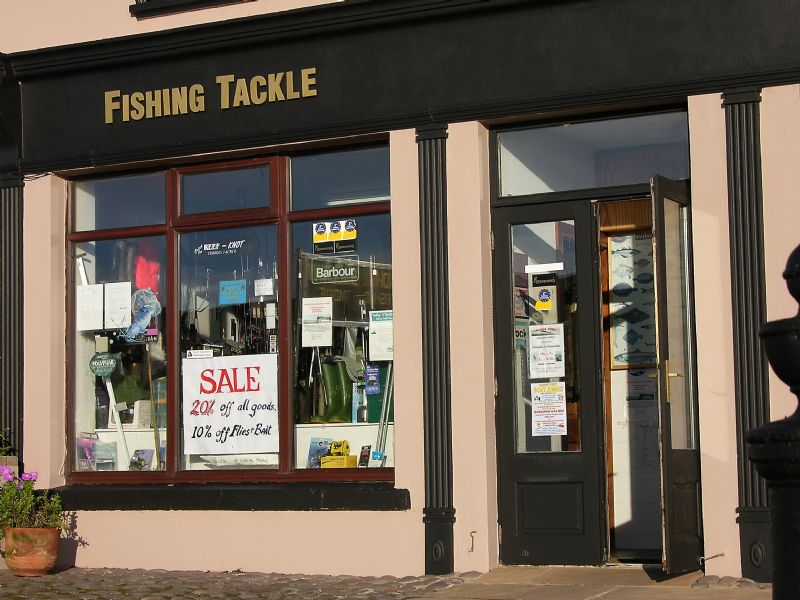 Kevin and Christine's tackle shop in Waterville
Extra information
If you are interested in guided angling in and around the Waterville area for Salmon, Trout, Bass, Wrasse, Pollack, Rays, and countless other species, or simply require somewhere to stay or a supply of top quality bait, contact Kevin and Christine on
Tel. 00353669474942
Mob. 00353(0)876766986
Email www.info@kbfishingireland.com
Website. www.kbfishingireland.com
Tackle shop tel. Waterville 9474433
Back