Common Skate, a new specimen category
Common Skate, a new specimen category
As a specimen hunter, it is a rare occasion to hear of a new targetable species on the Irish Specimen "hit list".
However, since 1976 until now, Common Skate have been suspended due to important conservation measures. The act of weighing such a large fish on shore would obviously be detrimental to its well-being, and so it was deemed necessary to remove it from the list.
Recently, the committee have made excellent in-roads into this problem, having introduced a measurement scheme for simple catch and release and data recording whilst afloat. This applies to Shark species such as Blue Shark, Spurdog, Smooth Hound and Tope. It has proved to work well enough over the past few seasons and with these encouraging trials, Common Skate, Porbeagle Shark, Monkfish and Undulate Ray have also been added to the measurement qualifying list.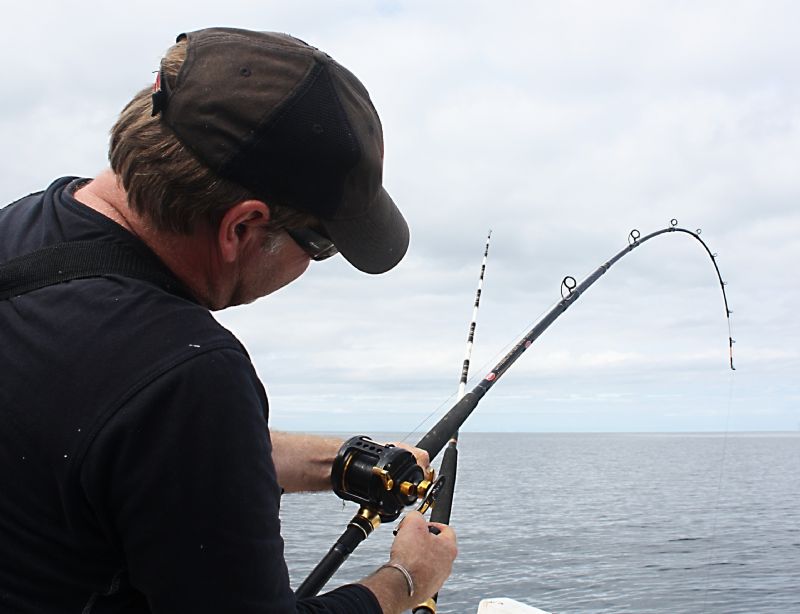 You cant beat that feeling of lifting into a "lunker"
Looking through my tagging data from previous seasons, many of my larger Common Skate captures (fish over 135lbs) would easily make the 1.8 m total length and I now had a realistic new species to target. 2016 has been a tough angling year for me with my elbow out of action for three months and then my boat engine requiring some TLC, residing in the mechanics yard for a further three months! Finally both elbow and engine received a clean bill of health and we were now good to go.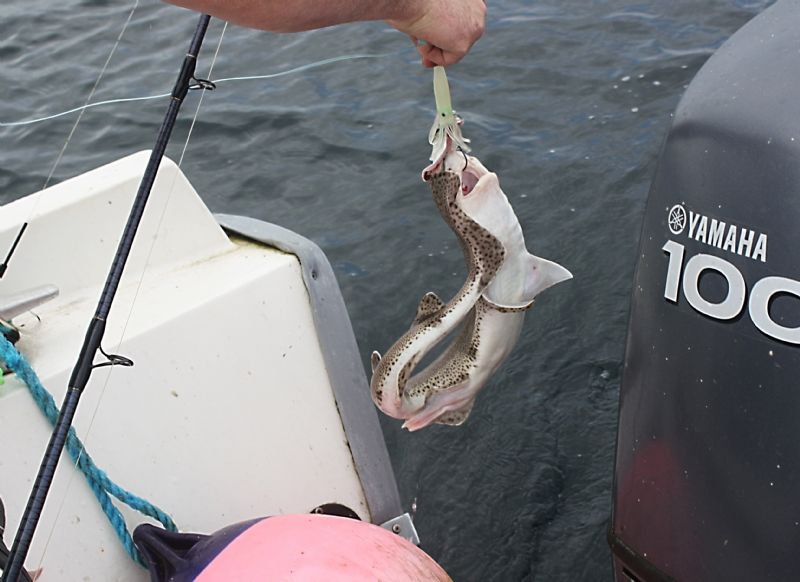 Dogfish may be a "nuisance" at times but they play a vital role in the health of our seas
Talking to friends and charter skippers there was currently little happening along the North Coast. Spurdogs have all but disappeared since early this year which would lead me to suspect they have been commercially intercepted somewhere on their travels! As they are an important part of the food chain Skate were also in short supply. It was time to look for a new deep-water mark!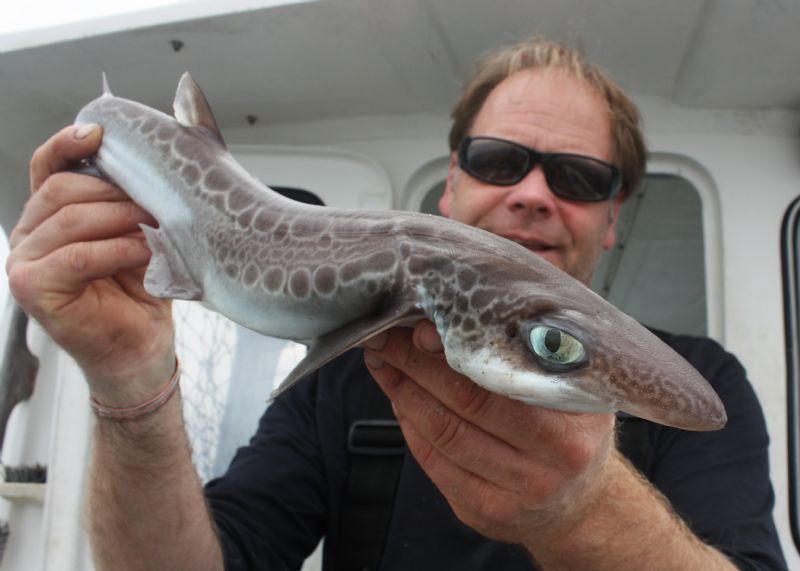 Black-mouthed Catshark makes a welcome change to dogfish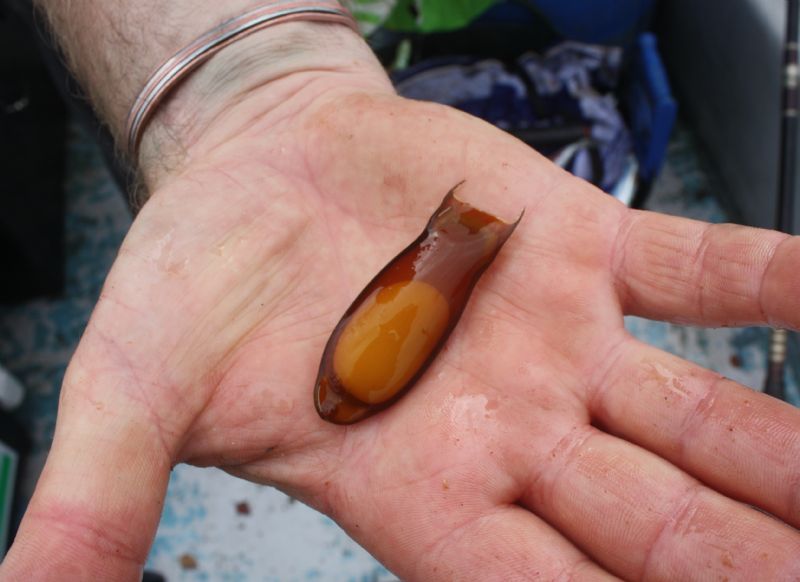 The females sometimes eject an egg-case
With my old crew of Glenn Drennan and Andrew Wolsey called back into action, we found ourselves over some interesting off-shore drop-offs falling into 450 feet of water and wasted no time in sending over the anchor. New marks can often be devoid of fish, but can on occasion produce a day to remember. Obviously we hoped for the latter!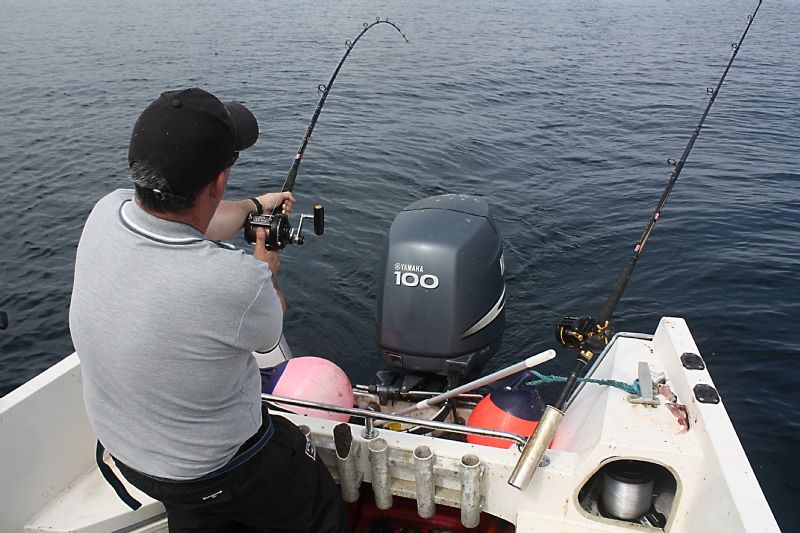 Glenn is first in, but we didnt get to see this one!
Once the tide had eased sufficiently, rod-tips jumped to the familiar dance of the dogfish, one species that seems consistent in our ever-depleting seas. At least there was something on the sea-bed for Skate to eat! A few dogs later and a bonus Black-mouthed Catshark broke the surface, and sizeable enough for a quick weigh-in. At half an ounce below specimen weight she was a near miss, but fabulous to see a different species other than "doggies". If she hadn't of dropped an egg-case, she would have been even closer to that magical kilo specimen barrier! A quick photo and release and back down again with fresh baited hooks.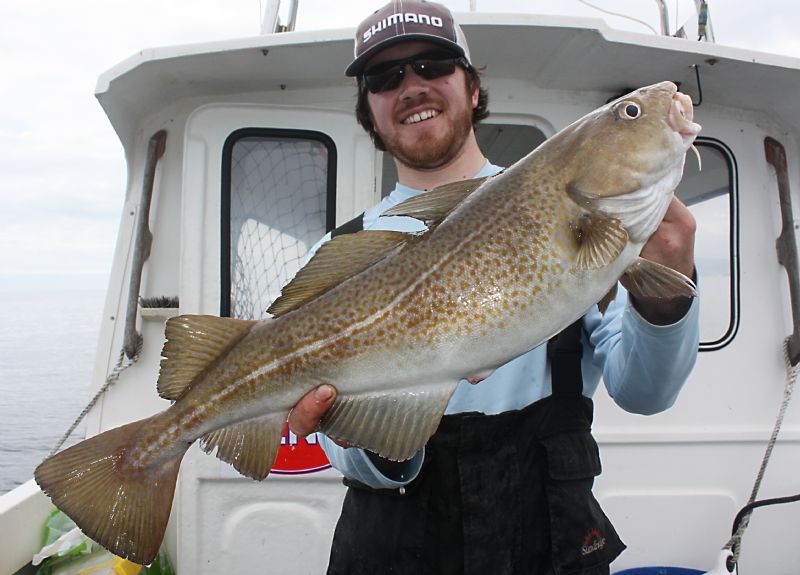 A pristine Cod for Andrew Wolsey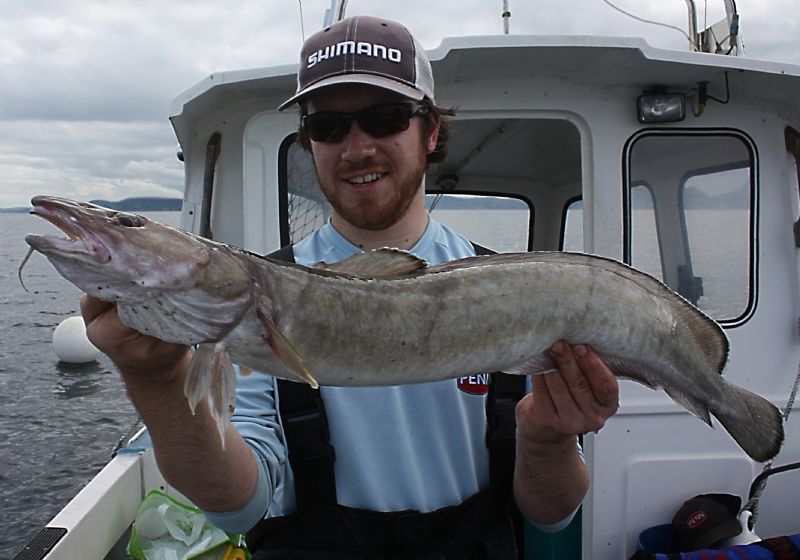 And a decent Ling
A better "rod thump" for Andrew that resulted in a pristine Cod and I followed with another similar fish. Then a decent double-figure Ling for me before all went quiet down below. Either the fish had gone off the feed or something larger had moved into the zone. As Glenn's rod buckled, thankfully it was something larger that had showed. He then declared he had dropped down with light hook links (25lb b/s) to target smaller species! This wouldn't end well.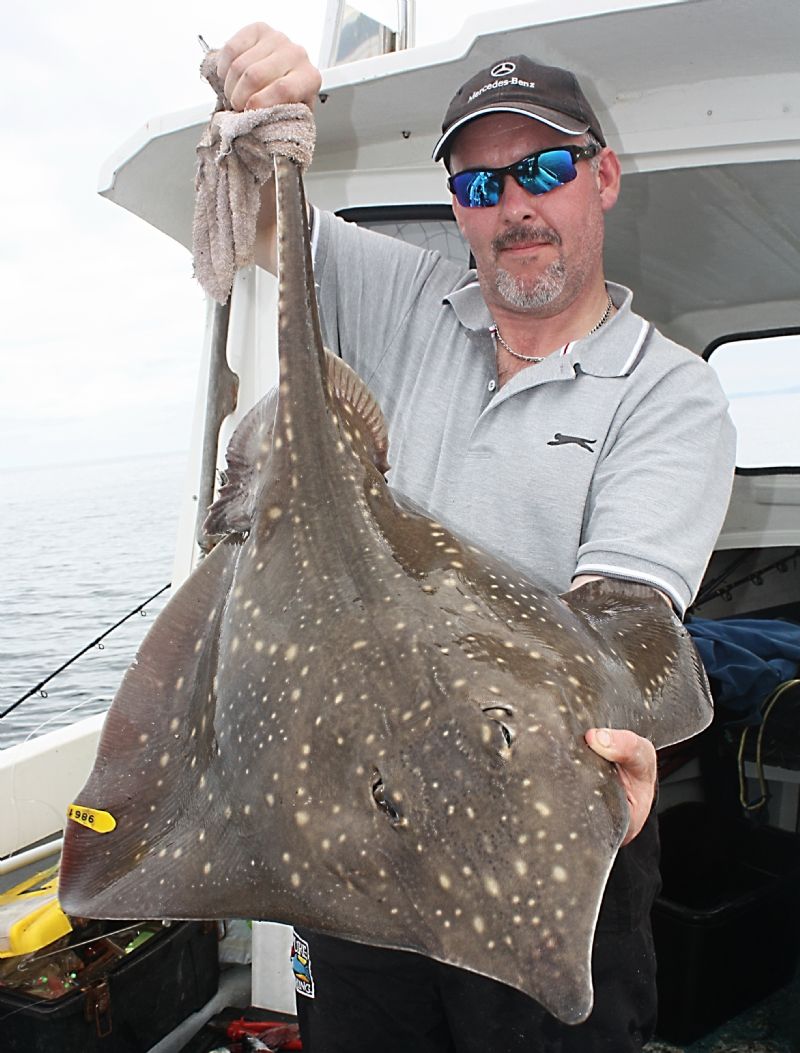 Only a baby by Skate standards, but great to see they are there
This was a good fish, and after having done the hard work tentatively nursing the fish to the surface, a large Skate broke forty yards behind the boat and promptly also broke the hook link! Unfortunate event to say the least.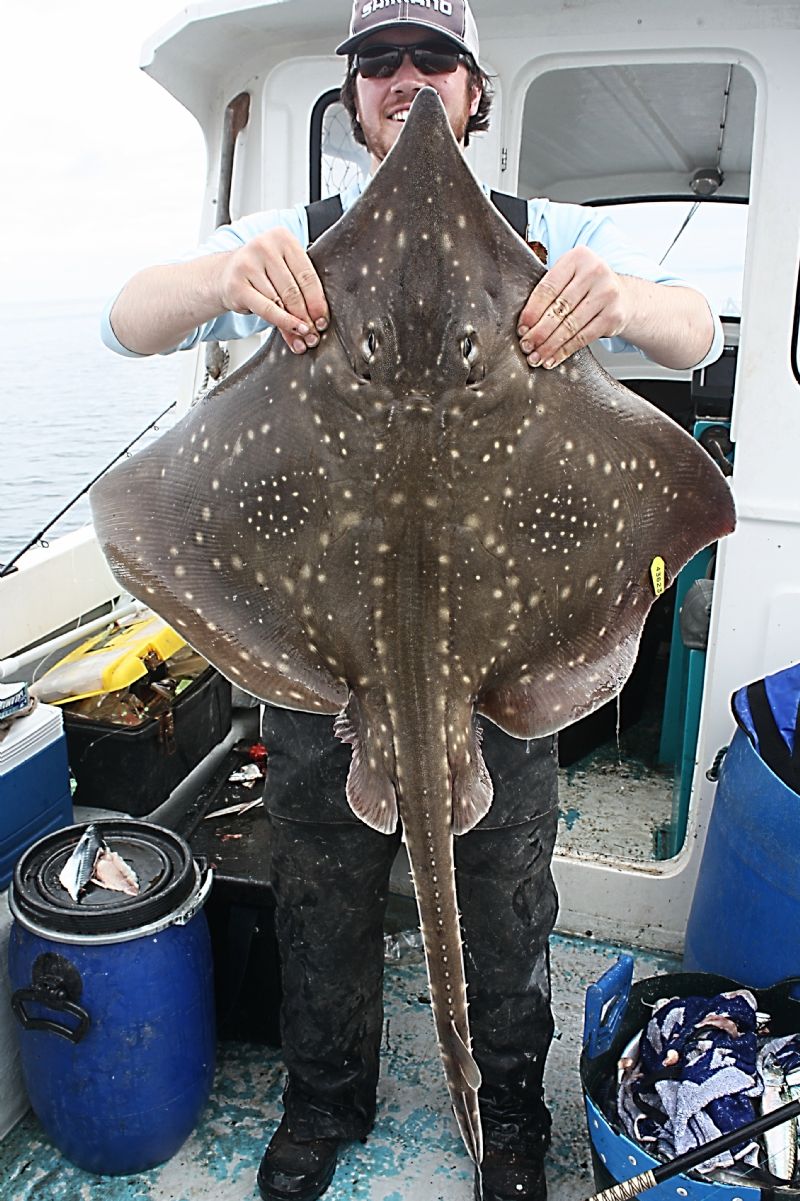 Andrew lands his first Skate of the year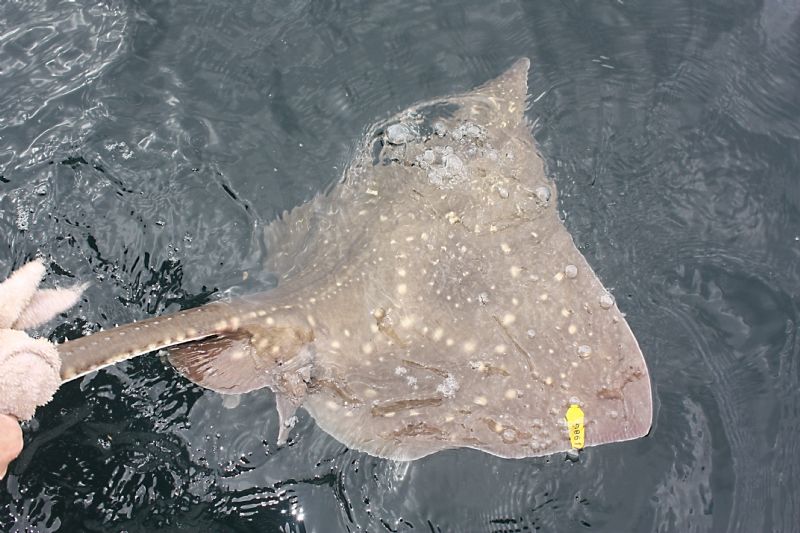 Important to quickly return this fantastic species
As the tide progressed, Andrew and Glenn took a double hook-up and this time there were no errors, with both fish finally boated, measured, tagged and released. These were small Skate by normal standards but fantastic to see juvenile fish in this area. Maybe it bodes well for future visits to this mark. I was next to lift into something, and this time a fair bit larger and on the right gear. After a five-minute battle my catch shook the hook without having gained an inch off the sea-bed, this new specimen category was proving to be a little frustrating!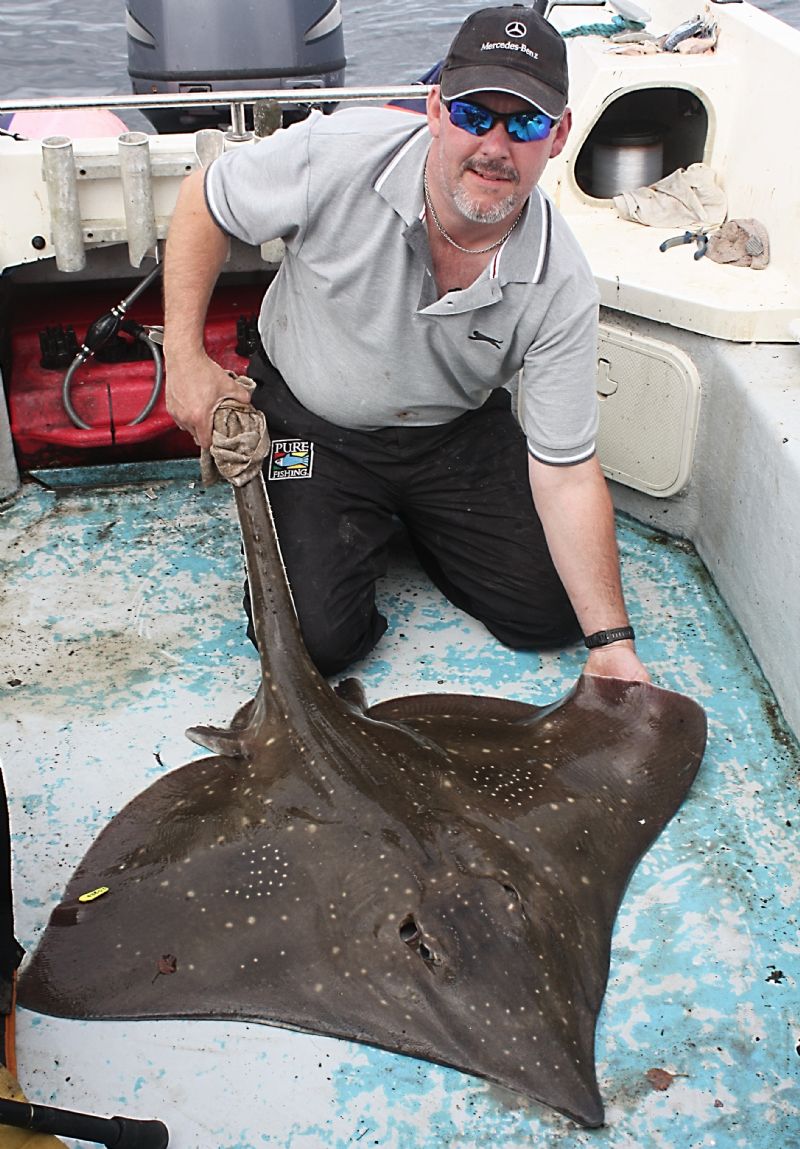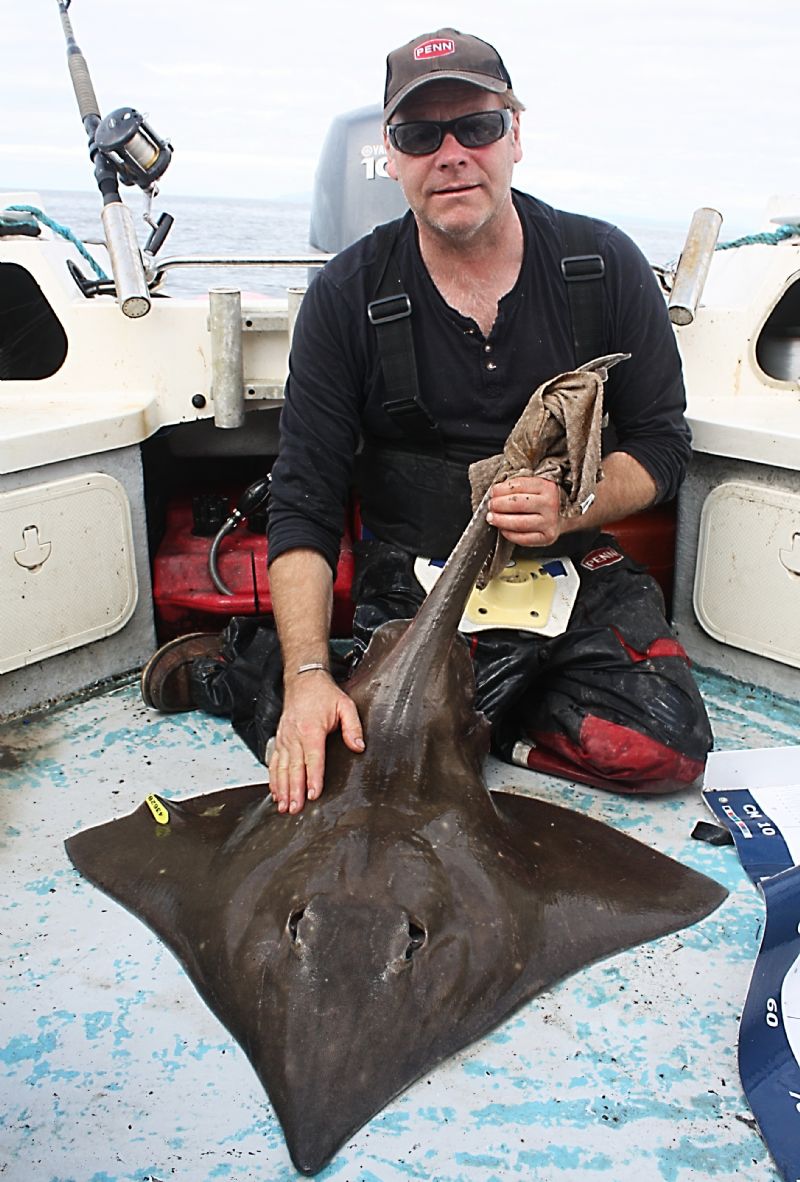 I had to join in sooner or later!
Back to the drawing board and soon we had another double hook-up, this time Glenn and I were into decent fish. Another pair of juvenile Skate boarded for tagging, a fifteen pounder and a fifty. As the tide continued to ebb we managed another three Skate to the boat totalling seven landed and two lost, which is my best result ever with regard to sheer numbers in a session.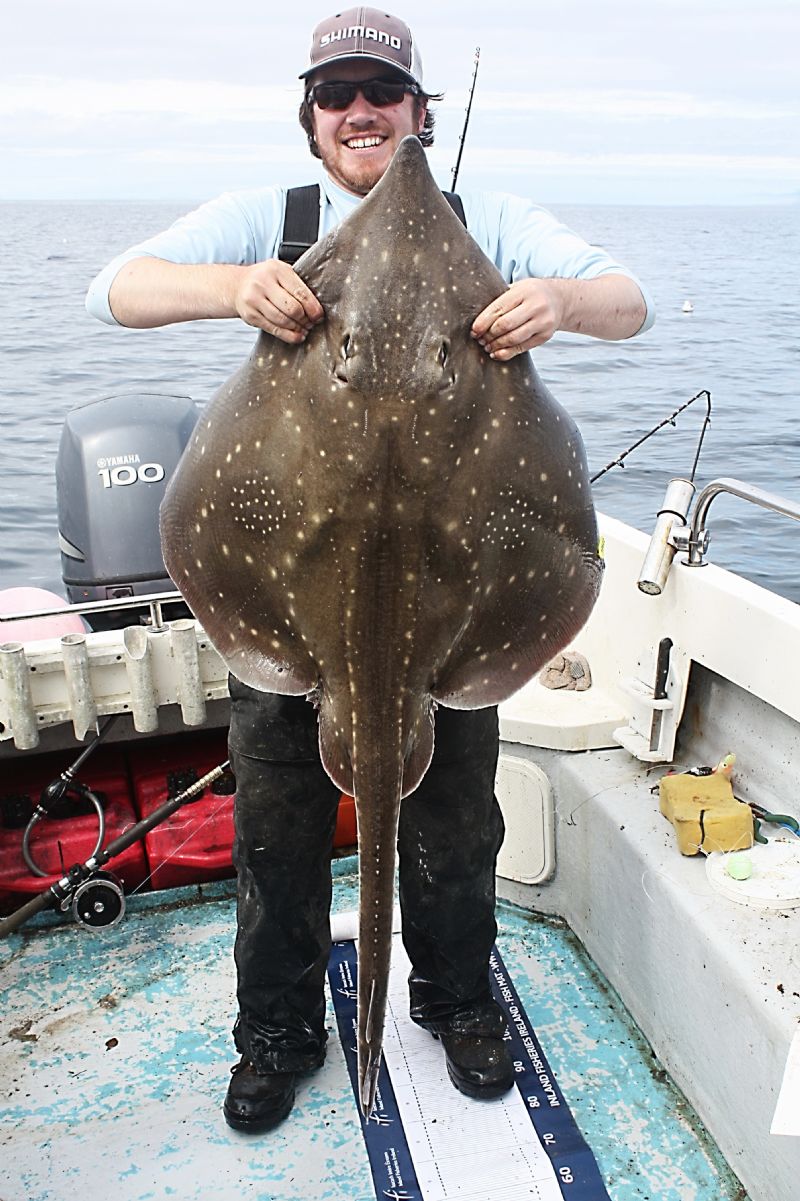 They just kept coming!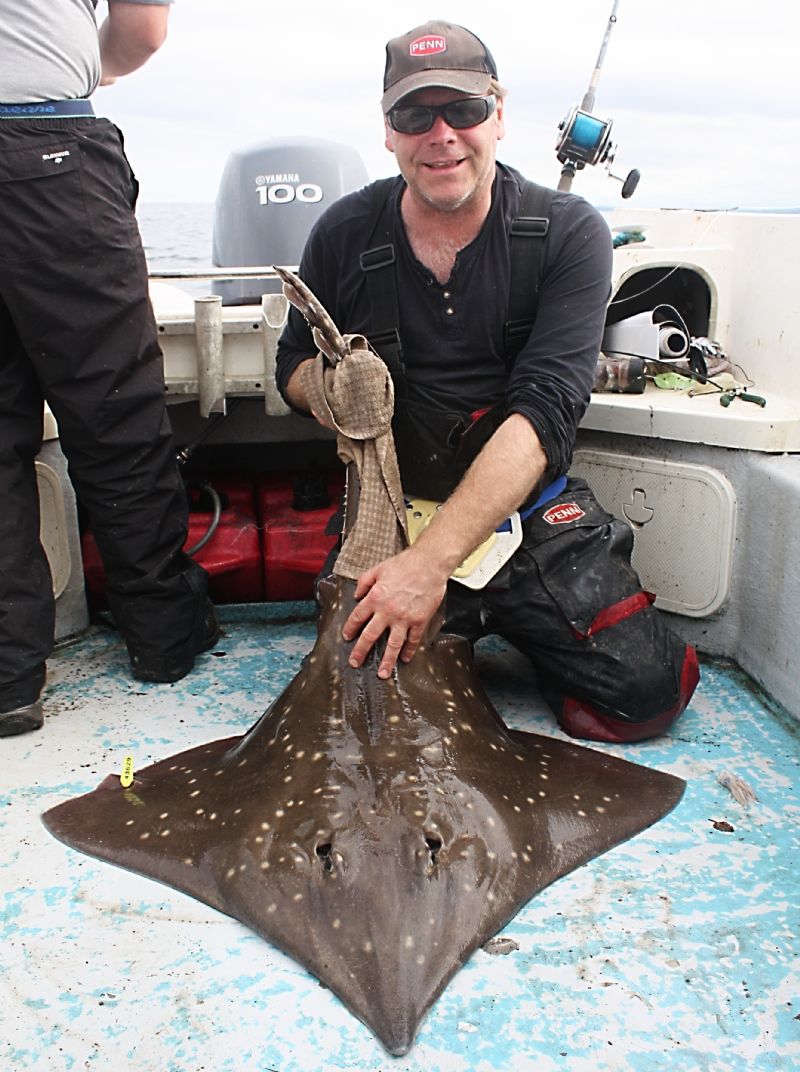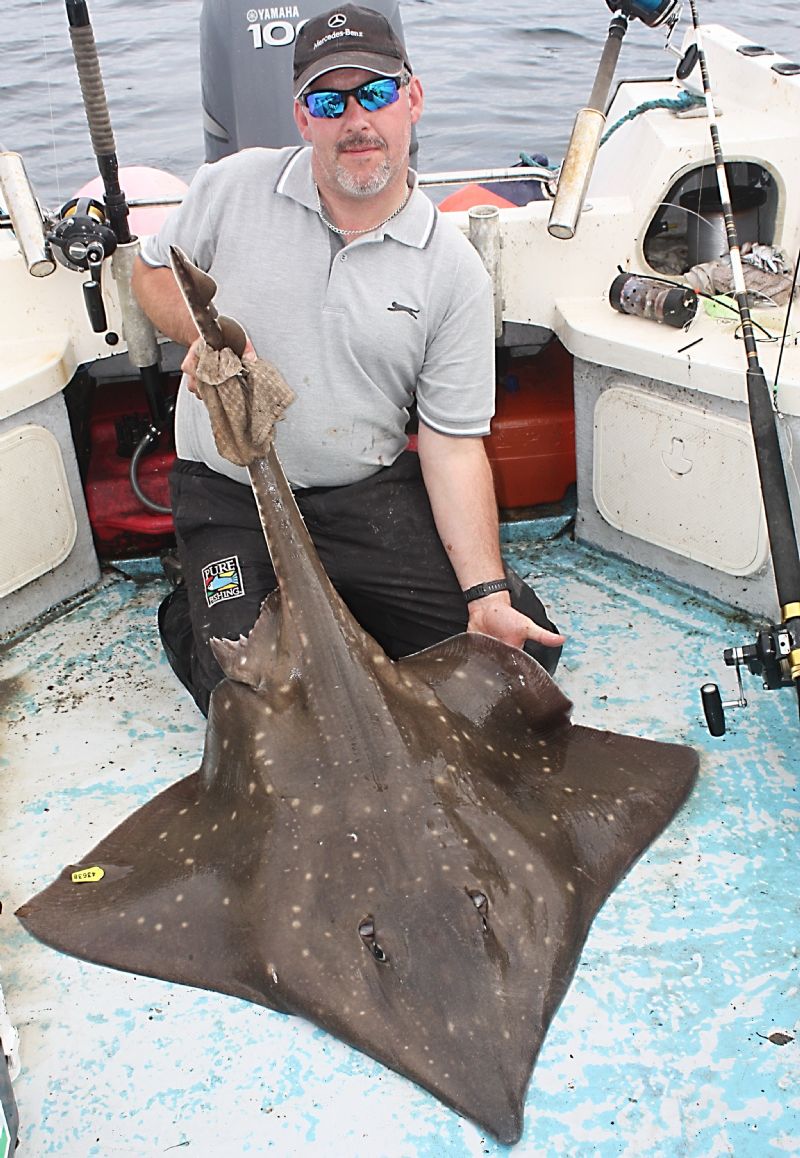 Unusually, the largest of the session at fifty pounds
As it was such a pleasant evening we fished on through the turn of the tide and into the flood. The Skate were gone by this stage but we occupied the final few hours with Conger, Dogfish, Ling and three fine double-figure Bull Huss to end a very successful day on a new mark. Fair enough I didn't manage to find the 1.8m Skate for the new specimen category, but I know it isn't far away, and who could complain at such a busy day afloat, if only all trips were as enjoyable as that!
Some extra shots of the session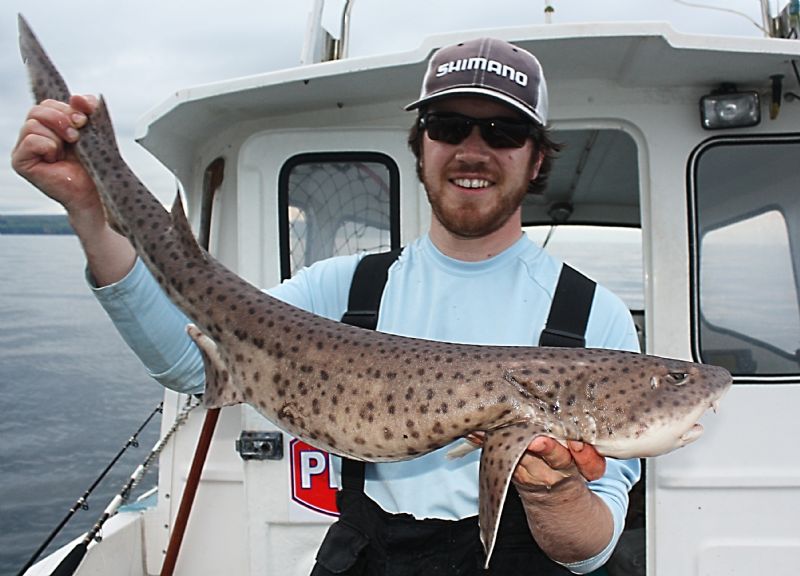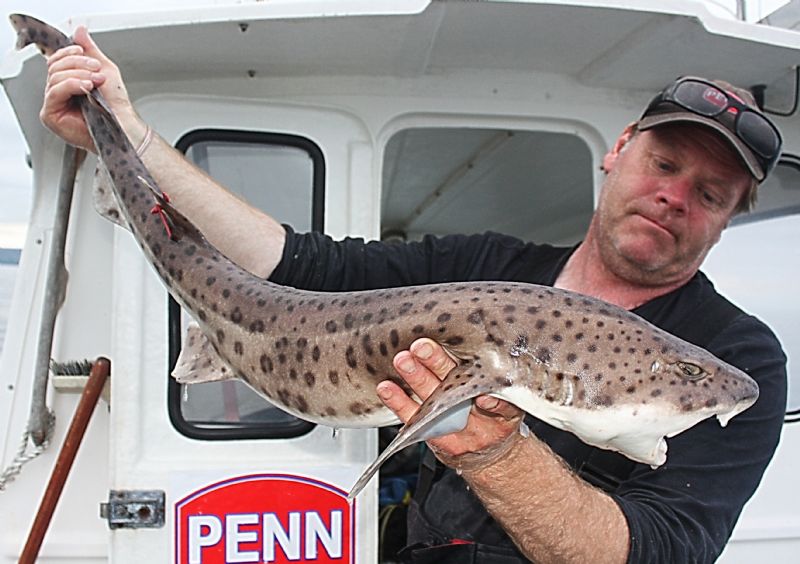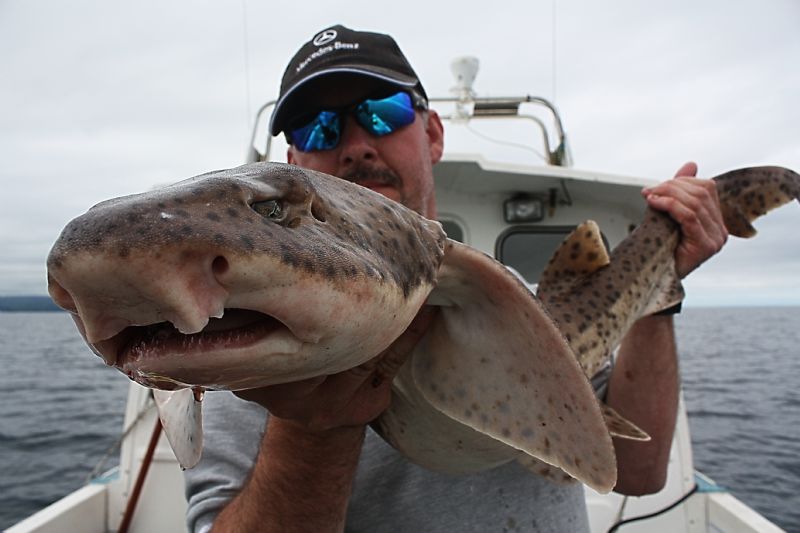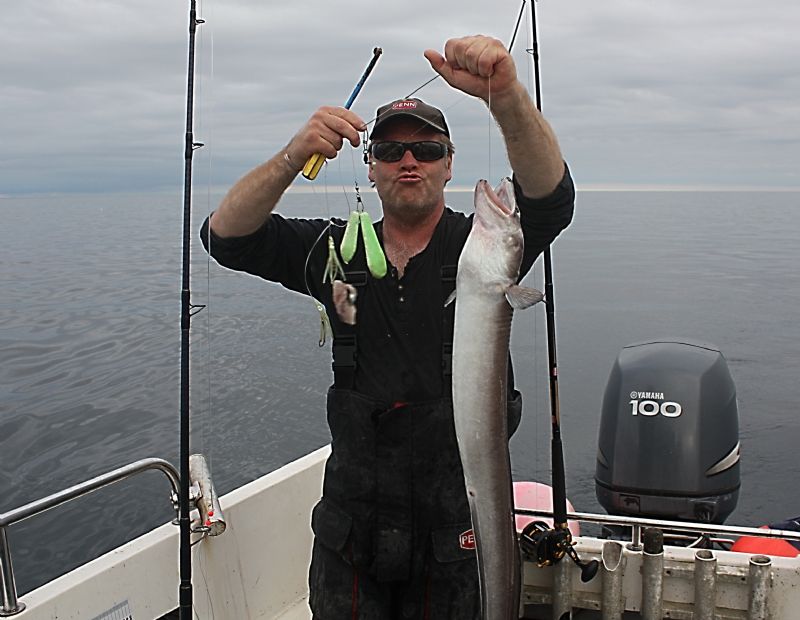 Back