Deadly Dick Does the Trick by Ross Macklin
Great lure for catching lots of Sea Bass
The more years that pass the more I learn about angling. This statement can be even truer said of lure angling which requires a lot of technical ability and practice. The action of a lure is most important, followed by shape, length and colour.
The key to fishing a lure outside of these characteristics is the retrieve or the extra action added by the angler which is of course, linked to the shape of the lure that dictates action. In this way I have learned how and when to fish Tasmanian devils, flying C's, surface "walk the dog" lures (hard plastics), soft plastics and most recently my favourite bar lure, the Deadly Dick.
The key in choosing a lure is to match it to the fish species and their prey. Those that imitate prey best are the ones that work best. However, a critical distinction between what works when lure fishing and what doesn't, is replicating the natural fish action but including 'the injured or startled prey' in the retrieve. It never ceases to amaze me that the most realistic-like swimming baits sometimes fail when the injured prey is not imitated, meaning one angler can win and another fail using the same lure. Similarly the retrieve rate, i.e. fast or very slow is paramount in making the difference.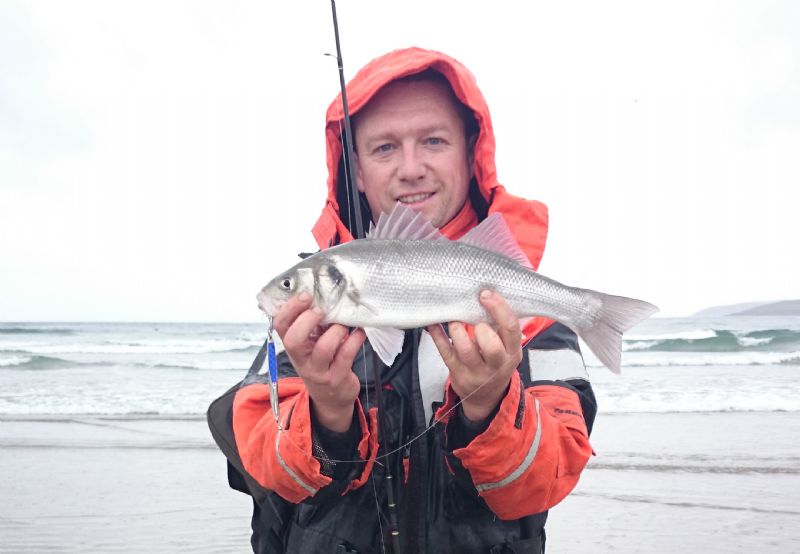 Deadly Dick Lure claims another "schoolie" Bass
One lure that is life-like and works like ringing a bell is the 'Deadly Dick' and with a double tap of the rod tip between every 5 seconds of steady wind it becomes an animal of its own. The lure was first brought into Ireland by a well-known Sea trout angler from Cork, Ger McCarthy, who has landed Sea trout to 9lbs and is always on the look-out for something different. Ger started fishing the Deadly Dick in estuaries and landing some nice Sea trout when all other lures failed. My attention was drawn immediately and Ger was happy to share his knew found wealth.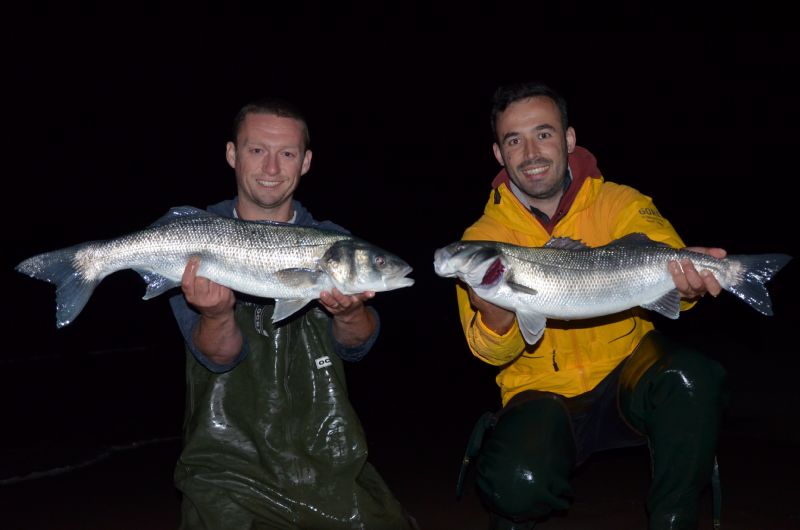 A double shot on the "Deadly Dick" Lures
I brought in a small load from the supplier in Canada to try and wondered would this lure catch other species and in addition to Sea trout given its walk the dog action, which was something missing for other spoon and bar lures. Indeed the small tail waggle and shimmy seemed to be a trigger for fish to strike imitating swimming sand eel perfectly. My first trial was in Waterford with another good mate Declan. Declan is prominent Bass angler and immediately saw the Deadly Dick's potential. We tried it when the Bass were feeding heavily on sprat and sand eel and the lure proved very successful catching Sea trout, Bass and Pollock in the same session.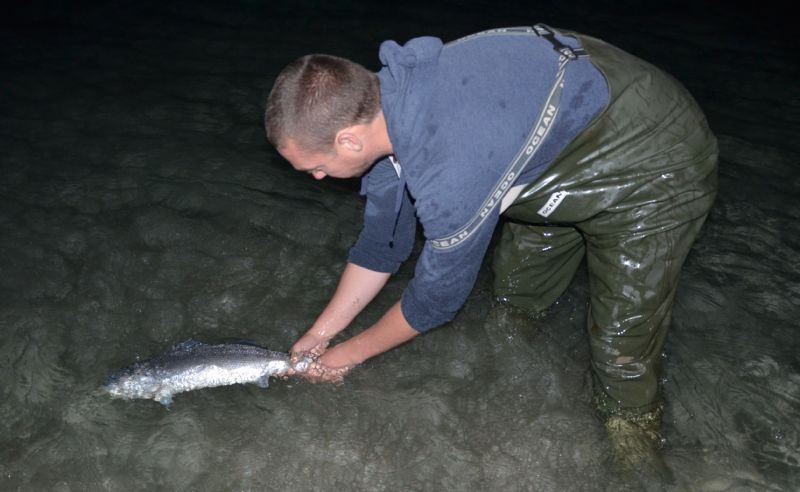 Safely returned for future sport
It wasn't until the early summer of 2014 when we really saw the true potential of this lure. After supplying to the Halfway Angling Centre and the Kinsale Angling Centre, anglers coveted the lures like 'crack' as Morris from the Halfway Angling Centre put it.
I went to a well known Bass mark in West Cork and fished a dawn tide with Jorge Alvarez, a Galician Bass guru who drives all the way from Belfast twice a month to fish for the species. We watched squadrons of Sea Bass hunt sand eel right to our feet and explode into bait balls of several hundred sand eel. We cast a variety of hard plastics but the fish ignored them. Jorge said 'do you have a silver bar lure that we can try as they are heavy on naturals', 'no' I replied and then slipped on a sneaky 2L blue and silver Deadly Dick. I was able to cast the lure 60 yards with 15lb braid into a bait ball. Within ten seconds I hooked into a 7lb Bass. Three fish later and the bait fish exited the bay with the tide and the activity ended. Jorge agreed that the lure made a difference when even the high end Japanese hard plastics failed. We decided to fish Cork Harbour later in the day and continued to land Bass at two other marks using the pink day glow and blue and silver colours. I was quite astonished at how effective a day time lure this was given my Bass fishing is primarily a night activity as the day is usually much slower.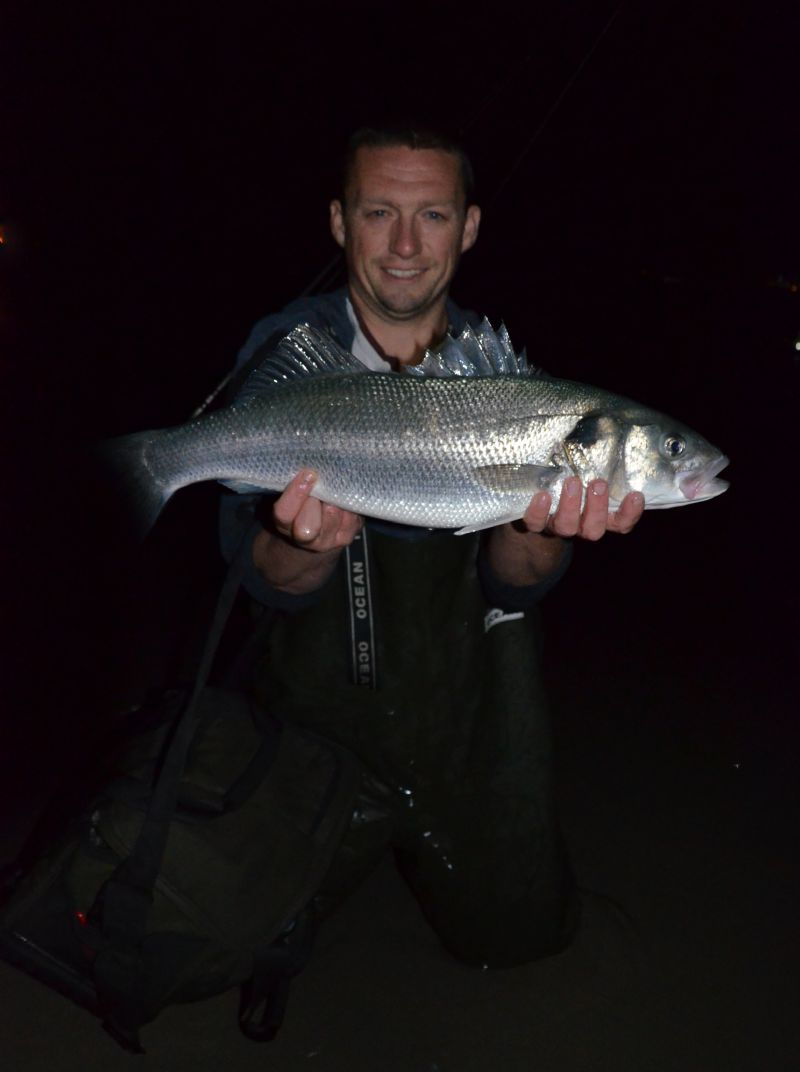 Check out these lures, they are truly "Deadly"
The following week Jorge fished with Kieran Ring of Youghal, Cork out of his Explorer which is becoming quite famous for super day trips for a host of species. Kieran fished one of his known wreck marks and Jorge fished the 3L and 4L red Deadly Dicks which weigh 1-2oz. The lures incredibly out fished what we thought was the unbeatable Savage Gear sand eel with over 100 Pollock landed to 7lbs. The results speak for themselves. This Canadian bar lure is as deadly as it states on the package.
Available:
Cork Angling & Outdoor Centre (021-4321000);
Halfway Angling Centre (021-488 5894);
For trade enquiries rossmacklin@gmail.com
Back