Early season Carp angling
Terry's Travels
Carp
Originally written for Irish Angler Magazine, back in 2011.
With new JRC "Razor" rods and Abu Cardinal reels just in from Pure Fishing Tackle Company, I had to go carp angling, and waiting for a break in the bitter cold weather was a luxury I no longer had. With a few days free, I rang Sid and told him I was on my way. He voiced his concerns that it was still quite cold, and it could be a wasted 290 mile journey, but my mind was made up, the fuel tank filled up (fecking £110 to Cork and back!), the jeep packed to bursting point and I began the five hour journey south. My specimen hunting schedule for 2011 usually has most of the season and target species carefully planned in advance. If carp were to be targeted, it was now or never. Bitter cold winter carping, why make life easy?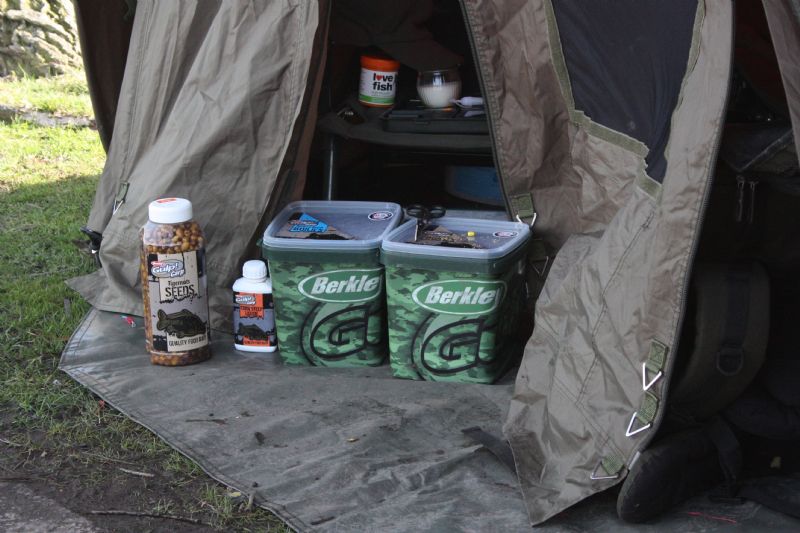 Bivvy set up, and plenty of Berkley Carp baits for the session
Arriving at mid-night, with light drizzle and a gentle breeze, my STi bivvy was hastily erected without much ado, I can manage this blindfold by now. Avoiding the dog crap in the dark is another matter! Facing into the breeze, and hoping this will be the area where the carp will be feeding, I set the boilie and pellet baited rods on the pod and hit the sleeping bag. Sid arranged to meet me early morning over breakfast and with his local knowledge, a plan for the three-day session could be developed.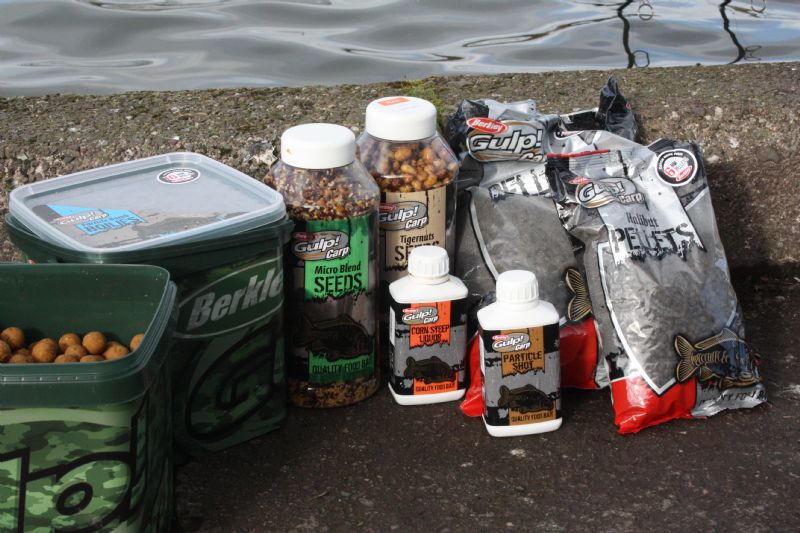 Roughly dragged out of my slumber the following morning by Sid, it was time for mugs of tea, bacon and egg sarnies and a discussion on how to find a carp or two for this particular article. The lough hadn't been fishing at all over the last week or so. Wonderful! To back this information up, my alarms never so much as "squeaked" during the night. Normally, when the carp are willing to play, they will give away their position, crashing on the surface and sometimes leaping clear of the water, but there wasn't a fin to be seen. This was not looking good at all.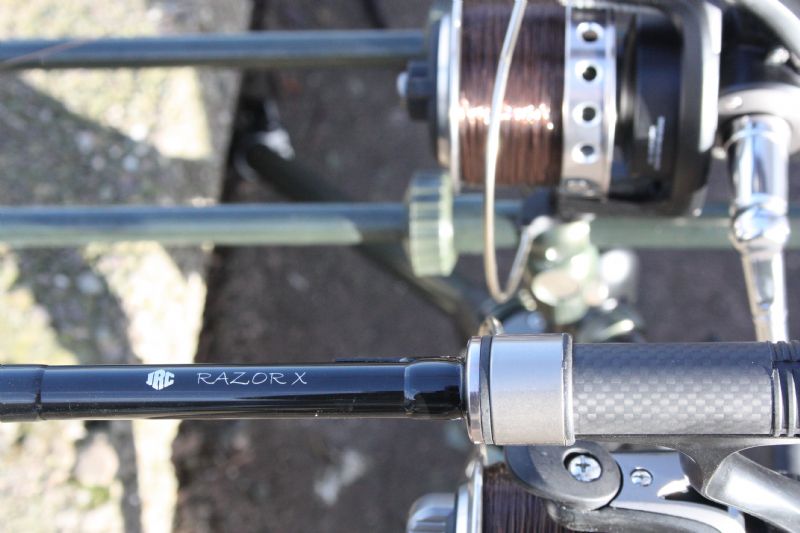 JRC Razors and Cardinal Pit Reels, a nice set up
Sid kindly offered to bivvy with me for the three days, for which I am extremely grateful. He is a good friend and great company. His local knowledge is second to none on the lough and none better to guide me to a decent fish or two. If I can learn a few carp catching tips as a bonus throughout the session, so much the better. His first suggestion, after a scout around the lough, was that we make a move! A couple of carp had broken the surface on the far side of the lake. Bivvy, rod-pod, provisions, the lot, had to be packed down. Not an enviable task once you are settled in, but if it meant a greater chance of picking up a carp, then so be it.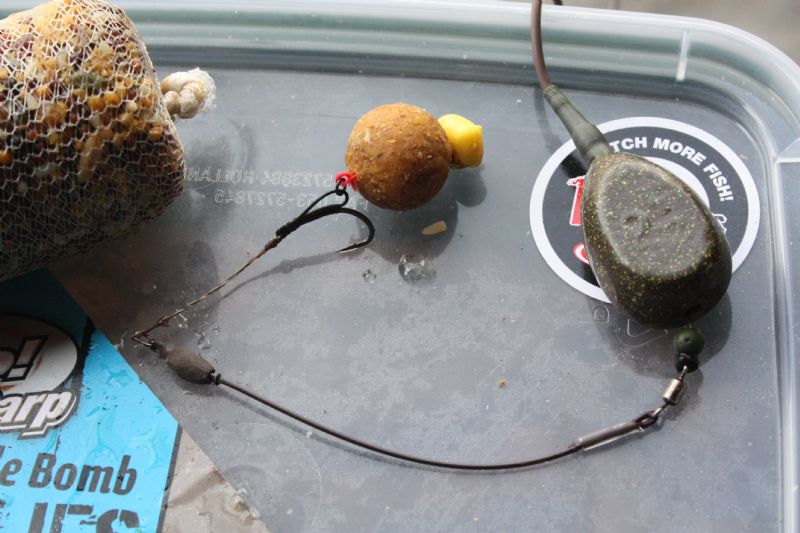 Close-up of my hinge rig using a JRC D-Rig hook system.
We made the move to the opposite side of the lough, in the lee of the trees and houses. This was contrary to my reasoning, but bowing to local knowledge, I shut up and did what I was told. With the bitter cold temperature and calm water, conditions were far from ideal; we both knew only too well that this session would be a struggle. With baited hair rigs and loaded PVA bags placed strategically over targeted hot-spots, there was little to do now but sit and wait. To pass the time, rigs can be tied, including new inventions and variations of a theme. PVA bags are pre-filled with flavoured goodies and particles to save time should a fish happen to show, with a constantly boiling kettle always at hand for a warm cuppa and a drop of the old feel good factor.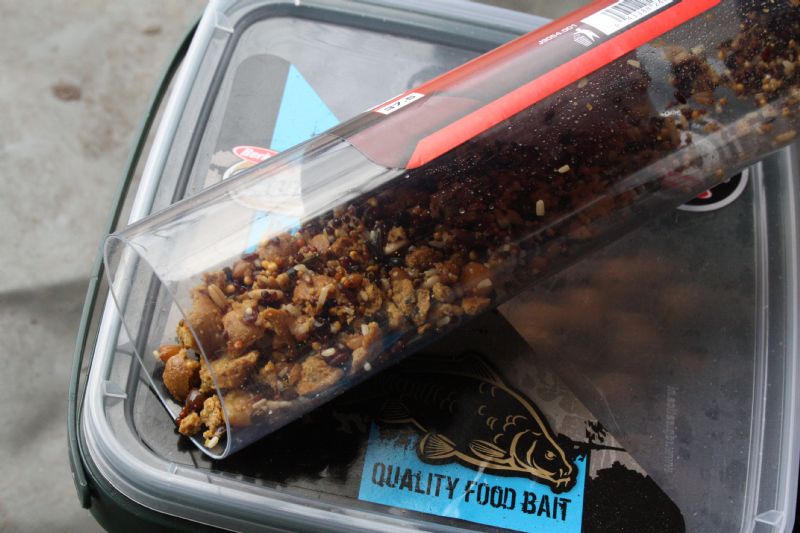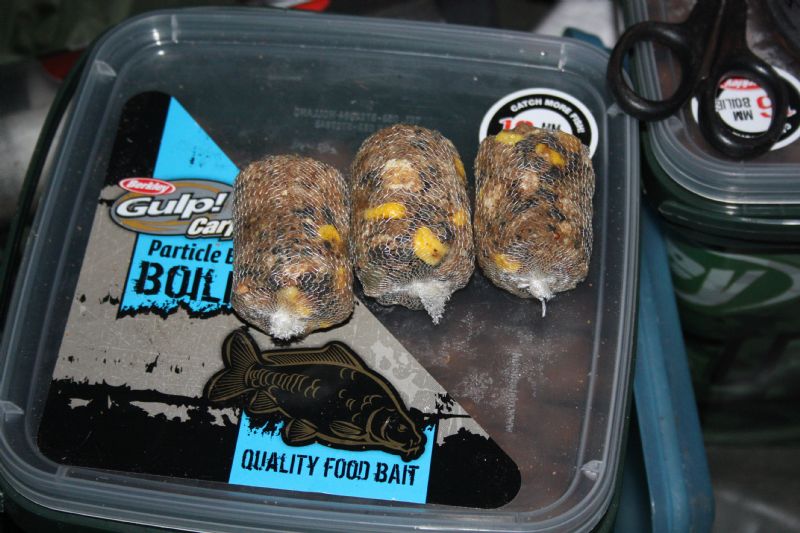 Preparing some PVA mesh "goody" bags
Within an hour, an alarm signalled that Sid's left hand rod had taken a fish, resulting in a small double-figure common. Not massive by the lough's standards, but a specimen none-the-less. I felt green with envy but delighted that we had a carp for the camera. This was the only fish for the day, confirming our suspicions that we were in for a hard time. As the sun set and the temperature dropped further still, I retired to my bivvy with the hope that the hours of darkness may possibly deliver a result.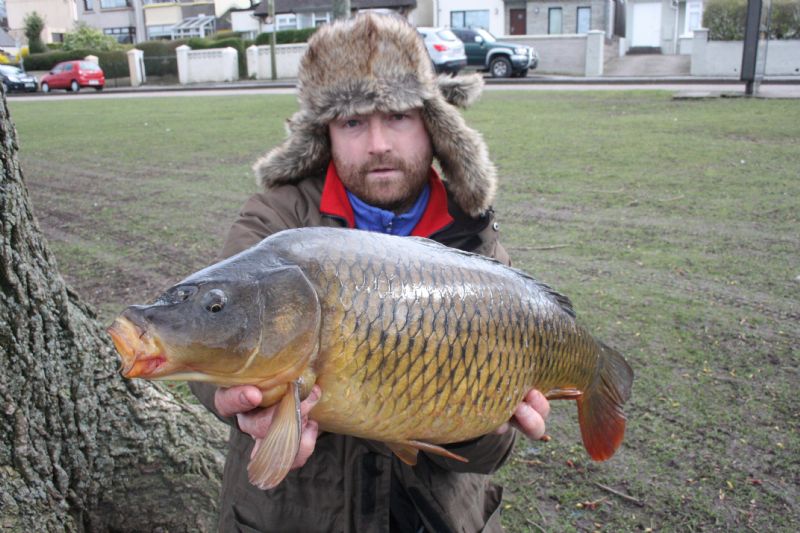 A small double for Sidney
The night-time result came alright, although unfortunately not for me. Sid shone yet again, picking up two specimens through the night, both to the same rod from one very small area. These included another mid-double common, and to his delight, an old original Ballincollig mirror carp. We soon realised that our other baits were lying in un-suitable areas of lake bed, made obvious with bunches of decaying leaves smothering the hook on each retrieve. The only rod that wasn't affected by dead leaves was Sid's left hand rod, and it was picking up fish.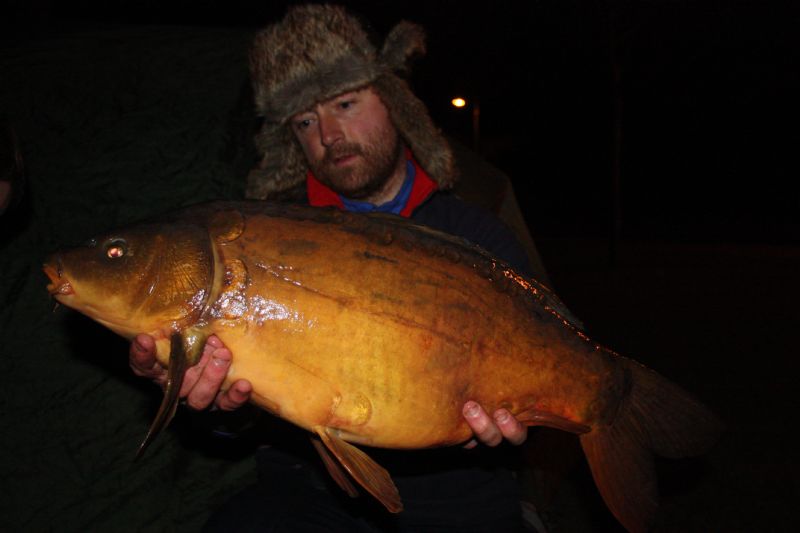 This time, Sid finds an old Ballincollig Mirror.
From the evening session we had learnt that despite the low temperature, there were still one or two fish prepared to feed. If we could present the bait correctly over the silt and decaying vegetation there may be a chance to turn this tough session into a success. Sid graciously offered me the productive spot (temporarily, I may add) as until now, I was staring at a blank! I have my pride, but on this occasion, I decided to swallow it. Cork is too far to drive not to catch!
A nice Common christens the Razor X, taken on "method feeder" tactics.
The day proceeded well, and the hot-spot offered up an eleven pound common, and a further brace of twelve pounders, one of which had a blue coloured tag numbered 127, evidence of the on-going tagging scheme on the lough. It was really good to take a few fish on the new gear, giving the rods and reels, not to mention myself, a little angling action. Needless to say, our other rods remained quiet. After my flurry of fish, it was only fair to give the area back to Sid, but with the pressure lifted, I could turn my attention to the challenge of finding a fish for myself.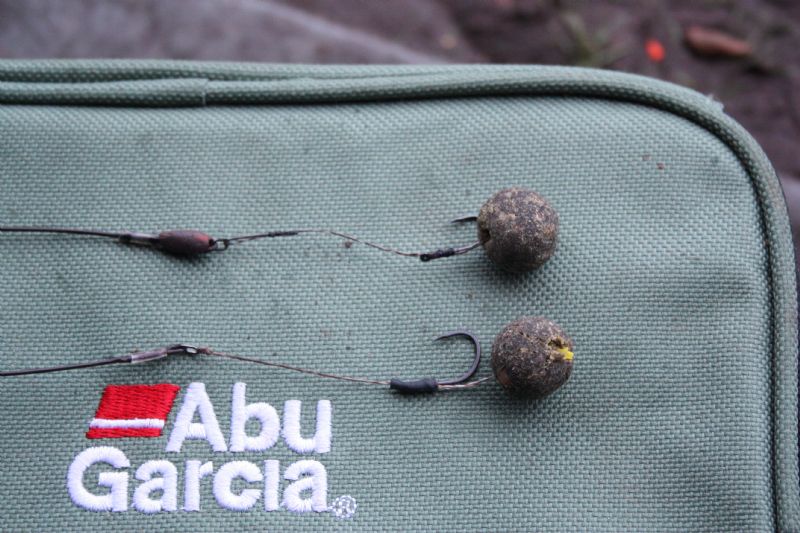 Make sure the boilie has clearance around the hook as in the lower rig, for greater "hook-ups". The top rig was tied incorrect
Carp were showing at distance, but casting to them presented the problem of my lead, and of course the bait, burying into decaying leaves and silt. Sid suggested "feathering" the line seconds before it hit the water to slow the gear down a little, and with the added idea of a tiny PVA bag of micro-blend seeds and trapped air attached to the hook on a "chod" rig, the bait would hopefully remain suspended long enough to gently settle above the debris.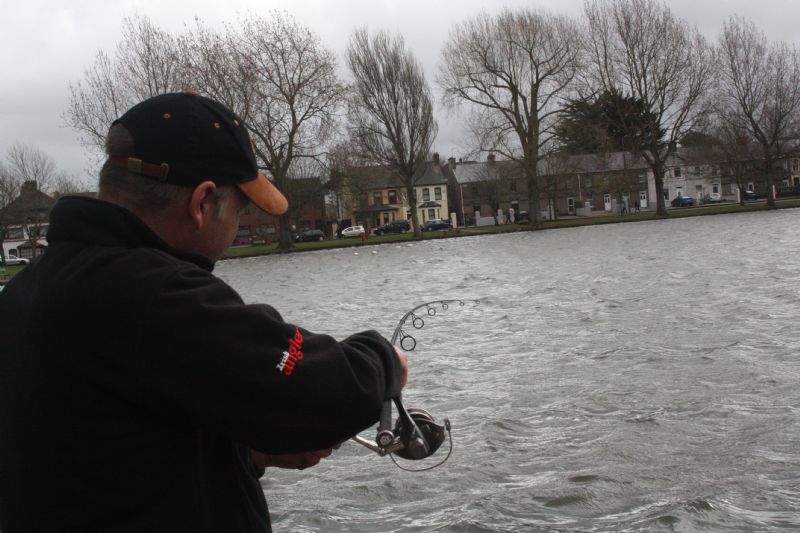 Bending the JRC Razor X into another small double.
This worked a treat, as an hour later; the alarm on my distance rod signalled a hooked fish. It is fantastic playing a decent carp at distance, but even more enjoyable to eventually pick out a fish from my own mark. At fourteen pounds plus, it was my largest of the session thus far and made the long journey more than worthwhile!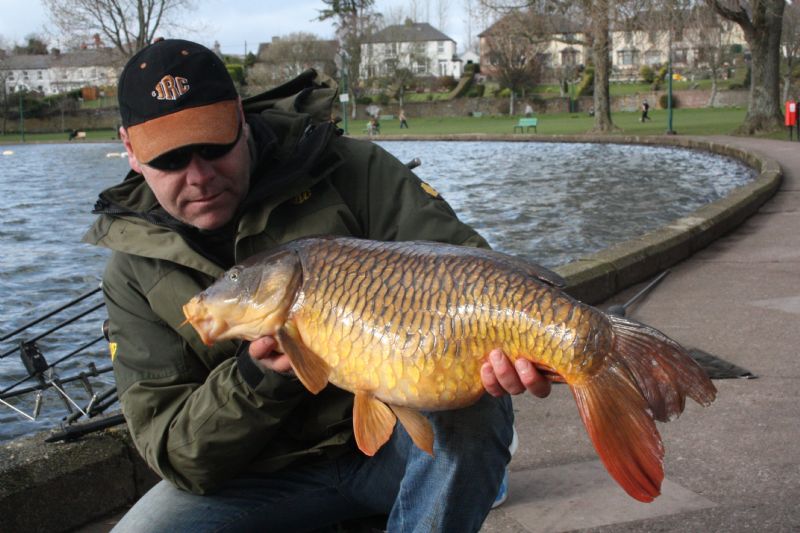 At last, a deeply coloured mid-double.
With two twelve pound fish and the larger, fourteen-pounder, my three-fish specimen quota had been filled again this year. It was time to relax. I wanted to experiment further with some of the new range of Berkley seeds and particles, so Sid nipped home for a few minutes and returned with his recently-repaired bait boat. The idea for our last few hours of the session was to completely fill the loading bay of the bait boat with a selection of micro-seed particles, a handful of Berkley halibut pellets and a few crushed and whole "Irish Cream" boilies. Placed out at maximum distance, these would gently sink to the lough bed, with my standard carp rig and boilie-baited hook nestled nicely on top. Standard practice I know, but I wanted to see exactly what effect a large dose of these new formula-soaked particles would have on this water.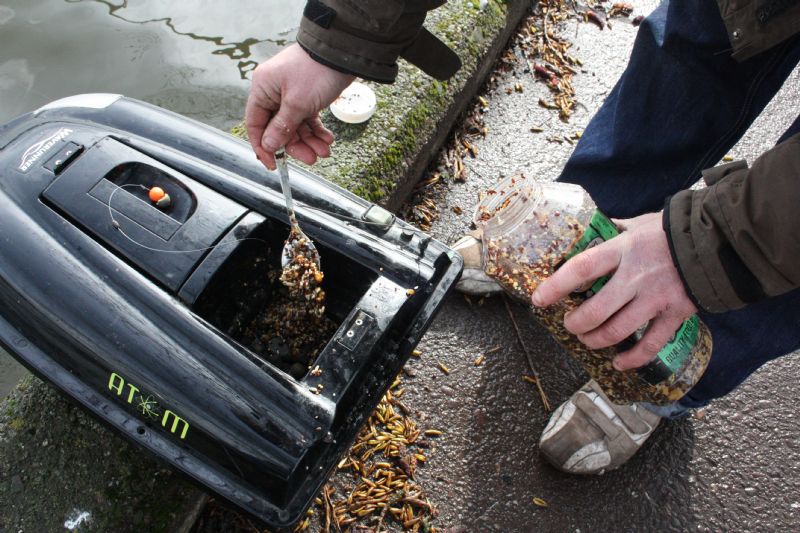 The bait-boat put us in reach of fish feeding out of casting range, and delivered some "Gulp" Micro seeds.
Within an hour, the left hand rod took an adrenaline pumping run, with a hard fighting fifteen pound five ounce common doing its damnedest to avoid the landing net. My largest yet for the session, and I was now regretting the fact that I had to head home!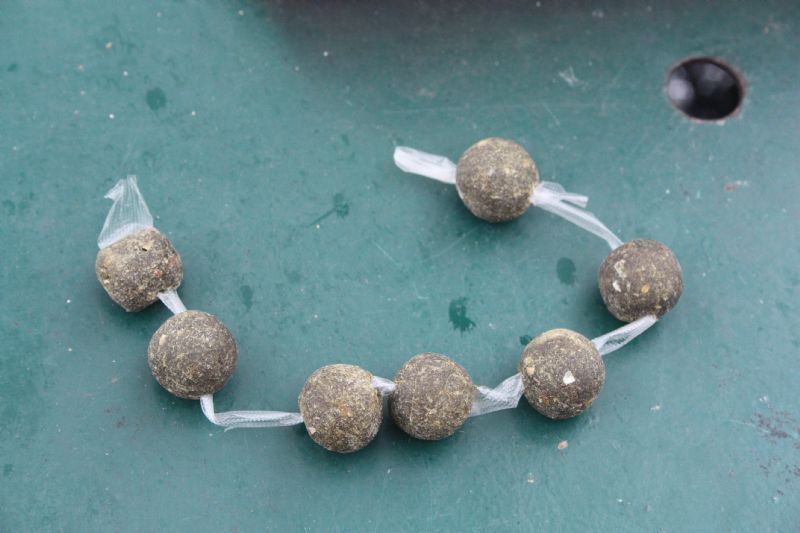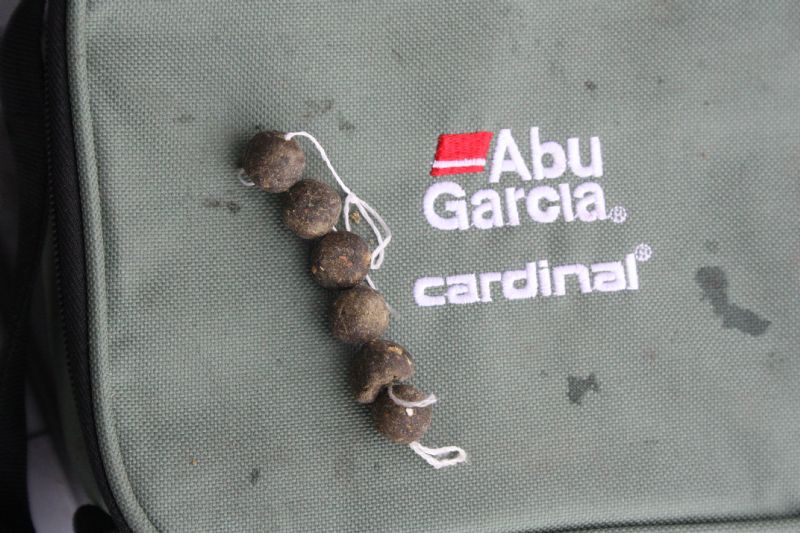 Sid packed up with a seven fish total for the session, an excellent tally under poor conditions. We said our good-byes, and I decided to give it one more hour as I packed away the bulk of the gear, bivvy, bed chair, provisions etc.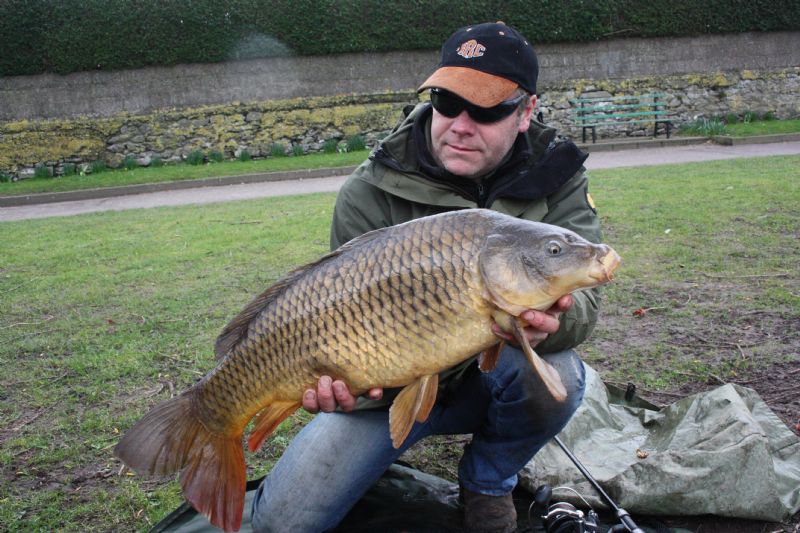 To round off an enjoyable day, the Razor took a blistering run, only just managing to stop the fish short of "Bog Island" and its host of line-fraying branches and tree roots where carp find it all too easy to extricate themselves. This fish fought hardest of all and I savoured every last second of the battle. Weighing in at fifteen pounds and three ounces, it didn't top the previous fish, but fought well in excess of its weight. A passer-by was kind enough to take a quick photograph before release, and then the last of the gear was packed away for the arduous journey home. A six fish total under tough conditions was definitely a result, but I would have been hard pressed to make half that number without Sid's guidance on this water. As always, my thanks go to Sid and Mandy for their kind hospitality.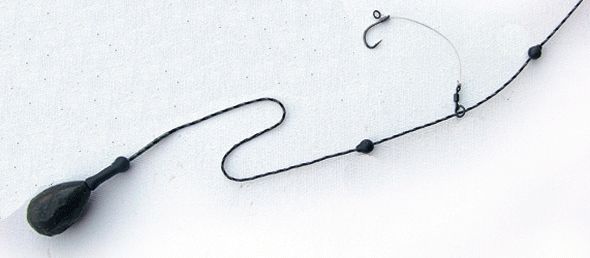 Standard "Chod Rig"
The tackle
For this trip, I tested the new Razor X carp rod from JRC. At 12ft in length and with a 3.25lb test curve, it is more than capable of launching large method feeders or punching a standard rig incredible distances. Teamed up with the Abu Cardinal 57 Long Cast big pit reel made a formidable, distance casting carp set up.
The Razor is an awesome rod. It is built from the finest 40T carbon fibre resulting in a minimalist and incredibly light-weight blank with fast taper, fast recovery and bags of power. JRC have really "upped" their game with this rod design. It feels balanced, light and powerful, but extremely pleasing whilst playing a fish. Everything you expect in a top-end rod.
The Cardinal comes with a free-spool drag knob and a standard drag knob. The tapered spool design allows for maximum casting distance and has plenty of winching power. Unlike many reels of this calibre, it is also salt-water protected should you wish to use it for surf applications. I chose to load it with 15lbs b/s Berkley XTS, a limp, memory free mono. Its knot strength and shock test is primarily designed for the specimen hunting market and worked well on this trip.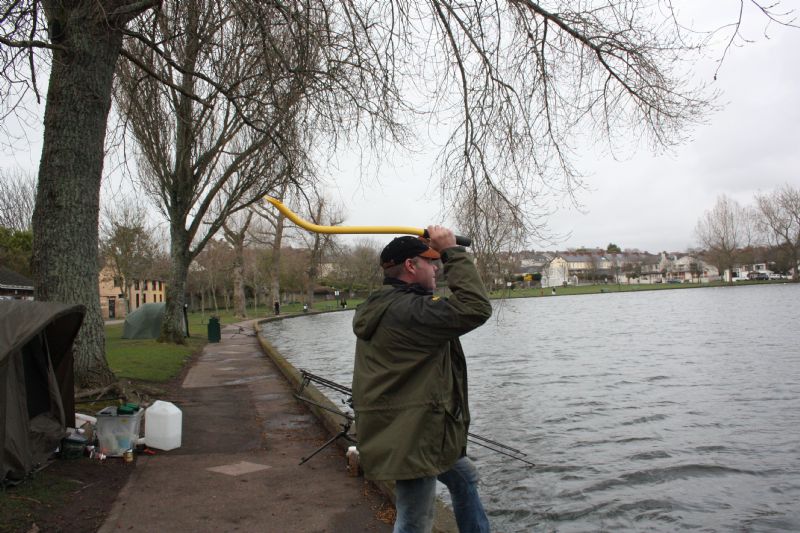 Putting some boilies out with a throwing stick
Carp tagging
Why are carp being tagged in this water? The study is interesting and revealing. There is a problem now that juvenile carp are in such numbers that they are eating their way through the food source. Adult fish are losing body mass. The tagging has shown that fish weighing in excess of 20lbs only last year, are now down to 16-17lbs. Research has shown that the tagged carp I caught was tagged in 2006 at a weight of 11lbs 3oz. A re-capture in October 2010 put its weight at 15lbs 5oz, but now, six months later and coming close to spawning, it still weighed in at 15lbs and 5oz, not reaching its potential growth.
Bill Brazier is leading the way in this research. As an angler himself, he is working with the local carp society with Sid Kennedy and Ross Macklin and the UCC. I asked Bill what the study involved.
"Well in brief I am investigating, for the first time, the genetic variation of carp in Irish waters at UCC. Research on this aspect of the species is vital in the understanding of conservation and management issues, such as what populations and/or strains are best suited to artificial breeding and stocking programmes for angling waters and also what populations/strains are in need of pro-active management to preserve their genetic variability and prevent inbreeding.'
This will give information about growth potential of our carp, levels of inbreeding, exact origins of selected carp populations/strains - all of which will hopefully be used in the formation of a new scientifically based management plan for carp in Irish waters, again this has never been done before. It is all done by examining DNA taken from non-lethal fin clippings and/or scales. The fish are not harmed in any way and all equipment used is sterilized before and after use to prevent infection. Fin clipping and scale removal sites are treated with an anti bacterial/fungal product to prevent infection. The fin clipping sites heal over almost perfectly within a few weeks!
To find out more about the research, log onto the following website.
http://www.ucc.ie/en/bees/research/ResearchGroups/carpgen/
Back