Exploring the Erne
Fly Fishing for Pike
Down on the Erne
I took a run out with usual suspects Glenn Drennan and Andrew Wolsey, exploring yet more of the Lough Erne system.
It's a huge expanse of water and daunting to realise a life-time is just not enough to un-lock all its secrets! As the forecast gave little or no wind for today, this would hopefully be a fly only venture.
Although jerk-baits were brought along as emergency back-up should weather conditions deteriorate, the forecast was actually accurate on this occasion with flat calm conditions throughout, sweet! All back-up tackle could be left in the van, a fly only expedition. The air was still quite cool, expected for this time of year, but so good to be out on the water again, dropping home-tied creations amid reed-fringed bays and over under-water ledges and drop-offs.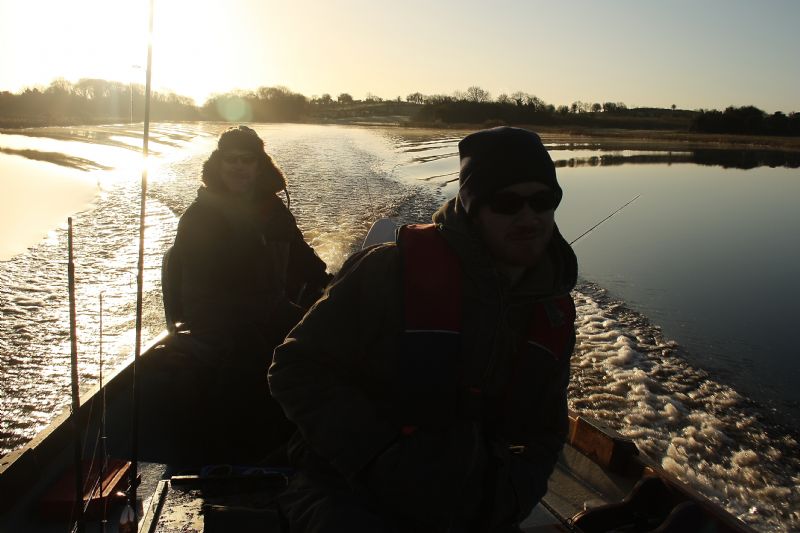 Early morning, heading downstream, River Erne. What awaits us?
Plenty of "jacks" made an appearance quite quickly, brilliant to avoid the possibility of a blank, but having caught and released more than my fair share of these feisty little lads, it doesn't take long before the yearning for a "big mama" rears its ugly head. Still, always nice to keep busy. We anglers are hard to please!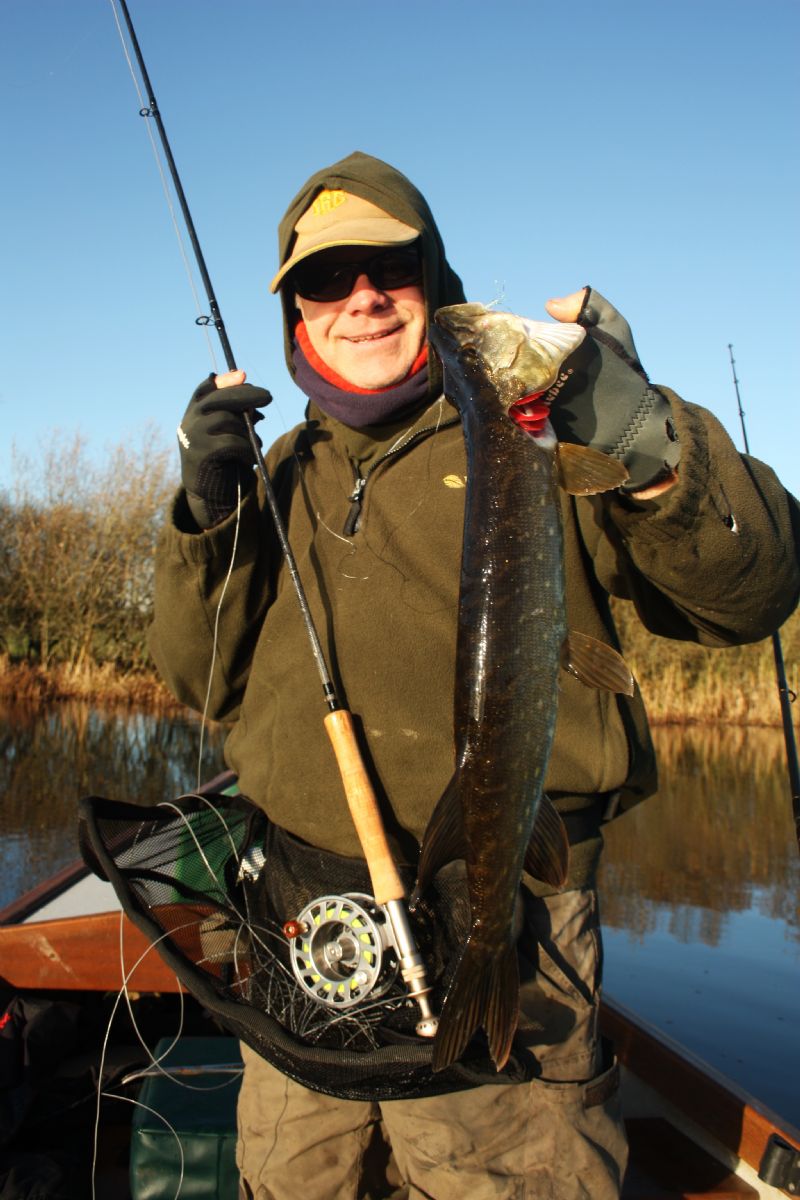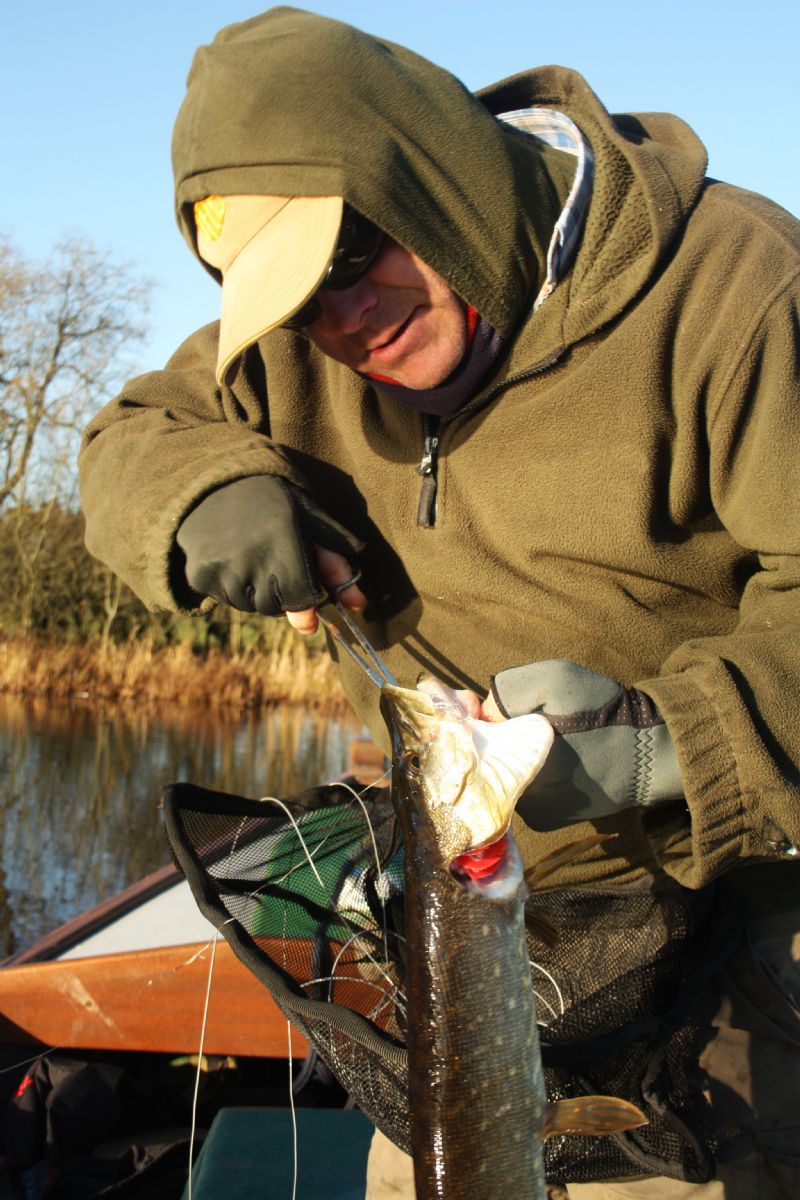 Small "Jacks" but good to avoid a blank
Glenn found the first double of the day, and pristine apart from a couple of tail splits, but the spirited fight experienced by Glenn and witnessed by Andy and I gave us all a shot in the arm, looking for that bonus "lunker". A quiet cast between some isolated reed stems resulted in a huge surface crash. A massive tail broke the calm conditions like the shatter of a mirror, I had found a twenty, but as quick as she had hit me, she was away, stealing my fly into the bargain!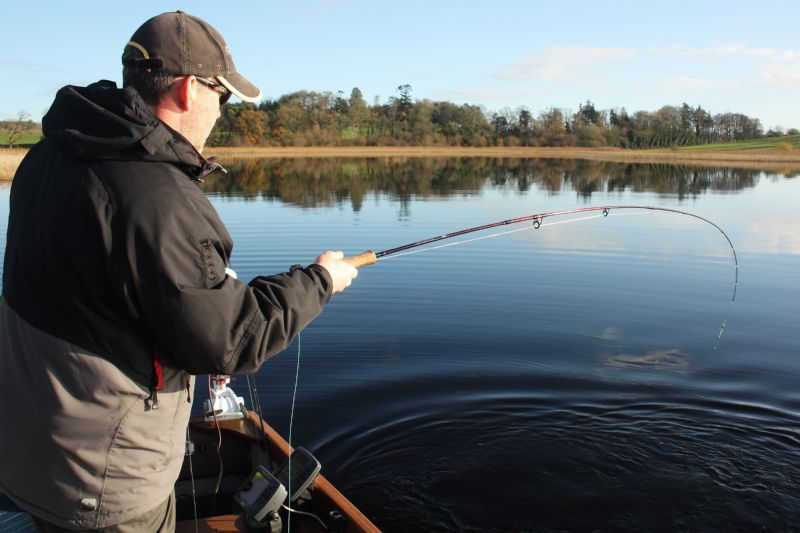 Glenn puts the pressure on a small double
On inspection, my Kevlar based knot-able wire I was trying out for a first time had been bitten clean through, as if with sharp scissors. It wouldn't be fair to name the offending product, but needless to say, it won't see daylight again, after causing the loss of my first potential twenty of 2015!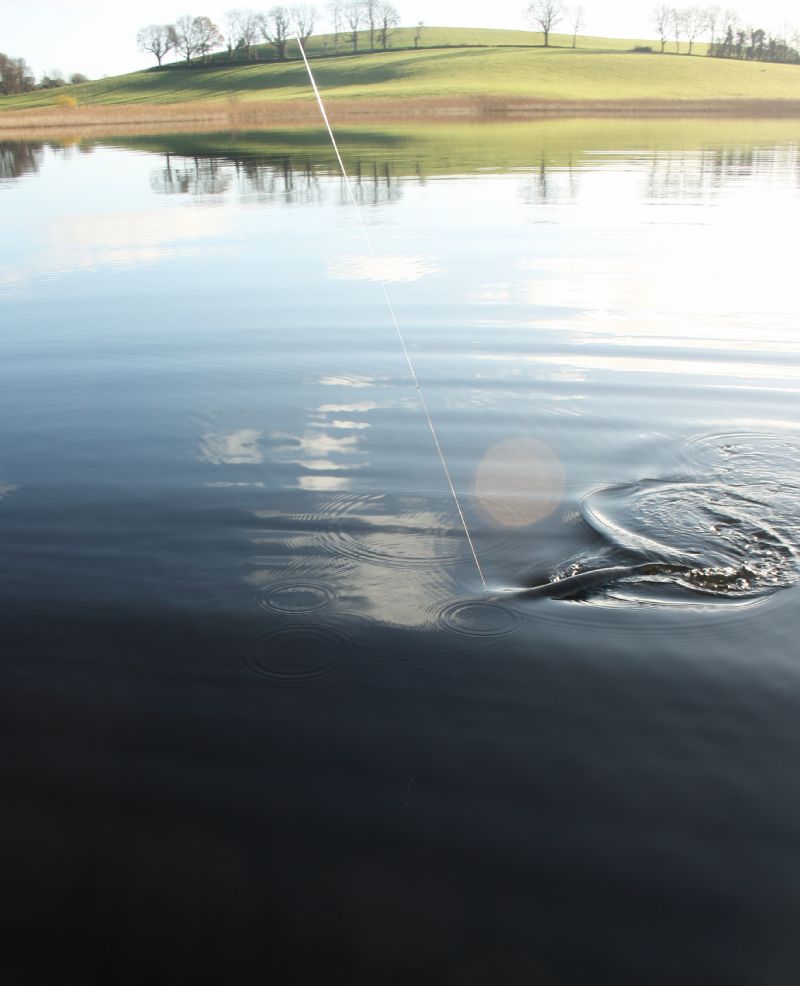 We all know, large doubles do not line up to be caught, and having gone to the effort of tempting and hooking one, it is un-forgivable to lose it through something as needless as that. Difficult to do, but experiences such as that need to be filed in the back of the brain and lessons learnt.
A small double tops the day so far
A short move later in the day, and we had another moment! We had motored to a spot that normally throws up a fish or two, and "spooked" a decent looking female on the surface. No-one managed to catch a good look at her, but the boil and consequent wake was very impressive to say the least. All three of us dropped flies in the general direction and to rub salt into my open wounds (I still hadn't got over my fish loss) Glenn was in again, and it seemed he was attached to another fine fish.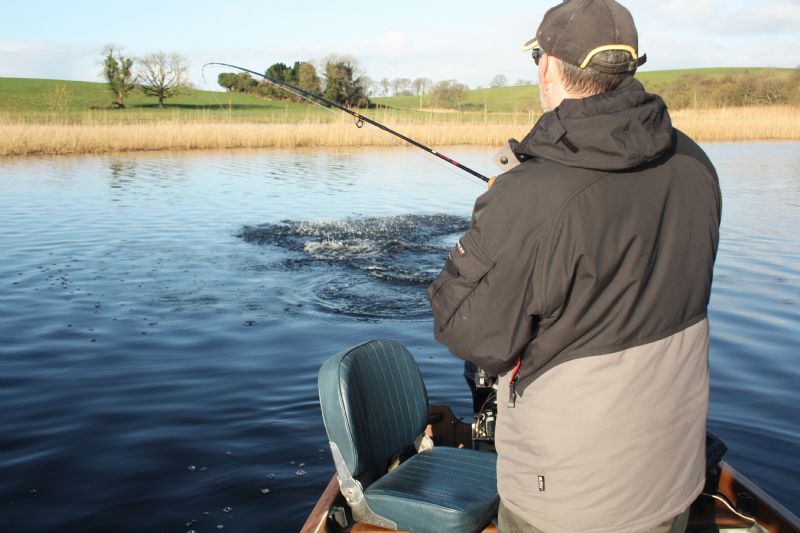 A couple of fishy aerial displays and I could see Glenn really starting to grimace, as each leap from the water was coupled with a furious head shake in a bid to get rid of the lure. All ended well as Andy slipped the net safely under Glenn's capture.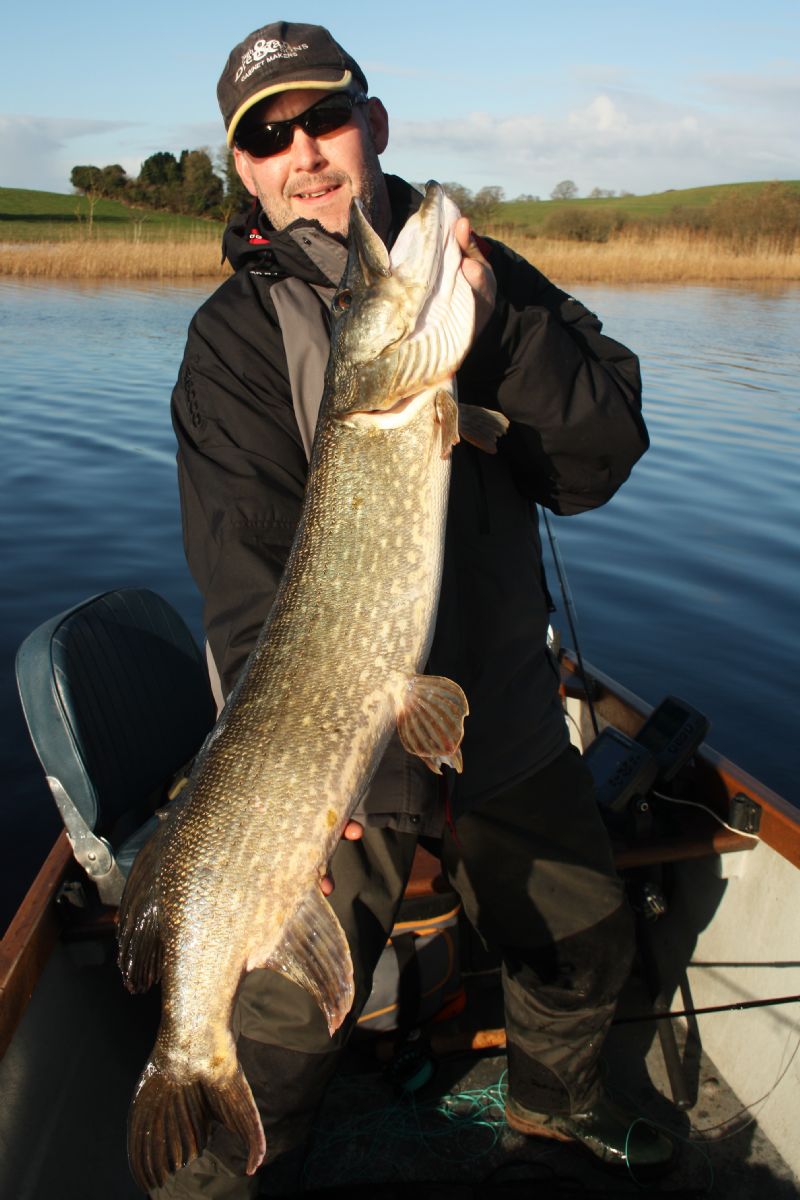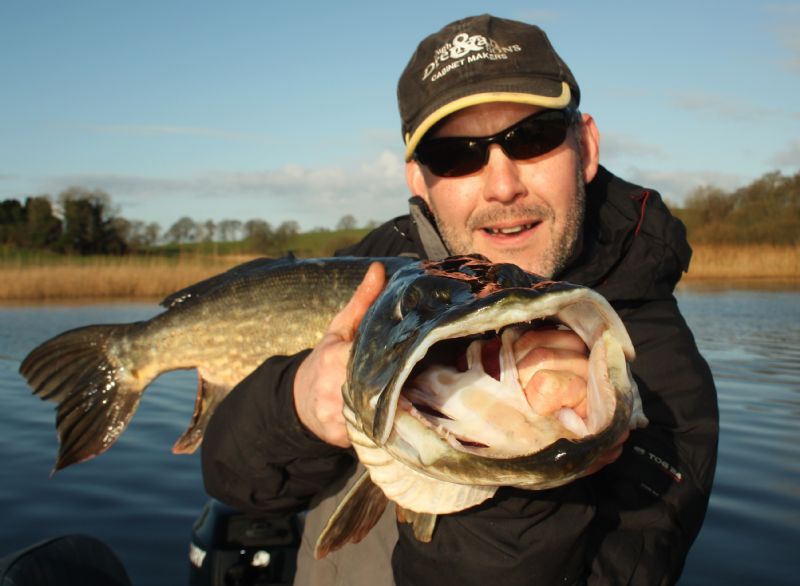 Quickly into the weigh sling, she pushed the scales round to an ounce or so under twenty pounds, a smashing fish on the fly. Finishing the day with a handful more small fellas, the slipway beckoned as the sun nestled softly into the drumlins. Despite my "big fish escapee", what a great day spent chasing Ireland's finest freshwater predator amongst spectacular scenery and good friendships, great to be alive, long may it last.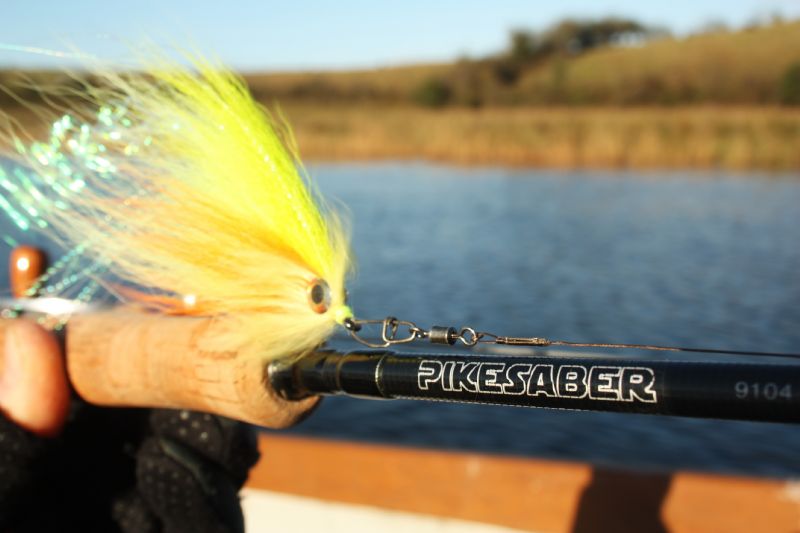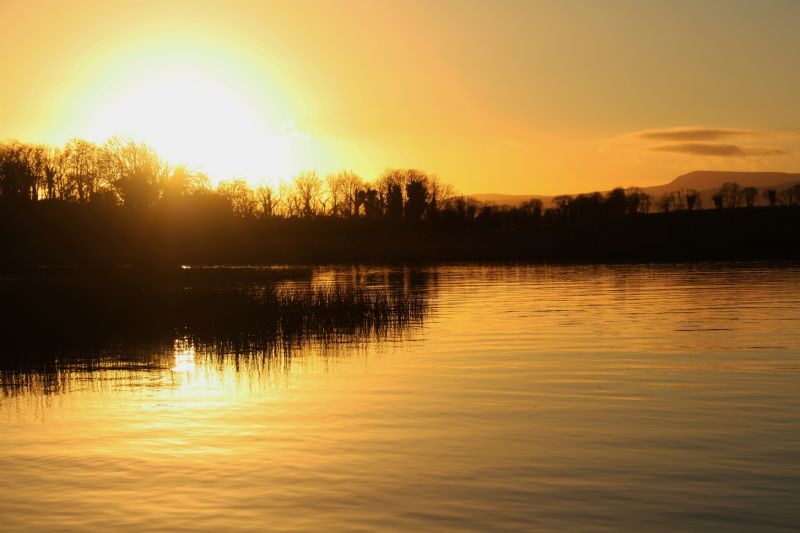 After a great day on the water, there is nothing quite like heading for the slipway under an Irish sunset
Back