Exploris Aquarium, Portaferry, Co.Down
Exploris Aquarium
By donating many interesting captures over the last few years to Exploris, a local public sea-life aquarium, I have become well acquainted with some of the staff, and learnt quite a lot about how they quarantine, feed, and generally over-see the well being of all the species they have on display. This, as you can imagine, is of immense interest to me, and no doubt to all sea anglers that visit the premises. It is not that difficult to identify the anglers among the crowds, with their eyes fixated on how each particular fish moves and feeds in as natural an environment as possible.
My small connection with the aquarium recently led to an intriguing telephone call from its curator, Adrian Tolliday, in which he asked if I knew any suitable charter skippers that could successfully target Bull Huss and rays for their new ray and shark tank that had been completed, and better still, if I would like to join them on a trip to catch these species. Obviously, I jumped at the chance, and new just the right skipper for the job. It is common knowledge locally, that Ballycastle can be an excellent venue for large Huss, and after talking with the top skipper in that area, Sean McKay, he also informed me that Spotted and Cuckoo Rays had been showing up over some of the in-shore sand banks, and the guys from Exploris were interested in these as well.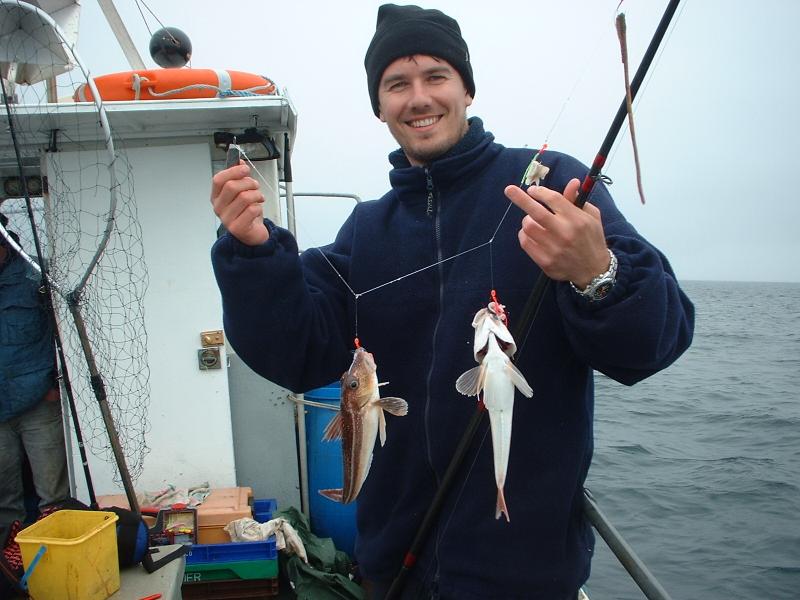 Adrian Tolliday (aquarium curator) is delighted with this brace of Grey Gurnard
It would have been fun to target the fish myself on my own boat, but the large holding tank required, along with pumps, aerators and chillers makes this an impossible task aboard a small pleasure craft, so, with a little bit of organising, I booked a charter trip with Sean. The booking had to coincide with the correct tides, along with the right time of the year. This was difficult, as the perfect time for Huss, isn't always the correct time for rays, so I left this in Sean's capable hands. He came up with a date that suited everyone, and we looked forward to a potentially interesting trip with a difference.

The morning soon arrived, and as we met at the harbour, we all had the opportunity to become acquainted. I had brought along a couple of angling mates, Dave Craig and Phil Oliver with the hope that extra rods will increase our chances, and Adrian had brought Leslie, his chief aquarist who was keen to get back out on a boat again. With the introductions complete, it was time to join Sean aboard the "Lady Linda" along with all the equipment required not only to catch fish, but also to keep them alive and healthy throughout the day.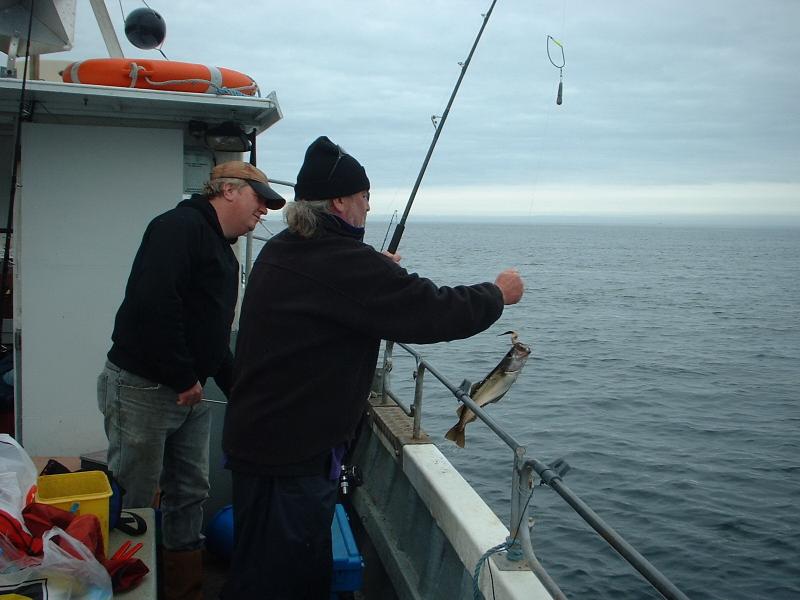 Leslie (chief aquarist) finds a few Pollack
There were no mackerel about so we headed straight to the rough ground mark that Huss prefer, armed with plenty of frozen mackerel, sandeels and calamari squid. We used the spare time to tackle up, and Davy explained some useful tips on how to cope when fishing in such a snaggy terrain. Our traces consisted of one hundred pounds breaking strain nylon as the main trace body, with fifty pounds breaking strain snoods. This allowed the snoods to break if the hooks "snagged" in the kelp weed, making it an easy task to attach another snood rather than replacing the whole trace. One hook is preferable, or a maximum of two, but any more is asking for trouble in such weedy and rocky areas. Lead weights were attached with slightly lighter line known as a rotten bottom, with the same idea, that it is quicker and easier to tie on another weight than to lose the entire rig. Finally, by using Mustad BLN Aberdeen hooks, there is the strength to land a good sized fish but also the chance that it will bend and release should it also become "snagged" up. In these inhospitable conditions, it is necessary to use such tactics to overcome or at least reduce tackle losses.
Davy finds our target species, a double-figure Bull-Huss
With tackle ready, hooks baited, and the boat well anchored, the moment of truth had arrived. Typically, as with almost every rocky mark I have ever fished throughout Ireland, we were soon reeling in dogfish after dogfish, unfortunately the Lesser-spotted variety, and one species that the aquarium had plenty of. This continued throughout the morning, despite many changes in bait and tactics, and apart from a few Pollack, things were not looking too promising; although Sean re-assured us that a change in tide may see an improvement.
The tide began to slacken, and just as I had reached the point of admitting defeat, Dave indicated that he might have a Huss on. With the landing net at the ready, and six pairs of eyes fixed on Dave's rod, the fish eventually broke the surface, and Sean slipped the net under a fine Bull Huss, easily weighing over the double figure mark.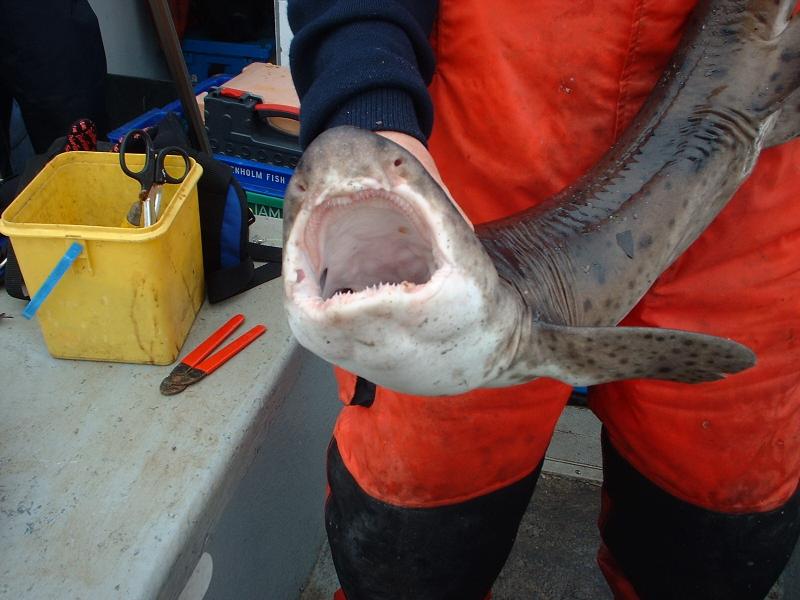 The sharp end!
With one fish in the holding tank, I felt a certain amount of relief it has to be said, but a few more were needed to make the trip cost effective. Leslie hooked the next fish, but as is often the case with Huss, it was only holding on to the bait and shook the hook as it neared the surface. Dave brought a second Huss to the surface, only to watch it comically spit the bait back at us and casually cruise back to the depths before we could net it. I suppose this is a better alternative to having a fine fish deep hooked. Leslie landed his second Bull Huss of around five pounds which made it safely into the holding tank. The fish eventually went off the feed and it was time for a move.

As far as Adrian, Phil and I were concerned, all we managed to catch were countless lesser-spotted dogs, but that, as they say is the beauty of angling. I did however manage to add one more species to the tank. I landed a large, weed-covered rock covered in all sorts of "beasties" and Adrian was delighted to find a squat lobster among them. At an inch long, it must be my smallest ever catch of the day.
Our next move was to anchor over an off-shore sand bank and target rays, and the journey to the mark gave us just enough time to switch traces. These were similar to the Huss rigs but three hooks could be used below a boom as the seabed was reasonably clean and "snag free". To be fair to Sean, he warned us that it was still a little early in the season for rays, and many of the species found in the north were running four to six weeks behind the rest of Ireland. We persisted for the rest of the afternoon without success. Although the rays refused to show, we occupied our time catching quite a few grey gurnard for the aquariums "Causeway" tank before deciding it was time to head back to the harbour and transfer the catch to the transportation tank.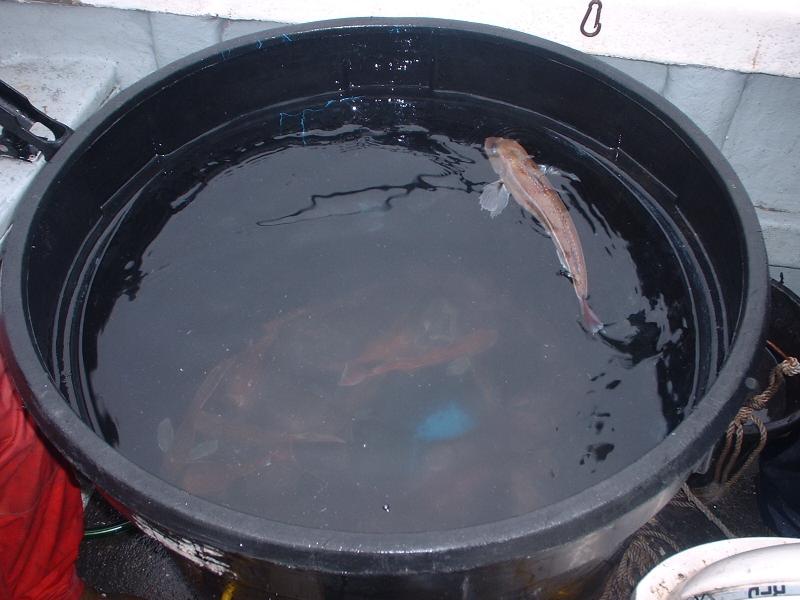 Temporary holding tank on the charter boat
The transportation went smoothly and within two hours, the fish were swimming contentedly in the quarantine tanks, where they would stay for several weeks before being introduced to the display tanks.

The disappointment of failing to catch some rays led us to book a return visit to Ballycastle and what a difference a few weeks and a rise in water temperature can make. The mackerel were now present in large numbers and gave us a steady supply of fresh bait. Again, the ever-present Lesser-spotted doggies were a nightmare, but enough rays showed to make the day extremely enjoyable, and we ended the session with four beautifully marked Cuckoo Rays and three Spotted Rays. Exploris were delighted with the result and the rays were safely transferred to the quarantine tanks. They will make a superb feature in the new display tank.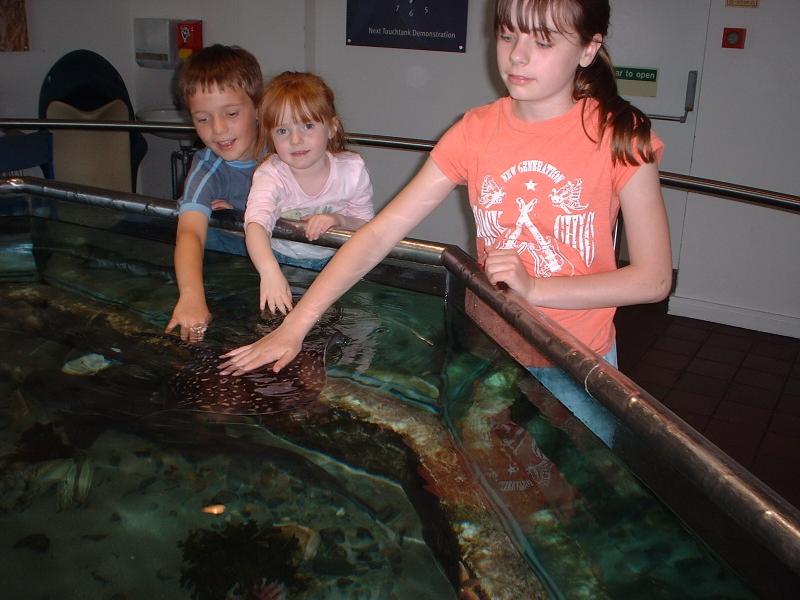 Exploris "touch-tank" is a fabulous education for children of all ages
Some may argue the merits of holding wild fish in tanks and to some extent, I would agree as wild fish, similar to all creatures, belong in the wild. But the learning and understanding that is passed on to younger generations through these public aquariums regarding conservation of our native species and protection of the environment can only be a good thing. Also, with the heavy commercial pressure these fish are subject to in their natural environment, these few fish may survive a great deal longer than would otherwise be expected.
ABOUT EXPLORIS
Exploris, the public sea-life aquarium is situated in Portaferry, on the shores of Strangford Lough on the Ards Peninsula. It first opened in 1987 and due to its enormous popularity; it was extended and re-opened in 1994. The display tanks are designed to re-create the diverse range of under-water communities present in the Lough, and it is believed that Strangford contains at least three-quarters of the species found around the Irish coast. Since 1989, the aquarium has been involved in the rehabilitation of seals and has a new purpose built sanctuary with state of the art facilities designed to look after sick or abandoned seals from rescue through to release.

Whether you are a sea angler or not, I can recommend a visit to Exploris, especially at feeding times or during the talk around the "touch tank", where youngsters and adults alike get a chance to hold a starfish or stroke a Thornback Ray. For further information, give the aquarium a call, or simply visit the website.
Telephone 02842728062
Website www.exploris.org.uk
Back