Fat-Head Killers
Abu jerk-baits, "fat head killers"
Abu Garcia Fat Head Killer Jerkbait Pike Lure Black Stripe 57g 150mm
With the recent revival in pike lures, and in particular, jerk-baits, I was eager to try out some of the new range on offer from the Abu stable.
Following on from the successful Hi-Lo range are the aptly named "fat head killers".
Abu hired the talents of Swede, Anders Forsberg to design and develop a new jerk bait that may possibly become yet another classic for your lure box.
These are a suspending lure, and with the addition of a wire leader, it allows the jerk-bait to descend slowly, ideal for shallow water.
They come in two sizes, 25grms and 57 grams, and in a small range of classic colours, namely blue/black, yellow tiger, red belly, black stripe, green dot, brown dot and finally, rainbow.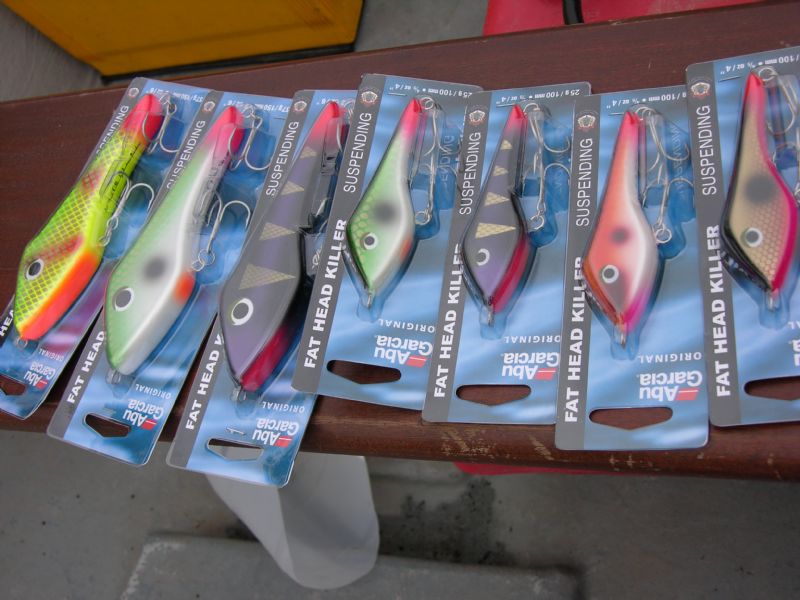 Great range of colour schemes
Glenn Drennan and I recently had the opportunity to test them out in a mid-Ireland lough, guided by Kevin Lyons of Melview Lodge. Unfortunately, this was during what can only be described as monsoon conditions. The incessant rain had caused flooded conditions through-out the country, and locating fishable water, never mind feeding pike has been something of a nightmare! No better test for a new lure I suppose.
Abu Garcia Fat Head Killer Jerkbait Rainbow 57g 150mm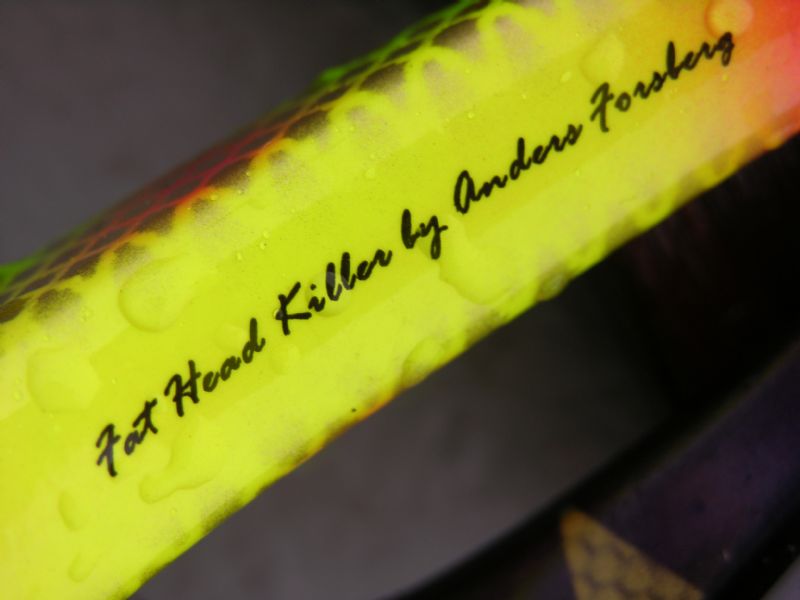 To compliment the lures, I chose the Black Max rod and reel combo. This is a superb, light weight outfit that cast both sizes of lure exceptionally well. As with most jerk-baits, the action is created by speed of retrieval and tip movement. The perfectly balanced Black max combo easily induced the classic side to side motion that stimulates pike attacks.
Abu Garcia Fat Head Killer Jerkbait Brown Dot 57g 150mm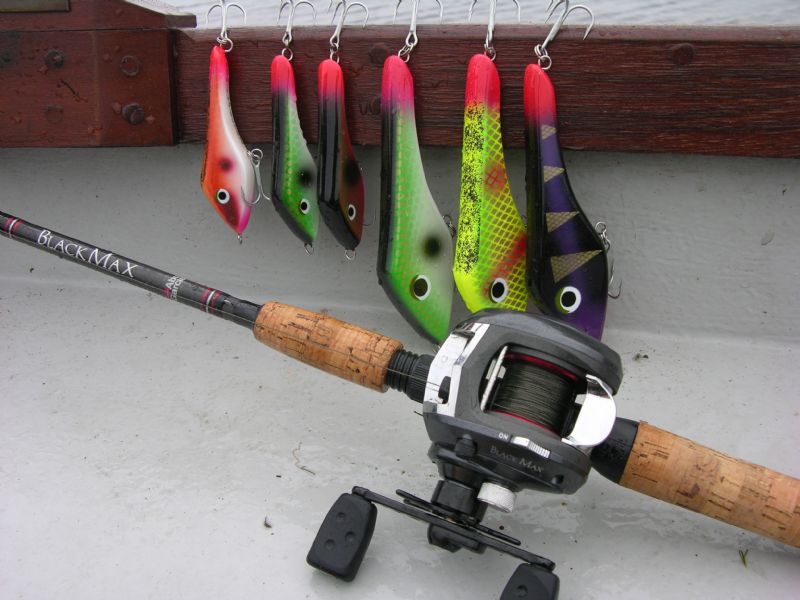 The Black-Max combo is superb value for money.
With the lures stripped from their packaging and hung on the boat's gunnels, we worked our way through the colour and size options, and it wasn't long before Glenn struck into the first fish of the day. The lures worked extremely well, and although no "lunkers" came to the boat on this occasion, plenty of jacks were more than willing to try out the new action and colour schemes.
Abu Garcia Fat Head Killer Jerkbait Red Belly 57g 150mm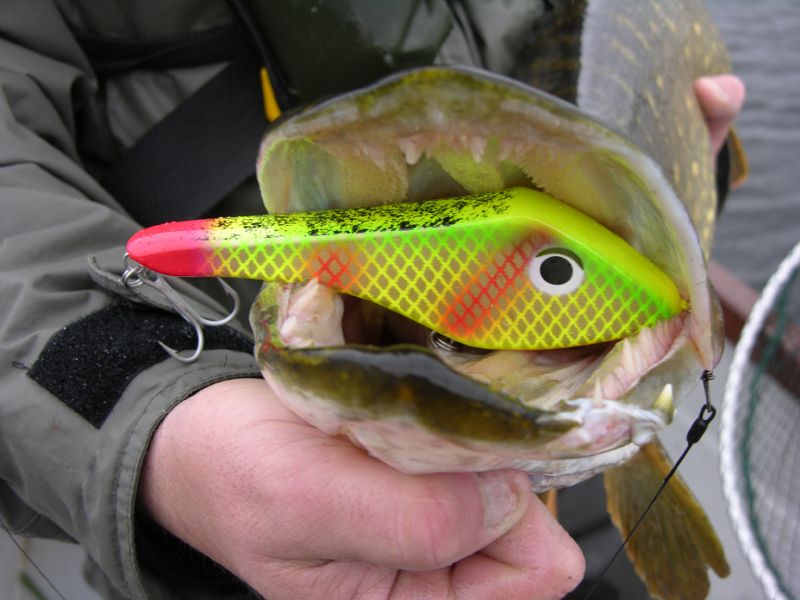 Longford Pike like the Fat-Head Killers
This was pretty good going under the circumstances. It pains me to say that Glenn lifted the biggest fish of the session. With the relentless downpours, it was probably an omen that it had been tempted on the 57 gram Rainbow design! At 12lbs, it put up a feisty battle, but was easily subdued with the Black Max rod and reel combo.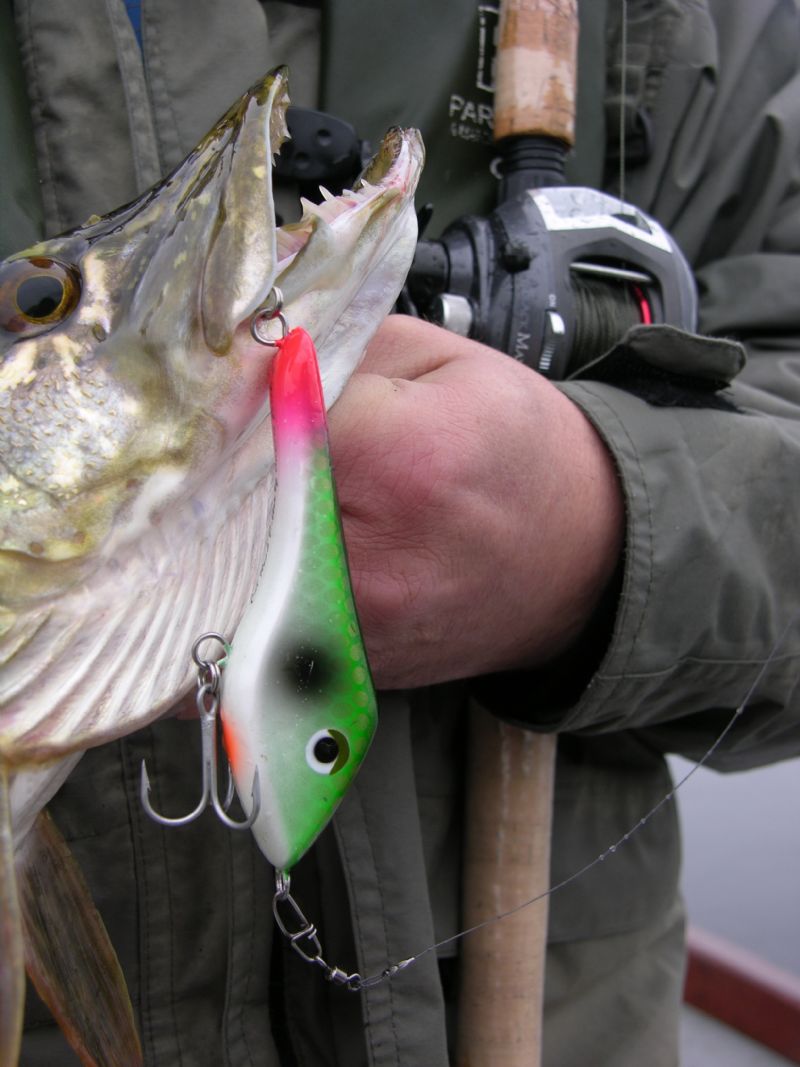 Next time you pay a visit to your local tackle dealer, check out the "fat head killers", or ask him to order a selection. They will be a useful addition to the tackle box, and while you are at it, take a look at the Black Max combo, a superb bait-casting outfit at a very friendly price. Many thanks to Kevin Lyons for putting us over fish, yet again.
For more details and information.... Abu Garcia Fat Head Killer Jerkbait Green Dot 57g 150mm
Fat head Killer jerk baits.
57 grams @ £5.99 or euro 7.36
25 grams @ £4.99 or euro 6.10
Black Max rod and reel combo outfit £73 or euro 89.
Available from all good tackle shops
Trade enquiries: Pure Fishing
Tel: 00 44 (0) 1527 405410
Email; contactus-uk.purefishing.com
Back