Fenit re-visited
Fenit re-visited
Almost one month to the day, I had to have a return visit back down to Fenit.
The venue and the fish species therein had worked their way under my skin and nothing would do until I had one more shot at glory for the year.
Back home my brain had melted and the tranquillity of Tralee called out, and I soon found myself standing at the slipway I had left behind four weeks ago. I could neither afford the time or money spent to get here, but here I stood despite it and couldn't wait to get afloat. Every human needs a way to stave off the madness, and fishing happens to be my tonic.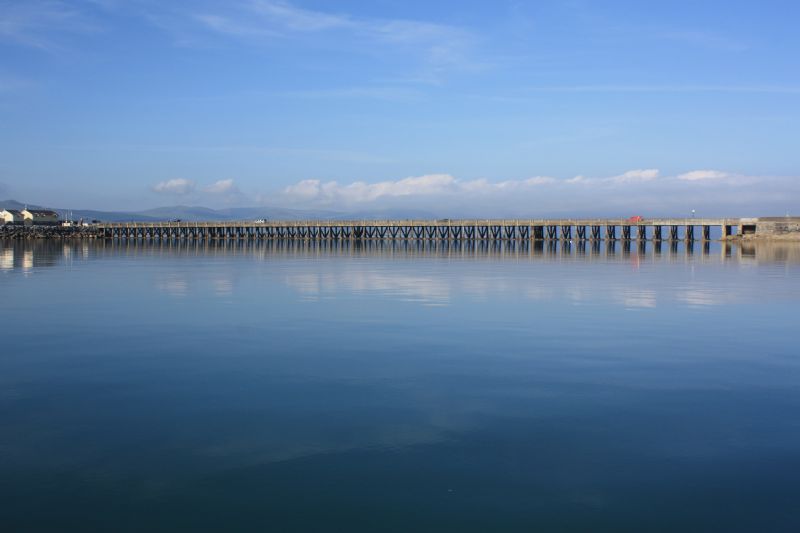 The Causeway out to the island. Good fishing can be had fishing from this bridge on either side into the flow
I arranged to pick up peeler crab in Dublin on the way through, but was running very late. Dave Tilly was kind enough to open up the shop after hours, and I had my fresh bait for the couple of days ahead. With no fish baits, I was relying on the extra four weeks grace and consequent rise in temperature since my last trip to bring some fresh Mackerel into the area.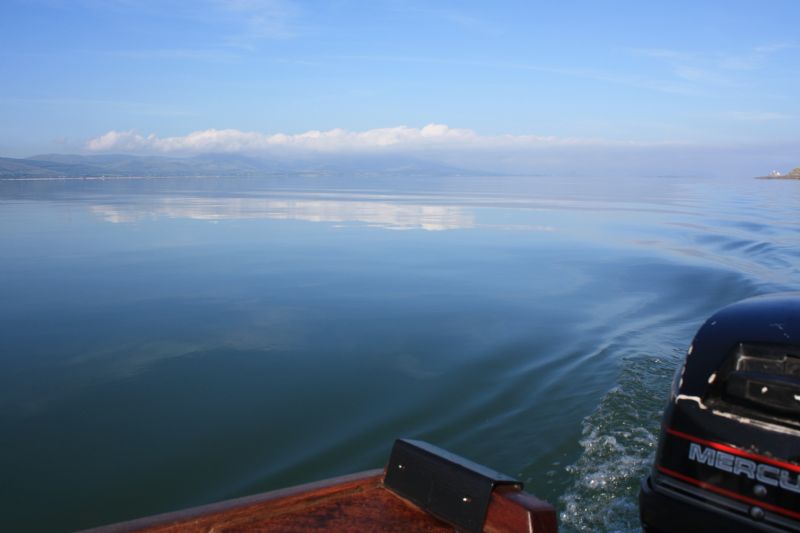 Ideal conditions to be afloat at sea
After a decent night's sleep, the following morning greeted me with sunshine and zero wind speed. A stunning vista of golden beaches, grassy plains and low-lying mountains nestled in a back-drop of corn-flower blue skies. I had made the right decision, a chance to relax un-wind and soak up the nature that County Kerry has on offer.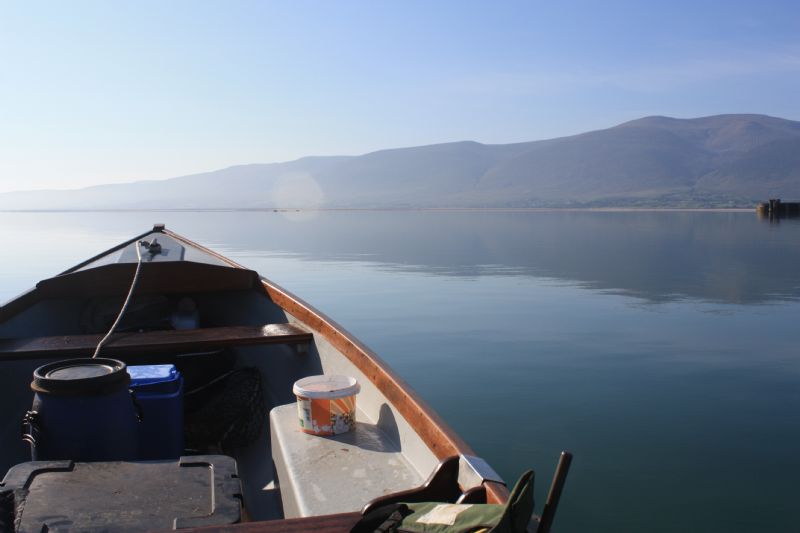 Once again, I had decided to tow the McA Kingfisher down with me. Primarily a freshwater Lough boat, it performed perfectly on the sheltered waters of Tralee Bay as long as the weather remained settled. It was a much better option than towing the Red Bay Fast Fisher that distance! And as I would be anchored close to shore, I could foresee no major difficulties arising. Having said that, it is always prudent to keep an eye on the weather and stay on the side of safety!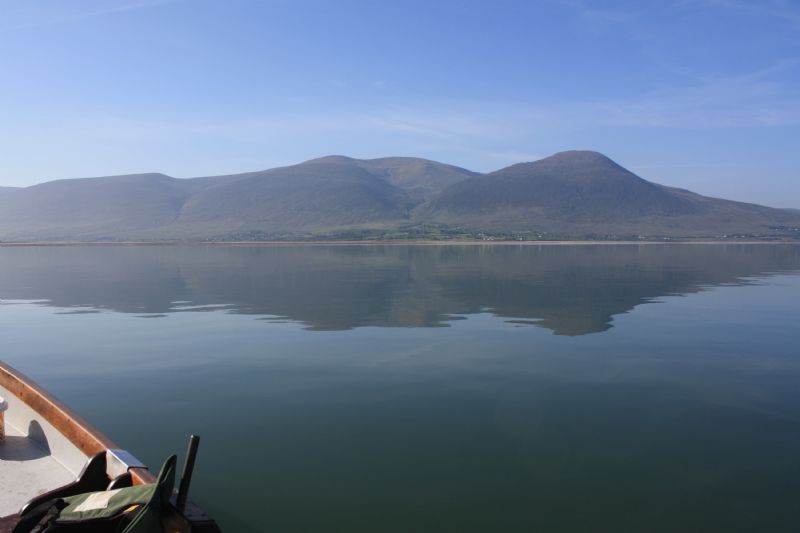 Amazing scenery to fish amongst!
As current tidal stages were not quite suitable, I took this opportunity to venture out of the bay in search of the best of all bait, fresh Mackerel. I had time on my hands this morning, and after some searching, breathed a sigh of relief as the rod tip jiggled to the re-assuring dance of a string of Mackerel on the trace. Cooler box and ice-packs at the ready, a dozen drops gave enough fresh bait for the two days ahead, now I could relax in earnest.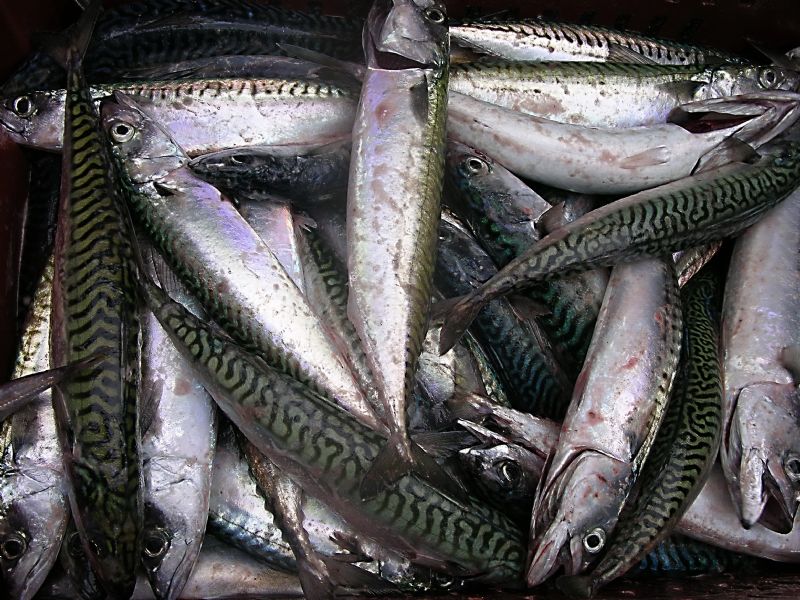 Mackerel. The life blood of our seas. Commercial sector are playing a dangerous game raising the catch quota!
Anchoring on the marks that we had found a month ago, my expectations were high. Perfect weather conditions and fresh bait, all I needed now to complete the recipe was willing fish! After my previous learning session at this venue, I was now equipped with a pair of up-tide rods teamed with large spinning reels. Down-tide methods works fine it has to be said, but I wanted the option of casting away from the boat if I needed to search for fish.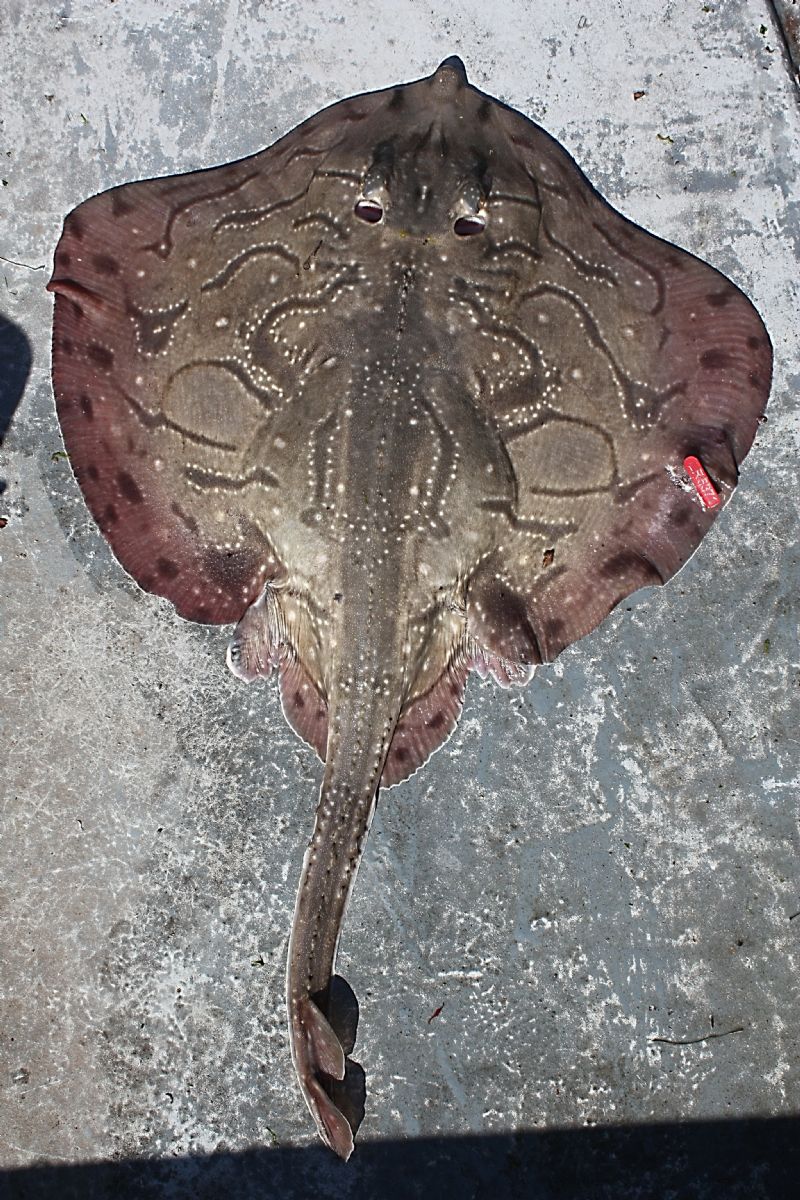 Female Undulate Ray to the left, male with "claspers" on the right
Within a few minutes, the rod-tip thumped and I was into a ray. A good scrap but as my memory served me from past experience, nothing like the fight of a "stinger". A perfect little female Undulate Ray came to the landing net, and with tagging equipment ready and waiting, she soon had a new identity, LR5371, hope to see you again in a few years' time, please avoid the tangle nets!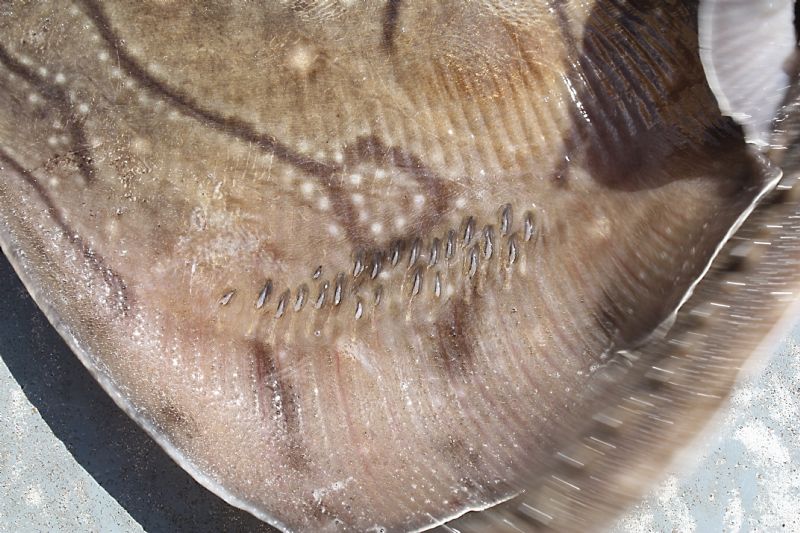 Sharp spines are found on many male species of rays, here, on the wing extremities
LR5371 was soon followed by another female and then a male, all quickly tagged and released. Like many examples of the ray and skate families, the females are normally quiet, almost gentle when landed, the males more aggressive. The males also have reasonably sharp thorns towards the wing extremities and cheeks, so be careful when un-hooking.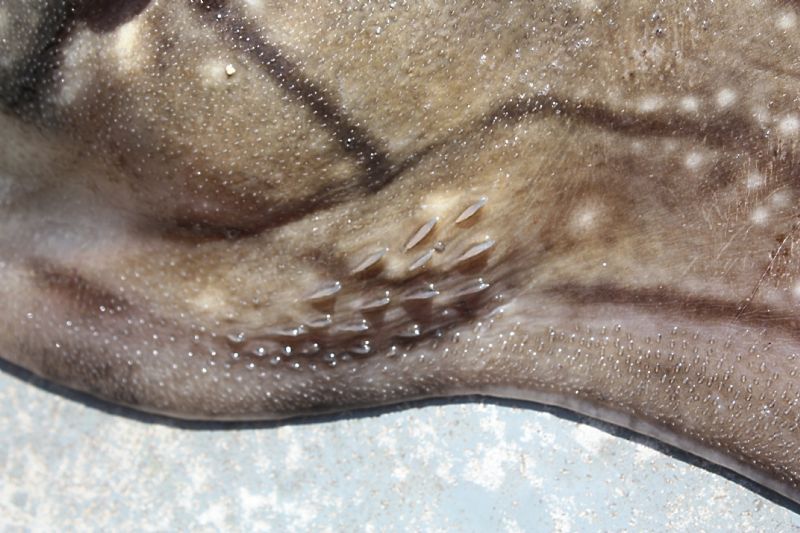 And again, on the cheeks. Not dangerous, but can be quite sharp, handle with care
All too soon, the tide had run its course, and the feeding spell was over. This venue, as with many, seems to be particularly tidal specific when it comes to fish feeding. I suspect that in reality, they simply move on, hunting as they go. These are the angling secrets that need to be un-locked, and only time and effort on the water can work that out!
"Skip", ever vigilant on fish patrol
On this occasion I was here to relax, and with that, it was a gentle cruise back to the slipway, some home-cooked grub and to crash out in the bivvy, hopefully manage some shut-eye and conserve my energy for the next session, a mid-night sortie in search of the other sought after species, a Stingray!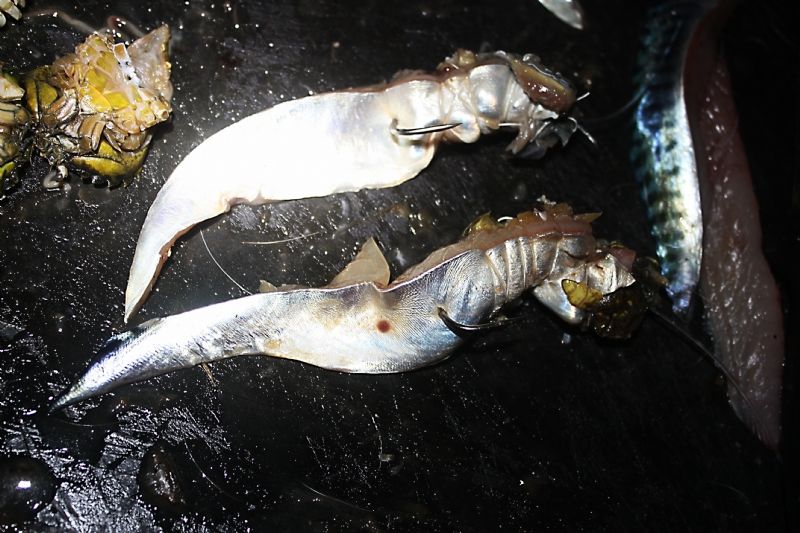 Peeler Crab and fresh Mackerel cocktails were hard to beat
Unfortunately sleep did not come easy. The down-side of beautiful weather is the hordes of bathers and teenagers, families and jet skis, caravans and campers that come with it. The isolated beauty spot became crammed with sun-seekers and my idyllic camp site was now packed with noise and laughter, and rightly so. Why should I be the only one to enjoy this wonderful place!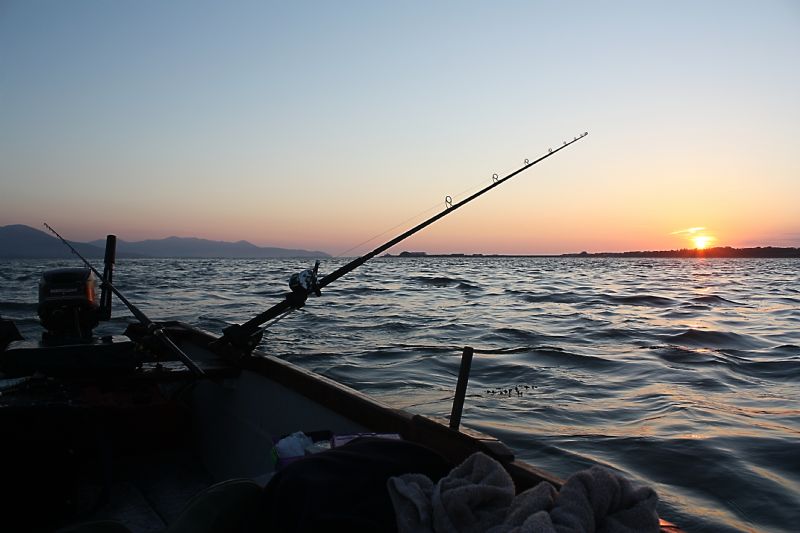 Sun setting over Fenit Harbour
I tolerated the laughs and screams, and the power boats and jet-ski engines and remained zipped up in the bivvy. Thankfully by 9pm the crowd dwindled, the racket abated and as if by magic, just me and my dog Skip were once again on our own. Time for a quick cup of tea, a check over the boat to make sure I had everything I needed for a short night venture, and back afloat.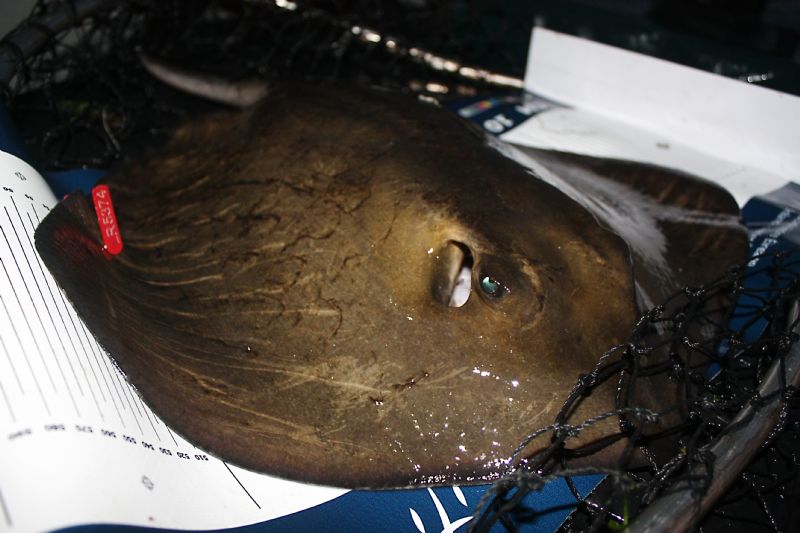 A bemused looking female Stingray, tagged and about to be released
Once anchored, a small breeze began to put a chop on the water. The latest forecast had warned that strong winds were on their way, but my evening session should be safe enough. As the sun set over Fenit Harbour, the up-tider buckled with line ripping from the pre-set clutch. This time I knew for sure a "stinger" had taken the bait. The fight was fabulous, but I knew it was only a small fish; at least it was a start. At eleven pounds, this small female had given a great account of herself. She was treated as always with great care, given a small rota tag in the wing-tip and gently released.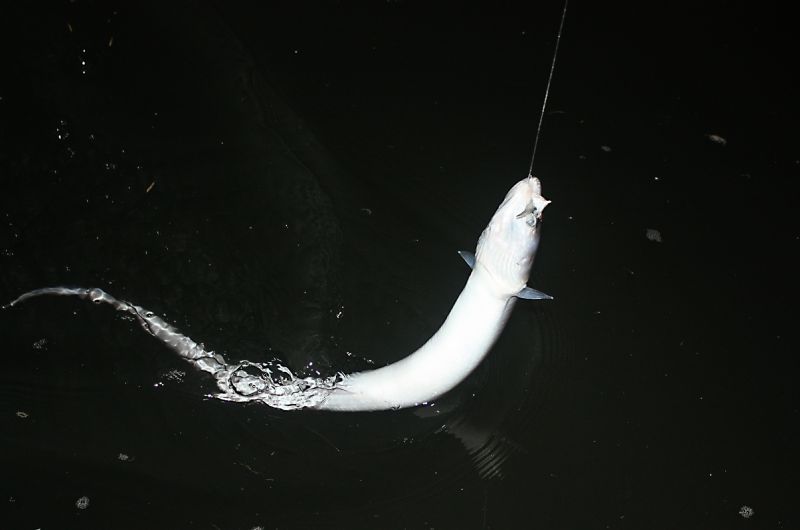 A surprise Conger showed up
A small Undulate Ray followed, and then a screaming run had my heart pounding over-time. Could this be the specimen I sought, a Stingray over thirty pounds? Setting the hooks sent the line running at tremendous speed off the stern, running from starboard to port and back in seconds. This had to be the winner, with the fish using the powerful tidal flow to its advantage. Eventually it began to tire and broke the surface beside the waiting landing net which left me gob-smacked to say the least. My vision of a hefty Stingray was shattered when a large Smooth hound loomed out of the darkness and into the beam of the head-light.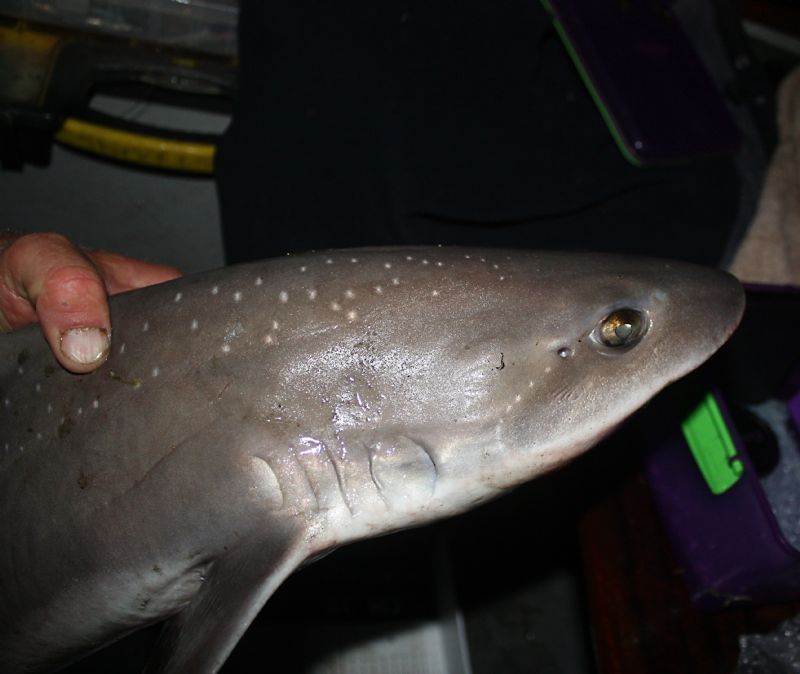 Does this species even exist here? I had never heard of Smoothies taken this far down the coast, but of course anything is possible in the world of salt-water angling. What a cracking fight, and she hadn't given up yet. Once on the deck I didn't expect the power of this fish as she "rattled" her way up the length of the boat, with me in pursuit! Eventually in the weigh sling she pushed the needle passed the thirteen pound mark, measuring 112 cms on the measure mat. At over twice the specimen weight and a new "smoothie" personal best for me I was as much surprised as I was delighted.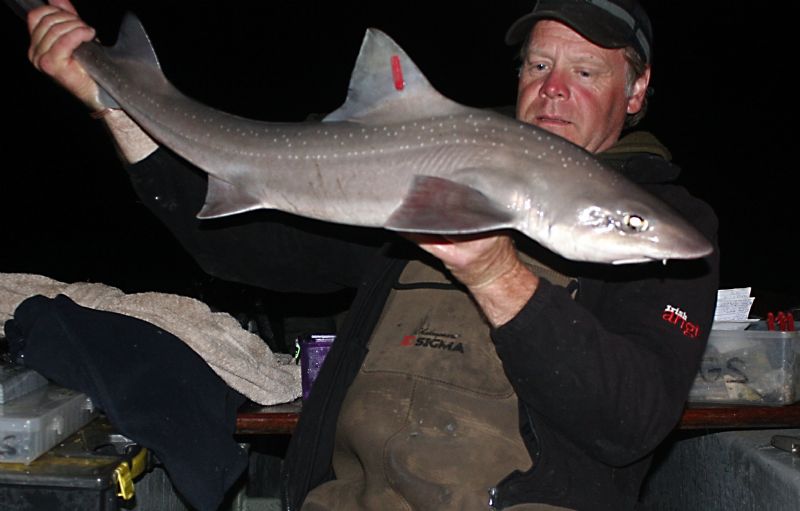 I can't complain at a personal best Smooth Hound!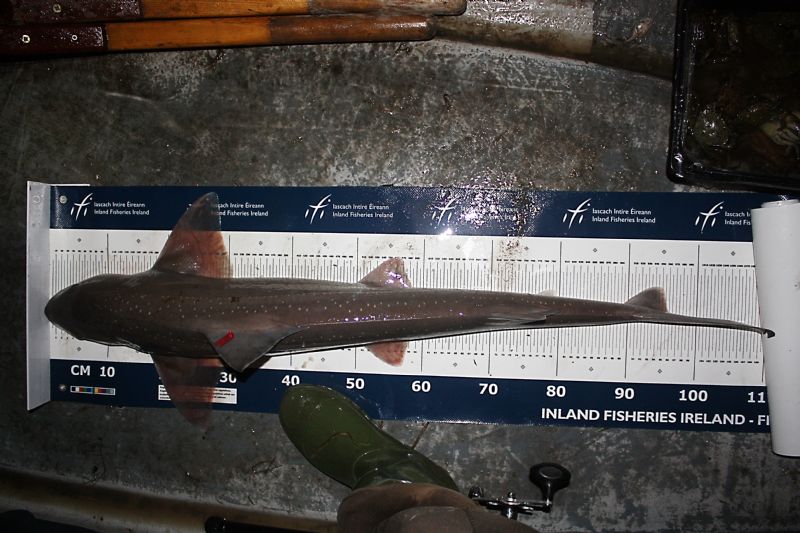 Continuing through the session, I tagged another Undulate Ray and four more Stingray before once again, the feeding spell had ceased. Interestingly, one Undulate and one Stingray had rota tags that I had given them a month previous; these fish were healthy and still resident in the same area. As it was currently wind with tide, the sea state was reasonably flat, but I didn't wish to be out at night when the tide turned and lifted, so a gentle steam to shore, a cup of tea and into the carp bed for the night.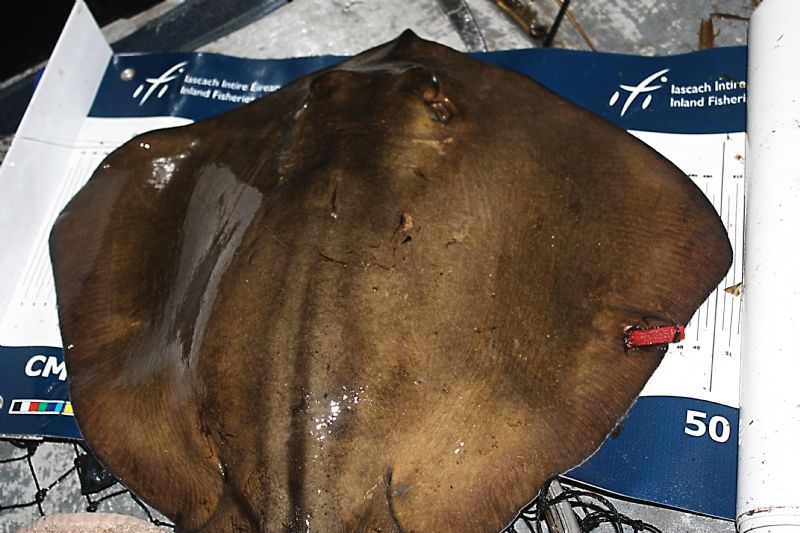 A Stingray re-capture that I had tagged a month ago
The following morning I was met with a strong breeze as I stuck my head out of the bivvy. The tide rip down the middle of the bay was topped with white horses, not the sort of day to venture out in a lake boat I'm afraid. I hung about long enough for the tide to turn and sea to flatten a little and ventured out once more. Managing to find another Undulate and another Stingray before deciding that enough was enough, sea state was becoming just too risky and time to head for the slipway once again.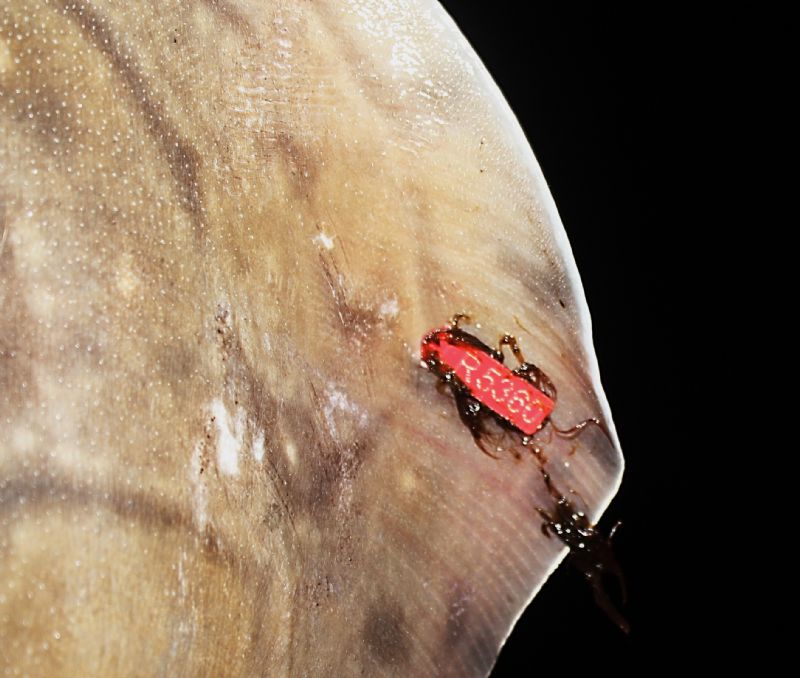 And the same again, with an Undulate Ray
It was a short break, but much needed and the calming effects of County Kerry certainly helped get my head on straight again! By the end of the sessions, a quick tally showed I had tagged a further nine Undulate Rays, six Stingray and a bonus specimen Smooth Hound to go with the eighteen fish tagged last trip. Hopefully all this data will serve in a bid to protect our in-shore waters, come on IFI and the powers that be, sooner rather than later please!
Recommended Tackle
Check out these deals-
Rods
Penn Rampage Uptide 9ft 6"
Abu Garcia Rocket Uptide 982 Rod (2 Piece) - Black, 9.8 ft/140 - 280 g
Shakespeare Agility Uptide 5-10oz Rod - Blue, 9.6 Ft
Abu Garcia Suveran Evo 992 Boat & Uptide Rod - 9.9 ft
Daiwa New D-Boat Fishing Rod 9'6" Uptide
Reels
Penn Battle II 6000 Spinning Reel - Black
Penn Fierce 6000 Spinning Reel-17lb/230yds - Black
Penn Surfblaster 7000 Spinning Reel-30lb - Silver
Penn Pursuit II 6000 Spinning Reels
NEW PENN SPINFISHER SSV 6500 SALTWATER SPINNING FISHING REEL SSV6500 1259876
Back