Finding my mojo!
Finding my mojo!
A few weeks ago I stated on social media that I had lost my fishing mojo!
This symptom is without doubt a combination of many variables. The loss of several top angling marks due to some immigrant fish munchers and law breakers along with numerous bouts of bad luck that simply kept "knocking me down in 2017".
As anglers, we all take a few knocks in search of dream catches, with weather conditions being one of the biggest "hitters". Lack of winter rains damaged my search for Pike early in the year, and erratic water temperatures caused me to miss out on a Perch adventure in spring, but the largest slap in the teeth came from favourite waters that had been systematically "emptied" of stocks through illegal electro-fishing, netting and other forms of fish killing for financial gain.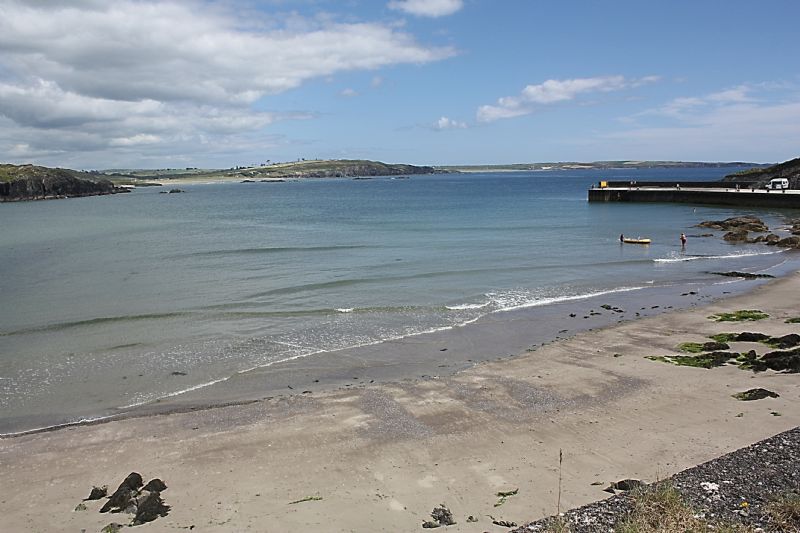 Is it any wonder West Cork calls me back each year?
Lack of will to catch the law-breakers, or lack of budget to protect our fragile fisheries, apathy from the majority of anglers that have seen it all before, who have tried and failed to make a difference, or lack of deterrent, where huge fines implemented or prison sentences could stop the destruction once and for all! Whatever the problems, still the damage to our water-life continues. Anyhow, I have said enough as I am at risk of selling the lot and buying golf clubs, God help me!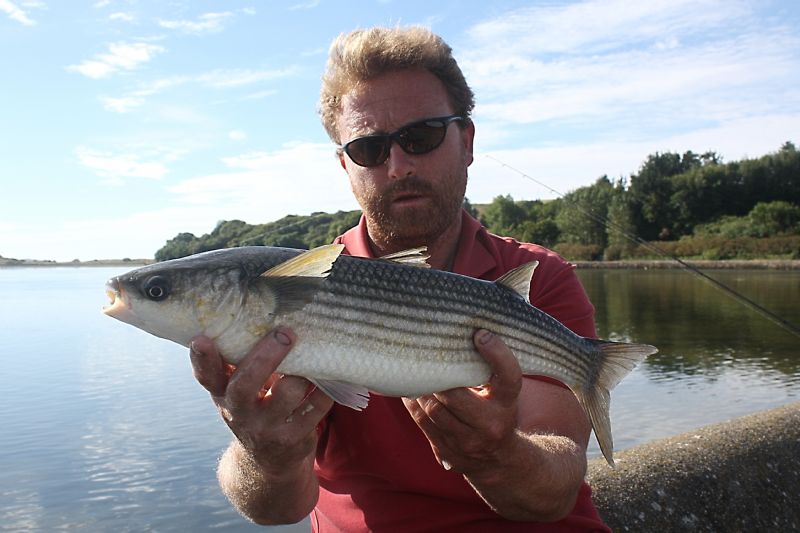 Sid Kennedy, one of the finest Mullet anglers in the country
Renowned angler and friend, Bill Brazier replied to my "diminished mojo" statement and suggested that perhaps I had left it somewhere in County Cork, and should return to seek it out. He was right of course, if it was anywhere, it would be down there in those wilds and estuaries west of the County that I love so much.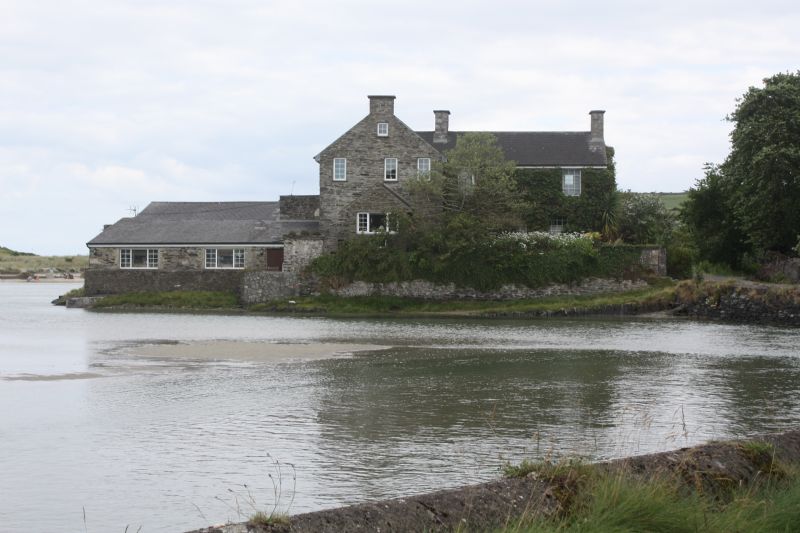 My favourite house in Rosscarbery, the old coast guard residence, hurry up lottery!
Without haste, I organised a trip, and to ensure success, teamed up with my long time angling mate and top specimen hunter Sid Kennedy. We would scour the estuaries in search of wily Mullet and anything else we could tempt, and just possibly, I might bump into my fishing "mojo" I had lost and missed so badly this year.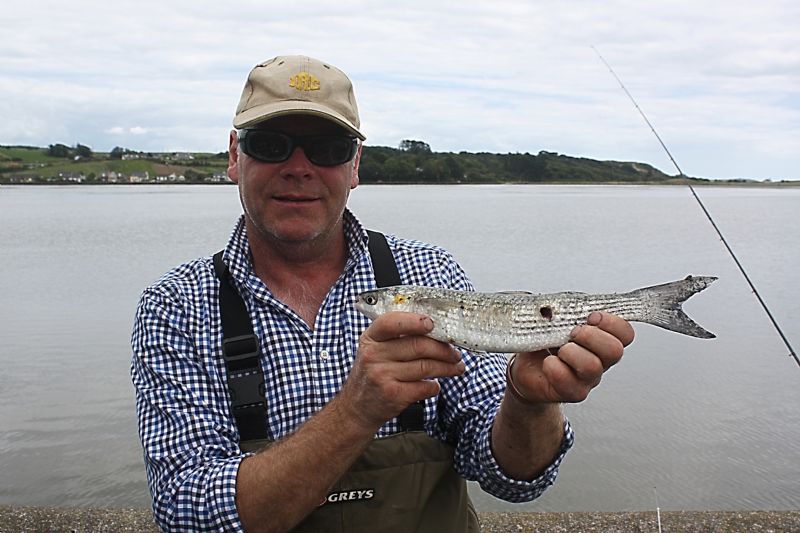 First fish, a Golden-grey Mullet looking a little worse for wear!
It was good to be back, and kitted out to travel light, as I walked the sands and shallows, I could feel that I was on the right track. It wasn't long before we were creeping up on wary shoals and dropping float-fished "maddies" among feeding fish. The explosion of power and the tear of line when a large Mullet senses he has just made a mistake forces a heady mixture of blood and adrenaline through the veins, and once again, all is well with the world. Do other anglers feel these things? I suspect they do.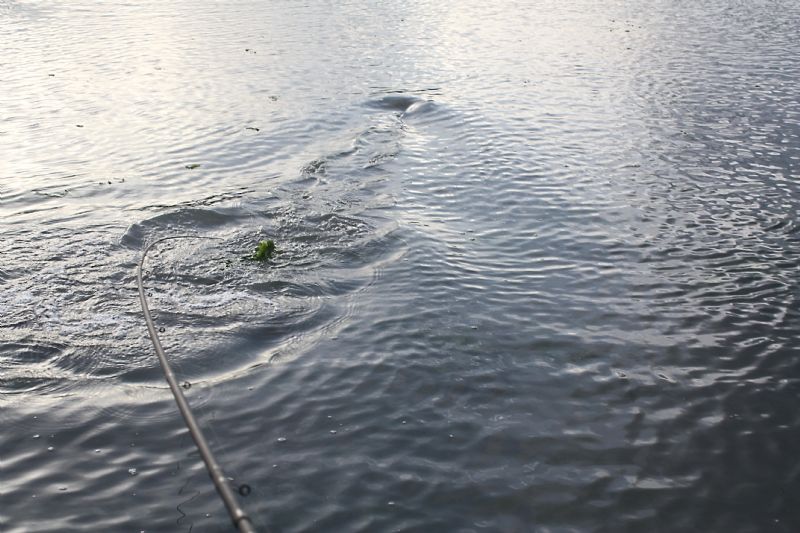 When you connect with a Thick-lipped Mullet, all hell breaks loose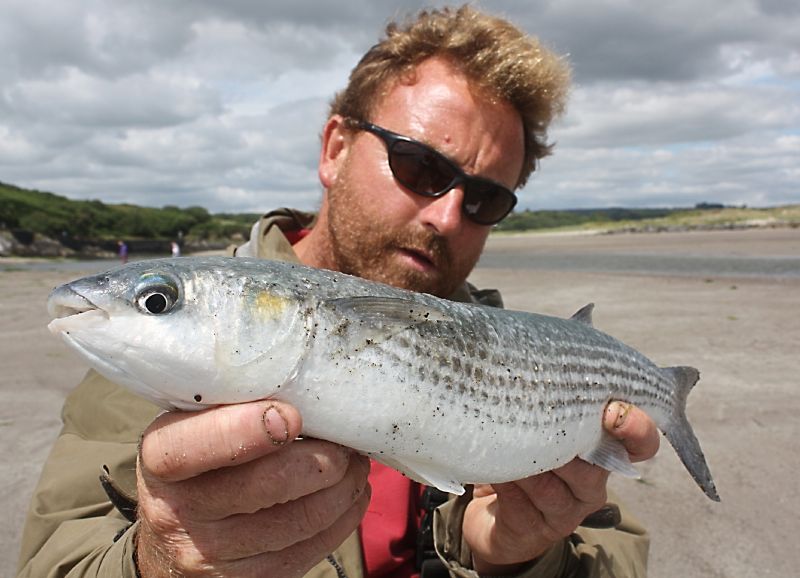 Before packing up, Sid "winkled" out this two-pound specimen Golden Grey!
We worked hard it has to be said, with no fish willing to simply give themselves up, but our determination paid off over the weekend with many fish landed and carefully returned, some breaking the magical specimen barrier. The curse of work forced Sid to leave me to my own devices by Sunday afternoon, and as I could sense my missing "mojo" was close to hand, I continued my quest alone over the next few days.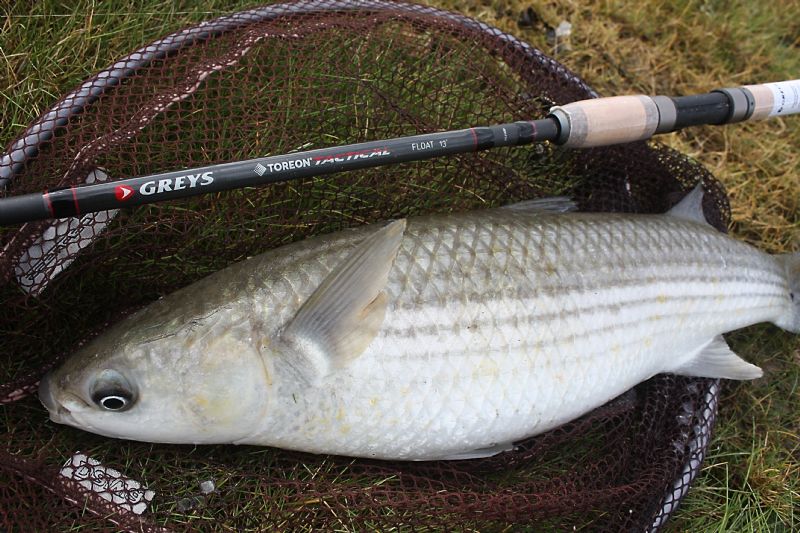 Five pound-plus specimens are fantastic sport on balanced tackle
It can be difficult fishing alone, as most anglers, including myself, enjoy sharing the experience with a like-minded soul, working out plans and ideas, landing fine fish, handy photography and simply good company, but I couldn't leave this wonderful part of Ireland until my angling mind and soul were once again settled.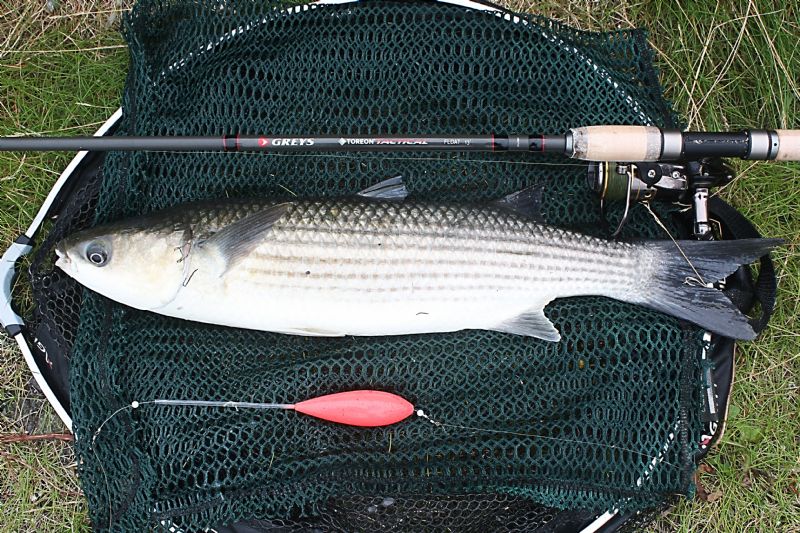 Bombarda floats can be useful when targeting fish at distance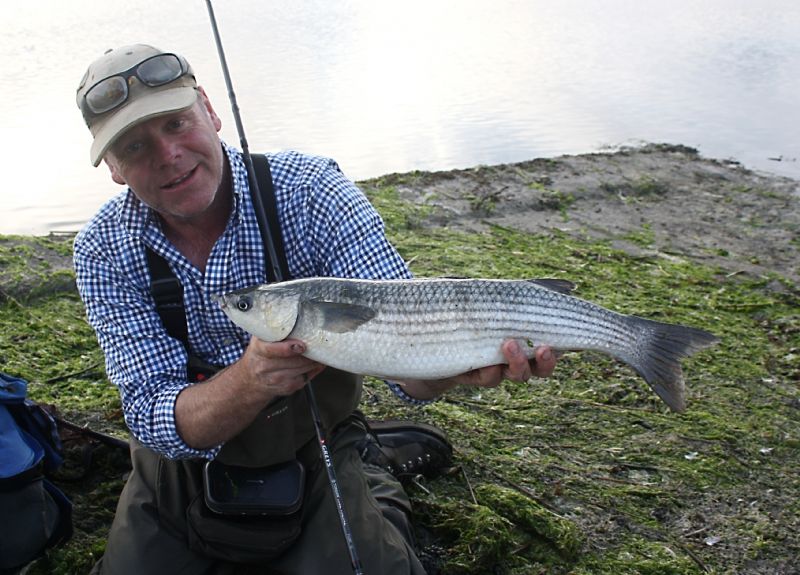 Another five-pound plus put the Greys Toreon through its paces!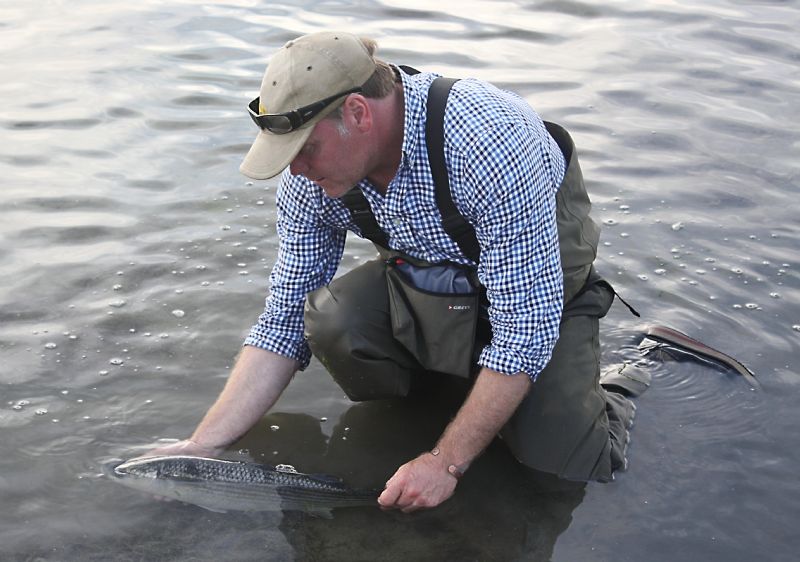 Always ensure the catch is returned carefully and fully recovered
With the fine weather and warm evenings, it seemed logical to fish on into darkness, as I followed a large shoal of Mullet through the shallows. This can be really exciting, with every foot-step put forward in deliberate slow motion, similar to a Heron stalking its prey. At times like this your heart-beat is audible as you approach the un-wary quarry. An overcast and gentle retrieve, and in again! Six-pound line line ripping off the reel against the pre-set drag but this feels different. A Fabulous fight and all is revealed. My Grey Mullet turns out to be a five-pound Bass taken on a match rod, light line and a size ten hook! Great stuff.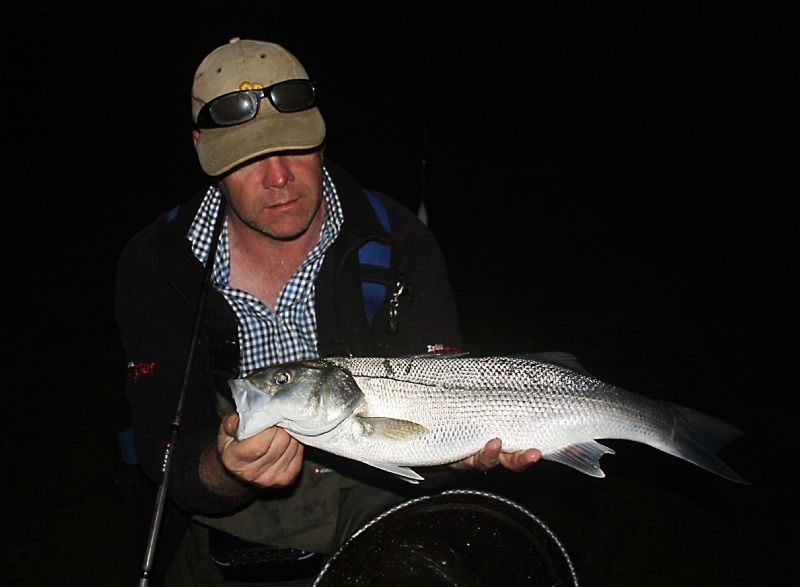 A bonus Bass on light gear, caught and quickly released
Persevering with the hard hitting Thick-lipped Grey Mullet for another day or so, I eventually had my fill of clutch screaming, rod bending action, and opted for a change in tact, to seek out the smaller Mullet cousin, the Golden-grey. They can appear on any beach or estuary in this area, and their ghostly frame can be seen by the observant angler as they shoal in the surf or "ripple" the calm surface of shallow inlets.
Having said that, it took two days to find them in reasonable numbers, and having bumped into another angling friend, Jerry O'Connor, I had good company once again to target this hard-hitting mini species. Jerry is a fine sea angler and showed his skills, landing several specimens while I struggled to catch. I couldn't understand why until he gave me some left over bait as he packed up to leave. The "maddies" or Harbour Ragworm dug in Kerry were fabulous compared to my bait, large, healthy and raring to go stored perfectly in sea peat. I couldn't believe the difference.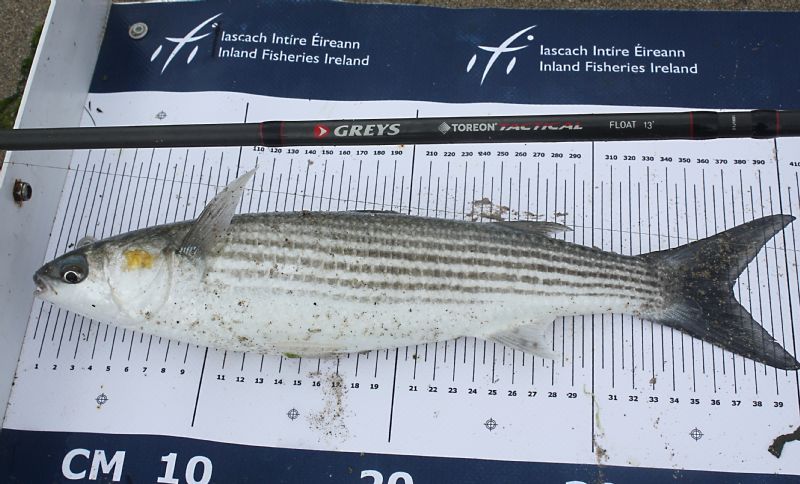 A specimen Golden-grey Mullet to add to the tally
With this quality bait it seemed like the "Goldies" just switched on, soon landing a fish just below specimen weight at one pound six ounces. A rod buckling "take" saw forty yards of line searing from the reel and after an exciting battle, a fin-perfect Gilt-head Bream slipped through the last breaker to be photographed and quickly returned. After several smaller fish, I cracked the specimen barrier with a forty centimetre Golden-grey at one pound and ten ounces. Eventually the high water forced me off the mark, but I vowed to return on the following tide at 4am.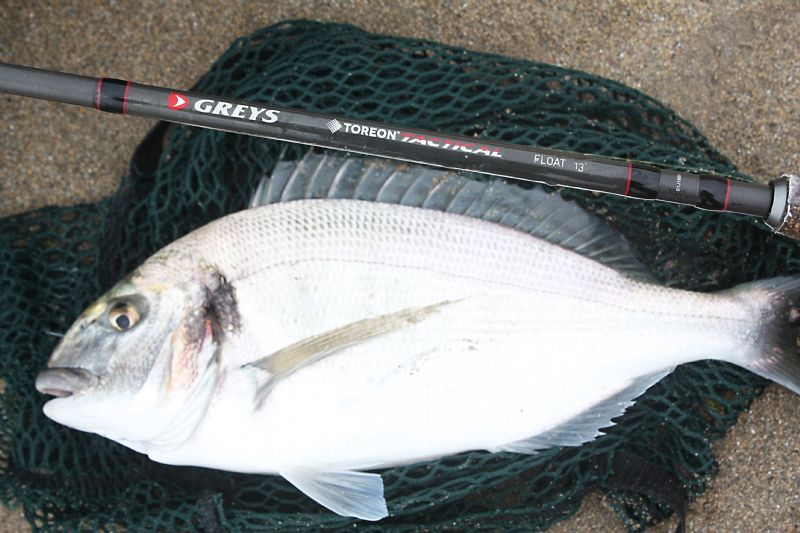 A near miss for another specimen, but what a spectacular fight
Fresh worms dug and a couple of ours shut eye and I was back on the mark, but an eight hour time span can make so much difference in angling. Winds had shifted to southerly and increased dramatically making the mark totally un-fishable, with white horses far out to sea and pounding their way up the beach. What is given by Mother Nature can be taken away in a heartbeat! A call to Sid later confirmed that the strong southerly winds would be with us well into the following week, and put paid to any further "mullet'ing" for the foreseeable future.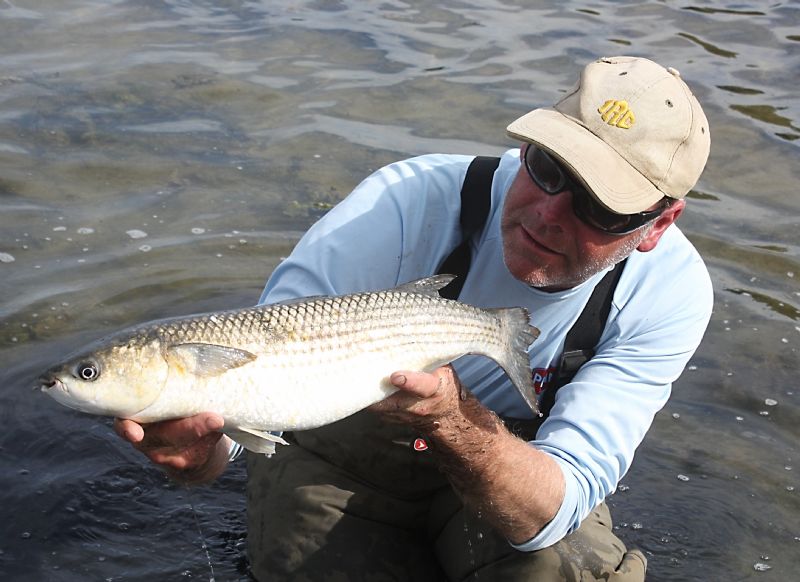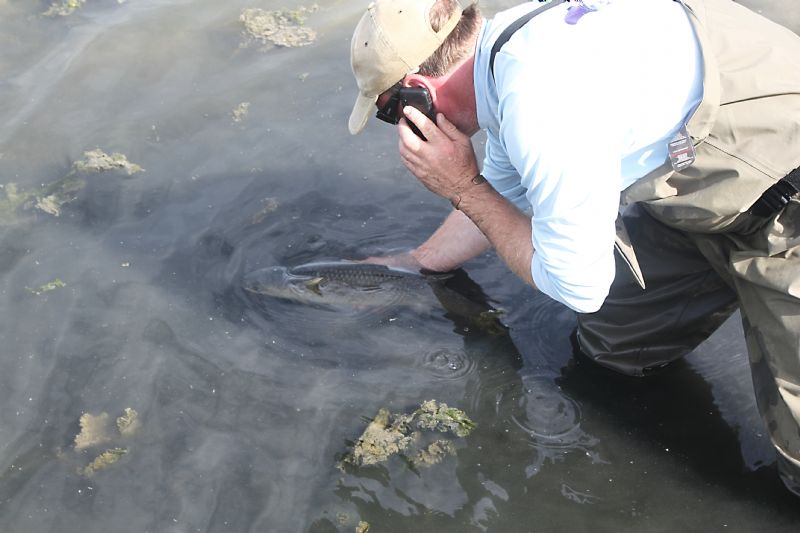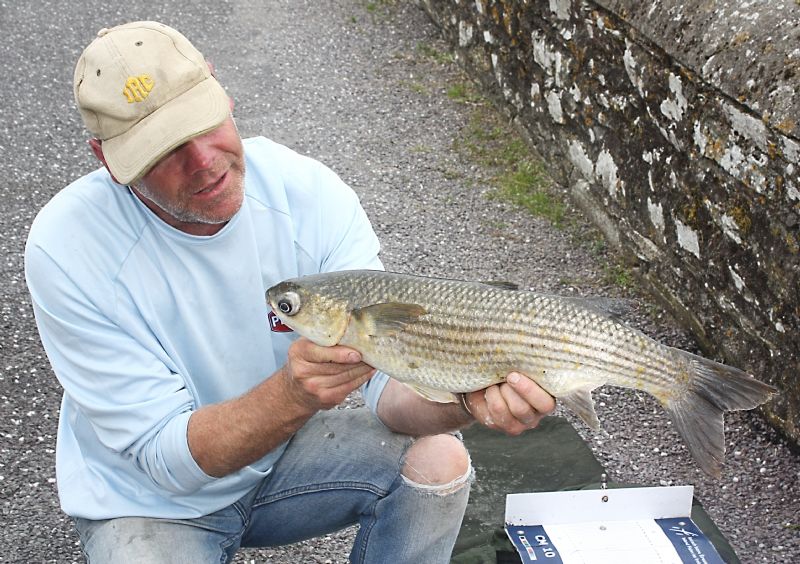 This six-pound (google-eyed) fish topped the weight charts for this session
My Mullet adventure was over, and without doubt, I had succeeded in my quest to find my angling "mojo". My soul had been calmed once again by the scenery, nature, people and angling that West Cork offers in abundance. However, my angling adventure was only half-way through! Every angler should have a contingency plan, and with Carp gear lying dormant in the jeep, the strong southerlies were perfect for a bivvy session on "The Lough" in Cork City, a chance to add to the specimen tally and to find some much-needed kip! But that's another story. Tight Lines, Tel.
Tackle used on this Mullet adventure
Rod
Greys Toreon Tactical Float Rod 13ft
Reel
Penn Battle II 3000
Main Line
Berkley Nanofil 6lb 150yd Clear Mist Line
Hook Length (leader)
Berkley Trilene Professional Grade Fluorocarbon 200 Yd Pony Spool(8-Pound,Clear)
Hooks
FTD - Min 30 (3 packs of 10) KAMASAN B611 X-Strong Wide Gape Nickel Micro Barbed (Spade End) Fishing Hooks - Single Size & Combinations - Sizes 10 to 24 - Comes with 10 FTD Barbed Hooks to Nylon
Floats
Ron Thompson Bombarda Floats - Carp Coarse Trout Bass Sea Lure Fishing Tackle
Back