First Trip of 2015
Pike Trip
First outing of 2015
Well, we are into another year of angling with all its dramas waiting to un-fold, lost fish, missed opportunities and hopefully special days when everything falls into place, where that fish of a life-time sits safely in the landing net.
Who knows what angling achievements are on offer for the new season, but unless we get out there and try, we will never find out! To keep the momentum going, Glenn, Andy and I got off our fat arses and ventured out into the cold, no mean feat after sitting in front of a roaring fire all Christmas!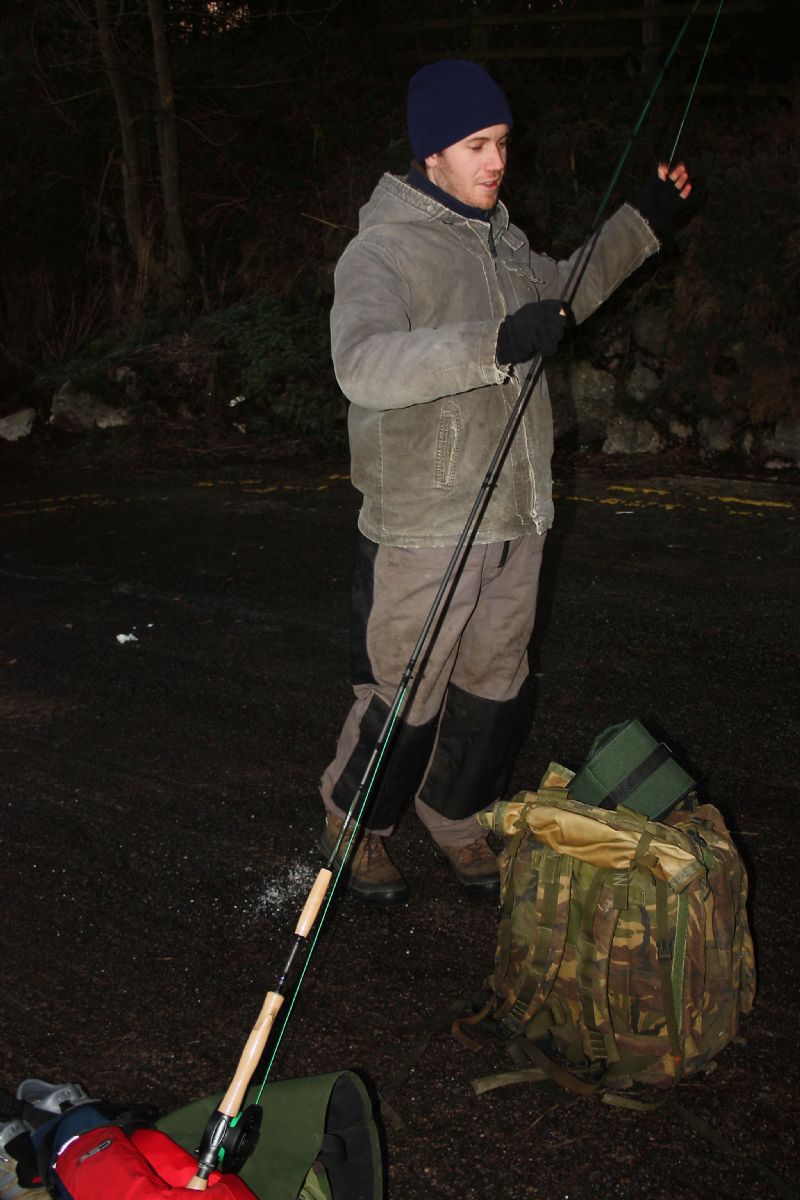 Andy with his prize from angling-ireland.com "readers story"
Shakespeare Agility XPS, more info....Shakespeare Agility XPS 10 WT Fly Rod - Black, 9.6 Ft
We headed for the Erne to see what was about, but with swollen rivers from bitter cold rainfall and a sharp drop in temperature, we didn't hope for much. To be perfectly honest on this occasion, it was just nice to get out on the water really. At the car-park at Carry-bridge, I presented Andy with his tackle prize from www.angling-ireland.com, achieved by gaining the most "likes" on Facebook for his "reader's story". This was a recent adventure targeting pike from the float tube, a nice wee read. The prize on this occasion was a Shakespeare Agility fly rod, and he was delighted to have the opportunity try this new discipline. (Send in your own stories for a chance to win tackle items each month).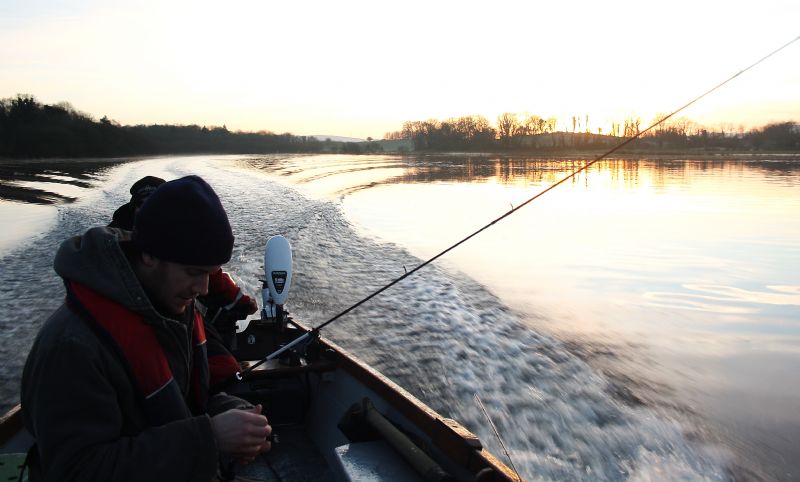 The river is at winter levels now. Cold, but calm, on the hunt
Our fears proved correct, the sharp drop in temperature seemed to have an adverse effect on the feeding spells, and we struggled to find fish. I believe that the short, warm spell leading up to the cold snap was probably better suited but with other commitments it is unfortunately not always possible to "strike while the irons hot!."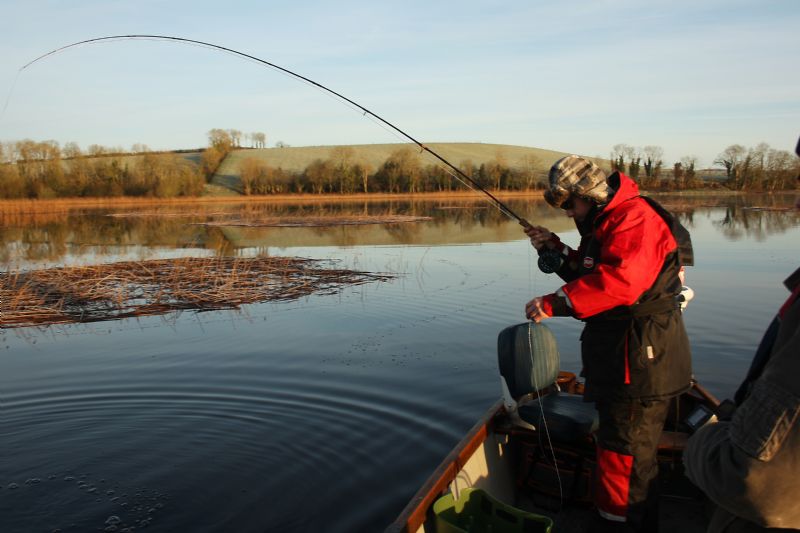 Glenn finds some early action
Glenn managed to find some action reasonably quickly, and although only a "Jack" it is always a relief to see the first fish of the day. Andy and I persevered to no avail, whatever Glenn was doing seemed to be working, tempting another couple of small fish over the morning session.
Andy was really beginning to get to grips with the Agility fly rod, and it was pleasant to see that the three of us could comfortably cast cumbersome "budgies" about the place with no fear of a 4/0 stuck in the back of the head. To explain, until now, it was always Glenn and I fly-casting from the pointy end or the blunt end of the boat, with Andy throwing lures-jerk baits safely in the middle!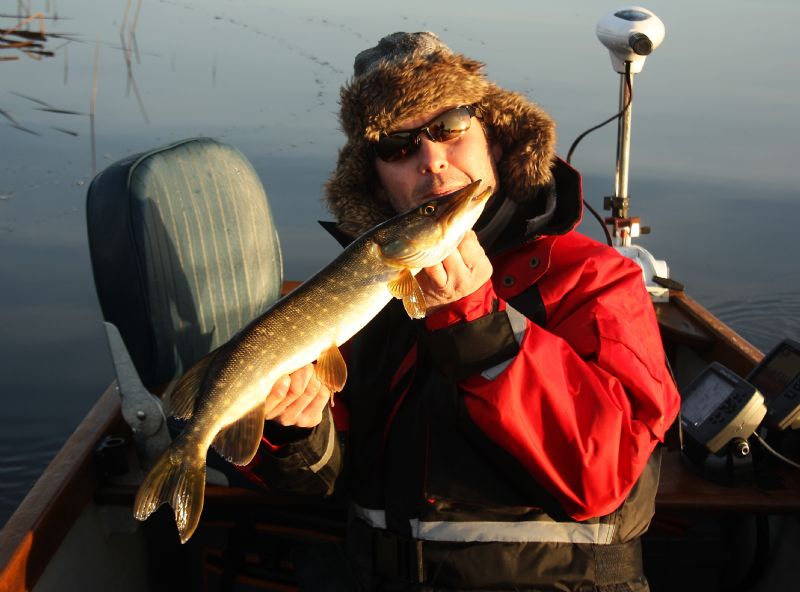 With conditions obviously against us, Andy opted out of the fly for now and set up a drop-shot rod using the new Powerbait "Gotam" Shads from Berkley. These are extremely sexy looking little soft baits that had to be Perch killers without a doubt. We have taken some large Perch from this area over the past couple of seasons, and I reckon Andy wanted to find a specimen of his own.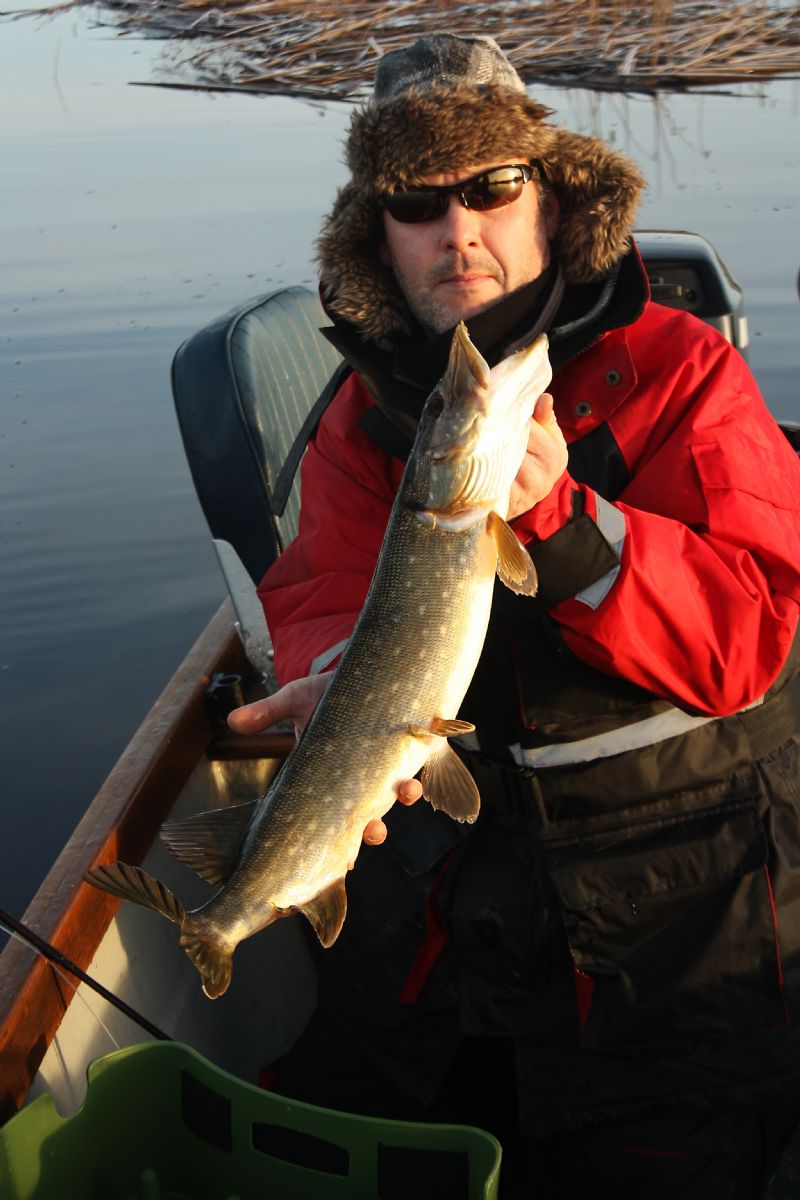 Targeting marina stanchions, pontoons and over-hanging trees, we were able to put Andy in with a chance of a "stripey" or two, and still be able to cast a fly ourselves. It wasn't too long before the perch made a show, and although there were none in the "lumpy" range on this occasion, there were plenty to put a smile on Andy's face. At this point, with Glenn having several pike under his belt and Andy "bagging up" on the perch, I was the only one facing the prospects of a blank session!
Andy finds success drop-shotting with the new Gotam Shads from Berkley
more info....Berkley Powerbait 3" Gotam Shad Charteuse
dropshot rod....Greys Prowla Drop Shot 9ft Rod
or...Shakespeare Agility Drop Shot Rod (2 Piece) - Black, 7 ft
dropshot kit....Berkley Powerbait Drop Shot Kit - Assorted -10 Pk
A final move was decided upon, and to a mark we previously nick-named "Jack bay". We never fail to tempt a few fish from this small cove, and with the short afternoon wearing on, this was my last chance to find a fish and salvage a little dignity! I switched to a recently tied fly with an articulated tail and a metal head, and in the water, it looked quite good. The added weight of the head gave the fly a slightly more animated rise and fall on retrieve, allowing the articulated tail to do its job nicely.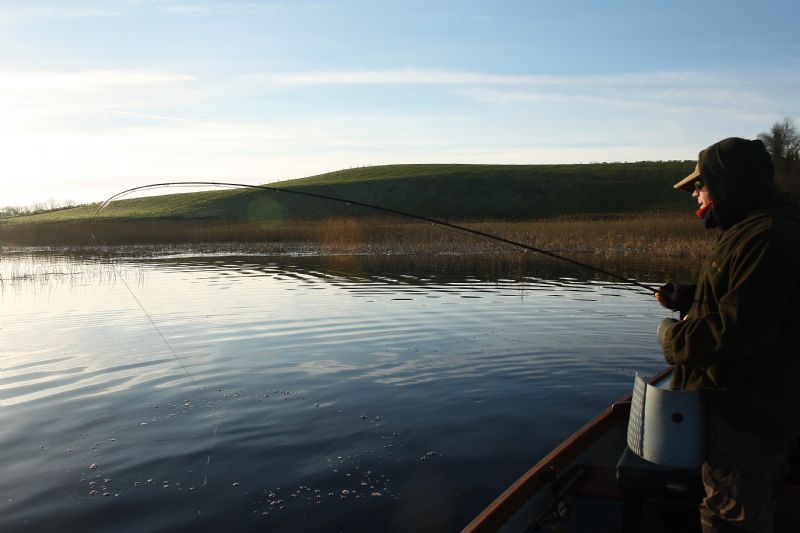 A fish at last!
A jammy cast between the upright stems of a reed bank, time to settle, and then a couple of sharp pulls to give the fly some action and "thump", into a fish thank feck! All I had to do now was tease it to the boat and receive redemption. The feisty pike was having none of it, tearing line through my cold fingers and doing its damdedness to shake the hook or break the leader below the keel of the boat or outboard. It certainly tried its best. Side-strain from the Pike-Sabre brought the fish back in line and apart from a few aerial acrobatics it began to behave itself.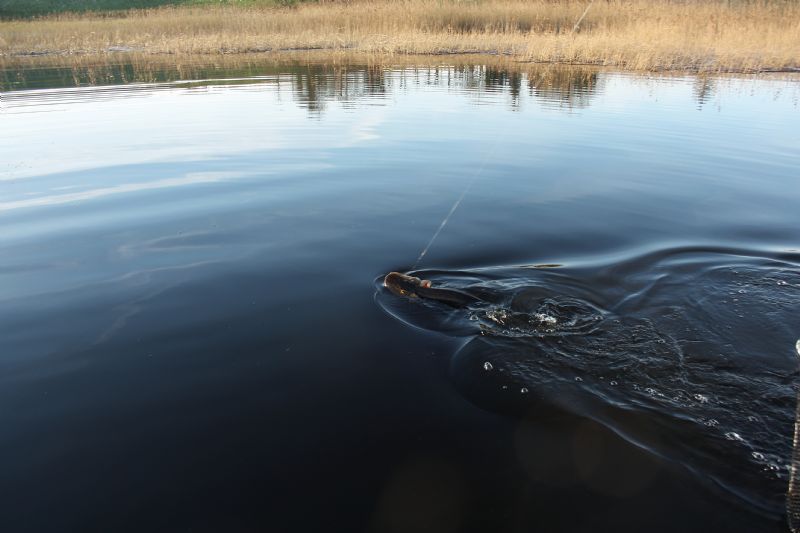 Not a huge fish by any standards, but immaculate, fin and scale perfect and obviously in peak condition, it was a very welcome and enjoyable couple of minutes of action on an extremely difficult day. Fair enough, our day was reasonably slow, but it was fantastic to be out on the water, throwing a fly (god knows I need the practice) in fabulous wild surroundings amongst good friends. Although fishing is undoubtedly about catching fish, it pays to take time now and then and contemplate your surroundings, the friends you choose to be with you, and the fact that you are not simply alive, but actually living. (Maybe I'm just getting old!)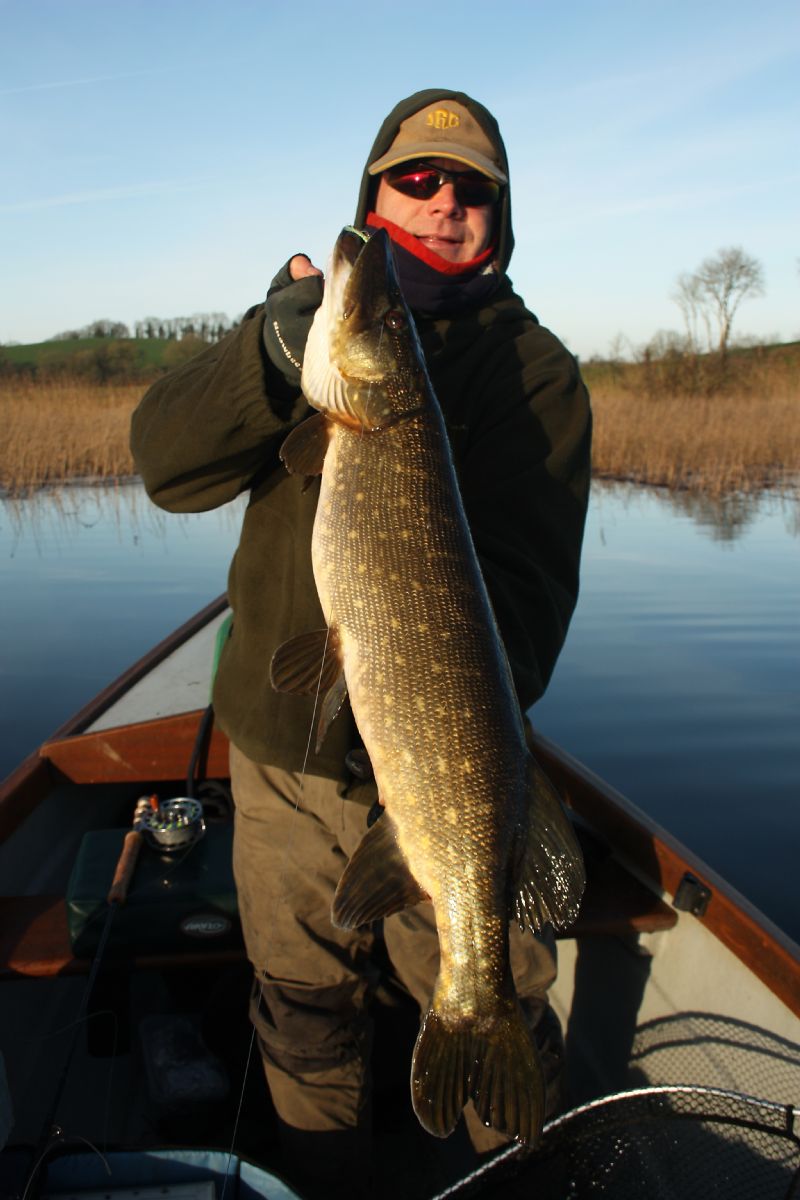 A great end to a tough but enjoyable day
Warning
Mother Nature has been generous to Ireland. We need to repay this gift by offering greater protection towards our wild-life, environment and fish stocks. The current situation is certainly not good enough. Sustainability, catch and release, better management, education and stiffer penalties as a deterrent for those that choose to ignore or show no respect for our heritage. It belongs to ALL of us, freshwater and saltwater, not a chosen few, and if we cannot sort it out soon, we will lose it all. What a shameful legacy to leave to our children!
Back