Float tubing- learning a new method by Andrew Wolsey
Trying a new method
Float tubing
It was whilst on a perch fishing adventure back in the spring I had my eyes opened to the advantages of the float-tube.
My friend Glenn Drennan had brought his float-tube along and he was kind enough to let me use it for the day. I was able to explore the entire lake in a stealthy manner and I managed a few fish in the process.
When bank fishing there always seems to be that reedy bay you just can't reach, which of course must hold all the fish because they know we can't get them there! With a float-tube it's problem solved, you're free to explore these safe havens. Boats of course are great but on smaller in-accessible waters it's usually just not practical or possible to launch even a small boat, especially if fishing alone. The float-tube can be carried like a rucksack over long distances using detachable shoulder straps, crossing ground where a 4x4 and boat trailer would have no chance. So with all this in mind I took the plunge (no pun intended) and treated myself to an Outcast Prowler Float-tube during the summer.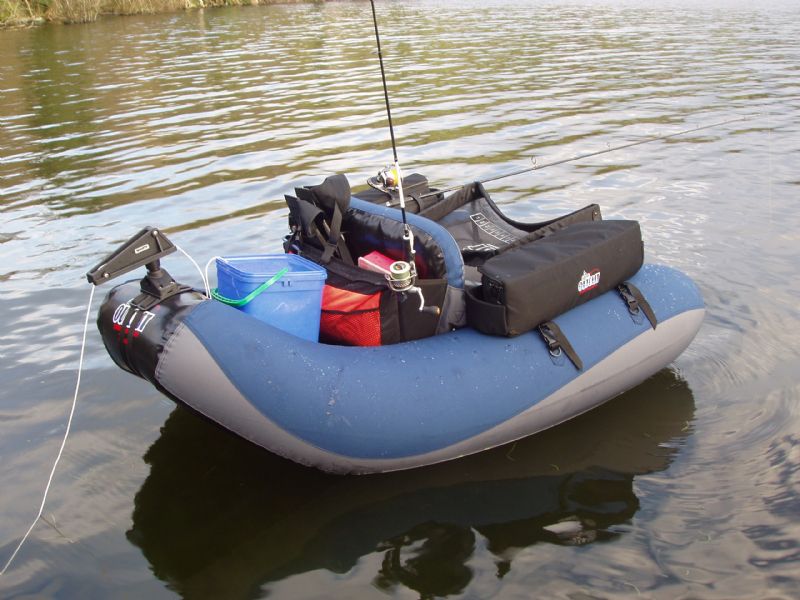 Outcast Prowler, my new toy!
My plan was to use the float-tube for any fresh water species on fairly small inaccessible waters in the hope that I could find that hidden gem we dream about. Big perch had been at the forefront of my mind for some time and would be the immediate focus. Realizing that big perch would not be easy to find I knew pike fishing would make up my main staple. The first few outings were fairly successful for both pike and perch. No monsters caught but no blanks in the process of getting to grips with a new piece of kit. I was happy with my progress however as our long, dry and dare I say it "hot" summer continued the water levels dropped and these small and reasonably shallow lakes became choked with weed. This more or less ended play, it was time for a rethink.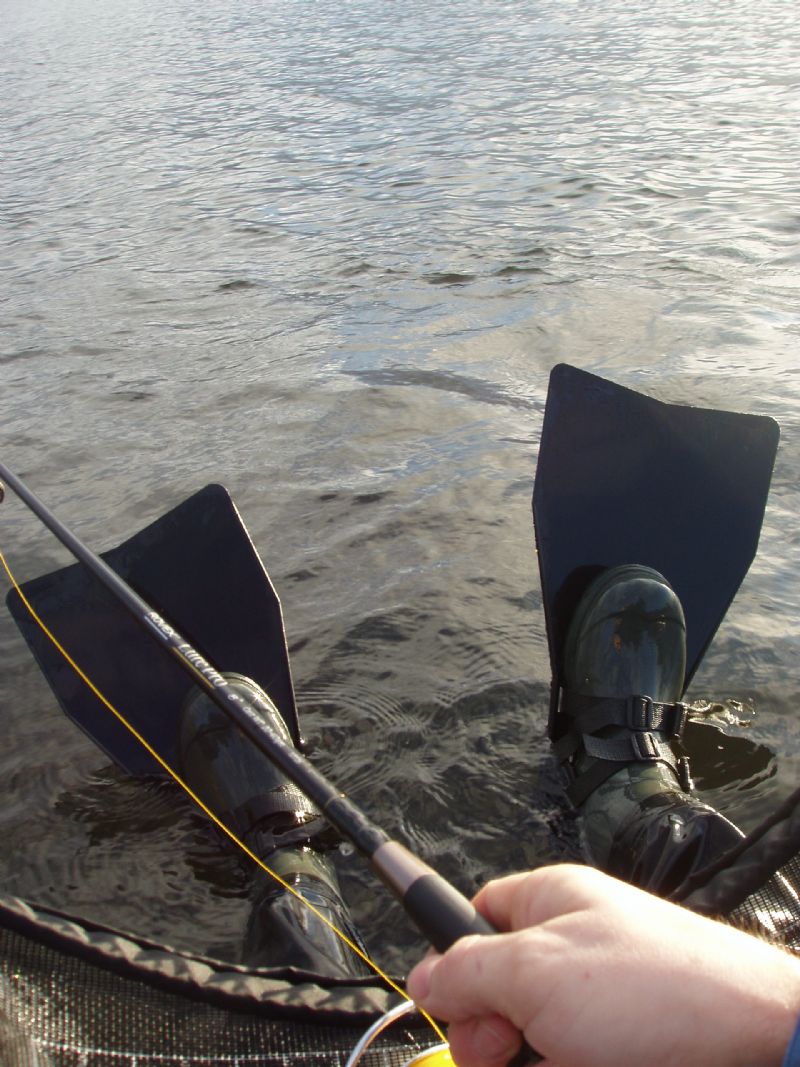 Learning to paddle backwards is a new challenge!
A new plan was hatched to find a deeper and most likely larger water where weed growth and water clarity shouldn't be such a problem. With such a water in mind I realized I had a new problem of windy days! A big water on a float-tube is not somewhere I want to be in winds over 10mph. Safety is paramount when afloat on any vessel and it should go without saying that a good quality life jacket must be wore when float-tubing.
When the forecast of light winds finally arrived after what seemed like a lifetime I swung into action and had the car packed ready to hit the ground running in the morning. I arrived at the lake the next morning to find it flat calm with not a ripple on the surface. Too calm I thought to myself? Ah there's no pleasing some people! The plan for the day would be to target perch using drop-shot and jigging tactics. I also tackled up a heavier spinning rod and reel to target pike if the perch failed to make an appearance. I made a start by drop-shotting my way over a few marks in about 10ft of water which had previously produced a few perch for me. After a couple of hours of chopping and changing lures and nothing to show for my efforts it was time for a move.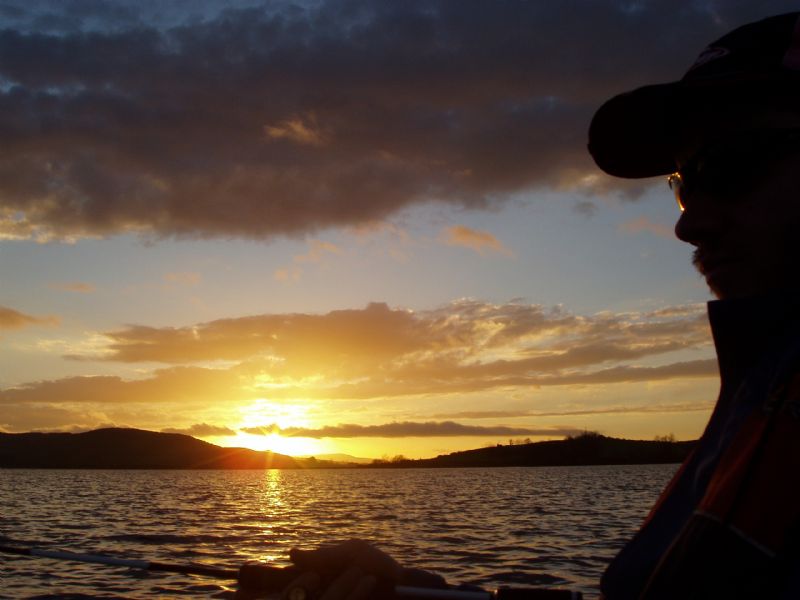 I decided to take a paddle over to an area of the lake that shelved off into much deeper water. Maybe the fish had dropped back into teh depths due to the recent drop in temperature. I continued drop-shotting in the deeper water and this looked to be a good move with a bites and a decent perch landed not long after arriving. Bites however became more and more tentative and hook ups seemed impossible. This was all strange stuff and got me thinking again. I wondered if there could be a pike or two knocking about down there putting the perch on edge thus explaining their tentative behavior. It was worth a pop and I swiftly changed over to the heavier spinning set up. I selected one of my favorite lures, a classic copper and silver spoon up-graded with size 2 Owner treble hook.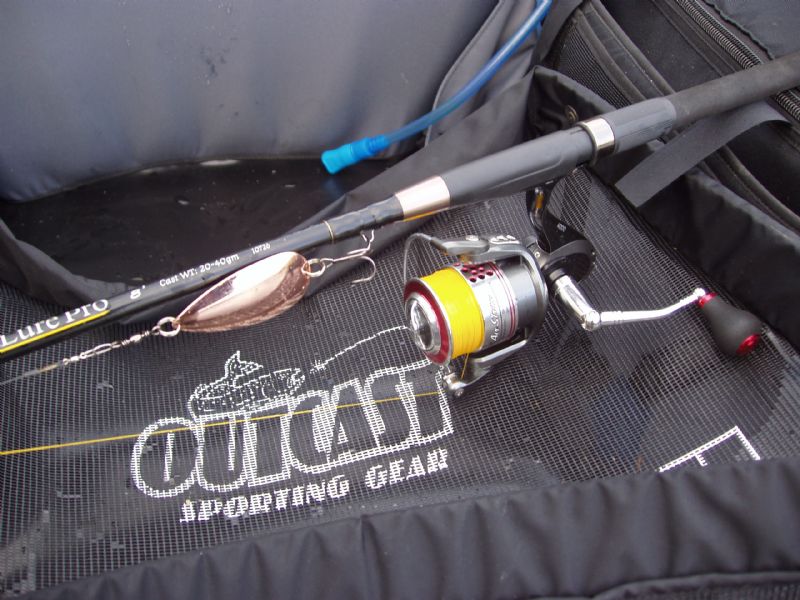 Rod: Rovex Lure Pro 8ft 20 – 40gr
Reel: Rovex Air Strike 4000
Line: 22lb Rapala Thermic Braid
Leader: 20lb Trilene 100% Fluorocarbon
Trace: 28lb seven strand wire.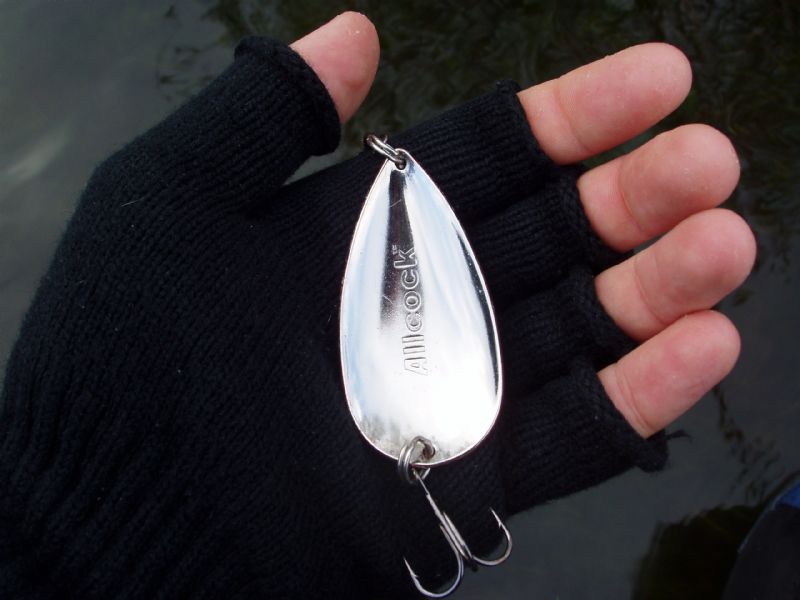 The copper and silver spoon, a much over-looked tempter of large pike!
I made a few casts letting the spoon flutter down through the water column before starting a slow steady retrieve. It didn't take long before the rod tip registered a small tap followed by a solid resistance. I struck to set the hook expecting a violent response but it was one of those moments when you think you may have hooked the bottom until it starts moving! The fish was not fazed as it started to move away pulling me along with it. The fish unexpectedly surfaced and when I saw her I knew I was going to have my hands full. The drag was soon singing as she tore off back to the depths. During all the excitement I readied the landing net much too early and with my hands literally full playing the fish I didn't notice the net slide into the water and sink out of sight. Thankfully I wasn't far from the waters edge and able to steer myself towards the bank whilst fighting the fish. Another advantage of a float-tube is the hands free steering. After some incredibly powerful runs I was able to chin the big girl at the waters edge.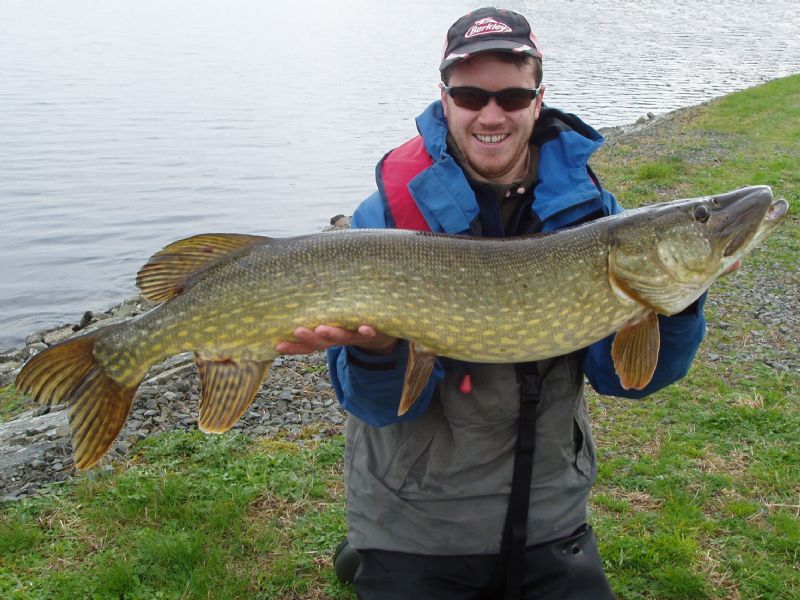 A new PB, and the ultimate way to christen my new toy!
The fish was easily unhooked in the water and I slipped it into an extra large E.S.P Carp sack to allow both her and myself a few minutes to recover. In a stroke of luck a passer by had witnessed the battle and stopped to admire my catch. He offered to help take a few photos and I gratefully accepted his assistance. The moment of truth had arrived and with the scales zeroed she weighed in at 25lb 2oz and measured 112cm in length a new P.B. It was a fantastic result and a great start to my pike season! Fully recovered she swam off strongly. If I didn't catch another fish for the rest of the day I couldn't care less. I tried to retrieve my sunken landing net but to no avail, it's a goner. On the paddle home I managed a small jack pike on the drop-shot setup. The search for a big perch continues.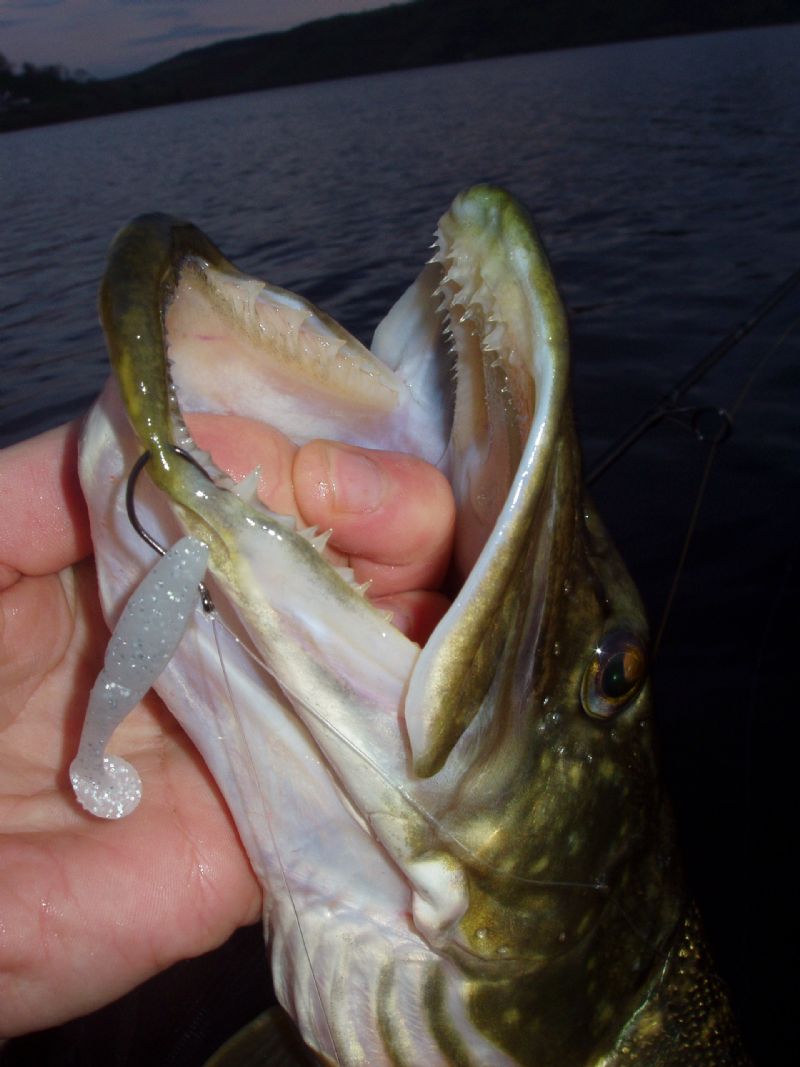 Yet another "jack" snaffles a soft bait intended for a specimen perch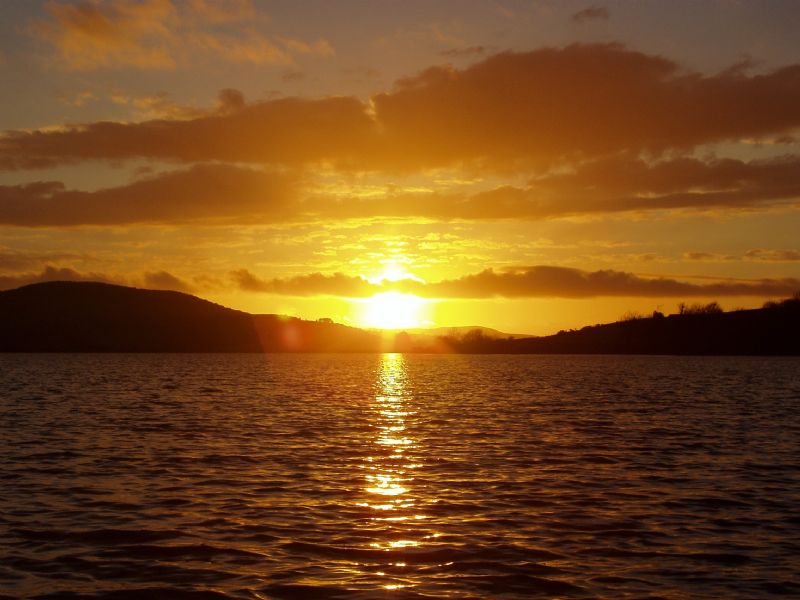 Sun sets on a successful and extremely enjoyable outing
Back