Fly Fishing for Pike Part 2
Targeting Pike from the boat
Following on from my first article where I targeted Pike from the shore, it follows that I should have a bash at old Esox from a boat, and to compare the differences.
Mark Corps brought me luck on my previous trip, so it only seemed right to invite him along for the day. He asked if Shane, one of his work colleagues could join us, and, as my boat fishes three quite comfortably, he was more than welcome.
I first met Shane O'Reilly at the Irish Specimen Fish Awards. Being an experienced coarse angler and C.F.B angling advisor, I looked forward to fishing alongside him, or as Mark would cynically put it, interrogating him on new angling venues! On arrival at the designated lake, this time north of the border and with the task of loading and launching the boat completed, we were ready for our adventure. The plus side of boating is that once loaded up, there is no further tackle carrying involved. All fishing equipment should be stowed neatly aboard alongside its respective owner. This reduces the need to move about the boat un-necessarily.

As this was a relatively small water, I decided not to bring the petrol outboard, but to rely on the battery operated Minn kota, and if that should eventually fail, there's always the old fashioned back up system of oars to fall back on. In my opinion, small shallow Loughs such as the one we were about to investigate benefit from the stealthy approach.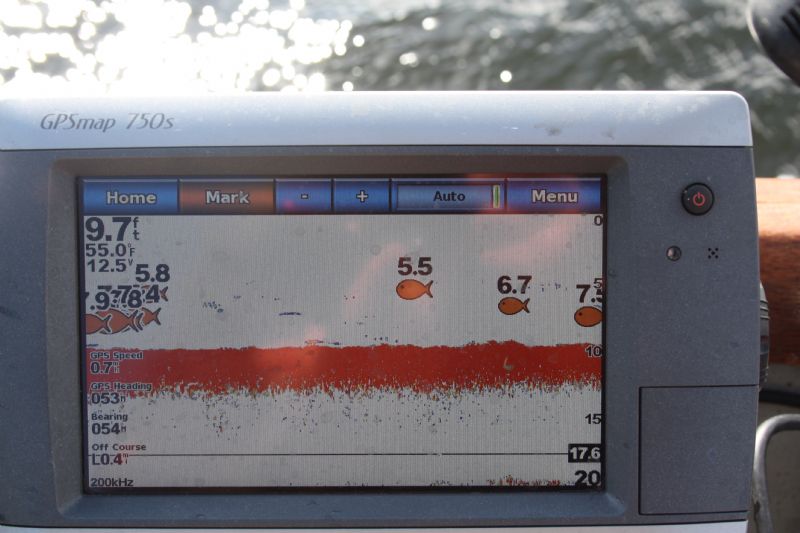 Apart from watching the depth and looking for underwater features, bait-fish can also be identified
We were soon underway, silently patrolling the reeds and rushes along the waters edge, looking for fish holding features and ambush points. I cannot recommend enough, the advantage of fitting a sounder or "fish finder" to a boat. This is not necessarily used to target fish, but to scan the lakebed for drop offs, gullies and other interesting marks. It makes life so much easier when trying to build a mental picture of the Lough's underwater layout. I rarely use it to find fish, although it is handy in targeting large shoals of bait- fish such as Roach, Perch or Bream. Pike are rarely far away from these food sources. It also helps knowing the exact depth for choice of fly line; floater, sinker or intermediate, not to mention the safety factor to avoid running aground! I recently watched a boat angler bury his rod under the water in an attempt to gauge the depth. Why risk breaking an expensive rod tip, when there are now so many cheap and perfectly functional sounders on the market.

Before long, we approached a suitable looking area. Positioning the boat correctly, and about twenty yards from the shore, allowed the gentle breeze to guide us along the reed beds. With three rods covering the area, our chances of tempting a Pike on the fly were maximised. The hope was for a decent "double" for the camera but anything at this early stage would be welcome. Much of the excitement of this type of angling is based on anticipation of what may be lurking below the surface, ready to strike at an artificial lure, but I suppose the same may be said about most fishing.
Mark was first off the starting block, with a small fish violently hitting his red and white fly, followed shortly by another "jack" of around five pounds. We were quietly confident this water would produce a larger stamp and risked not taking any photographs just yet!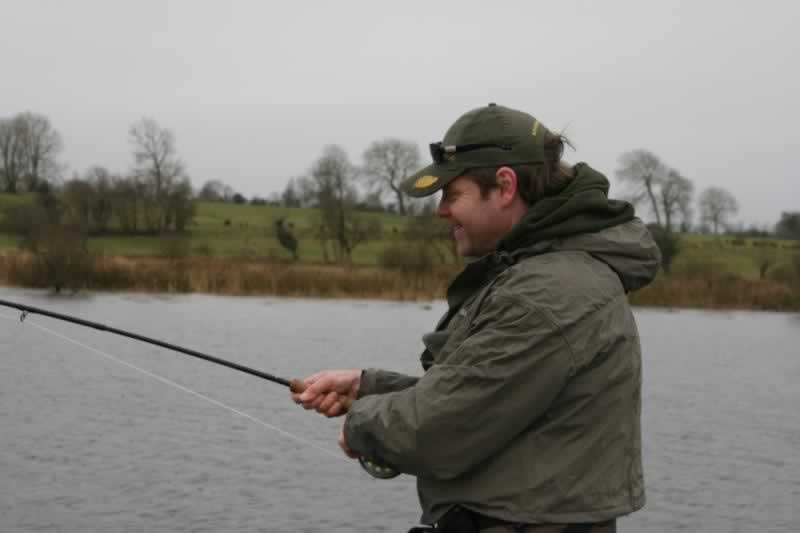 Fish on, but only a small fella, the violent "take" still brought a smile to my face
As the drift continued, I managed to pick up a couple of similar size. Although nothing spectacular thus far, a few fish showing early is a reassuring sign. Shane on the other hand couldn't buy a bite as they say. It can be baffling at times why fish will come to one rod but not another, especially when we're all using similar tactics. This happens all too often, but you simply have to persevere through the blank spells in the hope that your luck may change, and it will of course. Chopping and changing lures can work, along with altering the rate of retrieve, but this is trial and error on the day.

With this area exhausted, a quick but stealthy move to another bay put us into more of the same. All small fish, and great fun, but with none of them breaking the double figure barrier. I still hadn't even managed to bring the camera out for a snap or two. After a sandwich and a cup of tea, it was decided to try a drift alongside a bank of reeds towards the opposite end of the lake. To slow the drift further, I asked Mark to put the grapnel anchor over the bow, in the closed position. Unfortunately I had forgotten the drogue on this occasion! This dragged rather than gripped, and kept us in the feature area longer. A good plan as it turned out, when Shane lifted into his first fish of the day. Again, another jack, but I could see the relief on his face to finally break the duck.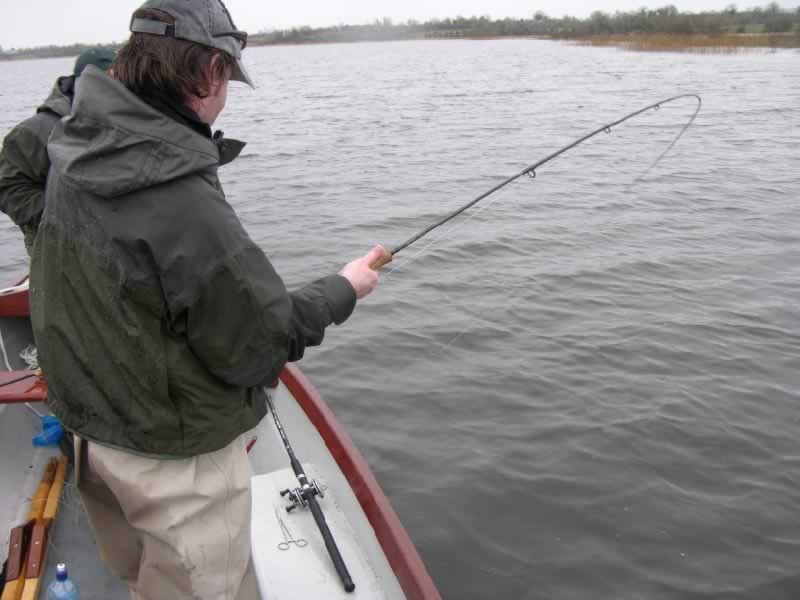 Shane finds a better fish this time
He was on a roll now, and the very next cast had a better beast that fought like a demon. This one refused to give up, and after turning the boat in a full circle, it eventually came alongside to be "chinned". At twelve pounds, it scrapped a great deal harder than its size suggested, but being the first "double" of the day, was well worth a photograph. I was now satisfied that we had done enough for the article, and with the pressure off, dropped into relax mode. Laughing and joking, with the odd bit of slagging in between, time passes all too quickly.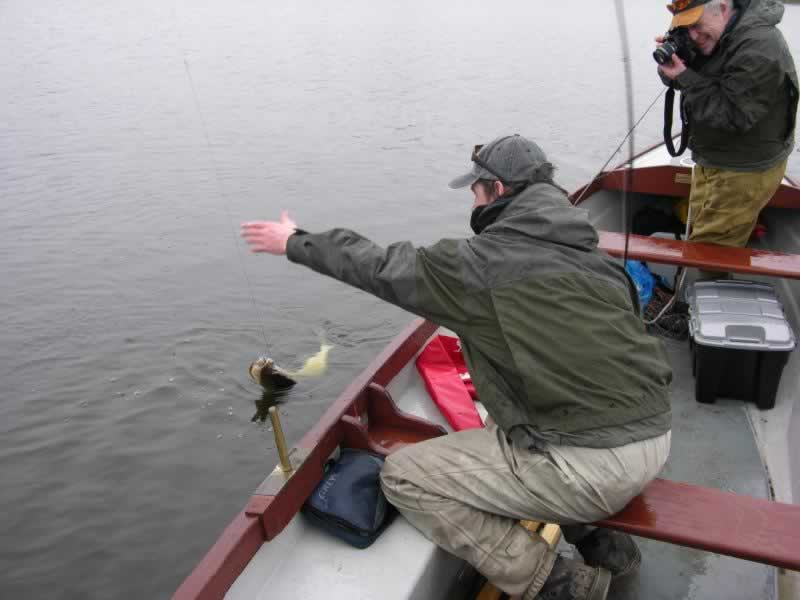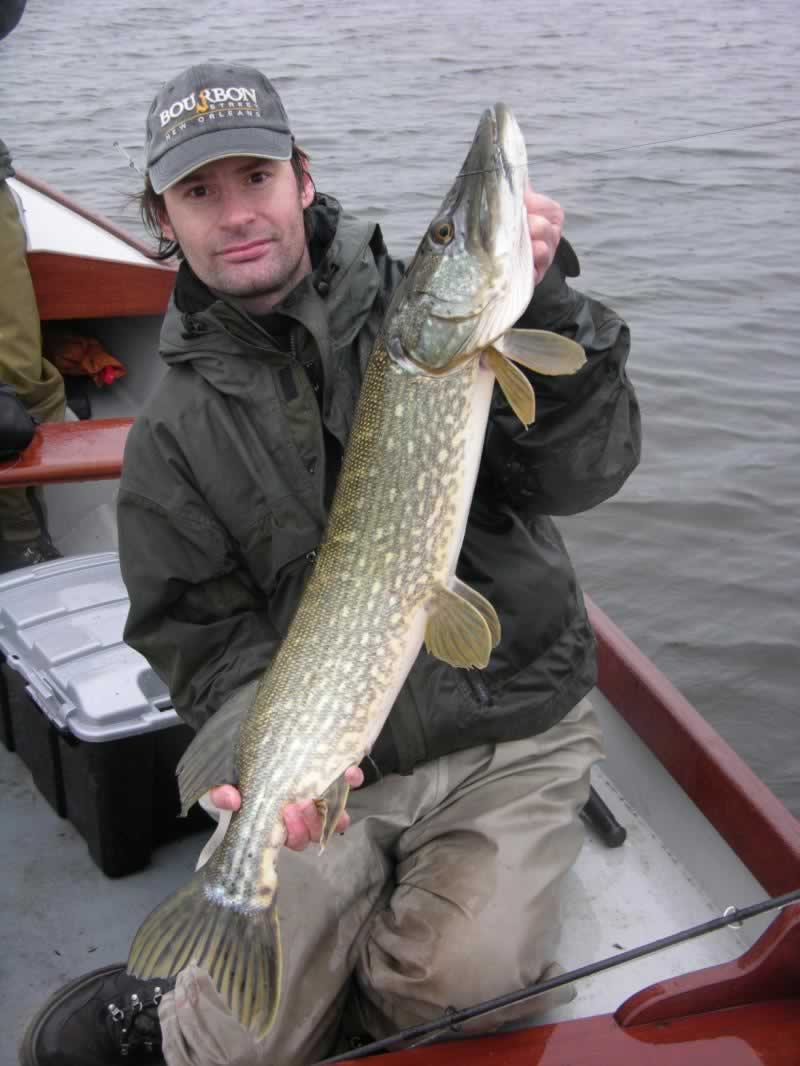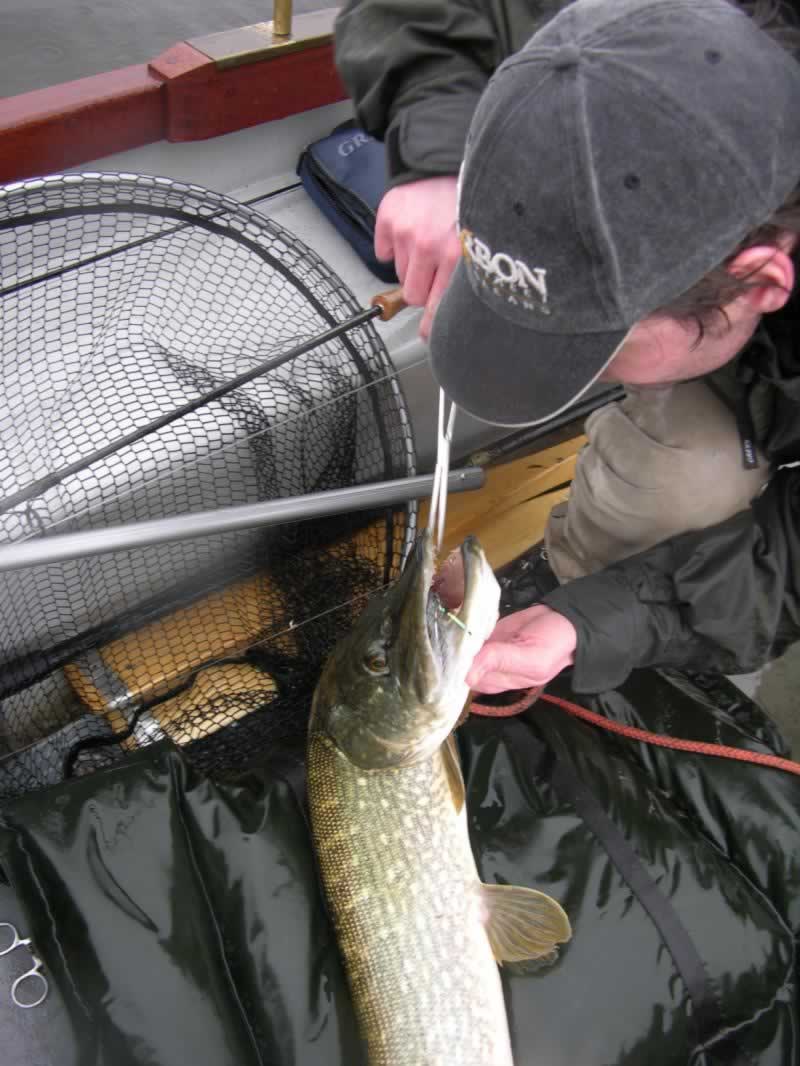 Fish on un-hooking mat and held steady under the chin, quick trophy shot before release
As we were making plans to call it a day, I took a pluck, then a powerful thump on the fly line and lifted into a fish that showed no sign of moving. With steady pressure applied, it cruised off to the right, seemingly un-concerned and took line at a steady pace until it was at least ten yards below the stern. A touch more resistance and she must have realised something was not quite right, and woke up, ripping line through my fingers until I was now able to play the fish on the reel and against the clutch.
The bigger fish in this small water certainly know how to kick back, and had my adrenaline racing through every second of the fight. As with all battles, there has to be a victor, and on this occasion, luck fell on my side. My arm felt as tired as the fish, but as she came alongside, I managed to slip the net under and carefully lift her onto the un-hooking mat.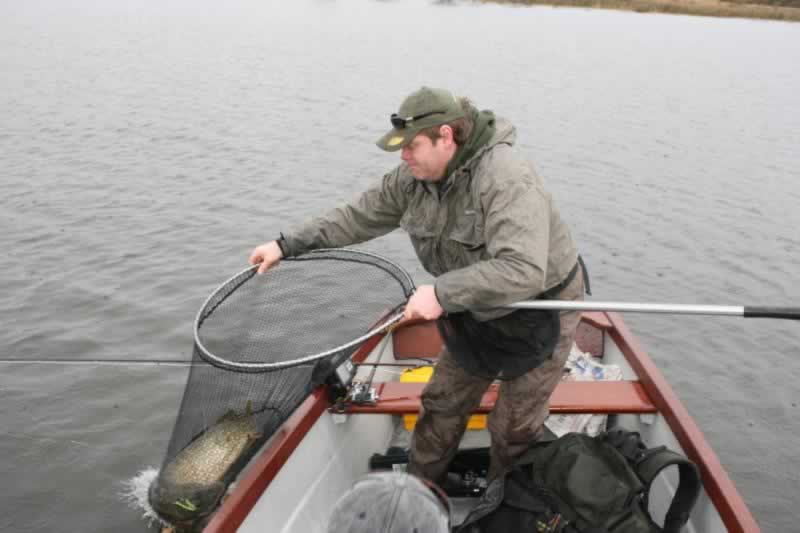 What a fantastic way to end a busy day, and no better way in my opinion, than to achieve it with a fly rod, including a home tied creation of fur and fluff. How did this compare to my shore trip? On this occasion, the end result was much the same as my shore attempt, but the boat obviously allows the angler to cover more ground, and in relative comfort. It also helps a great deal when you can "see" the lake-bed using the sounder. This obviously gives a greater mental picture than having an educated guess from the shore. Some may say that this removes the challenge of reading a water, but any legal short cut towards targeting large fish on the fly is fine in my book. The main advantage of a boat is being able to cover water that cannot be reached from shore, but there are plenty of Loughs where boats cannot gain access. This is where the float tube or "belly boat" comes into its own. Find out in the next article how I get on with my maiden voyage in a belly boat.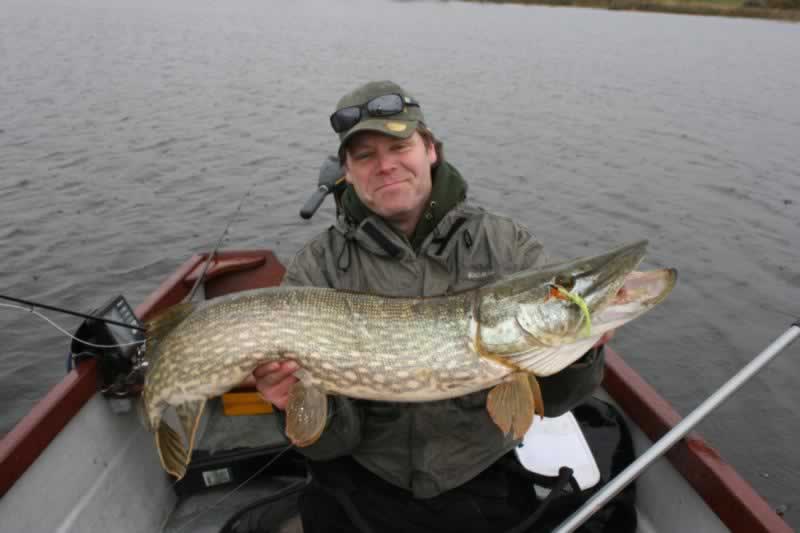 Boat Requirements
With any angling adventures on and around water, safety for yourself and others is of paramount importance. Observant readers will notice that none of us were wearing life jackets on this occasion. This is not recommended, but in our defence, all three of us are excellent swimmers, two of us hold first aid certificates, there were three life jackets in the forward cuddy should weather conditions deteriorate, a first aid kit and a buoyant throw rope flotation device to hand. Combine this with a shallow lake that you could almost walk to shore and calm conditions. Arguably our risk assessment seemed reasonably sound.
When using an engine, it makes sense to have a back up source, should it only be a pair of oars. At least these will get you back to shore. Most modern engines are fitted with a kill switch, remember to attach it to your belt or similar should you fall out of the boat while it is on the move.
Every boat should carry at least one anchor. This will help in angling situations but can also keep the boat out of trouble should difficulties arise. I carry two, one to anchor from the bow and one from the stern. This holds the boat steady, taught between the two ropes, a necessity when dead baiting where rod and line movement should be kept to a minimum. The grapnel types are excellent, as they can be used to grip the lakebed, or in the closed position, simply used to slow the boat down a little. Folded up, they can be stowed away quite neatly. A bowline attached to the bow via a ring or cleat is handy for launching or manoeuvring, but should never be longer than the boat. This will avoid tangling with the engine propeller.
Back