Fly Fishing for Pike Part 3
Flyfishing from a float tube
My one and only experience of float tubes until now was after Glenn Drennan, an angling pal and devoted "tuber", talked me into having a go with his "belly-boat".
Initially dubious regarding the merits of bobbing about on a lorry tyre, I soon realised through Glen's enthusiasm for this side of the sport, that there was more to tubing than meets the eye.
My mental images of plodding about the water's edge, donned with flippers and a rubber ring were instantly erased the minute I saw the Shakespeare Expedition series, inflated and ready to go. A crash course in how to paddle backwards, and I was soon on my way around the small lake, fly rod in hand, searching out fish holding features. We caught a few Pike, and one decent Perch, and I must admit, it was extremely good fun.

Needless to say, this initial introduction had me well and truly hooked, and I wanted one of my own! I had to look no further than our own Irish Angler magazine for inspiration. AQUATEC are Irelands leading float tube specialists. The proprietor, Mark Houlihan, has a wealth of experience in this area and offered valuable help and advice in choosing the right equipment. After our long chat on the telephone, it was with eager anticipation that I awaited the arrival of my ODC 420 Belly Boat.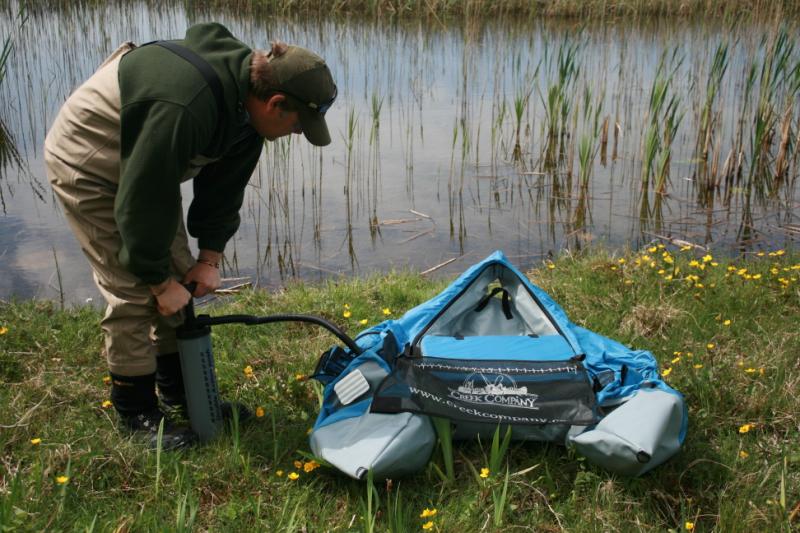 Inflating the inner air chambers only takes a couple of minutes
Before long, the package arrived, and was ripped asunder. I was like an excited kid on Christmas morning. I couldn't resist inflating the boat in the living room to get a good look at my new toy. My long suffering wife caught me assembling the pump, and was promptly thrown out of the room when she enquired if I had purchased equipment to enhance my wedding tackle!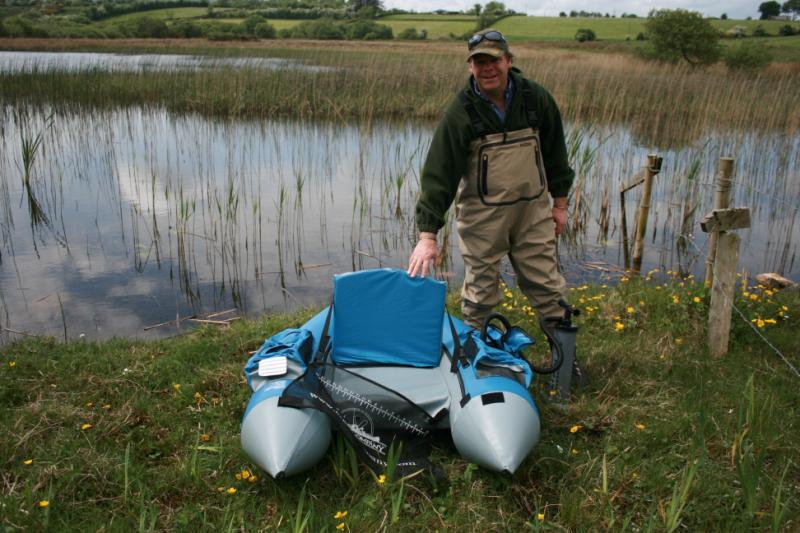 The boat looked superb. It was easily inflated, taking less than two minutes. The notable features were a pointed bow to cut through the water, a comfortable back rest and an elevated seat that also kept the angler above the water rather than half submerged in it. The obvious advantages of this are keeping your lower parts out of the cold but also a better casting position for fly-fishing. There are also plenty of storage pockets, a god-send for all those accessories required for a day's angling.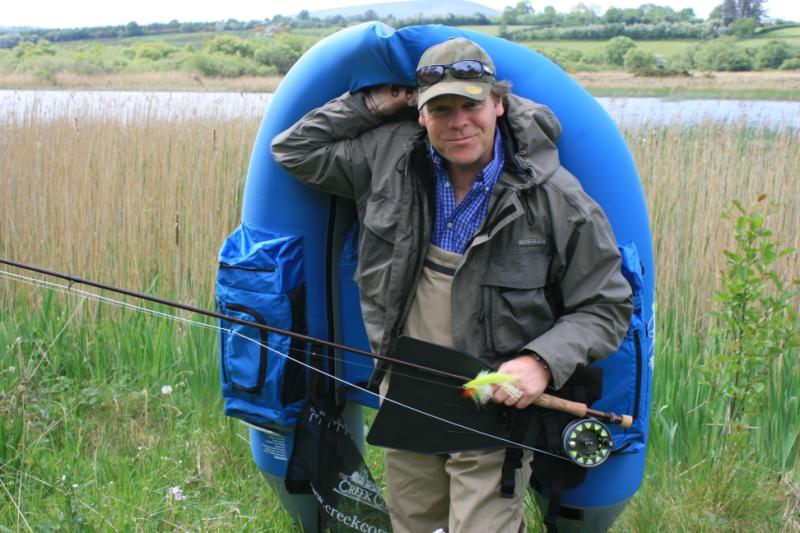 Light as a feather when it comes to back-packing over fields etc
The obvious next step was to get the boat on the water, and as Glenn had introduced me to float tubing, I wanted him involved. However, he was about to become a dad at this particular time, and decided on this occasion that it would be wiser to stay close to home. I rang Mark Corps, friend and angling advisor for inspiration. He happened to be working on a tourism project with well-known guide Bodo Funke, and invited me to Roscommon to join them. Although a big journey was required, this was the perfect excuse to test the 420 and get in some Pike fly-fishing at the same time.

Early next morning, we met on the shore of one of the many fabulous Loughs' that Bodo guides on; he must be spoilt for choice in this area. However, as he had already prepared two lough boats, and the marks were ten minutes from shore, it seemed reasonable to leave the float tube in the car for now.
Thanks to Bodo, we had a great day over his hot spots, targeting Pike on the fly. He has a vast knowledge of his local waters, which was instrumental in landing some decent fish, and turning quite a lot more. However, as this article is on the finer points of float tubing, I will have to skip this story for now. Before leaving, we asked our guide for information on any smaller waters in the area. To put the float tube through its paces, I wanted a water that was far from accessible when approached from the shore.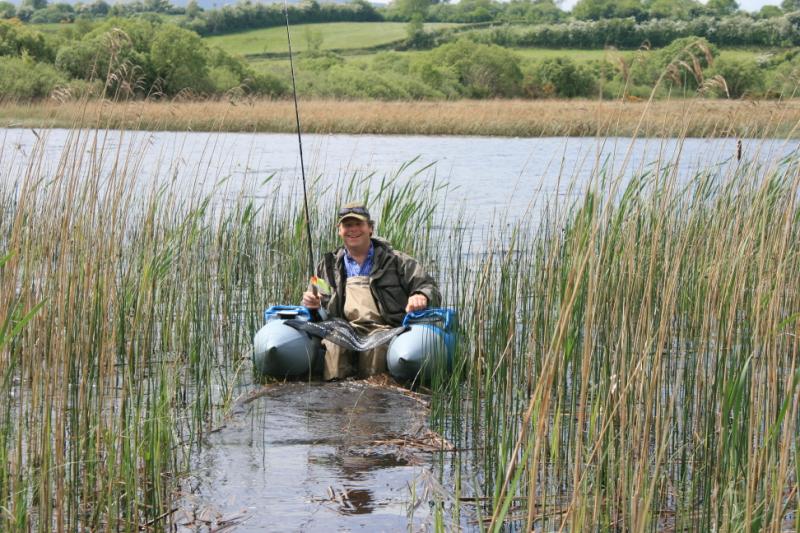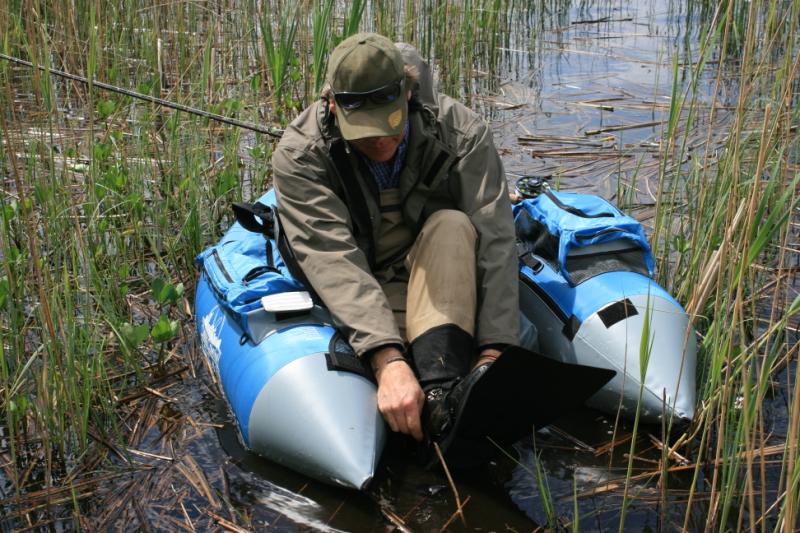 In my opinion, this is what Float Tubes are primarily designed for. He directed us to a small, fifteen-acre lake just north of the border that was completely cut off with reeds and bulrushes. To whet our appetites, it has also produced fish to thirty two pounds over the last couple of years. This is all I needed to hear. We arrived back at Marks' house for the night, with the following days plans discussed over a couple of bottles of red wine. You couldn't beat it! Thanks must go to Mark and Elaine for their hospitality.

The following day, Mark and I arrived at the small lake. It was, as Bodo described, totally in-accessible from the shore. Normally I would be cursing this fact, but today, it was perfect, and I couldn't wait to get in the water. Once the tube had been inflated, it was a matter of making sure nothing was left behind. All of my pike-fly equipment from the rucksack was easily stored in the available pockets, including camera, forceps, fly wallets, wire line and spare spools. I noticed that there is also room in the "bow" to carry a collapsible landing net should it be required, a couple of clips could secure it in place. Even fully loaded, the boat is as light as a feather, and easily carried over a shoulder.
The seating arrangement on the ODC 420 is extremely comfortable, with the water coming no higher than my knees, an obvious advantage when boating in the ice cold waters during mid winter. The rigid back-rest gives greater support than the inflatable back-rest type, and the added height makes casting a fly so much easier. I was really beginning to enjoy paddling about, and I hadn't even tried to catch a fish yet. The boat cut easily through the water, and despite my misgivings regarding the height above the water, it did not catch the wind any worse than Mark's boat.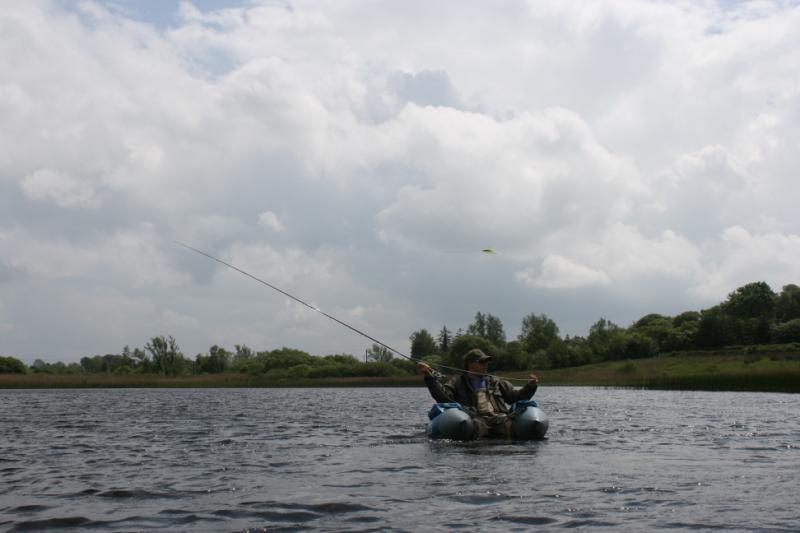 Elevated seating position makes casting a fly quite easy
Time to catch a Pike. We paddled our way to the top end of the lake, to enjoy the slow drift back down and along the lily margins. Things were going well, both complaining of missed fish, when Mark realised that his float tube was losing air. There was no choice but to return to shore for a hasty repair. On inspection, a faulty seam had split and, although we tried with the puncture kit supplied, the tube was beyond repair. The reason I mention this is that despite the unusual damage, the tube stayed afloat and Mark had no problem returning to shore, allaying any fears of going down with the ship!
Mark's boating was over for the day, but he was happy enough to watch me paddle around looking for a fish, and it didn't take long to find. Only a jack of around five pounds but superb fun none the less. Even at this size, they are able to pull the float tube around in circles. It is amazing to watch the acrobatic antics of a hooked Pike from such a low angle to the water. At one stage, it even jumped over my lap!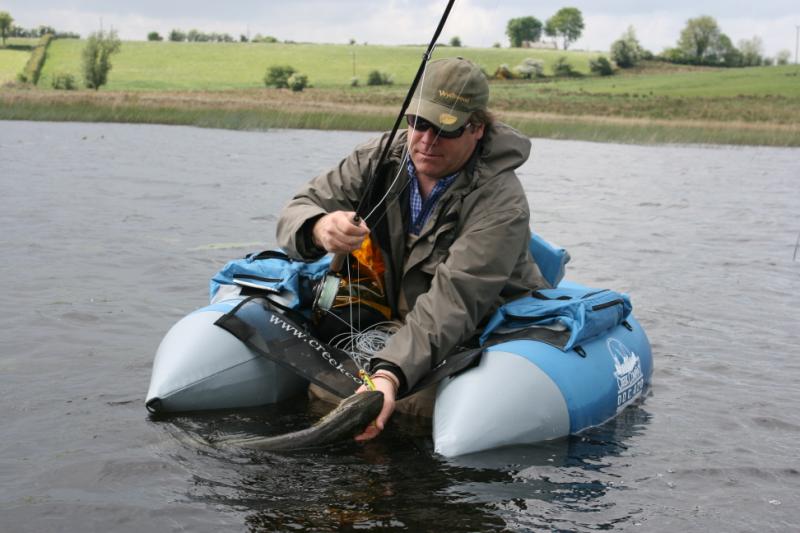 It would have been unfair to persevere, leaving Mark on the shore, so we packed up the float tubes and drove down to meet Bodo who happened to be guiding two English lads. He had a spare float tube in his jeep for Mark, and we joined them, hooking some hard fighting Roscommon pike before the light eventually faded. Before heading home, the angling party in turn, had a try with the ODC 420, and all agreed that it was the "Rolls Royce" of float tubes. There's no better recommendation than that!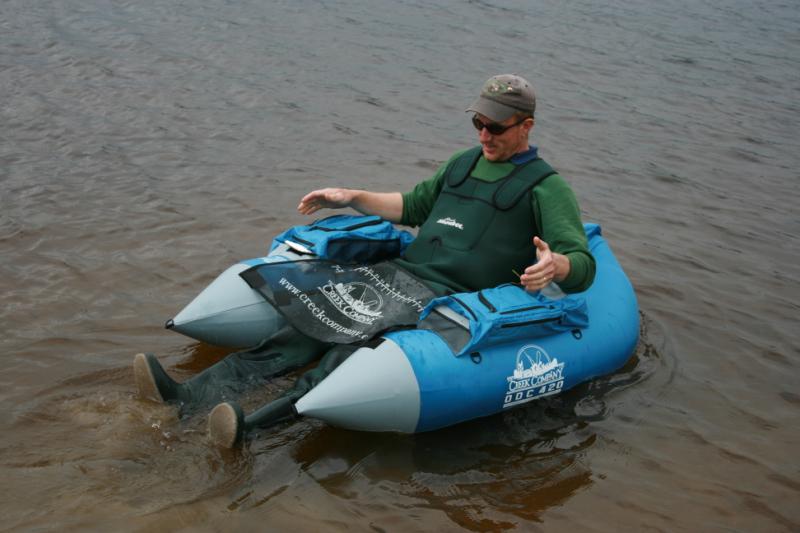 Roscommon angling guide, Bodo Funke trying out the float tube.
To sum up, if I had a choice, I prefer sitting on a solid boat with an engine and choice of tackle options close to hand. But that is in an ideal world where every lake has bank access or a well built slip way. In the real world, this doesn't always happen, and it's a bloody good job too. There are hundreds of isolated lakes, possibly thousands in this country that have rarely or perhaps never seen a fishing rod. These lakes are over-grown and as a result, un-touched, and without doubt, some of them will hold Irish record Pike. This is where the float tube comes into it's own. It brings out the excitement of stealth and the old hunter instincts. You can carry these things over large distances and push them through reeds and rushes to explore quiet bays and features. Distant casting is un-necessary, as gentle paddling will put the angler extremely close to a Pike without scaring it. There have been times when I almost bumped into fish!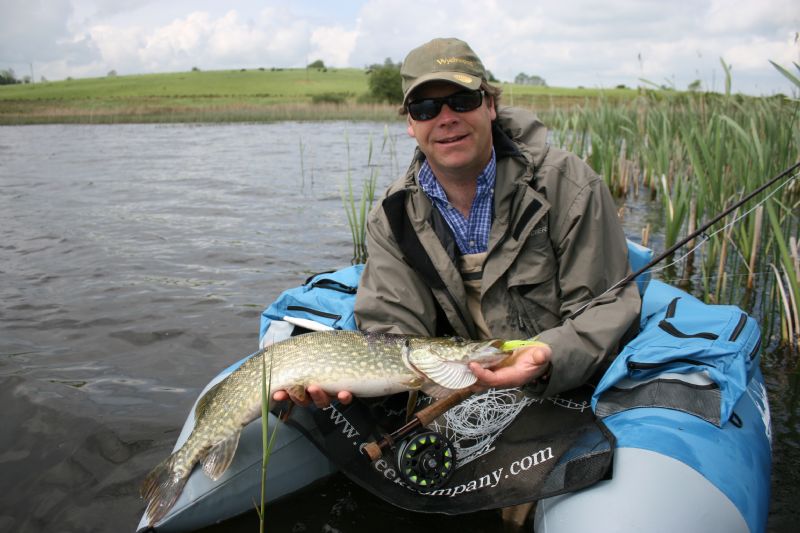 Since my last trip with Mark, I talked Glenn into trying a local, over grown water. After asking permission from a landowner, we carried the tubes half a mile, then beat our way through the rushes. We only fly fished for a couple of hours and landed twenty Pike, exactly ten each. Most of the fish were less than five pounds, but it's been a long time since I had so much fun on the fly. Tubing is a relatively new side to the sport in Ireland, but extremely enjoyable and thoroughly recommended.
In the south, it is a requirement to wear a flotation device whilst on the water, in the north however, it is a recommendation. It is important to adopt a modicum of common sense. I am an excellent swimmer and confident in, around and on the water. However, on waters where I have no local knowledge, or know to be deep, the life jacket goes on without question. Life is precious, be safe on the water.
Footnote:
Glenn is now the proud father of a bouncing baby boy; I'm thinking of ringing Mark Houlihan at AQUATEC to see if he sells mini float tubes!
To talk to Mark Houlihan regarding advice on his extensive range of float tubes and pontoon boats, contact him on 00353(0) 253 8633
E-mail: markrxd@hotmail.com
Web: www.aquatecfishing.com
To talk to Bodo Funke regarding angling packages in County Roscommon, contact him on 00353(0) 719663660, Mob: 00353(0) 866011878
E-mail: info@anglingservicesireland.com
Web: www.anglingservicesireland.com
Back