Fly Fishing for Shark part 2
Fly Fishing for Shark part 2
Featuring the Hardy Zephrus SWS and the Hardy Fortuna XDS reel
The final part of my recent challenge in "hooking-up" a Blue Shark on the fly rod, featuring the amazing new Hardy Fortuna XDS reel and Hardy Zephrus salt water series fly rod. Check out the video clip at the end of the blog!
Back in May of this year, I received my Hardy fly kit in preparation to target a Shark on the fly. I have always wished to do this, and with this fabulous new kit, the ball was now in my court as they say. No pressure there then!
I couldn't wait to try it out, but in May, it wasn't Shark season just yet, so with Glenn Drennan for company, we ventured out in search of Pollack on the fly. Fair enough, a far cry from a large toothy critter, but stopping a hard-hitting Pollack on the fly rod is no easy challenge! I was delighted to connect with our target species, and this normally feisty fish was easily out-gunned by the new gear. Very impressive kit! The consequent article along with rod and reel details can be seen in full at this link.
http://www.angling-ireland.com/fly_fishing_for_shark_part_1_featuring_hardy_tackle
Four months later, September
It has been an erratic summer, regarding inclement weather and wind speeds, and time was running out to fulfil my promise, and ambition, of a shark on the fly. A weather-window, forecasting light north westerlies looked promising for a Cork off-shore adventure, and my old mate Sid Kennedy was more than willing to offer his boat and skippering abilities to hopefully make this possible.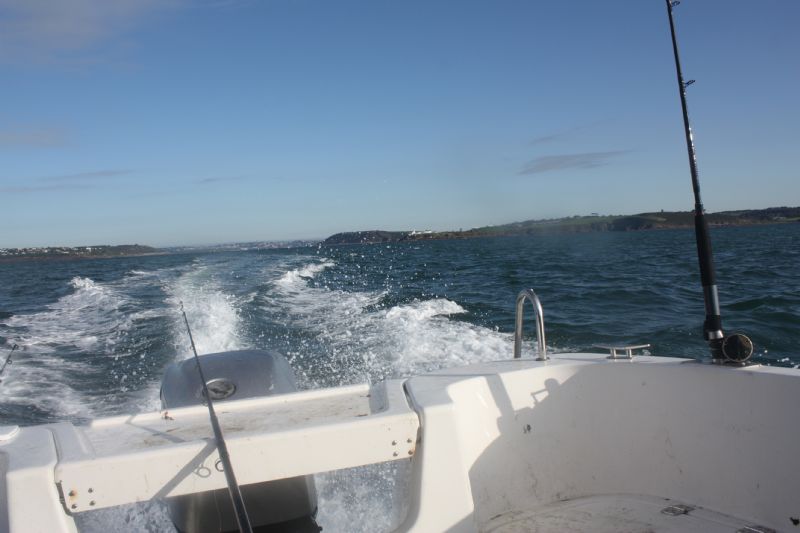 Steaming out from Cork Harbour aboard Sid Kennedy's Quicksilver
As is so often the case, once on the water, the promise of light wind speeds were blown away by 15-20mph easterlies! This lifted the sea state and would make visual fish spotting almost impossible, something I was relying on to target and hook a Blue. We were promised mill-pond conditions but ended up with a bumpy trip. Already committed by this stage there was no option but to persevere regardless. The only good point was the fact that the breeze would push us along fast enough to create an important oil slick and scent trail from the chum bag over the gunnels.
Choppy seas but a great scent trail
We were joined on this trip by our Spanish friends Jorge and Hemma as they wanted an insight into Blue Shark angling, so we also brought some standard shark tackle along, as fly-fishing for sharks isn't exactly what you would describe as the "norm"!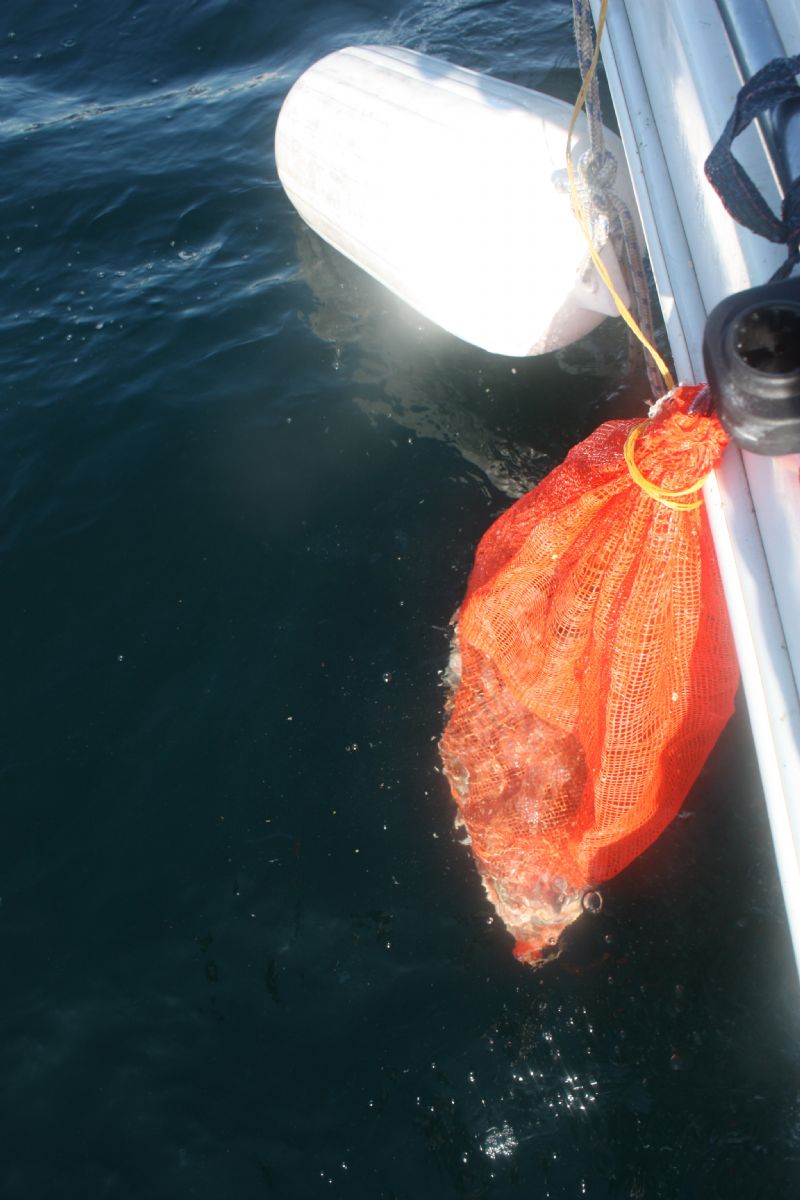 Refreshing alternate onion sacks with mashed herrings and bran kept the scent trail fresh
Once in position, we began the long drift with a fantastic scent trail stretching hundreds of yards off the portside. This was top-notch chum, and consisted of mashed Herrings and bran which I had been keeping just for this occasion, the fishy oil and blood content were second to none. If a hunting predator pack were anywhere in the vicinity, or we drifted over their path, they were sure to home in on the scent!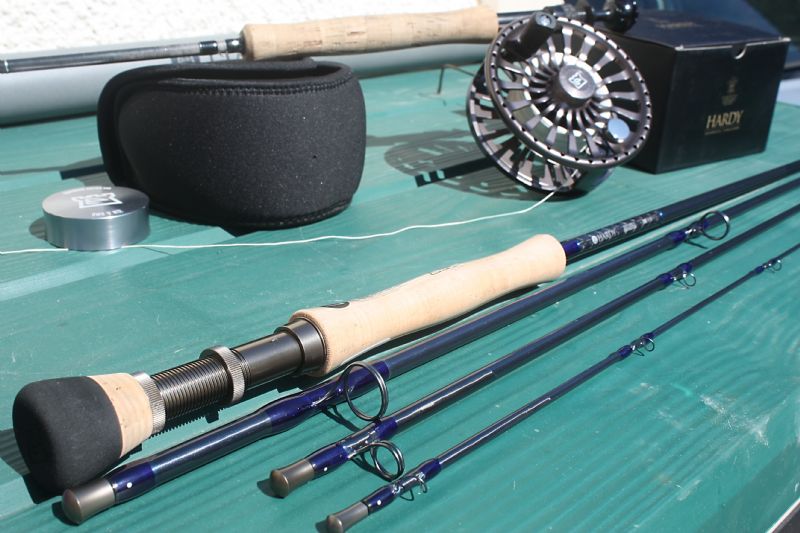 Hardy Zephrus 9' #12
Two rods were set up with standard gear, float fished Mackerel, and let out well beyond the boat, trotting along happily in the scent trail, while I put the Hardy fly kit together. The Zephrus SWS is light as a feather. It is a 9' 12 weight, stunning rod, and although I managed to tame hard-hitting Pollack up to and over 6lbs, I didn't feel this rod would be capable of beating a shark of any size. It just felt too refined!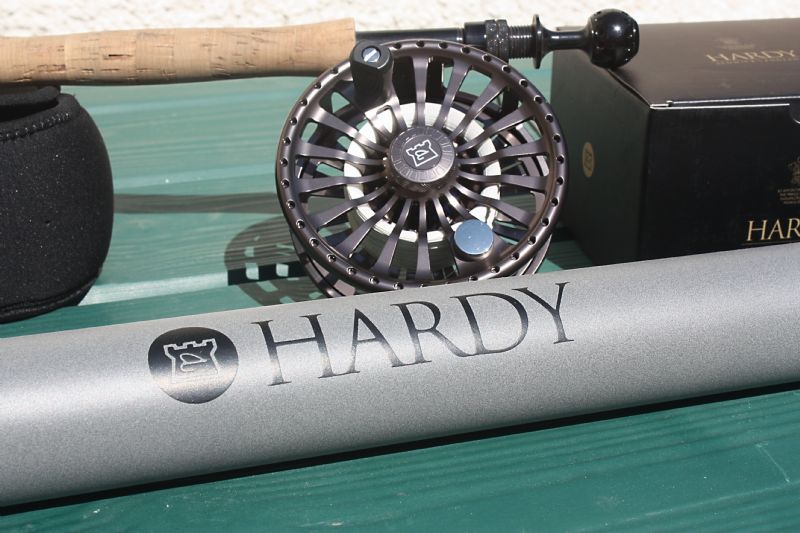 Hardy Fortuna #12 Fly Reel
The reel however, the Fortuna XDS gave me plenty of confidence. With a sustainable drag pressure capable of 30lbs, I knew it would be up to the job. The 12# I had chosen has a huge line capacity. I ended up loading it with 300 metres of 65lb Berkley Crystal Braid as a backing line, approximately 150 metres of 80lb nylon, 100 metres of 250lb nylon rubbing trace and one metre of 200lb wire biting trace!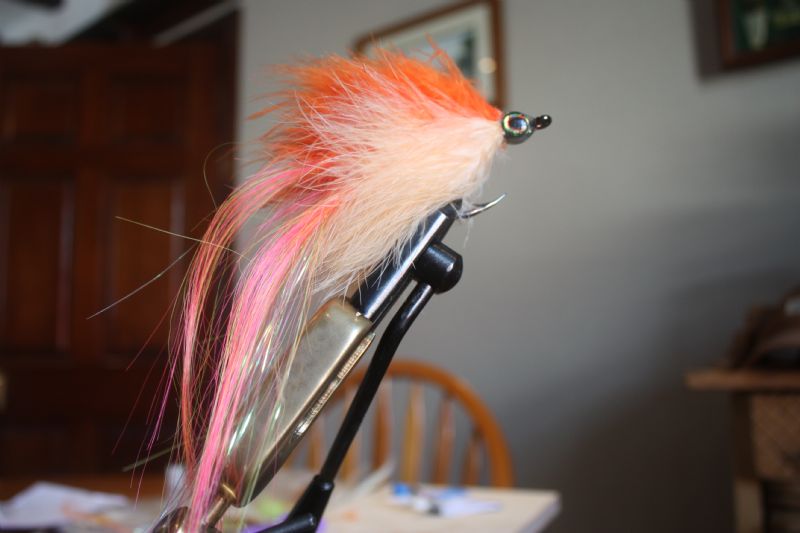 Shark fly? Maybe..time will tell!
Shark flies are another matter altogether! What exactly is a shark fly? There doesn't seem to be any particular shark fly patterns that I could find online. The reality is simply the same as all fly patterns in my opinion. If you tie a fly and it consistently catches the target species, then that's the pattern!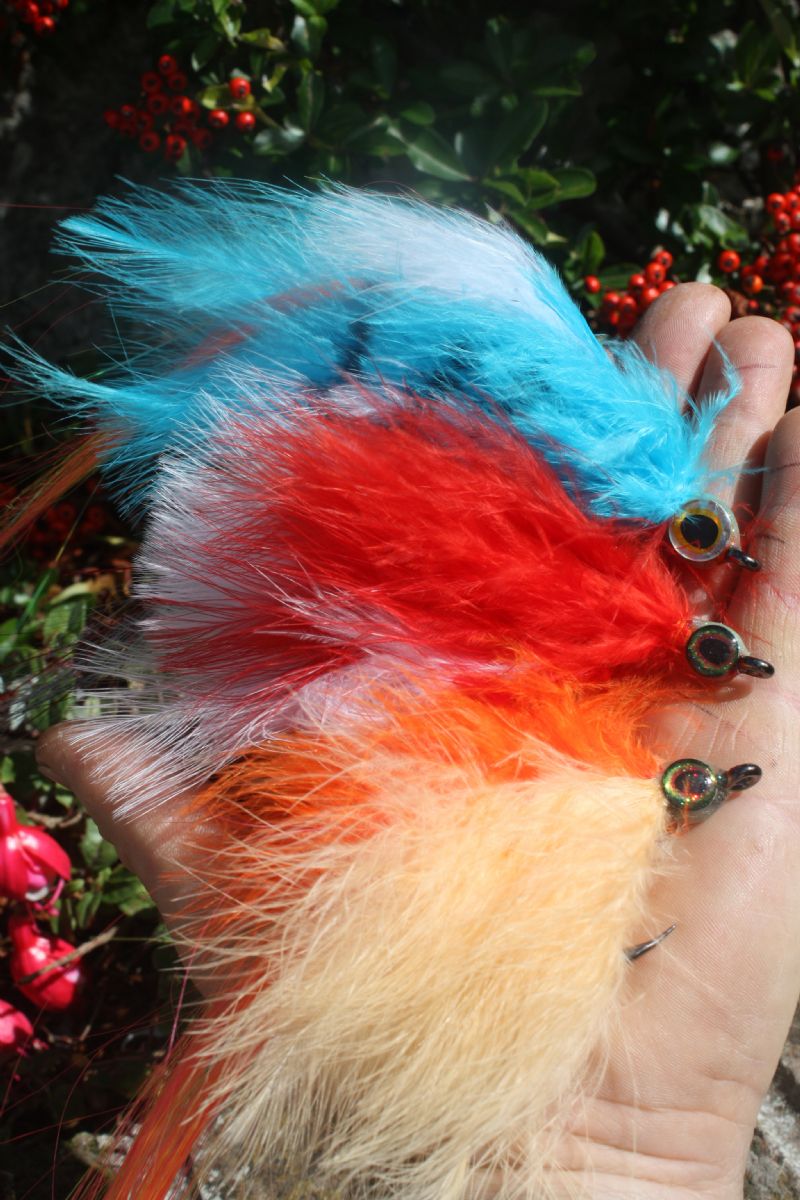 Large fluffy Marabou creations on size 10/0 Mustad "Big Guns"
I came to the conclusion that big is beautiful, and the easiest way to tie huge flies is with full Marabou feathers. Red and white are always great predator colours, so that was my first choice. Red and peach made for a fish flesh and blood appearance, my second choice, and obviously Mackerel, a natural prey, had to feature somewhere in the mix so blue and white was my third choice. Whipped onto Mustad "Big gun" size 10/0 hooks, and finished with large epoxy eyes for aesthetic appeal and added weight, for an amateur fly tier they looked almost passable. Only time will tell!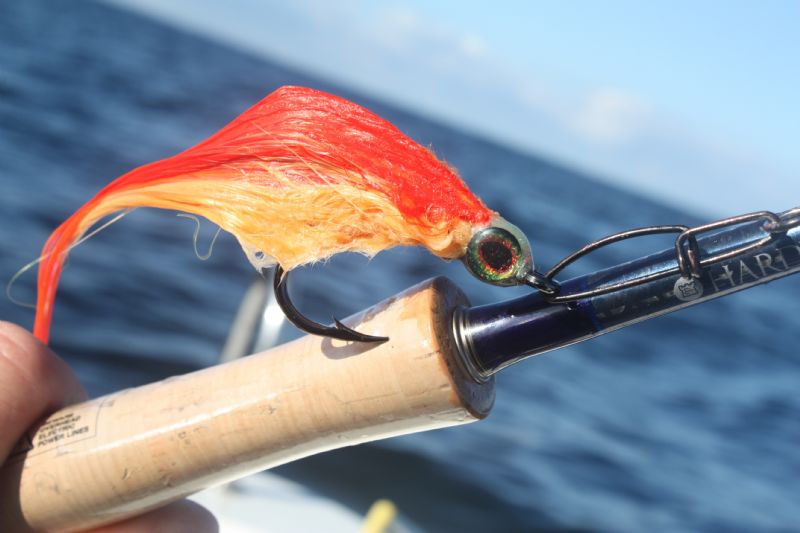 Quite quickly, we took a "run" on one of the standard rods, a small shark quickly caught and released, then another on the second rod. Hemma took the reins on this one and absolutely loved the experience. The sharks were deep and away from the boat, which left little chance of success for the fly, especially as they were extremely difficult to spot in the choppy seas.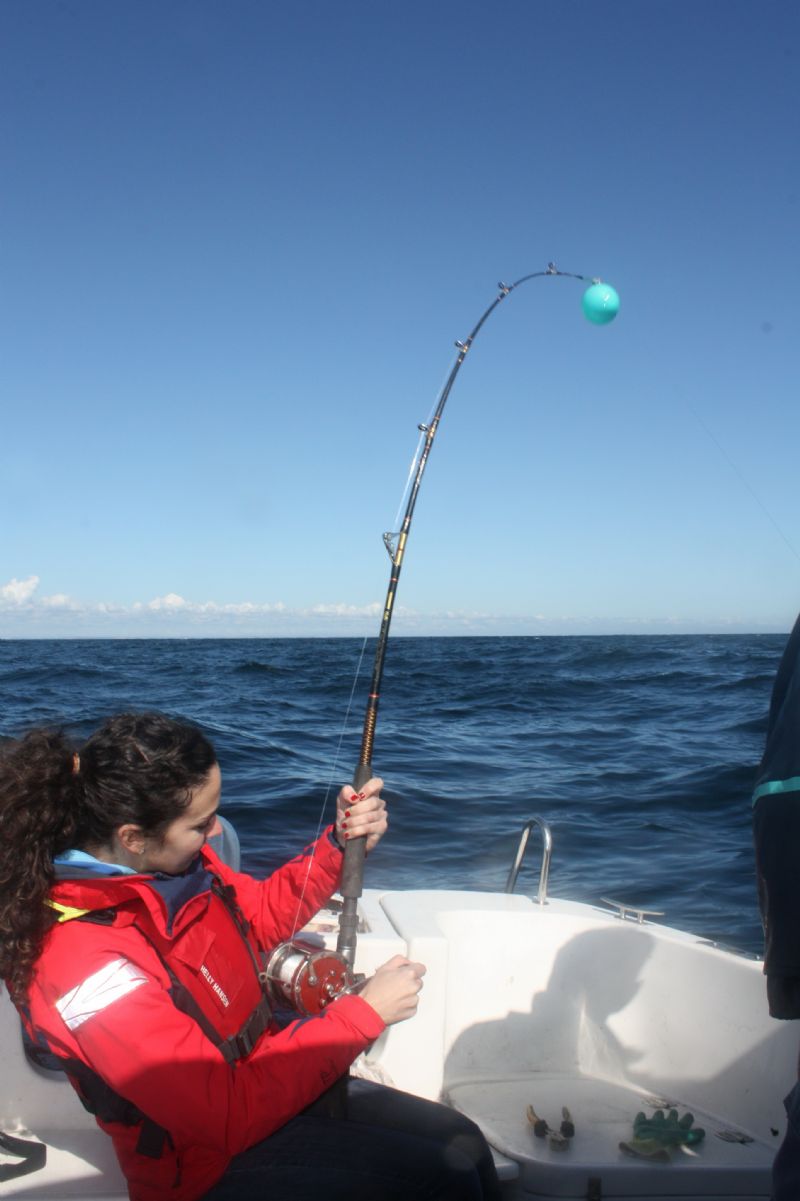 Hemma getting to grips with an Irish Blue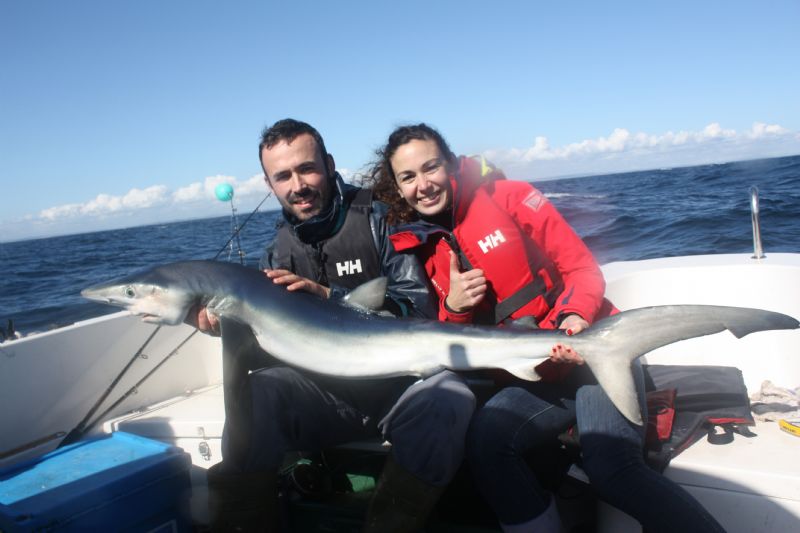 Jorge and Hemma with a Blue taken on standard Shark gear
With the bait rods back out, Jorge hit a fish, and was delighted to land his first Irish Blue and Sid's rod screamed out, resulting in the largest fish of the day at around 70lbs. The fly was failing. We realised that the bait rods were intercepting the sharks as they closed in on the scent trail, targeting them before they reached the radius of the fly rod.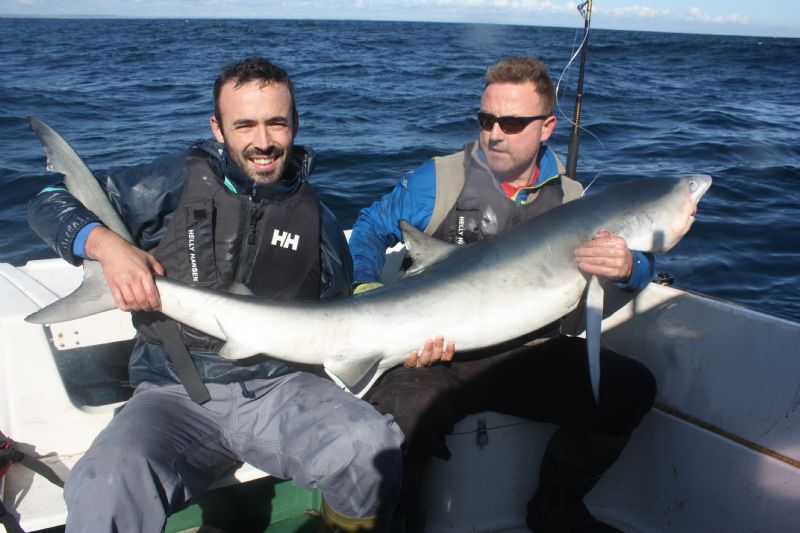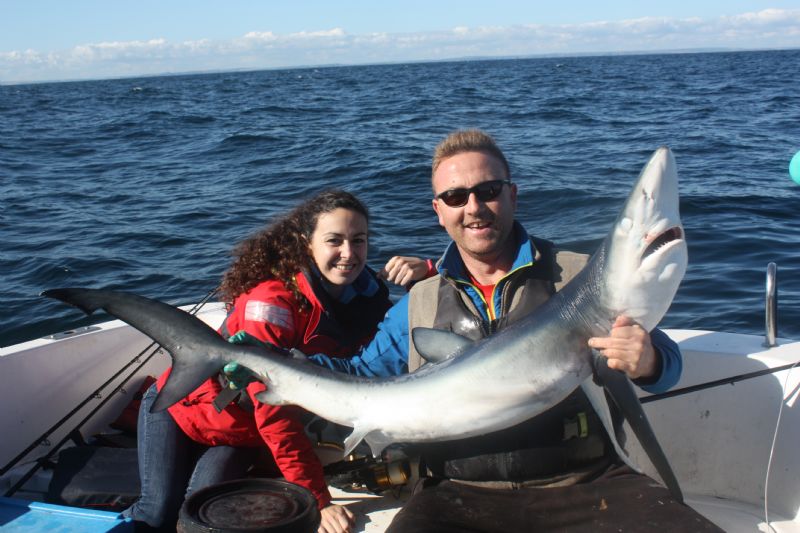 Great fishing, but the bait rods were intercepting the sharks at distance
In fairness to the crew, the bait rods were now kept in, to see if any sharks would close in on the source of the scent trail. We had to tempt them closer to the boat. Time was rolling along and I knew this would probably be my last chance of 2017 to achieve my ambition. I changed to the Mackerel pattern and let the fly sink deep, well behind the boat, and retrieved it "injured fish" style. Suddenly a gentle pull and the line tightened between my fingers. I ripped line back through the rings three times, striking salt-water style and a fish was on! Please stay on!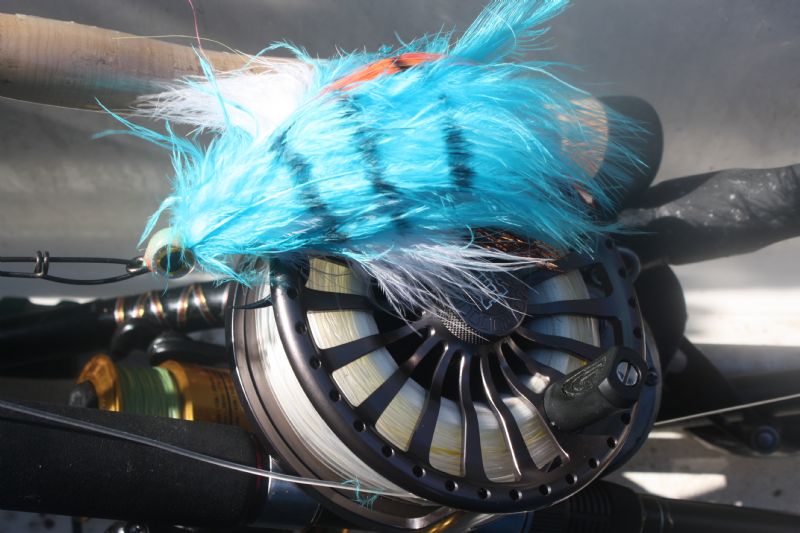 My home-tied "Mackerel" pattern
The initial runs were powerful, but against the fabulous drag system, the shark was totally out-gunned. I gained line and lost line, but could feel the shark tiring. I put a bend in the rod as far as I could physically push it and began to build confidence in it. My initial judgement was incorrect. This light refined rod was amazing in all honesty, the power in reserve allowing me to put extreme pressure on the shark and pump it to the surface, without fear of breaking it.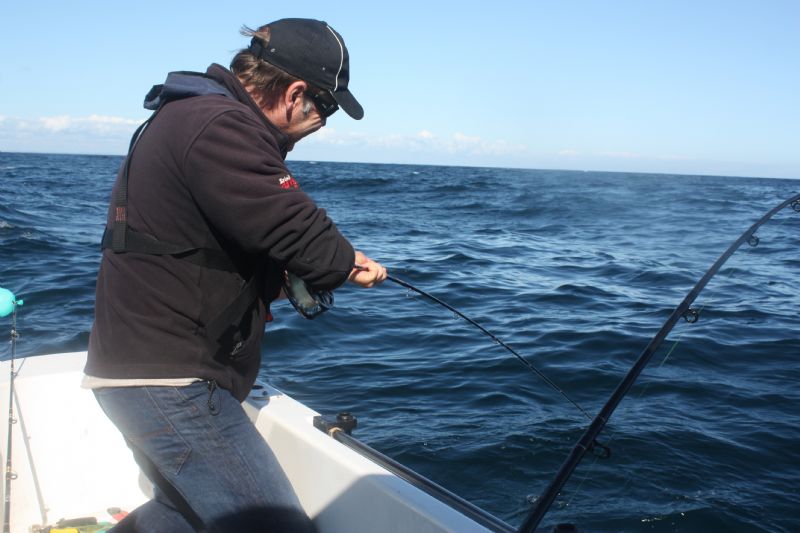 Three sharp "in-line" pulls to set the hook and fish on!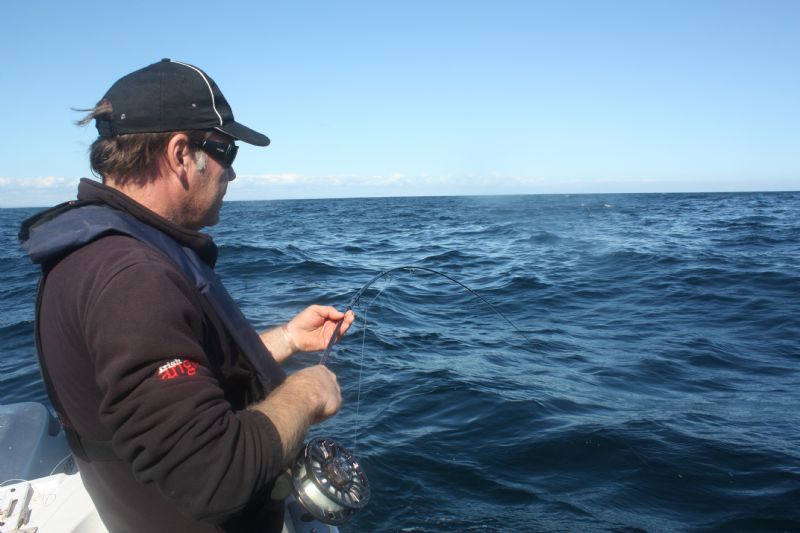 Keeping the pressure on, rod and reel doing all the work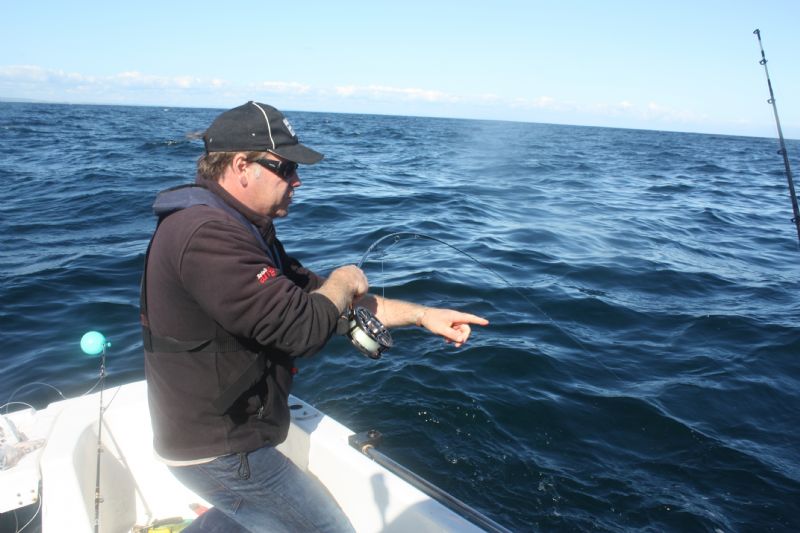 Pointing at the other sharks following the hooked fish! Got a bit excited there!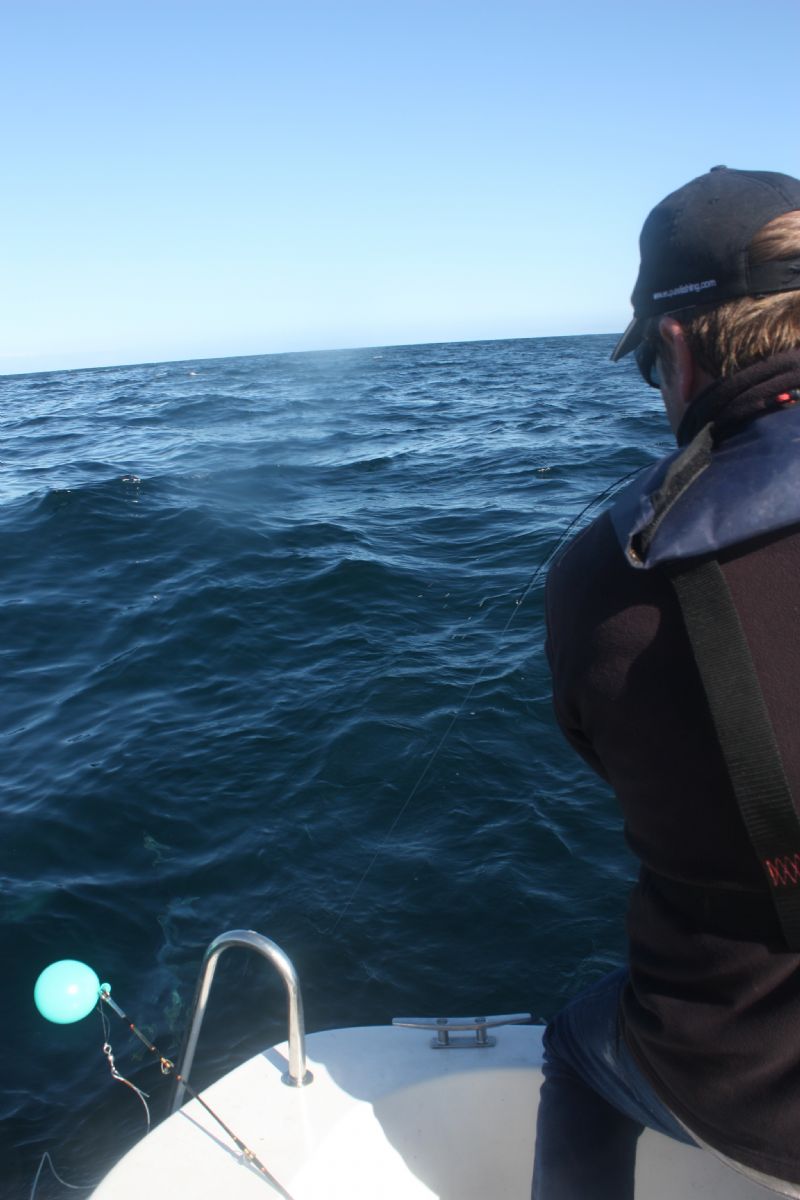 Almost there!
Within ten minutes I could see the shark below, and there were a couple of inquisitive sharks that had accompanied it close to the boat, but soon dispersed. My first Blue on the fly. Not huge by shark standards at around 30-40lbs, but beautiful to behold as always, extremely exciting and I was absolutely delighted to have achieved a long awaited ambition.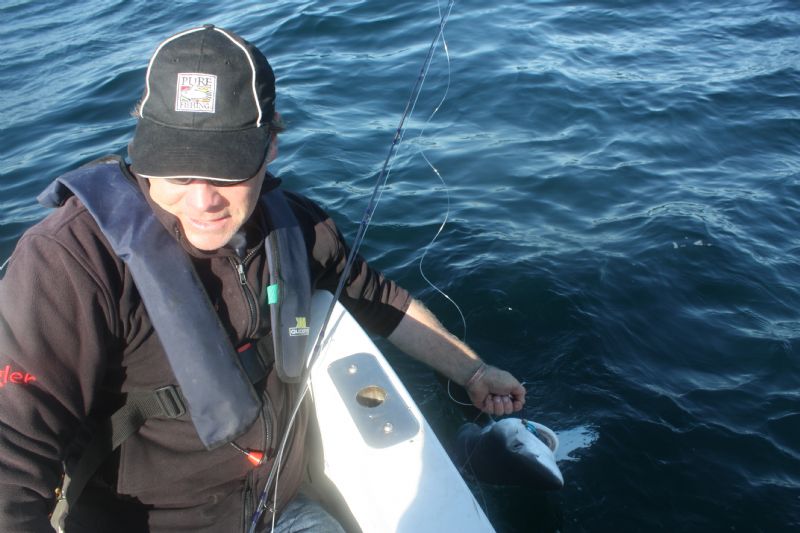 As for the rod and reel, what fantastic kit! The reel I always knew would do the job, but the rod….amazing. Such a light and refined rod, it totally belied its ability to tame a large fish and in reality, it would take a shark closer to 100lbs to test its metal, my baby shark was no match for it at all!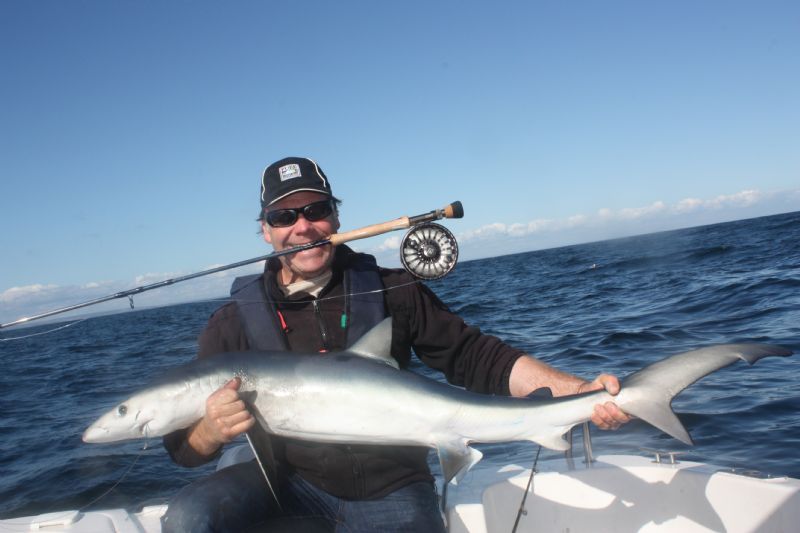 Ambition realised! I want a bigger one now!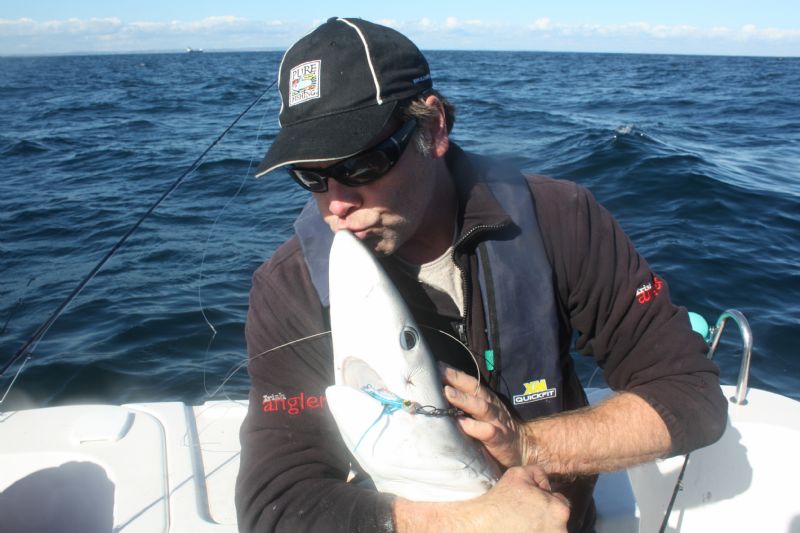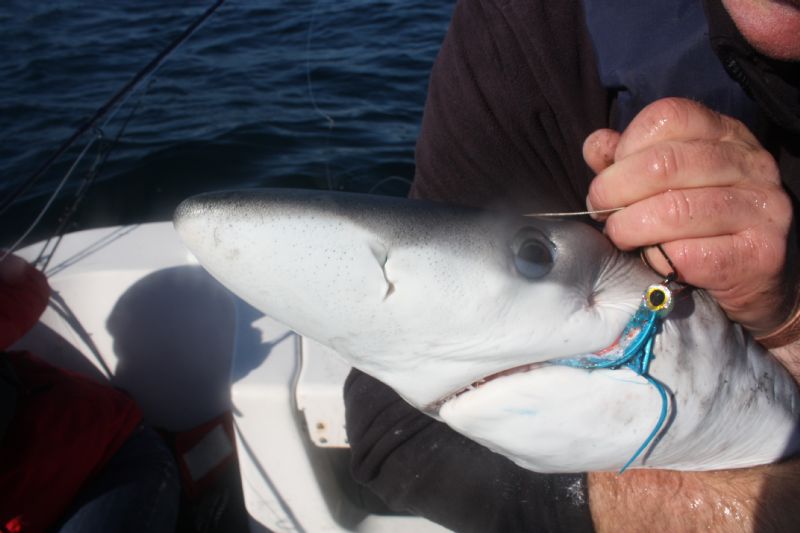 With my ambition realised, I can now settle a little and relax coming into the winter season. I will put a smaller reel on the rod and head out for Pike on the fly this winter, I can't wait to cast a "sensible" line over wary Pike in shallow water and see what my "shark tamer" can do with a fresh water predator. Watch this space! Hopefully next year I can chase a larger Blue or perhaps a feisty Porbeagle on the Hardy kit, why not, it's all an adventure. In these worrying times of stock depletion through commercial over-fishing, new tactics and new tackle keep the excitement there to continue our love in the hunt for species and that all important adrenaline rush.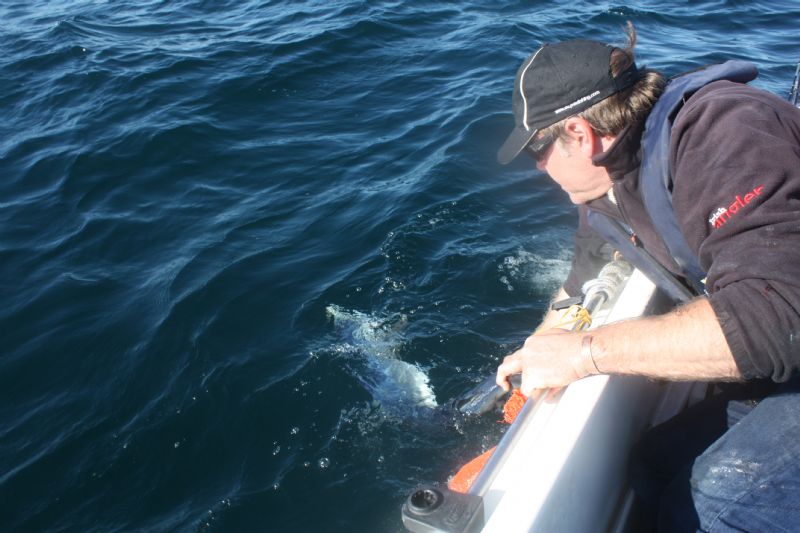 Safe and careful release
I would like to thank Hardy Tackle for producing a fabulous predator fly set-up, and importantly my friend Sid Kennedy for producing the goods once again at sea, and for kindly putting together a video clip of the experience. It's one I will never forget.
Video clip, Shark on a fly, click here
Back