Flying for Pike
Flying for Pike
With an old mate
Dennis Hollinger is an artist, a very good one in fact, and also a keen amateur photographer.
More important than that, he's one of my oldest friends. In fact, he was best man at my wedding many years ago, but I won't hold that against him.
I recently had a morning's work in Enniskillen, and it would have been silly not to drag the boat down with me for a few hours budgie chucking about the Erne afterwards. I asked Dennis if he would like to join me and he jumped at the chance. Not for the pleasure of my company I hasten to add, but for some photo opportunities and possible artistic inspiration.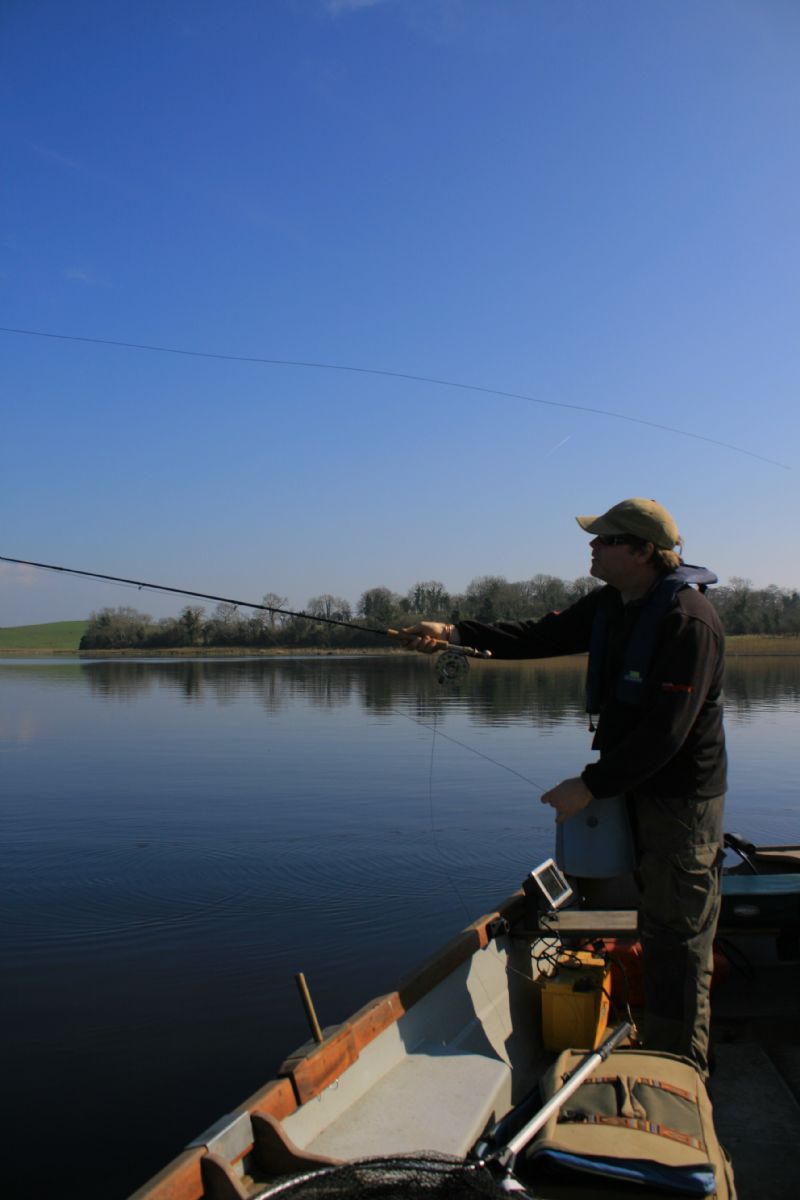 Keeping the loops nice and tight
After the necessary evil of work was over, we were soon afloat and on our way in search of some angling action, while Dennis snapped away at every opportunity. He confessed that on a normal day he would fire off up to 3000 shots in a session! I'm not sure if I do that in a year.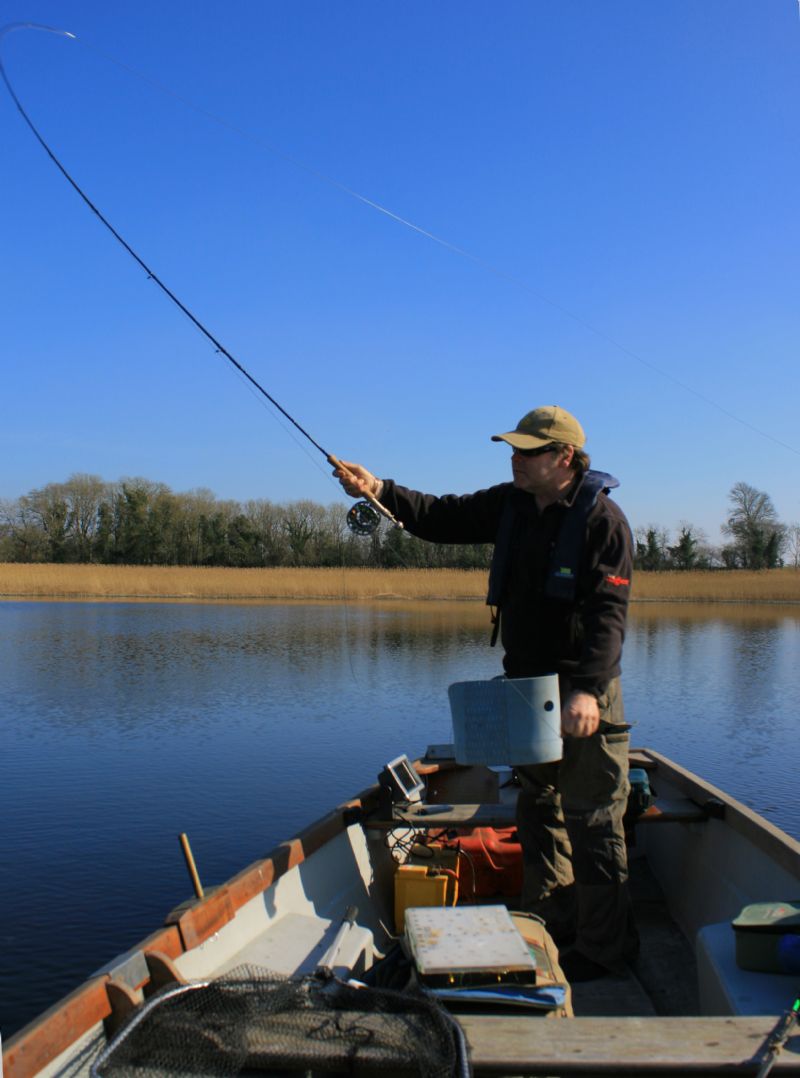 "Double-hauling" easily compresses the fly rod
Now there are pros and cons when you take a non-angling artist afloat. The pros are, some great company, any fish that come to the boat are all mine, and the theory that there is a willing photographer on hand so I wouldn't need to take my camera out of its case the whole day. Oh, and he makes fantastic sandwiches! The reality however, was that the stunning landscape got the lion's share of the attention, and I felt a bit left out!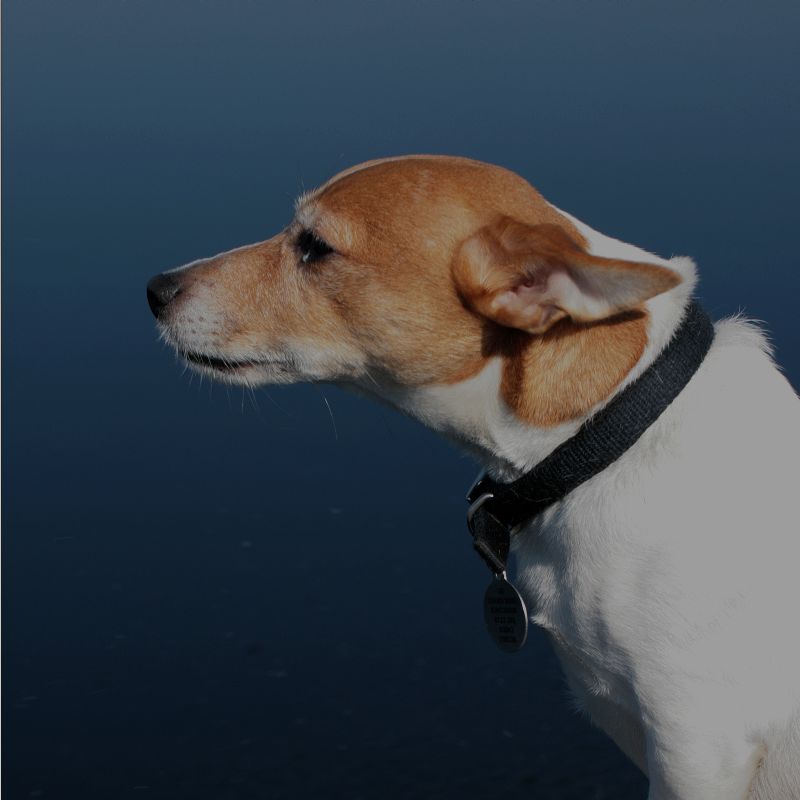 "Skip" the ever-vigilant fish spotter
By the end of the short angling trip, Dennis had managed to rattle off 700 photographs, if I see another sunset or majestic swan in flight it will be too soon! Just messing mate. In reality, it was such a beautiful day that it didn't suit the deeply emotional paintings Dennis specialises in, so we did the right thing and chilled out, soaking up the warm rays of the spring sunshine, and finding a few Pike into the bargain.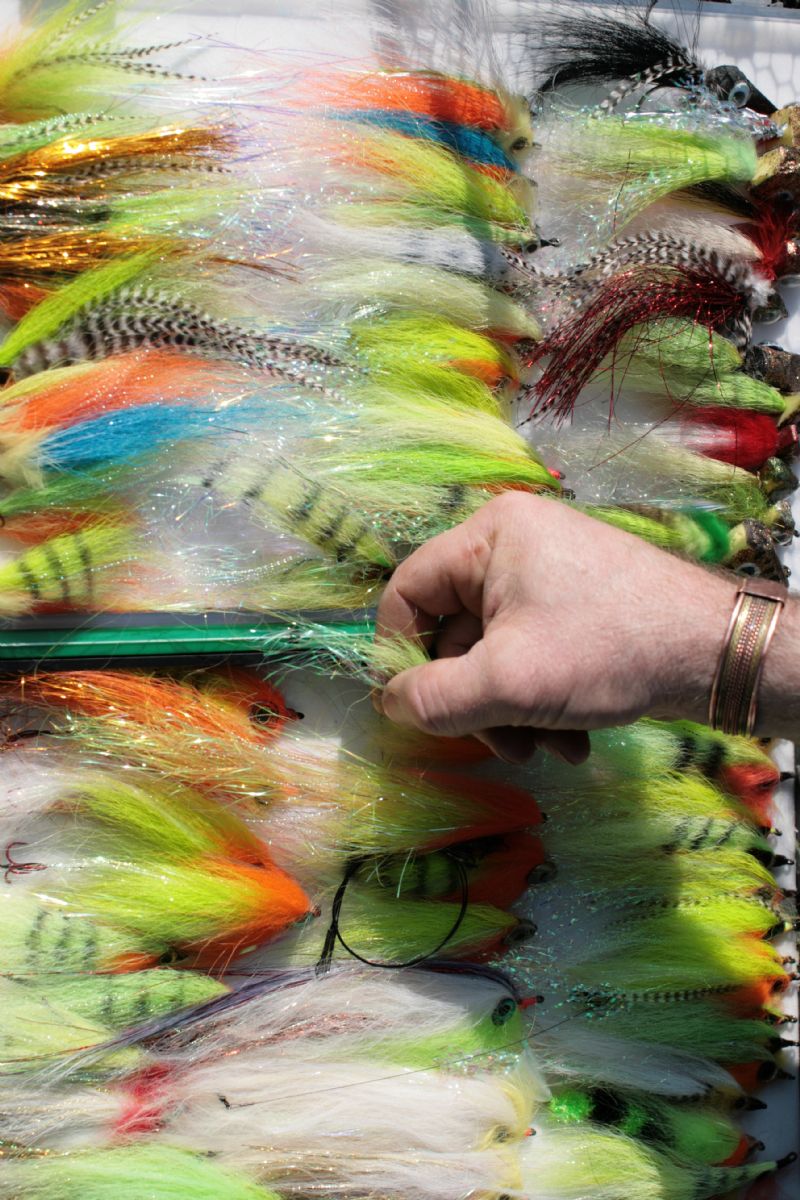 Spoilt for choice. Hard to pick one!
Dennis has some small amount of experience with the discipline of dead-baiting, but knew nothing about Pike-fly fishing, and was amazed at the activity associated with it. Constantly on the move, gentle drifts into quiet reed-fringed bays, and dropping a fly amid the surface activity of scattered Roach or Perch fry. It was obvious that he could feel the exciting tension and apprehension that I know all fly angler's experience, when waiting for that heart-stopping take. It was pleasing to see that he "got it".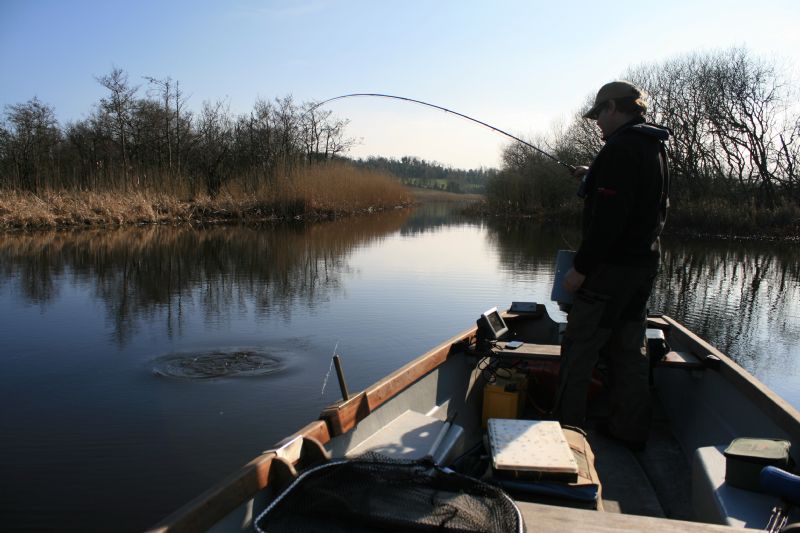 Our first two bays were devoid of fish. The water levels were almost down to summer heights and we could see every sandy ripple and pebble on the river bed. Unfortunately, no signs of fish life. Just outside the bay as the water deepened, a fierce take opened my link swivel and the large fish made off with my fly. A silly mistake on my part, and a switch to a heavier link was required. I'm slipping up in my old age these days and definitely need to get my fishing head on straight again!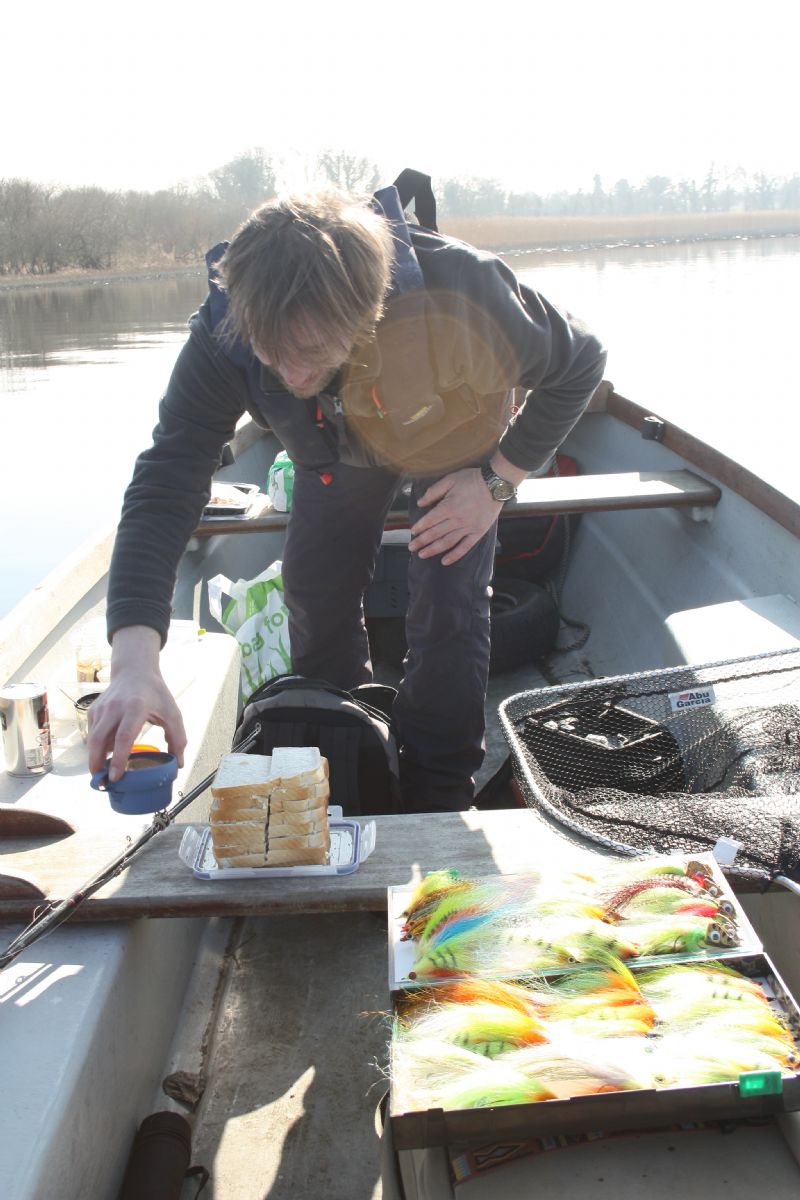 My boat partner for the day, he makes a mean picnic
Still, it was such cracking day, I steered the boat into the main river flow, and we drifted for an hour, not fishing but relaxing with some good grub and cups of coffee, catching up on old times and putting the world to rights. Good times.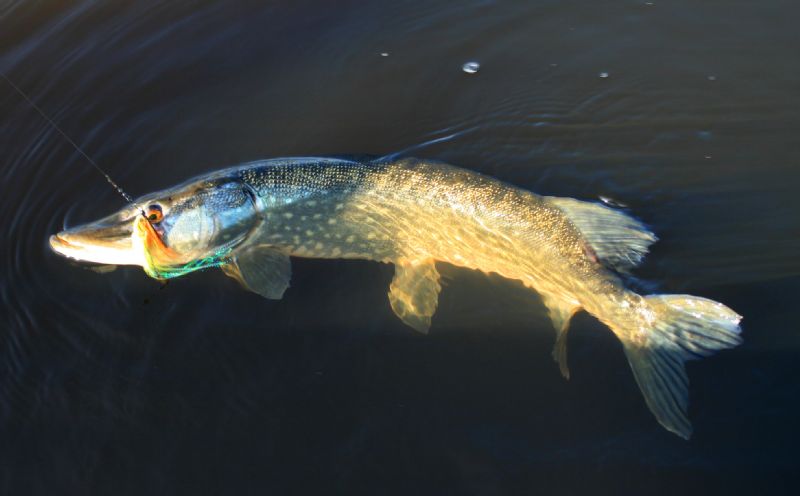 With another hot-spot ear-marked further downstream, on arrival it soon became obvious this would be a winner, as we drifted quietly in and amongst scattering Roach fry and predator activity. First cast had the fly rod buckled, as did second cast and third cast. I think Dennis was a tad "gob-smacked" at this, witnessing for the first time how devastating the fly can be when you find fish in shallow water.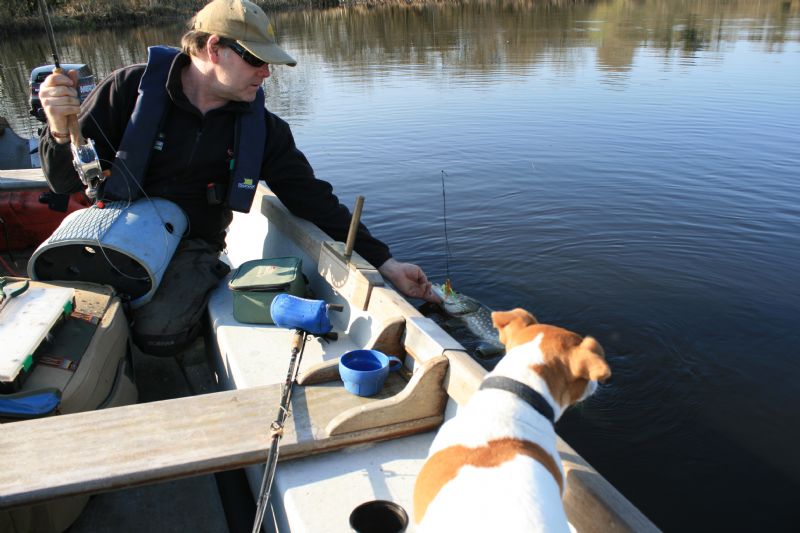 "Chinning" a small fish, Dennis thought that meant giving it a right uppercut!
With a half dozen or so hooked and landed in quick succession, I suggested trying to get a shot of a pike hitting a surface fly. A quick switch to a foam-headed creation and we waited for a fish to give its position away. As the boat neared the aftermath of a surface attack, I quietly dropped the lure (weed guard incorporated) amongst the reeds and "twitched" it into the kill zone. Just as the Pike struck, crashing through the surface layer, and leaping a metre in the air with lure nicely positioned in the scissors, Dennis turned to photograph a swan gliding in to land nearby! You couldn't make it up!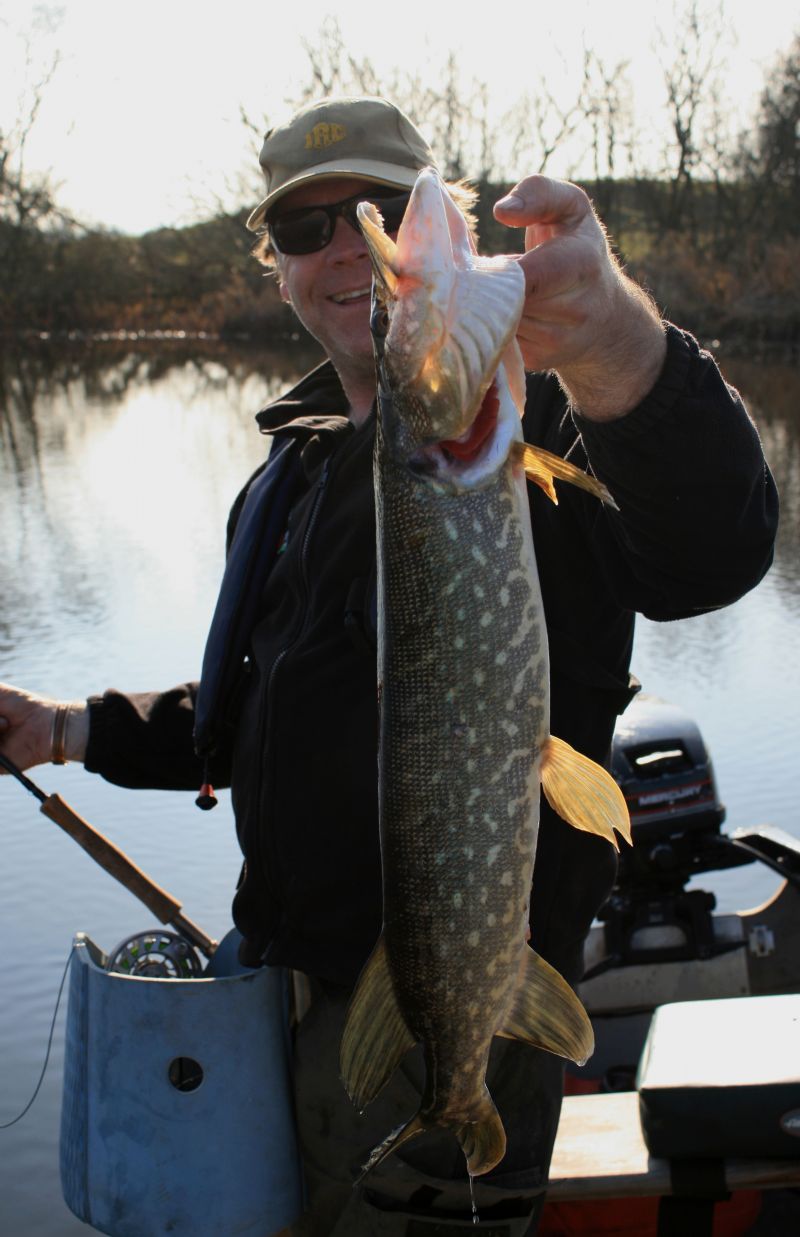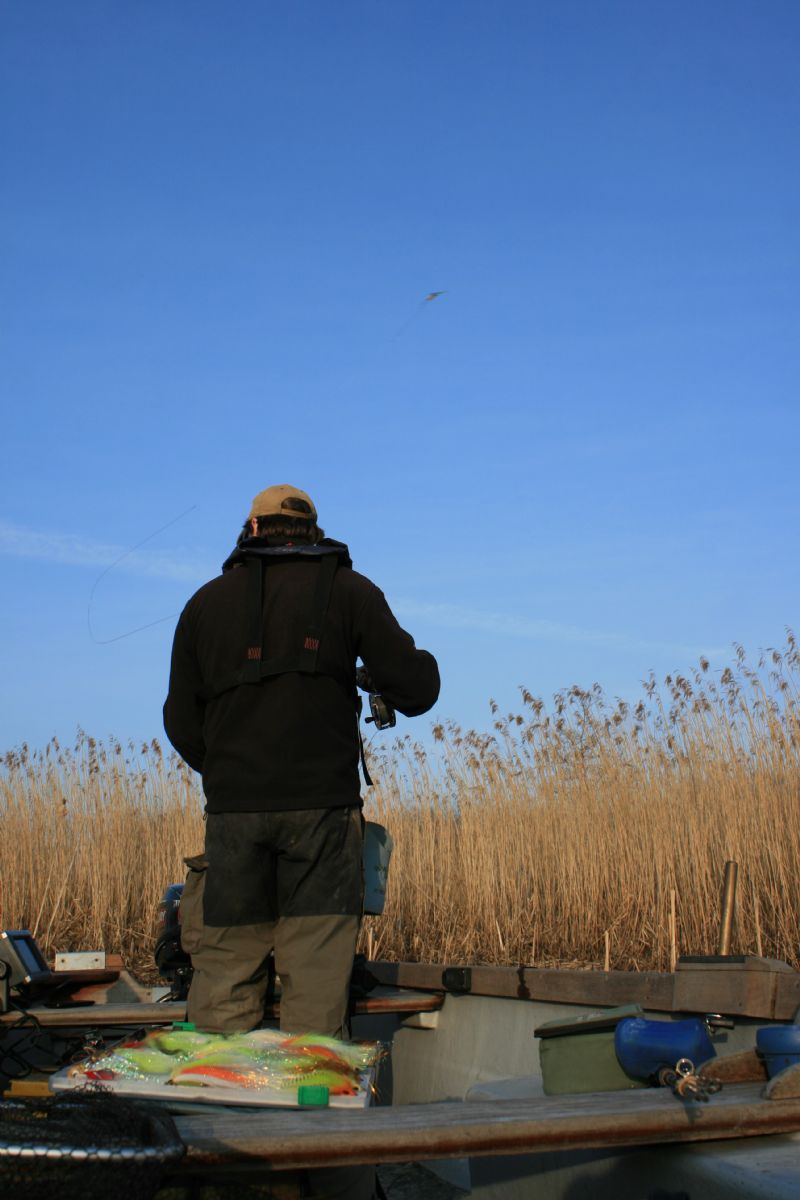 Nice tight loops, fly just over my head, and another victim to the fly
Ah well, one of these days I will get my crystal clear print of a pike in mid-strike, water droplets spraying through the air, razor sharp teeth bearing down on my fur and fluff creation, captured in high definition, I can but dream.
I suppose when you take a landscape painter fishing, you must expect photos of the landscape!
Seven or eight fish on the fly in a few hours wasn't too bad a result, but more important than that, I had the chance to catch up with an old friend and relax in stunning surroundings. As you get older, you realise what are the important things in life, learning to appreciate and look after what God has given us. I know Dennis won't mind me saying, he is a devoted Christian, I think it must be rubbing off on me! I'm getting all spiritual, but then true angling seems to have that effect. Thanks Dennis, for making this short session a memorable one.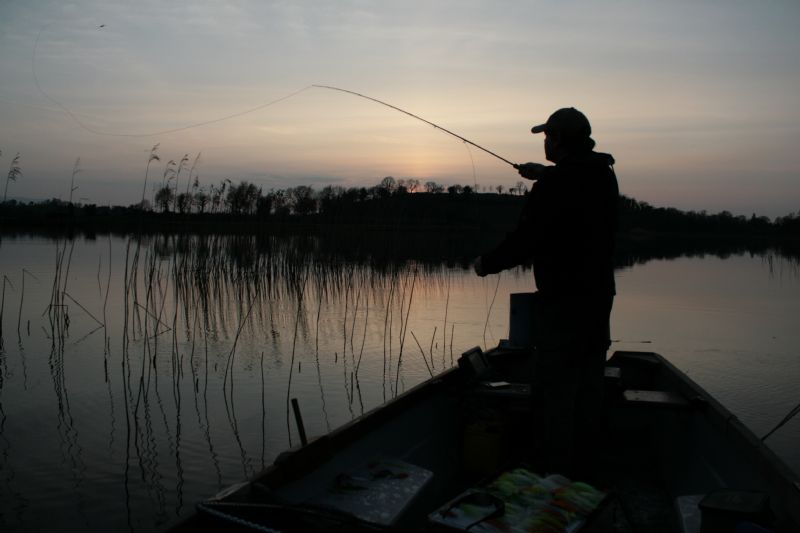 Continuing into the evening, I know it's an old cliche, a fish now is simply a bonus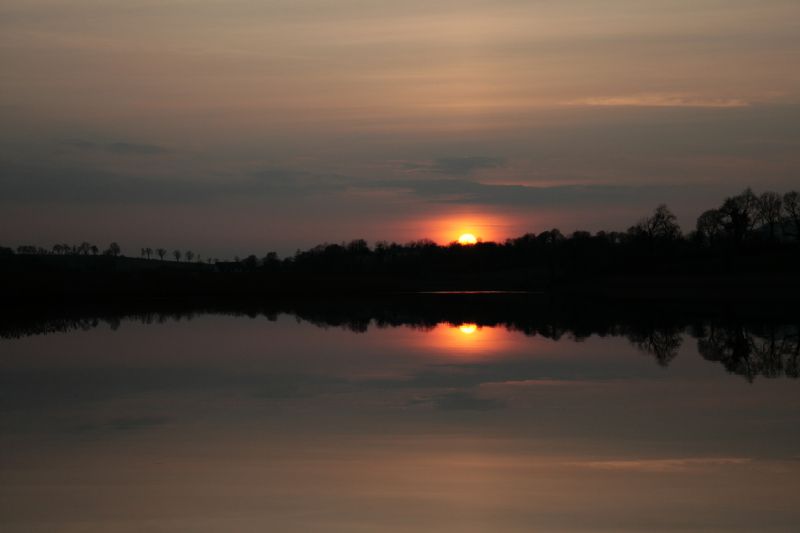 Back