Fulfilling a promise
Fulfilling a promise
Many years ago, I was lucky to be introduced to two anglers from Cork City. They were Sid Kennedy and Ross Macklin. They took me under their wing and were instrumental in many of my specimen Carp captures on their local water, Cork's famous Lough.
Both lads are experienced anglers and specimen hunters, and over the years, I am pleased to say, we have become good friends.
This year, both Ross and Sid have amassed an enviable array of specimens. On the strength of this, they called in a promise I had made last winter, whilst huddled around a stove in my bivvy, munching bacon sandwiches and swilling mugs of tea. The promise entailed a sea angling trip aboard my Fast-Fisher in search of species that weren't readily available out of Cork Harbour.
I do not need to remind readers of the frustrating, erratic weather we have endured this year. Needless to say there were many postponed weekends before, eventually, wind and tide settled long enough to invite the lads up to my neck of the woods! What complicates the scenario when planning a trip such as this, is the fact that most of my off-shore sea angling is carried out in extremely deep water. Ideally this requires neap tides rather than the fierce springs we suffer on the north coast. It is no coincidence that most of the desired smaller tides are combined with strong breezes. This is the result of natural weather patterns due to gravitational pull and conflicting land/sea temperatures that I won't pretend to understand! Suffice to say, the small tide-big wind scenario occurs with regular monotony!
Day 1
I met the lads on the Friday night as planned, sleeping rough in the jeep in order for an early start Saturday morning. Land Rover Discoveries are excellent boat-pullers, but lack somewhat as sleeping quarters! Either that or I am just getting too old for roughing it! With breakfast over, and boat launched, we headed out from the harbour at sunrise. With perfect conditions and comfortable seas, there was an air of optimism regarding our angling prospects and what lay ahead.
Mackerel have been thin on the ground all year for in-shore waters, a combination of commercial over-fishing and the huge amount of fresh water influx from swollen river systems emptying into the estuaries. Wet summers are fast becoming the norm for this country. This weekend was no exception, and after a full hour searching, we only had about two dozen small Mackerel to show for our efforts. This was no-where near enough for a full deep-water session, but eight boxes of frozen Calamari Squid in the cooler box were excellent back-up.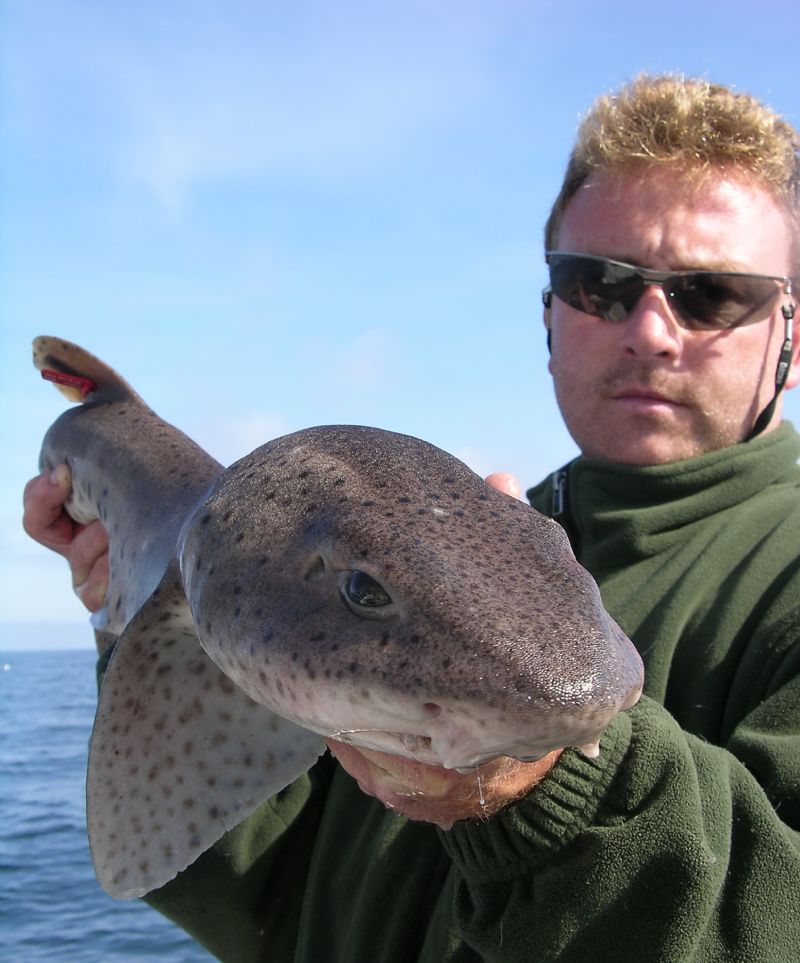 A small Huss for Sid
I headed for an off-shore mark I had discovered two years ago that is usually teeming with large Spur dogs. On every occasion that I have targeted this mark, specimens were simply a foregone conclusion. In fact, you could confidently bet a week's wages on it! The guys were excited and couldn't wait to get at it, but as the session transpired, all we managed to find were Dogfish and a single Huss. Something was definitely amiss! A number of Dogfish landed had serious damage to the lower jaw, with large pieces of flesh and jawbone ripped away. It was obvious that a commercial long-liner had paid a visit to the area, with devastating results. I realise that "doom and gloom" is not a popular subject, but anglers from all disciplines need to see that our Irish species are being decimated at an alarming rate. When they are gone, they will not return!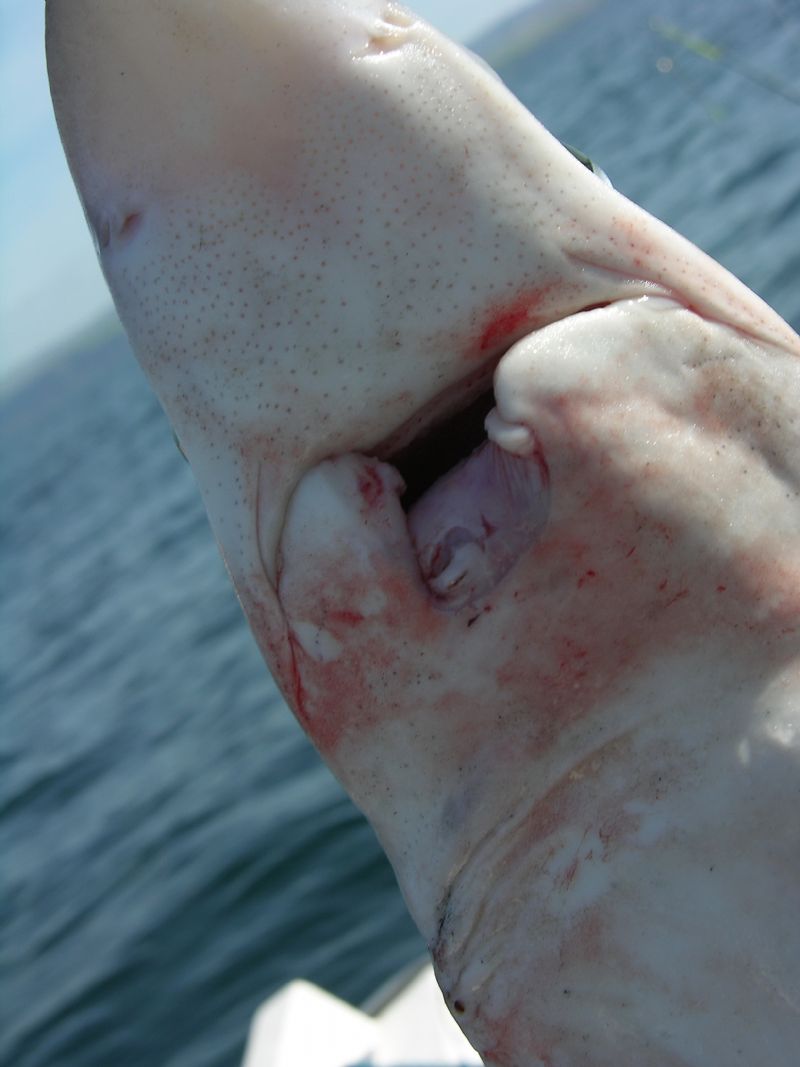 Evidence that long-liners are working these areas, a damaged Spur dog
Back to the specimen trip, and after this set-back, an obvious change in target species was required. We steamed eleven miles along the coast to a small reef that had previously produced large Cuckoo Wrasse. Although plenty of Wrasse showed, with a few fine Pollack amongst them, the specimens eluded us. I was really beginning to struggle by this stage and felt guilty having brought the guys so far for so little. I cursed the commercial guys under my breath!
At times such as this, it sometimes pays to produce the "wild card", and a deep gulley far off-shore was my last chance to salvage something from a poor day. As I had only tried this mark on one previous occasion, it was a long shot to say the least, but fortune, as the saying goes, favours the brave. It had been a long, tough day and so I advised large baits in the hope that something special may come along. Common Skate have showed here in the past.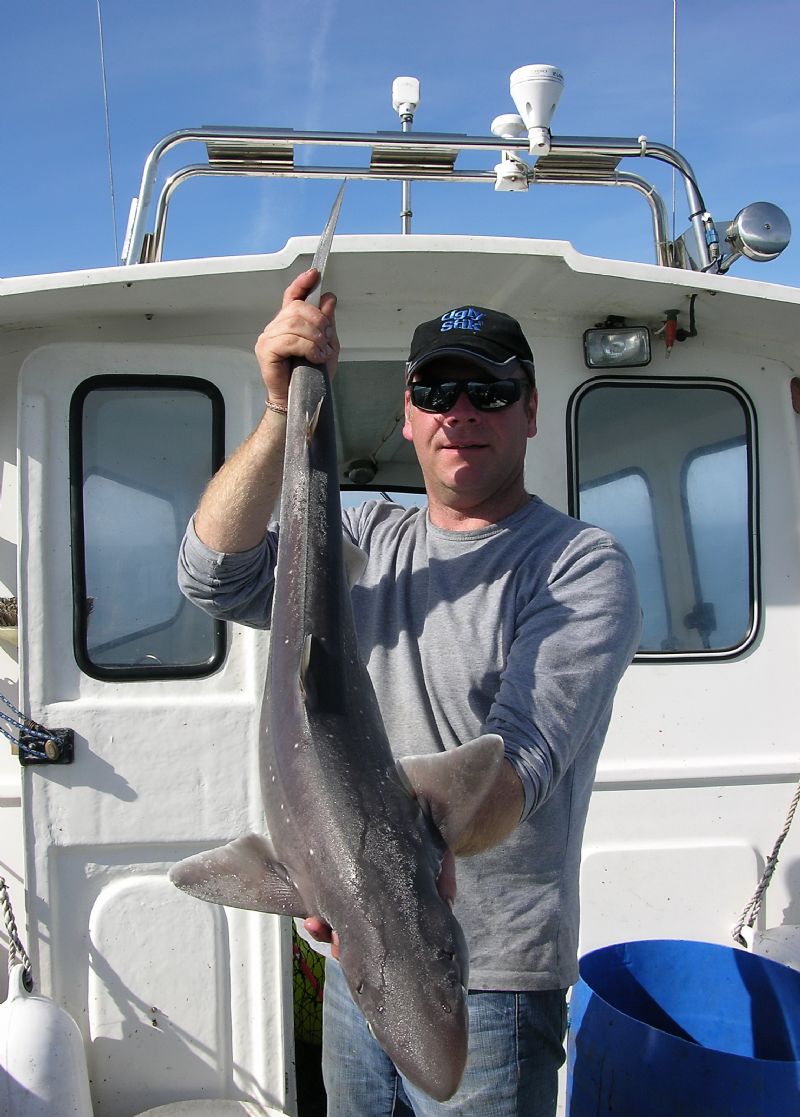 A double-figure specimen Spur dog helped salvage the day
At last, a few Spur dogs appeared, un-typically small but extremely welcome. Before packing in for the day, several large Huss were boated and a lucky Specimen Spur for myself. It was with mixed feelings that we headed back to the harbour, discussing plans for the following day. Some friends of mine were heading to Donegal in search of sharks. Meeting up with them was a possibility, or perhaps targeting some Donegal Tope. Sharking in Cork was common place so that was a non-runner. The chance of a specimen Tope was tempting, but finally, the decision was made to stay put. Today's Spurs were the first ones that Sid and Ross had seen, and they were still keen to pick up a specimen for themselves.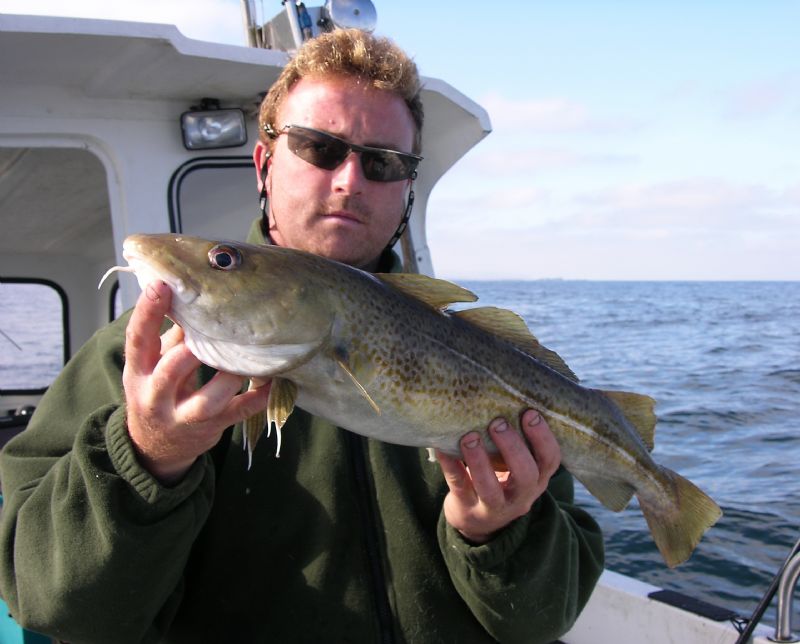 Day 2
Sunday morning gave us a fresh approach to the specimen hunt, and with our previous day's knowledge, it was a case of not messing about. Local guys were heading for a mark that produced Mackerel the day before, and we tagged along. Again they proved elusive, but with nothing but simple Mackerel traces on, we notched up quite a few species including Pollack, Coalfish, Grey and Red Gurnard, Whiting, Pouting, Codling, Weever-fish and a handful of Mackerel. There were quite a few small fish about over this sand bank, but nothing spectacular, and it was the spectacular that I was looking for! It is always a difficult decision to leave plenty of fish, but I called lines up, and opted for a thirty minute steam to another off-shore reef.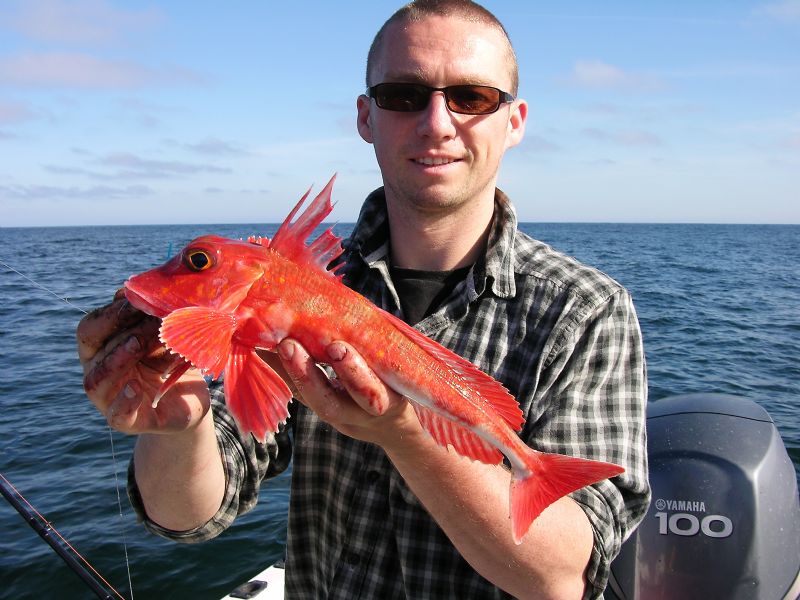 A stunning Red Gurnard for Ross
This time, Mackerel were abundant, and feeding amongst them were dense shoals of Coalfish and the odd "smattering" of quality Pollack, in fact, all three of us had our lines smashed like cotton at one stage! With plenty of fresh Mackerel, we could now target the deep water mark again in search of double-figure Spurs. Before doing so however, and whilst waiting for the correct stage in the tide, there was a part of this reef that once held large Cuckoo Wrasse. It was well worth a quick drop.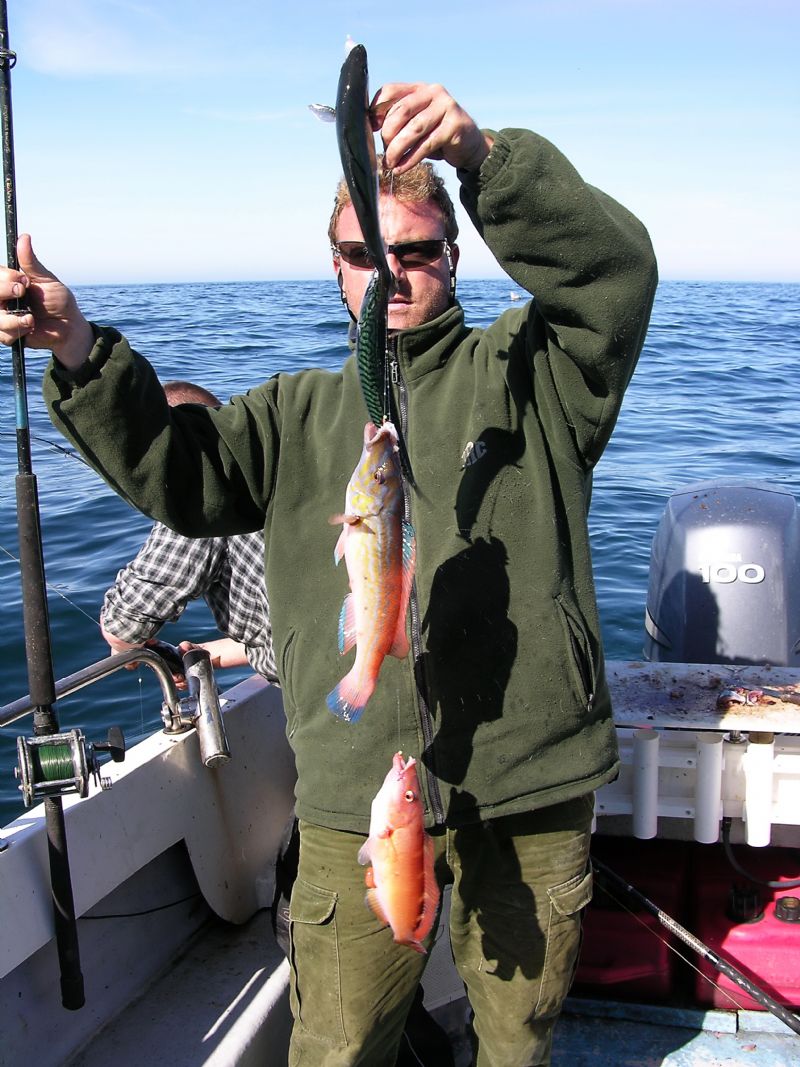 Not bad on one drop, a Coalfish, a Mackerel, a male Cuckoo Wrasse and a female!
Against advice, Ross put on one of his very sexy home-tied Wrasse rigs, which was soon lost in this un-hospitable environment. Baited Mackerel traces are definitely the order of the day. These cheap, un-complicated rigs, baited with Mackerel strip stand a greater chance of working deep amongst the reef and kelp, especially with a sacrificial weak link attached to the sinker. It wasn't long before the colourful Cuckoos appeared, with most just ounces below the magical specimen weight. Prospects of a large example were encouraging. You could feel the concentration, as Ross and Sid fished their hearts out in search of that special fish of a lifetime!
Sid had frustratingly lost several possible specimens en-route to the surface, and then Ross hooked into a huge Cuckoo, the largest I have seen in years. Not waiting for the landing net, we held our breath as he swung the fish safely over the gunnels. With the look on Ross' face, it could just as easily been a 2lb bar of solid gold, such was his reaction. I wished I had the video camera with me to capture his celebratory Irish Jig around the deck of my boat. It is amazing how one particular fish capture can melt away the disappointment of the previous day.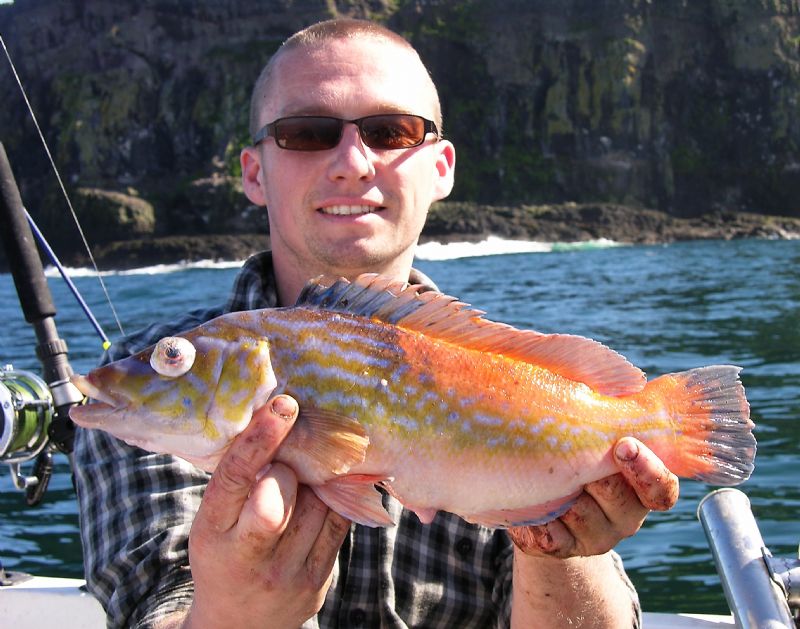 Ross with his first specimen Cuckoo Wrasse
Sid lost another potential specimen, but he knew more than anyone how angling can go that way at times. Ross rubbed salt into the wounds by managing to find another specimen, and was congratulated through gritted teeth! Again, it was difficult to leave feeding fish, but as the correct tide beckoned, it was now or never if they wanted a last shot at the Spur dog. I let the lads decide on what they wanted to do, and in fairness, they both agreed to leave the Wrasse and head for the deep water mark.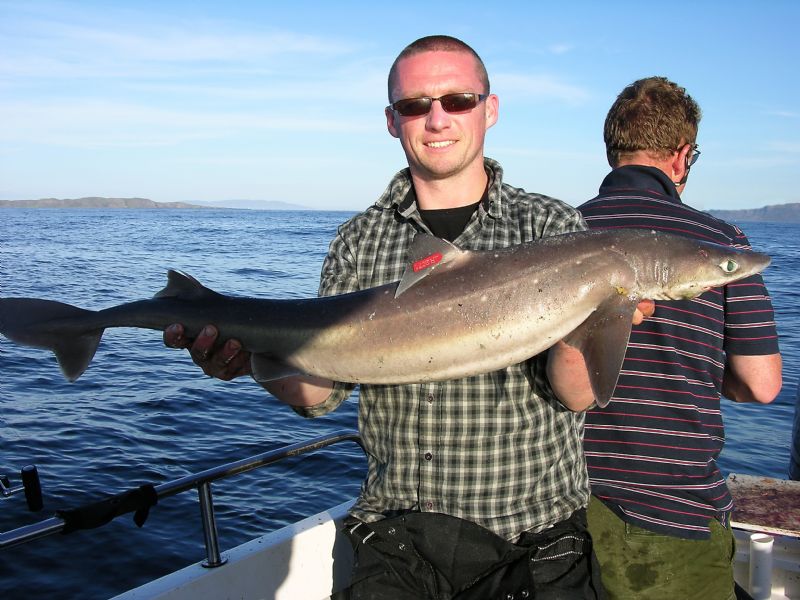 At 11lbs 12oz, Ross narrowly misses the specimen mark with this Spur dog
We soon found the Spurs and Huss that we had left the previous day, and although it was encouraging to see them, yet again a proportion of fish had the same lower jaw damage. The only positive note was despite these horrific wounds, they were healthy enough to survive and continue feeding. I wondered how many specimens and Irish Records were sitting on ice in a ships hold on their way to market, fish that could create long term sustainable employment for dozens of people through recreational sea angling tourism.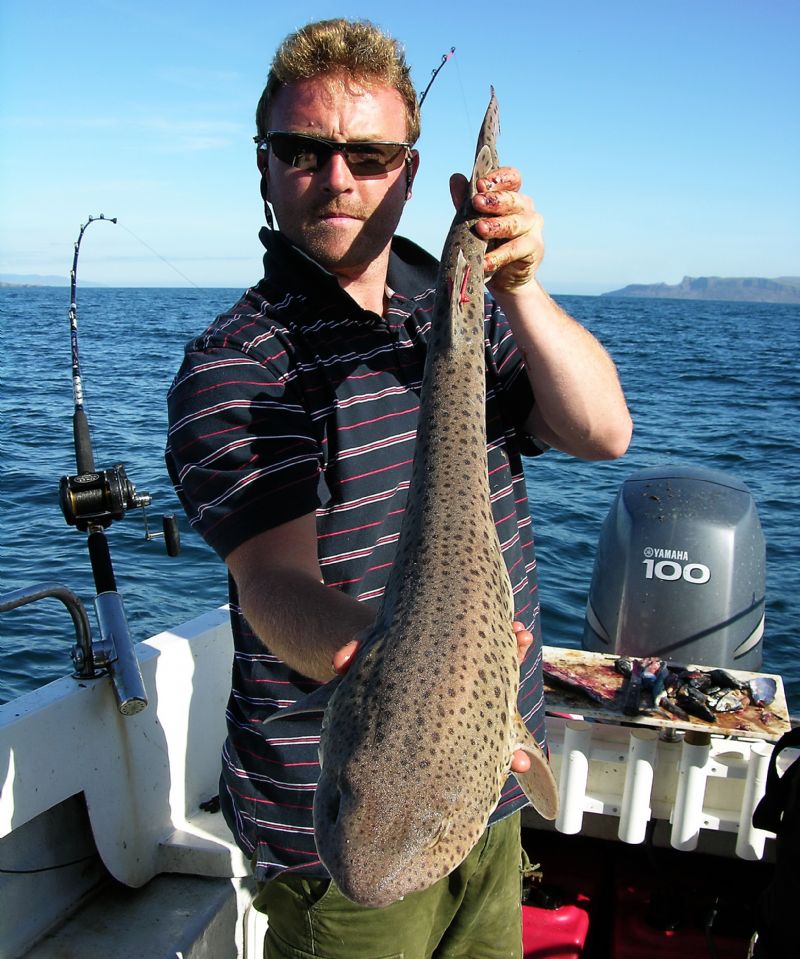 A decent double-figure Huss for Sid
As the tide eased, so too did the ratio of bites. Responding to Ross's question, I stated that this was most likely due to the end of their feeding cycle or possibly a larger species had entered the arena. Common Skate have the effect of temporarily chasing the smaller species out of the feeding zone. Considering the average Skate has a surface area of over thirty feet, this is somewhat understandable!
As if this was a premonition, rather than a mere educated guess, Ross's rod nodded and buckled over as he lifted into what seemed like a moving sea bed!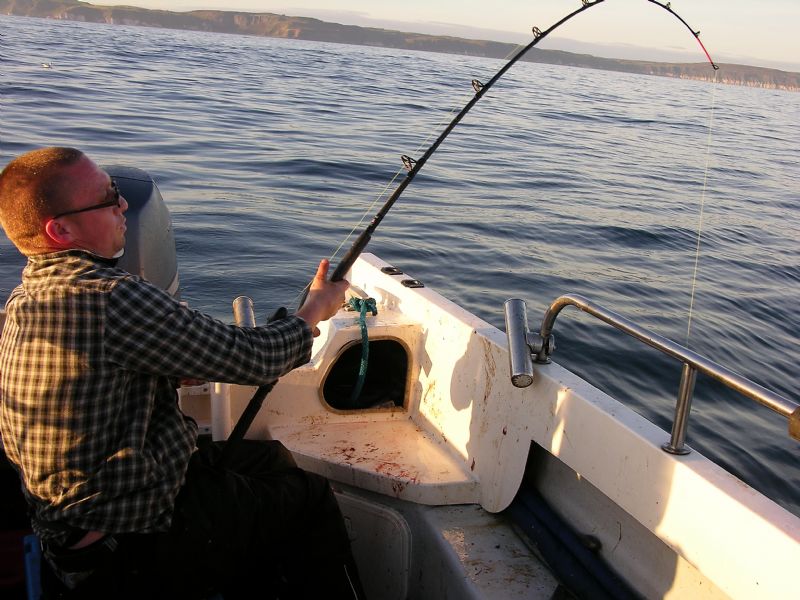 Ross takes the strain, and puts on the pressure
We had already considered packing up for the day, as the lads had a long journey home, so, as Ross struggled to come to terms with his first Common Skate, Sid and I tidied the boat to make room for the new arrival. There is rarely a need to rush on these occasions, as it is usually a thirty minute battle to prise these beasts off the sea bed, never mind the four hundred feet ascent to the surface!
With the deck now clear, we relaxed and chatted, and of course, made fun of Ross and his struggles, in the time-honoured fashion. He was really starting to tire by this stage, but also loving every second of it. Finally the Skate broke the surface, always an awesome sight. Once safely aboard, Ross had time to relax and catch his breath. He was as ecstatic with this achievement as he was with the Cuckoo Wrasse, but thankfully too knackered to perform his Irish Jig!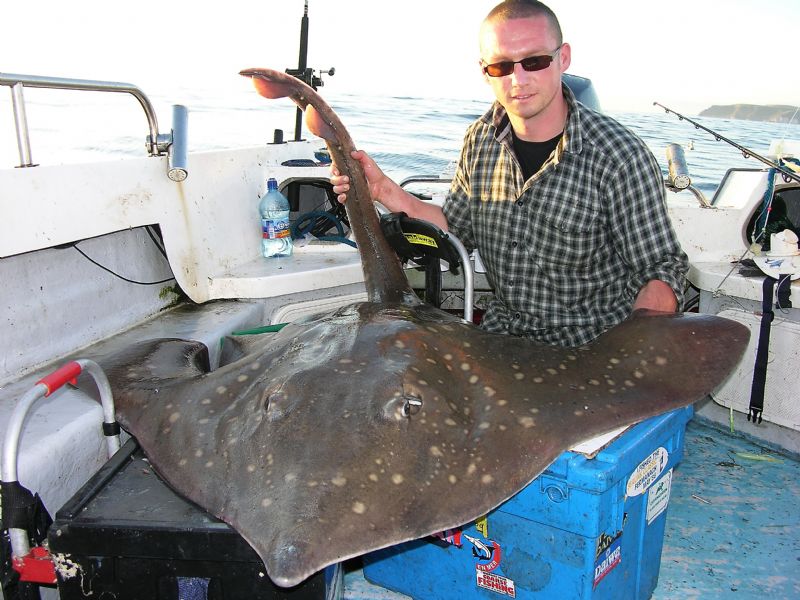 This was a deep-bodied fish, and one that had not been previously tagged. Measurements put her bang on the 150lb mark. As we watched her cruise back to the depths, we all agreed that this was a fitting end to a tough but very enjoyable weekend. However, it was unfortunately time to head back to the harbour.
Recommended Tackle
Rod....Penn Regiment Boat rod 212-50 lb
Reel....Penn Squall 50lb Lever Drag Reel - Black/Gold
Line....Berkley Nanofil ENF27028-HV 0.28mm Hi Vis Fishing Line - Chartreuse, 270 m
Cuckoo Wrasse rig....Shakespeare Salt Sea Rigs Mack 400 Lure Main Line 20lb
but also check out this years selection from Shakespeare http://www.angling-ireland.com/shakespeare_salt_sea_rigs
To sum up, I really wanted to give the lads a trip of a lifetime, and who knows, if the Spur dog were left alone from commercial pressure, it may well have been. Despite that, with three specimens landed and quite a few near misses, not to mention the bonus Skate, I know that Sid and Ross have gone home with a lasting, fantastic memory of sea angling in Northern Ireland. Perhaps someday, our governing bodies, including the Northern Ireland Tourist Board, will realise exactly what we have, that they are neglecting to fully protect our marine environment, and desperately need to change our ways. It won't be here forever.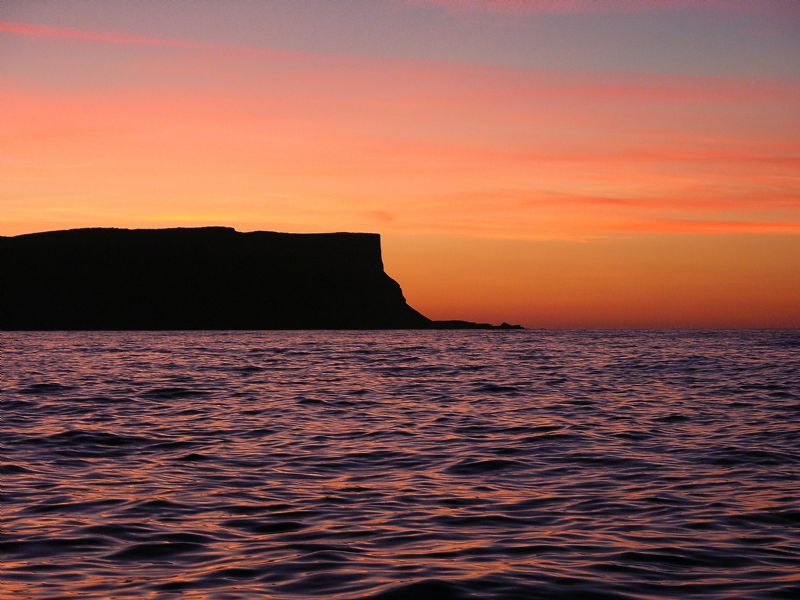 Back