Specimen Hunting Series part 7 Grey Mullet
The Grey Mullet Challenge
Latin name
Chelon labrosus
Irish record, 9.10 pounds, taken at Cork Harbour by Cay Heerwagen on the 26.09.93
Specimen weight, 5 pounds or 2.268 kilos
The trip
So far this year, to keep things interesting, I have tried to alternate the specimen hunting from salt-water to fresh-water. After last month's fabulous Tench capture, it was time to take on the challenge of a sea-going specimen. In keeping with the editor's demands, I had to target a relatively difficult quarry. Having said that, I would like to see the list of species Mr.Dinsmore considers easy!
There should be no complaints on this occasion as I decided to seek out Grey Mullet, the thick-lipped variety, known to most anglers but caught by few. They are considered shy and wary creatures and extremely difficult to catch, and to a certain extent, this is quite true. However, Mullet, like most species will occasionally let down their guard, and this is when the angler has a chance to reap the rewards.
The main secrets to catching a Mullet, in my humble opinion, are down to stealth, tackle presentation, and the choice of bait to be used. If the angler can determine exactly what a shoal of Mullet are feeding on, he is half way there. Unfortunately, they are usually found feeding on plankton, tiny shrimps, marine worms and algae by sifting through soft mud; bait that cannot easily be used or imitated by the angler.
The downfall for Mullet is that they are a sucker for pre-baiting. It turns out that they will feed on a multitude of foodstuffs if put in front of them on a regular basis, and once confidence has been achieved, they are one of the easiest species to capture. Previous Mullet Irish records have been taken on unusual baits such as popcorn and even noodles! This sounds strange, but in brackish river systems in large city areas where such offerings are discarded into the waterways on a regular basis, Mullet are usually waiting in the wings to pick off free samples. They are by and large, opportunistic creatures when it comes to feeding.
My first Mullet attempt for this particular specimen series began in the village of Annalong, below Newcastle at the foot of the Mourne Mountains. I had been out with my family for a scenic drive and could not resist having a look at the harbour to see if there were boat-launching facilities for future angling adventures. The launching slip was not particularly adequate but on the way back to the car I noticed some fish on the surface. There were two small Mullet and one large fish, well over six pounds, fighting over a white fragment of seagull's feather! Eventually the larger fish won the fight and swam off with its prize. Of course, I had no rods with me on this occasion and could only imagine what might have been. Whilst talking to a local that witnessed the scene with me, he informed me that people regularly feed the ducks with bread and the Mullet had probably mistaken the feather for a free snack. The theory sounded reasonable. The following day found me back at the harbour fully prepared, but the same fish failed to show, in fact I left the harbour somewhat dejected without a single bite. Round one goes to the Mullet. A mental note was made; never leave the house again without some form of tackle hidden in the boot of the car!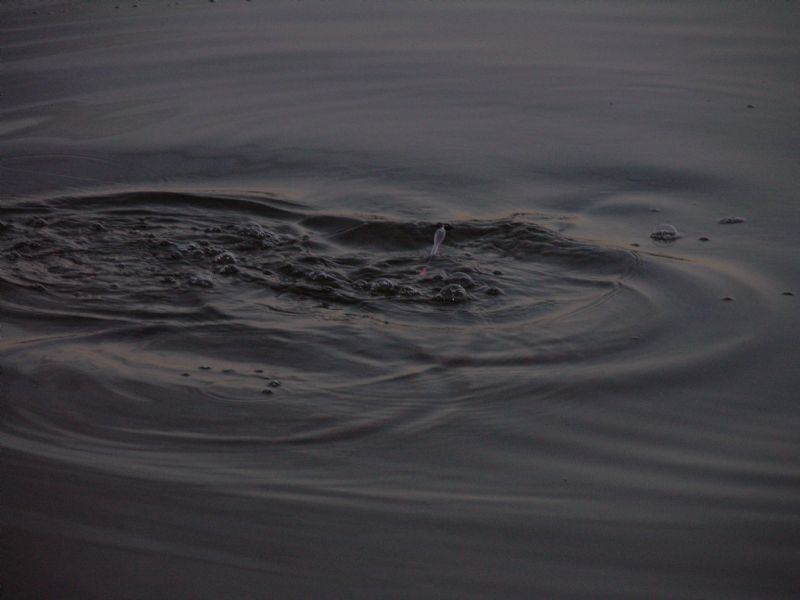 The instant a Mullet hit the bread-flake, and "fish-on"
Refusing to be beaten, and after a half days work in Strabane, I drove down the North coast checking out every harbour and inlet on the map, and discovered some excellent, Mullet- looking hot spots on route. With time running out I decided to give one particular mark a try. As I set up float fishing tactics, I catapulted a few pieces of bread around some boats moored close to the shore, hoping to tempt a lone fish. Dusk arrived all too soon, and being fish-less, I decided to call it quits and head back to the car.
At that exact moment, a piece of floating crust gently disappeared amongst a ring of disturbed water, similar in fact to a trout sipping a nymph from the surface. Hands shaking with the effects of an adrenaline rush, I quickly baited up with a fresh piece of bread-flake and carefully flicked the float beyond the mark to avoid "spooking" the fish, slowly reeling back to the dissipating ripples of the recent disturbance. A few minutes passed in silence and I could almost hear my heart beating. Is it only me, or do all anglers experience these adrenaline rushes in anticipation of a take?
Hard work pays off, with a 5lb specimen as reward
The free samples did the trick and as the float slipped below the surface I found myself locked into a fabulous battle with a very powerful fish. The light tackle required to fool a Mullet compliments its fighting capabilities to the full, and they really are awesome scrappers. Travelling light, I had foolishly forgotten my landing net, but eventually managed to beach the fish in a puddle in the mud, which was ideal as it kept the Mullet suitably wet during un-hooking and photographs. Pushing the scales over the five-pound barrier gave me my first specimen Mullet of the year, and pay back after the blank session at Annalong. Round two goes to me on this occasion!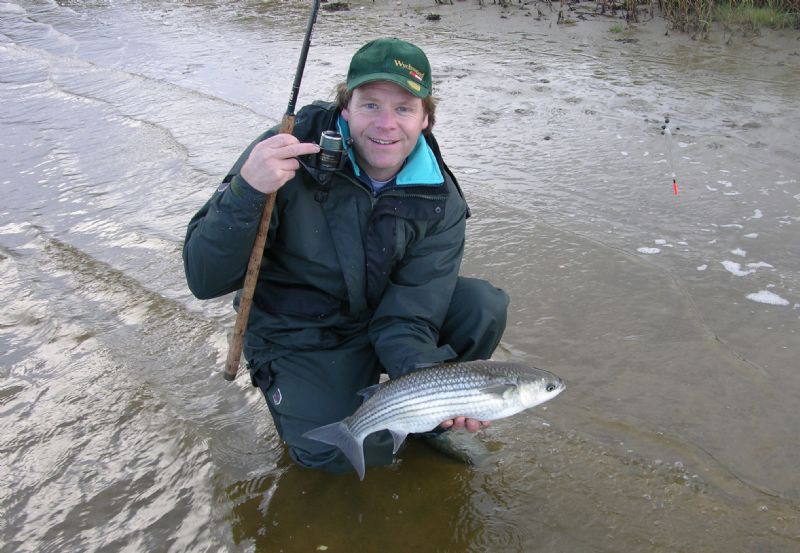 Beware, Mullet fishing is hugely addictive!
After such a great scrap, I vowed to return for another attempt and within a week, myself, big Phil and Dave Craig headed back to the mark hoping for a repeat performance. On this occasion, the Mullet were not afraid to show themselves, and some large fish could be seen cruising within easy casting distance. Stealth was still the key word, as a heavy foot fall or un-necessary movement pushed the fish out from the shore and out of casting range. We actually lay on our stomachs and watched as small pods of large fish moved closer, picking off free samples of floating bread crust, obviously gaining confidence as time went on. Un-able to resist any longer, we took our chance and cast beyond the shoal to lessen the chance of disturbance, and carefully retrieved our baits back to the feeding area.
The Mullet wasted no time in hitting the baited hooks. Unfortunately Phil lost a good fish but Dave and myself hooked into a fish each, at the same time! Dave landed his first, handy as we only had one net between us. Both fish broke the specimen barrier, which is fabulous Mullet fishing by any standards. We continued to land another four fish before the shoals moved out to the safety of deeper water. Round three, thankfully went to the anglers yet again! Until this year, the actual body of a potential specimen Mullet had to be supplied to the Irish Specimen Fish Committee for verification and identification purposes. The committee have made major advances in this area and now only require clear, close up photographs, along with the usual documentations. Check out the Website on www.irish-trophy-fish.com for further information, and a great deal more besides.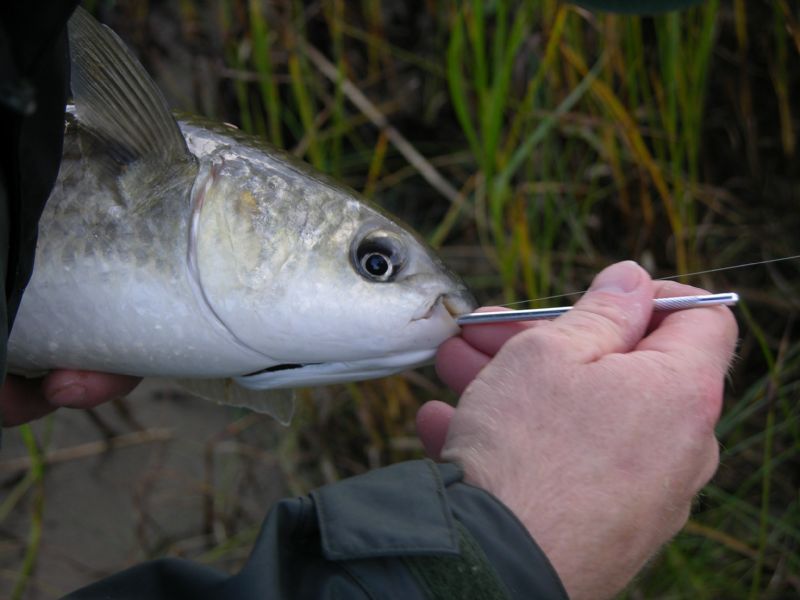 Tackle
The most exciting method of catching Mullet has to be on the fly rod. A seven or eight-weight rod will allow a hard fighting Mullet to demonstrate its strength and stamina to the max. Although this is spectacular fun, and can sort out the larger fish, in my opinion when it comes to a numbers game, float fishing with bait is more effective and successful method. My set up is a standard thirteen- foot, float-fishing match rod. A matching reel loaded with 6lb nylon is ideal to cast delicate baits suitable distances. The clear, "puddle chucker" floats normally used for Carp angling are excellent, as they are relatively small for use in shallow water, but have the capacity to carry quite a bit of casting weight. I am also looking into the benefits of Carp controller-type floats which may be ideal. Small hooks are preferable, and I prefer to use size 10 spade ends. These sit well regarding presentation and are able to carry a sizeable piece of bread flake. In shallow water, keep all the split shot around the float, allowing the flake to sit on the surface or, with a gentle pinch, it will slowly sink in a natural manner.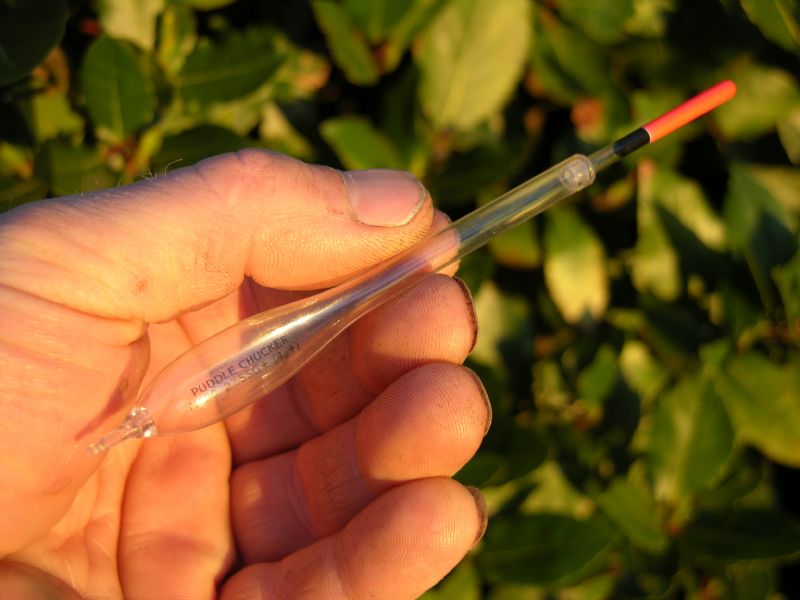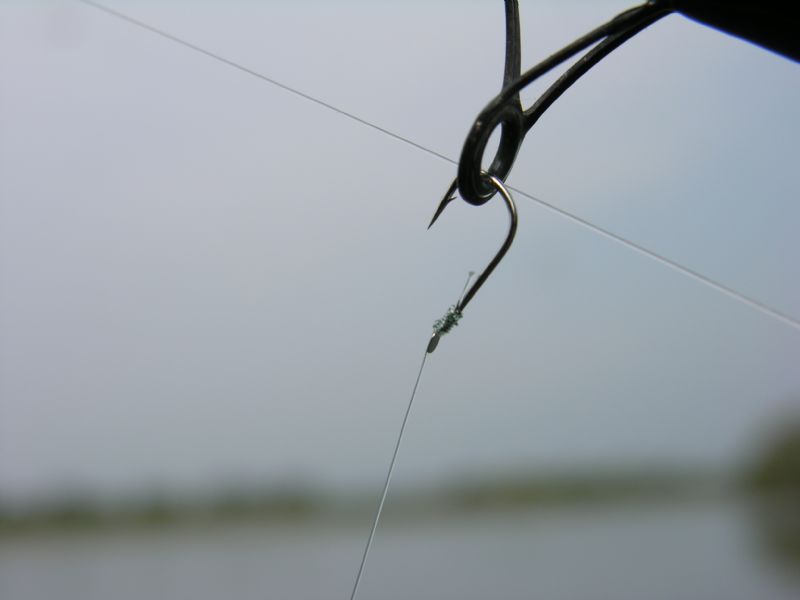 Bait
Primarily, Mullet feed on small plant and animal life found around pier stanchions and muddy estuaries, but they will accept a huge variety of foodstuffs, especially after pre-baiting sessions. Bread is a popular choice; either floating crust or bread flake, but small pieces of fish flesh can be excellent. It depends on where the shoals are feeding. Artificial shrimp patterns can work at times, along with small, white dry flies and white shipman's buzzers, small black and silver patterns and salmon patterns tied on size twelve and fourteen doubles. Many years ago, I caught a five-pound Mullet from Cushendun beach on a bunch of ragworm, targeting Flounder, which proves they can be tempted on larger baits at times.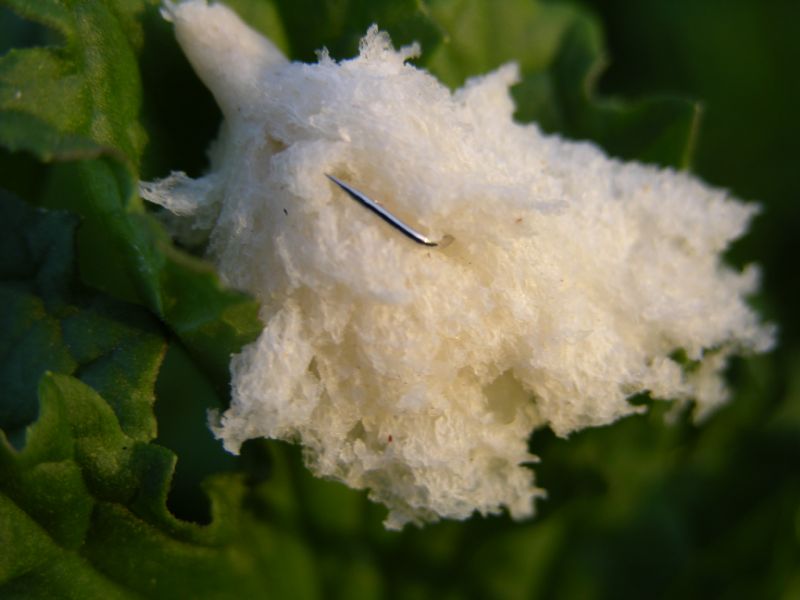 Size 10 spade-end hidden, but not obscured in bread-flake
Tactics
Stealth during the approach to a Mullet shoal is a must, especially in wild, isolated and shallow areas. Obviously this is not as important in built up city centre hotspots, where shoals of Mullet are used to continual heavy traffic. If possible, try a pre-baiting regime using mashed bread in an onion sack. Do not be afraid to try other possibilities such as boiled, mashed fish and fish oil as additives. Hang the onion bag slightly upstream from observed Mullet shoals and watch them home in on the scent trail. Once hooked, Mullet put up a very determined and dogged fight, so be prepared for a lengthy battle. Make sure the clutch on your reel is set appropriately! On some occasions, other Mullet in the shoal will follow the hooked fish almost into the landing net.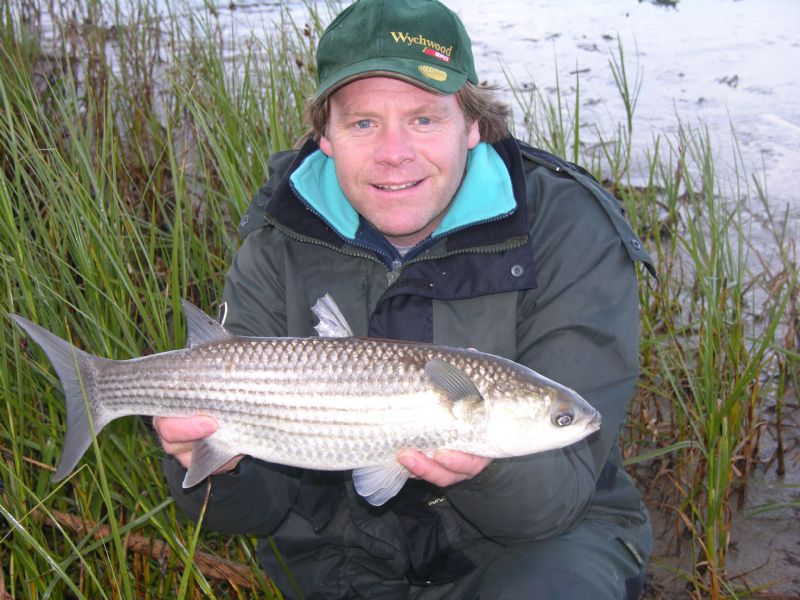 Rapidly becoming my favourite species on light tackle
Interesting facts
Grey Mullet are recognised by the thick, upper lip with a warty appearance on the underneath of the top lip. They have two dorsal fins, the first being fan-like comprising of four, membrane covered spines. The second dorsal fin has nine to ten small fin rays. Spawning occurs from January through to April with juveniles appearing inshore, especially in inter-tidal pools during summer months. Adults mature between four to six years of age (around 30 cm), with a 40cm fish being approximately nine years old and a 50cm fish at twelve years old. In other words, they are slow growing and should be returned whenever possible.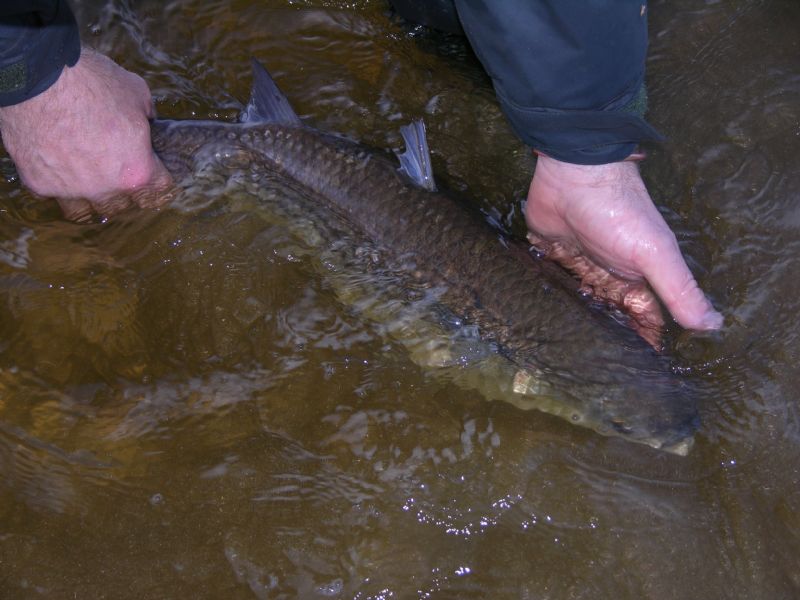 Catch, photograph, release, it is the way forward
Back