Grey Mullet, it's a learning curve!
Grey Mullet, it's a learning curve!
It is no secret to any who know me that Grey Mullet are one of my favourite species in Irish waters.
As an all-round angler, the attraction I have to these stunning, silver torpedoes is not difficult to fathom.
Their stream-lined shape, diamond-patterned scaling and horizontal bands, seemingly air brushed by nature over a background canvas of silver-grey and cream, would give them pride of place in any tropical salt-water paradise, never mind our normally murky Irish waters!
And it doesn't end there. Once hooked, the powerful over-sized "paddle" immediately comes into play, usually ripping line from the reel in impressive, heart-stopping bursts with a dogged determination to avoid the landing net that puts many sport and game fish to shame! I recently chatted with a game angler who recalled a story where he hooked a fish whilst bait fishing for sea-trout. After a thirty-minute battle of a life-time, he was disgusted to find that it was a five pound mullet he had hooked. In fact, he was somewhat bemused when I admitted I was actively avoiding the trout and targeting Mullet. Am I missing the point of angling here somewhere, or perhaps, was he?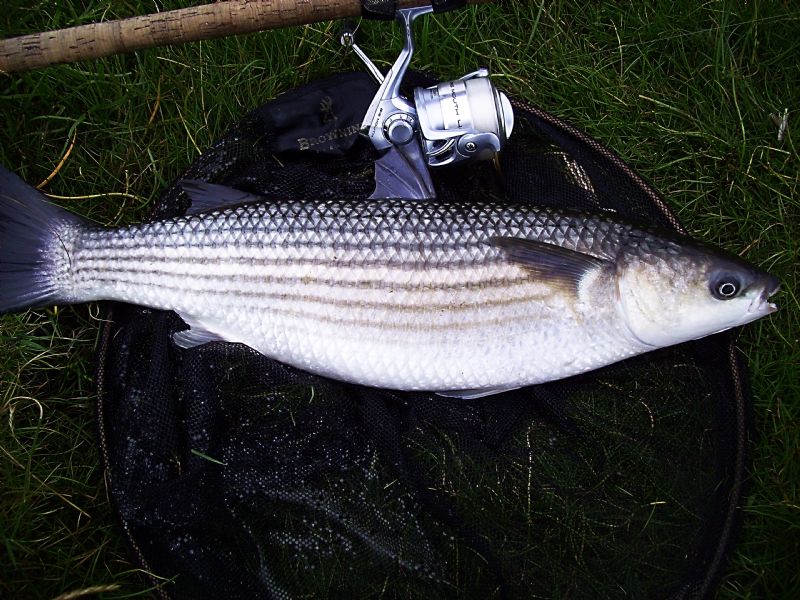 Not only stunning looking fish but dogged fighters on balanced tackle
Their wily character and selective feeding habits make Grey Mullet an extremely difficult quarry at times, but not all the time. Once they let their guard down, they can be as simple to fool as any popular species. This challenge to crack the code, (which can be different on every occasion and venue), and deal with the subsequent explosion that ensues, is what draws me to isolated coastal bays and estuaries on what is, to be honest, all too many occasions. Mullet angling is addictive, be warned!
As with all aspects of angling, there are many pre-conceived ideas and "old wives tales" regarding Mullet and the possibilities of actually catching one. First and foremost, they definitely do not have a soft lip! The top lip extends to aid feeding, but it's as tough as you can get. Yes, they are grazers and browsers, the protruding upper lip covered in small bumps for scouring algae off rocks and pier stanchions is testament to this, but Mullet will not grow to double figures on such a meagre diet! Similar to many powerful fish, they are opportunistic feeders and once confidence is gained, rarely pass the chance to bag some decent protein.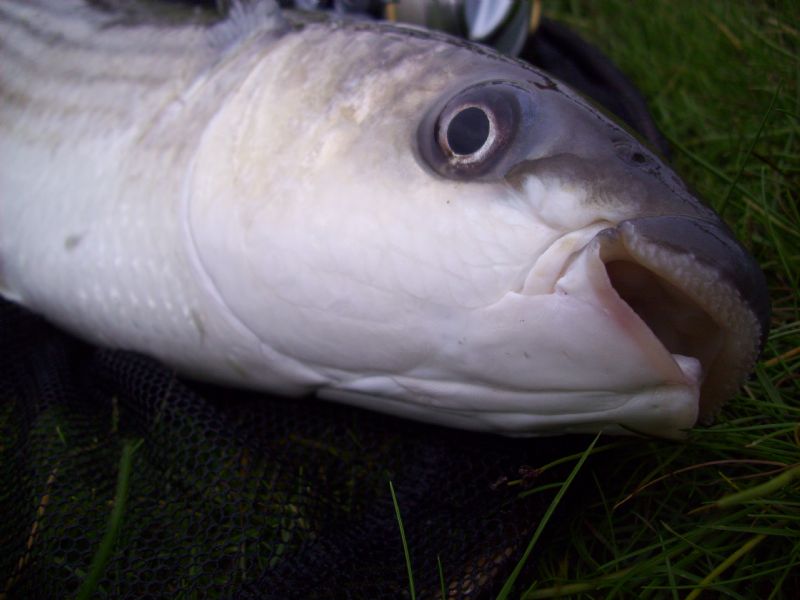 The tough, algae-grazing top lip and equally tough bottom jaw for scouring the substrate
The problem is that they usually become pre-occupied on whatever may be available at a particular time. If, as an angler you cannot imitate or use the menu available, you will have a difficult time in changing a Mullet's mind set, although prolonged pre-baiting a known area with mashed bread and boiled mashed fish can be useful in swaying the odds in the angler's favour.
Marine worms and small crustaceans have always been part of the Mullet's food intake, and being in the right place at the right time, you may tempt a fish on ragworm, especially harbour rag or "maddies", lugworm or small shrimps. I recently watched a shoal of Mullet feeding heavily on mysis shrimp in Strangford Lough, with hundreds of tiny shrimp bouncing on the surface trying to escape. I cursed myself for not having a fly rod and a few well tied shrimp patterns with me that day!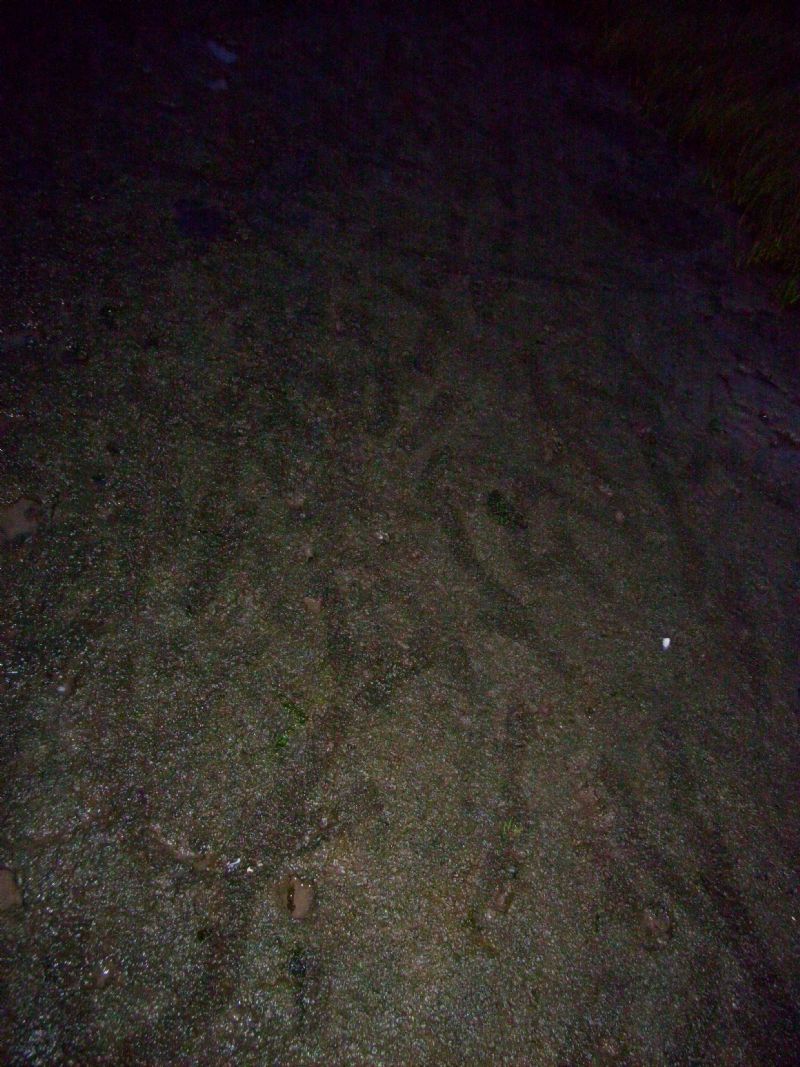 As the tide dropped, we could see "channels" marked in the algae made by feeding Mullet
It is also well-known that Grey Mullet will congregate around all manner of out-fall pipes around our coast. Sometimes this is to graze on the algae created by fresh-water influx, but again being able to switch diet, they will readily feed on the waste from processing factories such as cheese or fish producers. Ken Whelan related a story that a local mussel processing plant had a waste pipe that poured mussel remnants onto a slipway that ran into a harbour, and Mullet queued for free offerings. He "matched the hatch" so to speak and tied a mussel flesh copy consisting of orange and yellow foam and cast it onto the slipway where it rolled down towards the waiting fish. Easy when you know how! Sewage pipes are another Mullet attracting example, but you may draw your own conclusions on how to approach this one. Just don't bite your nails afterwards!
The Trip
After reading this tiny snippet on Grey Mullet, you may be wondering where my story is leading. Just when I begun to feel that I had learnt all I needed to know about Grey Mullet and how, when and where to catch them, having hooked and landed dozens over the years, nature and her fish species have a fabulous way of kicking me in the back-side, bringing me back down to earth. This, personally, is what makes angling so interesting and a life-long challenge.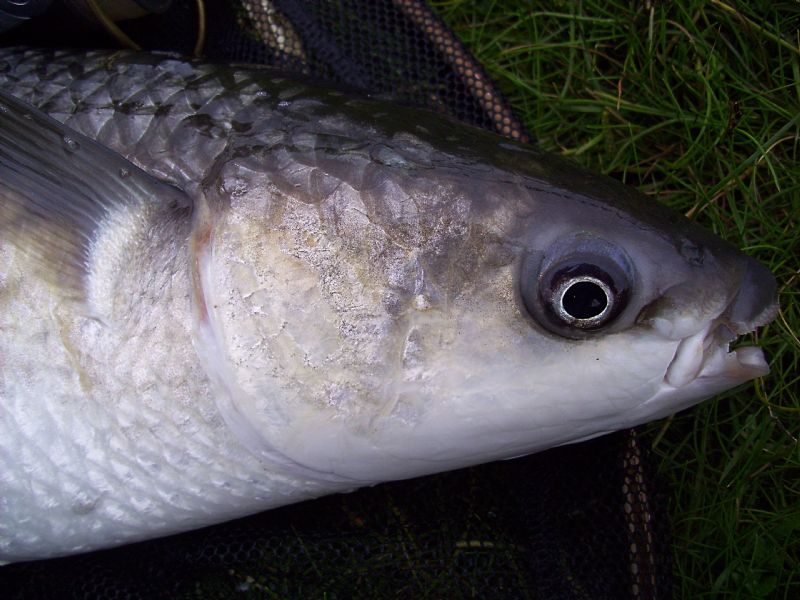 I am relating to a recent adventure with angling pal Glenn Drennan on the hunt for specimen Mullet. After a great deal of pain-staking stalking and general creeping about, we found ourselves in an enviable position, crouched under cover of vegetation, silently watching dozens of Mullet actively feeding less than two rod lengths from the bank.
With the hard work in finding the feeding fish behind us, it was a simple matter of catching a few, and on this occasion, as so often in the past, it would be with bread flake. A few free samples quietly catapulted over the shoal, followed by the hook bait covertly dropped amongst the offerings. Within minutes, we would be into hard fighting fish, or so I imagined. How wrong can you be!
Frustratingly, time passed, as did every Mullet, some even nudging the bread flake and the float with their tails and flanks, but without apparent interest. They were obviously feeding, at times voraciously, but on something a great deal more satisfying than bread! Conditions were perfect, warm with light southerlies, Mullet practically in a frenzy, but still we remained fishless. It was impossible to see exactly what had these fish so pre-occupied. I hunted in the margins and gathered a handful of shrimps thinking this must be cause of the commotion, but again, these were ignored in much the same way as the bread flake. How can this many fish feed so heavily, yet ignore other baits that had proved extremely effective in the past? By the afternoon, we were despondent to say the least.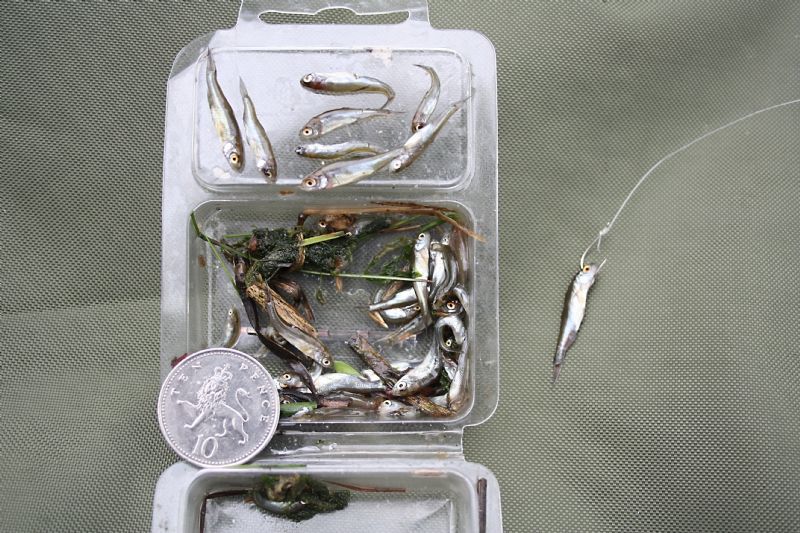 Mullet were attacking large shoals of tiny fry, a new one to me!
I put the rod down and went for a walk uptide, partly for a break from the frustration and partly for inspiration. Staring into the water, I spied a small flash of silver, followed by another and carefully scooped up a wounded fish fry. It was a juvenile sprat or sand smelt, I'm not sure which. With my eyes now adjusted to "seeing" rather than simply "looking", there were more, all along the waters edge. In fact, there were now hundreds of dead or dying fry, in much the same way as you would see Roach fry after prolonged Pike or Perch attacks.
Were they here all along, and my pre-conceived ideas of Mullet prevented me from seeing them, or were they now genuinely only beginning to wash up in view on the shore line? Surely Grey Mullet do not actively attack shoals of juvenile fish? Why not, I have seen Carp and Bream perform in the same manner. These questions were racing through my head as I ran for the landing net and scooped a few dozen wounded or dying fry and placed them into an old hook packet for safe keeping.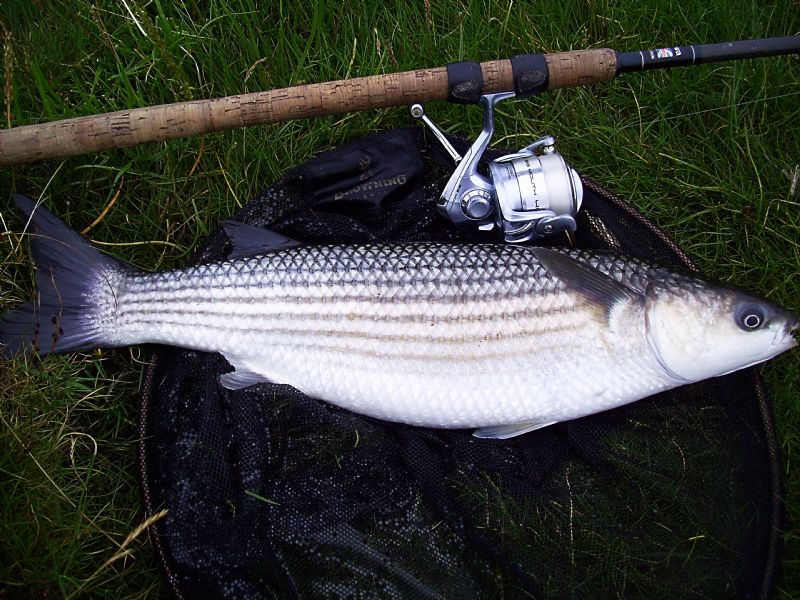 A specimen Mullet taken on a tiny dead-bait!
With the bread flake now substituted for a head-hooked what ever it was, I purposely over-cast the float controller and slowly reeled the new, fresh bait towards the feeding fish. Before it even reached the shoal, the float buried and line screamed from the reel as I gently set the hook, somewhat astounded at the ferocity and speed at which my bait had been taken, bearing in mind that we were fishless until this point.
Ten minutes later, with a specimen Mullet lying in the landing net, an old lesson had been well and truly re-instated. Never take anything for granted, but look beyond and through the mists of angling normality that all too often leave us walking away without a bite.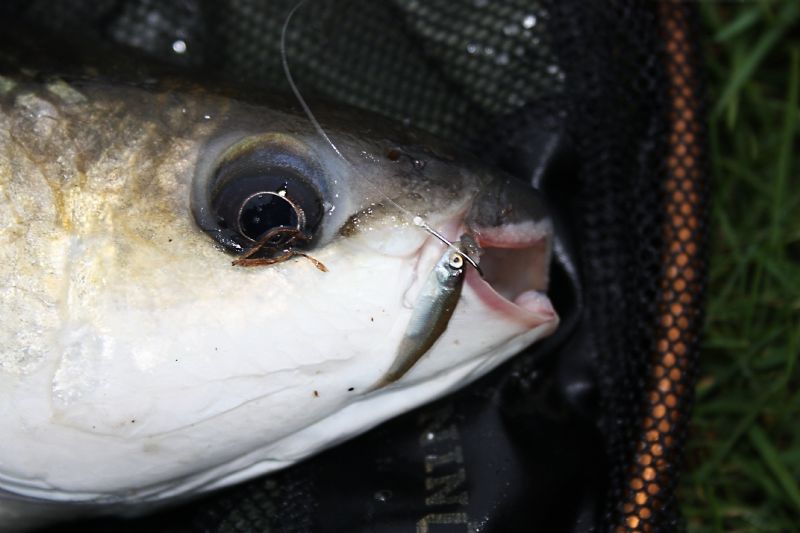 At this late stage of the day, most of the Mullet had fed to bursting point and were moving on, but in less than a dozen casts I ended the day with six cracking fish and two that shook the hook. Of course, I let my mate into the secret, ending the day with several fish, turning a potential blank into a day to remember. It's any ones guess how many Mullet may have been landed had we caught on earlier, but I know from now on, after that fantastic experience, I will never look at those algae grazers in the same light again. They are as much a sport fish as our fragile Bass, but somewhat over-looked, long may it continue!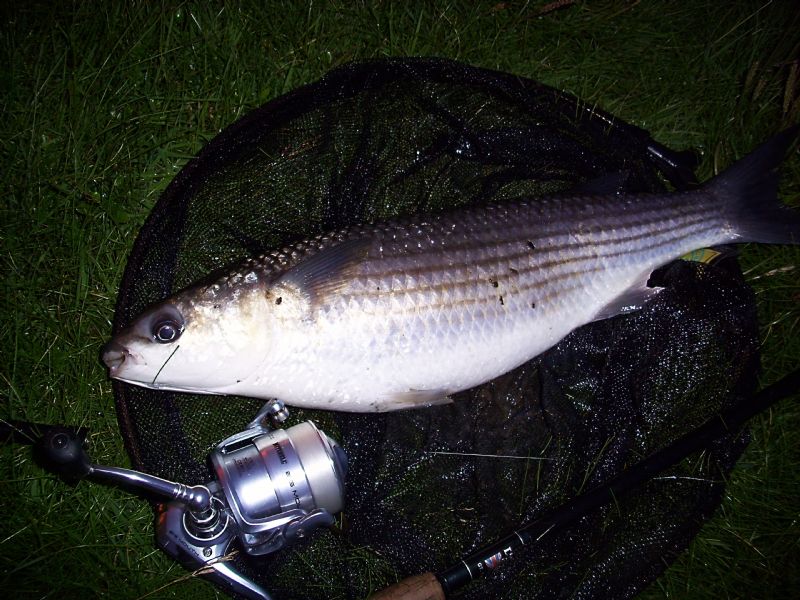 Another specimen falls to the deadly dead-bait
Tackle
The tackle required to cast delicate baits and play hard fighting fish on light line is better sourced from the fresh water match angling scene. Twelve or thirteen foot float rods are ideal, which absorb the un-predictable lunges and rapid "runs" that Mullet will display on every occasion. This must be matched with a spinning reel and smooth, quality drag system. Any erratic drag control will almost certainly result in broken hook lengths, lost fish and tears!
Reccommended Tackle... click here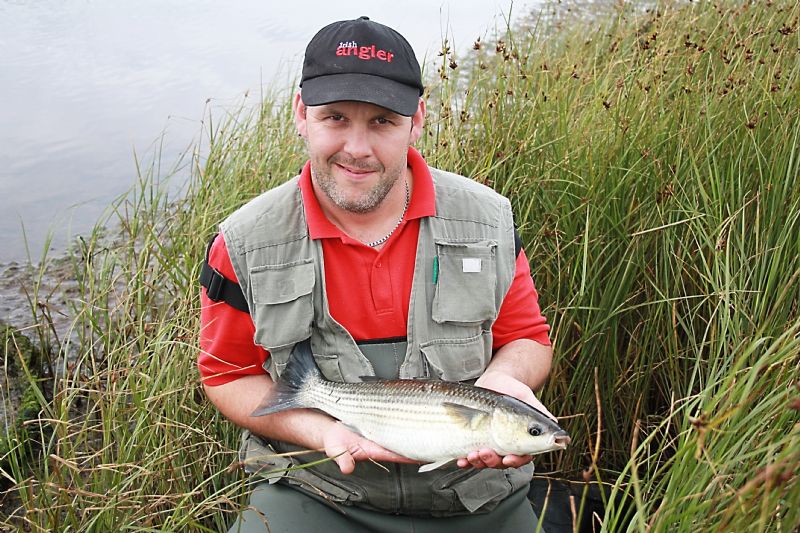 A switch to dead-bait tempts a decent Mullet for Glenn
My line strength of choice is eight pound main line, with a six pound b/s fluorocarbon hook length. Hooks are personal choice, and I prefer spade ends for perfect presentation, (old match tactics die hard). The Kamasan wide-gaped nickel hooks are a tried and tested old favourite of mine, and have yet to fail me.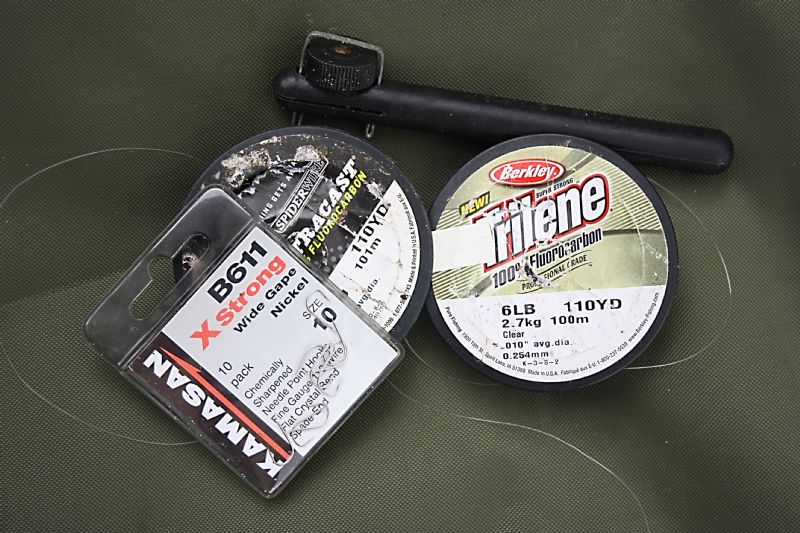 When it comes to floats, I used to use short, stocky carp floats and loaded wagglers such as "puddle chuckers" which work fine. I have experimented with loaded float controllers over the past few years, either home-made or shop bought and they're working extremely well regarding casting delicate baits, control and visual bite detection, especially in breezy conditions. In fact, my next venture is to target Mullet on the "method feeder", hair rigs and bite alarms, it's simply got to work!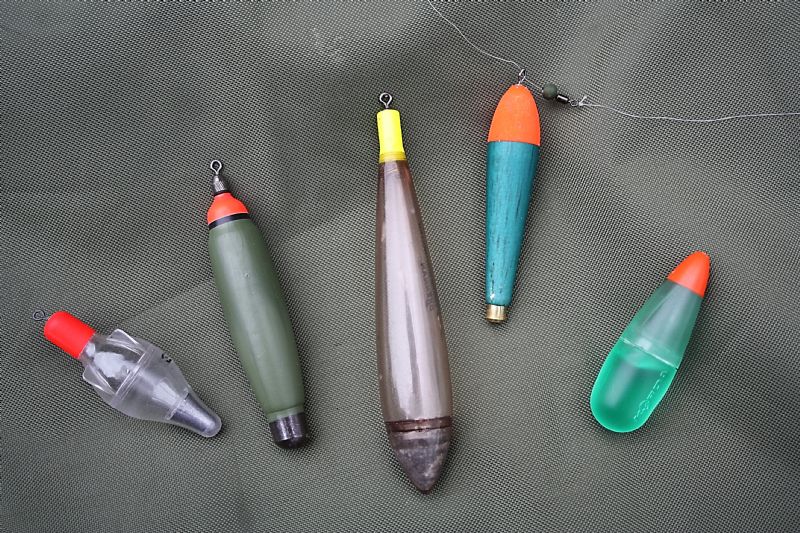 Standard Carp controller floats can be useful
Travel light; stalking is usually more effective and great fun rather than waiting for fish to come to you, unless you know that they will pass on a regular feeding route. Mullet usually feed and move on. Carry everything you require such as spare line, hooks, forceps etc in a bag, back pack or tackle vest. Maggot catapults are excellent for quietly putting out free samples.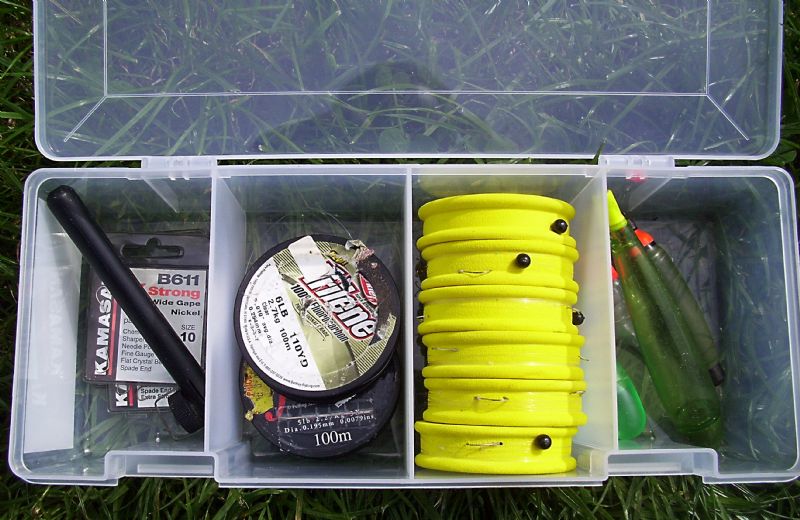 When stalking fish, tackle should be kept to a minimum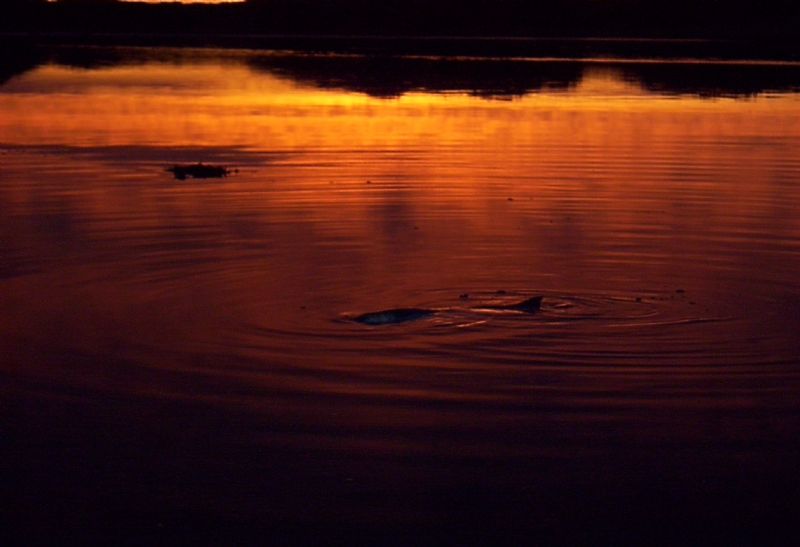 Back