Gurnard, Red
Red Gurnard (Aspitrigla cuculus)
Irish Record 3lb 9.5oz taken on 17.07.1968 by James Prescott at Belmullet.
Specimen 2lb, or 0.907 kilo
Identification
This species, as the name suggests is usually red in colour, but the most vivid red possible on most occasions. The under-side is cream or white leading on to those bright red flanks in a variety of patterns and hues, with a darker, deep-red back. There are two dorsal fins, the first is large with sharp spikes, and the second is nearer the tail and softer. The anal fin duplicates this second dorsal. It has large eyes and the front "feelers" are thicker than that of the Greys. There are also sharp spines on the gill covers.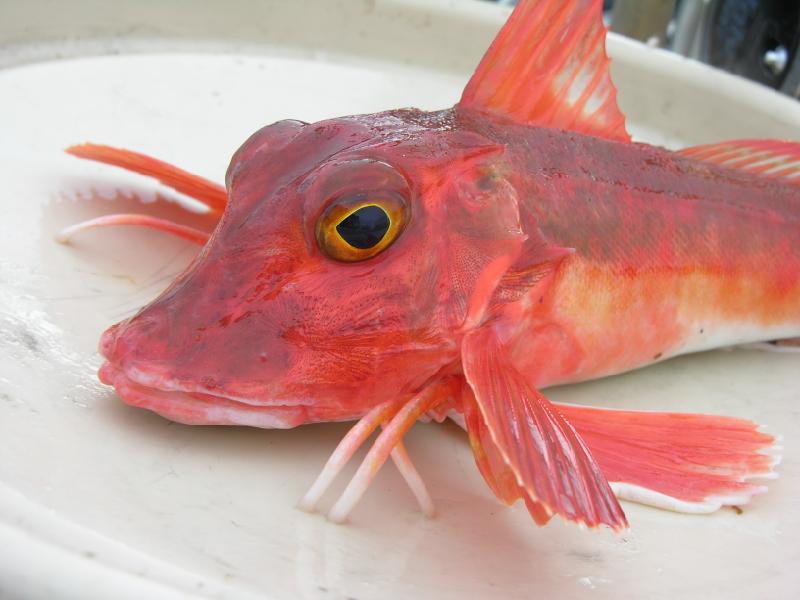 Where to catch
As with the Greys, Red Gurnard are reasonably prolific throughout Irish coastal waters, feeding mostly over sand-shingle and broken shell but preferring slightly deeper water. Many larger fish are caught over this type of ground in the off-shore waters of Donegal, with harbours such as Downings, and Mulroy offering easy access to these fishing grounds.
Other notable areas are Culdaff, the mouth of Lough Swilly, Portrush, all the coastal towns that give access to Cork Harbour and surrounding area, Bellmullet and Achill on the west coast and Killala Bay.
They are prolific throughout Ireland's seawaters mostly over sand and gravel patches or areas of sand leading onto weed. The bigger Red Gurnard can turn up anywhere around the coast but it is fair to say that the best chance of a specimen catch would be from Bellmullet, or around the Donegal coast, notably Downings, Port-na-blagh, Tory Island and the mouth of Lough Swilly.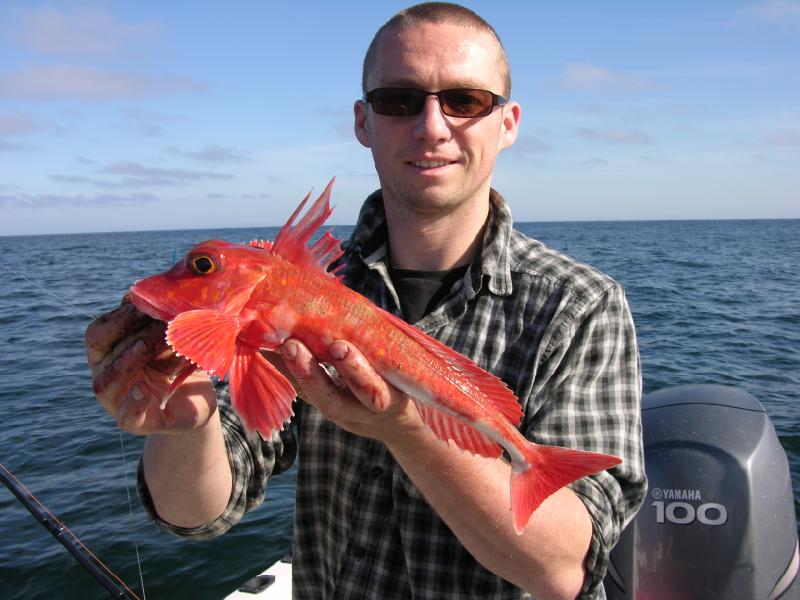 My good friend Ross Macklin with a typically vivid coloured Red Gurnard
When to catch
Red Gurnard can be caught most of the year round. The bigger specimens are almost always taken from early summer through to autumn.
Bait
Red Gurnard hunt the seabed for shrimp, crustaceans, small, bottom-dwelling fish, bait-fish and sand eel. It is not surprising that these fish are taken on a variety of baits, especially baited feathers, Mackerel strip, ragworm and lugworm.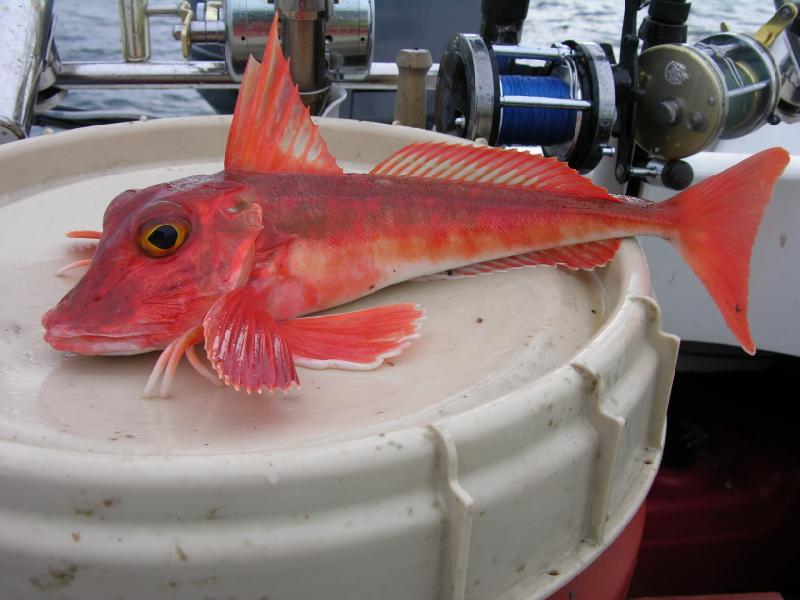 Methods
Red gurnard prefer slightly deeper water, and it is not common to catch them from the shore, although the occasional fish will show up from rocky headlands into deeper water. Most are taken regularly from a boat, and normally whilst drifting, covering large areas of sea bed. This is the ideal scenario to use small flicker spoons above hooks baited with long thin strips of Mackerel. Usually, Red Gurnards are present in large shoals and it is quite common to land them in twos and threes each drop. They are hardy fish and return well, even when taken from extremely deep water. Standard 12-20lb class boat gear is ideal, with size 1-1/0, sharp hooks.