Gurnard, Tub
Tub Gurnard (Trigla lucerna)
Irish Record 12lb 3.5oz taken on 8.08.1973 by Robert Seaman at bull's Mouth, Achill.
Specimen 5lb or 2'268 kilo
Identification
The biggest of our Irish Gurnards, the Tub has the ability to reach double figures. Although there may be some confusion between this species and the Red Gurnard, the huge pectoral fins are the immediate identification factor. Like two, blue-rimmed saucers either side of the head when displayed; the Tub cannot be confused with any other species. It has a light, creamy under-belly leading on to pink, sometimes terracotta-coloured flanks. As with the other Gurnard species, it has the group of food-finding "feelers" under the throat.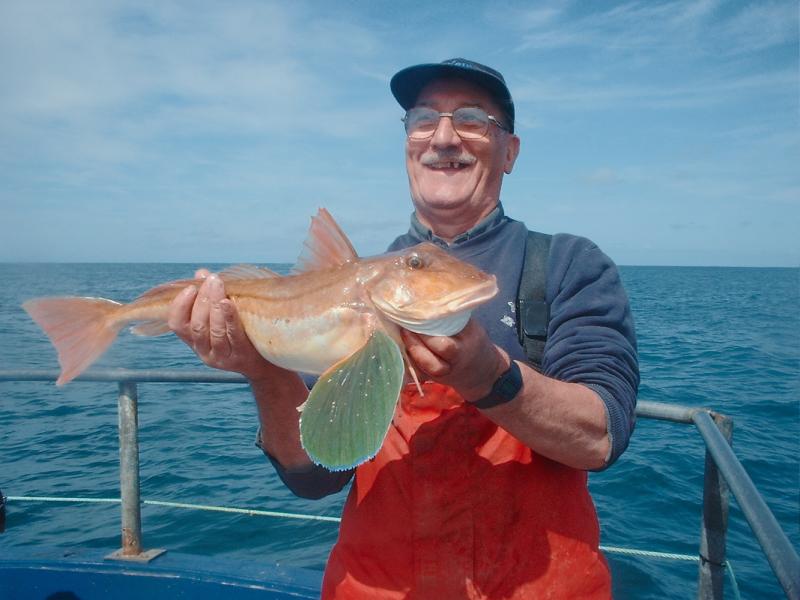 Dessy Young with an Irish Specimen Tub
Where to catch
"Tubs" are the largest growing species of Gurnard in Ireland, and are powerful fighters, especially the larger specimens. They are easily distinguished from their close cousins, the Red Gurnard by the huge, blue rimmed pectoral fins, with a range of body colours from stunning shades of red through to pink and peach.
Similar to their close cousins, they inhabit the same under-water habitats of sand, broken shell, shingle and reefy, broken ground. However, unlike their relatives, Tubs are also less numerous and not quite as widespread around our in-shore waters.
The larger specimens are found mostly around the Donegal venues, especially out of Downings, but also show in popular marks out of Achill, Clew Bay and Bellmullet on the western shores, Killala Bay, Brandon Bay and Cork Harbour.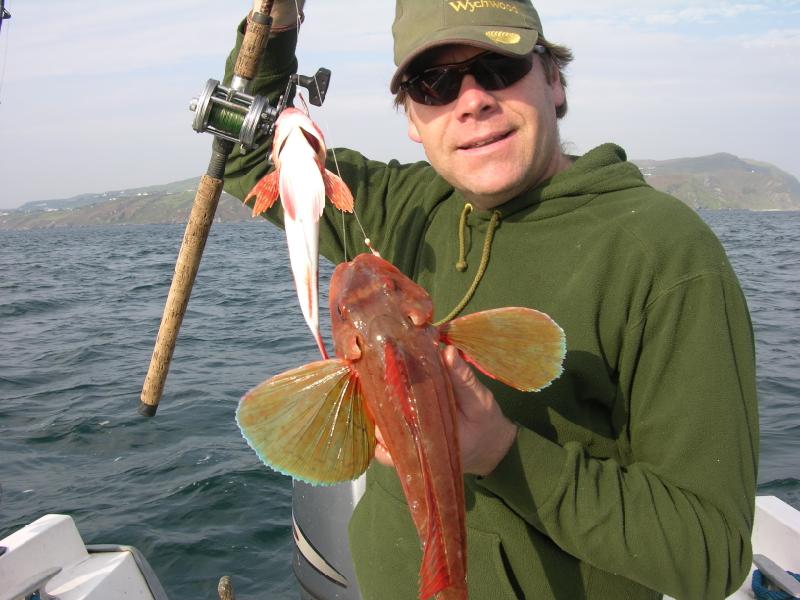 Note the large, blue-fringed pectoral fins
When to catch
As with the other Gurnard species, Tub Gurnard can show most of the year, but bigger fish tend to appear from summer through to late autumn.
Bait
Standard Mackerel traces or Hokkai lures, etc, tipped with Mackerel strip are the foremost methods of targeting Tubs, or spoon rigs baited with Mackerel strip, Sand eel , Lug worm or Rag worm.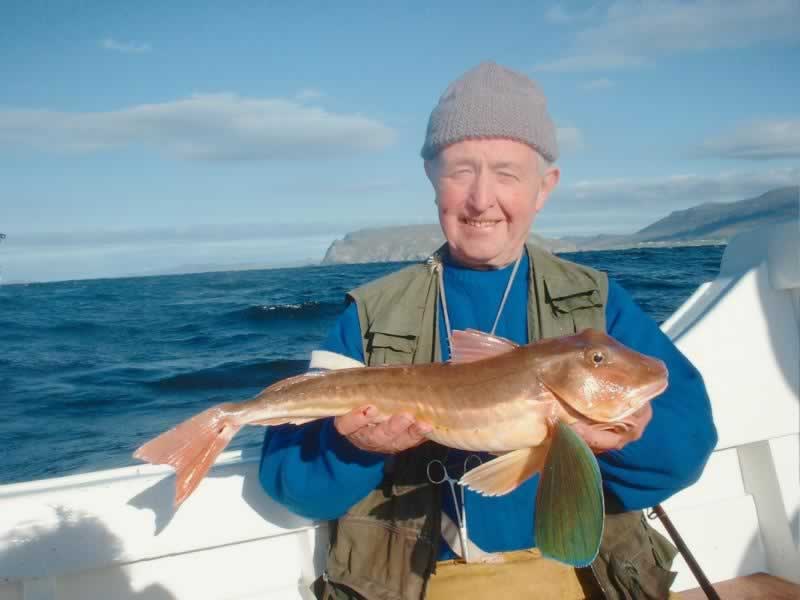 Jackie Ogle with a nice Tub Gurnard from the mouth of Lough Swilly
Methods
Almost all large Tubs are taken whilst boat angling, and normally on the drift covering large expanses of sea bed. Baited Mackerel traces work extremely well, but this may be because it is the most popular choice for standard boat angling in Ireland. I prefer rigs tied with one hook above the weight and two hooks below on an anti-tangle boom. This rig will target most species including all Gurnard varieties, most flats, Whiting, Cod, Haddock and much more.