Healing The Wounds
Terry's Travels
Healing The Wounds
After several barren months, I finally managed to get out and chase a few specimens. The balance is slowly being restored!
I have hardly wet a line this year through one thing or another. A few personal issues have taken priority over bending a rod into a sizeable fish, but one problem in particular was my right hand seizing up! Having seen a consultant, it appears I have "severe Carpal tunnel syndrome" in both hands. "Would that be through catching too many Carp", I asked? She didn't see the funny side.
With the feeling almost gone in my fingers and thumbs and constant "pins and needles" there was no option but to go under the knife. It's down to growing old I'm told, but I'm still going to pretend it was through catching too many large fish!! I'm not great with surgery, it has to be said but then, who is? The surgeon assured me I would feel no pain, and I didn't, but I felt every bit of the procedure and am embarrassed to say almost puked, and very nearly passed out. The surgeon and her team were extremely professional, it was me that let the side down!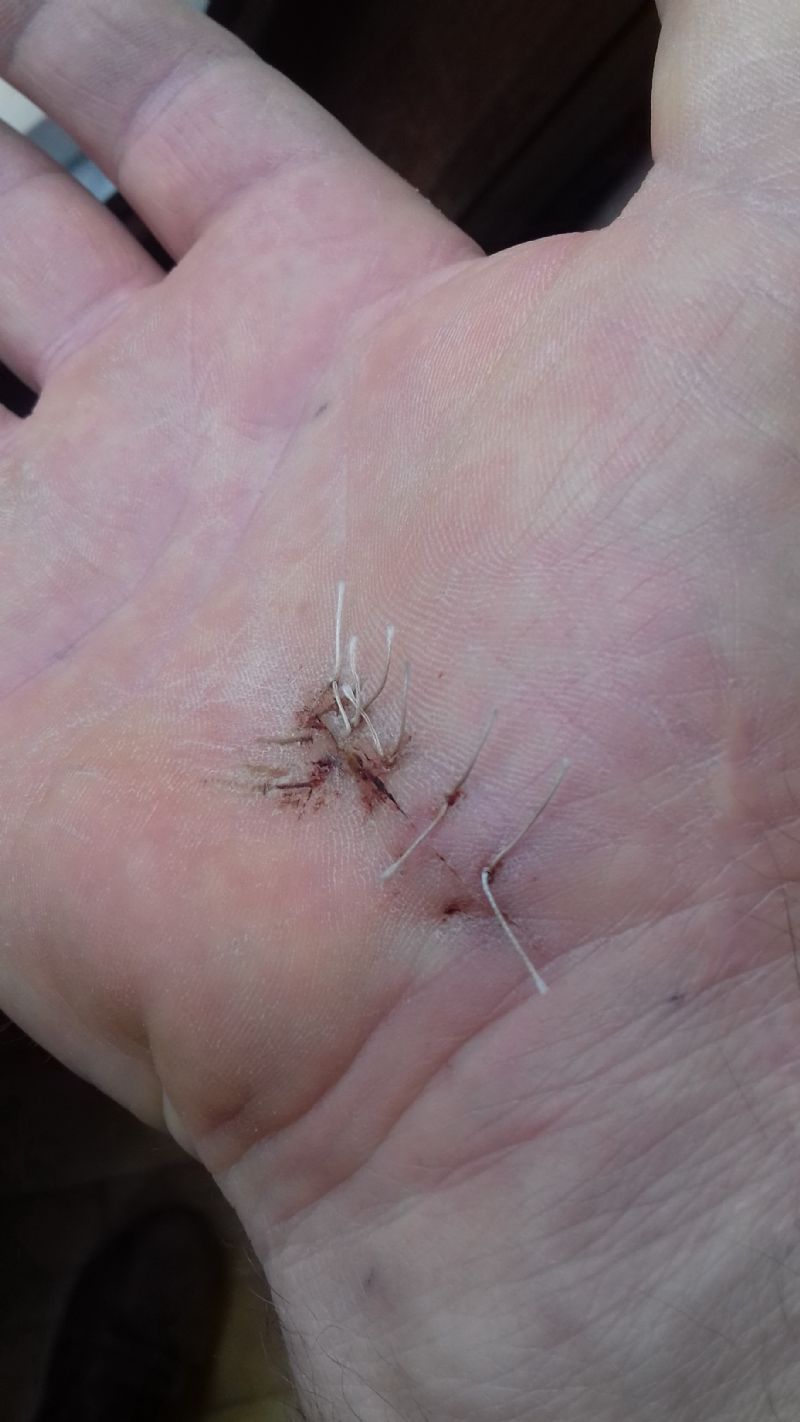 It's Shad time, the stitches will have to wait!
Anyway, to get to the fishing. Instructions from the surgeon was no driving, working, fishing or even scratching my head for four weeks. Needless to say, only one day after the op I was going stir crazy. By the end of the week I was climbing the walls! Davy Craig rang to say they were heading to St. Mullins in Carlow in search of specimen Shad and this was all the temptation I needed. I'll meet you there!
I've hardly missed a trip each year in heading to the stunning Barrow Valley, since I first set eyes on the place twenty two years ago, and was adamant a small cut on my hand wasn't about to stop me! A practice cast in the garden and I was relieved to see I could just about throw a small lure with only minor discomfort, St.Mullins here I come.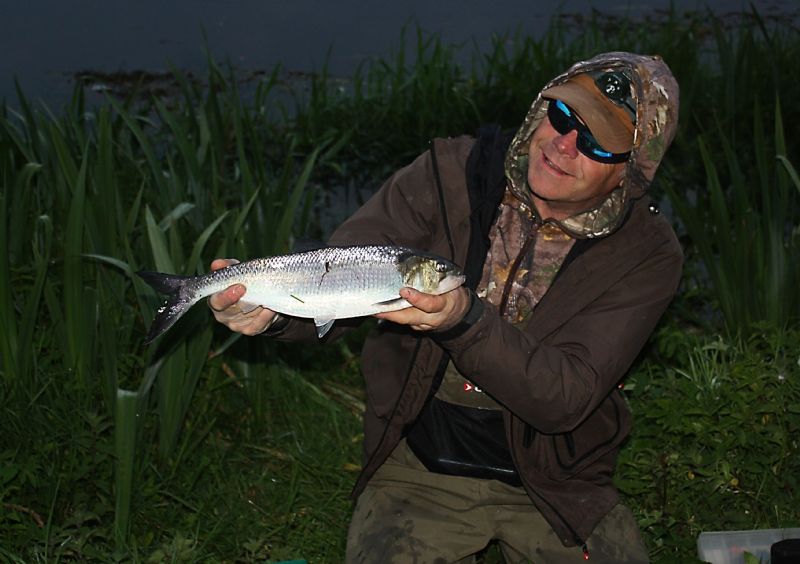 My first Twaite Shad of 2019, balance restored
Using a small, light spinning rod would lessen any hand-wrist damage and I opted for a wee Berkley Fireflex. This light rod has a very soft action, ideal for casting and the cushion effect reduces fish loss, a major problem when targeting Shad. Teamed with a Mitchell spinning reel loaded with braid, this is an extremely "user-friendly" outfit for the walking wounded!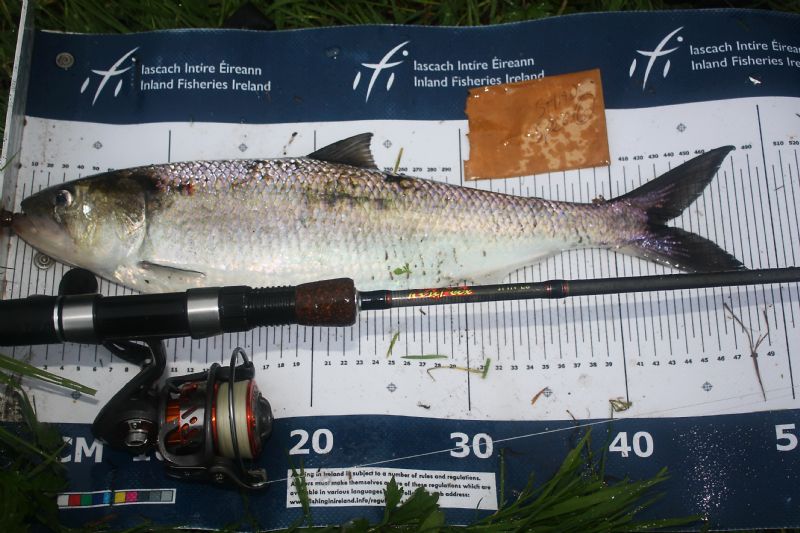 Berkley Fireflex and Mitchell RZT were a soothing combo for the dodgy hand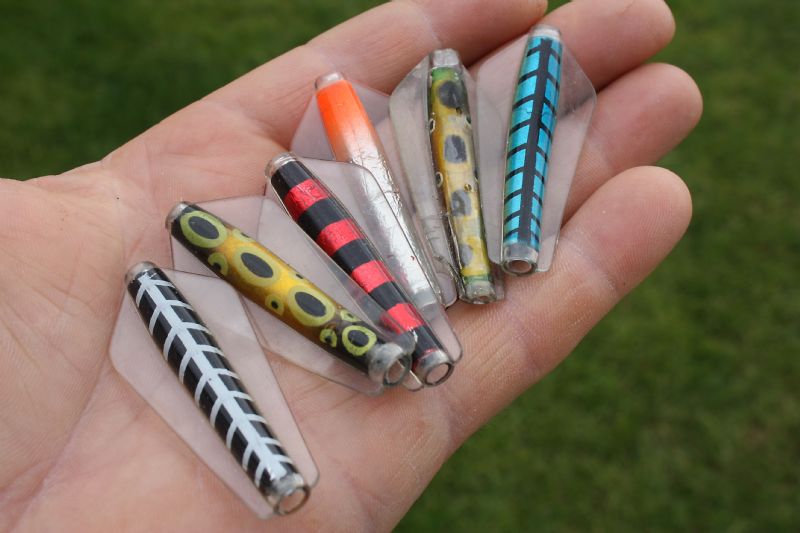 The old favourites, but my hand wouldn't allow a power cast.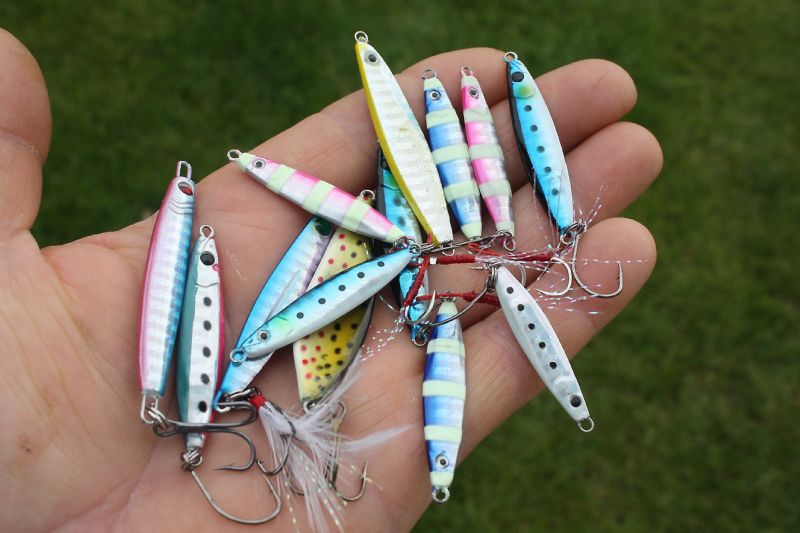 Heavy metals! Far easier to cast distance
The only problem I soon discovered was my inability to power cast a "Tasmanian Devil" lure across the river, too much discomfort. A pity because quite a few fish were responding to this particular lure. My only option was the small metal bar type lures, and these flew across the river with minimal effort. I'd come this far, and refused to be beaten!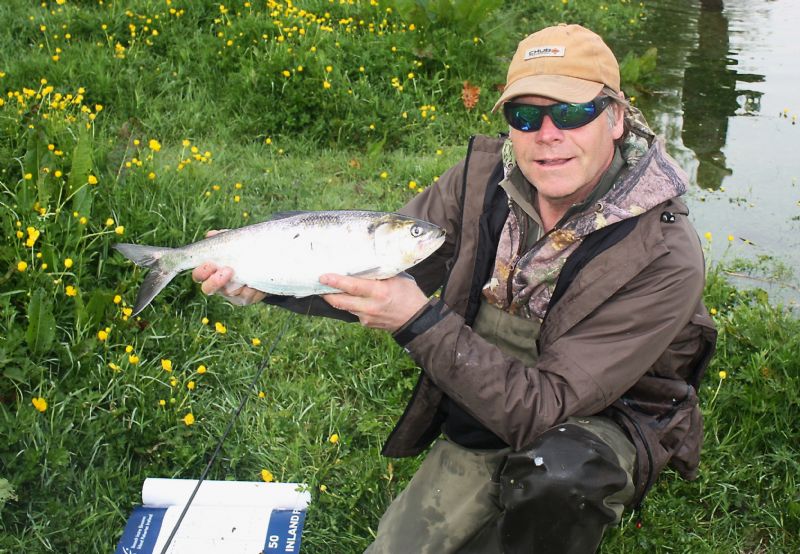 Reward, a decent specimen over 1.3 kilos
The evening tide went well, bringing a few pods of fresh fish with it, and I managed to land fourteen fish, celebrating with one specimen for my efforts. Wrist aching, I called it quits a little earlier than usual and headed back to the jeep for grub and a well earned kip. Davy and Gavin were due first light the following morning. The hand was working, the old magic of St.Mullins was slowly seeping back into my soul.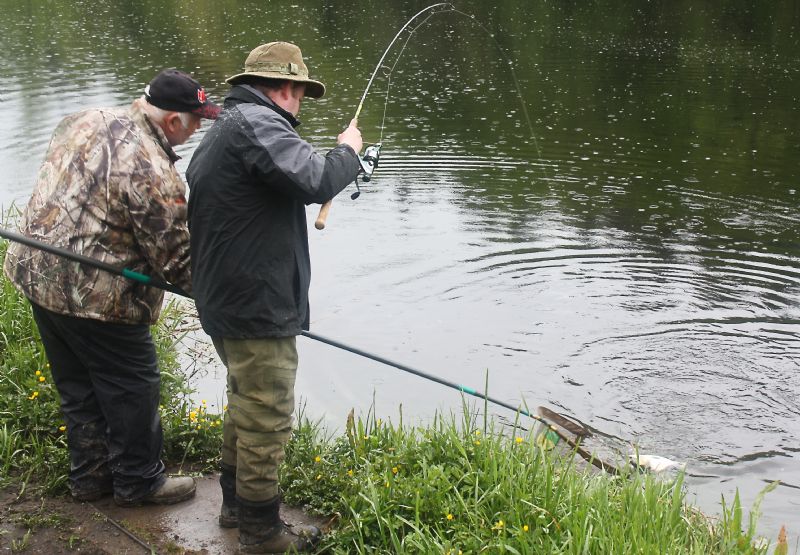 Dave Craig sportingly netting Gavin's fish. Fast and carefull turn-around is vital for fish health.
The lads arrived by first light and avoided wakening me, they said it was because I was sleeping so soundly. In reality, they didn't want any extra specimen competition! I joined the hunt and found two more specimens among seven or eight landed, and Gavin tempted his first specimen of the trip. The pleasure these small migratory species give, and the temporary boost in local tourism should not be under-stated.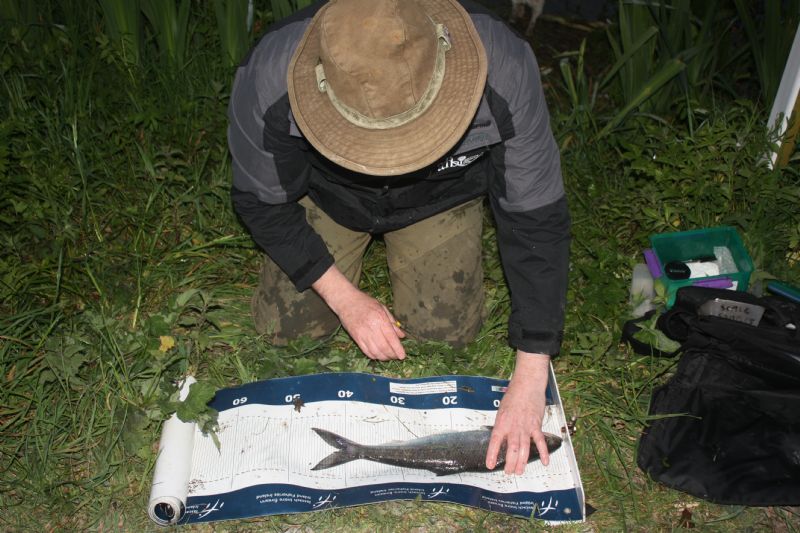 Speedy measuring, and gentle release are extremely important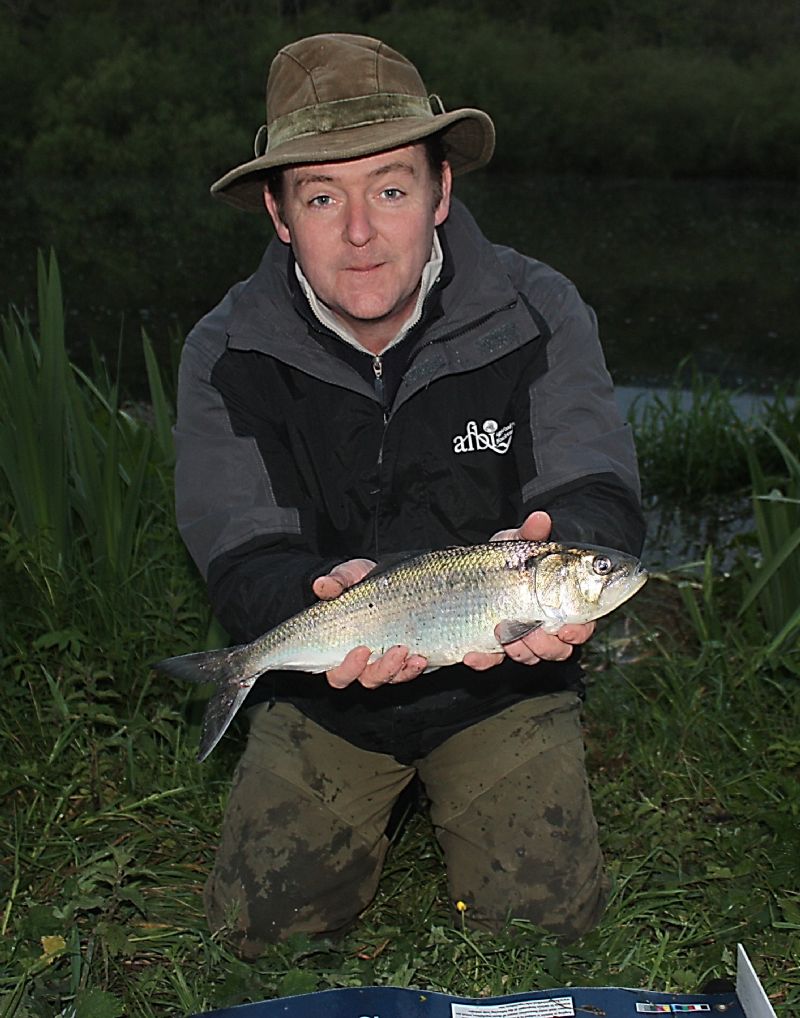 It soon become apparent that the evening tides were producing greater catch rates on this occasion. I'm never sure why this is, whether it is temperatures, tidal heights or simply coincidence. We had a reasonable run of fish to target, and it tempted the lads to stay for one more session. I on the other hand, was committed to staying a couple more days, sore hand permitting. I always require at least four days to soak up the atmosphere and find peace of mind, St.Mullins is a great healer.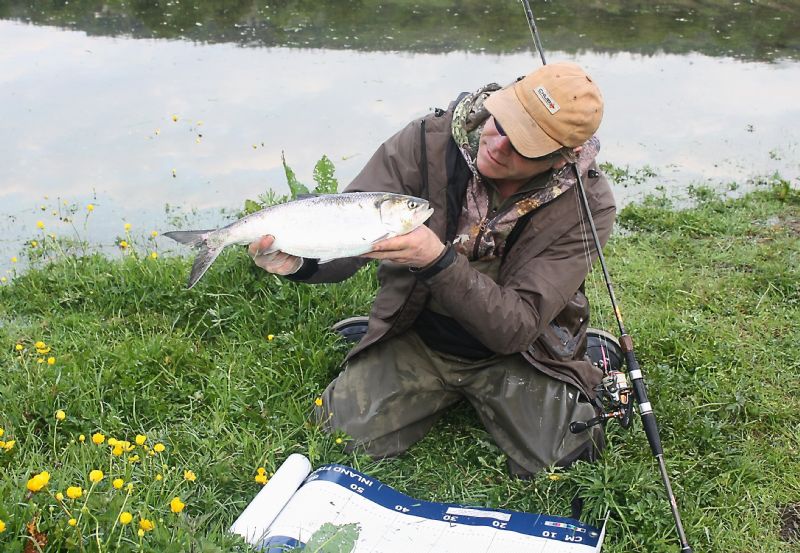 At 1.34 kilos, this female equalled the largest recorded last year
Spot the rubber glove to keep dirt out of the stitches
Before the following night's evening tide, the lads had caught their fill and headed for home. A little premature I felt, but commitments over-ruled passion on this occasion. In fact, most anglers had departed and I had the rare event of almost having the river to myself for a few hours. Waiting for the tide to flood, I amused myself in spotting as much wild life as I could, witnessing a Salmon leaping, an electric blue blur of a Kingfisher, a Buzzard being harassed by Crows, numerous Herons and a young Otter munching on a sizeable Dace! Such a fabulous venue.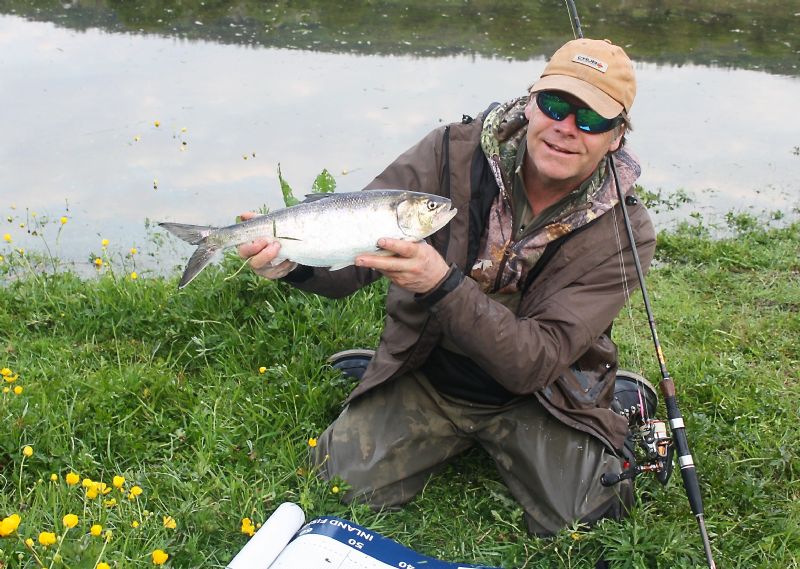 Delighted to be catching specimens again!
Eventually the tide pushed enough, bringing with it a healthy run of fish. It was for an hour, maybe two, as if I'd been transported back to the good old days when thousands of Shad once ran this river. Every cast produced a fish, and every couple of fish produced a bonus specimen. Eventually, with forty or so landed and released, and twelve specimens, I had to call it a day. Fish were still passing, eager to hit my lure, but my hand had had enough. Even I , by this stage realised I needed to be a little bit sensible and pack up. Such an enjoyable last session on this mighty river, yes my hand hurt like hell, but it was definitely worth it. I'm not sure about Carp'al Tunnel Syndrome, I think it's now a case of Shad'al Tunnel Syndrome! Anyhow, I'm back in the specimen hunt, Tight Lines all.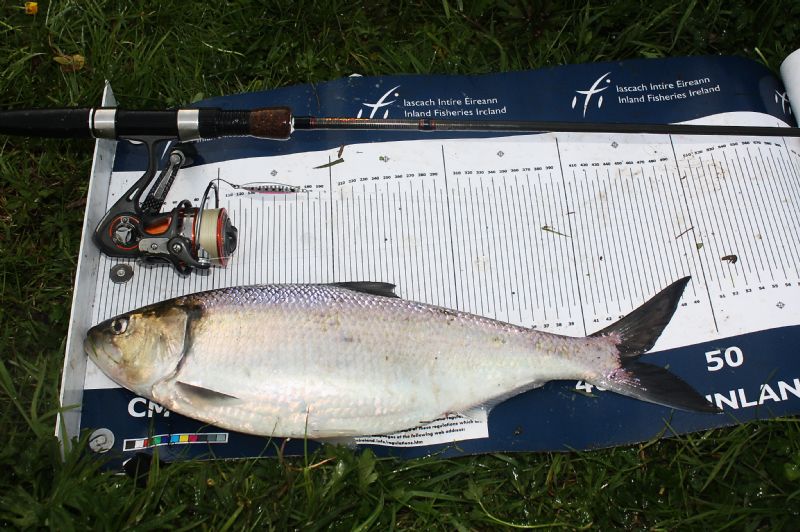 Tackle required, some pointers for interest.
Boots or waders
Greys NEW Strata CTX Breathable Fishing Waders Extra Extra Large
Landing net
Shakespeare Omni Tele Landing Net Handle, Red, 2 m
Shakespeare Agility Large Landing Net - Black
Waterproof clothing
Greys Cold Weather 3 Layer Climatex Waterproof Wading Jacket, Grey, Large
Soft action spinning rod
Berkley Phazer Pro II 2-Piece Light Rod - Black/Purple, 7 ft/Size 3/15 g
Matching fixed spool reel
Mitchell Mag Pro RZT 2000 Front Drag Reel - Orange/Grey
Braid average 8lbs b/s
Berkley Bu8Flfs8-Cy Fireline Ultra 8 Fishing Line, Crystal, 125 yd/ 8 lb
Selection of lures
13.5gr (5cm) - Tasmanian Devil Fishing Lure - 46R - Trout Red Neck
Savage Gear SG LRF Psycho Sprat 10g 3pcs (Zebra Mix)
Back