Home Turf by Andrew Mcilhone
Home Turf
By Andrew Mcilhone
With the warmer weather recently it was time to have another crack at the salt!!!!
A quick chat with a Noel Mckernan and it was arranged to meet on Saturday in my home village of Ardglass Co. Down. It was nice to actually lie in bed to a reasonable hour and get up, get organised and arrive at the launch point (100 yards from my house) all in less than 30 minutes.
We did not take long to get on the water as usual, and my main target of the day was Cod, normally this time of year there are plenty of them around here, also the local trawler lads are catching boxes of them up to 30lb weight only 5 miles out, so this also motivated me to get out there.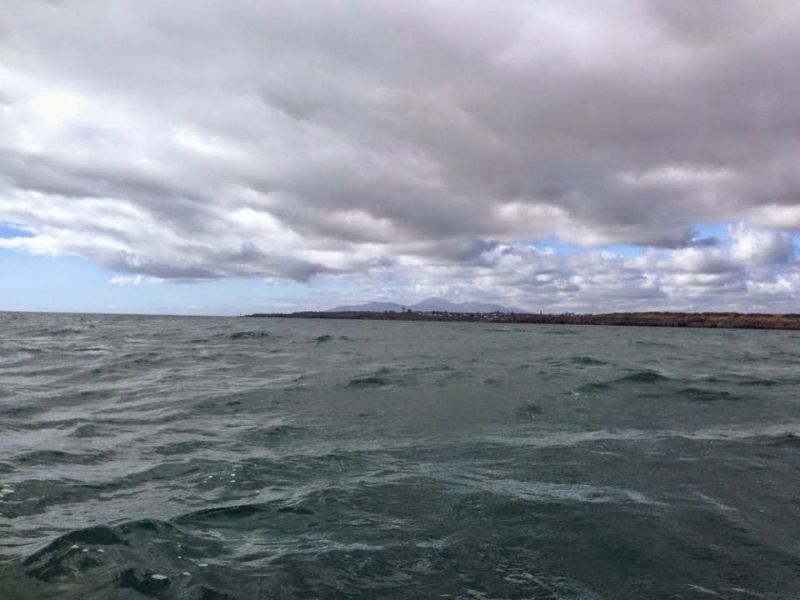 The weather was great with a slight westerly breeze so we headed straight out into the bay in search of the previously scarce Cod, and within five minutes Noel was into a fish. Lo and behold it was a decent little Cod of around a few pounds weight, he shouted over "happy days, we could catch these all day".............. Well that Cod must have been lost or something as I think it was the only one in the Irish Sea that day!!!!!
Things were very slow after that, we tried everything and all the close by marks that normally produce fish gave us no joy. I paddled closer to the shore and anchored up to try a spot that very rarely lets me down. Not long after I got the anchor down in around 35 feet of water I had a hook up, and was I glad as it saved me blanking, especially on my local grounds.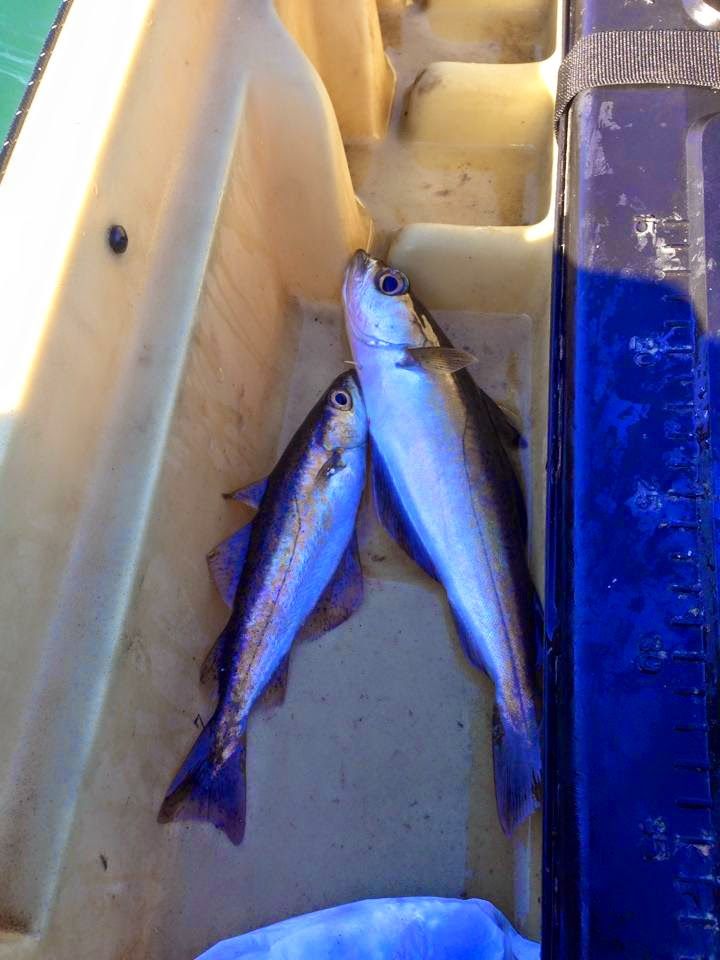 Two small Pollack
After an hour had passed sitting at anchor with nothing more than the two Pollock it was time for a change of location and tactics. We paddled a mile further south to a large kelp bed in the hope of a Wrasse and on the way, stopping and having small drifts to try to pick something up. I had one sea Scorpion on the way.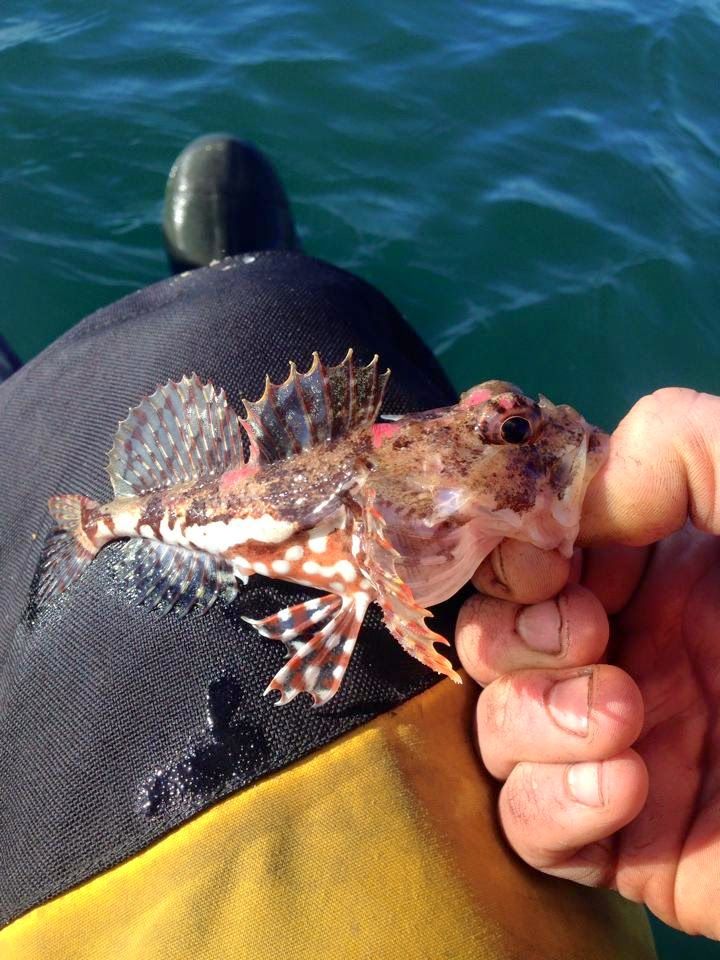 Beautifully marked Scorpion Fish
Arrived at the kelp bed a short time later and fished it for around 30 minutes with not a bump. At this point I realized that there was a nearby reef around half a mile out. I aimed for it as I had some cracking fish from it over the years from the boat but never fished it from the yak. I had a few failed attempts of targeting it from the yak due to poor weather so I was pretty keen to get to it seeing I was so close. We paddled out and on our way the weather started to pick up, sea state was getting very choppy and the wind had shifted northerly making things very tricky, we persisted!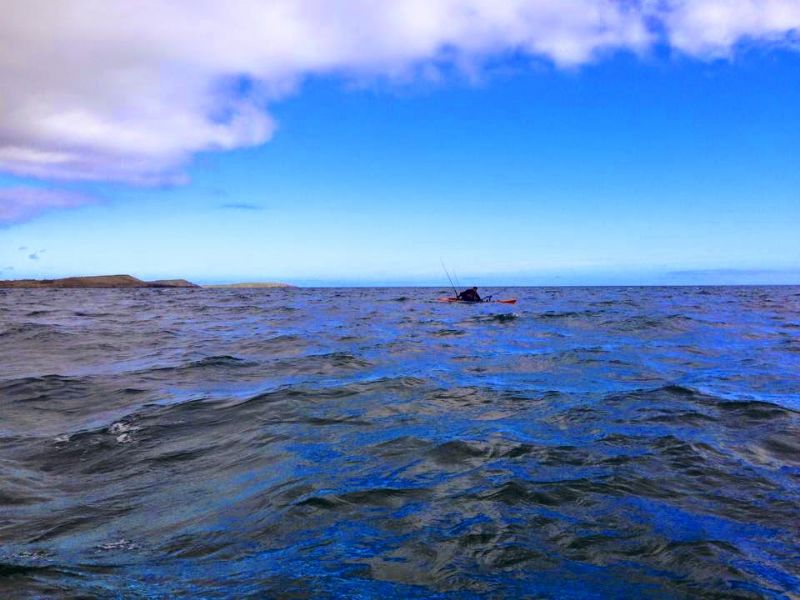 When we arrived at the reef with the big spring tides we were in 90 foot of water, very strange as I've never seen it deeper than 80, but anyways we had a few failed drifts and with the increasingly deteriorating weather I called the retreat back to shelter. Once again the weather has beaten me in fishing this mark from the kayak!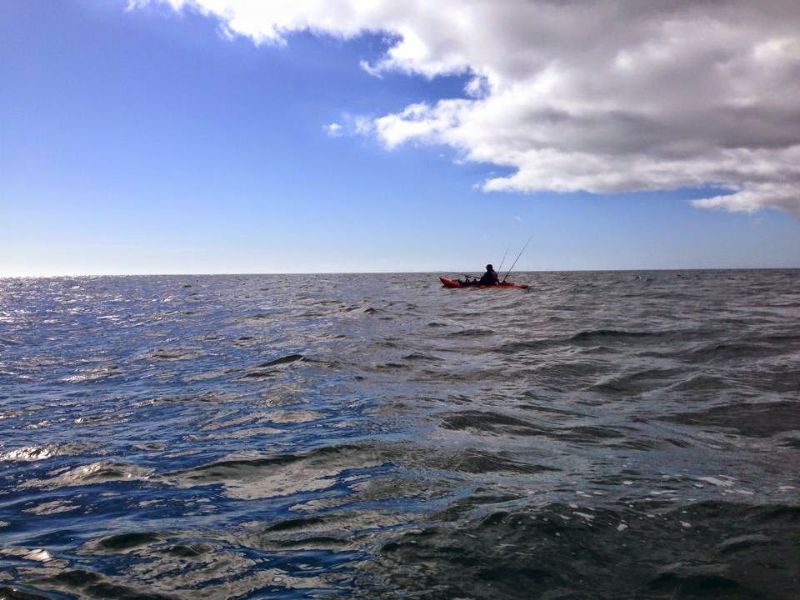 On our way in Noel fished along the rock faces and picked up a few small Coalfish, I was over in the bay still trying to catch my Cod, but the only thing I could catch were the sea Scorpions, five in total.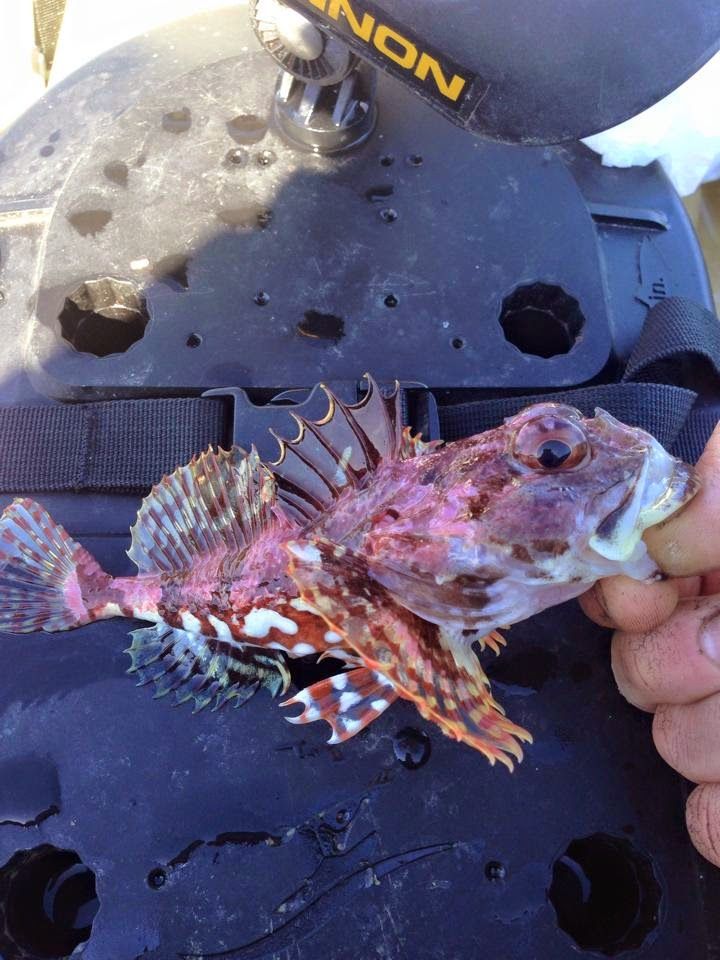 Another stunning Scorpion Fish
We called it a day and headed in. Once we arrived back at the harbour we had some bait left so we tried for some fatties and conger. Well this was interesting as I had put a large Mackerel head onto a size 8 circle hook, dropped it down the side of the harbour wall and within minutes the rod started thumping. I never had bites like it. It then started peeling line off the reel. I tightened the drag down and it started pulling me into the wall, then nothing.....so I brought the bait up to check it and the head was clean bit in two. I re-baited with another large head dropped it down and the same started happening all over again, I tightened the drag once again and wound down......this time I had something of size on.
It took a few runs and then as I got the better of it and neared the kayak I looked down into the water below me and spotted the largest flat fish I've seen just as it let go and swam straight back down, it was literally the size of a bin lid and as it was bottom side up and pure white I have no idea what it was.
I re-baited and tried again and again, same thing over and over mental bites and runs with no clean hook ups until I was out of bait. I blame the circle hook......and I will be back soon with different rigs to see what is down there....
While getting melted with something stealing my bait on the heavy rod over and over I had a doggie and crab after crab on the lighter rod.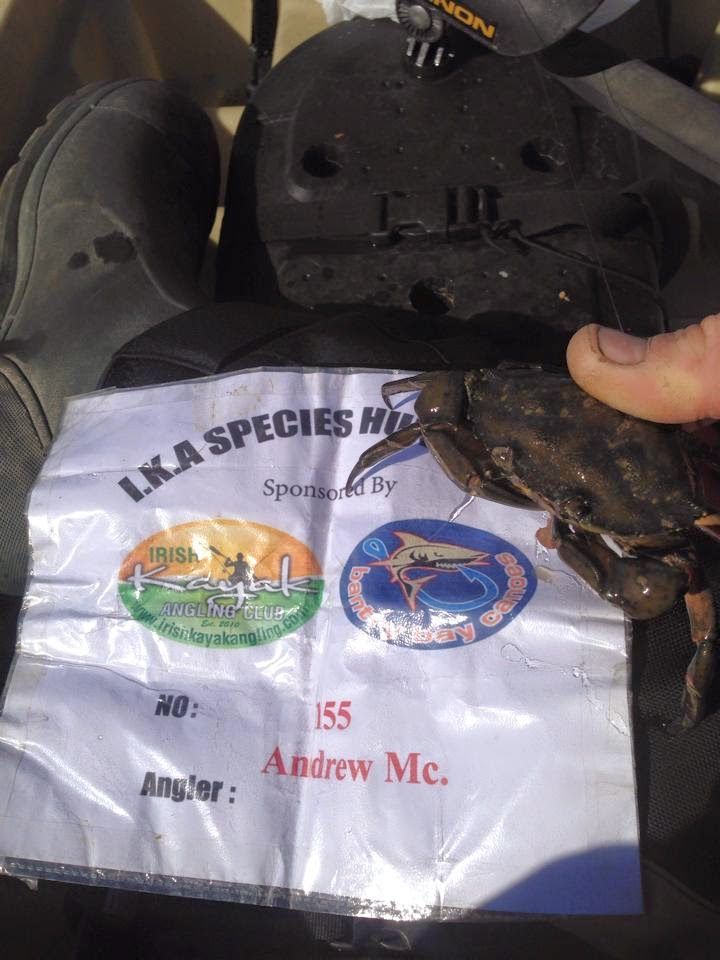 Do crustaceans count Andrew?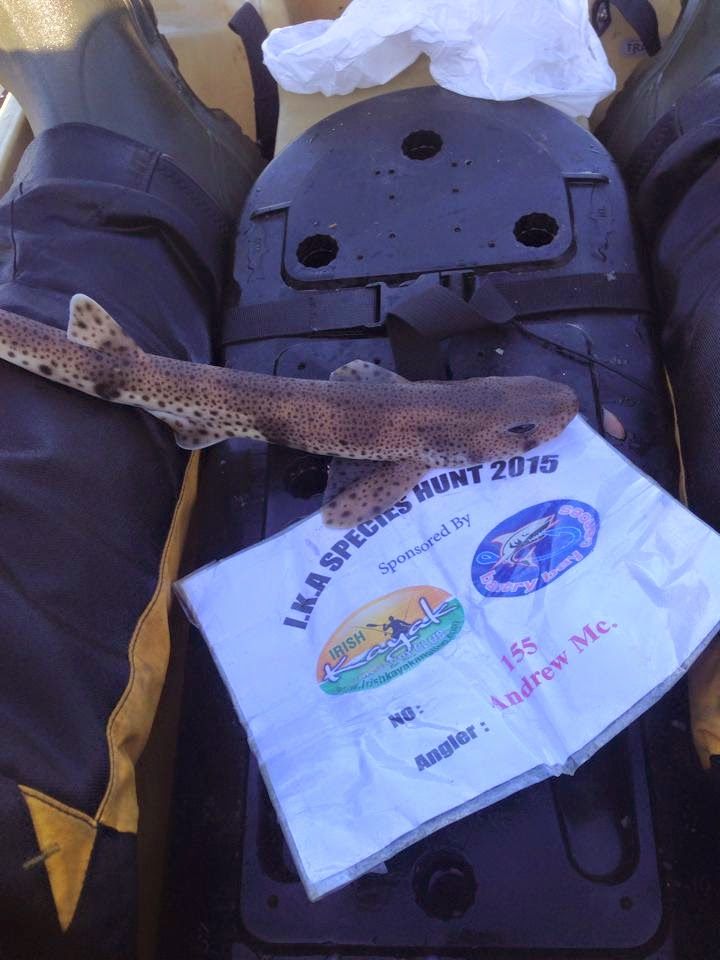 It was a very tough days fishing and I never got what I intended to catch, but most importantly we never blanked. I am itching to get back to the harbour with some better set ups to see what is annoying me, whether it was a large conger and that I hooked the flattie by chance or is there big flatties roaming around down there, only time will tell.
Back