In search of a new species
In search of a new species
It's not that I have grown bored of targeting the usual Irish species throughout and around our country.
On the contrary, I thoroughly enjoy it, but there are times when it feels right to venture further afield for a species I have never caught, or for that matter, even seen in the flesh!
For many years I have thought about hunting down a Stingray, a new and exciting species box for me to tick. Although non-existent in the north (water temperatures too cold) they are reasonably common around the inshore waters of Fenit, County Kerry. Also worth noting, there are other viable species to be had here, including Tope, Bass, Thornback Ray, Painted Ray and the beautifully marked Undulate Ray, another species I have yet to encounter.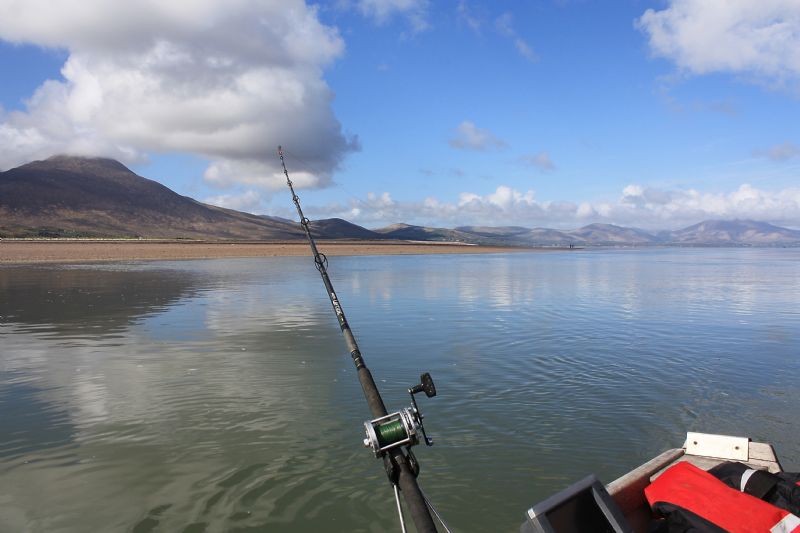 Mill-pond days such as this are rare at sea!
The stunning landscapes and sheltered waters that County Kerry offers have reached out to me for such a long time but until now I have never managed to actually get there, apart from one shot at it many years ago. It was a failed one-day shore angling venture, but gale force winds and rain made angling virtually impossible! It gave me a false impression of a venue that I knew in my heart had so much to offer.
This year, 2016, time seemed right for another crack at it, but on this occasion I would tow my 19ft Lough boat with me. This is not a typical sea-going craft, but with a favourable forecast predicted, it would be fine on the relatively sheltered waters of Tralee Bay. Andrew Wolsey would join me for company and split the fuel costs on this long journey.
My old buddy from County Cork, Sidney Kennedy arranged to meet us at the slipway. He only lives two hour's drive away, in my angling terms, that's on his doorstep! Sid already had a few successful trips under his belt this year, and as this was my first experience here, I knew he would give us a couple of handy pointers.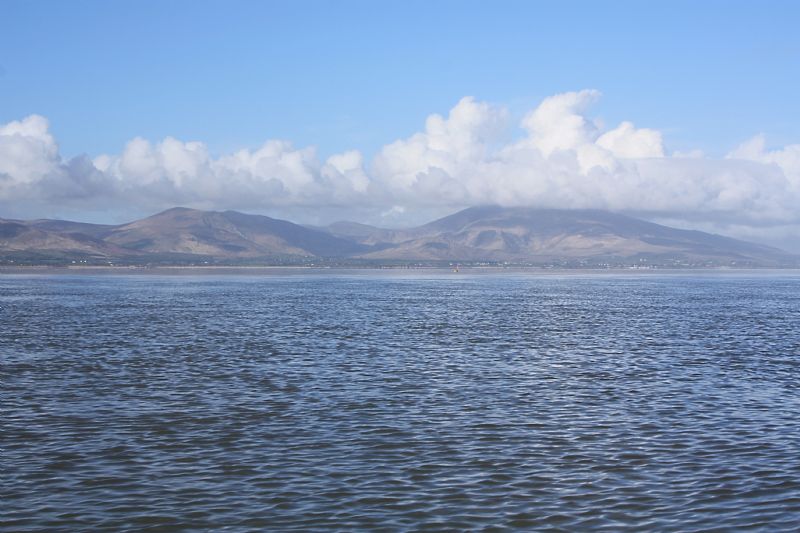 Stunning landscapes in every direction
Arriving late at night, we found a suitable "bivvy" spot near to the slipway and set up camp for the duration. A quick meal and a decent night's kip beckoned after the long drive, and we wasted no time in achieving both! The following morning over breakfast, the full impact of this wonderful landscape could be enjoyed, what a stunning place to fish!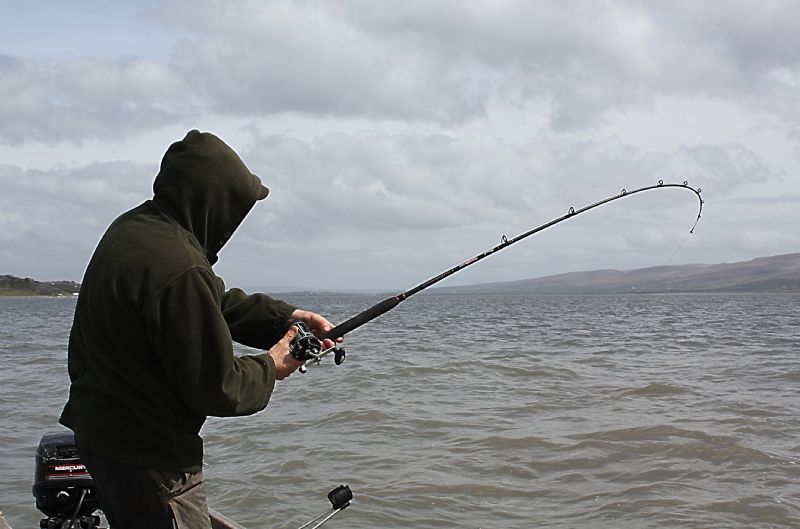 The Shakespeare GX2 is a lovely rod for ray fishing
Once Sid had arrived, and both boats launched, it was time to immerse ourselves in the angling opportunities Tralee had to offer. We had missed the tide for one mark and decided to simply pick a likely looking gulley and give it a go. Very soon into the session, rod tips thumped and rays appeared. Andy landed his first Undulate Ray, Sid did the same and matched that with a Painted Ray and I seemed to find a pod of Thornback Ray! Three Ray species all from the same area boded well, although the Stingray failed to show.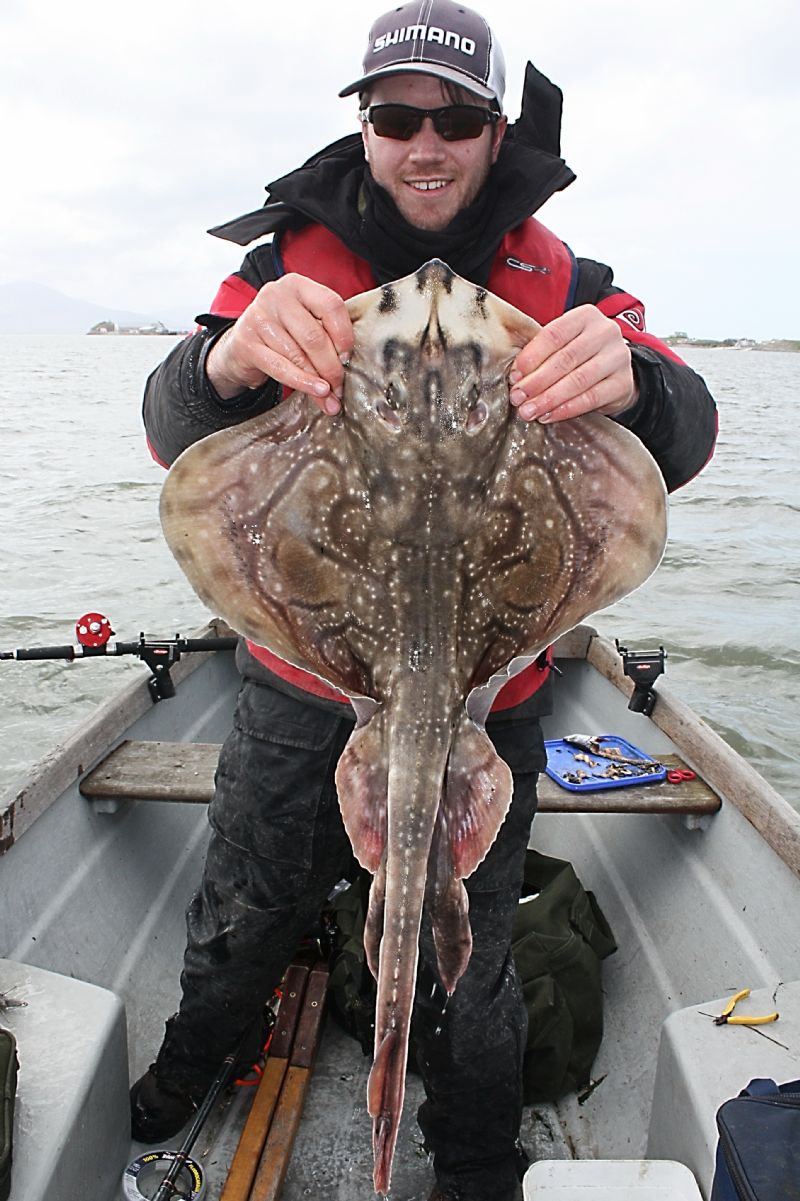 Andrew Wolsey gets underway with this beautifully patterned Undulate Ray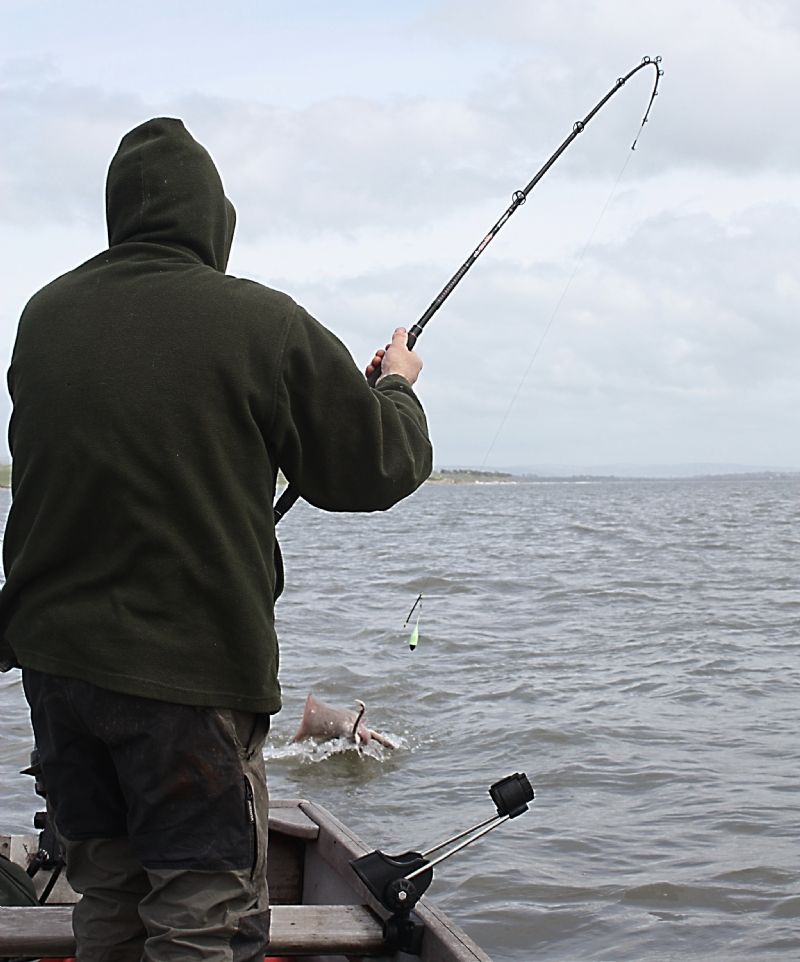 Whereas I had the Thornbacks queuing to be caught!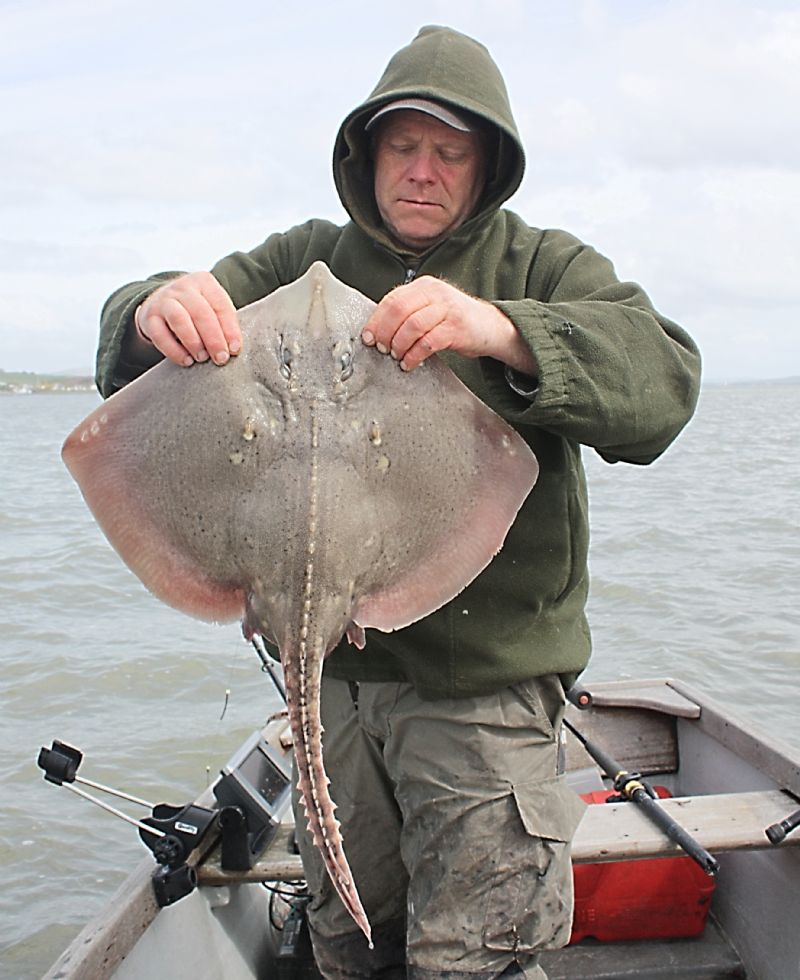 Eventually perseverance paid off for me, also landing my very first Undulate Ray. What beautifully marked creatures these are. A Mother Nature's work of art inscribed on the back of every fish! They felt softer to the touch than any other Ray species, more flexible, which I assume leads to the name "Undulate", the ability to undulate the whole body in a corrugated movement. It would be interesting to see some under-water footage. I had the camera to do this, but recent local dredging had coloured the water too much on this occasion and visibility was down to zero.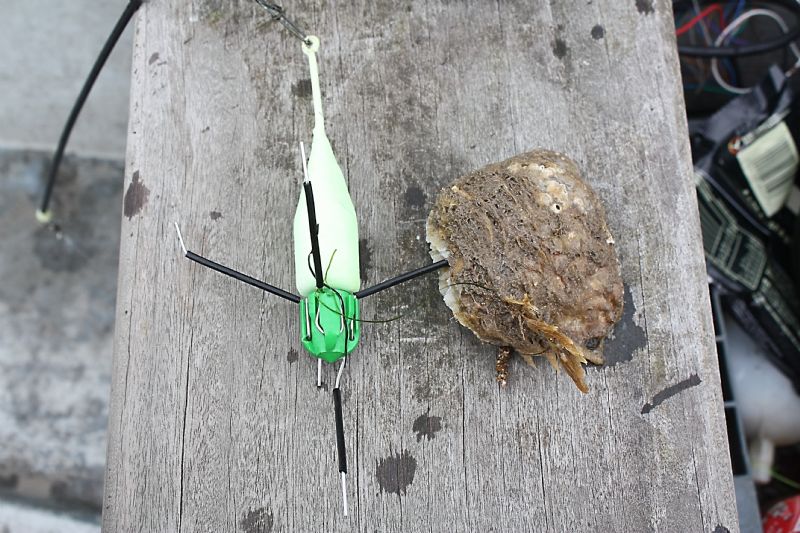 This seems to be the ground we were fishing over, Oyster beds
As we proceeded through the trip, the couple of days invested in this venue really began to pay off. It always takes a while to find your feet at a new place. I realise this sounds slightly esoteric, but for success, I find you need to immerse yourself in a venue, feel what it has to offer and quietly slip into the zone. All anglers will have experienced this. It's like tuning in to the correct wave-length where you know a special fish is on the cards.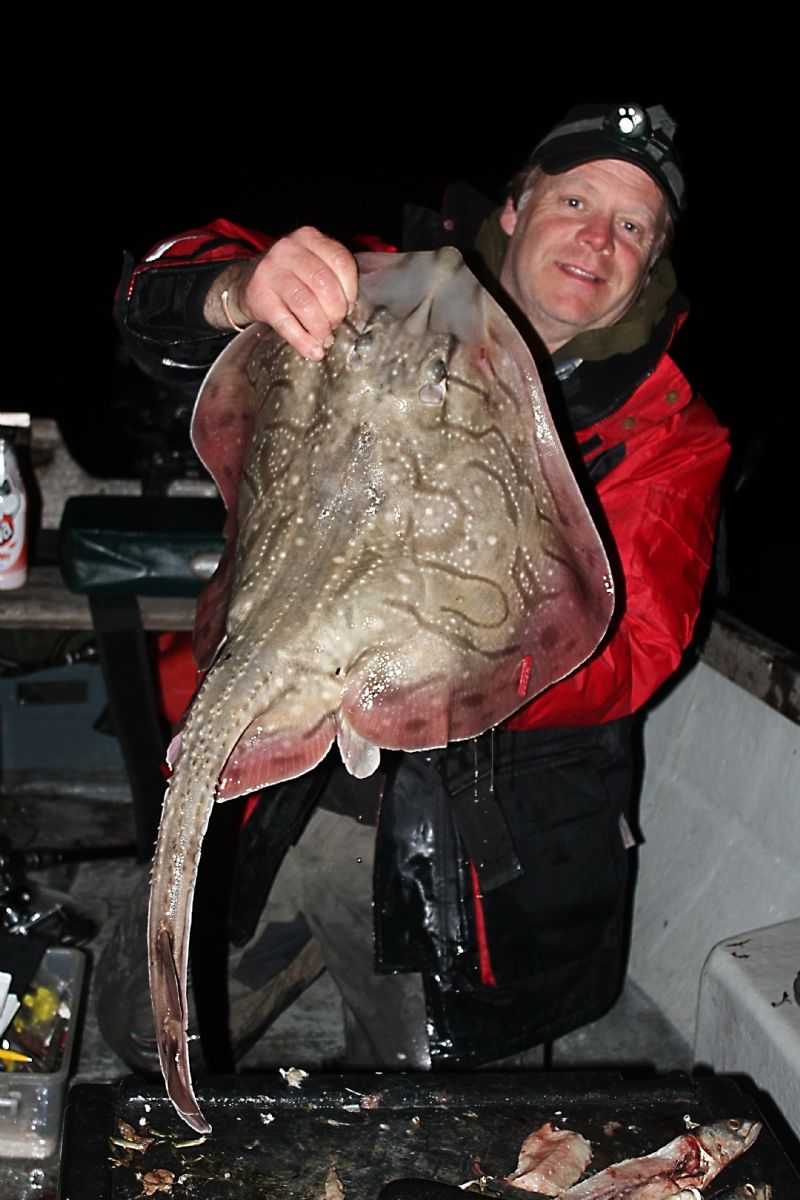 Eventually I managed to find a new species for myself, a double-figure Undulate Ray
Towards the final sessions I had this feeling where everything began to fall into place, and it was of no surprise when we finally connected with the species sought, a hard fighting "stinger", and jeeze do they know how to battle. Using every part of the tide to their advantage with such an incredible turn of speed belies the fact that they are a member of the Ray family.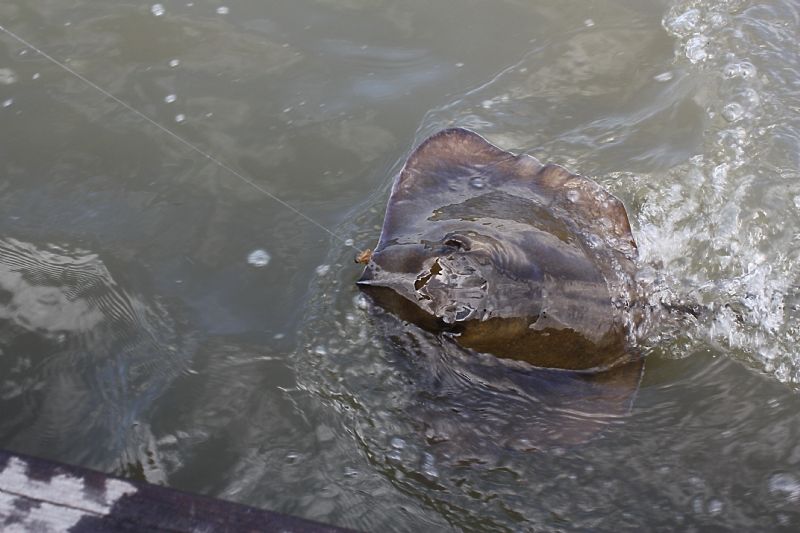 Stingray, a new species for me. Worthy "scrappers" on balanced tackle!
On one mark in what seemed like impossibly shallow water, I had three Stingray on at once, the largest tipping the scales at twenty pounds. They were then quickly followed by a large female Undulate Ray, pushing the scales round to fourteen pounds. This would have been a specimen by old rules, but fell short of the new "measurement only" rules by 3mm. As a specimen hunter that would have been a fantastic species to record, but such a fight on balanced tackle, such a stunning fish, I had no grounds for complaint!
The largest of three Stingray taken on this mark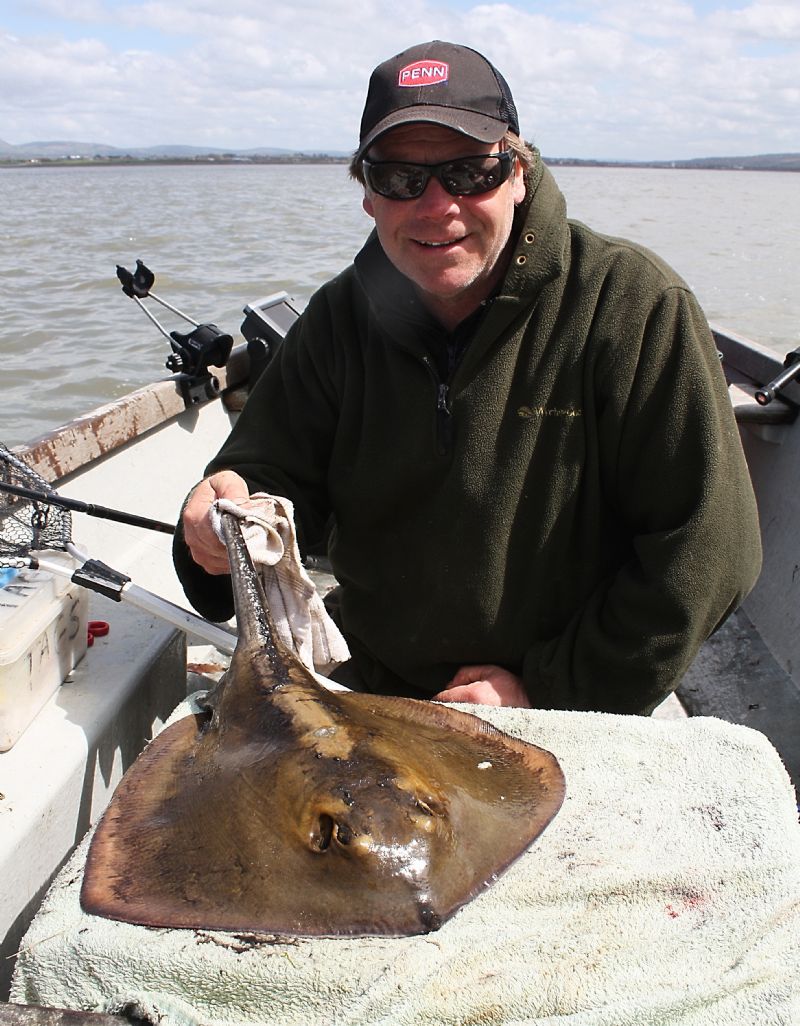 A damp towel carefully wrapped around the "sting" in the tail eliminates any danger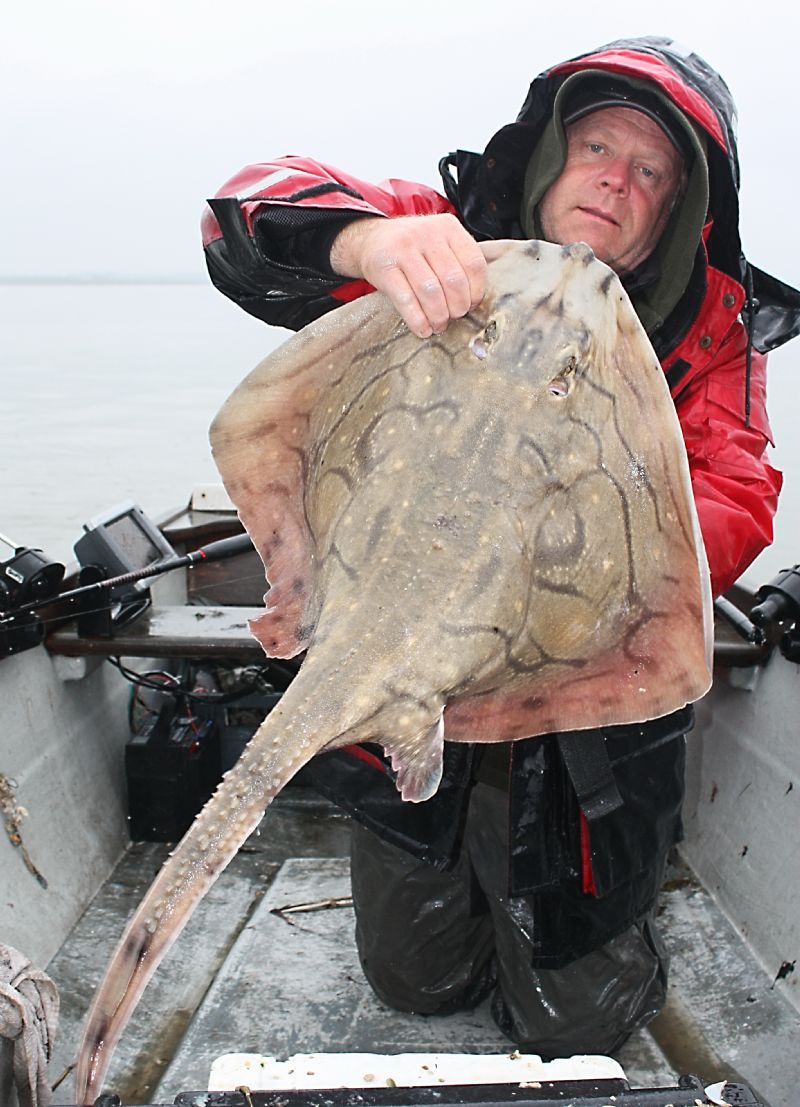 A fourteen pound female Undulate, very enjoyable scrap in shallow water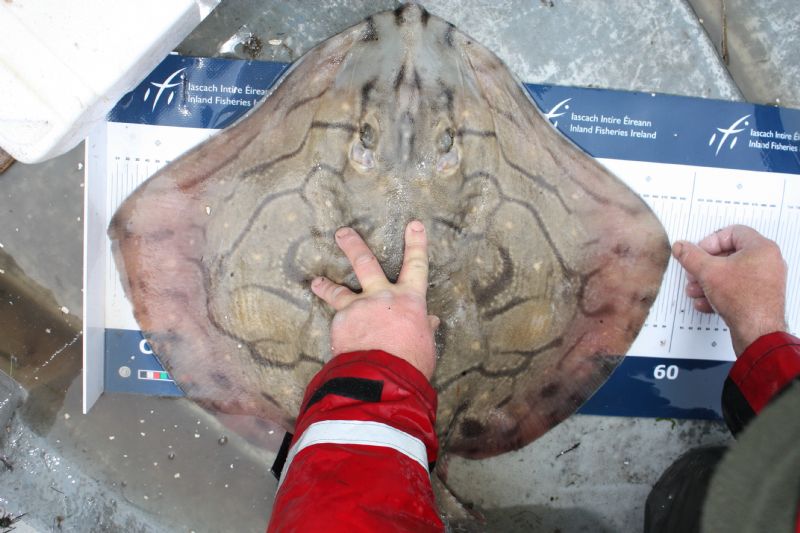 Three millimetres short of a specimen, try again!
Most rays will give a great account of themselves, the heavy pull, short but powerful runs along the sea bed tearing line off the reel on occasion, but Stingray are something else. The power is vicious, and prolonged. They will run from port to starboard in a heart-beat, and back again. Just when we thought we were getting the measure of these power houses, Andy lifted into a solid run and the instant the hook was set, a large fish leapt clear of the surface!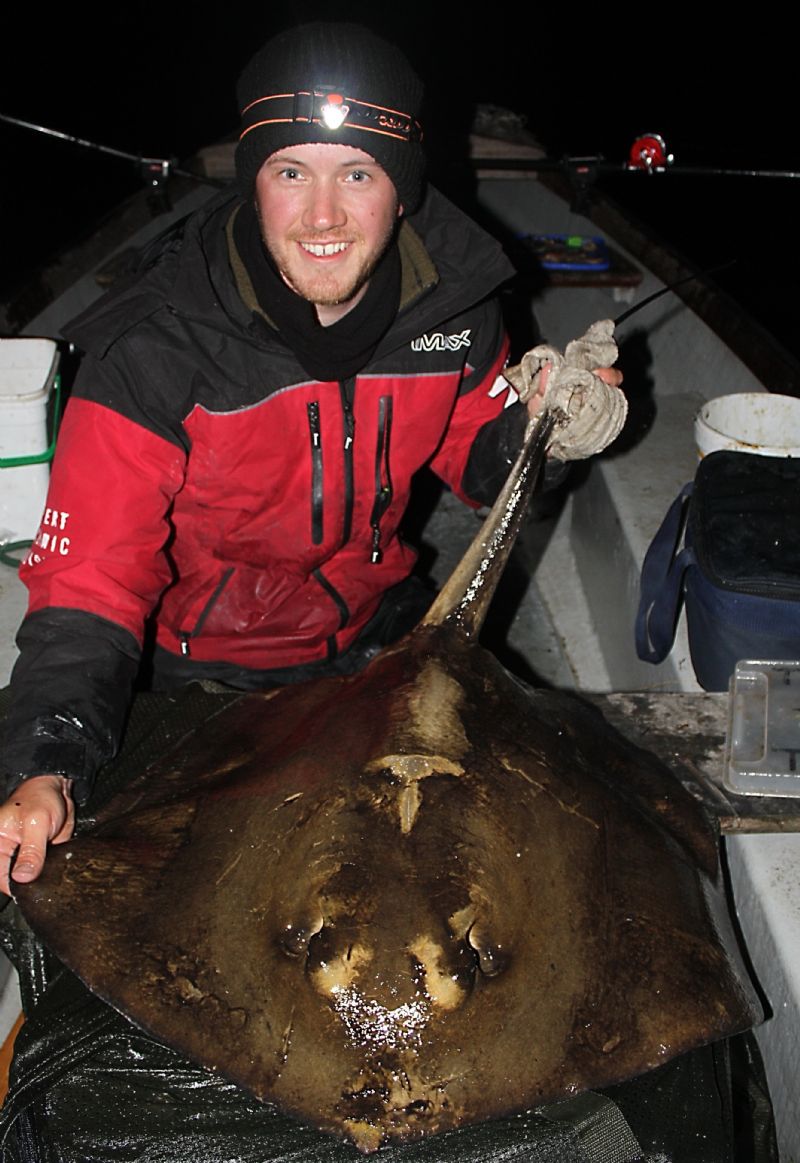 A forty pound beauty, and a happy angler
A fabulous fifteen minute battle finally ended with the ray in the safety of the landing net, and straight to the weighing scales pushed the needle past the forty-one pounds mark, doubling my best fish from earlier and well over the specimen barrier! What a fantastic way to end an interesting and successful trip.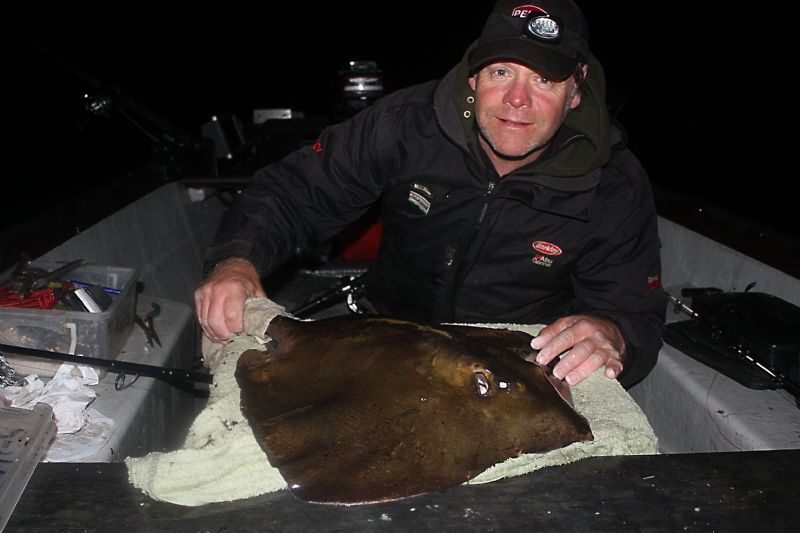 On our first day, I had left my tagging equipment back in the jeep, which was a pity as we landed quite a few rays during that session. However, over the following two days we tagged a further nine Undulate Rays, one Thornback Ray and six Stingray. Interestingly, I caught an Undulate previously tagged by IFI that week, and another angler landed an Undulate Ray tagged by me two days previous. This shows that these rays, when handled correctly, carry on regardless of the angling experience. It also shows that they seem to stay in the area, hunting and feeding over the same grounds. This is great evidence to support the fact that these bays and estuaries require immediate habitat protection.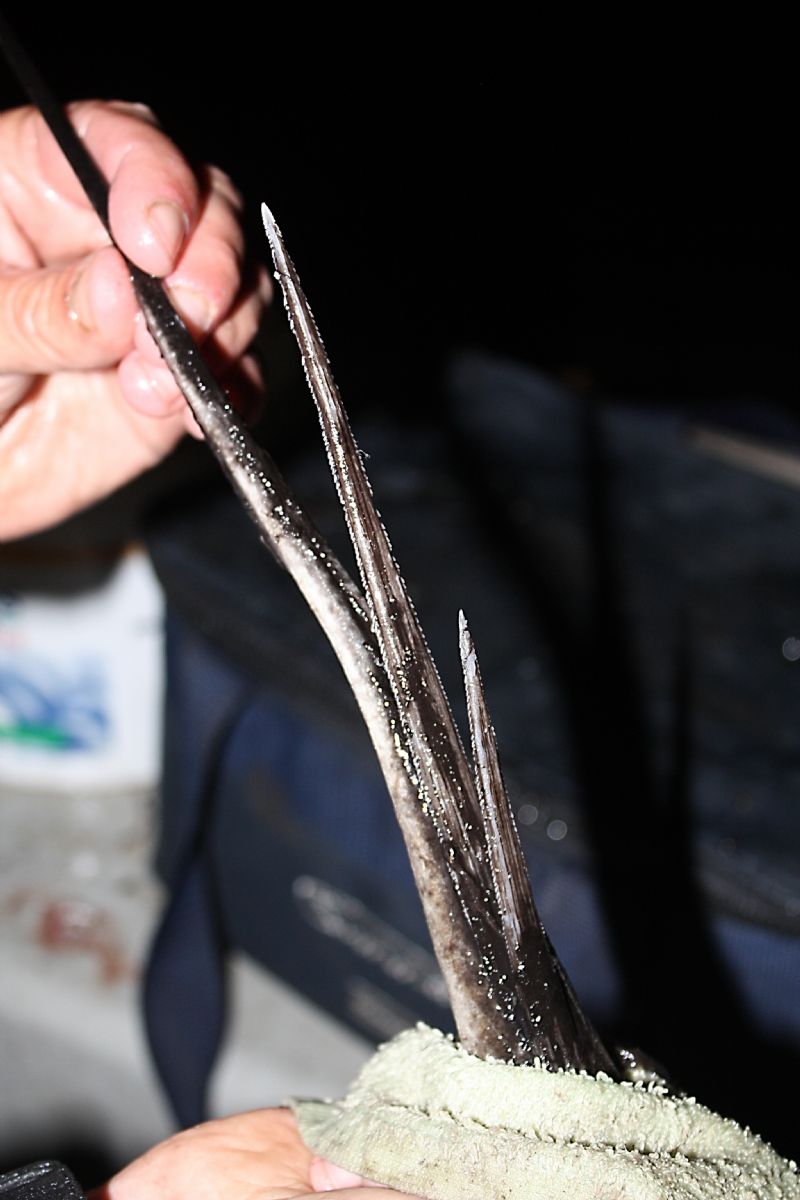 Be aware of the barbed spikes, quite dangerous if they jab you, but dont cut them off, they are there for a reason!
Bait
We used a mixture of fresh peeler crab and frozen Mackerel strip. Whole Calamari accounted for several Rays, would have loved to have the chance to try fresh Mackerel strip, but we were un-able to find any on this occasion.
There is no substitute for quality fresh peeler crab
Tackle
On this trip, not being fully aware of the venue, I brought both up-tide and down-tide tackle with me. Both methods caught fish, but I feel the up-tide kit had a slight edge, casting a short distance away from the boat's disturbance in such shallow water. The up-tide rod was a Greys with purpose-built extendable butt section for ease of casting. The down-tide rod was last year's new Shakespeare 12lb-20lb GX2 boat rod, and a very useful piece of kit it was too, well recommended for this type of boat fishing, such a pleasure to use, light, balanced, sensitive yet powerful.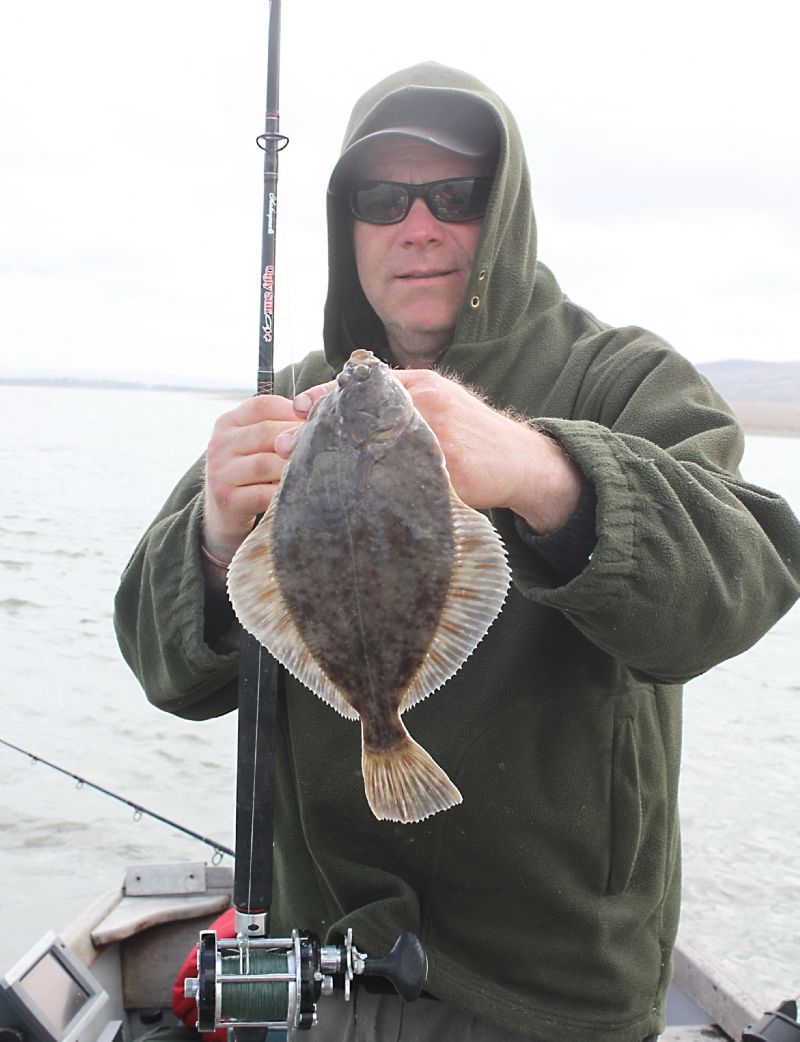 The GX2 from Shakepseare, a great all-rounder boat rod
All rods were teamed up with multipliers, but I think next time, I would switch to a pair of up-tide rods teamed with suitable fixed spool reels, having experienced the turn of speed Stingray are capable of!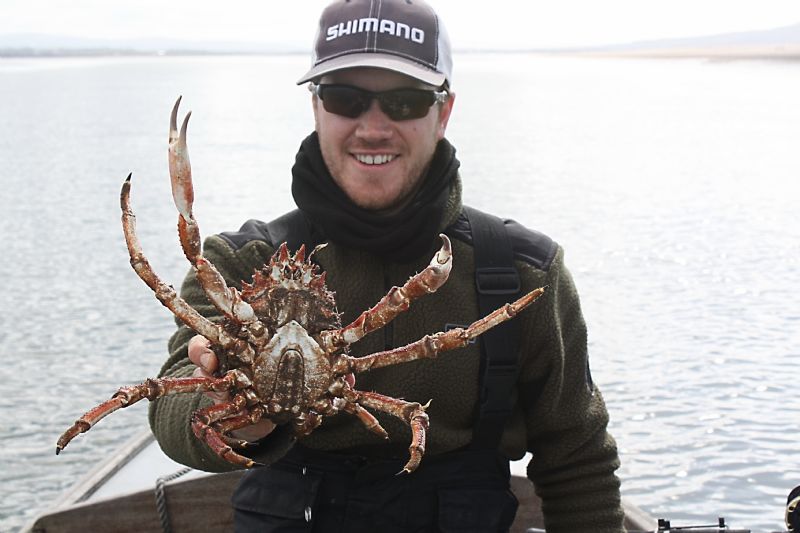 Lots of spider crabs about, the ultimate bait stealers
I had always read that small hooks were required for Stingray. Recommendations in the range of size 1/0-3/0. However, with the strength of tide running and the power of these fish, I stepped up to heavy up-tide Aberdeen patterns and never lost a fish. I would like to thanks Sid Kennedy for pointing us in the right direction and local angler Anthony Foley for his generous and helpful information and the extra peeler crabs he managed to get me, and to Jerry O'Connor for supplying us with a large bag of frozen Mackerel.
Need to get kitted out?
Some discount tackle recommendations
Rods
Shakespeare Ugly Stik GX2 2-Piece Boat Rod - Black, 7.4 ft/Size 8/12 lb
Shakespeare Ugly Stik Gx2 Boat Rod 12-20lb Inc Free Book & Cap
Shakespeare New Sea Fishing Ugly Stik 7'4" 20/30lb GX2 Boat Rod.
Shakespeare New Sea Fishing Ugly Stik 7' 30/50lb GX2 Boat Rod.
Greys ADVENT UPTIDE 9'6" 4-6OZ
Daiwa New D-Boat Fishing Rod 9'6" Uptide
Abu Garcia Rocket Uptide 982 Rod (2 Piece) - Black, 9.8 ft/140 - 280 g
Shakespeare Agility Uptide 5-10oz Rod - Blue, 9.6 Ft
Sonik New Sea Fishing SK3 Uptide Rod
Reels
Abu Garcia New Sea Fishing C-7000 Multiplier Reel. Right Hand Wind.
ABU 7500CS ELITE REEL (LEVEL WIND)
Penn Squall 40lb Lever Drag Reel - Black/Gold
Penn Fathom 30 Lever Drag 2
Penn Battle II 6000 Spinning Reel - Black
Penn Pursuit II 6000 Spinning Reels
Shakespeare Agility 70 Surf Reel
Abu Garcia Orra 2 Inshore 60X Reel - Silver
Mitchell Avocet IV Salt 6000 Reel - Black
Gemini up-tide Leads
Gemini System 100+ Mould Kit for weight making and sinkers
Hooks
Mustad Uptide Viking 79515NP-BR size 4/0 qty 25
WSB Heavy Duty Uptide Sea Hooks Sizes 1/0 to 1 Super Sharp x20 Hooks (4/0)
Kamasan B950u Uptide Hooks - Size 4/0
Cox & Rawle Up Tide Extra Hook - Black, Size 4/0
Back