In search of a specimen Cuckoo Wrasse
In search of a specimen Cuckoo Wrasse
First, the bad news
In my short life-time, I have searched for most fish species in Ireland, in salt-water and fresh.
As a specimen hunter, I have been lucky enough to find many over the hallowed specimen weight, a specimen being regarded as a fish of a life-time for a particular species.
However, as the species boxes are ticked, it becomes more and more difficult to find new species to realistically target over specimen weight. It is a sad fact that our stocks, and overall size of fish are becoming less each year, with over-sized quotas to appease the over-sized fishing industry, indiscriminate netting of estuaries and inland waterways and immigrant related poaching now running rife.
To keep the specimen data interesting, the Irish Specimen Fish Committee adjust qualifying weights when necessary, and the constant downward trend is damming evidence of the decline in stocks. If they didn't do this adjustment, the yearly specimen report would be half empty!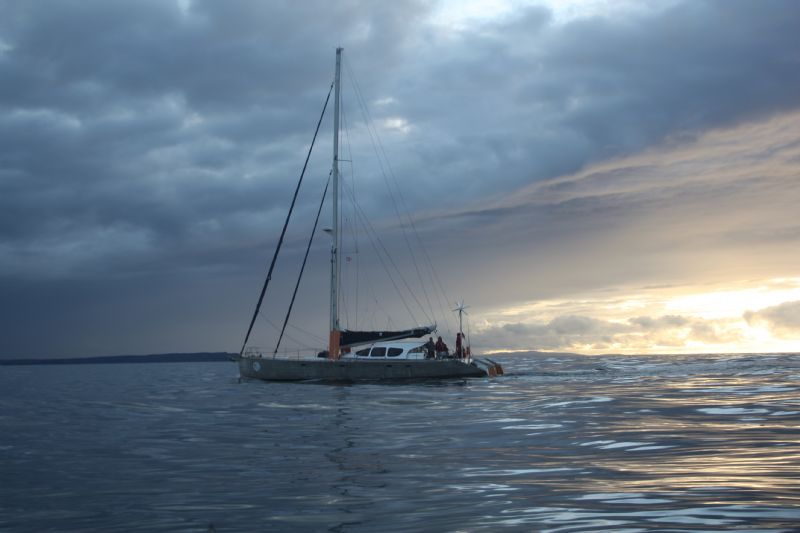 And relax!! Added this photo of a passing catamaran to calm me down!
Species that have had their specimen weight reduced due to lack in numbers include the freshwater Dace and Rudd, with Eels currently suspended from the list. Saltwater species are extremely worrying, and it is no coincidence that the fish affected most are popular commercial species. Turbot, Brill, Plaice and Dabs are now a rarity in the specimen book, despite having their qualifying weights dramatically reduced.
Others include Flounder, Haddock, Cod and Thornback Ray, in fact, all the species people like to eat and are therefore prime targets for the commercial nets-men. Not so "Common" Skate, Monkfish, Undulate Ray, Bluefin Tuna and Porbeagle Shark have been suspended indefinitely; these are all "table" fish that cannot cope with commercial targeting. If only they could be suspended commercially, they might stand a chance!
New fish are now being targeted, and in particular our Mullet species. These are one of the few viable and exciting fish shore anglers have left, but they are fading like snow on a ditch as large trawlers and individual netters easily decimate OUR in-shore waters. Sad times and sad deeds that will come back to haunt us.
Slightly better news.
So, when planning a trip with angling buddy Andrew Wolsey in his hunt for new specimens, all this has to be taken into account. Fortunately, one species that seems to be coping is Cuckoo Wrasse. Although brightly coloured, it is small in size and has no table qualities, and although some fall victim to the lobster pots, they seem to be relatively stable as a population.
Cuckoo Wrasse was one of my first ever specimens many years ago, but it is one that Andy has yet to conquer, and fortunately, I know of a couple of reefs that tend to turn up the occasional larger males.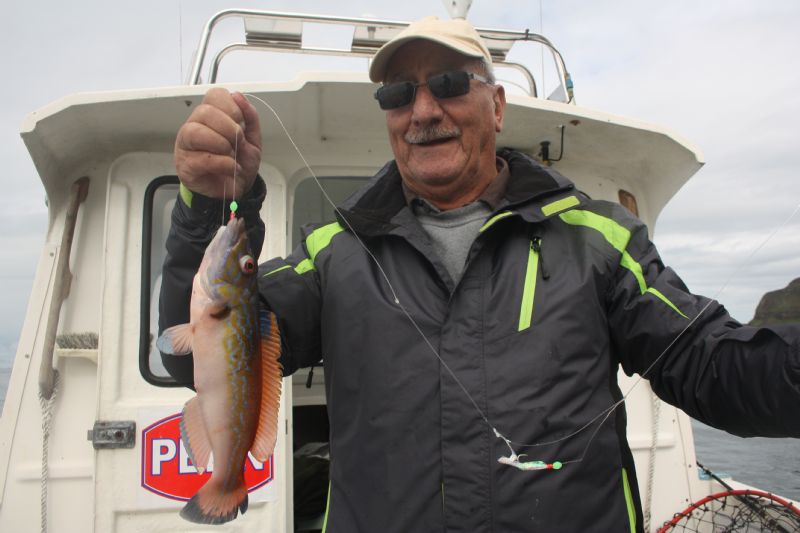 Dessy Young with a typical male Cuckoo Wrasse, taken on a "Harry Flasher Rig"
more info....Shakespeare Harry Flasher Rig
With this in mind, we headed for the Antrim Coast, myself, Andy and old mate Des Young. The tides were huge on this occasion, and anchoring for predator fish would be a waste of time. Instead, we could relax, fish baited feathers and target the gullies and over-hangs along the various reefs this part of the world has to offer. It will make a change from hauling 2-3lbs of lead from over 500 feet below!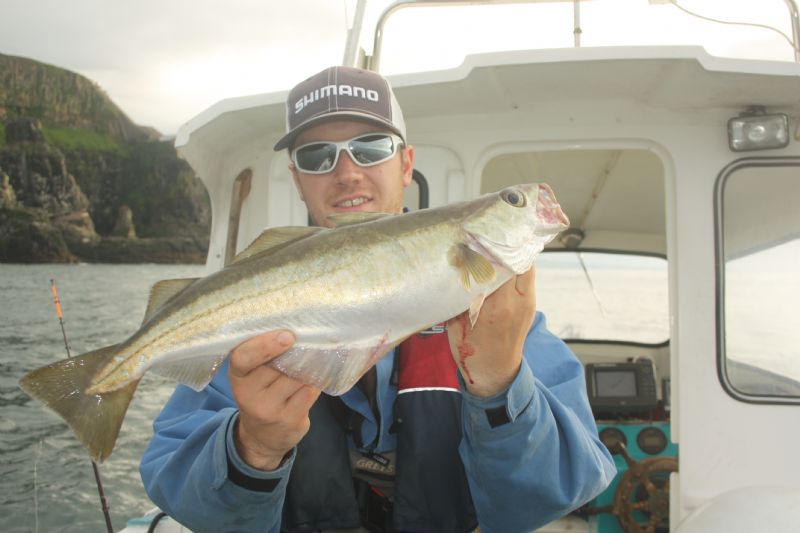 Andy with a typical sized Pollack for this area
Our first port of call was Dunseverick Harbour, but even with the light winds forecast, the tidal race was so strong that launching was simply too dangerous. Plan B was to drop down along the coast and take a look at Ballycastle. This looked a great deal safer and with that, we ventured forth. Targeting the sheltered bays produced little, a small Whiting, a few tiny Gurnards and one Sandeel. Mackerel were a non-entity!
By mid-day, the tide eased to a glassy flat calm, and we headed off-shore to the productive deep-water reefs. Although we dropped for Mackerel in all the usual haunts, they simply weren't there. The start of September, seas should be teeming with them! On the tops of the reefs, hordes of small Coalfish "nailed" the feathers, but below these, as you felt your way down and over the ledges, gullies and over-hangs, the ever-present Cuckoo Wrasse soon obliged.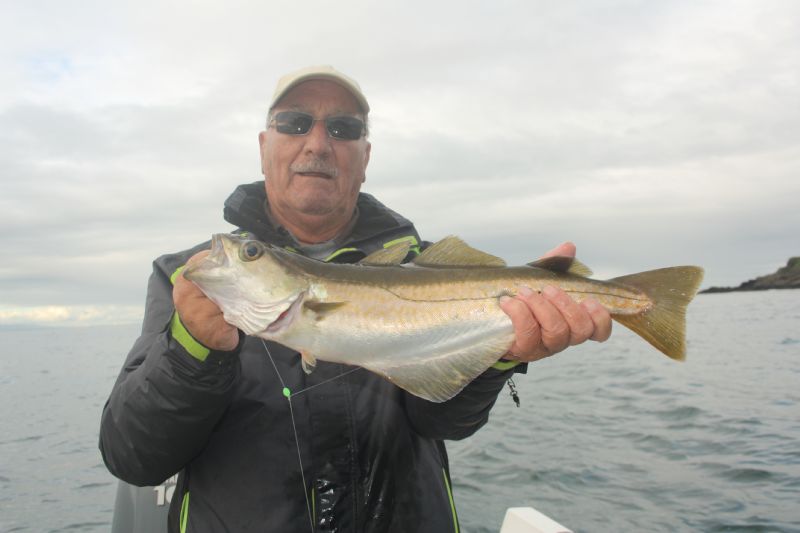 Dessy enjoying some Pollack action, the "Harry Flashers" cleaning up
Susceptible to depth changes, it can help by retrieving a fish to the surface as slowly as possible; and even try keeping them in a bucket of water until they recover. This will help to avoid ravenous Black-backed gulls swallowing them whole, on the surface!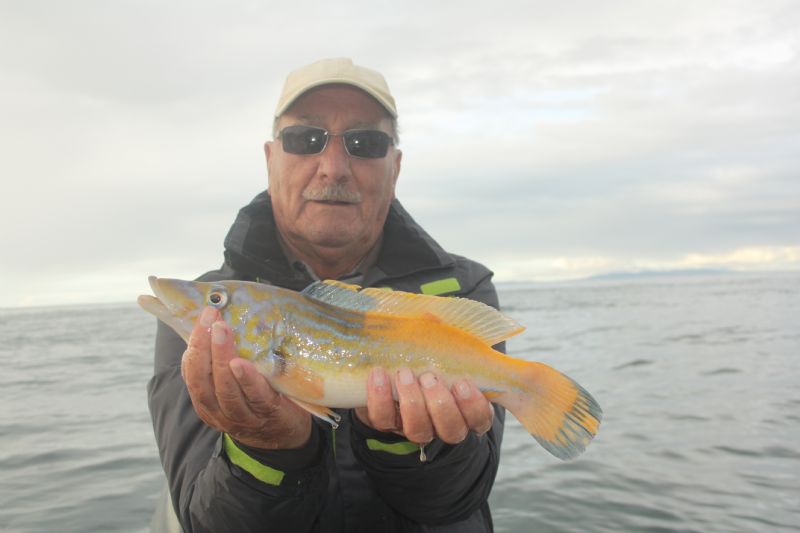 And some fine Cuckoo Wrasse, our target species for the day
Amongst the Cuckoos, Pollack were a welcome distraction, giving plenty of rod-bending action when they slammed into our baited feathers destined for Wrasse. Keeping a few for a fresh supper, most were carefully returned. This is known as sustainable fishing! Many of the Wrasse were worth weighing, coming extremely close to the magical 1lb 4oz specimen barrier, but unfortunately just falling short.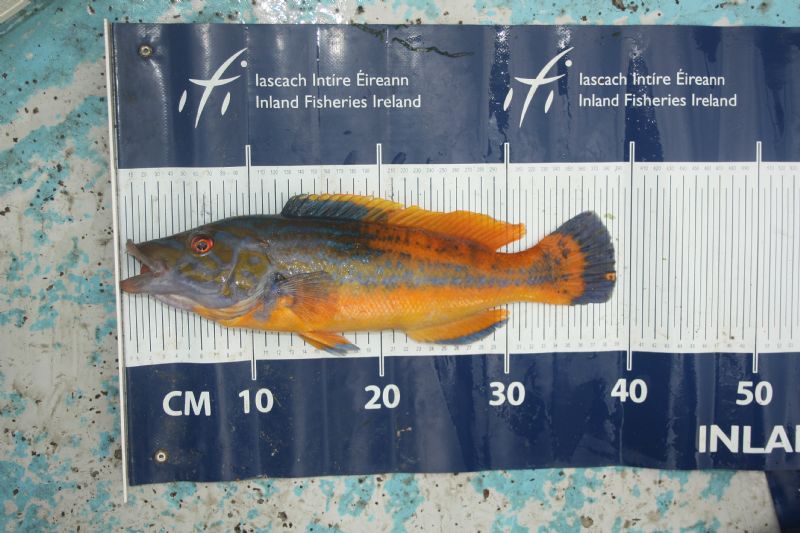 Andy cracks it, with this fine male specimen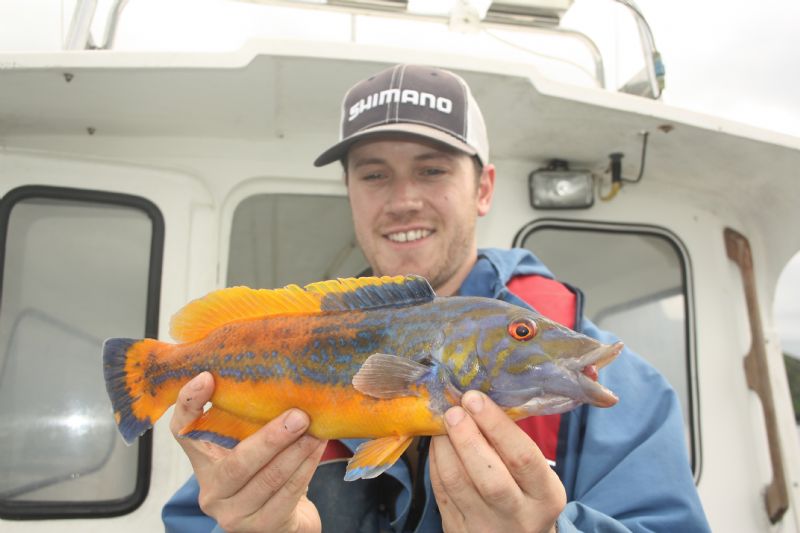 My job done, another specimen ticked off the list
On one particular mark, the spring tides spun us round in circles; the ensuing line tangles were inevitable. As we reeled in and quickly un-tangled, Des hollered out "look at the size of that Cuckoo Wrasse" on the surface. Fortunately it was on Andy's baited feathers, and quickly to the scales pushed the needle round to over 1lb 9oz. This has been a great year for Andy, landing his first specimen Shad in St.Mullins, his first Golden Grey Mullet in West Cork, and now, his first specimen Cuckoo Wrasse! I think the teacher has now become the pupil! Back on shore, the Wrasse clocked in at 1lb 8oz, a fabulous qualifying specimen.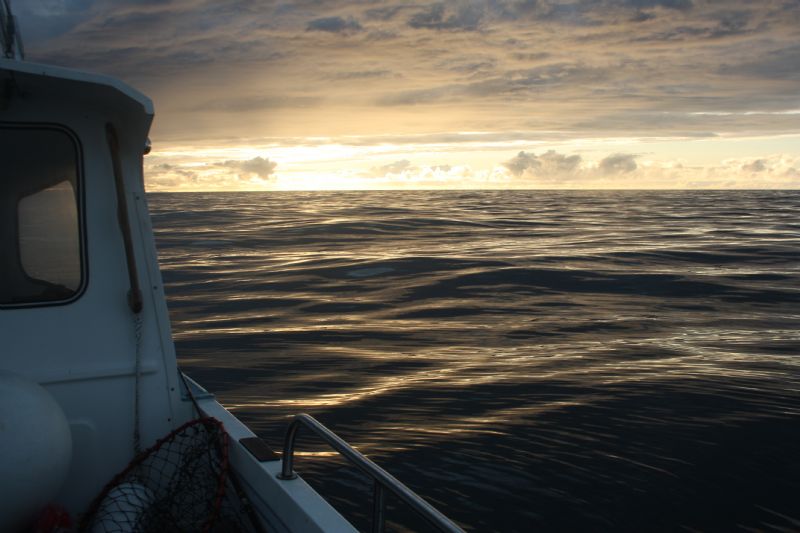 We judged our day perfectly for a safe passage back to harbour
It is almost as good a feeling being able to find a dream fish for an angling mate, as it is to catch one yourself. I did say almost! I did find my own fair share of Wrasse and Pollock, but you have all seen enough photos of my ugly mug! With job done, there was time for a couple more drops and then head back to the harbour. We didn't want to run the risk of battling against a vicious spring tide that can run the entire length of the sound. Ballycastle Sound can be as dangerous as it is beautiful, but with a healthy respect for the sea, and some common sense, it is also an awesome destination for sea angling.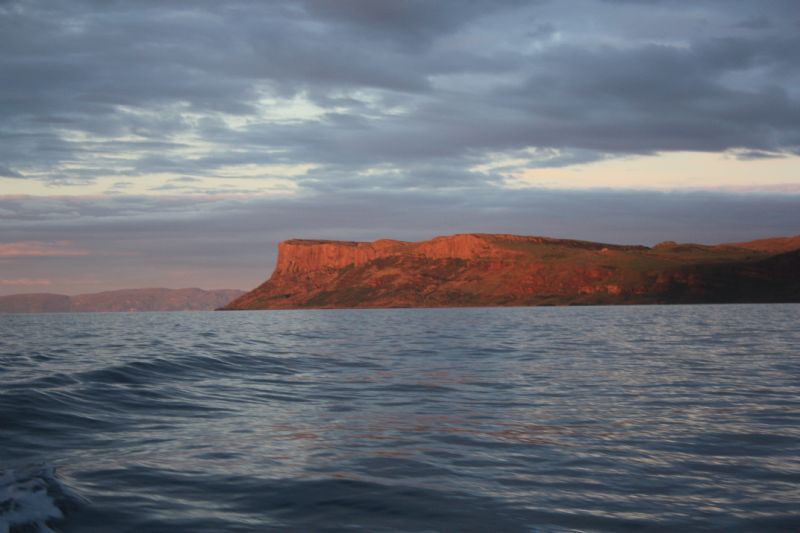 We are lucky to have such a stunningly beautiful country to live in, we just need to learn how to manage our species sustainably before it is too late
Back