In search of specimen Twaite Shad
In search of specimen Twaite Shad
About Twaite Shad
In Ireland, we have two species of Shad, namely Twaite Shad (Alosa fallax) and the larger but much more elusive Allis Shad (Alosa alosa).
To complicate matters, it is a fact that these species also hybridise usually requiring genetic testing for accurate identification.
The Irish Specimen Fish Committee provides this service when a Shad is submitted by an angler as a possible specimen for verification. The current Irish record stands at 1.54 kg caught by Michael O'Leary in 1999, with qualifying specimen weight at 1.2 kg. There is currently no standing record for the Allis Shad. The Twaite Shad that run Irish rivers such as the Barrow, Suir and Cork Blackwater tend to show from late April to early June depending on water temperature, and typically over spring tides. As a species, these fish are considered "vulnerable", mostly due to commercial by-catch at sea, by-catch when netting Salmon in estuaries and rivers, man-made obstructions in rivers and damage to spawning "redds". Anglers may cause some limited damage and therefore it is imperative that all fish are handled with utmost care and returned safely to the water, if angling is to continue for this species in future.
Currently, angling for Shad in Ireland, on strictly catch and release basis is permitted. This is monitored yearly through surveys on stock numbers and size, but also using input from angling data through the Irish Specimen Fish Committee.
My Trip
My yearly expedition to the beautiful village of St. Mullins, County Carlow has once again come around full circle. I try my utmost to make it to this wonderful venue in Ireland each spring, and on the rare occasion when I cannot; I feel I have truly missed out on something special.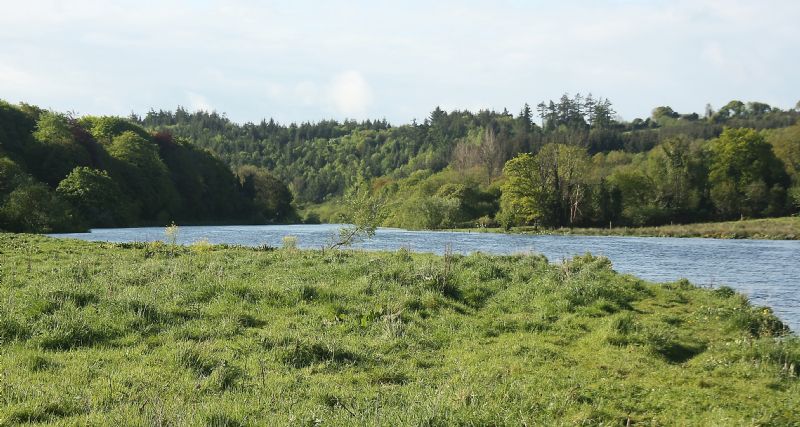 Is there any back-drop nicer than this when targeting a specimen fish?
On this occasion, I had quite a tick list to work through. Obviously on safe arrival my initial box to tick would be hooking and landing my first Twaite Shad of 2015. Second on the tick list would be to find at least one Irish specimen over the magical "fish of a life-time" barrier! The target weight is 1.2 kilos, or 2 pounds and 10.5 ounces in old money.
After this achievement, and in no particular order, I would do my best to put my angling friend and fellow specimen hunter Andrew Wolsey in contact with his first specimen Shad. Also product test a new Abu spinning rod-reel combo, try out the Greys Strata CT Waders and Boots, and do my best to land a specimen on the Abu Rocksweeper and Penn Battle reel, a challenge I promised myself when I last used this fabulous kit in search of Bass last summer.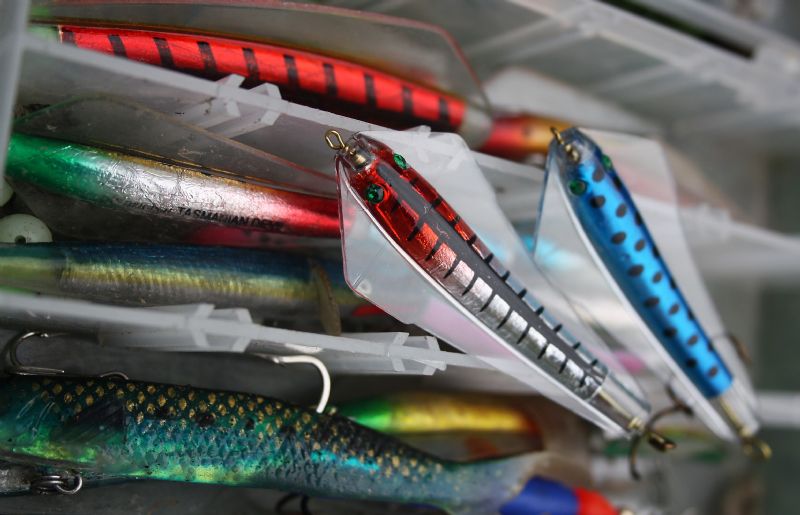 Standard issue "Tazzies" and "Lofty's Cobra's" when targeting Twaite Shad
To achieve all this in two full days was asking a lot, compounded by the un-favourable weather that greeted us upon arrival, but whatever happens on this adventure, it's all fishing and that's a great deal more enjoyable than work! Arriving at the venue late Sunday evening, there was the opportunity for a quick cast or two, in which we "bumped" a couple of Shad and lost one decent fish just before it had the chance to show itself. At least there were a few around which gave us a little confidence for the following morning. With Bivvy pitched and our belly's full of bacon sandwiches and tea, we crashed out to the sound of constant blustery rain beating off the winter skin. Not a good sign on a venue that fishes poorly in flood conditions!
Breaking out of our JRC STi "bed and breakfast" at first light, we still had strong wind and squally showers to contend with, but our prayers were answered, the river was still in excellent shape. The run-off hadn't reached the river system yet. We cast our lures amid the backing-track of the birds' dawn chorus. What a stunning venue St. Mullins in the Barrow Valley is, almost a micro-Canada in appearance. A grizzly bear wandering along the river bank in search of Salmon would not seem out of place here!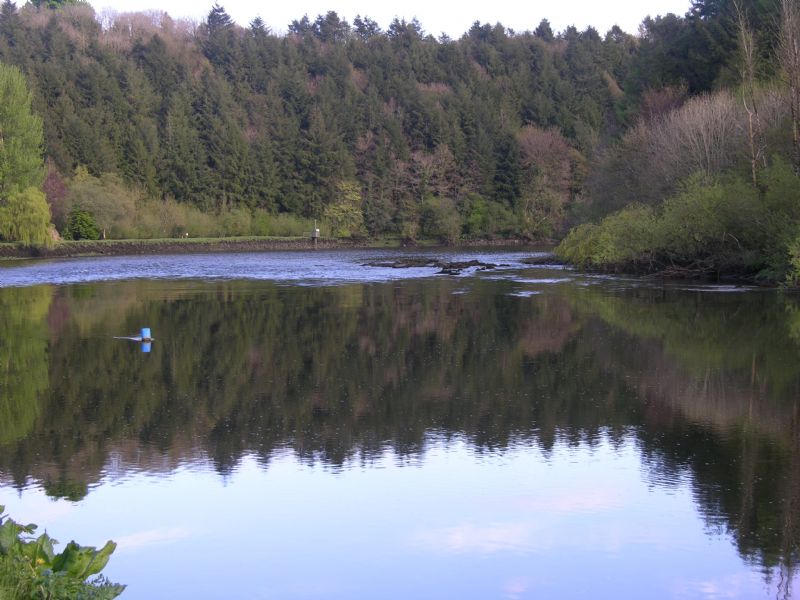 Looking downstream from St.Mullins
A few casts to the far bank and the tell-tale double thump on the rod tip let me know I had hooked into our target species. Only a small fish, but fantastic to see Shad returning to this rich river system for another season, and superb sport on light, balanced tackle. It has been twelve years since Andy last fished here, and he was also delighted to hook into a similar sized fish shortly after.
Andy is delighted with his first Shad since his last visit twelve years ago!
It soon became apparent that a large number of juvenile fish had "run" over the spring tide. All our fish were between half and three quarters of a pound. Although we were after the larger adults, it is extremely heartening to see so many smaller fish. This is the first time in almost five years that these juveniles have made an appearance, and bodes well for future stocks and further adventures to this area.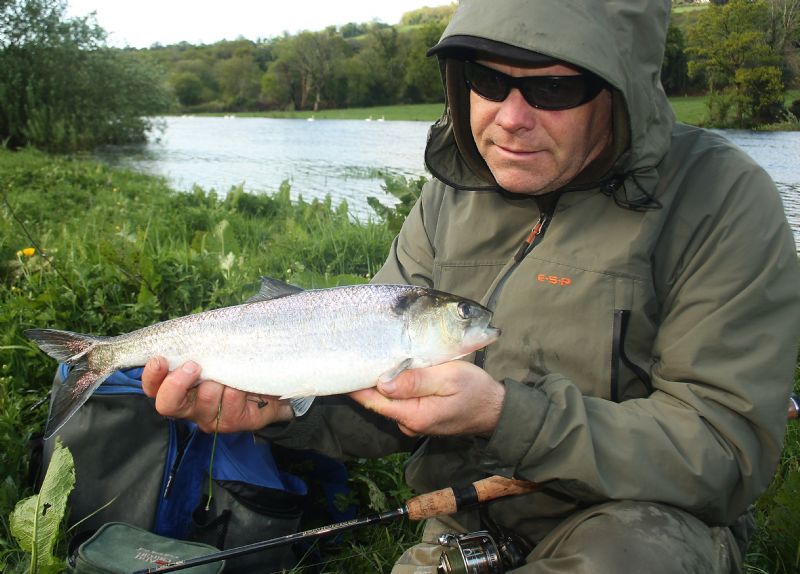 Fantastic to catch this wonderful species again
Chatting with other anglers along the river-bank as the day progressed; it seemed the current Irish Record for Twaite Shad at 1.54 kg had possibly been broken twice this week already. Set in 1999 by Michael O'Leary, there was a chance this sixteen year old record was finally beaten, but of course, this would depend on later verification. What it meant for Andrew and myself was there were larger fish about, and a great chance to find a specimen.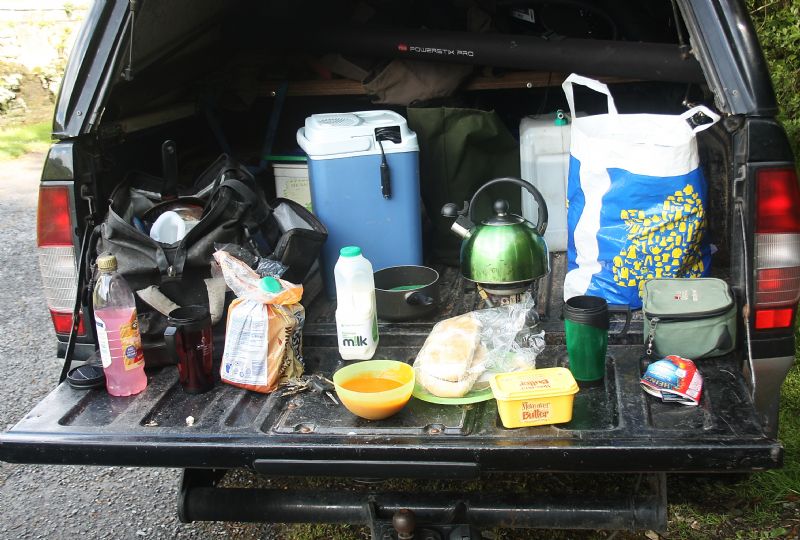 The field kitchen comes into use yet again
A break for lunch was called for, rustled up as usual on the tail gate of my jeep, and with batteries re-charged we were ready for the second session, timed perfectly to intercept any fresh fish running on the next in-coming tide. Our luck was in as Andy struggled to bring a feisty fish under control. Quickly to the weighing scales, she topped the 1.2 kilo mark and ticked another specimen box for him.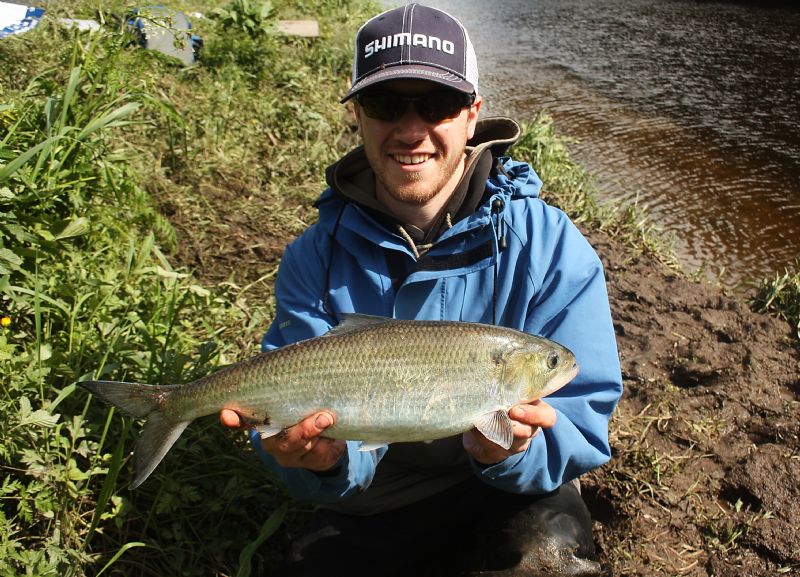 Andy finds his first ever Shad specimen, another box ticked
I say quickly to the weighing scales, as this delicate species must be treated with kid gloves and rapidly returned to the water. If you wish to go through the weighing-photograph process, make sure everything is ready and at hand. Always have weighing scales and weigh-sling at the ready, and camera on stand-by, as any longer than a couple of minutes out of the water will usually spell trouble for this hard-fighting fish. When releasing, as with all fish, a Shad needs to be supported upright, with head facing upstream until it has fully recovered. This may take several minutes, but will ensure its safety.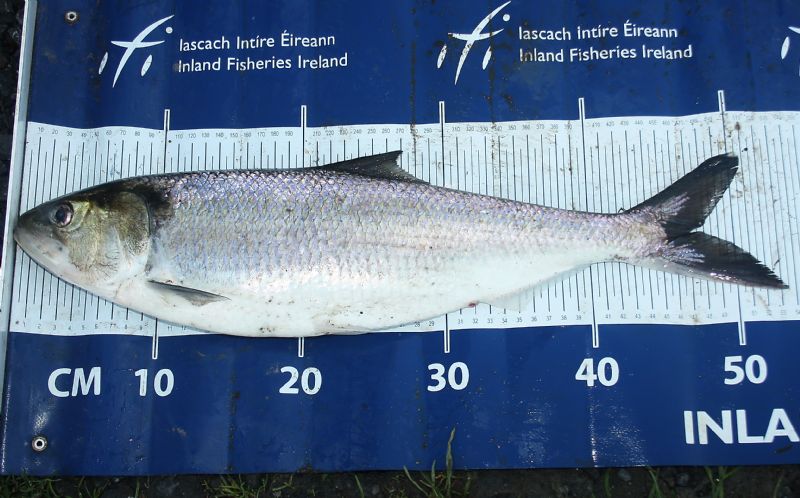 The Inland Fisheries Ireland "measure mats" are ideal for quick, safe and easy use
Obviously, I was delighted for Andy, but the pressure was on to find my own specimen. A powerful "take" stopped me dead in my tracks, ripping line against the pre-set drag. This was a large specimen, one which refused to submit to the landing net. After several heart-stopping moments, she shook the hook just as I glimpsed her, a very large fish indeed. Twaite Shad have a frustrating ability to avoid the landing net on too many occasions, and unfortunately, this was one of them!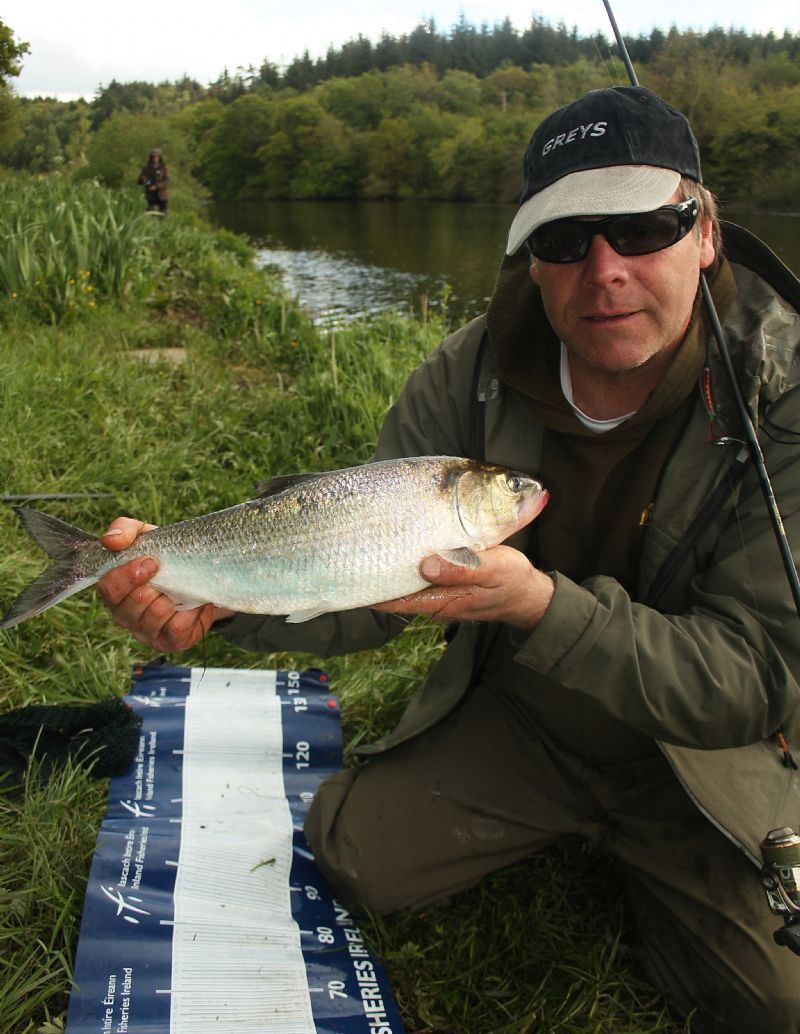 A hard fighting specimen at last, this one tipping the scales at 1.3 kilos
I am too long in the tooth and well versed in the art of targeting this species to get hung up on the loss, quickly re-casting and putting the experience firmly behind me. These fish normally swim in small pods of similar size, and where there is one large fish, you will stand a fine chance of hooking into another. Ten minutes later, my specimen of 1.3 kilos was safely in the net, and the pressure off.
This was a long day, and with a 5am start the following morning to catch the tide, we retired to the bivvy. My tally reached sixteen fish landed, with equal numbers "bumped" or lost, Andrew was on thirteen and a similar story, but this is normal practice when targeting this species. Not a huge amount of fish it must be said, but with many nudging the 1.2 kilo mark, we had fabulous sport and our hopes remained high for further specimens.
Another early start, up again at first light, and soon flicking lures across the river, carefully avoiding over-hanging branches that draped the far bank. Normally, dawn tactics are a winner, however this morning there were very few fresh fish making their way past on the morning tide. This may have been due to the early tides being smaller than the afternoon tides, but whatever the reason, we were definitely struggling to find fish.
Having covered most of the river section with little to show, it was time to relax and pin our hopes on the second tide of the day, possibly bringing a fresh run of fish with it. At this stunning location, there is no hardship in un-winding and chatting to like-minded anglers from all parts of the country.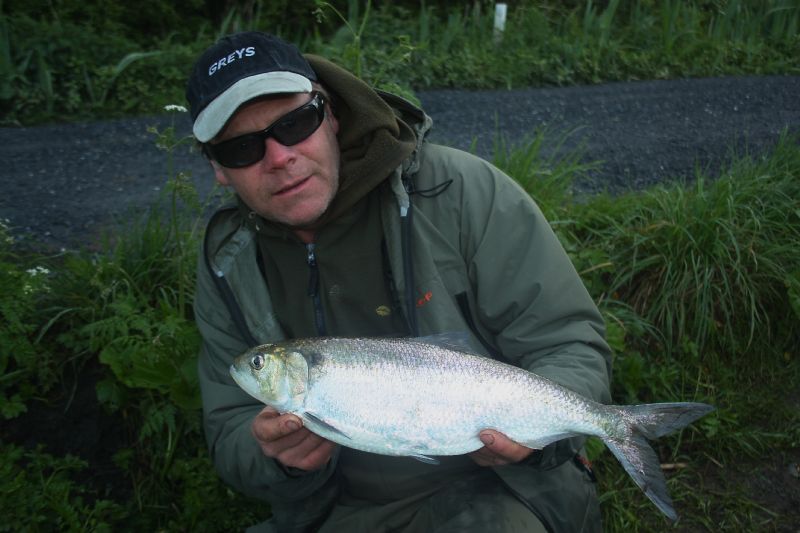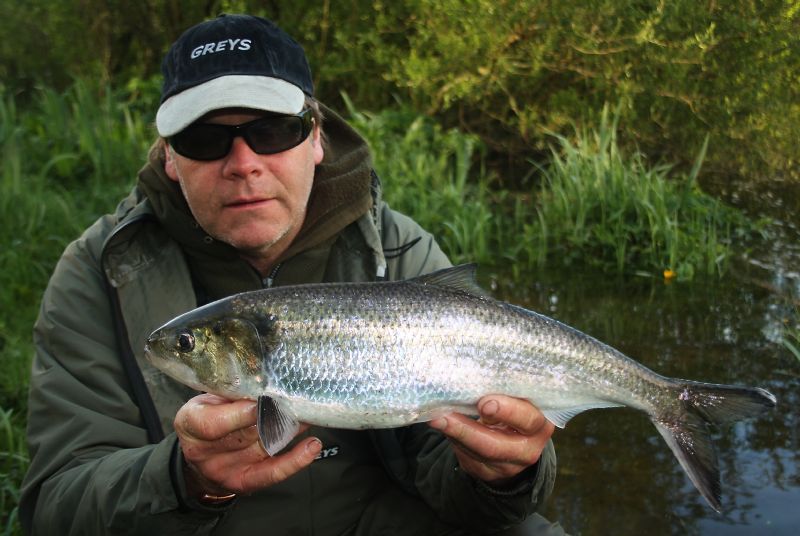 By late afternoon, with the spinning gear double-checked and fine-tuned and ready for our last session, we waited eagerly for the river to slow and back-up as the tide pushed in. Results were poor and I felt that the run of fish had continued past us without stopping and suggested a move further upstream. One hot spot that has produced numerous large fish for me over the years was worth a try, and second cast produced my second specimen Shad. A quick weigh-in and photograph and she was safely released, but swam gently in the shallows beside me.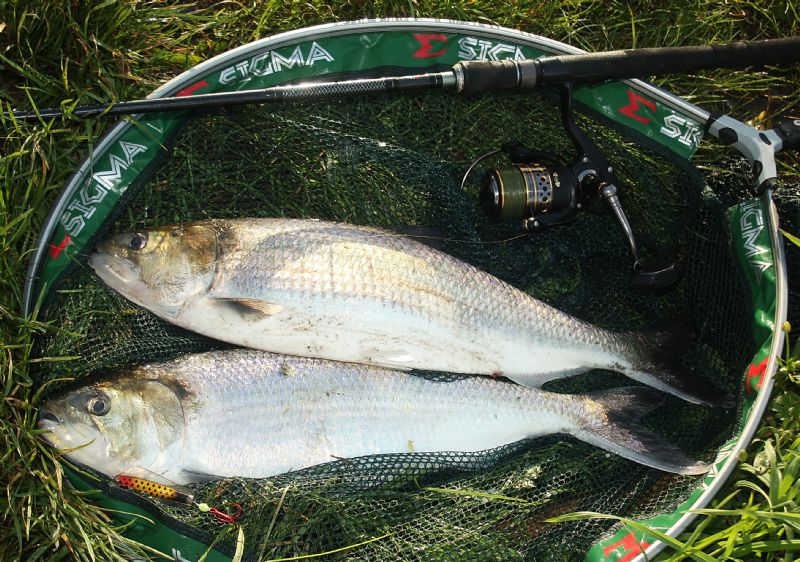 Its rare to have a photo opportunity of two specimens, both safely released
Another cast and the rod buckled again, resulting in yet another specimen, filling my quota of three eligible Irish specimens. I was able to take a rare shot of a brace of specimens before safely releasing both fish. Andrew kept his head down, looking for that fish of a life-time and soon found himself attached to one of these freshwater missiles. It was touch and go for a while, each leap for freedom capable of shaking the hooks. We could see this was a sizeable specimen and held our breath as it slid over the lip of the net.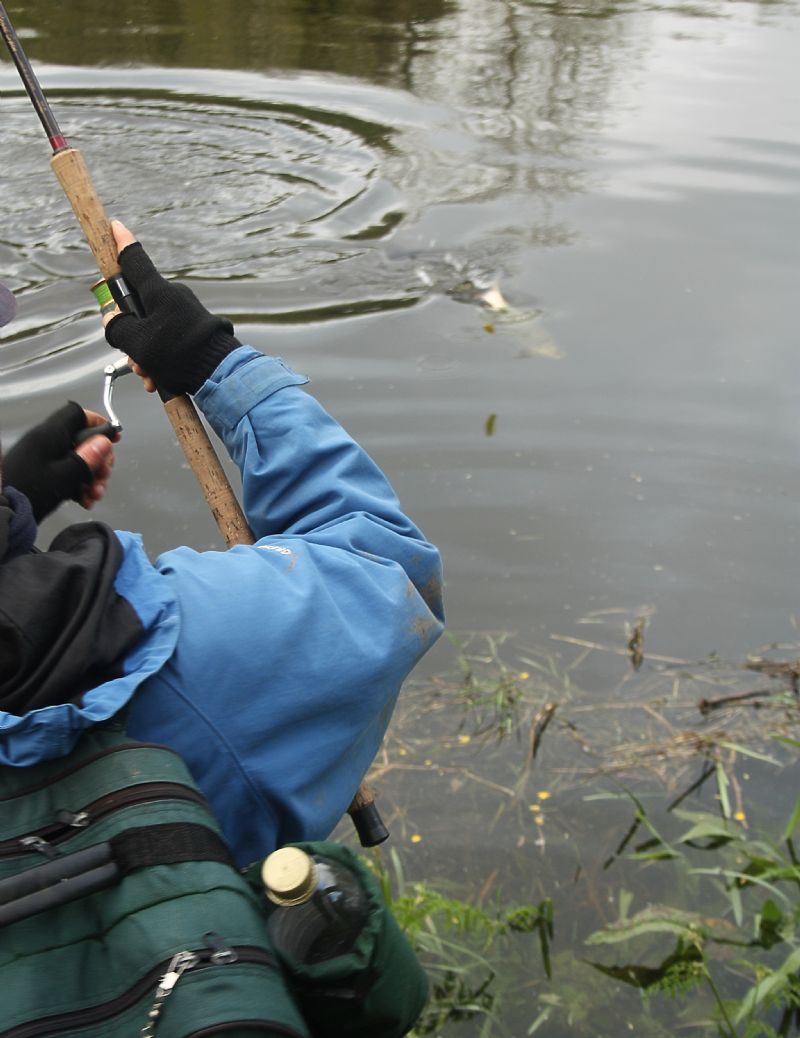 Andy carefully playing a hard-fighting specimen
His patience was rewarded and my hot-spot paid out dividends, with the Shad breaking the current Irish Record by 50 grams. Fair enough, it has most likely been beaten by the weeks previous specimens, but not too many anglers can say they managed to beat an Irish Record, albeit temporarily! This was the highlight of our adventure, landing and losing a handful more, some nudging specimen size, before it was time to end our trip to this stunning part of Ireland. Until next year!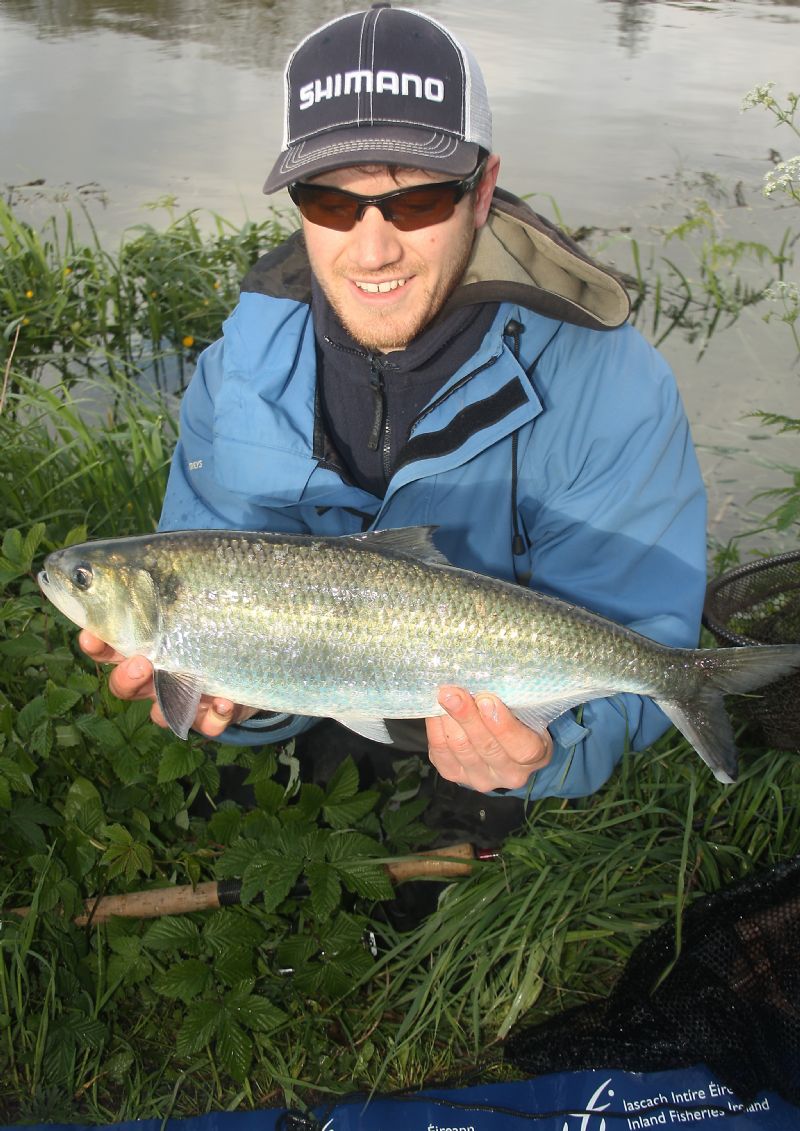 Rewarded with a fish of 1.55kg breaking the current Irish record!
Methods
Although Twaite Shad can be taken on the fly, the most successful method is lure fishing, spinning with small-fish patterns, Tobies, Abu Droppens, soft plastics and most notably, Tazmanian Devil lures that wobble enticingly on the retrieve.
When using "tazzies", adjust the rate of retrieve and also depth to find fish. Allow the lure to sink deeper as the tide backs up and depth increases. I use braid for ease of casting, with 20-30 inches of fluorocarbon as a leader. It is important that the main line is of fine diameter. This will help to avoid surface drift, nuisance side winds and help cut through the water current, allowing greater lure action and control.
A light spinning outfit of 8-10 ft., loaded with 6lb nylon or 10lb braid is ideal. Carry a landing net.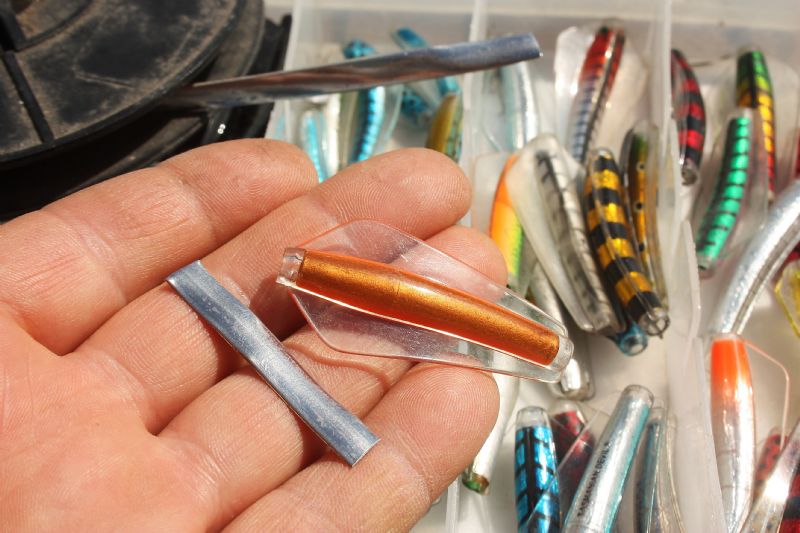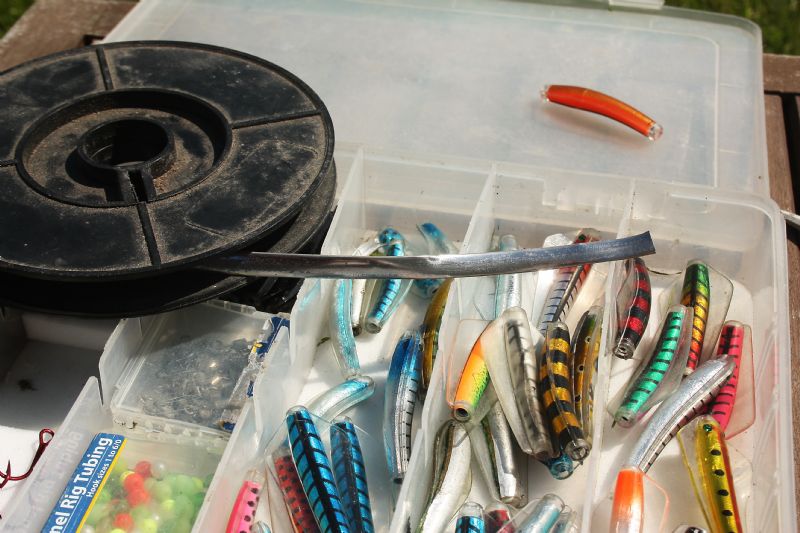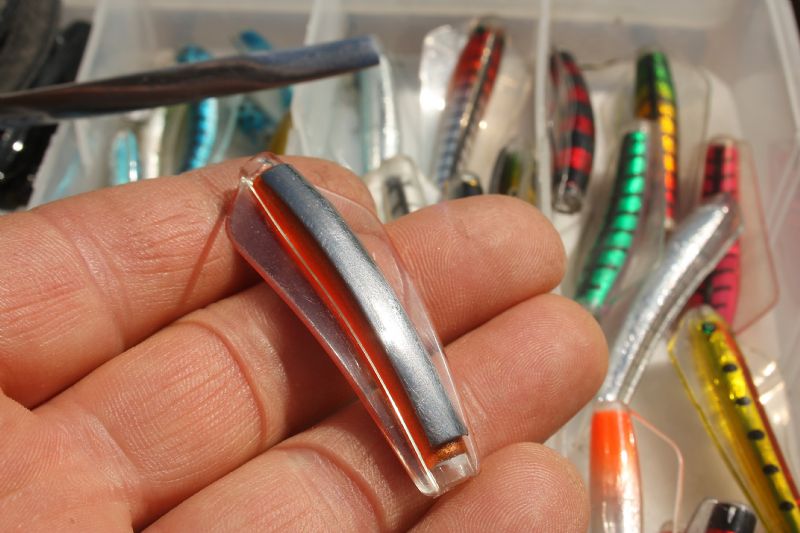 For added casting distance in windy conditions
Tips
Change any standard treble hooks for sharper, better quality ones.
If you are losing a high percentage of fish, try moving up one size with the treble hook.
A softer rod will help avoid hook pulls.
Keep the rod tip low to minimise the chance of a fish jumping, as this is usually when the hook will shake free.
Add small strips of adhesive backed lead strip to gain extra distance or depth.
Have all necessary equipment to hand, especially if you wish to weigh or photograph a large specimen. Hold the fish into the current, head first and upright until it is strong enough to release. Protect future stocks always.
Useful websites
http://ec.europa.eu/environment/life/project/Projects/index.cfm?fuseaction=home.showFile&rep=file&fil=SMURF_shad.pdf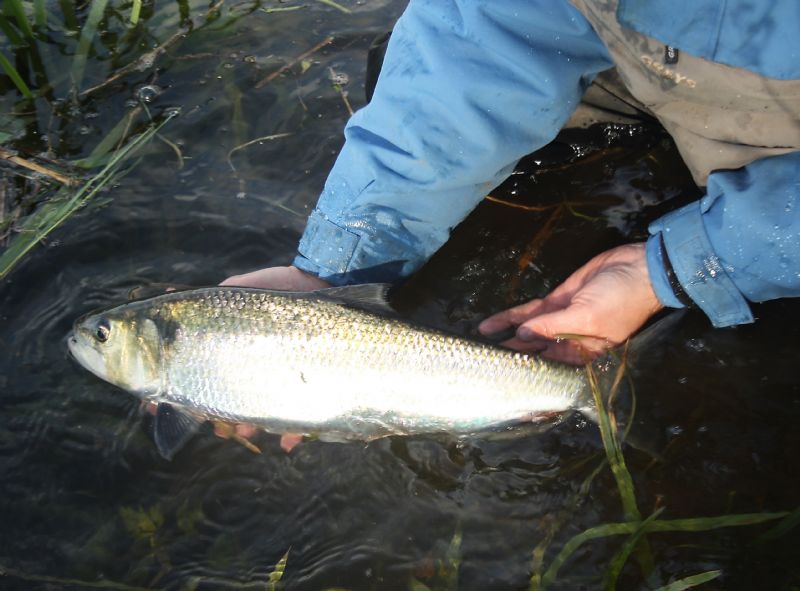 Always take great care when releasing fish, especially Shad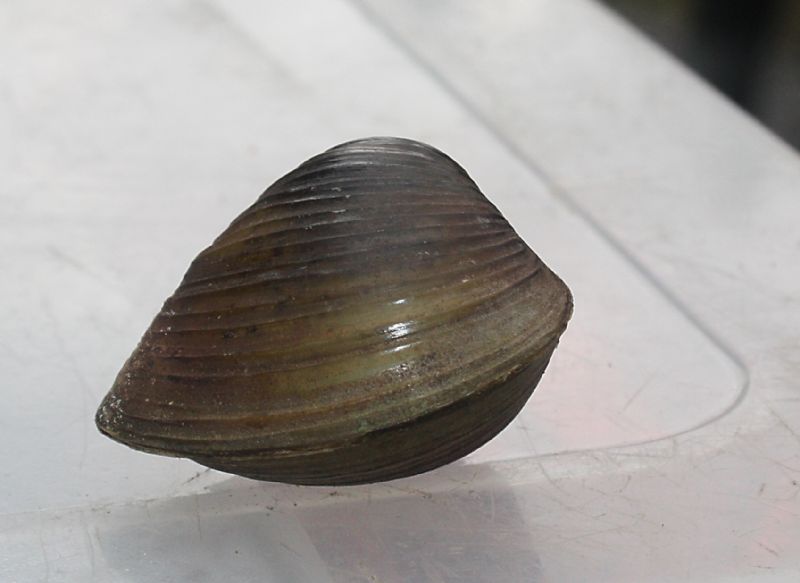 Asian Clam are an invasive species now in the lower Barrow sections. Be aware of this to avoid contaminating other waterways!
Back