Interesting Day
Interesting Day
It has been a couple of years since I fished with my old mate "Big Joe", and finally managed to talk him into joining us on this recent adventure.
Launching from a North Antrim Harbour, we decided to try a drift along a co-ordinate given to me earlier by top charter skipper Sean McKay, Ballycastle. He had been finding some specimen Spurdogs on this mark, and it would be a welcome change to actually drift for this species rather than anchoring.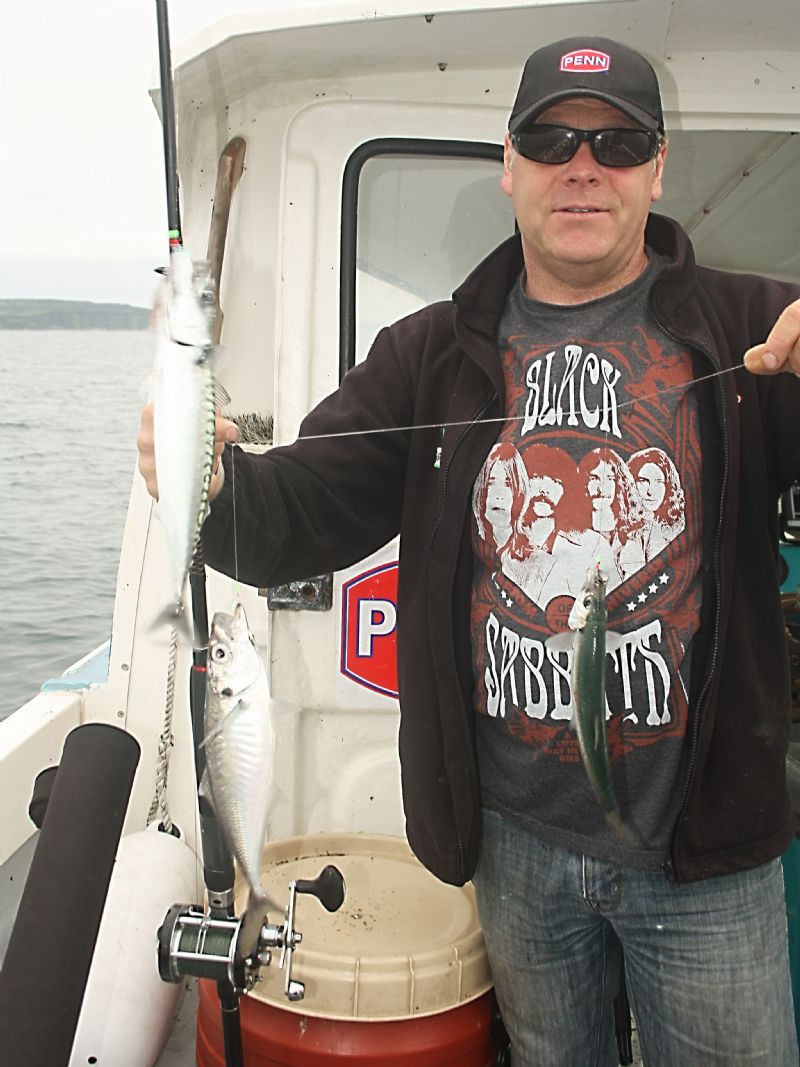 What a welcome relief to find Mackerel and Herring and even the occasional Scad
Our first drift, we dropped down small Sabiki rigs in search of bait-fish and were pleasantly surprised to find large Herrings in abundance, coming up in full strings. Bearing in mind that bait-fish have been extremely low in numbers so far this season, traces full of Herring was a very welcome result. As we continued the drift, the Herring gave way to Mackerel, and in large quantities. Having drifted over two miles, without any break in the shoal, we soon had sufficient bait gathered for the day ahead. What a relief to finally run into a few fish.
Andrew finds something a little "meatier" on the heavy gear
Lines up, and our second drift would need a different approach. Heavier rigs, 200lb mono with size 6/0 Pennell rigs and full Mackerel flanks would hopefully sort out the larger predators, and we were not disappointed. Spurdog were obviously sitting below the Mackerel and Herring shoals picking off stragglers, and we fooled a few into taking the bait.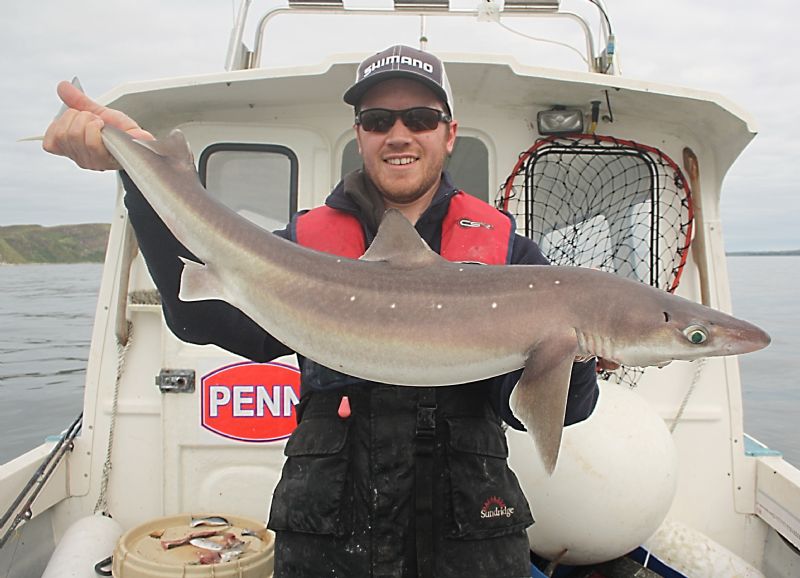 Rewarded with a decent specimen Spurdog
Andrew managed a couple of specimens, but I could only nudge the twelve pound barrier. Dropping over a baited but delicate Sabiki Rig on the Shakespeare Kayak rod to see if there were any other species about such as Gurnards or whiting, I found some large Scad or Horse Mackerel. All good fun until a particularly heavy thump had me playing a sizeable fish with extreme caution. Stunned to see a specimen Spurdog had taken the tiny bait, and equally surprised that the light rig survived the ordeal!
Shakespeare Ugly Stik Kayak Rod (2 Piece) - Black, 7.6 ft/12 - 20 lb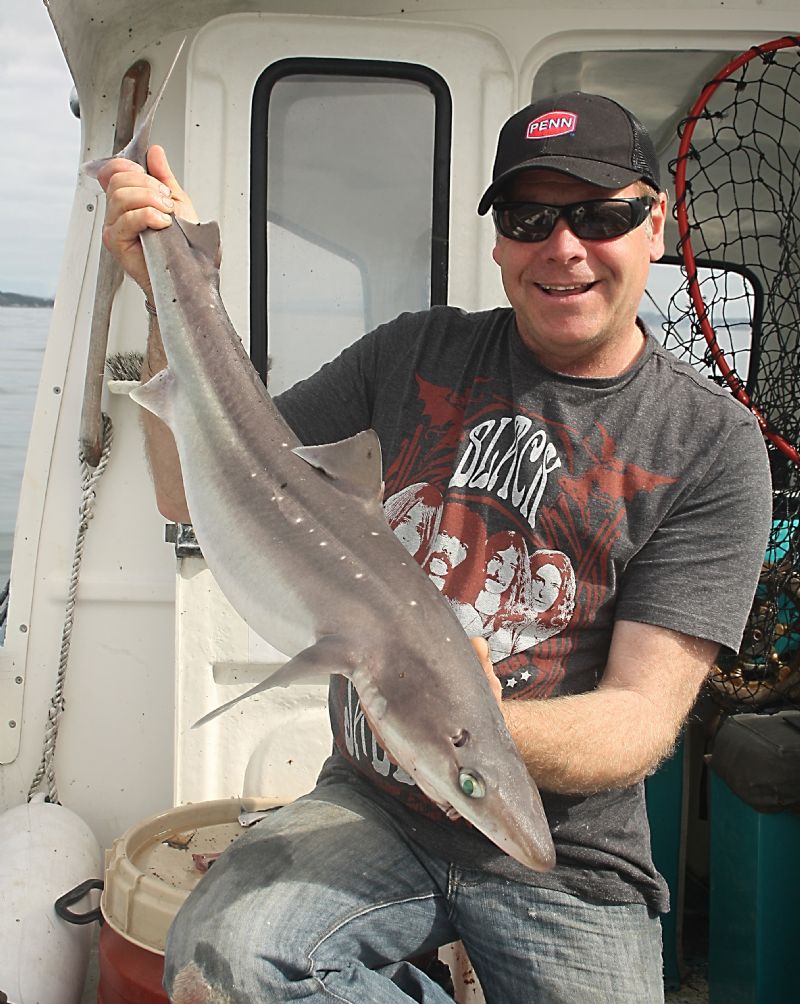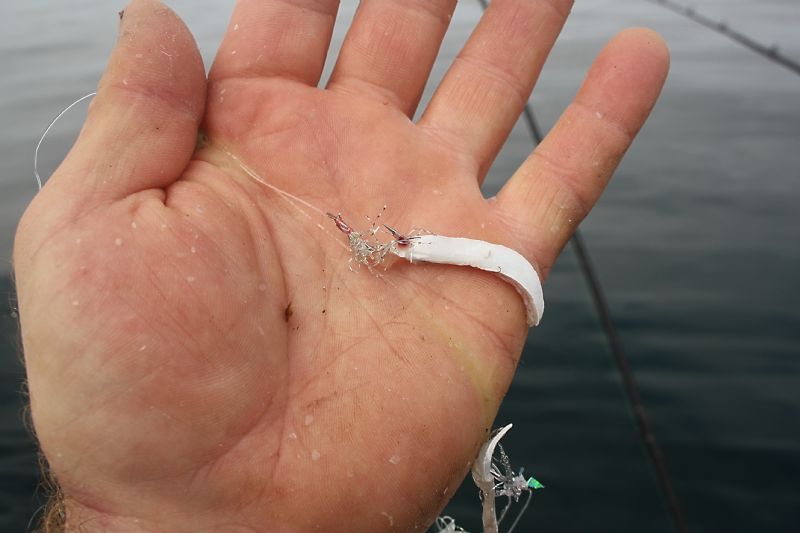 Taken on a baited Herring rig!
As the tide eased, we made the decision to target an off-shore reef, and what a great call. Nearing slack high water, there were no Pollack on the feed, but we managed to find some hard-hitting Ling in over 300 feet of water, Andrew landing a personal best. These off-shore reefs can be quite daunting on a big tide, and so, as the tide began to push, another move was called for. This time we made for some local headlands that offered shelter from the current, in search of Pollack and Cuckoo Wrasse.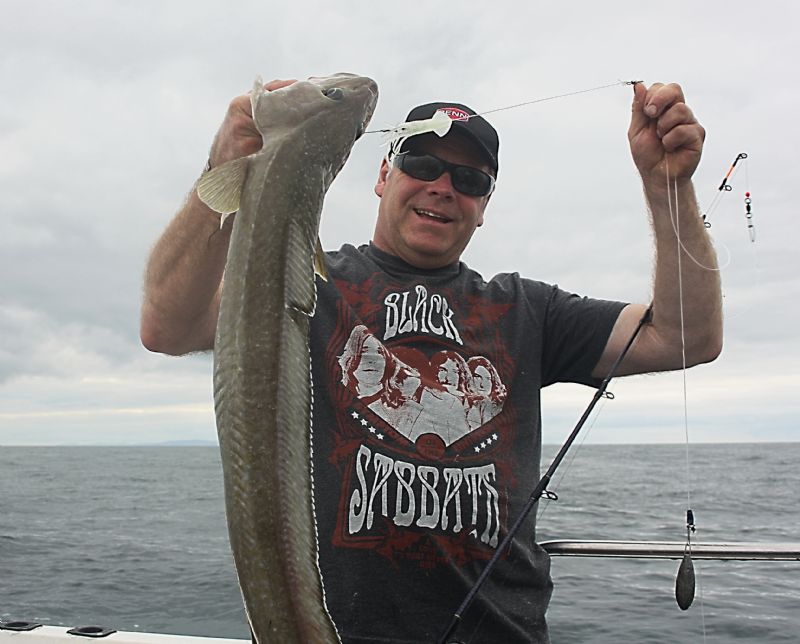 Some decent Ling about, over this deep-water reef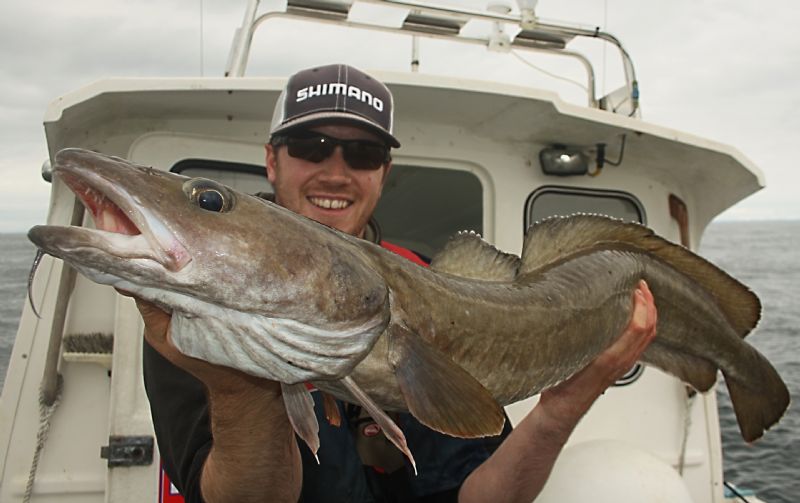 And a PB for Andrew
Happily targeting these obliging species, Joe noticed a large fin break the surface thirty or so yards from the boat. It was difficult to tell exactly what fish species this was, certainly not a Basking Shark, but warranted closer inspection. Running the boat towards the disturbance, and shutting off the engine, we drifted into its path.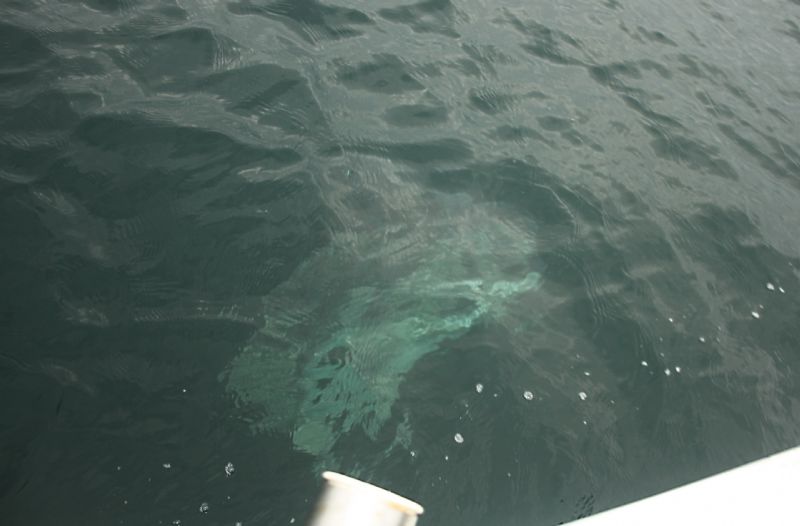 This Sunfish, at 7ft tall and 2ft thick, I can only guess the weight, 300-400lb?
This turned out to be a huge Sunfish, happily feeding on jellyfish in the crystal clear water. In my angling years I have seen Dolphins and porpoises, Orcas and Minkie Whales, and as the Sunfish swam alongside the gunnels of the boat, so close we could touch it, the image was printed indelibly on my memory banks. An honest and conservative estimate of seven feet tall and two feet wide, I can only guess at the weight, 300-400lbs? Whatever size, what an awesome sight and such a stunning creature to witness.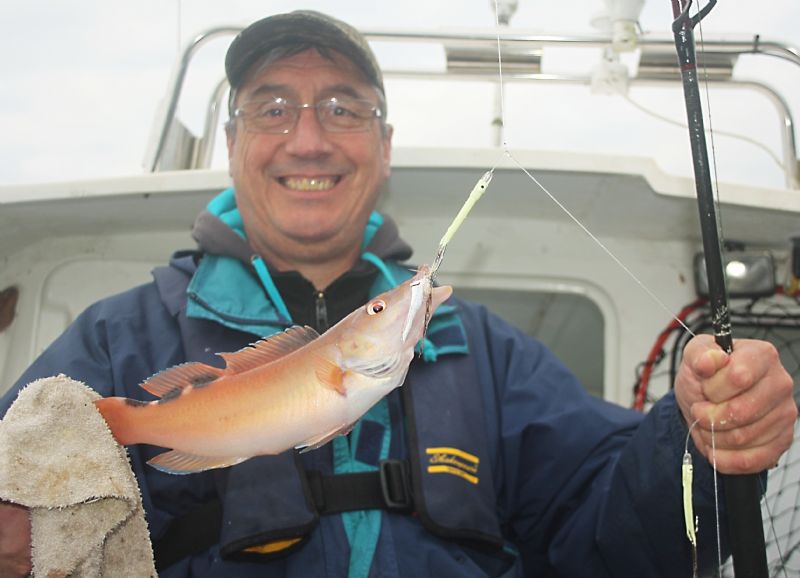 Big Joe with a brightly coloured female Cuckoo Wrasse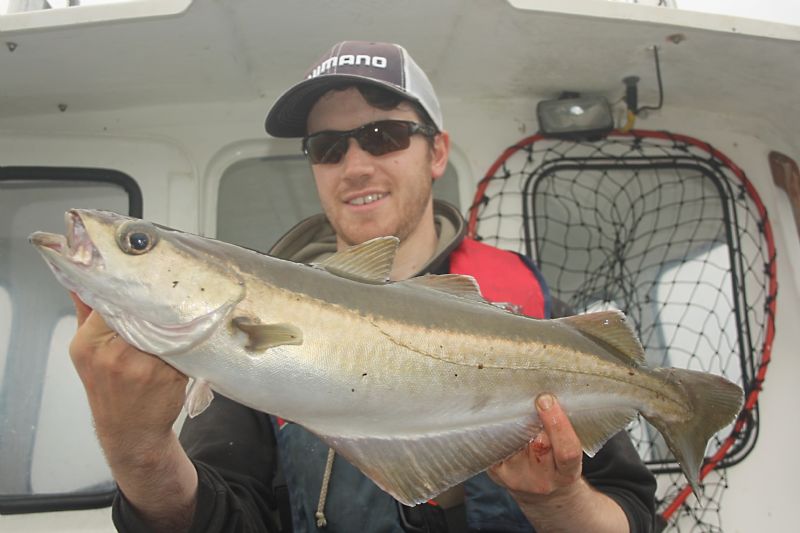 A typical Pollack from the area for Andy
After those precious few minutes of excitement, it was back to the Pollack and Wrasse, with all three of us finding our fair share of fish, ending the day with a specimen Cuckoo Wrasse for yours truly. What a fabulous day, as usual, species, specimens, and memories all shared with good anglers and great company.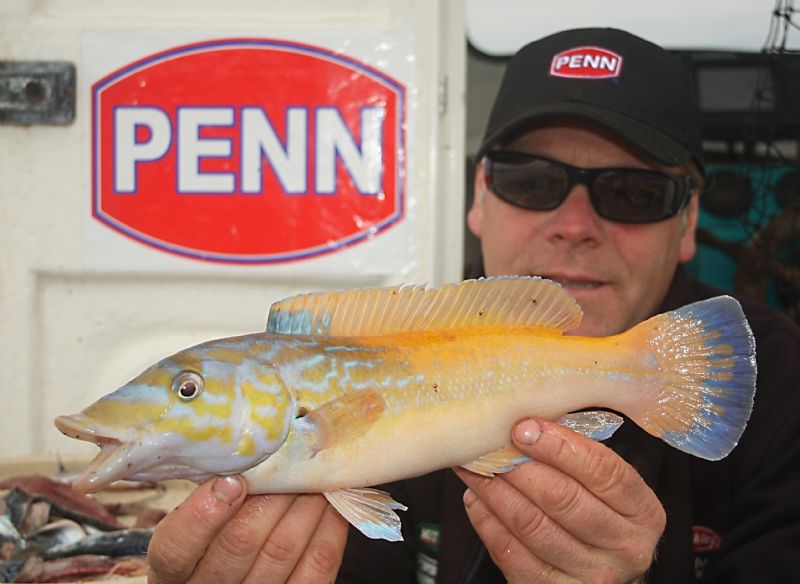 Specimen Cuckoo Wrasse for the skipper, what a cracking day at sea
Back