Into The Mist
Into The Mist
I recently bumped into Harry Clinton and his son Michael in Alastair Smyth's tackle shop, "Tight Lines" on the Albert-bridge Road, Belfast.
I hadn't seen Harry in a while, and although we threatened to fish together on a few occasions throughout the years, it had never transpired.
It was time to rectify that, so I made a promise to take them out a run on my next sea excursion.
Until now, the weather for the beginning of 2018 hasn't been the best for angling in Ireland, with opportunities few and far between. A one-day window opened up, with light breezes and small tides, an irresistable opportunity to drag the Fast Fisher out. I sent Harry an invite, and he jumped at the chance.
Although the sea was calm, the fog was a "pea-souper". Always a bit daunting heading out to open sea with forty yards visibility and no radar, but slow and steady with the Lowrance plotter for guidance would see us to the marks in relative safety. We tried around the salmon cages for fresh bait, and for the first time in twenty years, caught absolutely nothing! And sadly, also for the first time, the two lads throwing buckets of pellets at genetically modified salmon told us in no uncertain terms to clear off, I know we were doing less harm to the environment, nice start to the day!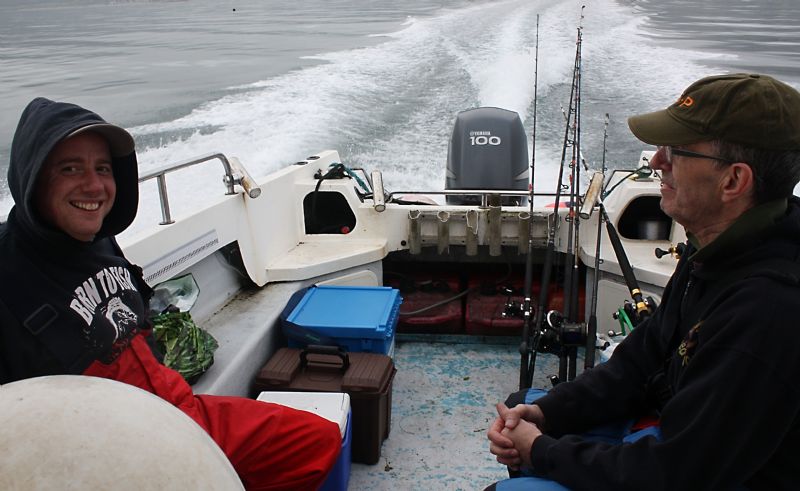 Every trip is an adventure, anticipating and hoping for great things
With a cooler box of frozen Mackerel and Herring it was simpler just to head for deep water and throw the pick, and hopefully something would show for our effort, it's been slim pickings this year thus far. A chance to bend the rod once again would be awesome.
This Lesser-spotted had a war-wound, possibly from a larger predator?
A rare "small tide" meant we could fish right through the flood with no more than two pounds of lead. Anyone that has experienced the fast tides-deep water scenario will know that anything over two pounds becomes pretty hard work and knocks the edge off "enjoyment"!
Once settled in the tide, and baits to the sea-bed, we relaxed and chatted, catching up and putting the world to rights. Standard dogs soon showed, it's always good to salvage a blank, but also worrying in case no other species shows. The lads were happy to be out and wetting a line, but I hoped for a little better.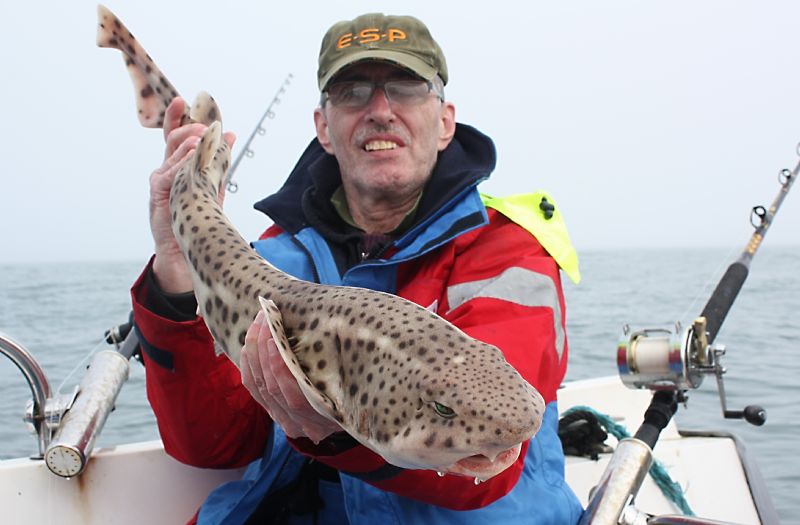 Bull-Huss are always a welcome sight on my boat, awesome species
Harry's favourite salt-water species made an appearance, the awesome Bull-Huss aka Greater-spotted Dogfish. Simply love this species with their "come and have a go" attitude. Stunning golden eyes and permanent "snarl" is really something to behold. Any taken over clean sand are particularly spectacular with the caramel and "leapord-spot" colouration.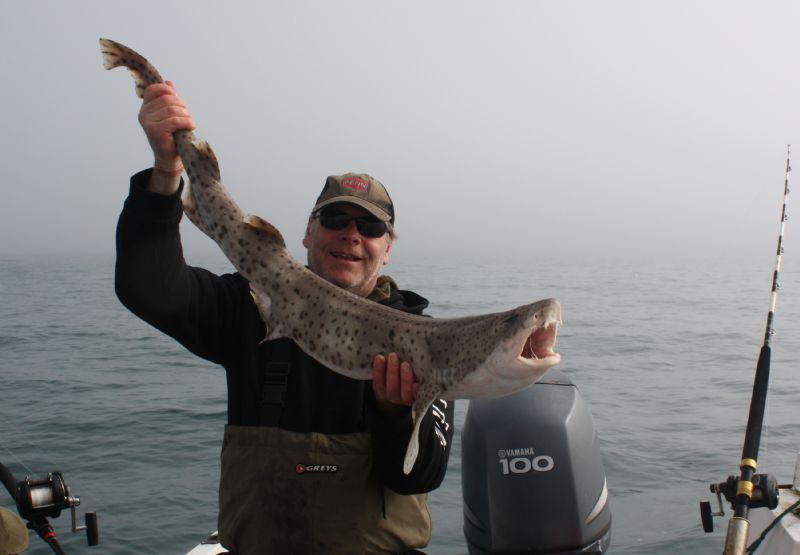 A decent double-figure male smiles for the camera
The Huss were a welcome change to their smaller cousins, and when a bonus Specimen sized Blackmouthed Dogfish broke the surface on Michael's gear, there were smiles and hand-shakes all round, as this was an awesome catch but it was also a new species for the lads, having never seen one before. I know guys around Ireland would sell their Grandmother for that species over specimen size!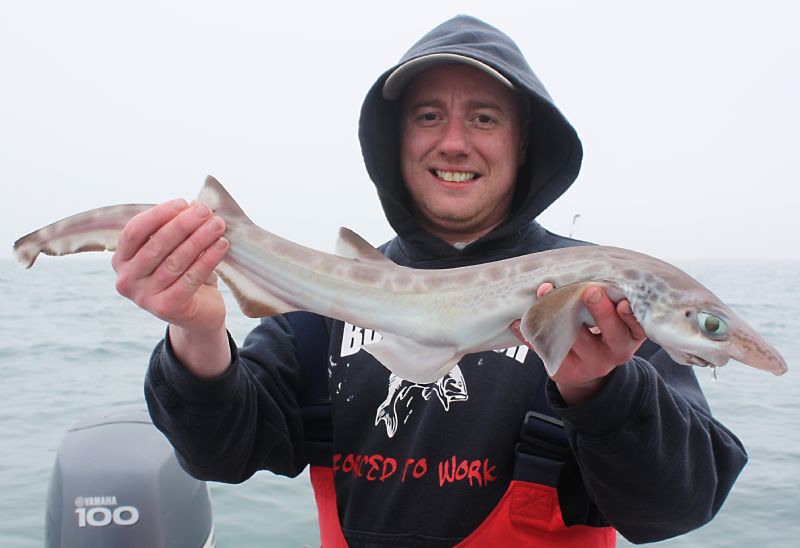 Michael with his first Blackmouth Dogfish, and at 1.1 kilos, an Irish Specimen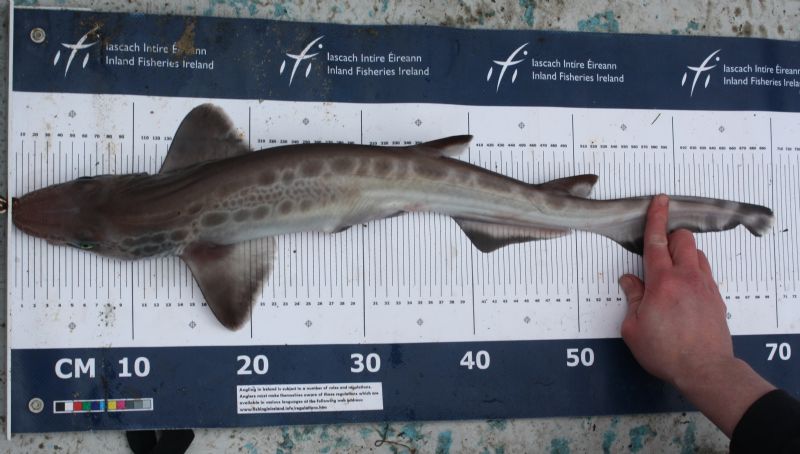 As we fished through the last of the flooding tide towards high water, the dogs cleared off, and on a hunch and skippers advice, we dropped over a couple of Skate baits. When bites dramatically quit, it usually heralds a larger predator making its appearance.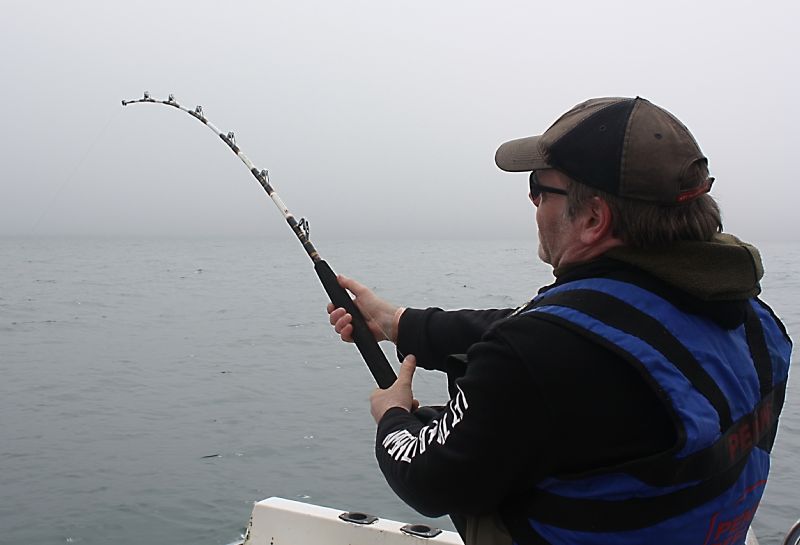 Steady pressure with the Penn Tuna rod soon prises the juvenile Skate off the sea bed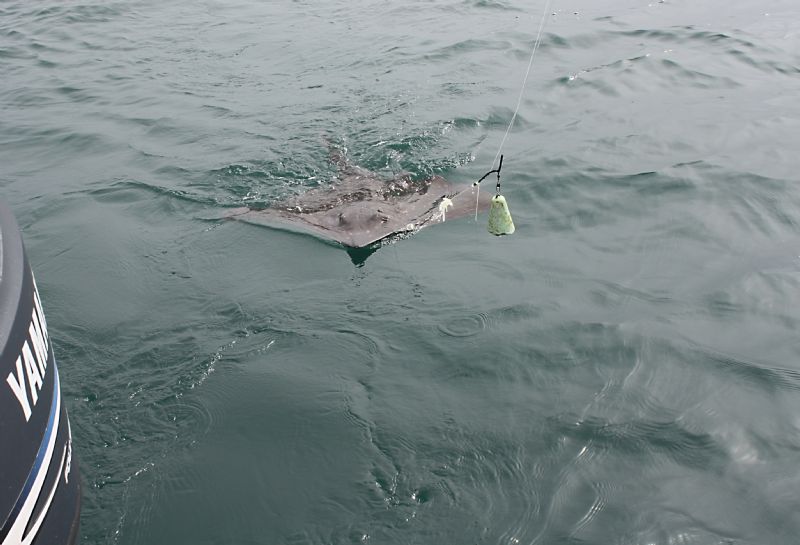 Within a short period of time, my rod tip jumped a couple of times and settled. Taking the strain it was obvious something had shown an interest, and a couple of sharp lifts had me back in the Skate seat! With constant pressure she lifted off the sea bed, all too quickly to be a large fish, but it was a fun ten minutes playing tug of war with something larger than a "doggie".
Only a youngster, but awesome to see none-the-less
Eventually to the surface, we had our small Common Skate. Michael had never seen one before, and the last time Harry had been this close to a Common, it was out of Westport in the 1970's! Although small by Skate standards, it was lovely to see, and the icing on the cake of a very enjoyable wee trip along the Antrim Coast. She received her medal of honour, a yellow tag should she grace us with her presence again, and slipped back overboard for the depths below.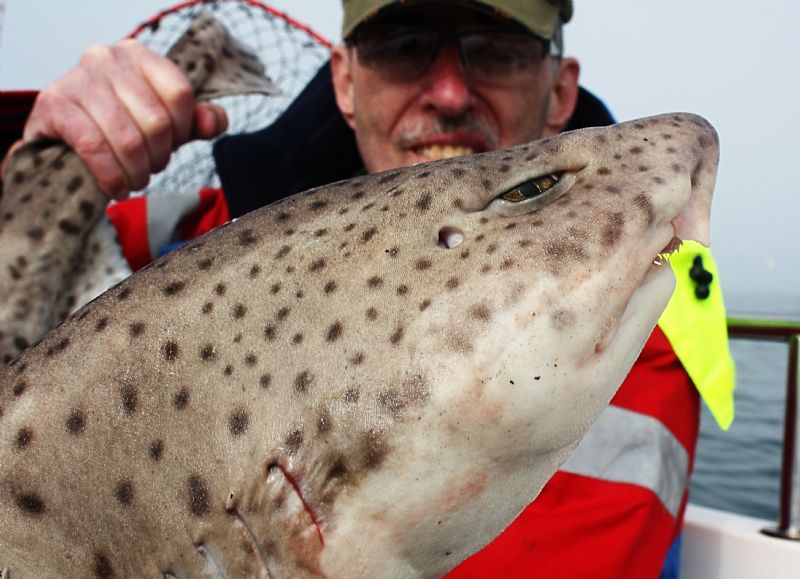 The fog thickened down to twenty yards visibility so time to lift anchor and head for shore. The Lowrance chart plotter saw us safely home once again, and I was treated to a fish supper in the local chippie at the harbour. If only all trips could be so enjoyable it would be a better world, for me anyways!
Back