Is it too late?
Is it too late?
If you never read another article of mine again, please take the time to read this one. It is not happy reading, but it IS a reality.
We are on the cusp of a change in times, and have the power to steer our sea angling towards sustainability. After many years work, we are now being listened to by government departments.
They realise that, as recreational sea anglers, we have a case to be heard and should be fully included in these changes. They also accept that there is a fairer way to manage our inshore fisheries, taking full account of anglers, and projected tourism benefits.
Over my relatively short life-time, I have witnessed, in Northern Ireland, the destruction of almost all our common marine fish stocks that were once abundant around these shores. This lack of fish poses questions. Did anglers' take too many? Back in the 1970's-80's with a decline in fish numbers, we realised and quickly learnt that fish stocks were finite, and a conservation approach prevailed with voluntary catch and release fast becoming the "norm". After all, most anglers are environmentalists at heart. In reality, every sea angler in Northern Ireland combined, in a life time, could not catch the contents of a single sweep carried out by a modern commercial vessel!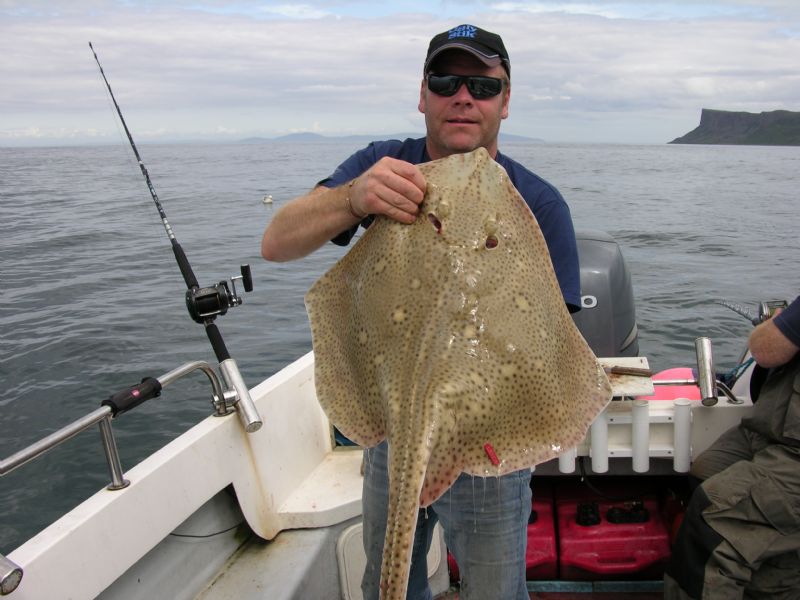 By tagging Ray and Shark species, we can scientifically see the depletion of stocks on in-shore waters
Was the species reduction due to climate change? Again, there is evidence that our seas are warming, and this, no doubt will force some species further north, and out of the boundaries of the Irish coastline. However, if our sea beds and eco-systems were left in-tact and healthy, there would be a sustainable environment to welcome new, warm-water species to move in and fill the void. These should be exciting times in the world of sea angling, rather than the doom and gloom that we are all facing today.
The truth of the matter is that our commercial sector are simply too successful at targeting and catching huge shoals in a single sweep, and the management of stocks is archaic, a system and technology that Mother Nature cannot possibly keep up with or replenish. We are now in the position of too many ships chasing too little fish stocks, and as anglers, we are the first to see its dramatic effects. Severe commercial over fishing is contributing to the size of fish populations falling far short of the capacity to harvest them. Indeed, over-fishing, too many vessels, too much time to fish and fishing gear that removes too many fish from a population coupled with habitat destruction has plagued the commercial industry for years, just no-one seems to admit it.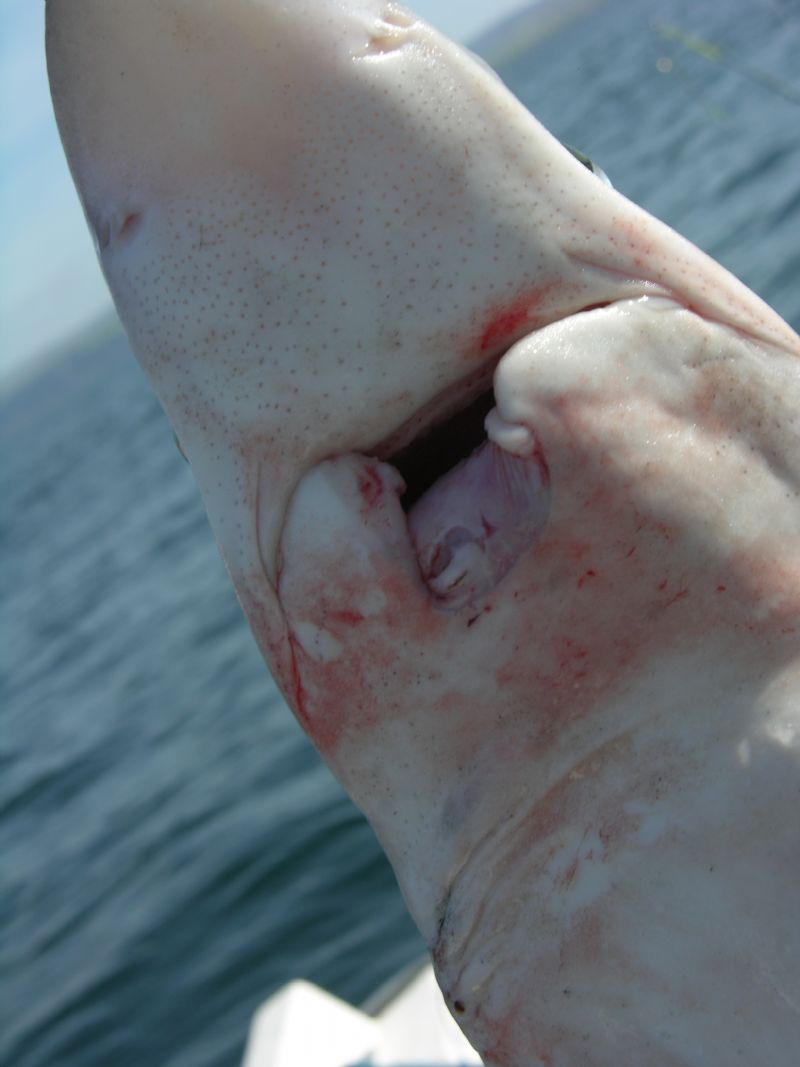 Damage from a long-liner set-up
No one wants to see people out of work, but it is increasingly clear that miss-management of stocks have all but wiped out our once huge in-shore shoals of common species such as Cod, Haddock, Whiting, Plaice and Turbot, to name but a few. How long before Sandeel and Mackerel, the most important links in the food chain, follow the same destructive path? The recent rise in acceptable Mackerel quotas immediately saw a huge drop in numbers taken by anglers! But don't take my word for all this. The following quote was recently sourced from a "Nature News" publication.
"Europe's fish stocks are so heavily depleted by (commercial) over-exploitation, that even if all fisheries suspended now, nearly a quarter of species would not recover in time to meet international targets set for 2015". Scary reading!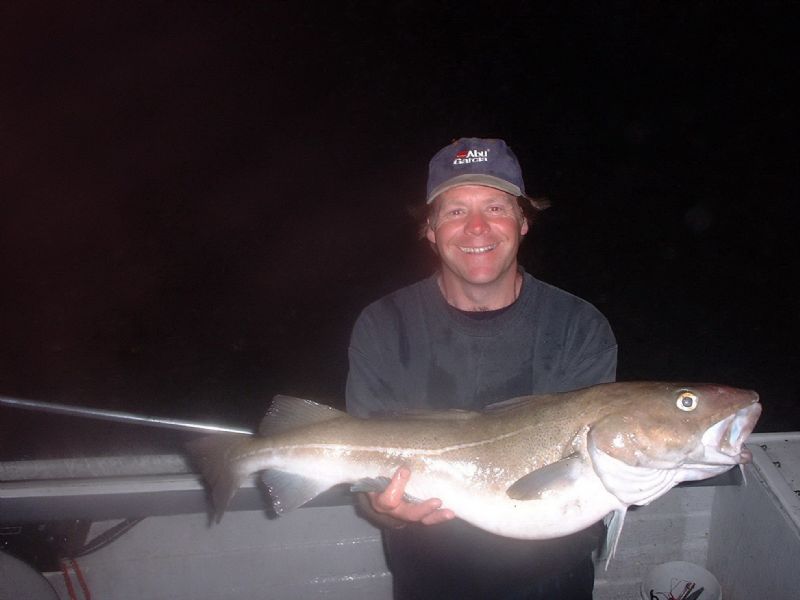 Once abundant on the North Antrim coast, Cod like this are now just a memory
A statement from fisheries biologist Rainer Froese of the Leibniz institute of marine sciences reads "Even if (commercial) fishing were halted in 2010, 22% of the stocks are so depleted that they cannot be re-built by 2015. If current trends continue, Europe will miss the dead-line by more than 30 years". Even the European Commission admitted that 88% of stocks were being over fished, with 30% outside safe biological limits!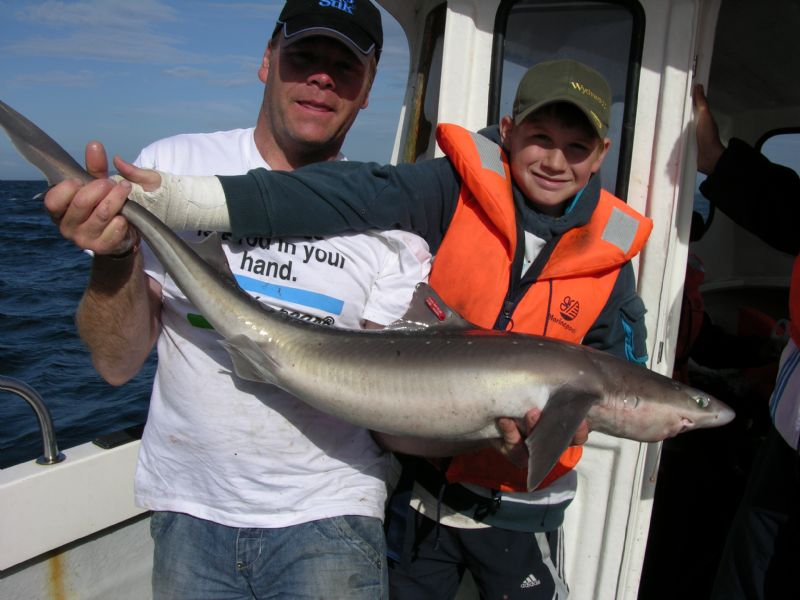 By the following angling session after this trip, a long-liner had taken the spurdog shoal.
Policies cannot be correct when commercial men see fit, or are forced to tip tonnes of dead fish back into the sea due to un-suitable quotas or skippers seeking more profitable species. Last year, divers off the north coast of Scotland were disgusted to find the sea-bed littered with hundreds of thousands of dead Mackerel, a prime example of a system that is not working!
From a sea angling perspective in my thirty years or so of experience, what follows is a small list of how I have witnessed the change. Ballycarry Road Bridge at Larne Lough was a Mecca for Flounder, with many specimens captured and stories of fish far exceeding the Irish record. The lough also contained healthy numbers of Thornback Ray, and due to dredging and gill-netting, almost nothing exists here today. Even the Wrasse, Rocklings, Dogfish and Conger Eels (pot bait), have been extinguished from the area.
A nice sight for angling tourists on the Kerry shore-line. Discards. Would you go back again?
Carlingford Lough, and in particular, Greenore was a superb shore angling venue with well documented captures of specimen Spurdog, double-figure Rays and a vast array of species on offer during the 1980's. I have video footage of Thornback Rays to fourteen pounds caught and released during the successful "Kingfisher" competitions at that time. Again, dredging for mussels and excessive netting has paid the price, and a single bite on this venue would now be considered a bonus. The layers of mud and sediment settle at the Lough's entrance and offers no habitat or feeding for local fish.
Belfast Lough was one of the finest destinations in Europe for huge Thornback Ray, Cod, Haddock, Spurdog and massive Herring shoals until factory ships moved in and systematically cleaned them out in the early eighties. With the consequent destruction to the sea-bed and fish stocks, they still have not returned over thirty years later. The whole Antrim Coast rarely fishes well from the shore, and Benone-Downhill is a regular disaster, a shadow of its former, angling based tourist-attracting glory. As testament to this, match anglers have now dropped fish lengths to a pitiful "hand-size" to avoid a blank, and competitions that once hosted over two hundred anglers are a distant memory. I remember pair trawlers running aground on this stretch, trawling so close to the shore, the day before a competition.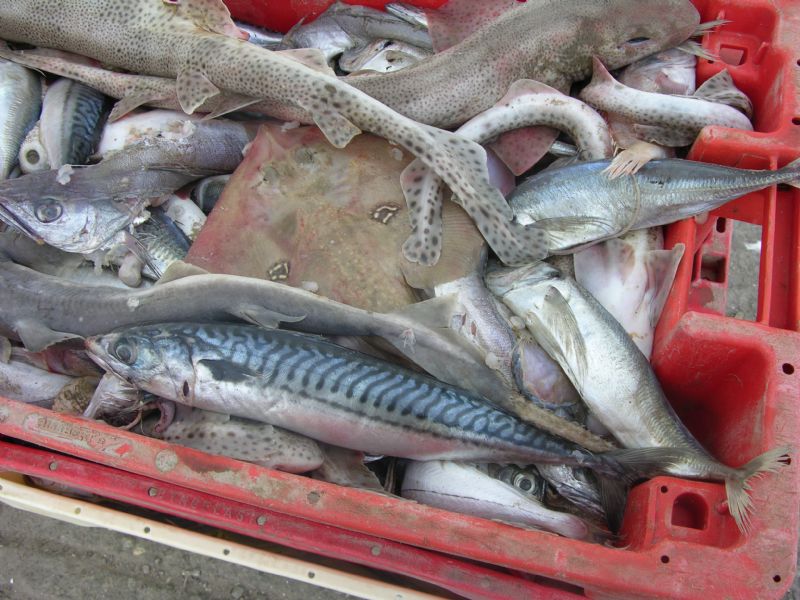 Just some of a stack of fish-boxes, fish left rotting on a pier
Some boat angling marks on the Antrim Coast are still capable of reasonable pleasure angling, but once the scallop dredgers, trawlers and long-liners make an appearance as they did last summer, the Rays, Skate and Spurdog disappear completely. The bottom dwellers lose their habitat, and the Spurdog packs are decimated. The poor charter skipper is left yet again wondering how he will explain this to the eager angling tourists hoping to catch a fish! Our inshore waters and loughs are extremely valuable to anglers and tourism revenue. They offer shelter from inclement weather and strong currents, and provide sustainable angling and revenue for generations. Once gone, they may never return.
I could continue almost in-definitely, and I am quite sure most anglers will have similar stories to tell. I have heard it a thousand times over throughout this country. However, it is one issue describing the tales of woe about how we have witnessed this destruction, but the important factor is how do we put it right, and put the balance back into mother natures' capable hands. Certainly, the powers that be seem incapable of making the correct decisions, even when faced with hard scientific fact!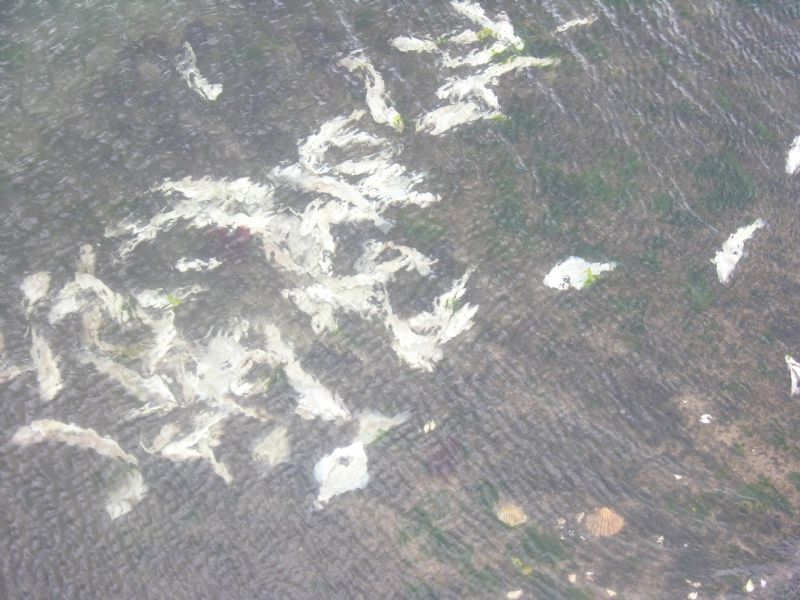 My involvement in these issues began as far back as 2004, after receiving reliable information that my home water, Strangford Lough had been regularly netted, lifting several Common Skate to the surface. Bearing in mind that all commercial trawling is illegal here, and Strangford is an area of special scientific interest, and a nature reserve, I wanted to know how this could be happening. To be honest, it is not difficult to work out, as I have fished Strangford Lough for over thirty years now, from shore and boat and have never been approached by anyone in authority! It is also common knowledge that most of the natural Sea Trout population has been taken illegally, quite easily under the guise of Mullet netting, it seems!
Through Ali Hood of the Shark Trust in Plymouth, I made contact with Kate Reeves from The Ulster Wildlife Trust. Kate invited me, as a representative sea angler, to some important meetings where I began to receive an insight into how the commercial sector put forward their case for increased fish quotas. An eye opener to say the least! They employ professional speakers to fight their case, and the spine-less politicians swallow the nonesense almost as fast as our fish are disappearing!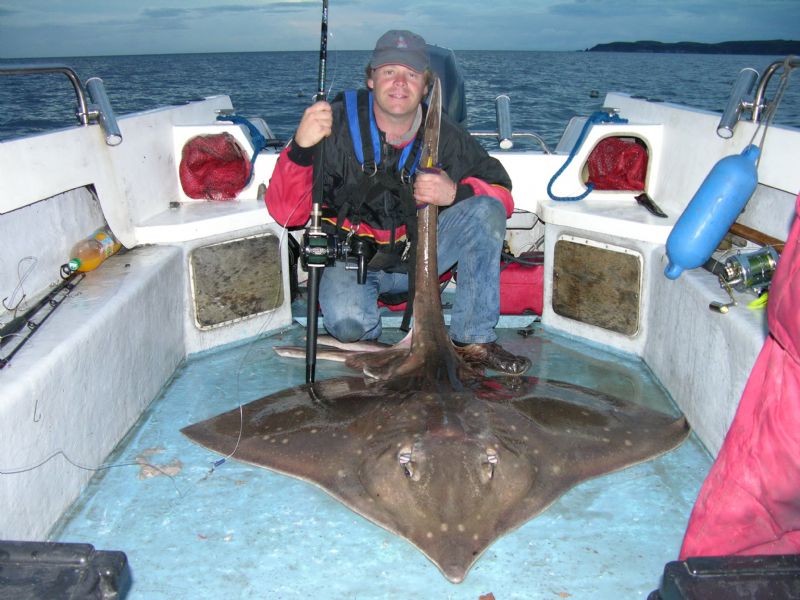 How awesome would it be, if we could protect our species and habitat for future generations?
Apathy will kill this sport and our species just as fast as the commercial men have been doing, and unfortunately, apathy is rife among the angling community. Take the time to look at this problem, chat with clubs and environmentalists or put pen to paper and write to our ministers with your experiences, grievances and possible solutions. Every little helps, even a little effort towards fish protection is much better than nothing. As anglers, we ask for very little, yet put hundreds of millions of pounds into the community in the UK and Ireland. I heard about a recent documentary stating that the global commercial industry is worth around eighty billion US dollars per year. Its running costs are one hundred and twenty billion dollars per year! That's a subsidised net loss of forty billion dollars on an ever-diminishing resource. It doesn't take a genius to work out what is the sustainable option.
I despair of the future, having only witnessed destruction of habitat and huge reduction of fish stocks, will it ever change? I doubt it, unless anglers stand together and raise their voice, but I fear it's too late!
Back