JRC Easy Rider Extreme carp barrow
JRC Easy Rider Extreme
carp barrow
What the manufacturer says.
This Barrow has all the features you need, two side pockets for bait-boat batteries or water bottles, and also a large storage bag set low to ensure that the centre of gravity is kept low for maximum manoeuvrability.
This bag is ideal for storing the wide track wheel when transporting the barrow in your vehicle.
It also has two small quick-access side pockets for valuables such as your keys or phone, extendable front and side bars and is fitted with our unique "fold flat-stay flat" design, courtesy of our clever use of magnets. Comes supplied with custom-fit rain cover and two luggage straps for safe transportation on the bank.
Features
Wide wheel for greater stability
Extending side and front arms
3 barrow bags included for maximum storage
Fully flat when folded down
Strong steel construction
Rain cover
Product test
Obviously, straight out of the packing box, the Barrow needs constructed. There are no tools required, except for a pair of snips to cut the cable ties. Easily built within minutes, this barrow from JRC is rugged and made to last.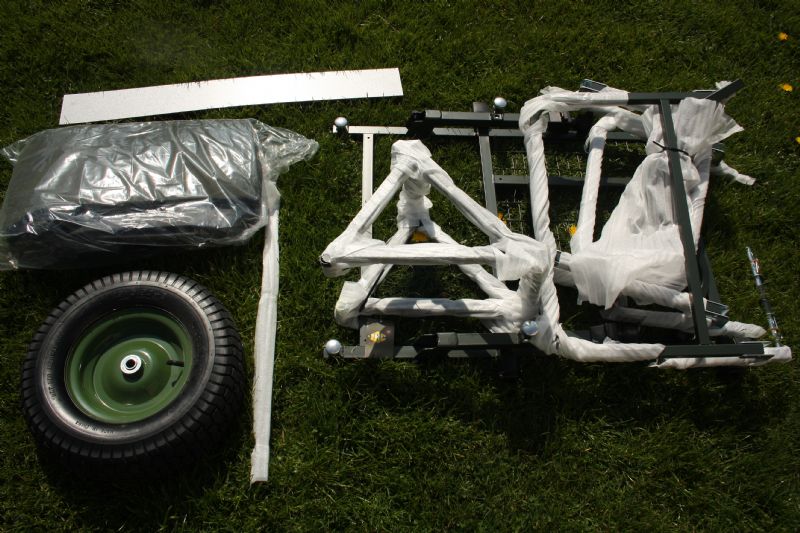 Straight out of the box, but only takes minutes to construct
There is plenty of room in the attached luggage compartments. I used them to carry rig wallets, additional rig-making tackle, boilies, pop-ups, carp sacks etc. It meant I could leave the tackle bag behind., and use it as a mobile tackle unit.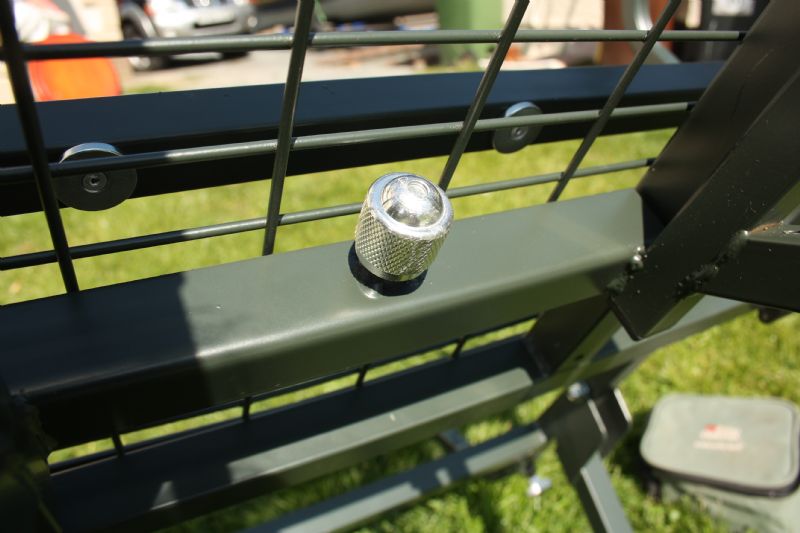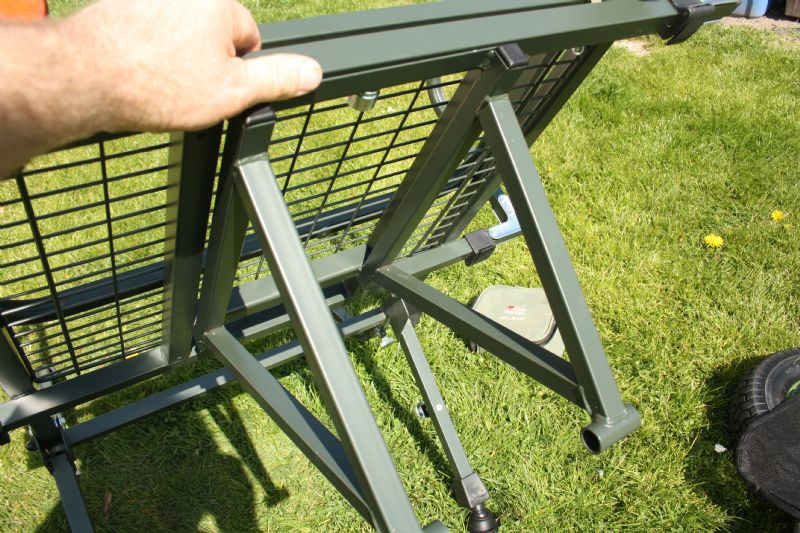 No tools required
The extendable side and front arms a great idea if you really want to bulk out the barrow with equipment. The large wheel gives stability and helps over rough or soft ground. The base legs are also adjustable.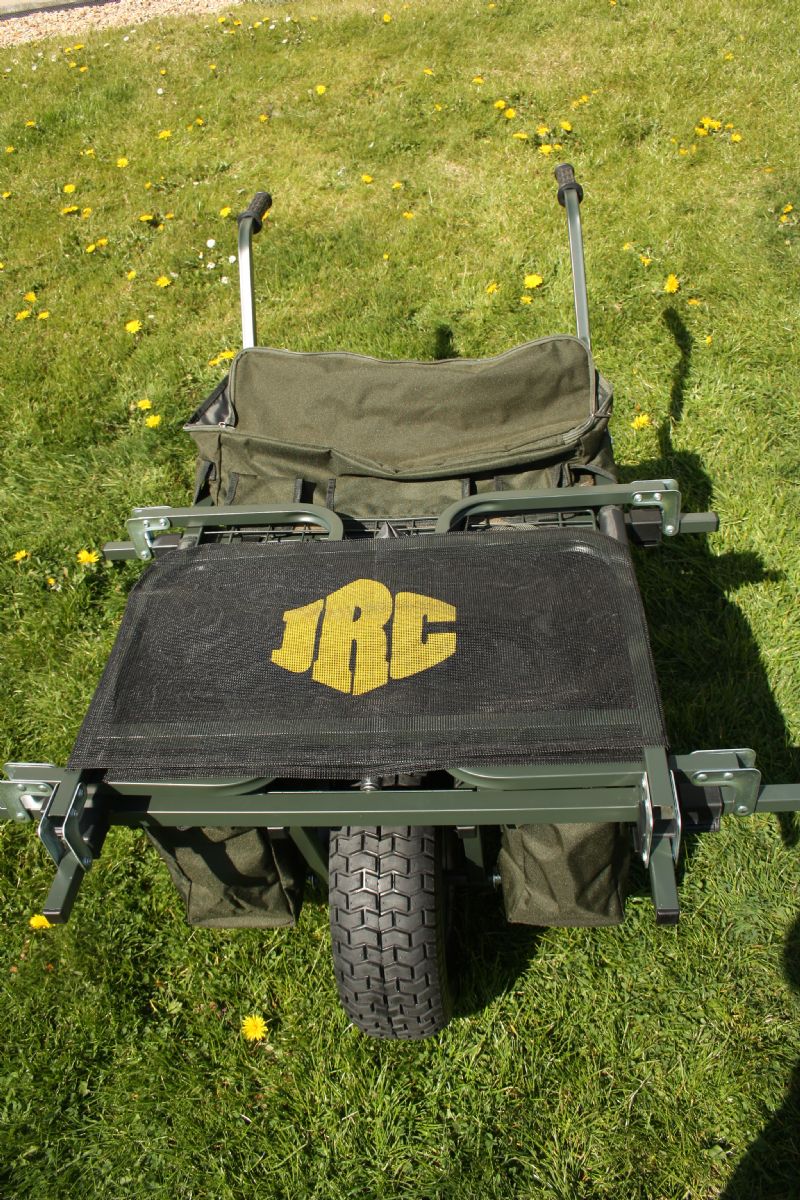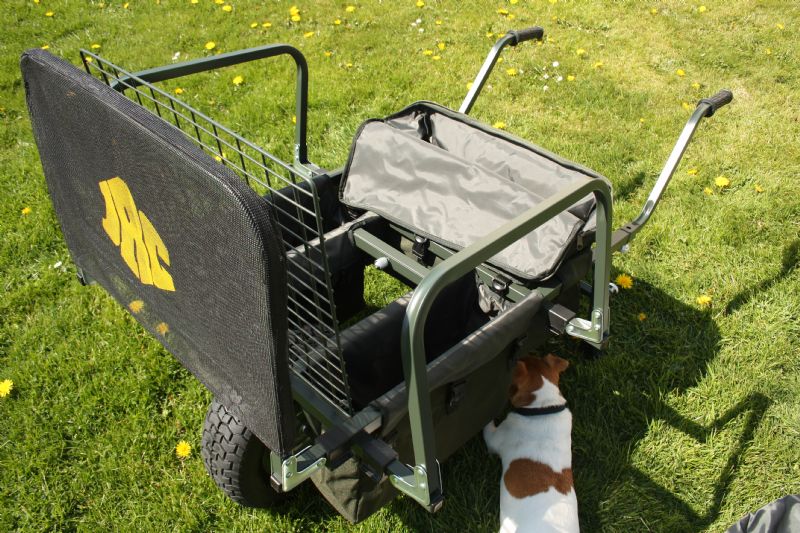 With luggage added, the dog likes it!
Once built, the barrow is quite heavy, but that is a side effect of it being so robust and made to last the duration.
However, the weight is not noticeable at all when in use carrying luggage.
On two recent trips, where a reasonable walk to the peg was required, this piece of equipment was an absolute god-send, and not only cut back on the struggle carrying the gear required for a long session, it minimised the number of time-wasting trips back to the car.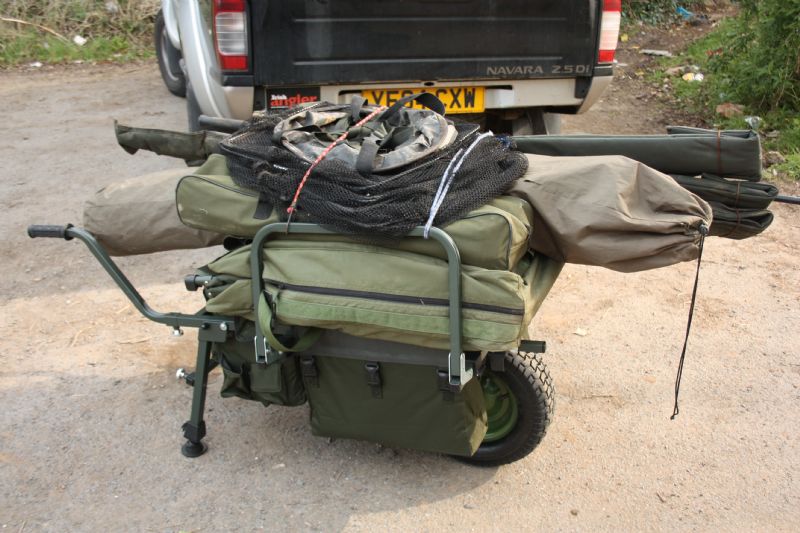 Bed chair, bivvy, sleeping bag, rod-pod, rods, landing net, keep-net and a myriad of tackle in the luggage compartments
The whole unit folds down quickly and easily. If you wish it to go down completely flat, remove the front wheel via two large R-Clips and the handles and it will easily fit into any boot compartment. This only takes a minute. All in all, for this discipline of angling, an extremely useful piece of kit.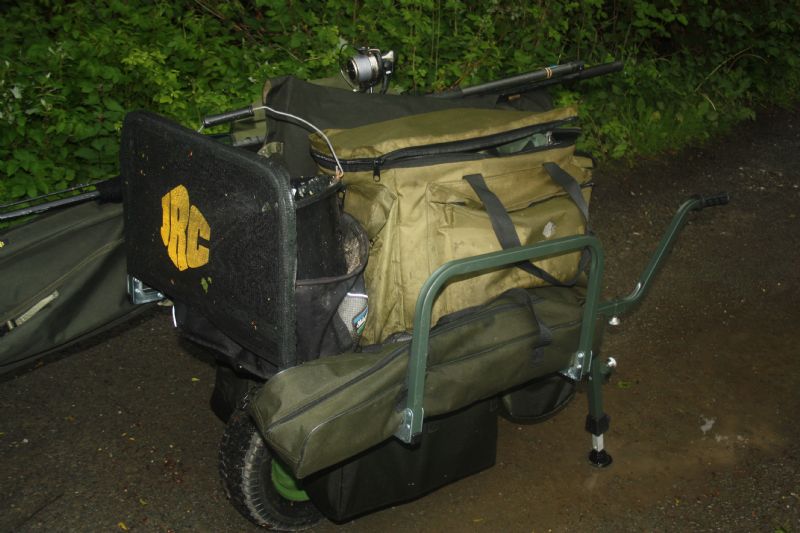 Another trip, with a different selection of gear on-board
Available through all good tackle shops.
RRP…£199
More info, click here...JRC Easy Rider Extreme Fishing Barrow - Green
Back