Last Days of Summer By Karl Bohan
Late Summer Tench
With a few days booked off work to do some Tench fishing I could hardly believe my luck when I saw the forecast. A drop in temperature along with winds reaching gale force and torrential rain up to two inches a day, I thought just my luck!
But as they say the show must go on, so with my van loaded up and enough supplies to do at least a few days I was on the road for the two hour journey to my chosen destination, an average size lough of about 100 acres that sees little if any anglers.
Arriving at my destination at roughly two o clock I began the arduous task of hiking the 500 yards through the fields to the swim, one I had cut back in April.
Four trips saw me with everything I needed bankside. I then began the usual ritual which starts with the bivvy and bed and all valuables into the shelter as it was raining consistently. I then proceeded to rake the swim of what was now dying vegetation mainly consisting of lilies and water cabbage as I call it.
Next was the ground-bait. My ground-bait doesn't change too often, it usually consists of 50% black crumb and 50 VDE Expo mixed through with watered down liquid molasses I get from the agricultural Co-op in bulk. This creates a dark, rich, very sweet smelling mix. To this I add dead maggots, casters, sweetcorn, hempseed, small pellets and chopped worm. A particle rich ground-bait is important for feeding off the smaller species and keeping the Tench rooting around searching for the goodies.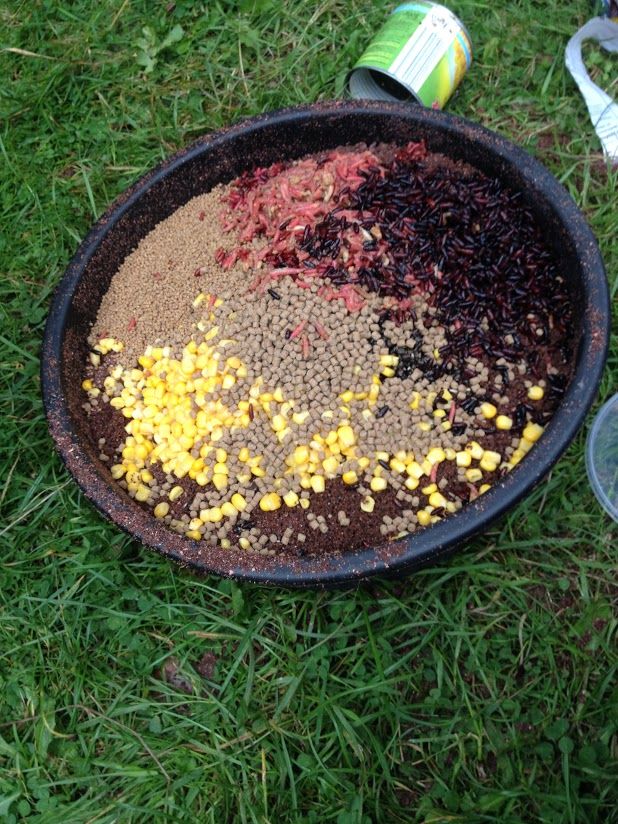 Plenty of particles to keep the Tench interested
I generally feed two areas and fish the near side of each baited area to try and avoid dragging hooked fish through a shoal of feeding fish, spooking them. Although I do believe this is definitely more important with Bream, and with some good Bream residing in the lough I wasn't taking any chances! I was hoping to do some float fishing in the near swim but with the rain and wind showing no signs of letting up I had to tackle the Tench in the only feasible manner I could, with inline leads and inline bolt rig style maggot feeders, used in conjunction with artificial popped up baits and bite alarms. Although not a traditional method and sometimes frowned upon by some purist anglers, I believe that adaptability is a key trait to have while dealing with our erratic weather, so for me if changing tactics means more fish I am happy to adapt.
I just had to agree a location for the bait now. One rod was fished at 20 yards on the edge of a belt of lilies whilst the other was fished at a full 65 yards just short of a dense weed-bed on a silt bottom in no more than 6 foot of water. I initially spombed out roughly 15 spombs in each swim. The rods were positioned accordingly and I retreated into the bivvy for shelter. There was a brief respite in the rain and I took advantage and put the kettle on and tidied my gear away outside.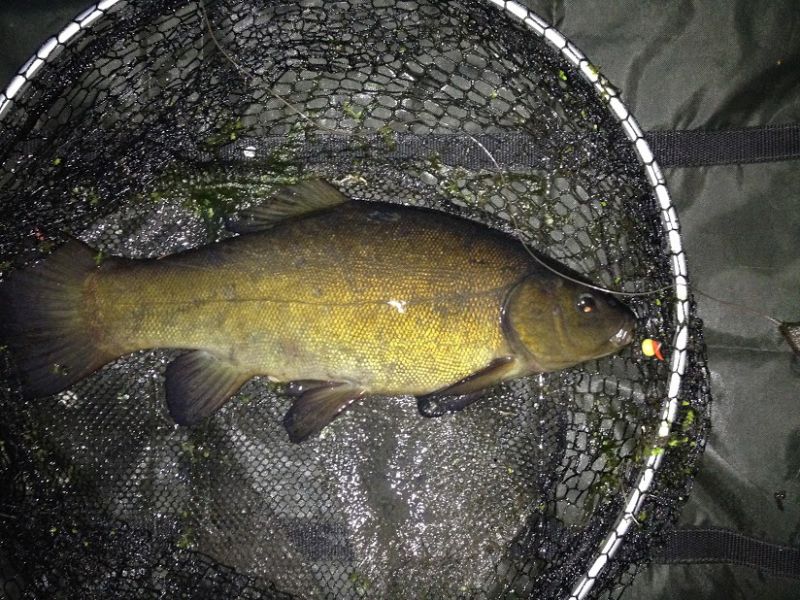 Rewarded with a plump five-pounder
Suddenly my left hand alarm burst into life, the bobbin lifted up and hit the butt ring before the line un-clipped and as the alarmed screeched while the fish tore line from the spool, there was no doubt as to what had picked up my bait, my first Tench of the trip, a feisty female of about 4lbs. I set up the camera on the pod while she recovered in the landing net, a quick snap and she was slipped back. I managed one more Tench just at dusk, at about half 9, another female this time touching 5lbs. She was deceived by a maggot corn cocktail on the inline lead rig. A quick snap in the net and back she went swimming away strongly. Rods re-cast and 10-15 more spombs went out to the desired locations. I retired to the tent as the wind had picked up and with the rain and the low light levels there was no reason for me to be anywhere but bed! A bleep-less night was to follow.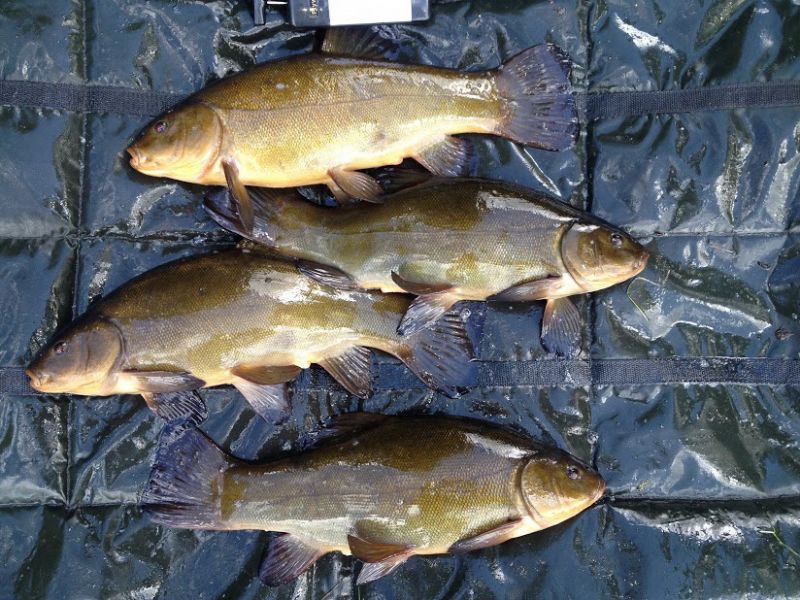 It wasn't until 10 am I had my next fish followed by three more in a short period mainly falling to the maggot feeder. By 12 o clock I had no choice but to wind in and retreat to the bivvy as the wind and rain had escalated to the extent that I was afraid the rod-pod would simply flip over and blow away! It was horrendous and had me seriously thinking of calling it quits.
Around four o clock there was a brief lull in the weather so I quickly snapped and released the four Tench in the keep-net. Another few spombs to keep the swim topped up and hopefully hold fish in the area. I spent the remainder of the day and the entire night huddled up in the bivvy listening to Shannon-side FM, reading, tying PVA bags, eating a stew I had brought for dinner and sipping a few beers…some holiday eh?! That Wednesday night was single-handedly the worst night I ever spent outdoors! The sheer noise of the bivvy flapping in the gale along with the rain had me barely sleeping at all! Even though I was warm and comfortable the noise was unreal.
Luckily to every dark night there is a bright day and when I emerged from my shelter shortly after day-break the atrocious weather had subsided. An eerie stillness hung in the air with only a soft breeze gently swaying the bed of bulrushes along the water's edge. The light from the rising sun could be seen creeping up from behind the trees on the far bank. A perfect moment, only disturbed by my right-hand rod erupting to life as the buzzer sounded. The bobbin began to rise slowly at first and then break from the clip and tear line from the spool. As I lifted into the fish I felt the unmistakeable aggressive head shaking of a Tench. Comfortably netted it weighed roughly 4-1/2lbs. In what was a busy morning I landed a further 8 Tench between 7 and 11 o clock. The first 3 came to the maggot feeder so I soon changed the2nd rod over and began catching in both swims. I was feeding heavily over the top during this period with both spomb and catapult. I even had a surprise Bream of between 5-6lbs take a fancy to my fake maggots which was a very welcome addition as I am a big fan of Bream also. This fish was snapped immediately and returned.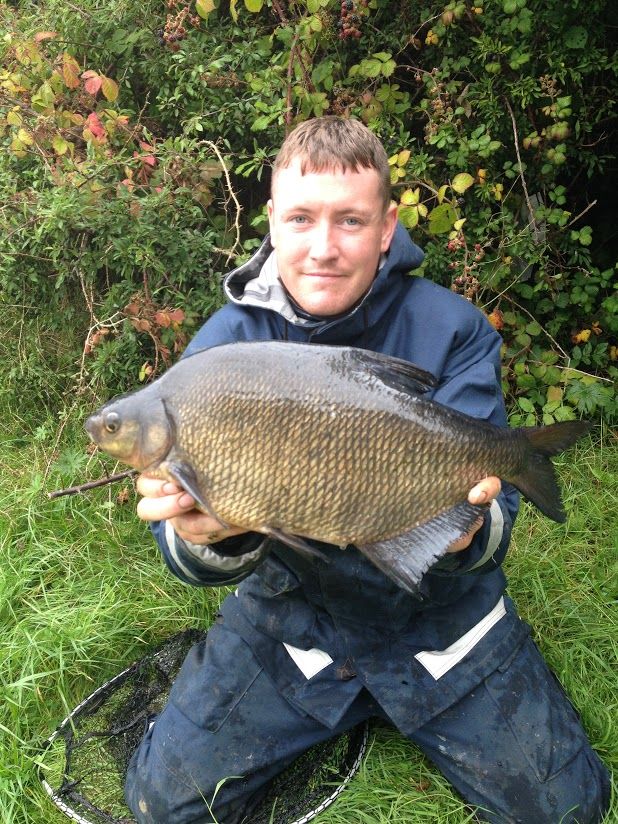 A bonus Bream made a welcome addition to the catch
Shortly after noon the wind picked up again and there was a distinct drop in temperature thus killing the sport. I managed another Bream of around 5lbs at lunchtime but that was it for the day. I carefully photographed my catch and released them unharmed. No action was to follow until the next morning. A thick mist had descended and enshrouded the lake; there was definitely the tell-tale nip of Autumn in the air. The far bank no longer visible and splashing from small Rudd could be heard in the margins. An hour passed without change and minutes after I introduced more bait via the spomb the alarms came to life.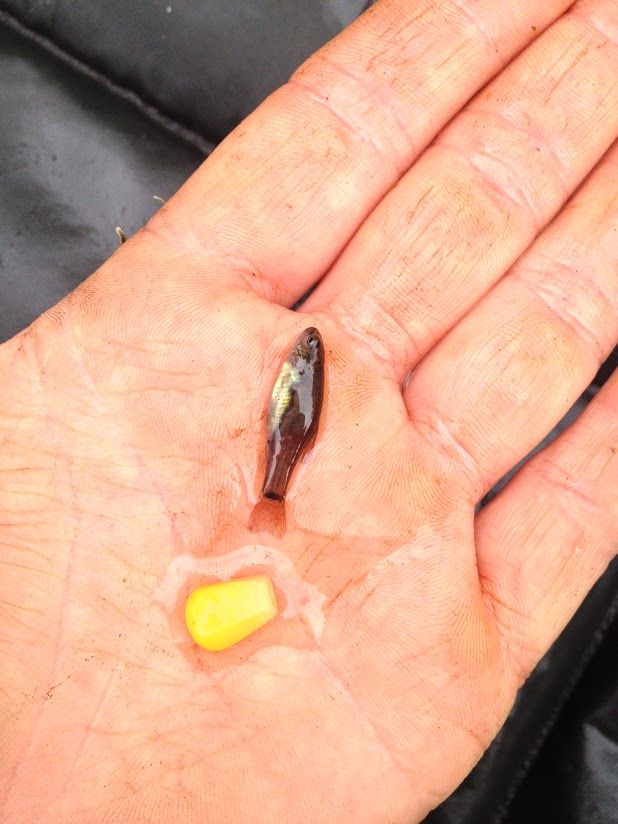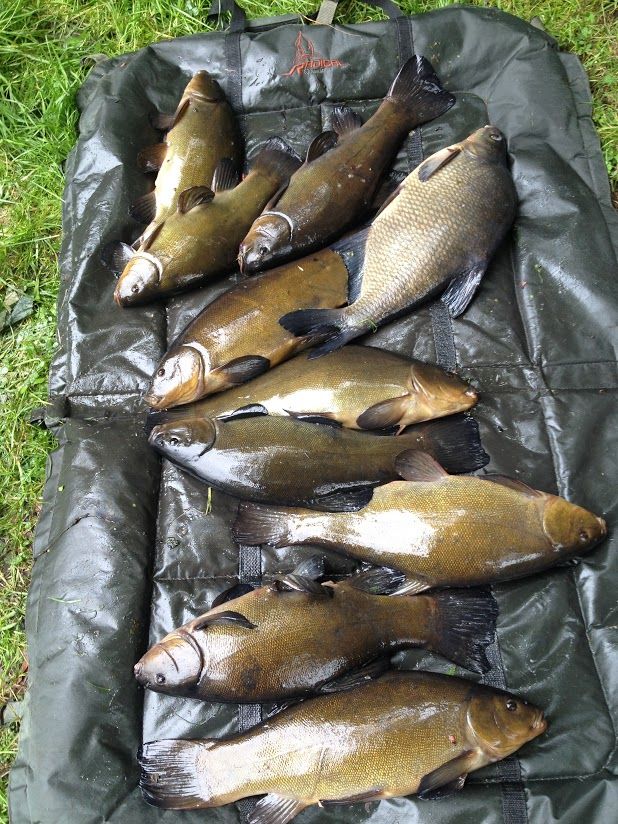 A great catch of Bream and Tench, along with one possible future specimen!
I managed 6 Tench and another Bream over the few hours that followed. One of the Tench had become buried in a weed-bed and after some negotiating I had him out and on the bank but what followed was a surprise to me. After peeling back the weed on the fish and feeder I discover I had not just one but two Tench in the net! Ok the 2nd one was tiny but my god what a pleasant surprise it was. The most picture perfect little Tench you can imagine, with its miniature fins and paintbrush tail it really made my day if not trip, safe to say this little fella didn't go in the keep-net!
I decided to call it a day at 11 o clock as I was wet and very weary and knew I had a few hours of packing up and hiking back not to mention the drive home to contend with! I snapped and released my mornings catch un-harmed as always. In the heel of the hunt I had 26 runs resulting in 24 fish and 21 of those being Tench. Not a massive return by any means but a well-earned figure and one that sent me home happy. For people who have not fished in this manner I would recommend trying it, especially when conditions are unfavourable and other methods are strenuous. The rush when those alarms burst into life is unparalleled.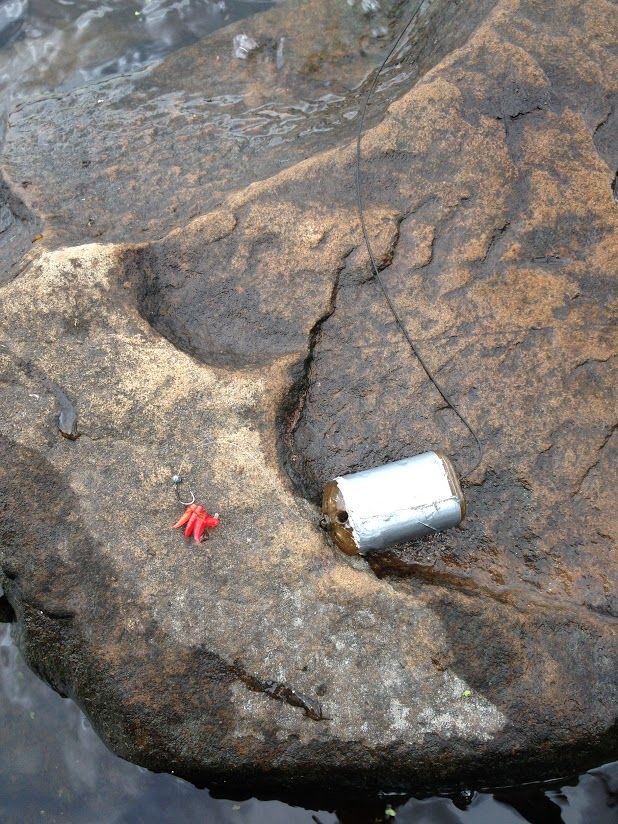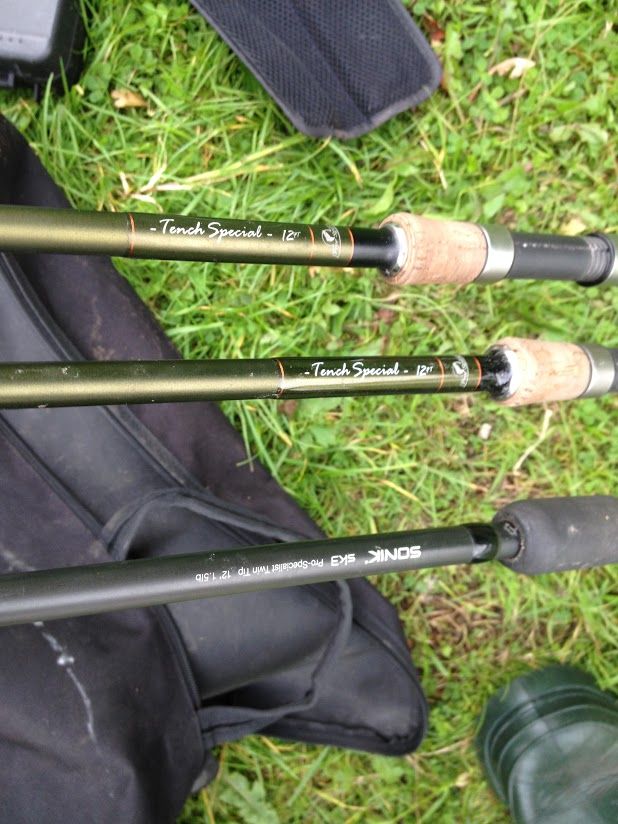 As for tackle I use 1.5tc rods with Shimano 4000 Bait-runners and 6-8 lb mono line. As for rigs the maggot rig is very simple. I use a 1m lead-core ring swivel leader that's threaded through the Drennan inline maggot feeder. The ring swivel jams in the feeder creating a semi-fixed bolt rig meaning that in the unlikely event of a break off the fish can shed the feeder and avoid becoming tethered. On from the ring swivel I tie 2-4 inch fluorocarbon hook-length of 10lb breaking strain and a size 8-14 hook(depending on the time of year) hair-rigged with 4 fake buoyant maggots and a number 6 shot gently pinched on by hand, 5mm from the hook to keep the bait pinned down.
As for the inline lead setup it is also quite basic. I use a 1m Korda clear zone ring swivel leader threaded through a 1.5-2oz textured inline pear lead and tail rubber to avoid tangling on the cast. This is the same principal again with the ring swivel jamming into the lead creating a semi fixed bolt rig. On from that I use 11lb matrix sinking braid for my hook-length which is generally 12-18 inches in length. I usually start with double buoyant corn again with a number 6 shot gently hand pinched on to keep the corn pinned down.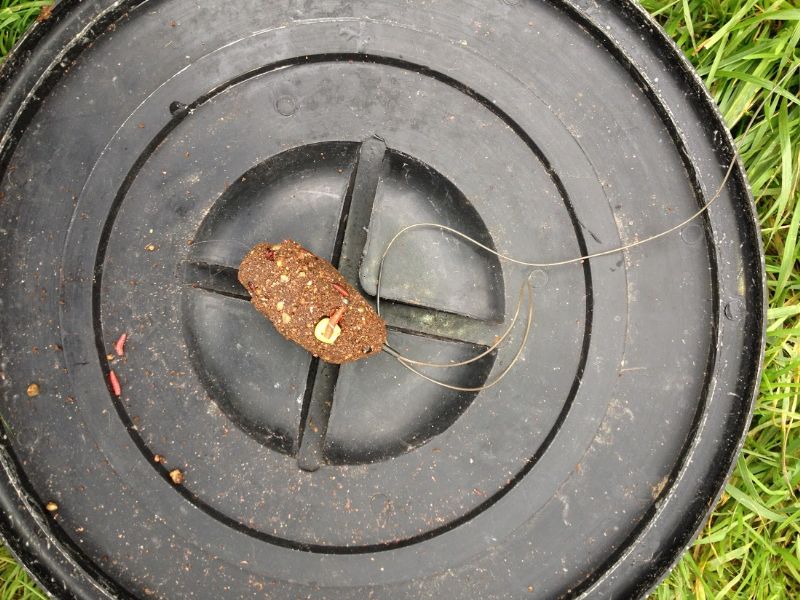 Depending on the range I am fishing sometimes I will mash the ground-bait around the lead and push the hook-bait into it before casting, this also helps prevent tangles and can sometimes be key to getting takes as the Tench will root out particles as the ground-bait breaks down. I find the Enterprise flavours very good for soaking your artificials in, my personal preference being the pineapple and ester-berry versions. I would strongly recommend a good big landing mat for the safe handling and unhooking of all fish. I am by no means an expert and these tactics I have mentioned above are not set in stone but have worked for me well. I am sure people will point out flaws in my ways but we are all learning. I would say to anybody who is unsure about anything don't be afraid to ask people who do know, god knows I pestered enough people with questions but all for want of improving. I hope you have enjoyed this and the remainder of 2014 brings you many good days on the water!
Tight lines all.

Back