MAC MR370 Boat Test
BOAT TEST
Mac MR370
I was delighted to be given the chance to test one of the boats from the large range on offer at RLS Boats, Coleraine. The boat in question is the MR370, simulated clinker in the traditional loch style.
However, as these boats are made entirely of plastic, I was keen to find out the advantages, if any, over typical timber or fibreglass versions.
We arranged to meet at the Oaks Fishery, and I would like to thank the proprietor, Ian Gamble for his hospitality during the day on this delightful water.
My first impressions as Ivan reversed the trailer down the field were how neat this package looked, and obviously how easily it could be towed and manoeuvred. With the cover removed, Ivan demonstrated the layout, including fitted seats, storage for anchor ropes etc, and a cross-section of the seat moulding, all quite impressive stuff! There are also the facilities to easily adapt the MR370 as a sailing dinghy, although today's test would be strictly engine orientated! Ivan brought along a new Yamaha 4hp but this vessel will take a maximum of 8hp.
Arrival at lakeside, a very neat boat package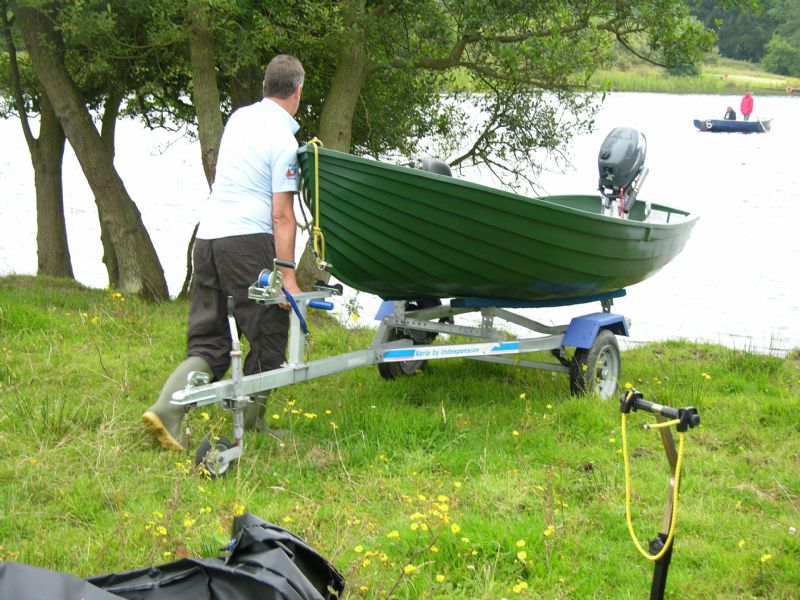 Ivan demonstrating how easy this boat can be launched
With the engine fitted securely I was eager to see the boat launched, especially as there are no slip facilities here. This proved effortless, an obvious advantage for pike anglers trying out un-explored and isolated loughs throughout the country. As Ivan put the 370 through its paces, the bow rode a little high, but a quick adjustment in the angle of the engine soon brought her nose down.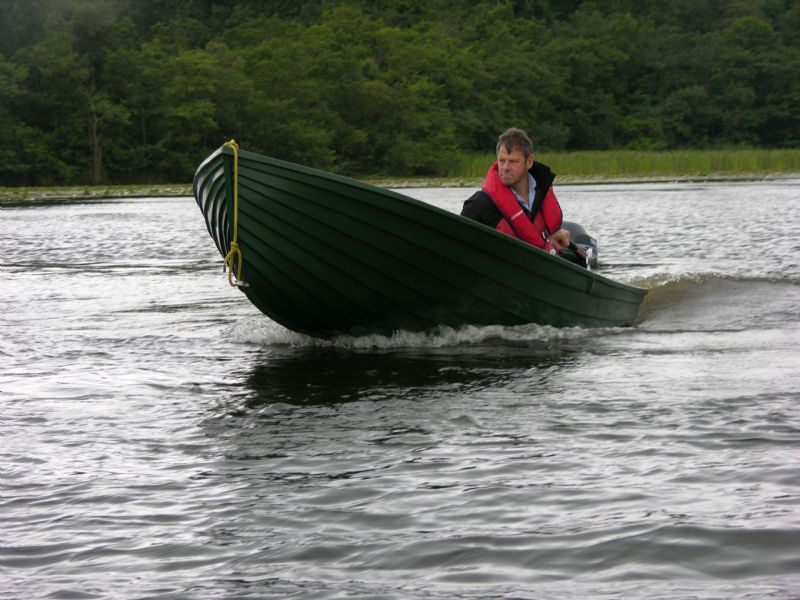 Boat under way, good turn of speed with small 4hp outboard!
My turn now, and putting in a few tight, figure of eight turns, the boat felt stable and comfortable. The 370 is built for three, but from an angling point of view I feel it would be more suited to two anglers including all the gear that goes with a day on the water, and the 4hp was more than enough to push through the water at a suitable speed.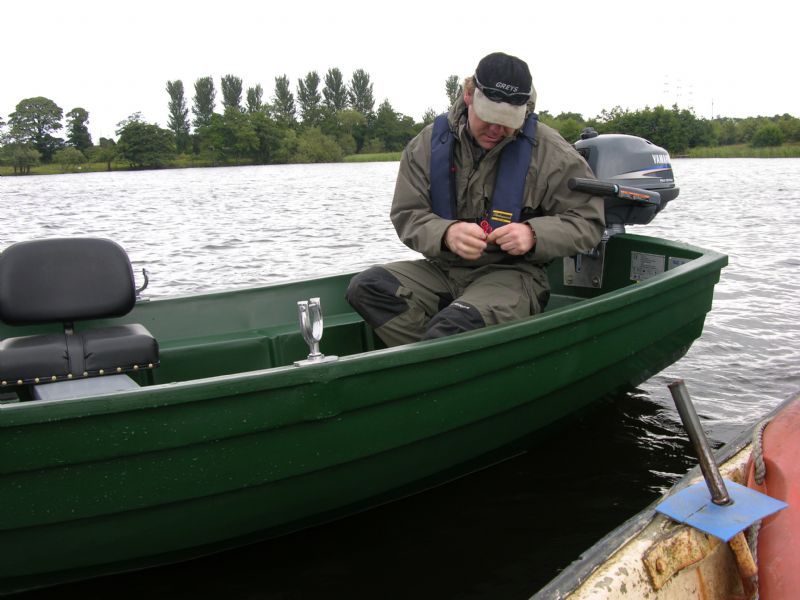 My chance for a play on the water!
After ten minutes fun and games, I was suitably impressed but wanted to ask Ivan about the claim that these boats are un-sinkable. He explained that the double skin and twin bungs offered paramount safety, and the gunnels are foam filled to keep the boat afloat no matter what circumstances may arise. However, he wasn't prepared to cut the boat in half as can be seen in the promotional video! I wanted proof, so we headed for shore where he promptly removed both drain bungs.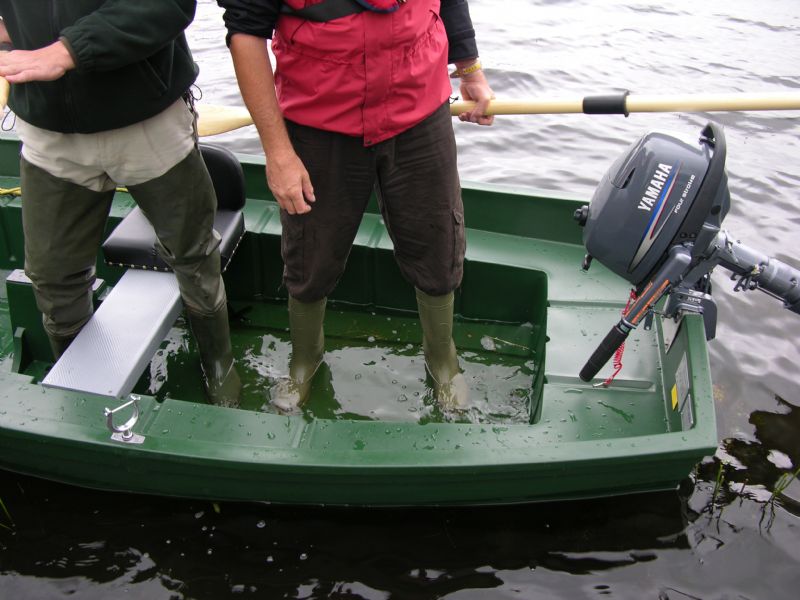 With drain plugs removed, the boat slowly filled with water but remained bouyant
With Ivan and big Joe aboard, both big lads, the 370 began to fill with water. After fifteen minutes, and taking on a fair amount of water, she showed little sign of sinking, and to Joe's concern, Ivan took the boat for another spin around the lake, minus the drain bungs. Under steam, the boat will stop taking on water and actually begin to drain herself.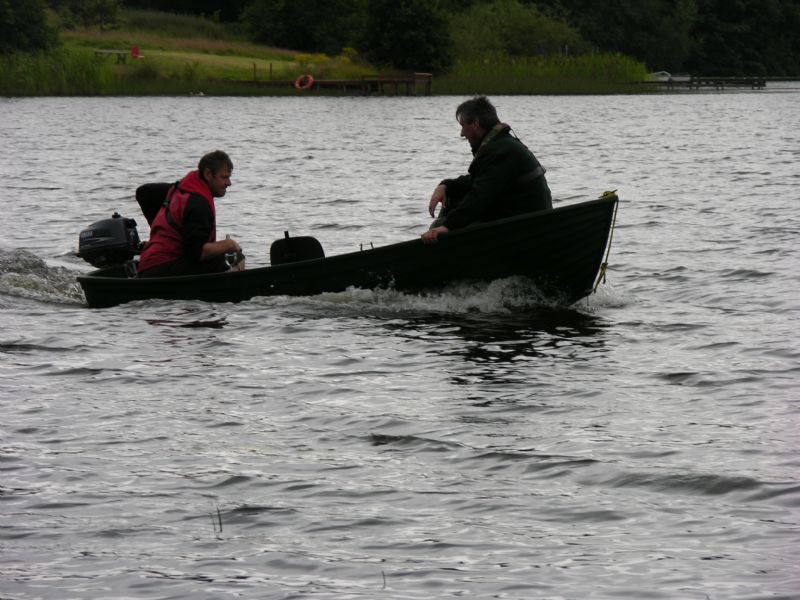 With two aboard, with no bungs and half full of water, the MR370 coped well and began emptying under steam
To sum up, I see this as a versatile package for the freshwater angler in Ireland. Its benefits are the obvious buoyancy properties, coupled with absolutely no maintenance and extremely impact resistant, ideal for rough and constant use such as busy trout fisheries.
ADDITIONAL INFORMATION
Rotationally moulded using quality first grade thermoplastic, this range of boats are un-sinkable, maintenance free and virtually indestructible. We were even shown sample material that had been shot with a twelve-bore shotgun at close range, although this is not recommended!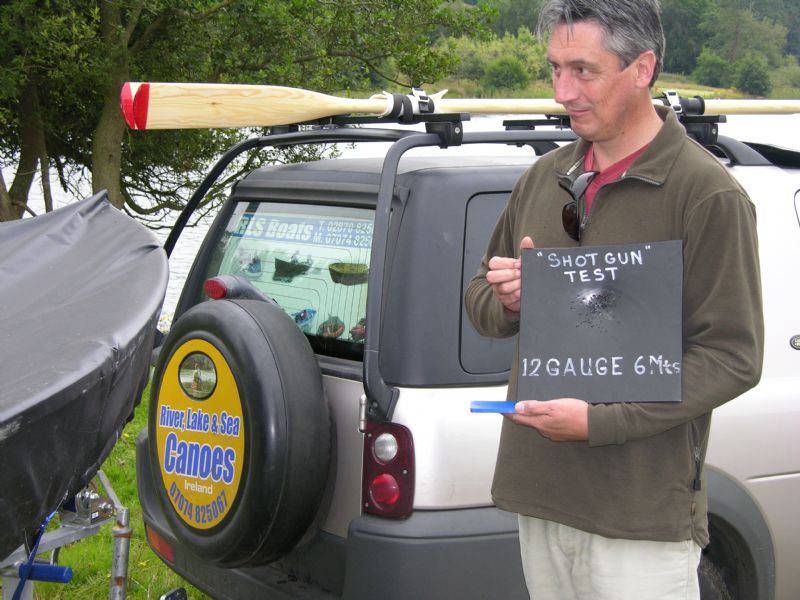 Big Joe impressed with the shotgun test
The 7mm skin is extremely durable, U.V resistant and colours will not fade. The material is five times stronger than fibreglass, and will not rot, rust or suffer from osmosis. For further details on the extensive range of boats and equipment available, check out the Website on www.marinerevolution.co.uk.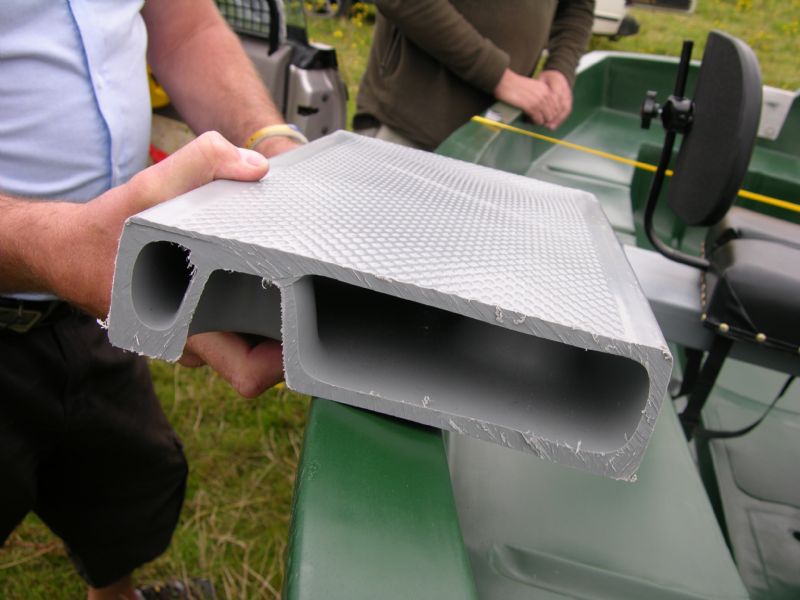 Cross section of the seat moulding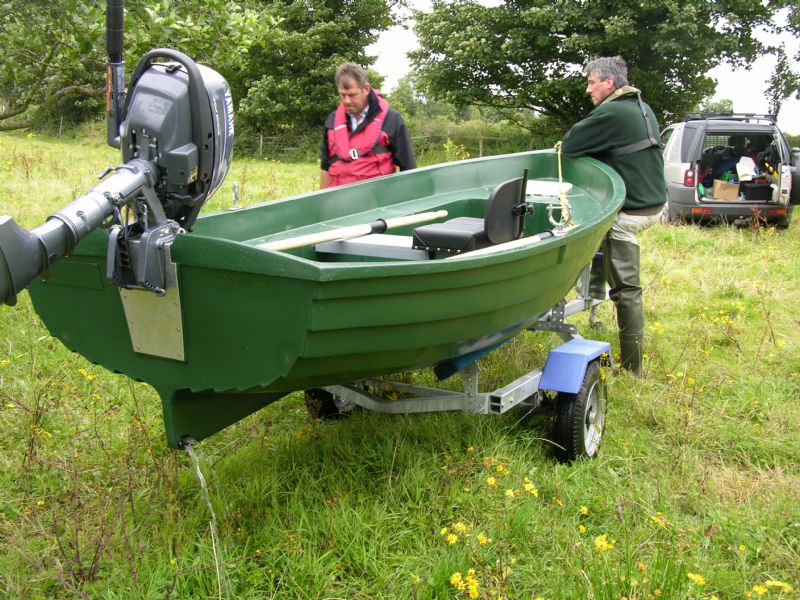 We even managed to put the boat back on the trailer while she was full of water!
HULL
Clinker style hull complete with seat, rowlocks, 8hp engine bracket, injected flotation/buoyancy foam compound, towing eye and drain bung. Centre board moulding included.
Length 3.7m or 12.2 feet
External beam 1.5m or 4.11 feet
Hull weight 120 kilos
Hull thickness 7mm
Capacity anglers 2/3
DISTRIBUTOR
RLS Boats
58 Coleraine Road
Portrush BT56 8HN
Tel 0044 (0) 28 7082 5067
Mob 07074 825067
Email info@riverlakesea.com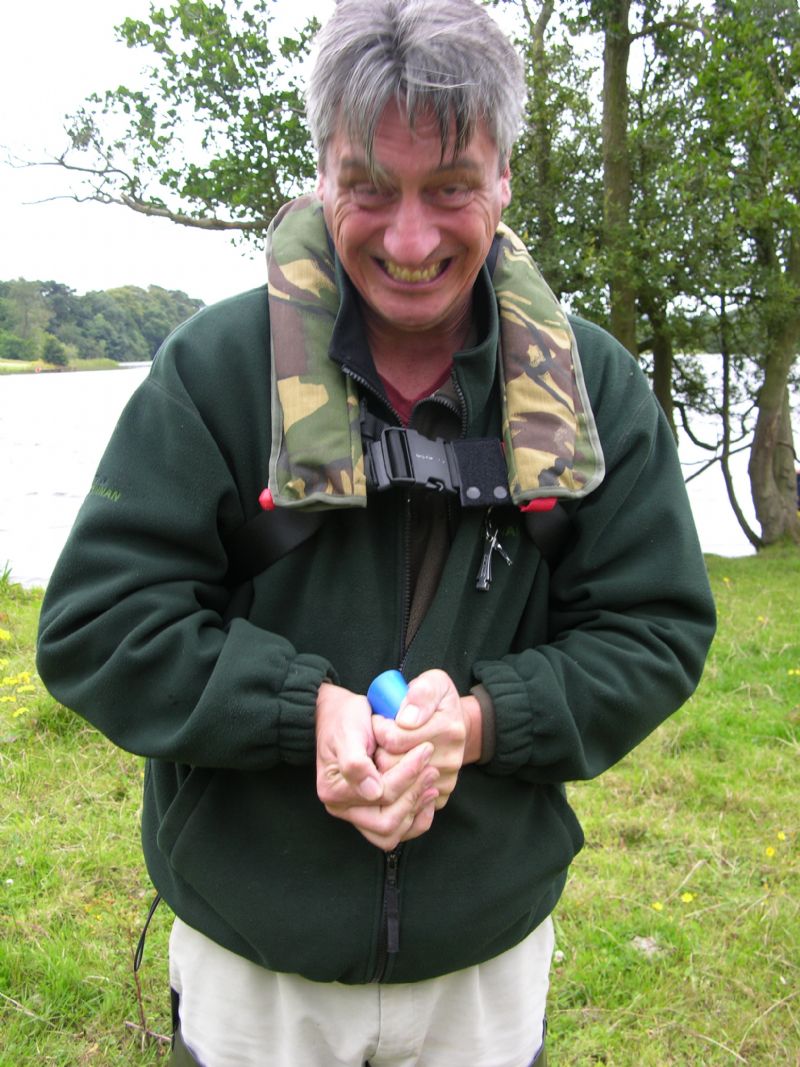 Ivan said if Joe managed to snap the sample he would give him one of the boats, unfortunately he couldn't.
Back