Maynooth Carp and Trout Fishery
Maynooth Carp and Trout Fishery
Following an invite through Irish Angler editor, Roger Baker, at the recent Belfast Angling Exhibition held in the King's Hall, the day soon arrived to head for Dublin, and to sample a taste of carp angling that Maynooth Fishery had to offer. I was instructed to liase with Dan O'Kelly, local bailiff on the water, and first-rate carp angler. He is heading to France soon, and in order to benefit from his local knowledge and advice, my carp trip had to be brought forward.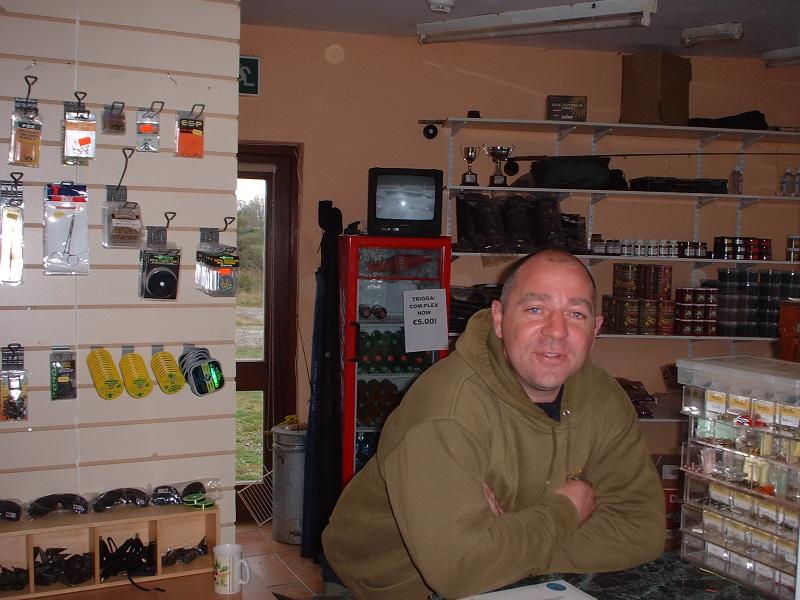 Kevin Gerry looking after the tackle shop

On arrival at the fishery lodge, myself and angling pal, Darryl Aston were introduced to Kevin and Julie Gerry, husband and wife team that manage Maynooth. We had a great chat about the lakes over several cups of tea and a good fry up. I soon discovered that Julie is a top angler in her own right. She is a keen and experienced fly angler, and she proved this last year, if proof were needed, by beating off four hundred and sixty competitors to win the Brown Trout World Cup Fly Angling Championship, the only lady to do so since it began in 1953, an enviable achievement.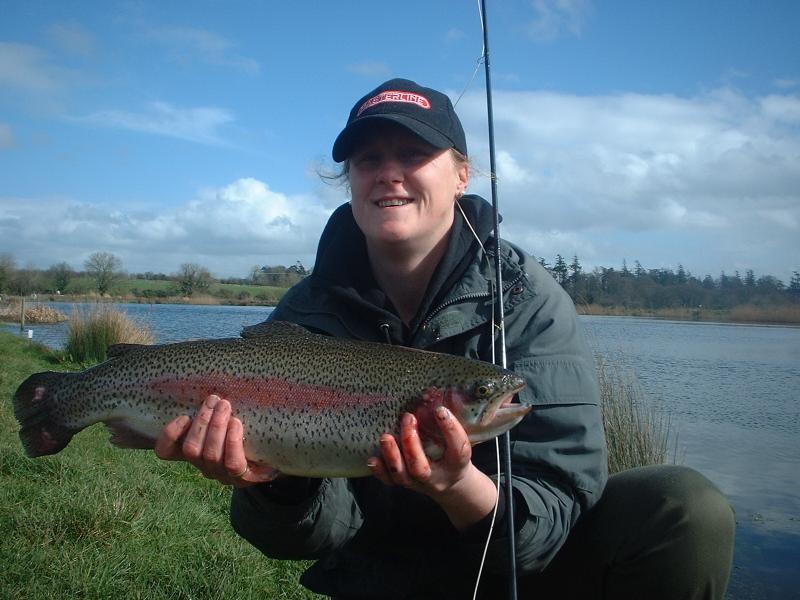 Julie Gerry, top-class game angler
Maynooth Fishery is comprised of three lakes. The trout lake is approximately four acres in size and is now in it's seventh year at time of writng. It is stocked on a monthly basis, or more regularly if required and supports a large population of prime rainbows to twenty pounds, and these actively feed on the wealth of natural fly life present on the water. In the short space of time that I spent chatting with local trout men, quite a few sizeable fish were caught and released on nymph and buzzer imitations.
A small bait lake of one and a half acres is situated beside the main lake and is extremely popular with youngsters and newcomers. This is stocked every week throughout the spring and summer and guarantees a large number of trout present at all times. Rods, reels and expert tuition can be supplied if required.
The third lake is the carp water, and extends to five acres with numerous islands, gullies and fish holding features. It is still in its infancy, having been stocked two years ago with two hundred and fifty large Carp. These fish range in size from ten pounds to over thirty pounds, with an impressive thirty-one pounds ten ounces as the current fishery record. The venue contains three guaranteed "thirties" and possibly another three that will break the thirty-pound barrier this summer, with at least fifty Carp in the twenty pounds bracket. This lake is a syndicate water and has thirty members, with another twenty-five anglers on the waiting list, so you can see that it is a popular water. For members of the public, Julie runs a day ticket scheme for five extra anglers per day. Members of the Abbey Anglers Irish Carp Club are always on hand and ready to help out with advice on tackle, bait preparation, and information on hot spots around the lake. There is also a well-stocked tackle shop on the premises, catering for Carp and trout anglers, with fresh bait in supply. With all this information, we were keen to get lakeside and settled in for our two and a half day session.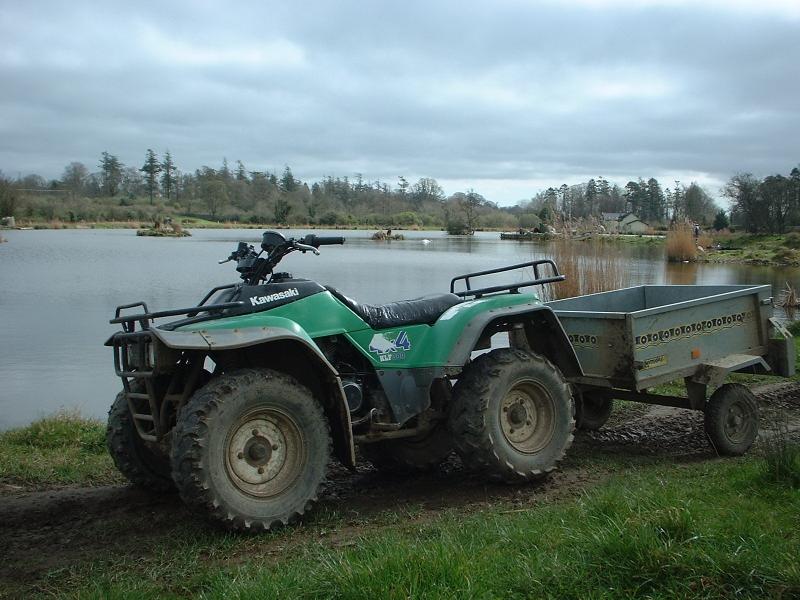 Our tackle trolley on this venue
Once our mountain of tackle had been loaded onto the quad bike and trailer, Dan showed us to our designated area, known locally as the "bailiff peg", so called because the whole lake can be watched from this mark. It is a small spit of land that juts out into the water and gives excellent casting access to most areas.
I opted for the right hand side of the spit, that had two islands within casting range, and Darryl took the left hand side, with four islands to explore. With bivvies erected, bed chairs and sleeping bags sorted, and rod pods in position, we chatted about tactics and bait choices. There was a stiff breeze blowing, and although it was a southerly, it had a cold bite to it, so we decided it would be safer to feed sparingly to start with. By using pva bags and accurate casting, we were able to place trout pellets in a tight area, hoping to entice Carp to the baited hooks.
Fishing for large carp can be a serious waiting game, but after four bite less hours, one of my alarms screamed out and I was soon playing an obviously sizeable fish. My Carp rod performed impeccably as I guided the fish away from the islands and into the net. A superbly conditioned Mirror Carp that tipped the scales just over twenty two pounds, my first Mirror and a personal best too. It had taken three grains of tutti-frutti flavoured sweet corn on a hair-rig fished over a p.v.a bag of mini trout pellets. I later showed an image of this fish to Dan on the digital camera, and he recognised it from the unusual double lateral line along each flank. It had been caught last year and at that time weighed twenty pounds. No further bites materialised for the rest of the day, and indeed, the hours of darkness were no better.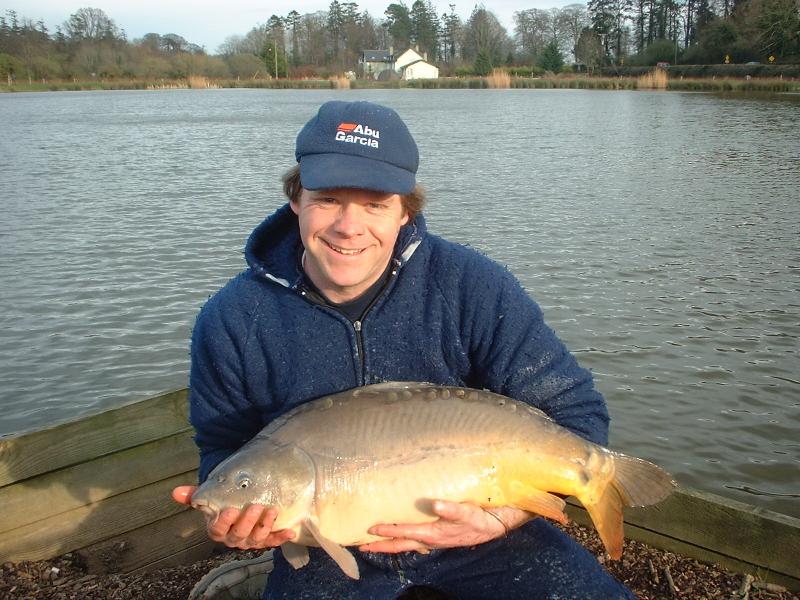 A personal best at twenty two pounds

Conditions were still quite chilly the following morning, but we refreshed the hook baits and cast back into the same marks, and turned our attentions to the breakfast and a hot mug of tea. Nothing showed until the afternoon, when Darryl struck into a great run, almost at the same time as my fish the previous day. The fish put up a spirited fight and I slid the landing net under a beautifully scaled Common Carp. Weighing in at fifteen pounds, Darryl had a new personal best too. It had taken a combination of natural corn and artificial luminous pop-up corn on a hair rig. This proved to be the only fish of the day and again, the night session produced a blank.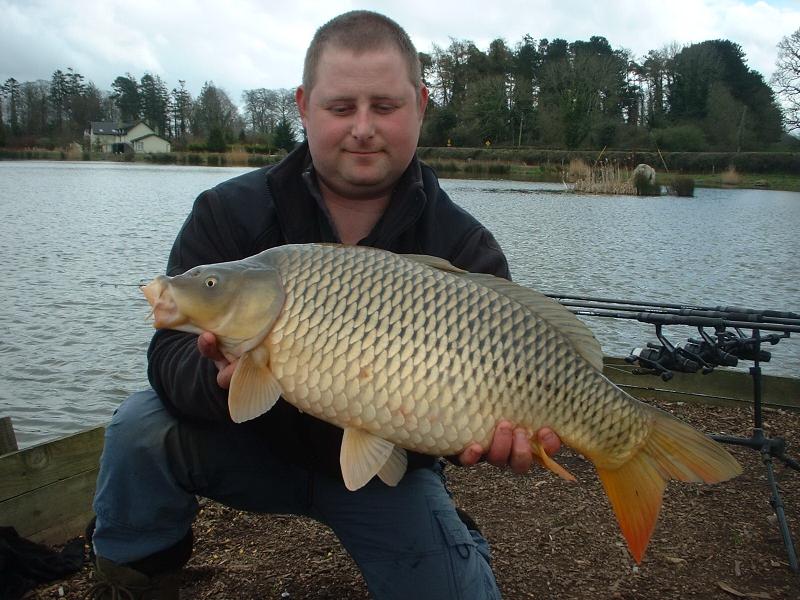 Darryl Aston with a fifteen pound PB
By the following morning, the breeze had died away and the warmth of the sun heated the air around us. This was our last short session and turned out to be an uneventful one for Darryl and myself, but across the lake we could see that Dan's luck had changed. He had just landed a fine eighteen-pound Mirror Carp, and as we began to pack up for the journey home, we could see Dan into another fish, a Mirror of twenty pounds and eight ounces. It can be tough having to leave a venue just as it begins to heat up. Both of Dan's fish were taken on tutti-frutti sweet corn, in a week where the flavoured boilies just didn't seem to work.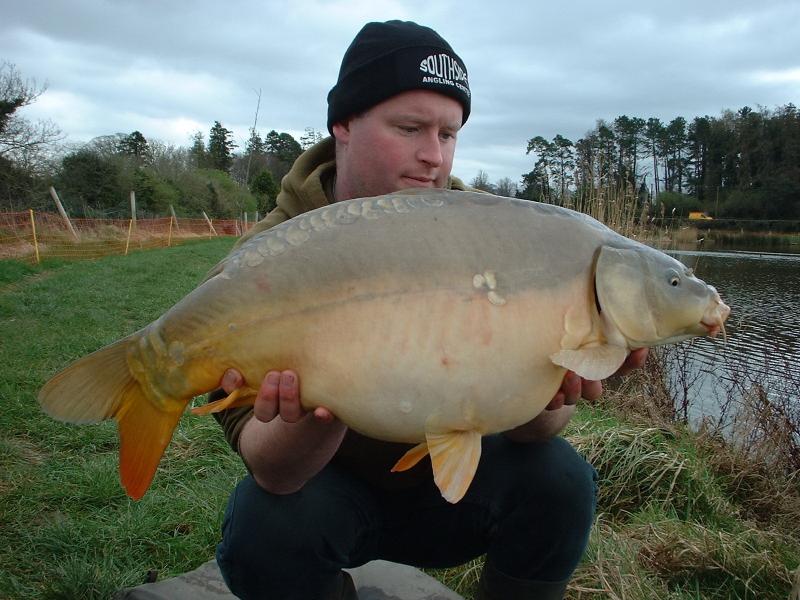 Dan O'Kelly finds some action

To sum up my trip to Maynooth, I found it to be a friendly, tidy, well run fishery. Advice and information were freely given when needed and the trout were in plentiful numbers and fine condition. As for the Carp water, it is certainly not an easy venue to catch. Julie will tell you this herself, and picking out a large Carp is both a challenge and an achievement. Julie puts this down to the abundance of natural food in the water and she is probably correct. When I ran my landing net through the silt lakebed, it revealed an amazing amount of bloodworm and shrimp life.
Although waiting long periods of time for a fish is not our usual style of angling, both Darryl and myself thoroughly enjoyed our Carp session at Maynooth. It is an acquired taste, so to speak, and Carp of this size don't come along too often in Ireland, but Maynooth fishery gave us the chance to successfully experience a small part of the Carp angler's world.
ADDITIONAL INFORMATION
A full day on the carp lake runs from 9am to 9pm and costs twenty euros, at time of writing. A full day on the trout lake, catch and release runs from 9am until sunset and costs twenty euros, and a half day works out at fifteen euros. The bait lake is fifteen euros for a one fish ticket.
HOW TO GET THERE
Maynooth fishery is situated on the outskirts of Maynooth and only four hundred metres from the town centre. From the M50, take the N4 to Lucan and Leixlip and head for Maynooth.
TELEPHONE 00353 1 629 3202
EMAIL: info@maynoothfisheries.com
WEBSITE maynoothfisheries.com
Back