Mullet and the Greys Prodigy VX
Mullet and the Greys Prodigy VX
After my recent and extremely enjoyable Tench session, it was now time to switch my attention to salt-water, and to see how the Prodigy VX stands up to the power of a Grey Mullet!
Although strong north-westerly winds were going to be a major problem, the tides were perfect, and I thought I would make the most of this opportunity for a Mullet bash. The wind can be problematical as most of my Mullet angling is carried out through stalking. With an extremely heavy "chop" on the surface it is almost impossible to find pods of fish before they see you first, and saunter off out of casting range.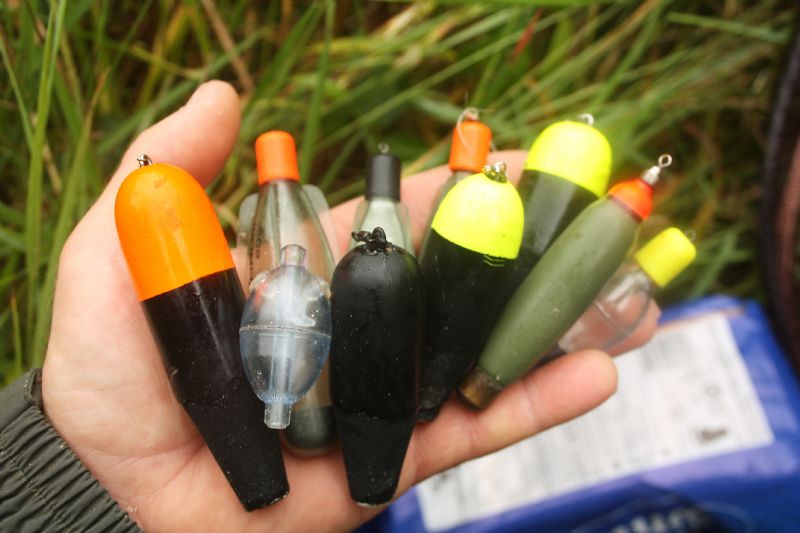 It is useful to carry a range of floats, styles and colours to suit all conditions encountered
To combat this, a new approach is called for. Rather than walking and stalking along a stretch of shoreline looking for the tell-tale signs, small bow waves and glimpses of fin, I would have to settle in to a mark that I know from experience, fish would usually pass through. This session would have to be a waiting game!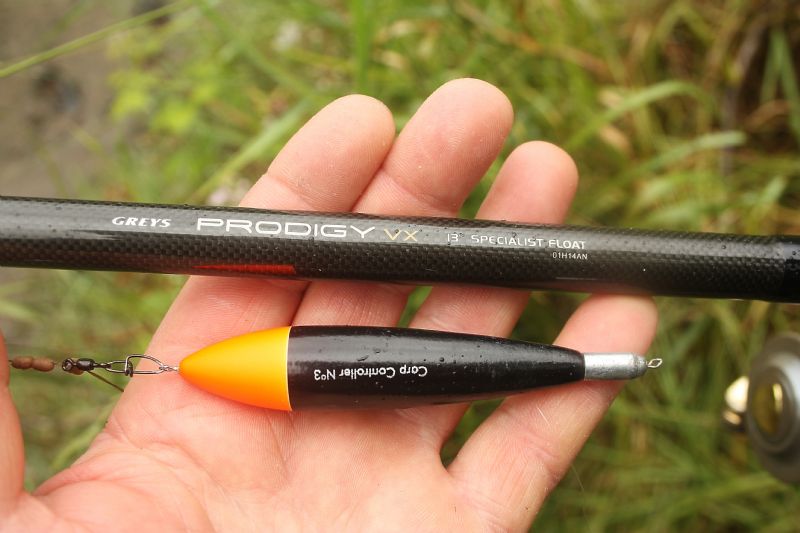 Typical float controller, this one from Shakespeare
The standard controller floats I normally use would be practically useless against these strong breezes, but opting for one of my home-made controllers would serve perfectly. These are constructed from broken pike floats, ones that my old mate Alister Smyth from Tight Lines Tackle Shop Belfast, kindly threw my way! Cut in half, shaped, and with a swivel attached to the top and a barrel lead inserted, they were "weighty" enough to cast into the wind, and offered enough resistance to control and guide a bait through the swim.
Adapted from half a pike float, locked in place with float rubbers. "Doubling up" the main line and hook lengths acts as a stiff link and helps avoid casting tangles.
As with Tench fishing, I lock the float in position with float rubbers. This has saved a line break on many occasions when a torpedo-like Mullet has powered through clumps of bladder-wrack. Rather than a hook-pull or line break, the float slides up the line allowing valuable time to tease the main-line free from the obstruction, a kind of "get out of jail free" card!
Another tip is to grease the main-line and hook-length. This prevents the line sinking and picking up weed and clumps of algae, but also helps when lifting into a "take" over distance, having direct contact with the fish. It is possible that greasing the hook-length will also help fool a wary fish, with only the hook-bait dipping below the surface. (For some reason unknown to me, Mullet in the north of Ireland generally seem to be a great deal more cautious than their southern cousins).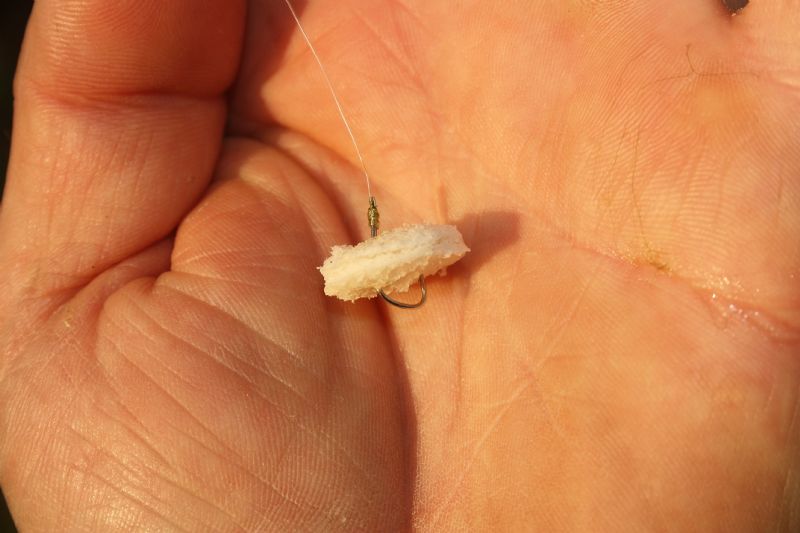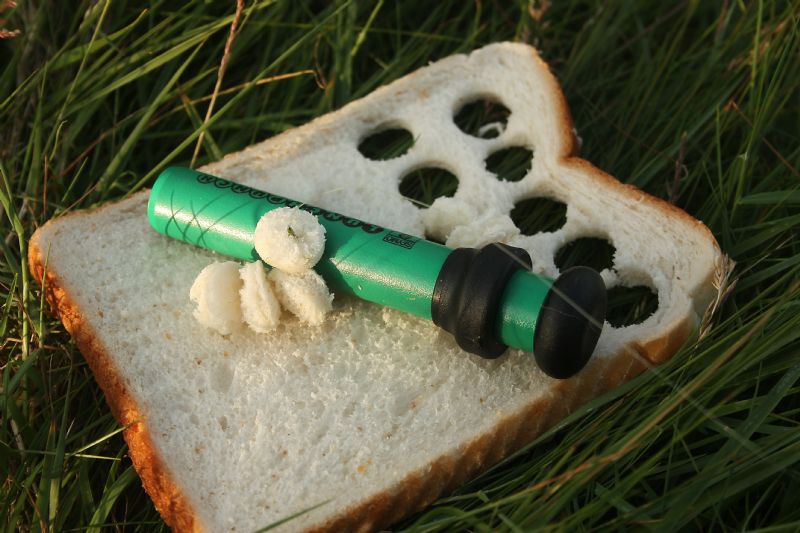 If you have difficulty keeping bread flake on the hook, try using a large bread punch, it works just as well
FRENZEE BAIT PUNCH SET 6/8/10/12MM PLUNGER BREAD & LUNCHEON MEAT MATCH FISHING
Large Meat Punch Set Of 3 Large Sizes
In position, and with tide beginning to push, I played the stealthy waiting game. It is important to travel light, and I carry a rucksack containing spare tackle, weighing scales and sling, camera, and spare loaves of bread. I have a boilie pouch that holds a catapult and a few slices of bread for hook-bait, which also serves to hold my landing net and a small bucket of pre-chopped bread as loose feed. I sometimes follow David Murdoch's idea, and tie half a loaf of bread (spare hook-bait) to a buckle on my chest waders for handiness.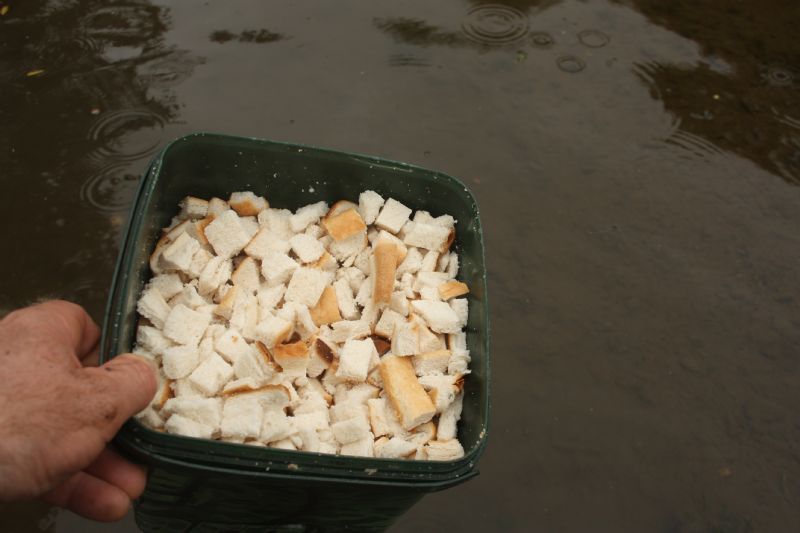 Pre-cut slices saves time and is easier to feed when wading and holding a rod
Time to introduce some feed. On a calm day, small pieces of bread will float and drift down attractively towards waiting fish, but today, with strong breezes, my free samples were blowing across the surface unnaturally, and being scooped up by waiting gulls. On occasion, gulls can be useful. They won't put Mullet off the feed, but usually cause them to move about, revealing their whereabouts. Today, they were just a nuisance!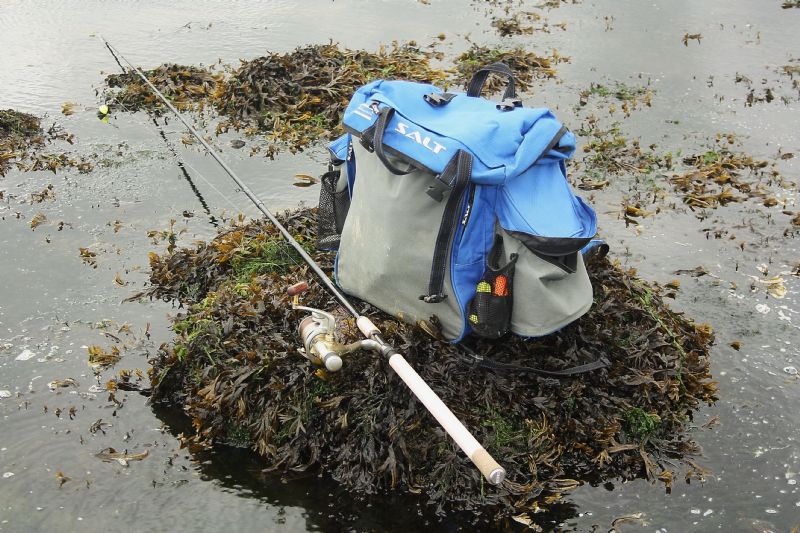 However, under these conditions, each handful of bread particles was quickly dipped into the saltwater, squeezed and accurately dropped in beside me, forming a trail of particles and small pieces drifting down-tide. With little feed now on the surface, the gulls lost interest and cleared off. As the tide crept in, relentless as ever, I stood motionless for two hours, trusting in the knowledge that my quarry will eventually move in.
As every Mullet session is different, I began to wonder if my tactics would prove successful. Something broke the surface, was it a dorsal or tail fin? Was it a piece of bladder-wrack? Then a small bow wave, the adrenaline began to flow. I'm sure I saw a small piece of bread slip below the surface, so difficult to tell under these conditions.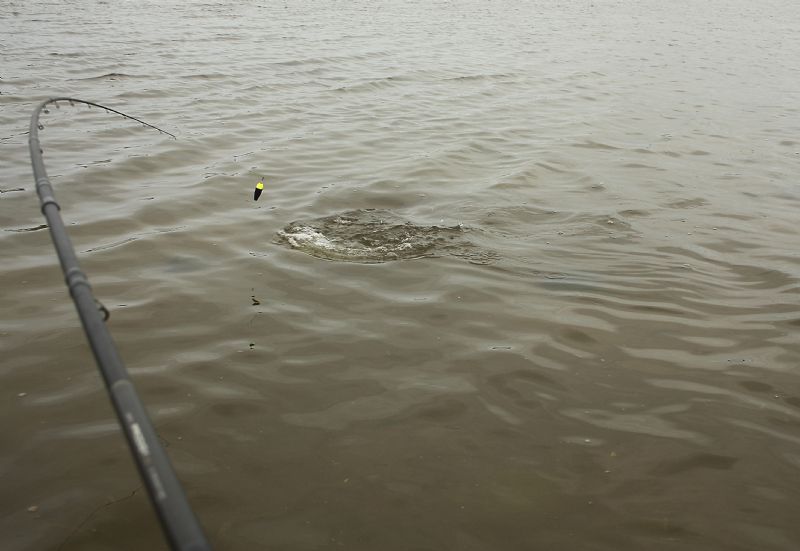 Piling on the power, cant let the fish have it all his own way!
By this stage I hadn't even wet a line! A gentle cast up-tide, and up-wind to prevent tangles and continue the stealth approach, allowing the float to trot naturally down towards the disturbance. The rod casts so well, with bait still intact. Hold back a little to straighten the main-line and hook-length, and let go again. I doubt I had taken a breath in over a minute. Float rips sideways, a quick lift and we are in, time for the VX to show its true colours.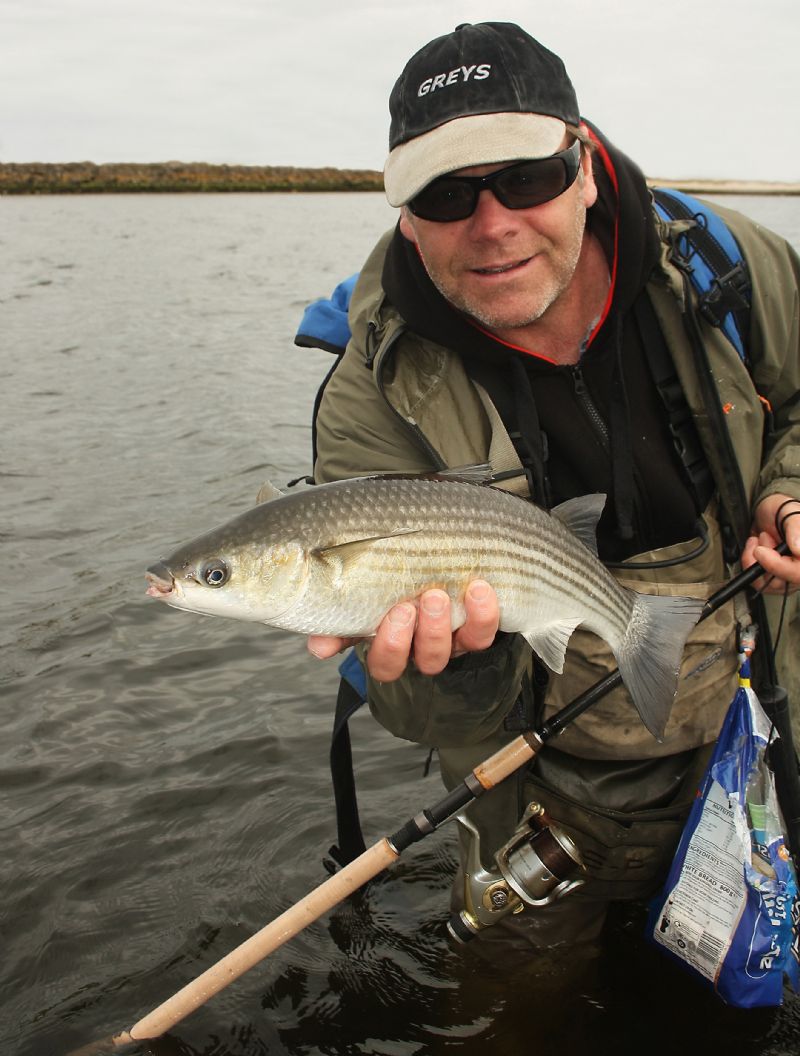 Stunning fish, fantastic "scrappers", enjoy then return to fight again
With the forgiving tip section of the VX, I could really bend into this feisty fish, and dictate the fight to some extent. Great mid-section power without losing any of the sensitivity, making the usual prolonged Mullet battle as enjoyable as possible. Even so, with a sizeable fish it is always advisable to have the drag set correctly, if you cannot give line, you WILL lose these powerful fish.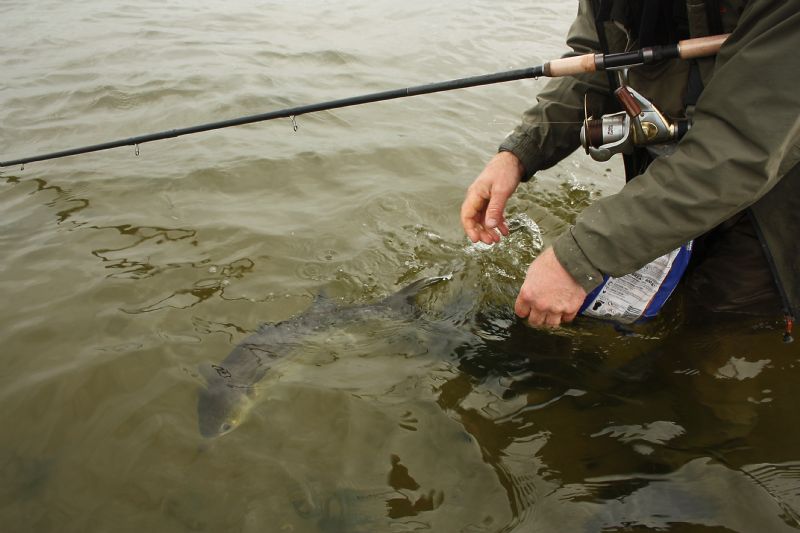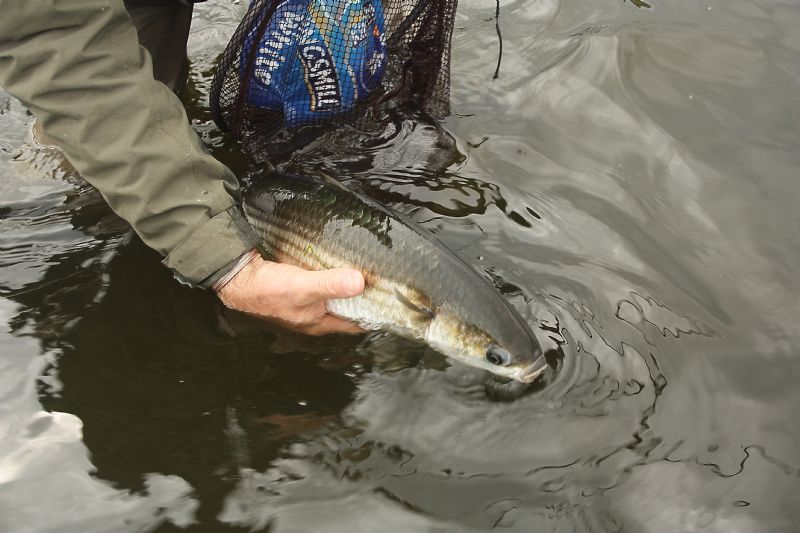 Always make sure your catch has fully recovered, head facing up-tide, then safe and careful release
Safely to the net, this was a great start, although only an average size at around 3-4lbs, so quickly released. I could actually see the occasional piece of bread being sipped under whilst playing my first fish, and was eager to have another fresh bait drifting down towards the shoal. In again, and with twenty yards or so ripped against the clutch, it felt a little bit meatier! This was more like it, and after a good six minutes or so, another worthy fish was safely in the net.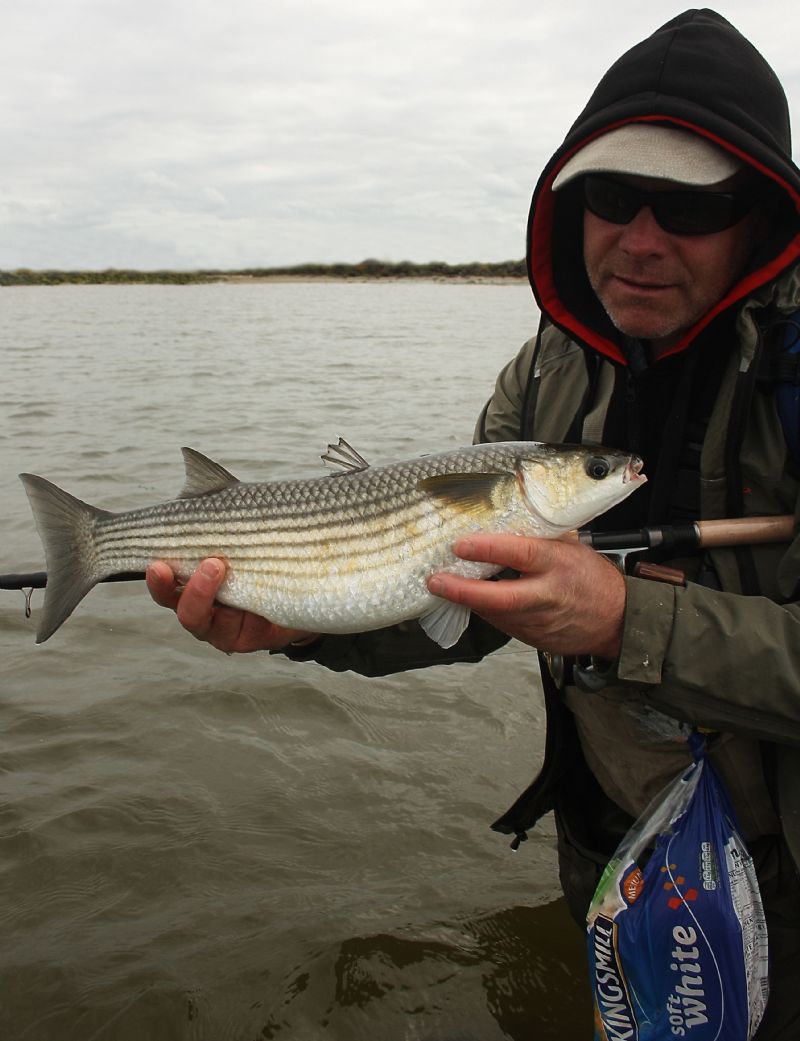 To the scales, and it pushed the dial past the 5lb barrier, and the VX was now christened with its first specimen, and my first Mullet specimen of the year, lovely stuff. The powerful and enduring battle had now scattered the feeding shoal, and so it was decision time. Normally I would simply move on along the coast in search of fresh shoals to pester, but with such inclement weather, stalking is definitely out. Decision made, nip into shore to answer the call of nature (it's an age thing!) then quietly back out to the mark for another shot. For the Mullet newbie, you will find these fish extremely addictive!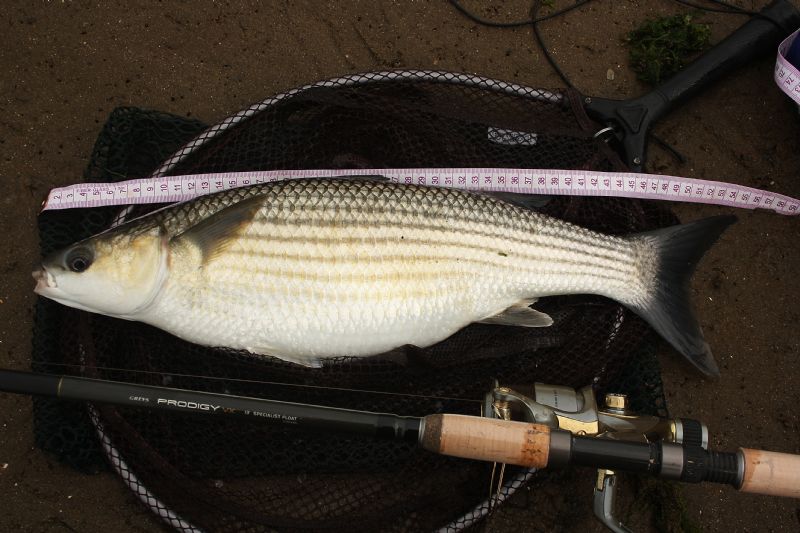 A fine, hard-fighting Irish specimen over the "hallowed" 5lb barrier
Standing as patiently and motionless as a Heron waiting on his lunch passing by, and feeding a continuous conveyor belt of Kings Mill, little but often tactics, I could once again determine some interest down-tide. A change in surface ripple pattern, a small boil, a snout breaking the surface. Tell-tale signs that, under these harsh conditions, were enough for an experienced eye to suggest we were back in business. Slow down the feed process, keep them keen, and follow with a freshly baited hook. These are the moments when the adrenaline is at its highest, the anticipation is such that everything else becomes blocked out, noise, wind, chill factor, nothing else is apparent only the full focus on the distant float and the white speck of bread directly behind it.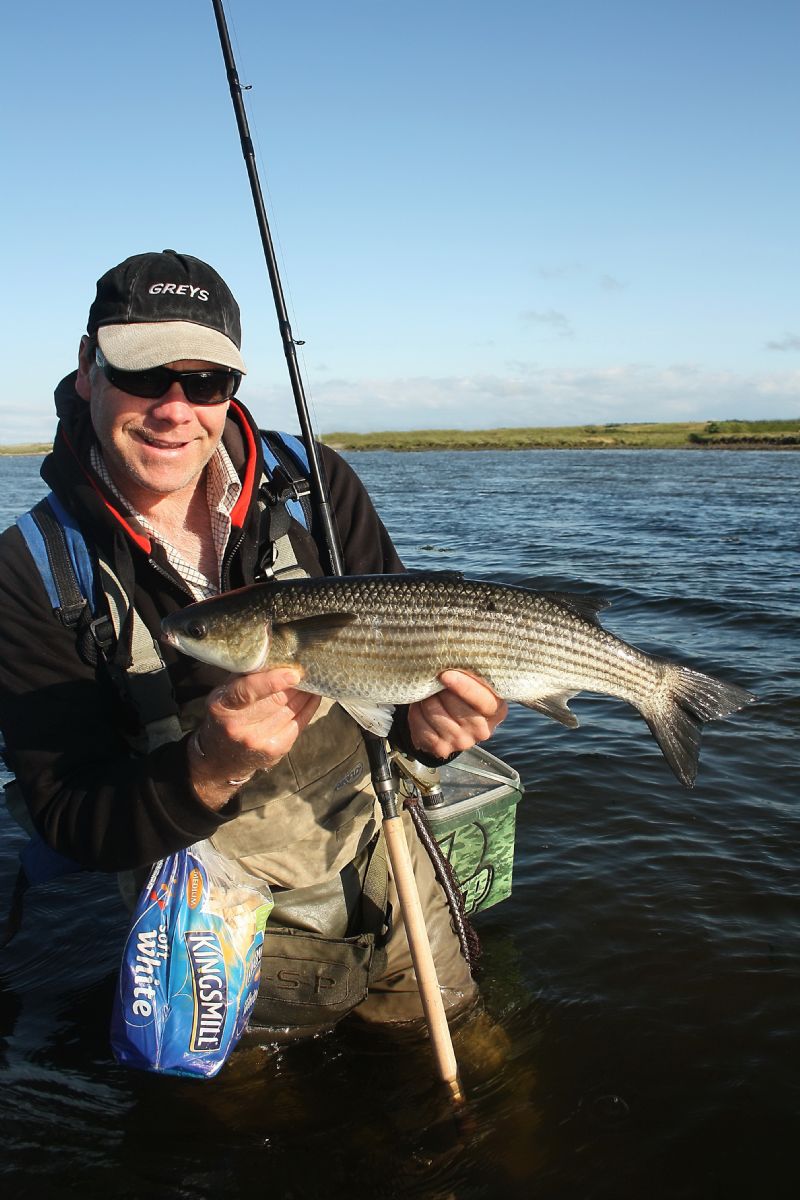 Everything to hand, boilie pouch, net, fresh slices for hook-bait, bucket of feed, and best of all, a specimen Mullet
In an instant, bread disappears, float rips sideways, and we are in again. Honestly, there is little to match this when it comes to float fishing. Line tearing against the clutch, rod tip doubled over, and a bar of silver powering through the shallows, leaping on occasion and totally refusing to roll over and submit. This has to be one of my favourite shore species, and I am now convinced that the Greys VX is my favourite equipment to tackle them. Finally to the net and tipping the scales at 5lbs 4oz, what more can you ask for. A double shot of specimens in one session on a very rough day in Northern Ireland, I'd take that any day of the week!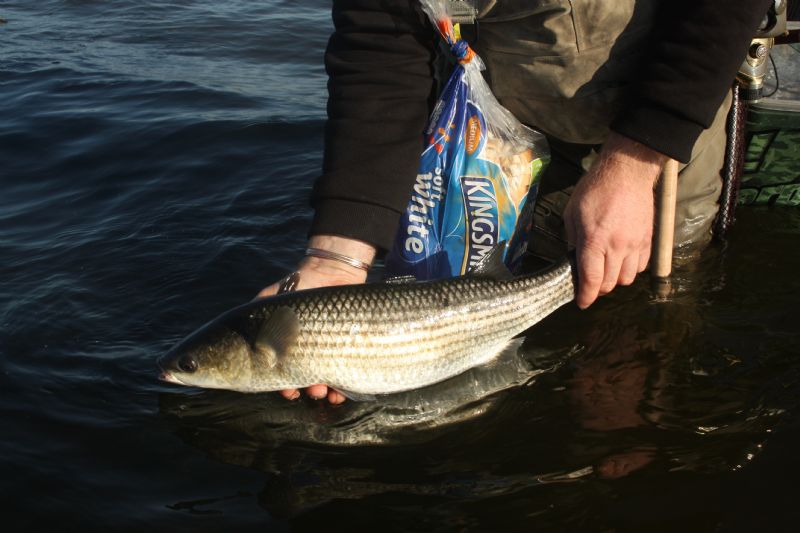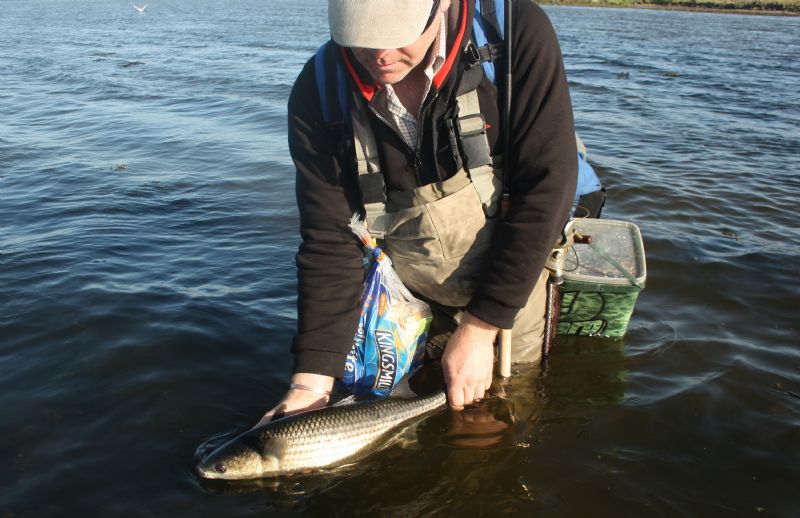 ALWAYS practice safe catch and release, our stocks are diminishing every day!
Tackle used during this session
Rod-Greys Prodigy VX Specialist Float 13'
Reel- Abu Cardinal 505R rear drag
Main line- Berkley XTS 8lb b/s...Berkley Xts Brown Line 0.27Mm 8.0Lbs 1120M/1335Yd
Hook length-Berkley Trilene 100% Fluorocarbon 6lb b/s...Berkley Trilene Fluorocarbon Clear Line 6 lb, 0.25mm, 110yds
Hooks- Owner CT-4 size 8
Also Kamasan B611 size 10 when fish are shy...FTD - Min 30 (3 packs of 10) KAMASAN B611 X-Strong Wide Gape Nickel Micro Barbed (Spade End) Fishing Hooks - Single Size & Combinations - Sizes 10 to 24 - Comes with 10 FTD Barbed Hooks to Nylon (3 packs - size 14)
Controller float...No Frills Control Freaks Controller Float Medium
Also...Controller Float 10g
Also...Premier Surface Carp Controller Fishing Float. Set of 3. (sizes 50-60-70 metres)
I would never be as bold as to tell an angler how to fish, but simply prefer to show and explain how I approach a venue or species. This is how I target Thick-lipped Grey Mullet, and manage to find my fair share it has to be said. Hopefully it will inspire anglers to have a go at targeting this hard-fighting and wily quarry if they haven't done so already, and possibly there were a couple of tips in this short article to help you on your way, Tight Lines, Tel.
Back