My Pike-Guiding Debut
My Pike-Guiding Debut
"Four English lads want a day's guided piking, it's not my thing, you wanna do it?"
That was a call I received from local guide, Stephen Kennedy.
"Have a think about it and ring me when you make your mind up."
To explain the situation, Stephen is a qualified angling guide and instructor and had been approached by a tourist company, to guide four professional English rugby players in search of Irish Pike. As he specialised mainly in salt-water fly-fishing he decided to offer the job to me.
This was not a problem as I had recently qualified through the same guiding course myself, The National Angling Guide Certificate run by Michael Short. To be honest, I hesitated at first, not because this was my first guiding job, nor the fact that I may end up in a rugby scrum if we failed to catch any fish!
The problem I could foresee was that the lads were staying in a cottage in Dundrum, an idyllic coastal village but not exactly renowned for it's excellent pike angling. The lakes at Ballynahinch are only a stones throw away, but apart from a few small jacks, I have never managed to unlock the secret to bigger fish at these venues. The obvious choice of venue in this area would be the River Quoile. This famous river runs through the historic town of Downpatrick and flows into the south -western end of Strangford Lough. This was once a fabulous Rudd fishery, but serious pollution and the introduction of Roach decimated the fish stocks over recent years. However, some recent re-stocking has been carried out using large Pike removed from ministry trout waters. This has been successful to some extent, with local lads reporting double figure fish making an appearance, along with several twenties showing over the last few months. The only problem is a couple of seals that have breached the barrier and are happily munching their way through the fish stocks!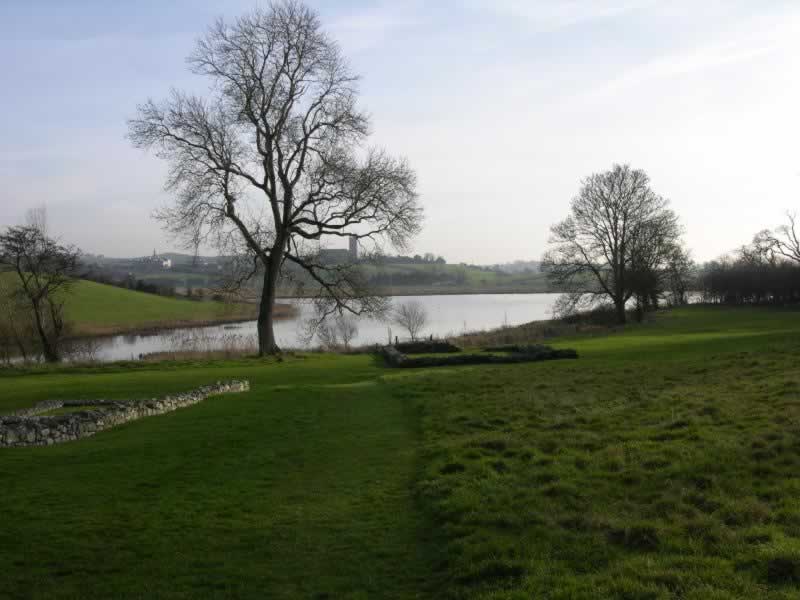 A view of the River Quoile from Inch Abbey
With the river pencilled in for day one, I needed a back up venue should it fail to produce. Stephen introduced me to Robert Marshall who owns a sizeable pike lake in Killyleagh, who kindly allowed me to use this water if required. This was an excellent suggestion, as the Clay Lough was situated across the road which offered yet another Pike venue to explore.
An important part of the angling guides tasks are to carry out risk assessments, to be given to the clients in writing before angling commences. Another quick run around all the hotspots was required, and notes taken on any potential hazards. With everything in order, I could now relax a little and concentrate on the simpler parts of guiding such as bait and tackle set-up.
The morning soon arrived and as pre-arranged, I picked the lads up at their holiday cottage to take them to the first venue. We went through the usual introductions and I memorised the names, Alex "the rocket" Crockett, Higgy, Rosco, and Andy, otherwise known as "the beast." At six foot six and built like a brick out house, I assumed that's why he had been given that nick- name. I am still unsure how I managed to fit them all in to the car! Rosco and Andy were angling novices, but Alex and Higgy were reasonably experienced Carp anglers back in the U.K, which was handy. I could allow two anglers to basically get on with it and spend a little time offering instruction to the other two.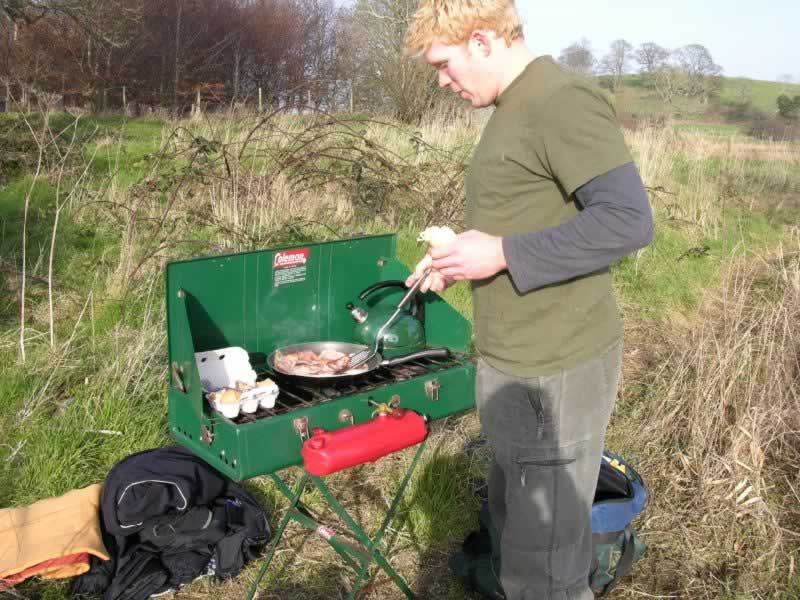 The standard "Ulster Fry" went down extremely well
We chatted about the venue and tactics during the short trip to the river, and soon arrived at the car park of Inch Abbey. The lads were blown away with the view down over the river, and the spectacular surroundings of the old ruined abbey. I pretended to be knowledgeable in County Down history, telling them that it was a Cistercian Abbey built in 1180 by John De Courcy, who led the 1177 Anglo-Norman invasion of East Ulster, but they caught me on, reading it from a transcript I had downloaded off the internet!
The great thing about professional rugby players is that they are fighting fit, and it took no time at all to carry the tackle down to the waters edge. The "Beast" could have carried the entire kit himself! The pre-assembled rods were carefully removed from the rod bags and soon ready to receive suitable dead-baits. With a selection of Sardines, Indian Mackerel, Smelts, Joey Mackerel, small Whiting and Eel sections, I had a fair range to choose from. The morning turned out glorious and you would have been forgiven in thinking it was a summer's day. In fact, once the baits had been cast out and the rods set up on their respective bite alarms, the lads lay back on the grass for a bit of sun bathing. Not bad for the middle of an Irish winter!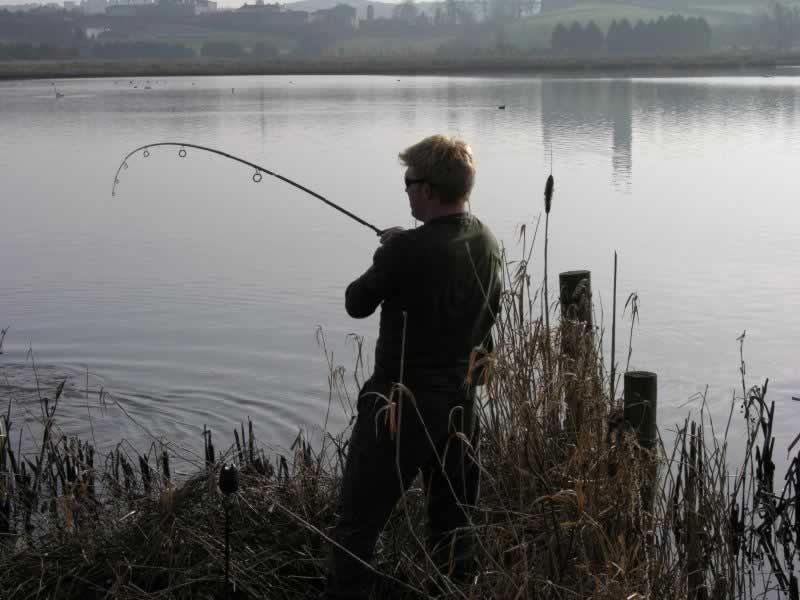 Alex into a decent fish
By lunch- time, we hadn't had a single beep on the alarms, despite several bait changes, but the lads were happy just relaxing and soaking up the atmosphere and the sunshine. Even so, it is quite un-nerving when guiding, and fish are playing hard to get. I had put them on a mark that produces quality rather than quantity, and begun to doubt my decision. They were delighted however, when I fired up the Coleman's stove and got the fry on the go. Of course, as is always the case, Alex took a blistering run on his nominated rod just as we served up the tea and grub.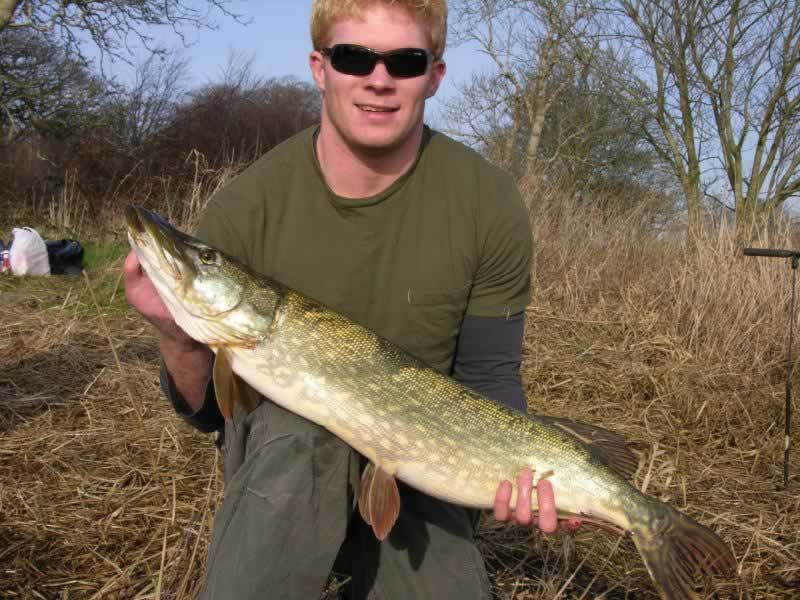 The trouble is, all fish look small when held by these guys!
A great scrap ensued, with Alex grinning from ear to ear, and once I had the net slipped safely under the Pike, I could feel the pressure of facing a blank literally lift from my shoulders. It wasn't a bad fish either, weighing in at fourteen pounds and in peak condition. Certainly a decent size for the Quoile, and after a few photographs for the wall of the rugby clubhouse back in Bath, she was safely returned to fight another day. As the light began to fade, it was time to pack away all the equipment and head back to the car park.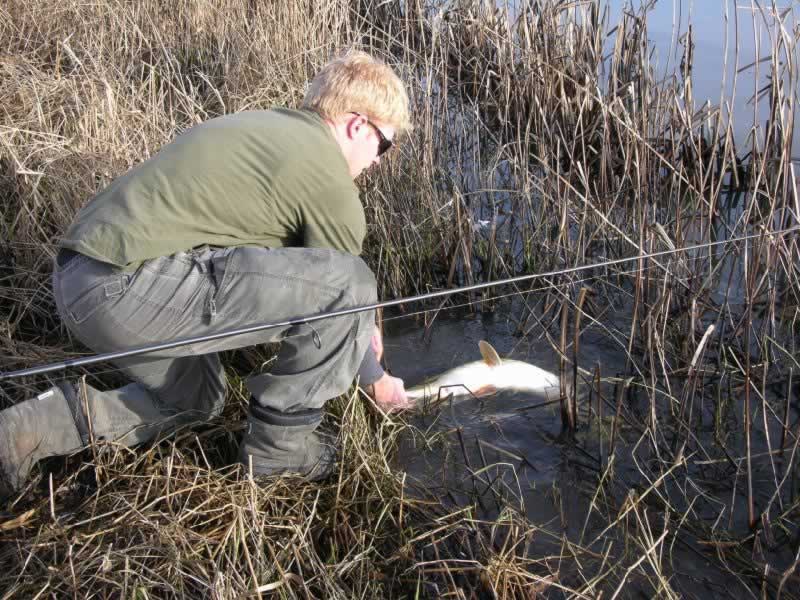 Safely returned
Only one run producing one fish, all day. Certainly not hectic sport, but the lads were happy and thoroughly enjoyed the day. On the way back to the cottage, we discussed plans for the following day. I offered a choice of fishing locally, or the possibility of trying more productive venues further a field but they were happy to persevere in County Down. To be honest, I don't think they relished the idea of an early start as a decision had already been made to sample the local beverages that evening in the Bay Inn across the road! So I agreed to pick them up in the morning, and we would head for the Clay Lough in Killyleagh.
The next morning proved to be considerably cooler, due to a heavy fog, probably as a result of the previous fine, sunny day. Hopefully this will produce results, as all I wanted were a few small fish to keep all the anglers busy for the day. After picking the lads up, I gave them a copy of my risk assessment for the second venue, along with a few back issues of Irish Angler to occupy the thirty- minute drive from Dundrum to Killyleagh. They were remarkably keen after a night's Guinness guzzling.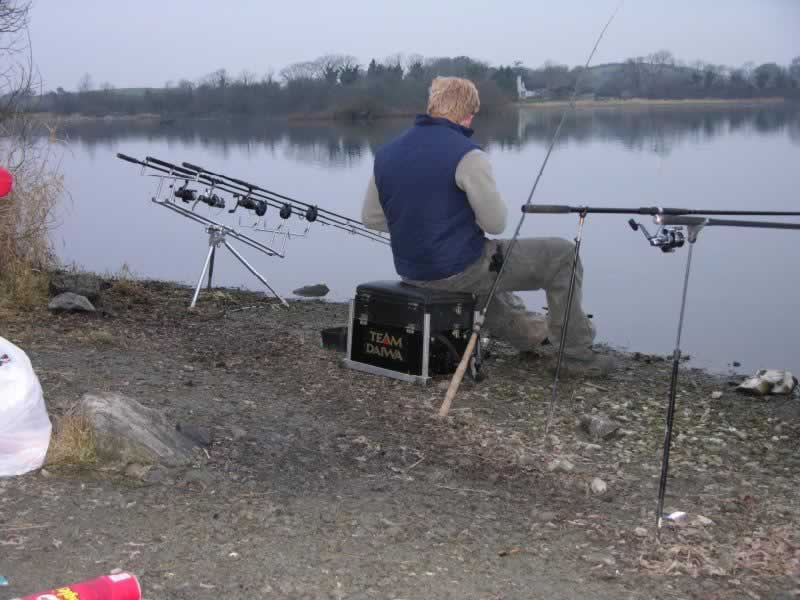 The small, stoney bay we fished from on Clay Lough
We took a look at Robert's private lake, but decided to try the Clay Lough first, then, nip across should this fail to produce. The Clay Lough is deceptive, and is quite an expanse of water once you get down to the water's edge. It is also extremely comfortable to fish from, although rod pods are a handy piece of equipment as the ground is stony and difficult to get a bank stick into.
Without having fished this Lough, I set up a float rig and used it to plumb the depth. First impressions were that it looked about six feet deep but the float rod told a different story. The depth drops dramatically around twenty yards out, a great underwater feature to target. I placed most dead-baits out just over this ledge, a couple at a big "chuck" and another two using floats to drift and cover a greater area. My 3lb test curve dead-bait rods are perfect for throwing large dead-baits at distance and my clients used these to their full advantage. Hopefully, with several different methods chosen, a range of bait options at our disposal and some excellent features to fish over, we would find a couple of decent fish.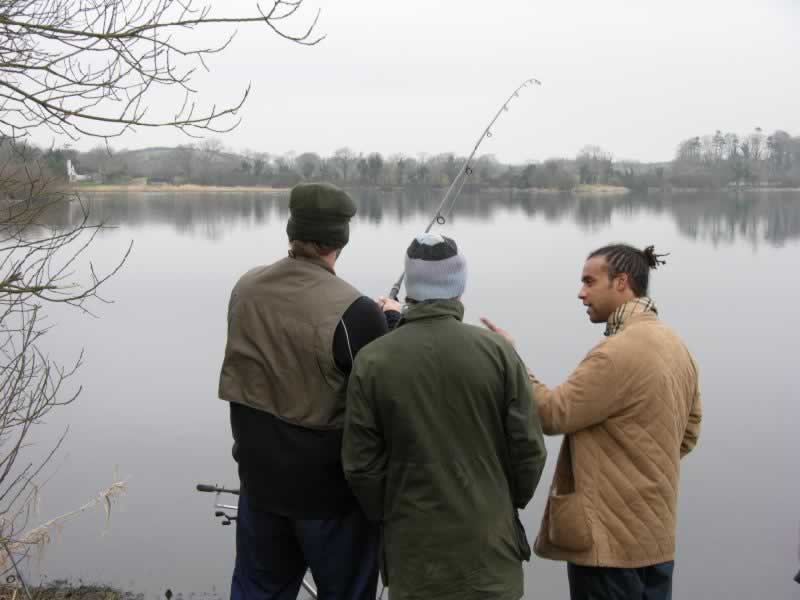 Andy "The Beast" lifts into the only "run" of the day
With all rods in and alarms connected, I could relax and set about boiling up a brew to keep the spirits up. The day panned out identical to the previous day on the Quoile, without a touch on any rod, causing quite a bit of concern yet again. By lunch-time, I decided to fire up the stove to feed the guys, thinking, it worked yesterday, maybe we will have our bacon, egg and sausage butties interrupted again, with any luck. Sure enough, half way through the tea break, an alarm sounded and I could see line slowly but steadily peeling off the reel. This was one of the distance baits put out, and even better, it was Andy "the beasts" rod, one of the less experienced anglers.
He asked what he should do next, but with a little coaching, he kept his calm and lifted into the fish as it continued its run. Without being able to hold the rod myself, it was difficult to tell exactly what size the Pike was, but it put up one hell of a fight, and I remember thinking that this could be interesting. Andy did as instructed and played the fish well, applying side strain when required, and letting it run against the clutch when it took off.
Finally, on the fourth attempt, the Pike came within view, and she was a biggun! The lads were literally buzzing with excitement as the fish slipped safely over the net, and my heart missed a beat when the treble hooks fell out of her mouth. Alex asked if it would make a twenty, and without speaking, I held three fingers up, indicating that it looked more like a thirty. On the scales, she made thirty- four pounds and four ounces. It would have been a personal best for me, but to be honest, the look on Andy's face said it all. The buzz I received from being able to put a guy over a fish of a life- time was a feeling I will never forget. I had to laugh when he stated that it beat his previous personal best by thirty two pounds!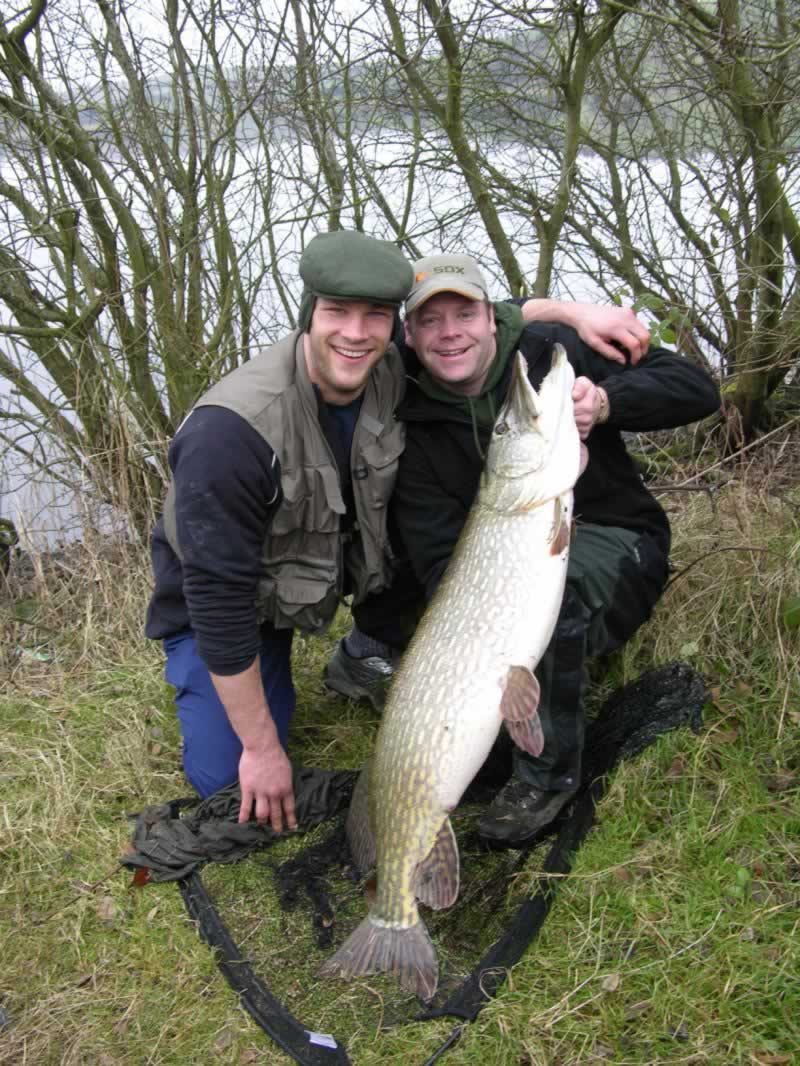 Andy preferred that I held the fish for a photograph
Over the two days, we only had two runs and landed two fish. Certainly, this would be considered poor numbers, by Irish Pike-angling standards. If nothing else, I have learnt from this experience that a guide can only do what the name suggests, and that's guide, and not to expect bags of fish on every occasion. I did all I could to allow the lads to catch, from an area not known for outstanding Pike angling, and the rest was in the lap of the gods as they say.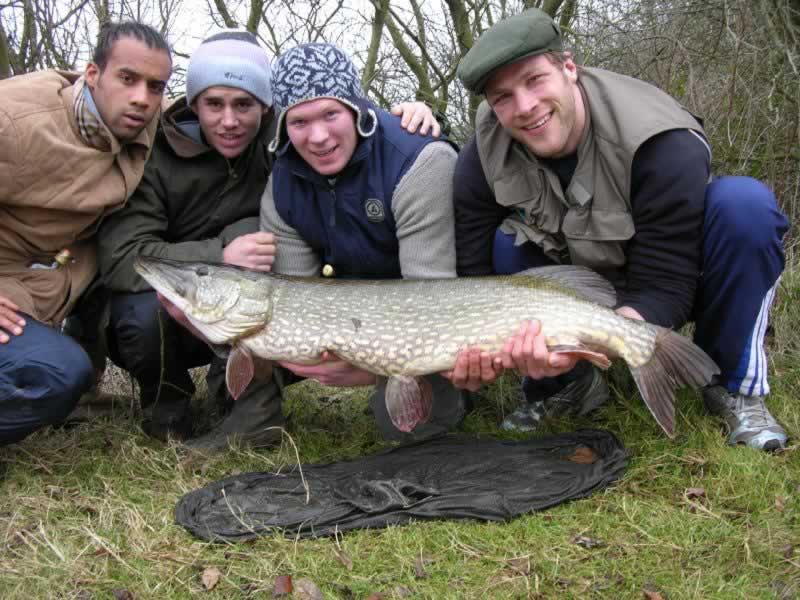 However, by planning and preparing, with respect to venues, safety, bait and tackle, I was able to stack the odds in our favour, and this, I believe, applies to all angling trips. The fact that the fish on this occasion were sizeable was lucky, and turned an ordinary trip into an experience that will be talked about back in the rugby club- house for years to come.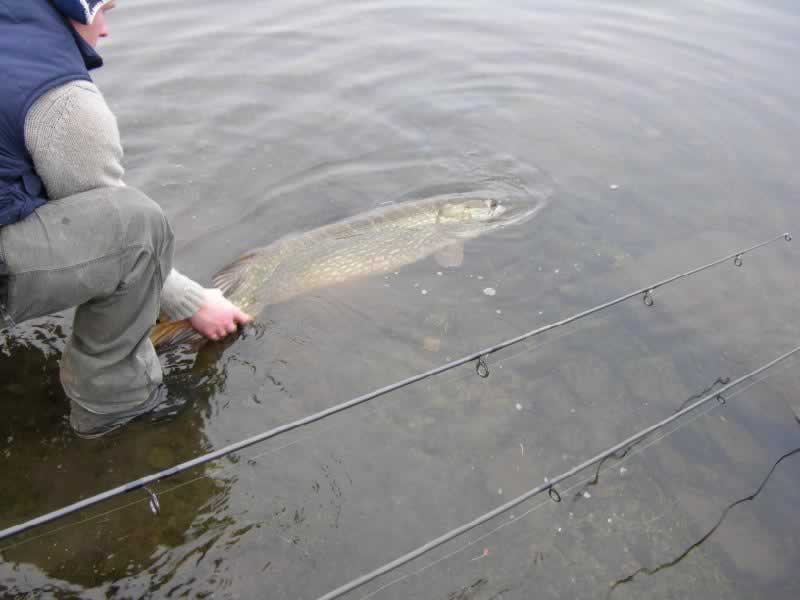 Un-harmed and safely released
I would like to thank some local lads who wish to remain nameless. They took time out and showed me some great marks to try. Also, thanks to Joe Wilson's Tackle Agency and David Craig who loaned additional tackle that made this trip successful. On a serious note, I would like to mention that the lads from Bath had a great deal of difficulty in actually finding somewhere in Northern Ireland to stay for an angling break.
They told me that they were literally hours on the Internet and telephone simply trying to find anyone, anywhere that could offer a guided fishing trip. This is, in my opinion, a problem in the north, and one that I believe; the Northern Ireland tourist board need to get to grips with. I tried myself, as a potential tourist, to find current information, but discovered more dead ends than leads. It is not surprising that our country has not reached the potential it deserves regarding tourist based angling!
Job done, and I got a bonus bottle of plonk for my troubles! (at 5'10", I look tiny!)
Footnote
As this Pike capture was such a fantastic achievement, I submitted the details into the Irish Angler "catch of the month" competition. Andy won first prize of a rod and reel and it was presented to him on his home grounds at Bath.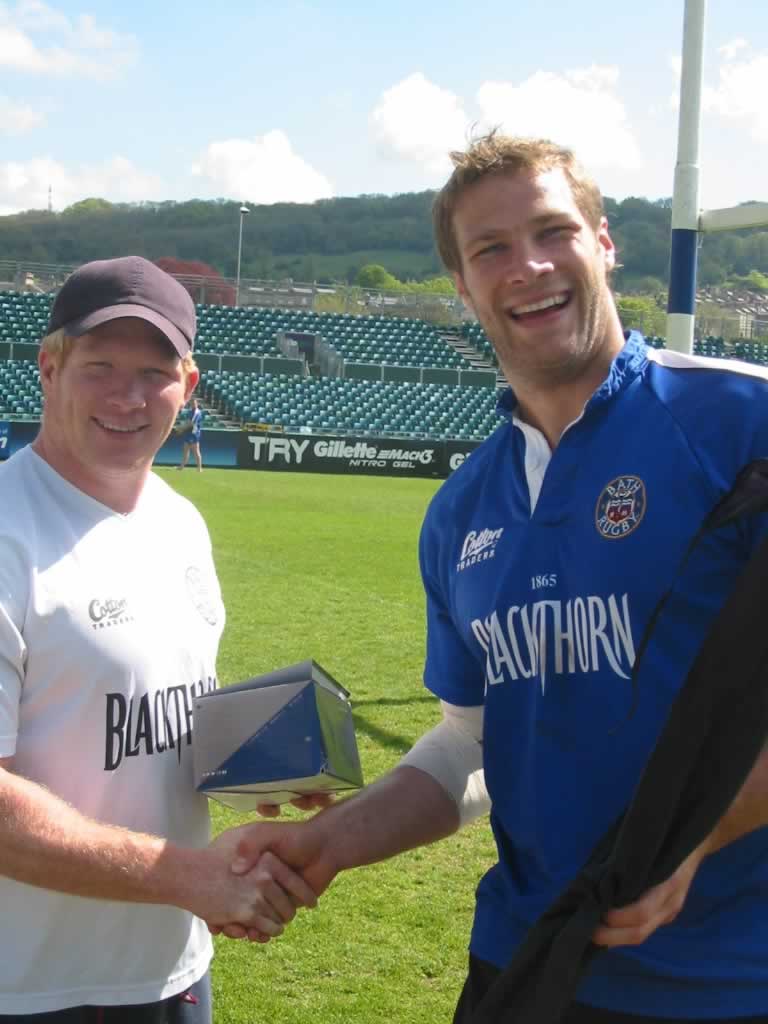 Andy receiving his tackle prize at his home ground, Bath Rugby Club
Back