Penn 2-Piece Flotation suit ISO 12402
Penn ISO 12402 Floatation Suit-2 Piece - Red/Black, Large
My regular crew and I purchased four of these suits at the beginning of the year with the intention of giving them a thorough testing along with the general abuse typical of salt-water angling combined with rotten Irish weather!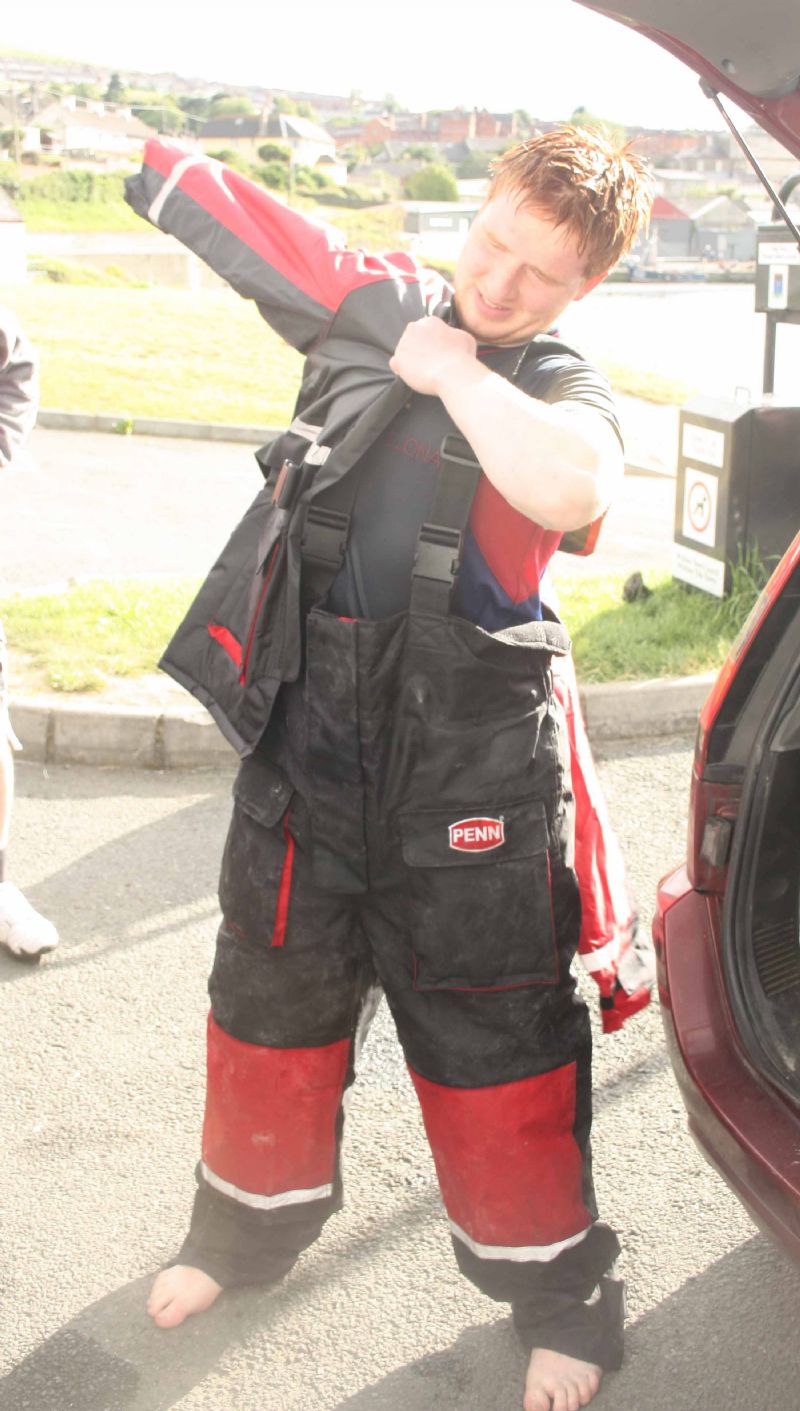 We found our suits to be comfortable and extremely warm. The extra room around the arms allowed for easy casting whilst shore angling, and being a two-piece suit, there was also the advantage of removing the jacket on warmer days. In fact, these suits have all the hall-marks you would expect with a top range item from one of the World's leading companies.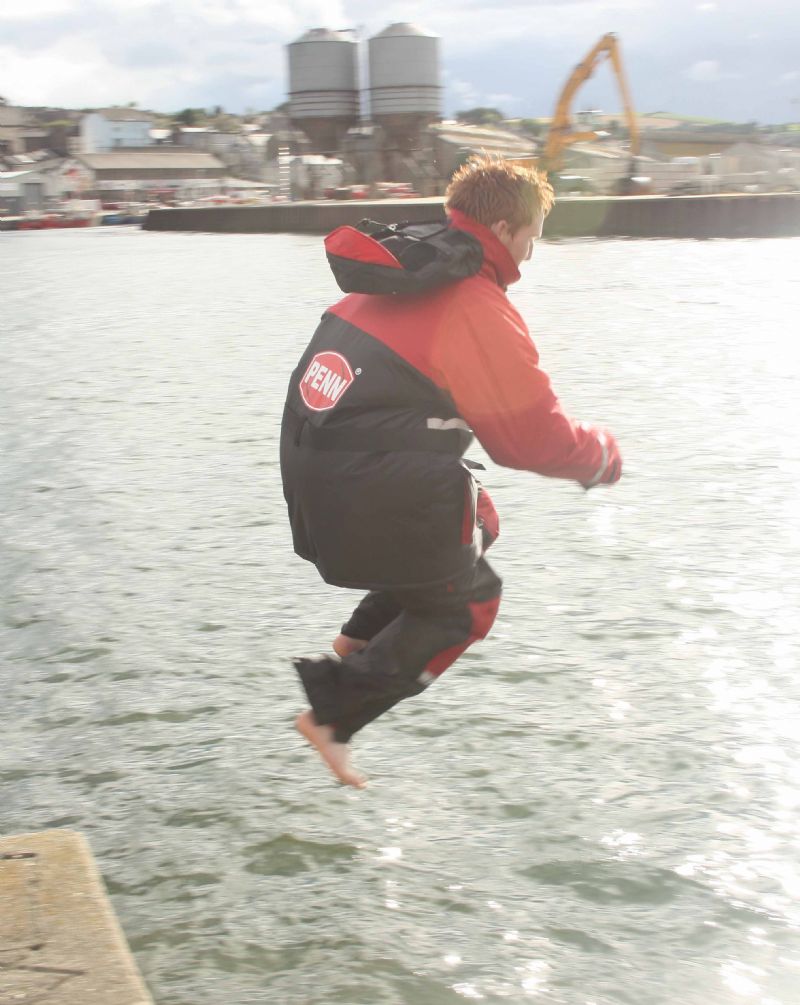 They kept us warm, comfortable and dry through-out the year, despite what Mother Nature threw at us, but the big question has to be, do they do exactly what they say on the tin? In other words, do they actually keep an angler afloat if and when the un-thinkable occurs?
The only true test is to try it. Obviously I would have jumped off a pier myself, but unfortunately I needed to take the photographs! Sid Kennedy's young lad kindly volunteered (he wasn't given a choice!) and once fully suited, took a running leap off Wicklow Harbour!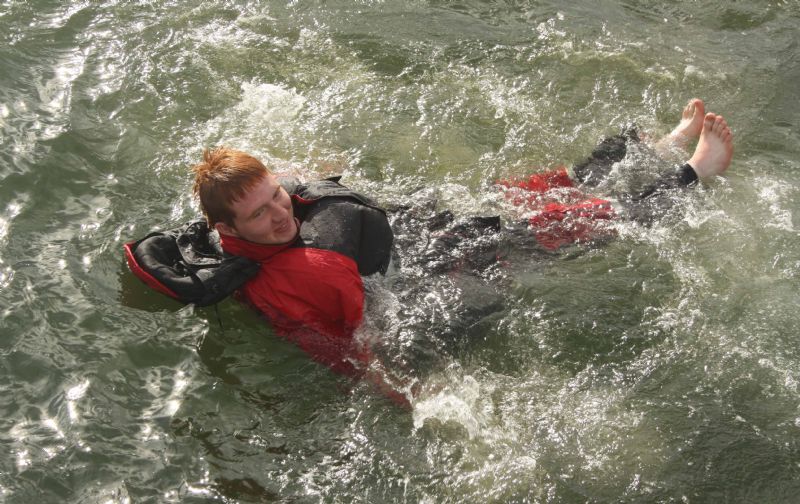 Extremely buoyant
He submerged for a split second, then popped up like a cork! The Penn two-piece flotation suit passed with flying colours. The suit held Derick high in the water with his head well clear of the surface. He also commented on how surprisingly warm it kept him, even while he bobbed about in the sea. I wish to thank Derick for his help in volunteering in our field test.
Not content with one leap into the briny, Derick continued to jump, fall and dive-bomb off the harbour wall for over half an hour, and on every occasion, the suit popped him up on the surface and out of danger. My year long field test is definitely a thumbs up for this valuable piece of life-preserving equipment.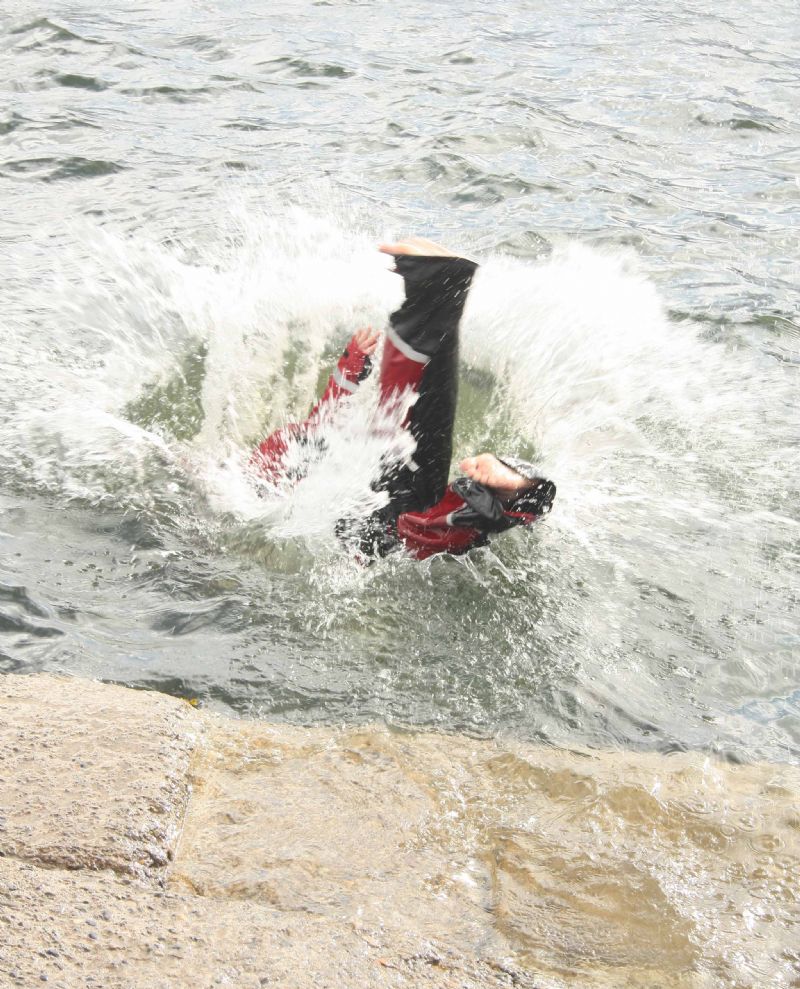 It didnt matter what way Derick entered the water, the suit "popped" him up again
After the salt-water soaking, I hosed the suit down with fresh-water, inside and out and hung it in the shed to dry. It was ready for use the next day!
Further information....... Penn ISO 12402 Floatation Suit-2 Piece - Red/Black, Large
Features
Meeting the new ISO 12402 standard, this purpose designed anglers flotation suit is serious clothing for the dedicated sea angler.
Special attention has been paid to the cut of the suit to allow free movement of arms making casting effortless whilst shore angling.
Adjustable outer cuffs and drainage mesh
Outer and interior pockets
Adjustable snap-lock belt
Hi-Vis 3m reflective tape on jacket and trousers
2 Cargo-pockets with Velcro fastening storm flap
Detachable protective hood with Velcro fastening and drawstring
Comes in medium, large, x-large and xx-large size.
Available in all good tackle shops, RRP £169.99
Trade enquiries: Pure Fishing
Tel: 00 44 (0) 1527 405410
Email; contactus-uk.purefishing.com
Back