Pike Angling at the Melview Lodge, Longford
Melview Lodge, Longford.
As I write this article, I face a dilemma. On the one hand, I wish to extol the virtues of Kevin Lyons, his guiding capabilities, his excellent range of boats, superb accommodation and huge wealth of angling possibilities that surround him.
On the other hand, until now, I have had Kevin mostly to myself, and would like to keep it that way! However, Kev has become a good friend over the years and in fairness to him, and any budding or experienced pike anglers that may wish to use his facilities, I think it is time to air some of my angling experiences I have had through Kevin, experiences that make the Melview Lodge a "must try "destination on the pike angling calendar in Ireland.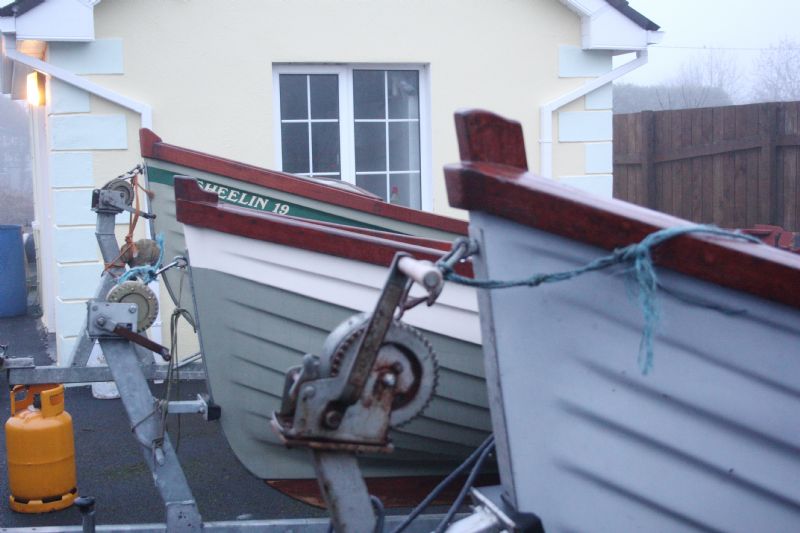 I first met Kevin at Melview Lodge, through Mark Corps of Inland Fisheries Ireland, formerly The Central Fisheries Board. We were surveying some potential pike waters for tourism and the Melview Lodge had appeared on the angling radar more than once. The Melview Lodge, and its proprietor, Kevin Lyons had to be investigated. Mark arranged the trip, and over a cup of coffee in Kevin's kitchen, we discussed the pike angling possibilities that he may be able to offer.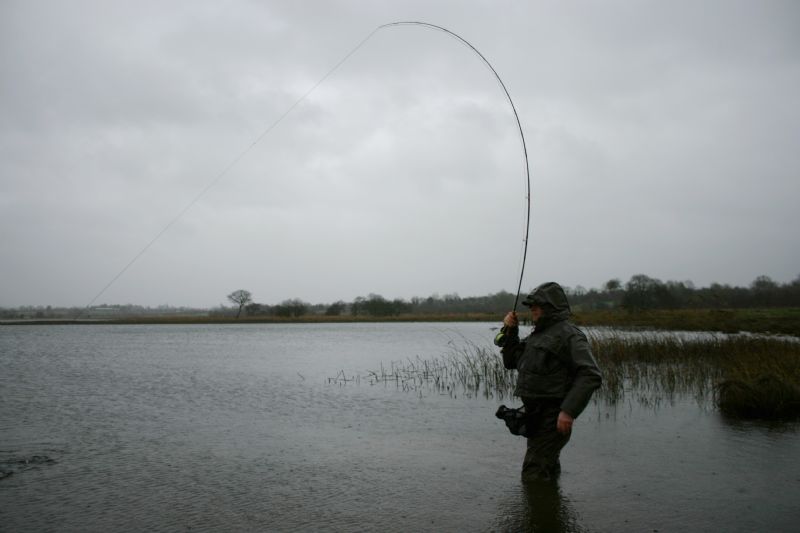 Under gale-force conditions, managed to connect on the fly
As is sometimes the case, our Irish weather on this occasion scuppered our plans to take a boat out on the water. It was blowing a howling gale with rain beating horizontally against the kitchen window! Mark and I had only brought fly rods with us, so dead-baiting below the comfort of a brolly was not going to be an option. Kev suggested taking us on a whistle stop tour of some of the waters in his area to give us an insight into what he had to offer, and we agreed. If the foul weather should break during the day, we may even be tempted to wet a line.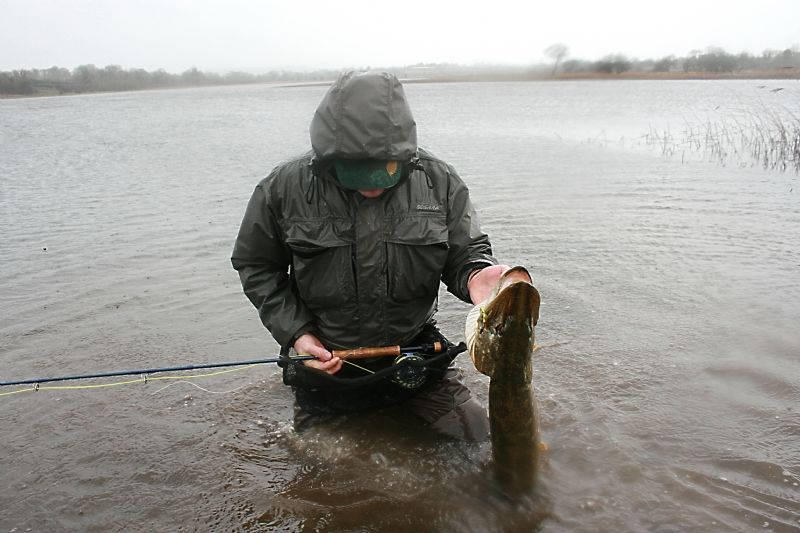 Safely "chinned".
The waters looked superb, even under these in-hospitable conditions, and by time we looked at the last venue of the day, the wind had become stronger if that were possible, with the constant downpour doing its utmost to keep us in the jeep. "Sod it" says I, "we won't catch anything sitting here", so the decision was made to get out and give it a go with the fly rods. I know the suffering and woe I put myself through in the name of angling!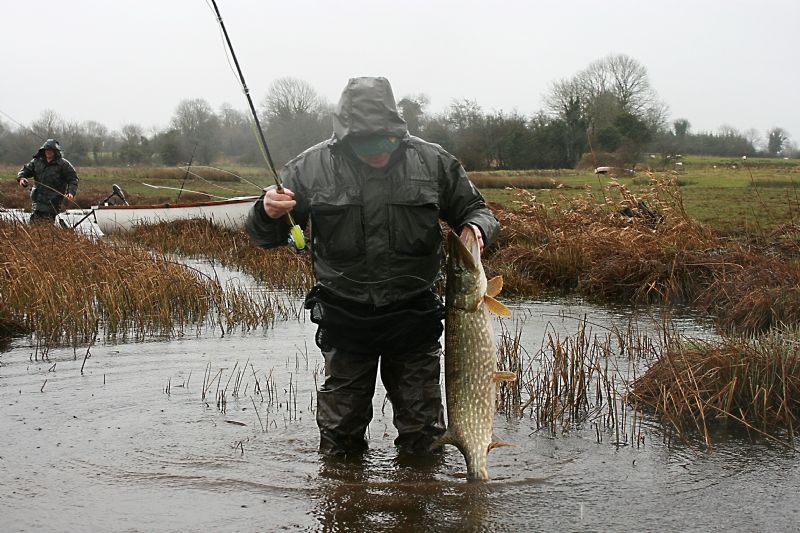 An eighteen pounder, on my third cast, this may be a good mark!
Casting was almost impossible, hauling into the back cast with wind behind us was a real struggle, but we managed to get a fly out. Kevin persevered with spinning gear and promptly plucked out a six pound pike. My first cast produced a small jack, nothing on the second cast, then a fabulous scrap from a fish just short of twenty on the third cast. Even though I was soaked through, it gave me an ear to ear grin that transcended the gale force storm! Meanwhile Mark missed a fish that crashed at his feet after deciding his peach coloured lure wasn't worthy, a female pike that would have certainly topped thirty pounds, but he soon followed this with a decent double as a consolation. This short angling session was well impressive as you can imagine, and all that was required to guarantee a return visit sometime in the near future, preferably during a slightly friendlier weather window!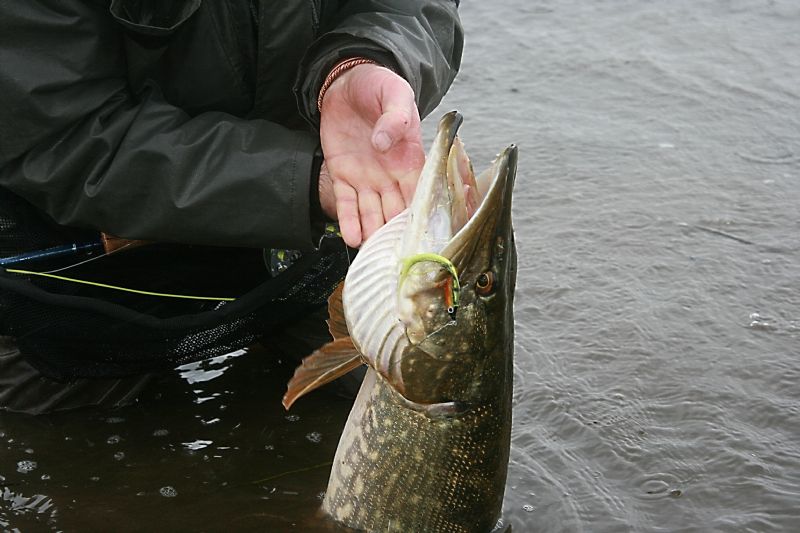 Our second visit later that year offered pleasant weather conditions, with light winds and thankfully, no rain. We were able to fly fish from the boat and landed plenty of pike, mostly doubles, proving these waters seemed relatively un-touched and un-spoilt. The fish were healthy, a large average size, fought like hell and were more than willing to chase an artificial lure. Again on this visit, the quality of fish were impressive, the largest topping twenty one pounds. Mark and I have since returned to Longford on several occasions over the past few years. With Kevin as our host, we have had many memorable catches, mostly on the fly. We haven't even scratched the surface of what may be possible dead-baiting or trolling. If I need to tackle- test a rod or lure for Pure fishing, I simply give Kevin a call, arrange a couple of days to stay at Melview Lodge, and always find some lunkers to bend a rod into!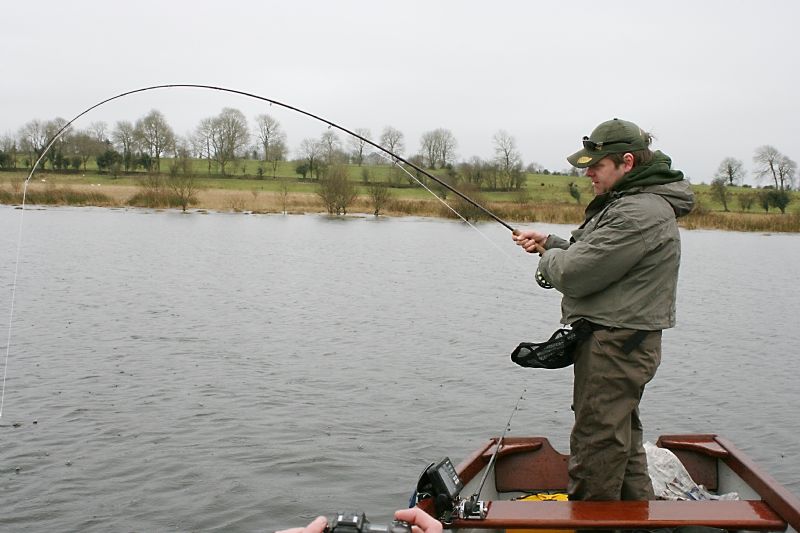 A memorable trip that comes to mind began with a call from Kevin asking if I would like to guide a couple of Dutch guys for him, as he was snowed under at the time. I jumped at the chance and agreed to meet up at his the day before the guys were due to arrive. He had one lough in mind, one I knew well by this stage, but also mentioned an un-familiar water as an alternative. It is always advisable when guiding to have a back-up venue. I decided to try out this back-up venue from my float tube, in the hope of gaining a little experience of this new lough, it was new to me at least. It proved a tough cookie to crack, picking up a few jacks on the fly here and there during the afternoon. I paddled over to a final quiet bay, hooking and landing a hard-fighting double, and then lost a twenty as it leapt over my knees, spectacular stuff!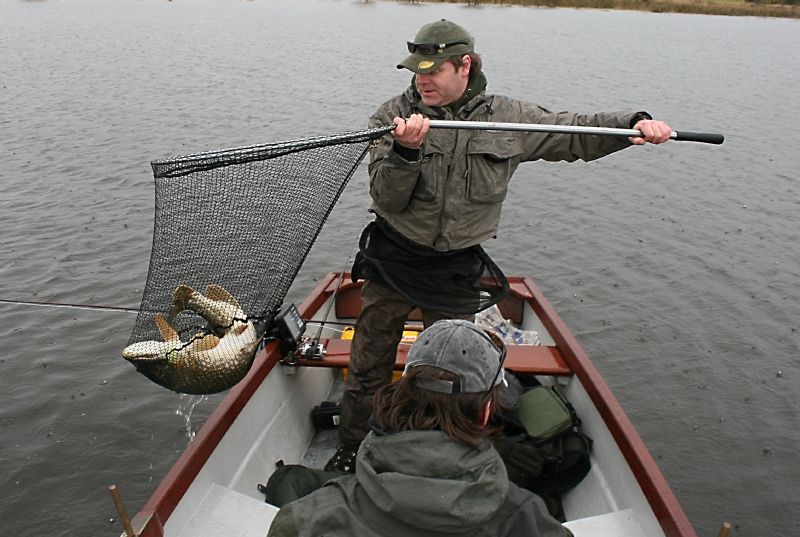 Consequently, the guided trip went very well, the Dutch guys Mike and Heinz landed over two dozen fish, lifting one good fish from the afore-mentioned bay just short of twenty pounds. His beloved eight weight pike fly rod, that has landed many Dutch and Norwegian pike to over a metre in length could do little against a feisty Irish fish. On return to the Melview Lodge, he gave the rod to Kevin as a keep-sake!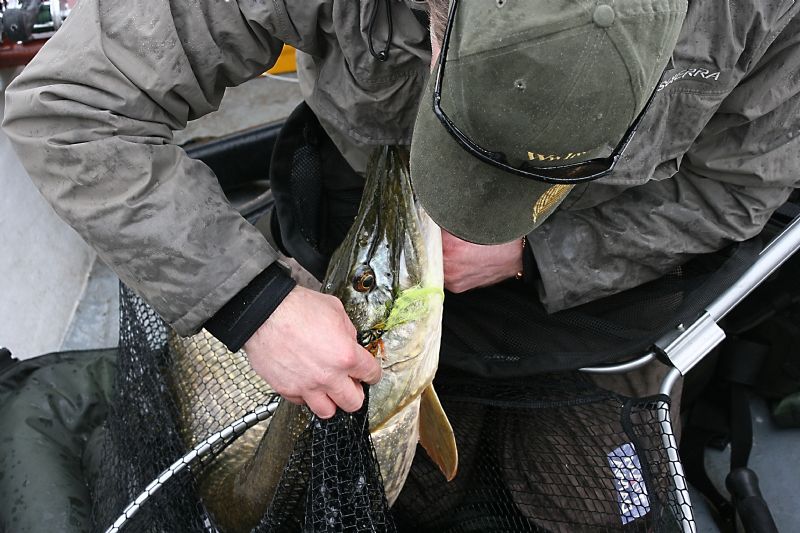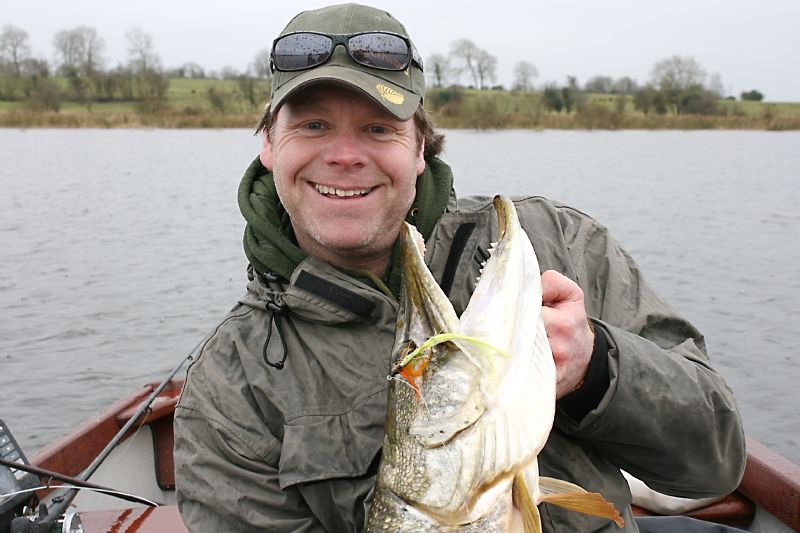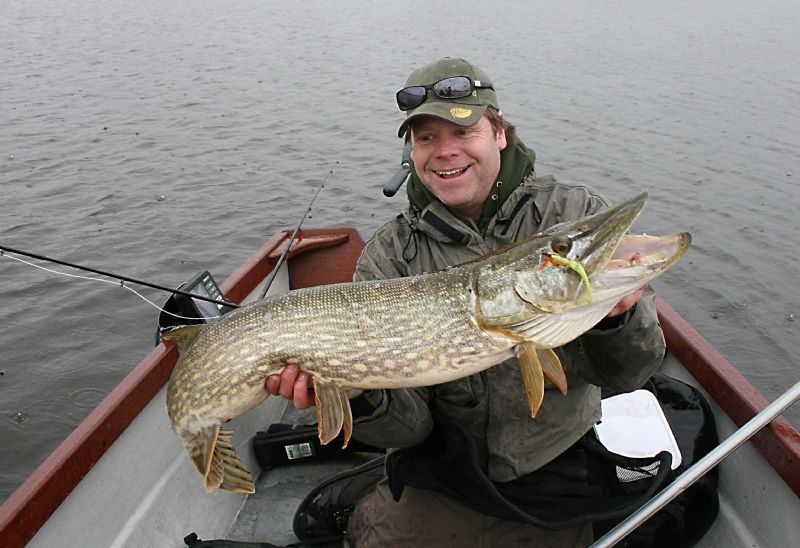 One notable fly angler I had the Opportunity to guide on these waters was angling journalist, David Wolsencroft Dodds. Notable due to the hundreds of twenty pound fish and many thirties he has taken on the fly back in the UK. The mid-Irish waters impressed him to such extent that he has returned on many occasions, taking numerous twenties on the fly and losing a couple of possible thirties at the side of the boat. He relates a tale of one large female pike he witnessed, attacking a five-pound bream on the surface, and estimated in the region of forty-pounds plus! Its visions such as this, engraved ever-lasting on the memory, that bring people like myself, Mark Corps and Mr.Dodds back to these waters and Kevin's hospitality year after year.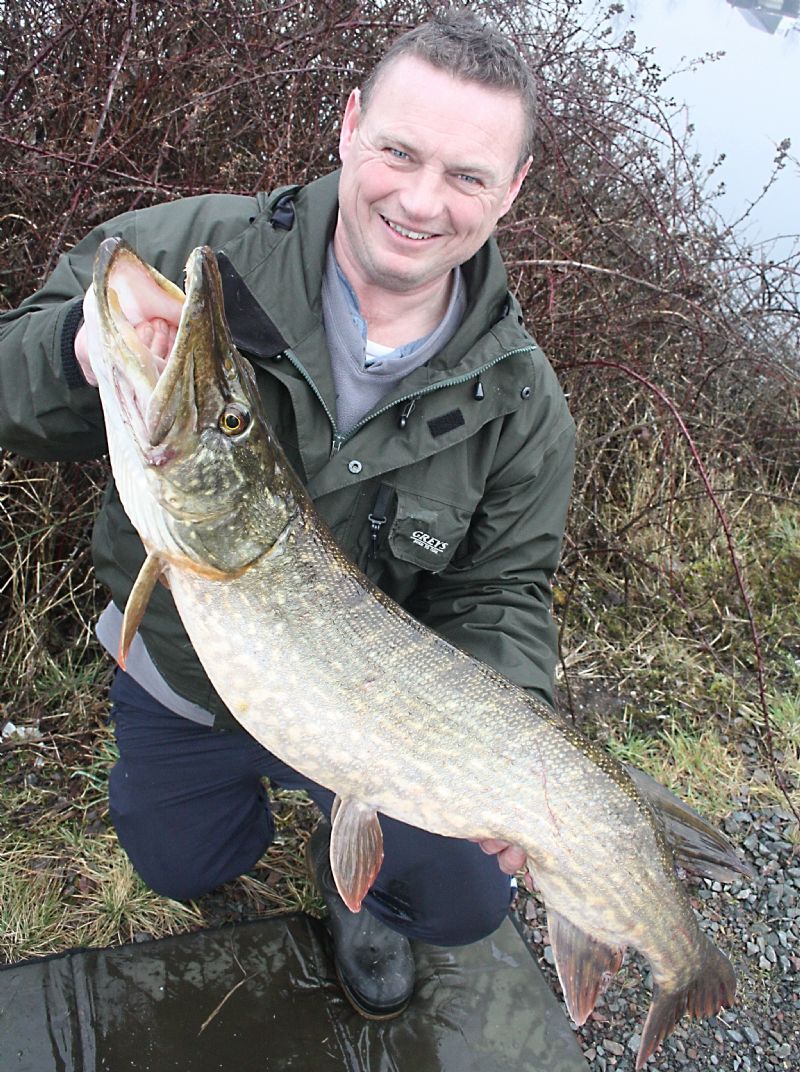 Kevin Lyons with a fine female tipping the scales at 23lbs
On a recent trip with Kevin this winter, I dragged my angling buddy, Glenn Drennan down to Longford with me to try and find him some pike angling action. He had been going through an angling dry spell and I reckoned he needed a shot in the arm, basically a Melview Lodge pick-me-up, it always works for me! The venue we wanted to fish was on the mighty Shannon, as the conditions were perfect, but this particular area Kevin had in mind was already occupied by local anglers. We took our boat onto a nearby lough, having fun with jacks up to ten pounds on the fly, jerk-bait lures and trolling. This was great fun although nothing huge appeared on this occasion.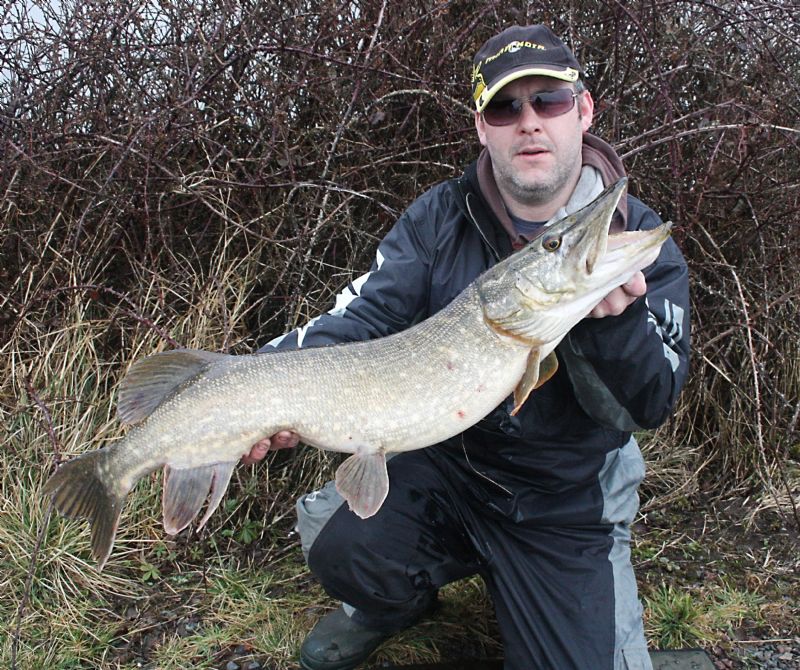 Pike buddy Glenn Drennan with a high double.
Back at the lodge that evening, Kevin was able to tell us that the other guys had a river twenty, and even better, the area would be free the following day, we couldn't wait. Kevin joined us for this session, and we finished up with a handful of mid-doubles and a twenty two pounder to Kevin. I later heard from Kevin that Mark Corps joined him three days later when Kevin picked up another twenty plus, that's three twenties from the same mark on three visits, superb piking by anyone's standards!
Kevin has cleverly situated his accommodation in the heart-land of pike angling in Ireland. There is more water in this area than an angler can cover in one lifetime, and the possibilities are vast, if not endless. The Melview Lodge makes a fantastic home base to return to each evening after targeting pike from recommended waters or seeking out new areas to try. There is more than enough room to store your boat in safety, dry off wet clothes or re-charge boat batteries.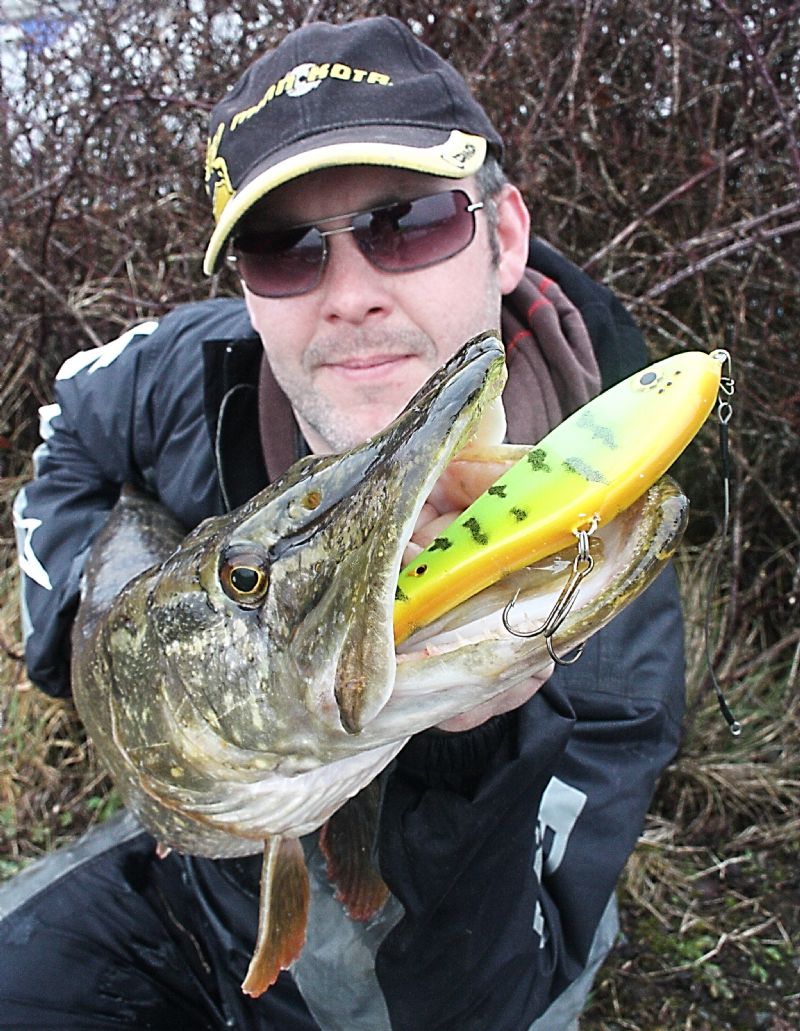 However, Kev has more to offer. Most of these loughs are connected to the Kilglass and Shannon system and have a run of large brown trout. On my last trip down that way, I witnessed a fish into double figures breaking the surface just ahead of the bow of my boat. I cast a bright chartreuse perch pattern on a 4/0 over its head, but un-surprisingly, it was ignored. God loves a Trier! Kev is currently working on a trout angling package having found a local water that produces large ferox trout on the troll.
The coarse fishing here is legendary. Three- hundred pound bags of bream are regular, large catches of tench seem ten-a-penny if you look through Kev's photo albums, and then there is the chance of specimen rudd or huge perch if you prefer the specimen hunting game. You can hire boats from his range of Sheelins waiting and ready in the back yard, or if you stay at the lodge, boats are included free of charge in the package.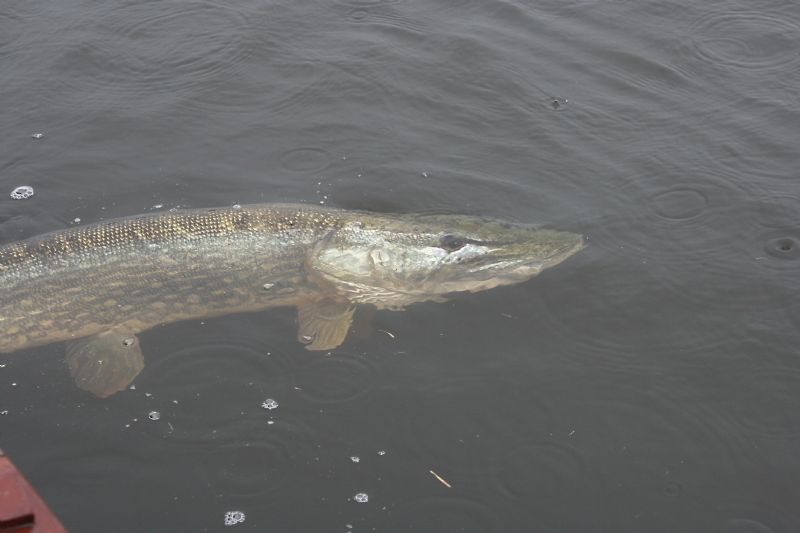 So there you have it, the cats out of the bag as they say. I am not sure how much Kevin will tell you, because he is operating a successful guiding and accommodation business, but I know for a fact, if you use his facilities and build up a rapport with the guy, that fish of a lifetime is waiting for you just around the corner.
Back