Portballintrae
Fishing the sand banks and reefs of the North Antrim Coast
Although modern marinas are excellent regarding design and safety for all manners of boating at sea, it is always pleasing, once in a while, to launch from a harbour that has been relatively un-touched by modern architects and planners.
One such harbour can be found in the picturesque, seaside town of Portbalintrae, on the North-Antrim coast. This village is situated between the popular resorts of Portrush and Ballycastle.
During my days with Parkview Angling club, I had many memorable trips to this area, booking charters with Aubrey Sweeny out of Portbalintrae and Irvine Tanahil from Portrush, targeting Cod, Plaice and large Turbot. Sadly, neither of these skippers charter for angling parties any more, so my mates and I thought it was high time we paid this hot spot a visit. The team for the day on my boat were father and son, Andy and Ryan Jones, along with long time angling mate, Davy Craig. Young George and his dad old George were there on their Dory; and Big Phil joined us in his Dory.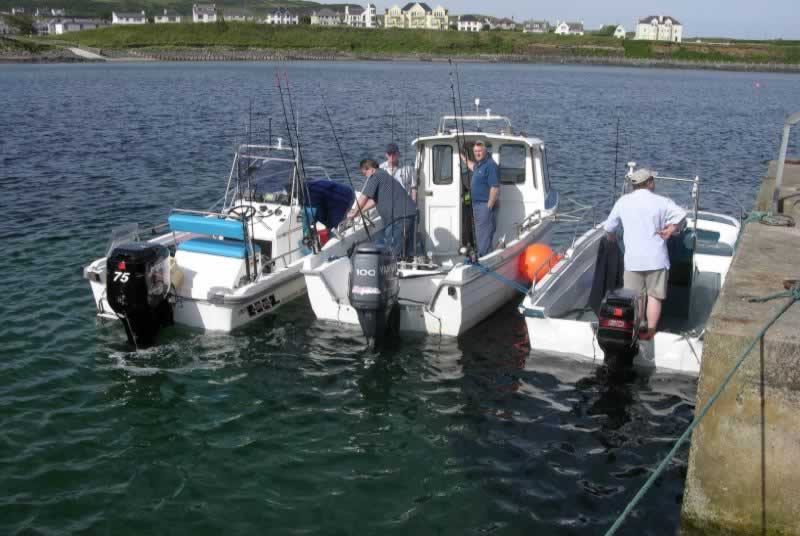 Making sure everything is "ship-shape" before leaving the harbour

The main attraction of Portbalintrae, from an angling aspect, is its close proximity to the Causeway Bank. This stretch of sea- bed runs several miles offshore and parallel to the famous Giants Causeway. When viewed from above with a sounder, the bank shows an awesome series of peaks and drop offs, typical fish-holding features that every boat angler loves to investigate. All boat anglers require a plan before setting out to sea, apart from the normal safety measures carried out as routine. As Sunday drew near, the forecast looked good, and I began to formulate my game plan for the day ahead. The idea was to launch early and catch some fresh Mackerel, then drift the bank on the flooding tide in search of Plaice, with the outside chance of a decent Turbot as a bonus. The Causeway Bank was once a fabulous mark for these species but typically, has suffered terribly from commercial pressure. If all went according to plan, we would then venture out to the deepwater mark known as the "Shamrock Pinnacles" in search of Pollack and possibly Ling over slack water. The lads were happy with the plan and we eagerly waited for Sunday morning.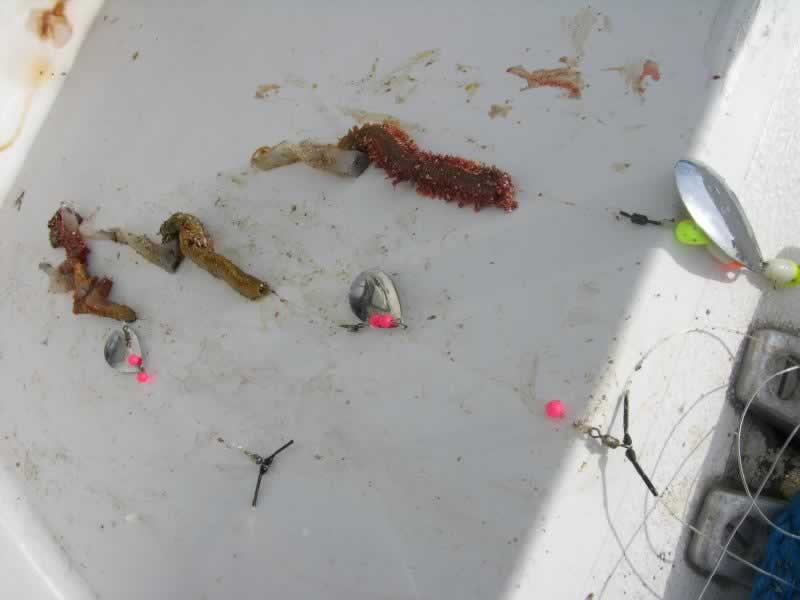 Baited spoon rigs, using rotating spoons on this occasion, ragworm tipped with mackerel strip

So how did our trip down memory lane turn out? We arrived at Portbalintrae harbour and were greeted with a gentle, southerly breeze and a fine sunny day, so far so good I thought. The slipway is a little awkward to access but by no means a struggle, although it was easier to park the van and trailer up on the roadside once the boats had been launched, rather than use the car park. We all launched safely despite the low water level, and with engines warmed up, we were soon ready to head for the marks. Mackerel were not very obliging on the day, but with just enough to do us, it was time to clip on the spoon rigs and drift the bank.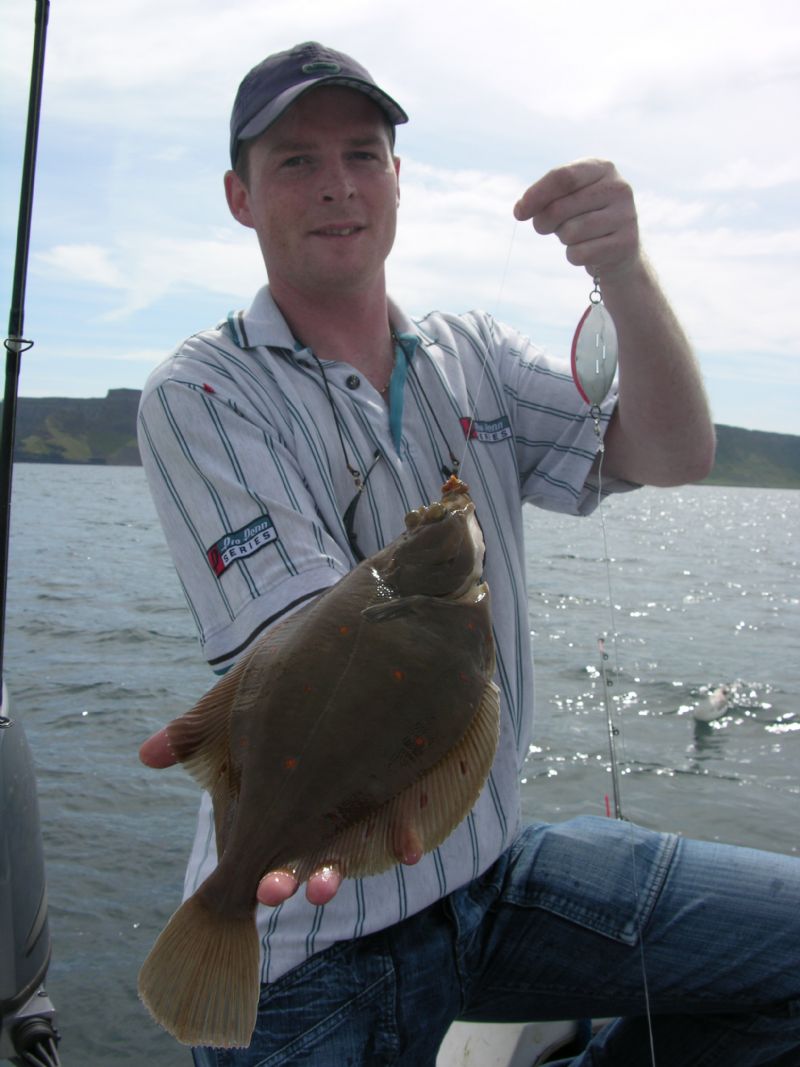 Ryan Jones (first mate), I know that will make him smile, with a nice Plaice
The section of the bank that interested me is known locally as "the Ripples", due to the surface disturbance caused by strong tides pushing over the underwater peaks. It was not long before Plaice, Whiting, Dabs and Gurnard were rattling the rod tips and coming up in double and sometimes treble shots. They weren't very large but great fun on light tackle and amusing and abundant enough to keep us all occupied for several hours as the tide flooded towards high water. As the flow decreased, Davy hooked into something a little bit larger and we all stood back to watch, as he played it up through the depths towards the boat. I could have put money on the fish being a sizeable Turbot, but was equally delighted to slip the net under a fine Blonde Ray of fifteen pounds! It stands to reason that rays must be present here, but it was the first Blonde I had ever seen from this mark. That result warranted another drift, but as the bites had all but ceased, it was time to head out to the deepwater mark for a change of tactics and species.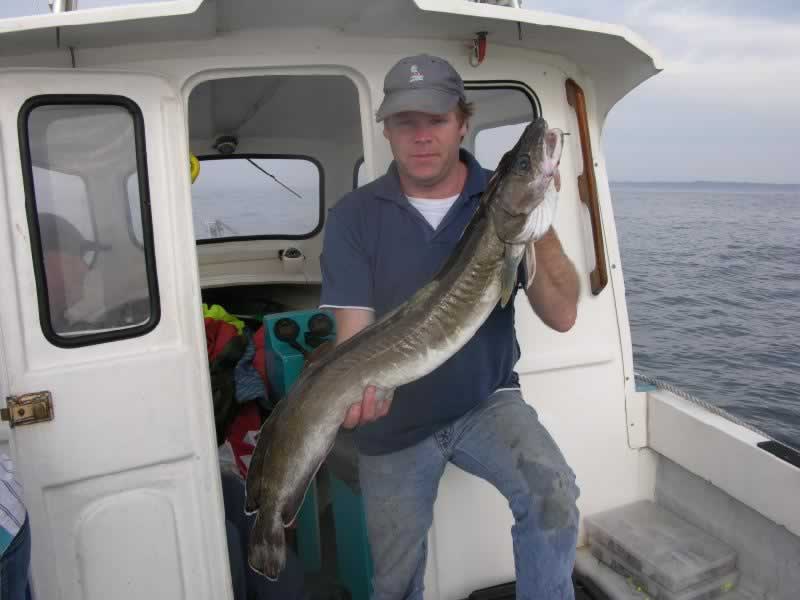 A small Ling from the deep-water mark

I had a mark on my g.p.s for the Shamrock Pinnacles; one that I had logged on a previous adventure, but thought it may be a good idea to give Sean McKay a quick call. Sean operates an excellent angling charter business out of Ballycastle and fishes the pinnacles regularly, and we all know there's no substitute for good, up to date knowledge. He very kindly gave me a mark to try, about eight hundred yards west of my mark, and with the co-ordinates quickly logged into my g.p.s we headed straight out, followed by George and Phil in their Dory's.

On arrival at the pinnacles, we were met with an impressive wall of water as the tide forced over the rocky terrain below and erupted on the surface, a veritable "witches cauldron" of rough water and over-falls. These pinnacles run from over five hundred feet below to within a few feet of the surface. Scary stuff at times, but perfect Pollack and Ling territory. When venturing out to places like this, my mates and I firmly believe in the old adage " safety in numbers" and always travel with two or three other boats, with direct V.H.F radio contact between the local coastguard and ourselves.
The tide further offshore lags behind the inshore waters but it soon began to ease and flatten out. Decent Pollack showed on every drift, not exactly huge but averaging six or seven pounds each, and there were no complaints from the crew. Feathers baited with fresh Mackerel strip worked well and Ryan had excellent sport fishing an artificial Red Gill on flying collar tactics. The tide eased further as it headed towards slack high water. This signalled a further switch in tackle, only this time in search of Ling. George had the same idea and soon shouted over that he had just boated a Ling of ten pounds. Ryan caught a small Pouting that had no chance of surviving the four hundred feet ascent from the depths, and I asked if I could have it to use whole, as a dead bait. As I lowered the pouting through the depths, attached to an 8/0 bronze O'Shaugnessy hook, Davy lifted into a very large fish, only to lose it several seconds later.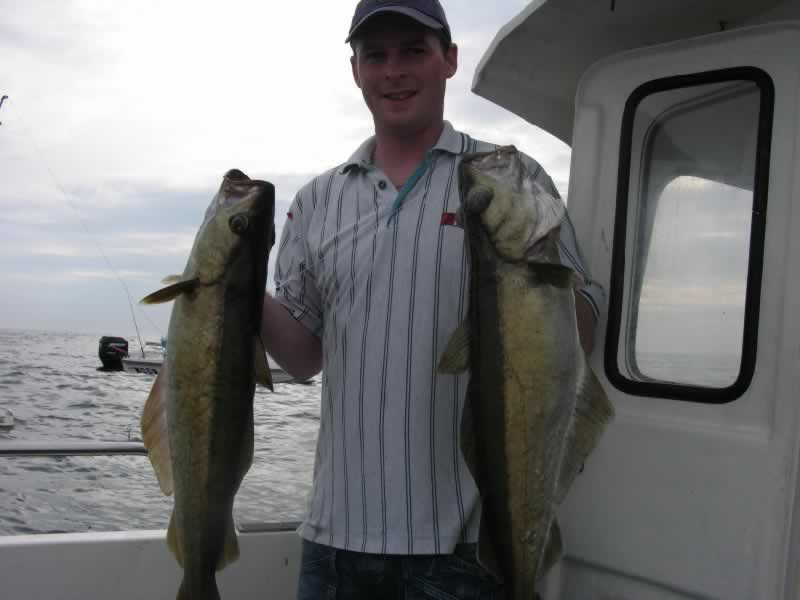 A decent brace of Pollack for Ryan, taken on Red Gills.
With specimen Conger, Ling and Pollack taken here reasonably regularly, imaginations ran riot as to what it may have been. There was no doubt this mark was giving us some great sport, with plenty of Pollack and Ling boated. As the tide began to turn to the ebb, I lifted into a fierce bite and struggled with a fish that took a few seconds to stop ripping line off the reel. Awesome stuff, but hard work as I looked at my sounder and realised the fish was over five hundred feet below! It turned out to be another Ling, and at only twelve pounds it had gave a surprisingly powerful account for itself. The fresh pouting had obviously proved too irresistible. With the tide beginning to run again, it was hopeless trying to continue, and we decided to head back to the harbour. In such an inhospitable area, with deep water and strong tides, it is wise to leave and return another day when conditions are suitable. This is the beauty of areas such as the pinnacles, when angling times are reduced to such a narrow window of opportunity, there is little chance of over-fishing by anglers, keeping fish stocks at an easily sustainable level.

To sum up our session, we all had a brilliant day. The general stamp of fish are not quite as large as our angling pals enjoy further south, but none the less offer a great days sport, with the distinct possibility of a"lunker" thrown in now and then to keep things interesting. Portbalintrae offers a wide range of angling opportunities, from clean ground fishing over the banks to deep- water rough ground tactics over slack water. The Skerries Islands lay a short steam to the west for Pollack and Wrasse fishing and there are simply miles of coastline and headlands that offer the same. I am afraid the day just wasn't long enough to do everything, but no doubt we will be back for another go. George has already asked twice when our next trip is coming up!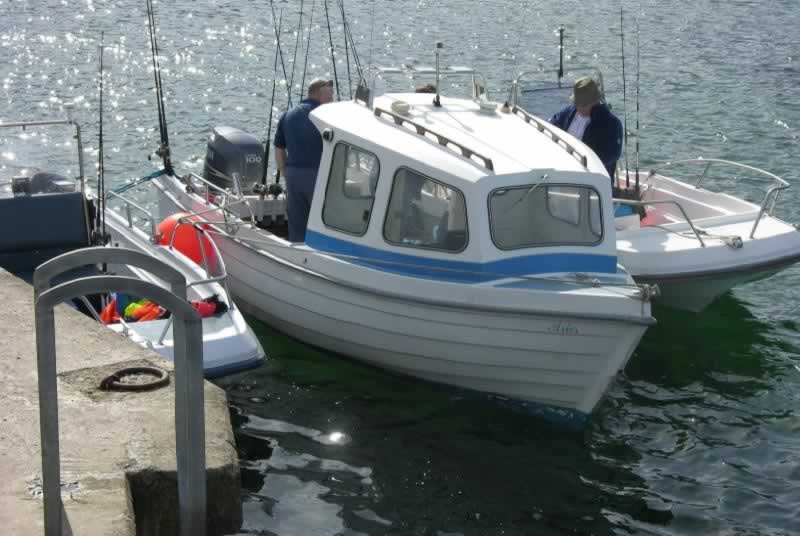 Note
As Portbalintrae is situated on the north coast of Northern Ireland, southerly winds are most suitable. North or north –east winds can cause quite a bad swell that may make conditions dangerous when entering or leaving the narrow entrance to the bay. Common sense should always dictate when deciding on any angling adventures.
Tips
When fishing the bank for "flatties", we had greater success using long flowing traces, up to twenty feet in length. One theory suggested was that shorter traces simply bounced over the peaks leaving a bait high above the seabed. Whatever the reason, the longer traces presented a bait in a natural enough manner to fool quite a number of Plaice.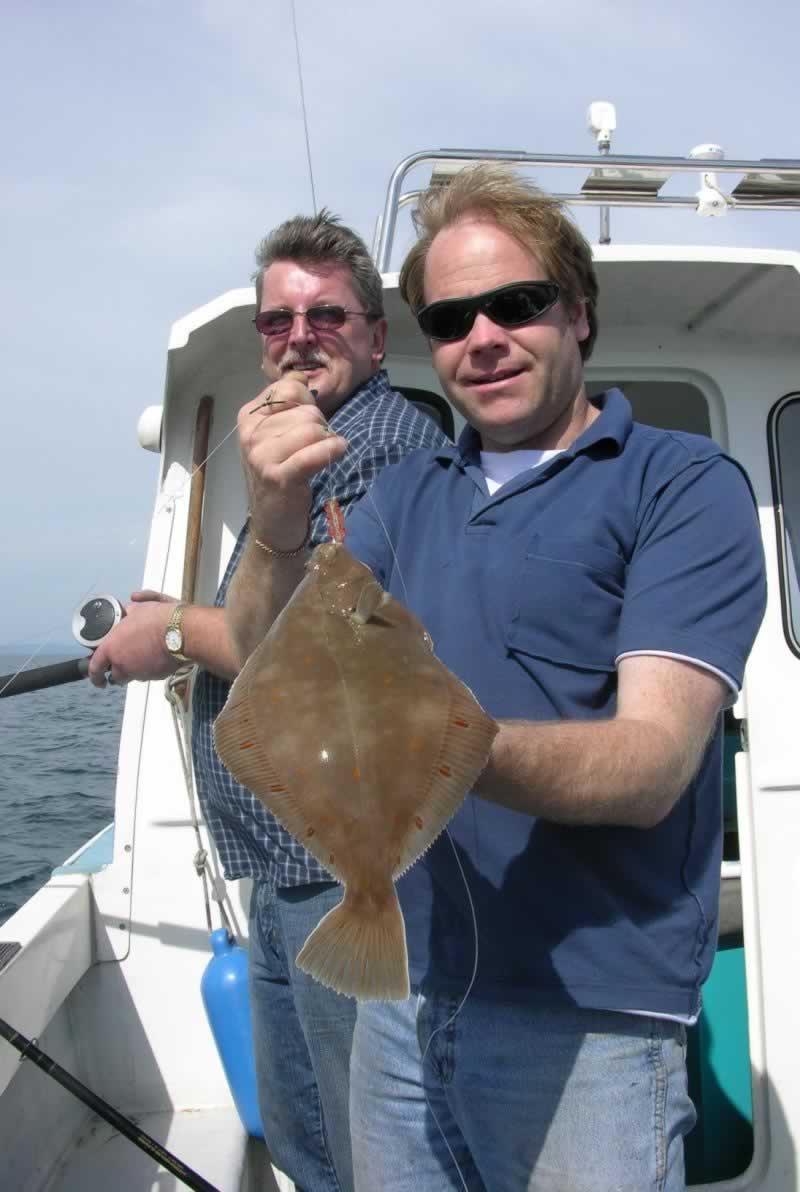 Unusually, ragworm did not seem to work very well, but fish baits, and in particular, long thin strips of calamari squid or sandeel were excellent.
Fish Pollack tactics at the deepwater mark while the tide is still running, and switch to Ling tactics as the tide eases. There is also the possibility of sizeable Conger here.
Back